Disclosure: This article may contain affiliate links. We will make a small commission from these links if you order something at no additional cost to you.
2014 was a huge year for UncoveringPA. During 2014, I visited 39 different counties in Pennsylvania and was on the road for more than 50 days. During all those travels around Pennsylvania, I took thousands and thousands of photos.
So, over on the UncoveringPA Facebook page, I decided to count down the top 25 photos that I took this past year. There is a huge variety of photos from all over Pennsylvania. If you want to see the full countdown, check out this album on the UncoveringPA Facebook page.
The countdown ended on January 1, 2015, but for the benefit of those of you who don't follow me on Facebook and might have missed a few photos or want more information on them, I thought I'd share with you my top 10 Pennsylvania travel photos of 2014.
Without any further ado, here they are:
#10 – Thomas Mill Covered Bridge, Philadelphia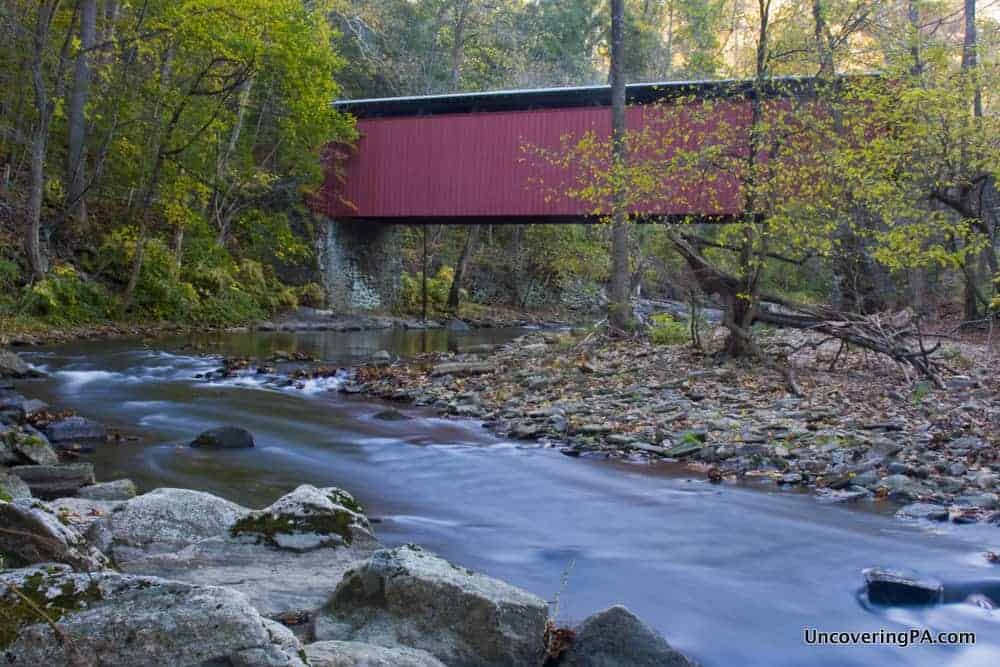 My 10th favorite photo of the year is of Thomas Mill Covered Bridge in northwest Philadelphia. This is not only the last covered bridge in Philadelphia, but it's the last covered bridge left in any major US city.
Crossing the Wissahickon Creek in Fairmount Park, this bridge is in a surprisingly scenic spot for being in the city. To get to the bridge, you have to hike for about 10 minutes from Chestnut Hill.
What I really like about this photo is the silkiness I was able to get in the water, and that I even got the shot in the first place. To take it, I had to climb over a wooden fence and make my way down a very steep, rocky hillside to the creek below, as it was a bit too cold to wade the stream. All the while, joggers and bikers along the path were giving me odd looks trying to figure out what I was doing.
#9 – Murray Reynolds Falls, Luzerne County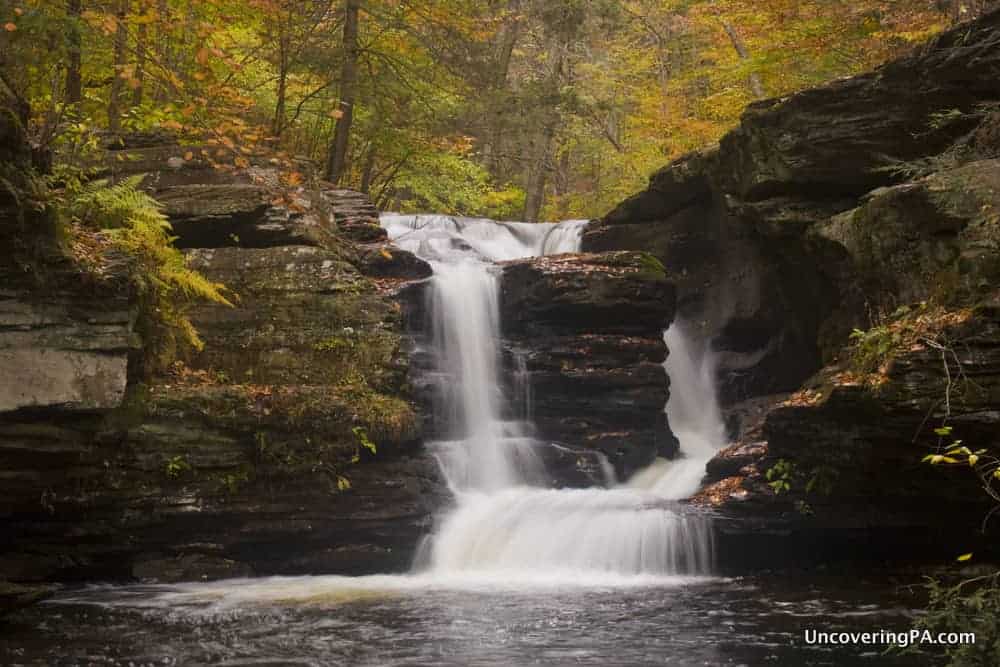 This is actually one of four photos from my October trip to Ricketts Glen State Park to make the list, and, quite honestly, I could have probably picked a few more. If you've never been to Ricketts Glen State Park in Luzerne County, add it to your 2015 travel plans. Trying to describe the beauty in words is really impossible, even if you visit a couple of weeks after peak fall colors, like I did.
What I really like about this particular waterfall is the symmetry of the shot and how the water is cascading down in two different streams. The day I visited was quite cold, so I was on a mission to not get my feet wet. This made it hard to get to some of the best positions, but I was fortunately able to make my way onto a small rock in the middle of the creek to get this shot.
#8 – Philly's Christmas Village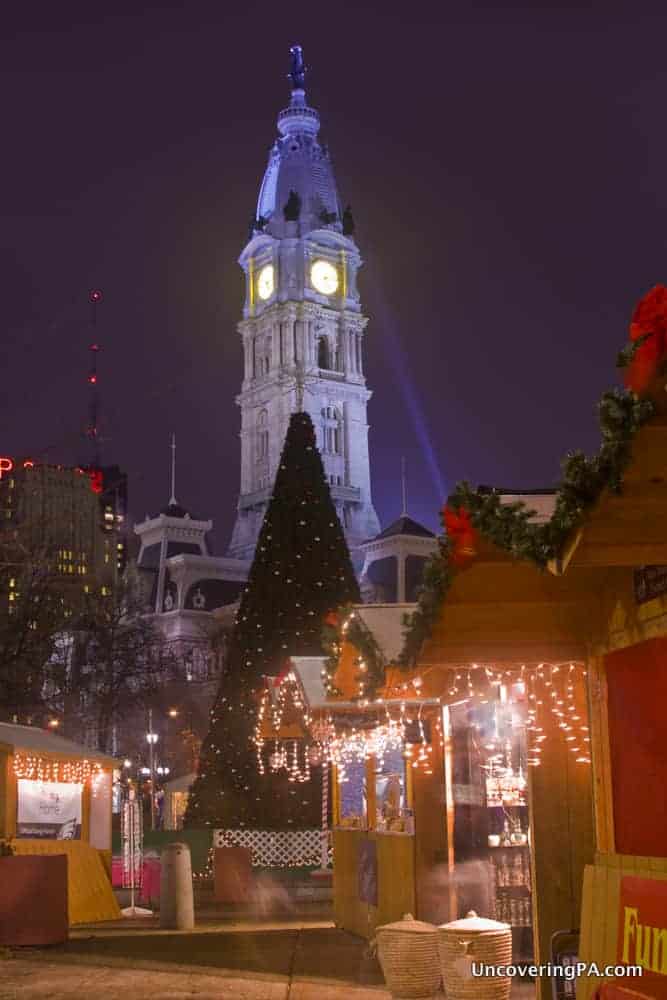 I had the chance to visit Philly's Christmas Village just a couple of days after it opened for the season. Unfortunately, the Christmas tree in the center of the village hadn't had its official lighting yet. However, I still think this shot came out really nicely with City Hall in the background and the stalls in the foreground.
The holiday season is really a great time to visit Philadelphia. Make plans to get there in 2015 if you haven't ever been.
#7 – Academia Pomeroy Covered Bridge, Juniata County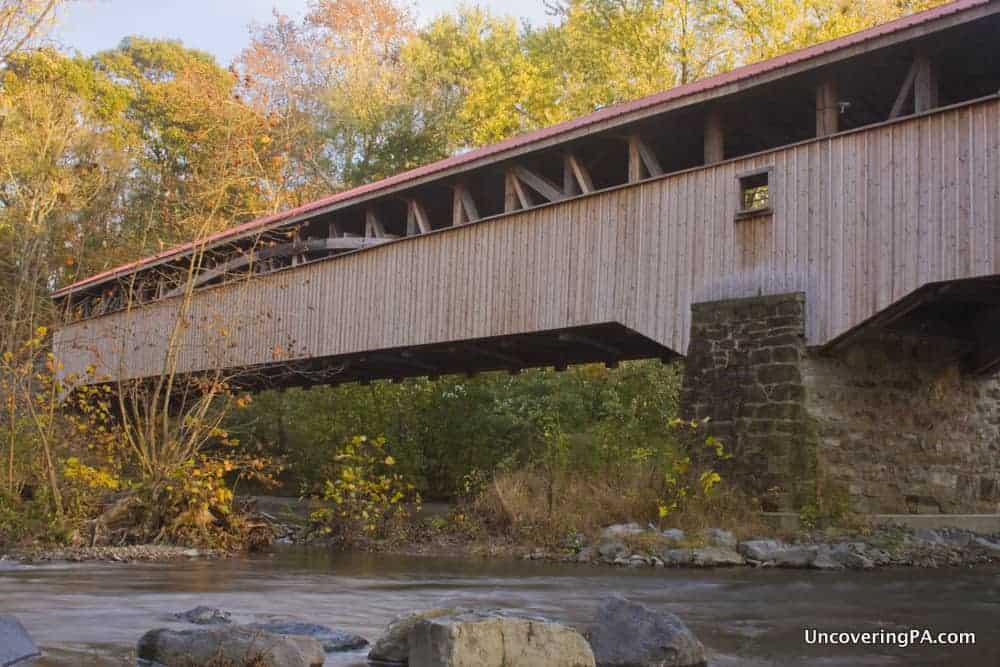 I visited more than two dozen different covered bridges in Pennsylvania this past year, and I definitely think that this is the most beautiful one that I saw.
Academia Pomeroy Covered Bridge is one of four covered bridges in Juniata County, but if you are only going to see one, this is the one to see. This is the longest remaining covered bridge in Pennsylvania, and its length makes it very difficult to capture the entire bridge. However, this shot, which involved me wading into the swiftly moving creek, and almost falling as I ducked under some branches, was quite rewarding and one of my favorites from 2014.
#6 – Harrison Wright Falls, Luzerne County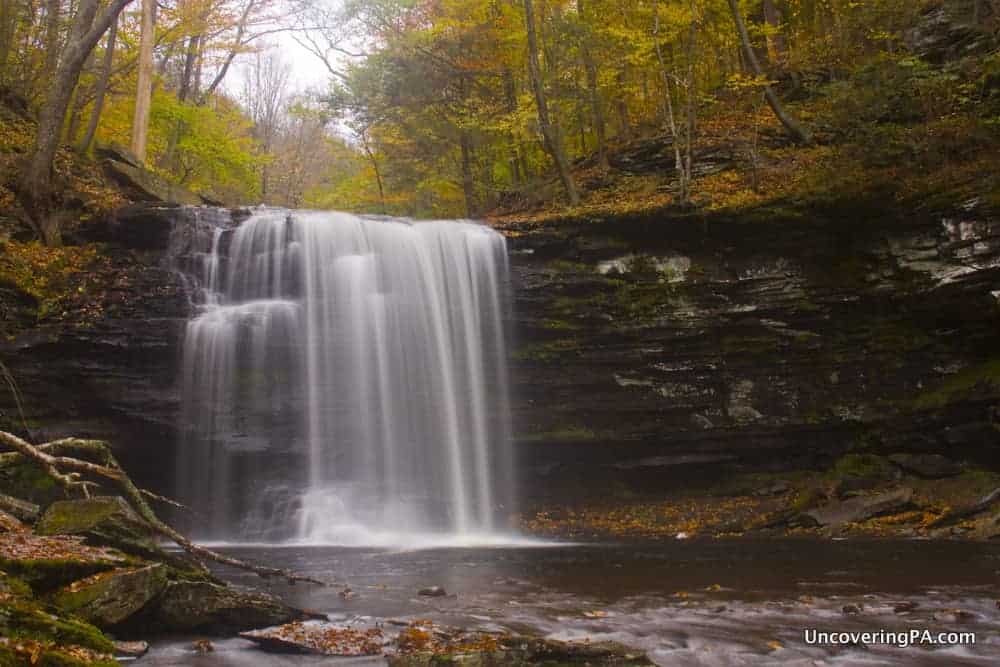 This is the highest ranked photo from my trip to Ricketts Glen State Park. While it wasn't my favorite waterfall in the park, I think this shot of Harrison Wright Falls came out the best of all the shots I took.
Why that is, I'm not entirely sure. It might be the beautiful fall colors behind the waterfall, or the perfect flow on the day that I visited. However, of all the waterfall shots I took in Pennsylvania in 2014, this was my second favorite shot of them all.
#5 – Pennsylvania State Capitol, Harrisburg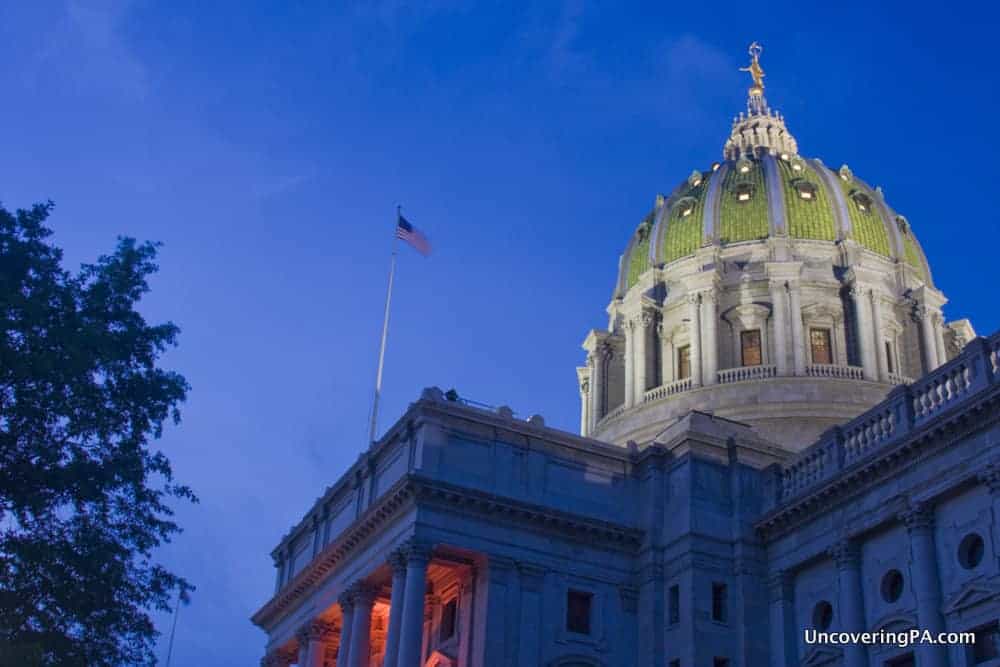 If you've ever seen the Pennsylvania State Capitol, you know that it's one of the most beautiful buildings in all of Pennsylvania. I guess that's why two shots of it made my top 25 countdown this year. In fact, on the night this shot was taken, I also took two of the other photos that appeared in my top photos of the year.
What I really like about this shot is the unique angle of the Capitol building. Typically, you usually see it shot straight on from State Street. However, standing on the grounds of the building gives the shot a unique perspective. I also really like the deep blue sky in the picture. This was a long-exposure shot taken a few minutes after sunset. The natural blue of the sky really shown through in the shot.
#4 – Mount Washington, Pittsburgh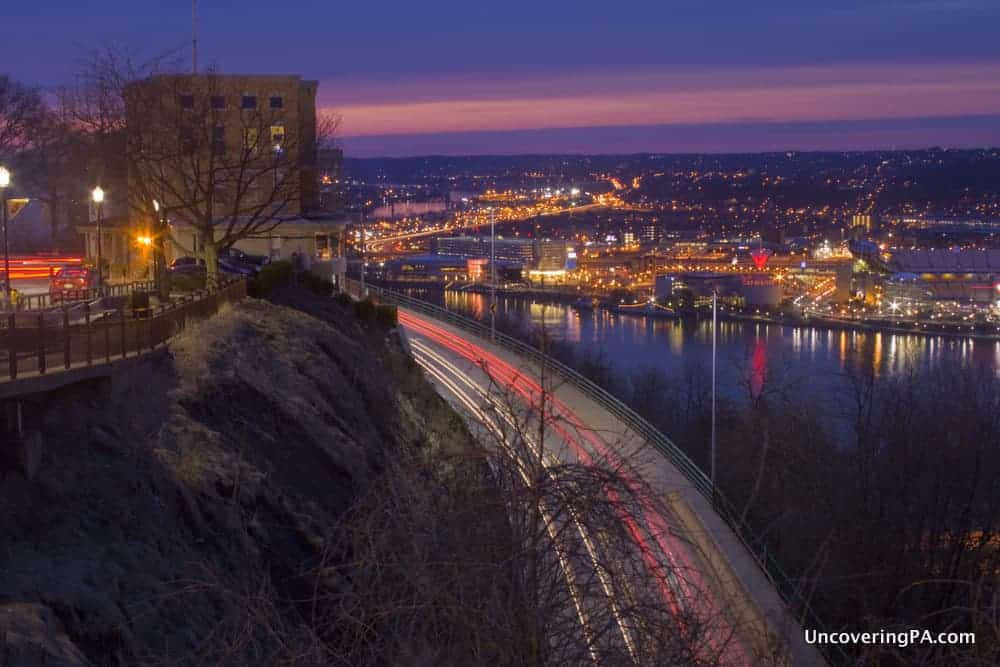 Sometimes the best shots come when you turn around. I had headed up to the top of Mount Washington to take shots of Pittsburgh's famous skyline. And, I did shoot the skyline. In fact, one of the shots ended up in the top 25 countdown. However, when I started to look at the scene around me, I decided to turn the camera the other way.
What I saw, was a gorgeous sunset and the city coming alive for the evening. This just proves that sometimes it's important to look all around when you are taking photos. You never know when the best shot will be behind you.
#3 – Bilger's Rocks, Clearfield County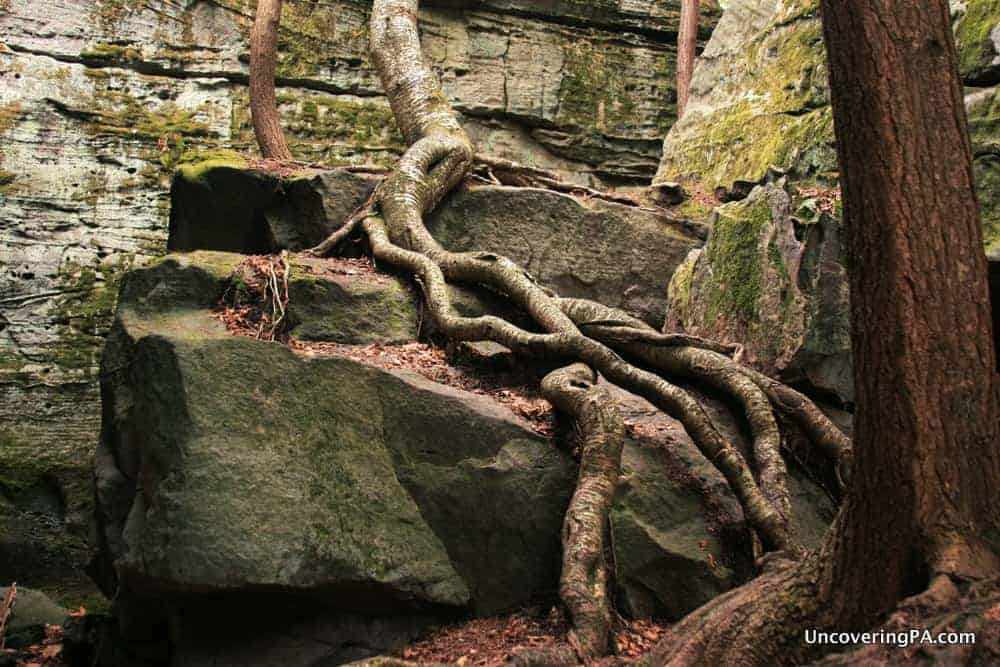 I went to Bilger's Rocks not really expecting anything too terribly exciting. However, I came away in awe of the site's beauty. Fortunately, I also came away with some great photos.
What I love about this photo isn't just the tree that's slowing wrapping itself over the boulder. Instead, I love that this shot reminds me of my adventures exploring the temples of Cambodia, where sights like this are quite common. So, while this shot is cool, it probably got bumped up a few spots because of the great memories it invokes.
#2 – Dry Run Falls, Sullivan County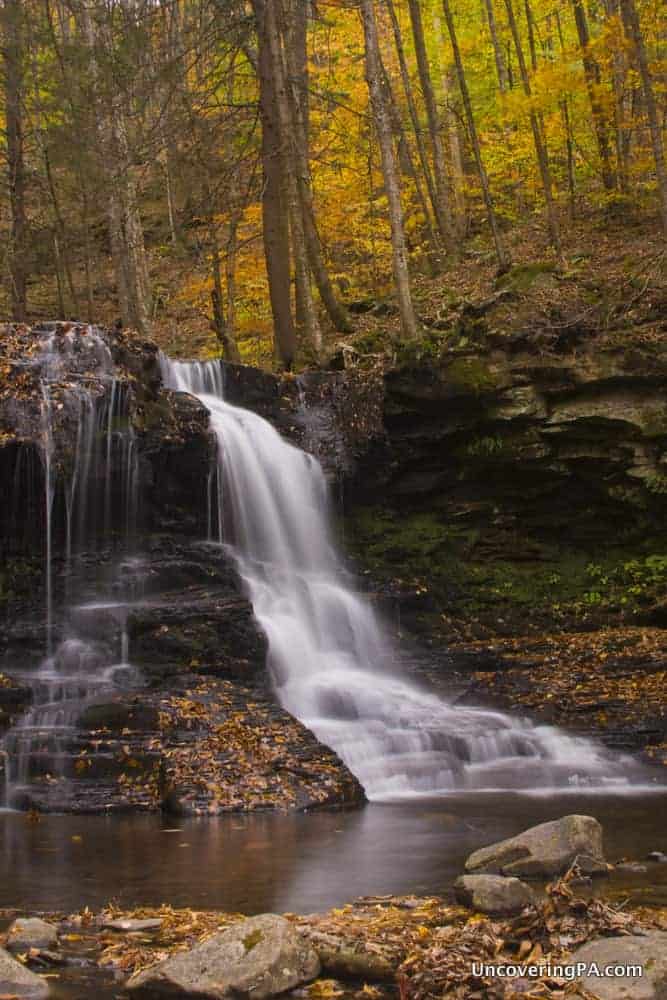 If you've been following my site for a while, it comes as no surprise to you that I enjoy photographing waterfalls. In 2014, I visited more than 45 different waterfalls in Pennsylvania and took well over 1,000 photos of them. However, out of all those shots, this is my favorite waterfall photo of 2014.
I first visited Dry Run Falls in Sullivan County's Loyalsock State Forest in the summer of 2013, and when I headed back to the area in October 2014, I knew I had to go back. When I arrived the leaves were well past their peak, but there was still enough color there to really pop in the photo. Those colors, combined with the nice flow the day I visited made fantastic conditions for shooting the waterfall.
True, the water may have been freezing cold on my bare feet (I couldn't feel them for about 10 minutes after I finished shooting), but it was worth it to get some amazing shots of my favorite waterfall in Pennsylvania.
#1 – Market Street Bridge, Harrisburg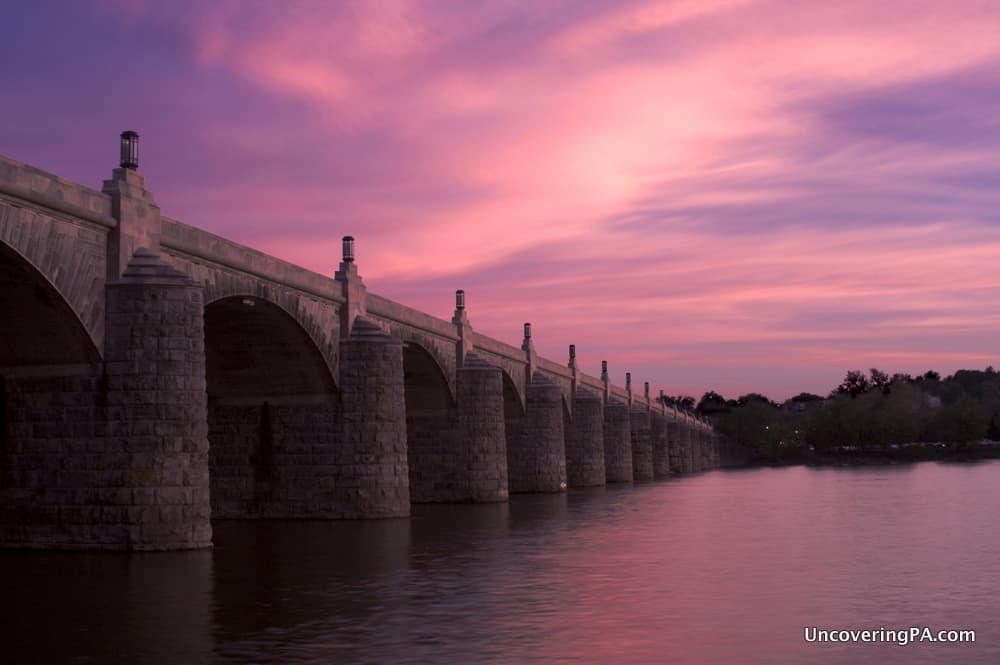 I shot a lot of bridges in 2014, but with only a handful of exceptions, they were all covered bridges. That's why I was so surprised when this photo of the Market Street Bridge in Harrisburg jumped out to me as being my favorite photo of 2014.
What I especially love about this photo is the beautiful sunset. I did very little in terms of editing the colors in the photo. The sunset really was that brilliant. In fact, I would say that this was the best sunset I saw in all of 2014.
While it might not be of a specific tourist attraction, this photo definitely jumps out as my favorite Pennsylvania travel photo of 2014.
You can also check out my favorite Pennsylvania photos of 2018, 2017, 2016, and 2015.