Disclosure: This article may contain affiliate links. We will make a small commission from these links if you order something at no additional cost to you.
2017 was another fantastic year of photography around Pennsylvania. During the year, I took photos on more than 70 days and took at least one photo in more than half of Pennsylvania's counties.
Not only that, but I also started hosting Photography Workshops. Starting in August, I've hosted nine workshops showcasing cities at night and abandoned buildings. I'm looking forward to expanding these to even more places in 2018, and I hope you'll be able to join me at one.
As I've done since starting this site, I've put together my 10 favorite photos that were taken in the past year. Scroll down to see the photos and to read a bit more about the story behind them.
And, if you want to see more great photos of Pennsylvania, check out my top Pennsylvania travel photos of 2018, 2016, 2015, and 2014.
#10 – Sunset in Lancaster County's East Lampeter Township Community Park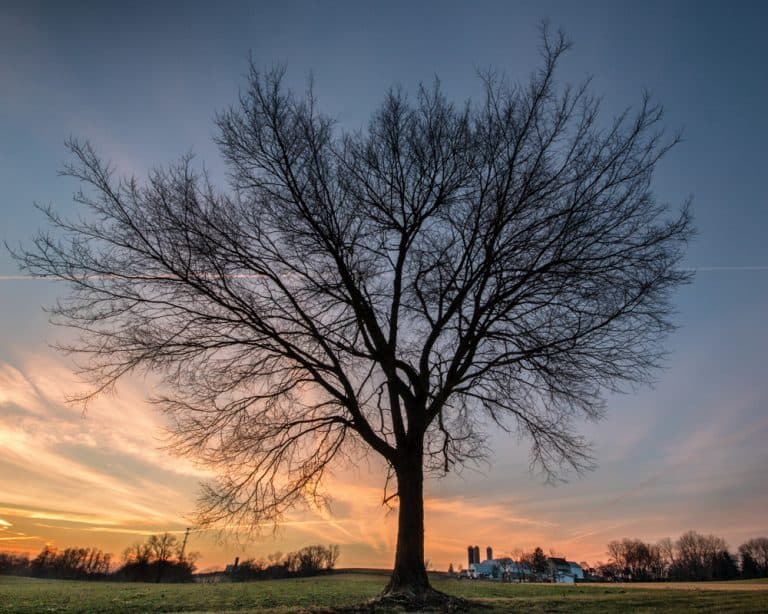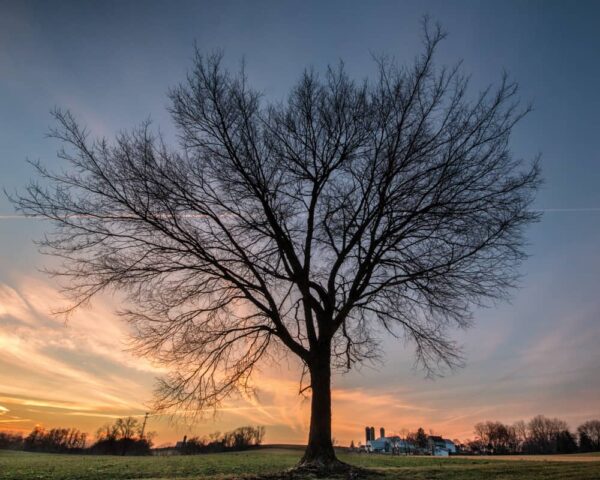 The first photo on this list is also the first one taken in 2017. I took this photo in January at East Lampeter Township Community Park in Lancaster County. While it's just off the bustling Route 30 and adjacent to Dutch Wonderland, there's a peacefulness to this image that I love.
I also really like how the winter tree and sunset light almost hide the farm in the background.
#9 – Choke Creek Falls in Lackawanna County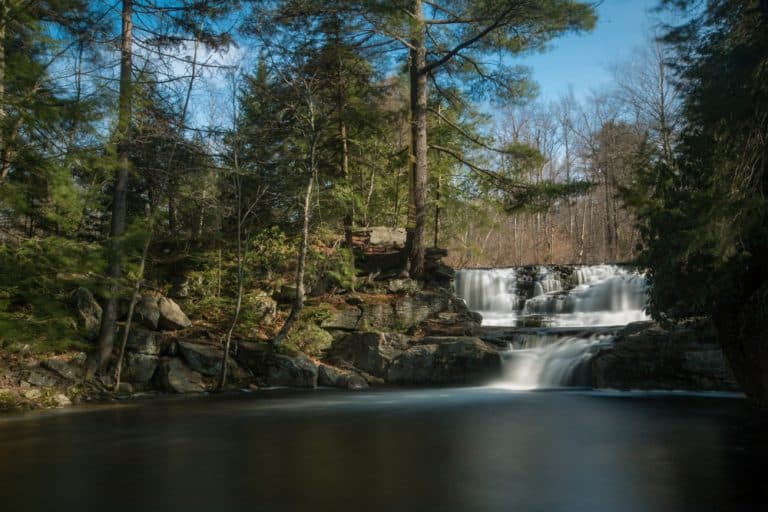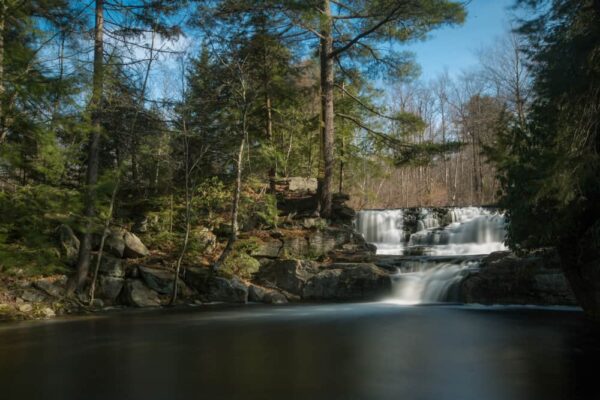 Somewhat surprisingly, this is my only waterfall image on the countdown. I took this shot of Choke Creek Falls during my first visit here this past April. Located deep within Pinchot State Forest in the southern part of Lackawanna County, this waterfall is relatively easy to reach if you know where to go.
Unfortunately, this has led to some trash in the area, including an old couch which is just off frame. However, there's still a lot of beauty at this waterfall. Even more conveniently, the Pinchot Trail has been rerouted to go past this waterfall making it even easier to locate.
#8 – Solar Eclipse over the Pennsylvania Capitol's Dome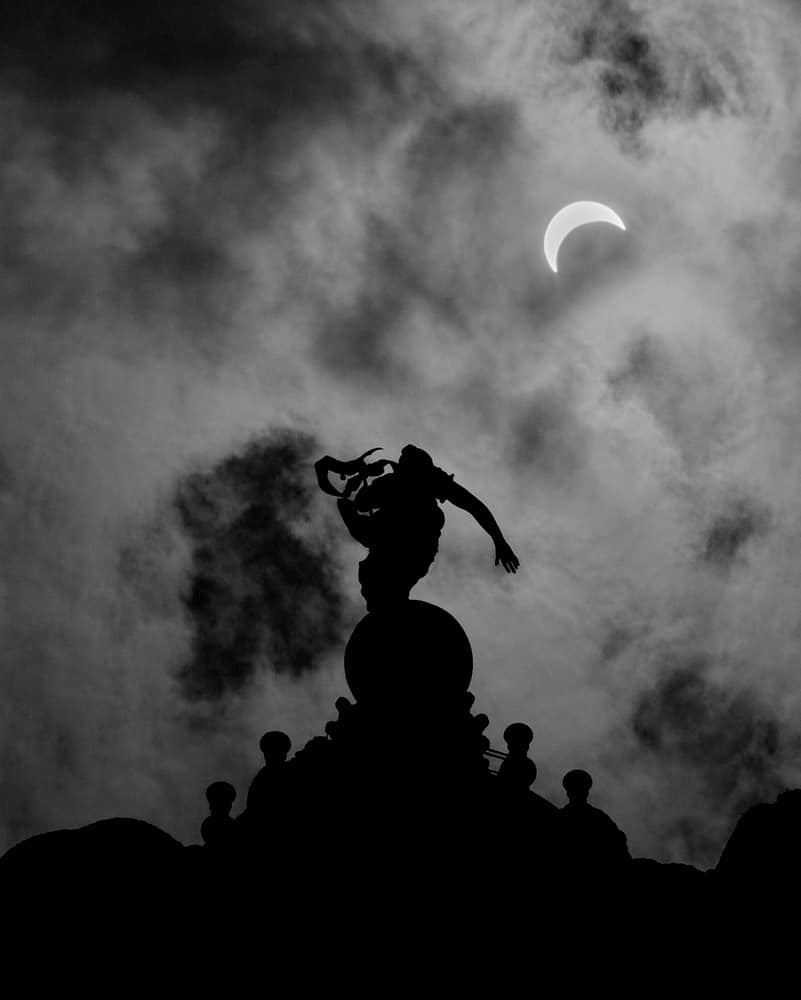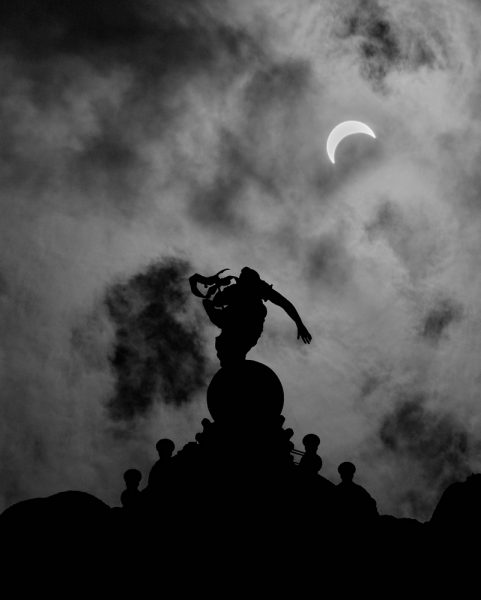 While Pennsylvania didn't get to see a total solar eclipse in 2017 (we will in 2024), we were still treated to a partially-covered sun. Wanting to get something different, I headed down to the Pennsylvania Capitol in downtown Harrisburg to try and find a unique shot of this phenomenon.
What I came away with was this shot of the statue atop the Capitol's dome and the partial solar eclipse.
Without a doubt, this was probably the most difficult shot I've ever taken, but I'm very happy with the results.
#7 – Sunset over Downtown Pittsburgh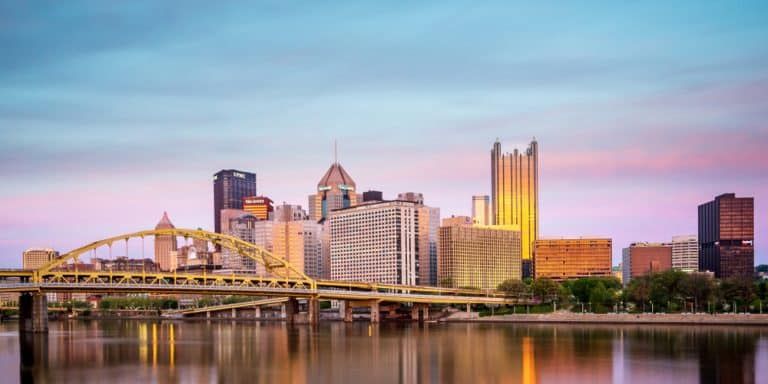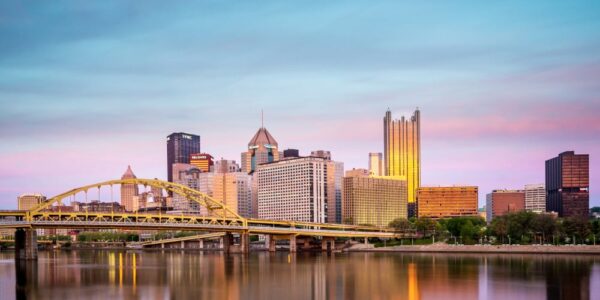 There are few places in Pennsylvania that I like shooting more than downtown Pittsburgh. There are just so many great vantage points from which to shoot this city, and it truly is a beautiful place.
I took this photo while watching sunset from the Mr. Rogers' Statue near Heinz Field. The North Shore Trail is one of my favorite places to take photos in Pittsburgh and this shot is a lot of the reason why.
I love the way the light strikes the buildings, and even had to tone down the saturation a bit because it simply looked unnatural.
#6 – Traffic at Philadelphia City Hall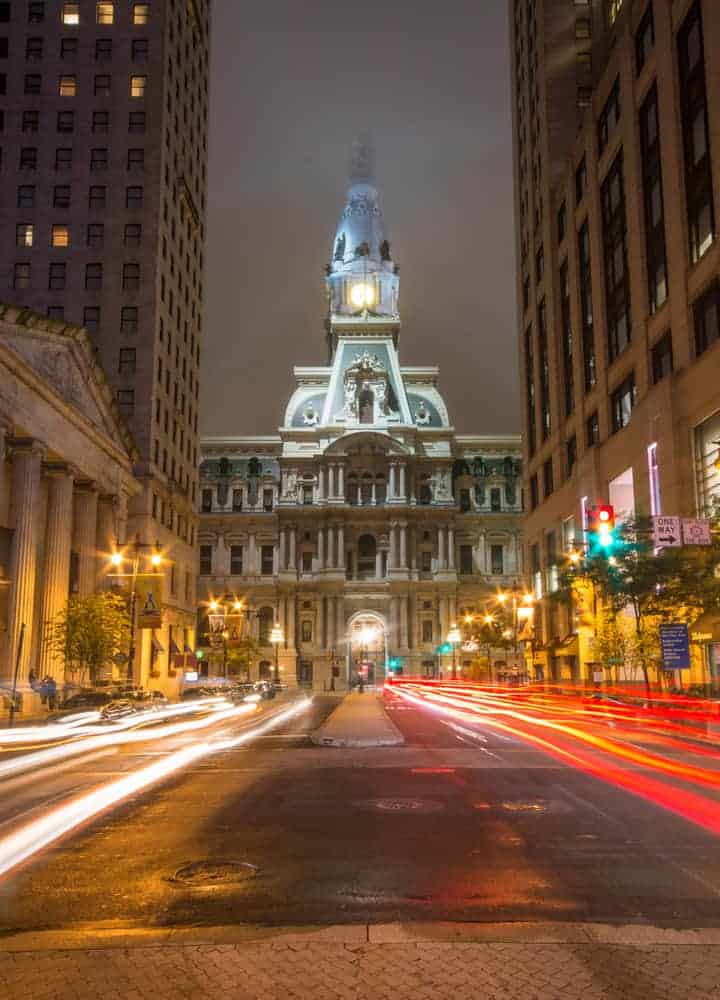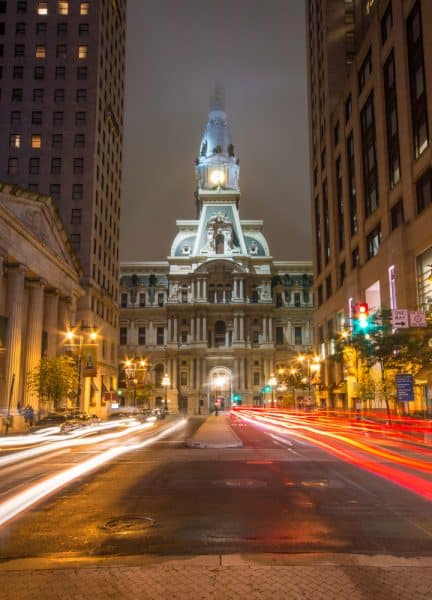 I've taken photos from this spot on several occasions, but this might be my favorite. I love how the traffic moving along Broad Street contrasts with Philadelphia's City Hall. Even better, the fog somewhat obscures the sky and the statue of William Penn that sits atop the building.
This spot is one of my favorite places to take pictures in Philly and is included on my Sunset and Nighttime Photo Workshops in the city.
#5 – A Cell in Philly's Eastern State Penitentiary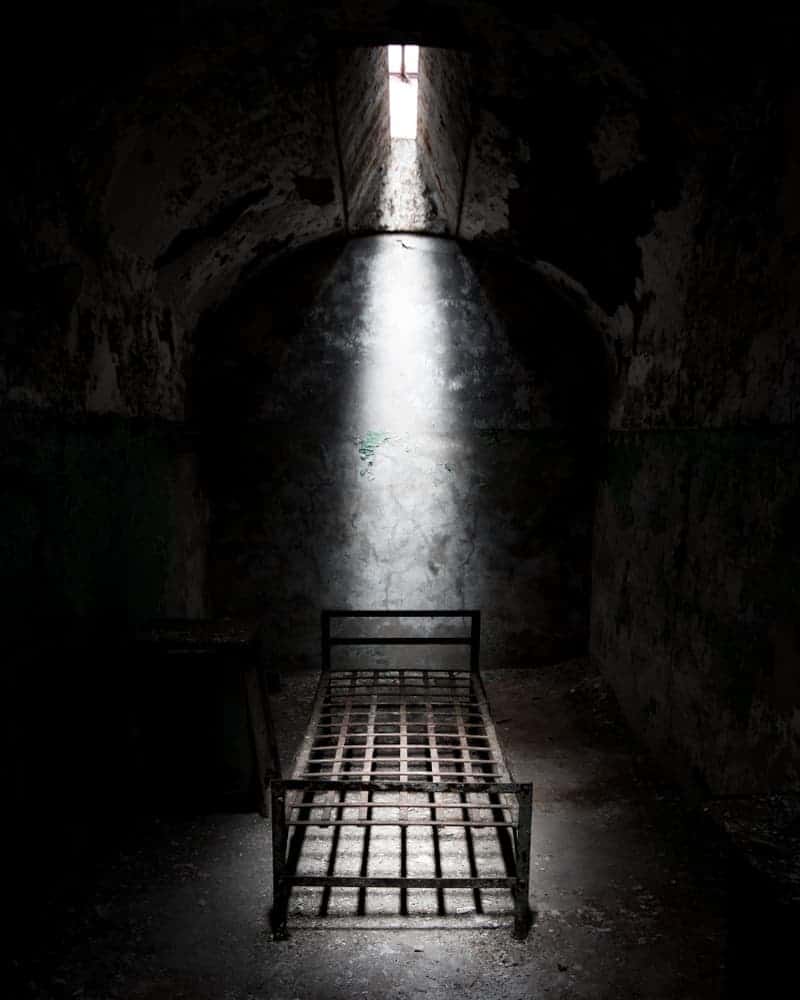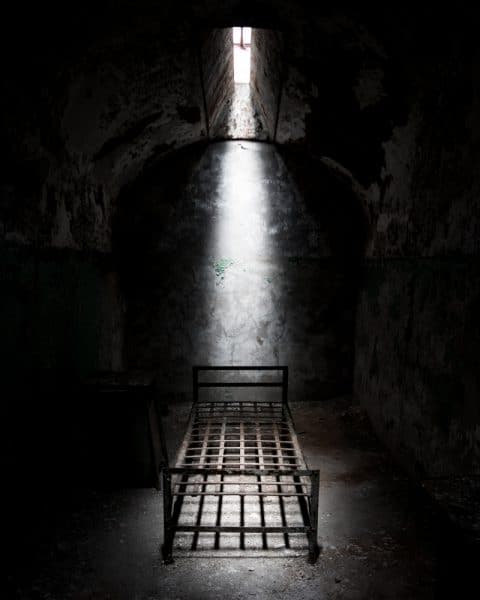 This photo was taken the day after the above photo and was my favorite from my second visit to Eastern State Penitentiary. This former prison is now a tourist site and visitors can roam the halls and grounds of the prison to learn about its history. For those that love taking photos, this is also a fantastic spot for photography.
The cells of the prison are all a bit different, and this one was set up with the remains of a metal bed in the middle of the room. Because I was there in the middle of the day, light was streaming in from the hole above the bed directly onto it. This gave it both an eerie and a magical appearance at the same time.
#4 – Foggy Sunrise over Raystown Lake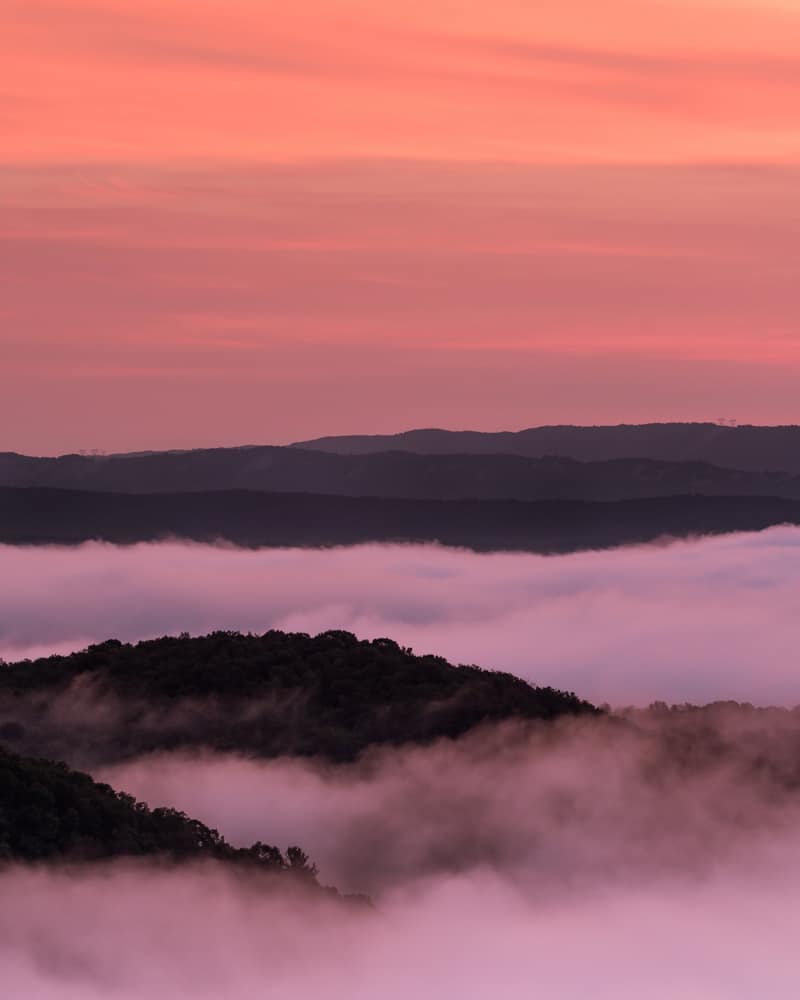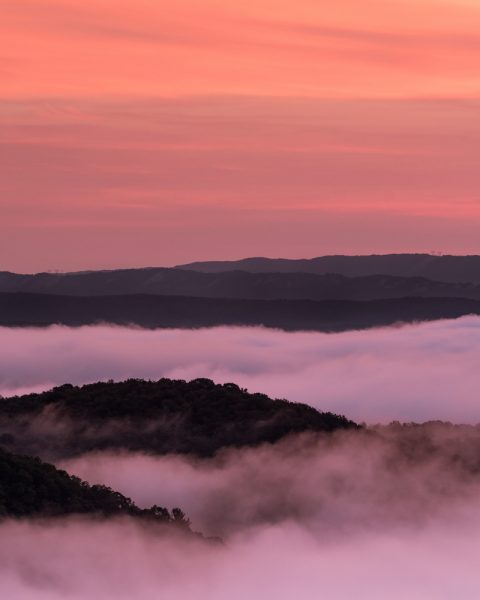 Raystown Lake is one of the most beautiful spots in Pennsylvania, and I was glad that I was able to return to it in 2017. I woke up early on a foggy morning in early autumn and headed to Ridenour Overlook.
Normally, this is a great spot from which to view the lake and the dam, but on this morning, it was completely encased in fog. To top it off, there was an amazing sunrise which not only created beautiful color in the sky, but also cast a fantastic hue onto the fog.
This was definitely a morning I'll never forget.
#3 – McConnell's Mill Covered Bridge in Lawrence County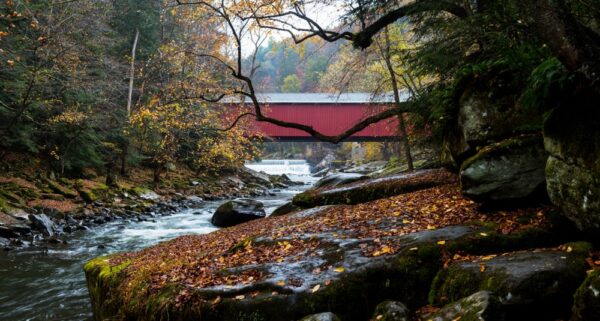 I've visited nearly 200 covered bridges in Pennsylvania, and McConnell's Mill Covered Bridge in Lawrence County is definitely one of my favorites. On this late October morning, the air was cold and a constant rain forced me to cover my camera with a towel to keep it dry.
This three-shot panorama showcases the beauty of this cold and dreary autumn morning as Slippery Rock Creek passes beneath the bridge.
#2 – Sunflowers near Chambersburg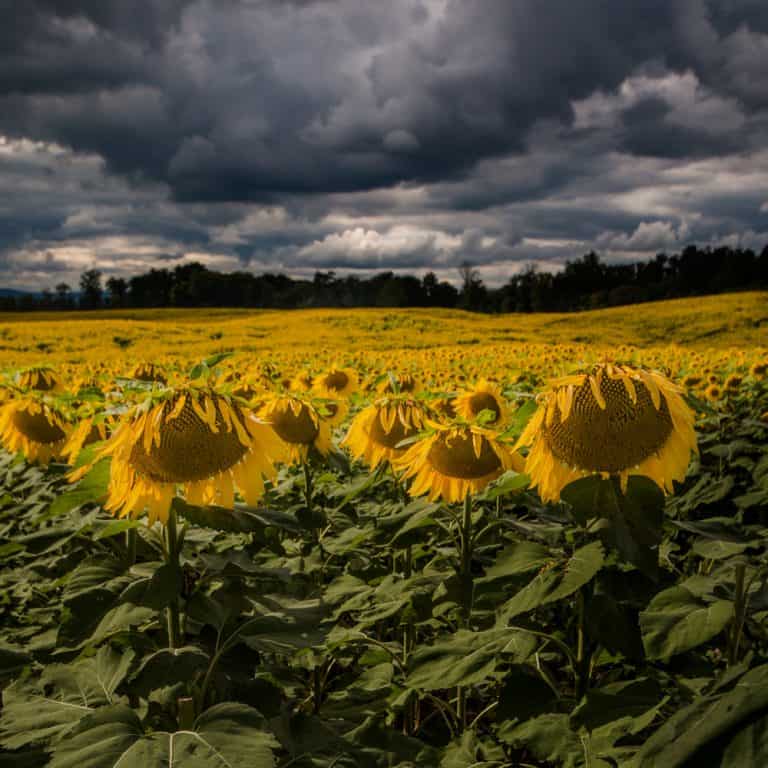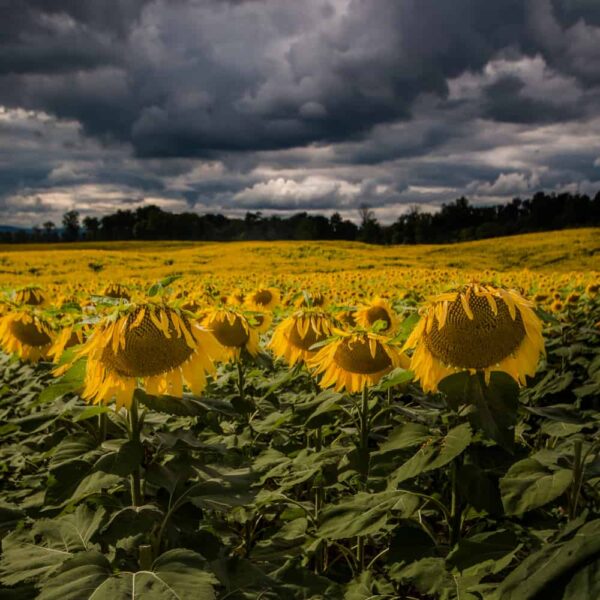 I love photographing sunflower fields in PA, and I was fortunate enough to find out about this fantastic field near Chambersburg this past September. This was this one of the largest sunflower fields I have ever seen, but sadly it was a bit past its prime when I visited.
I wasn't sure how my images would turn out because I had to visit in the bright mid-day sun, but I got incredibly lucky as storm clouds were rolling in which created a very ominous backdrop for this image. While I rarely name my images, I've taken to calling this one, "Bow before the sun god."
#1 – Sunrise over the Duquesne Incline in Pittsburgh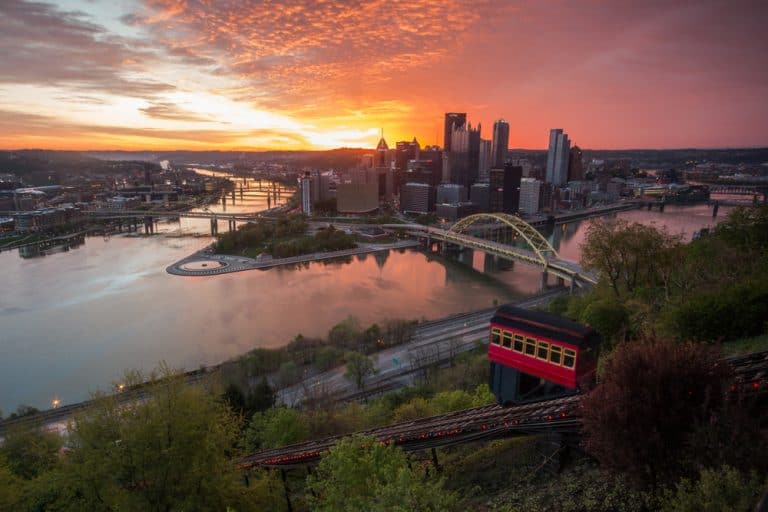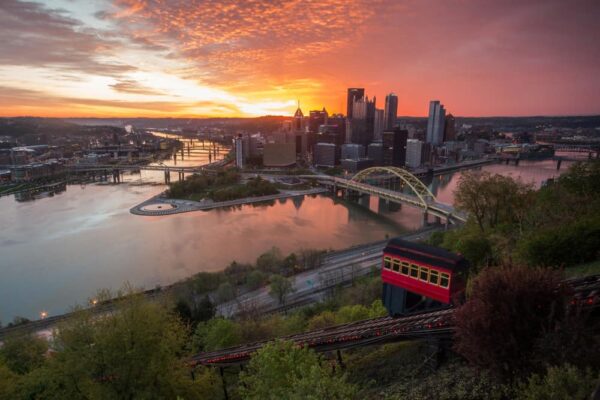 This is a shot I've wanted to take since I started UncoveringPA, but never have had a chance until April 2017. I had a feeling that the morning's sunrise might be good, so on my way out of town, I got up early and headed to the top of the Duquesne Incline on Mount Washington.
Pulling myself out of bed paid off as I was treated to maybe the best sunrise I saw all year. As the sun rose behind the city, I was able to capture this shot. While it's the classic Pittsburgh image and has been taken thousands upon thousands of times, the colors of the sky give them image a look that I've been dreaming of taking for many years.
Want to see even more great photos of Pennsylvania? Check out my favorite Pennsylvania travel photos of 2018, 2016, 2015, and 2014.