Disclosure: This article may contain affiliate links. We will make a small commission from these links if you order something at no additional cost to you.
Lancaster County is one of the most popular destinations in Pennsylvania thanks to its Amish culture, great food scene, and beautiful scenery. And, for those looking to explore this region, there are many fantastic cabins and Airbnbs in Lancaster, PA, that you can stay in while visiting.
These spots range from modern apartments in cities to farm stays with Amish families, ensuring that, no matter what you want to experience during your visit, and whatever you pick to stay on VRBO or Airbnb, Lancaster, PA is a great destination to visit for a fun a unique vacation.
I've scoured through hundreds of the best houses, cabins, and Airbnbs in Lancaster County, and have put together a list featuring some of the most fun and unique spots to stay in this part of Pennsylvania Dutch Country. Check them out below.
(Note: The photo at the top of this article is used courtesy of Booking.com.)
The Glamper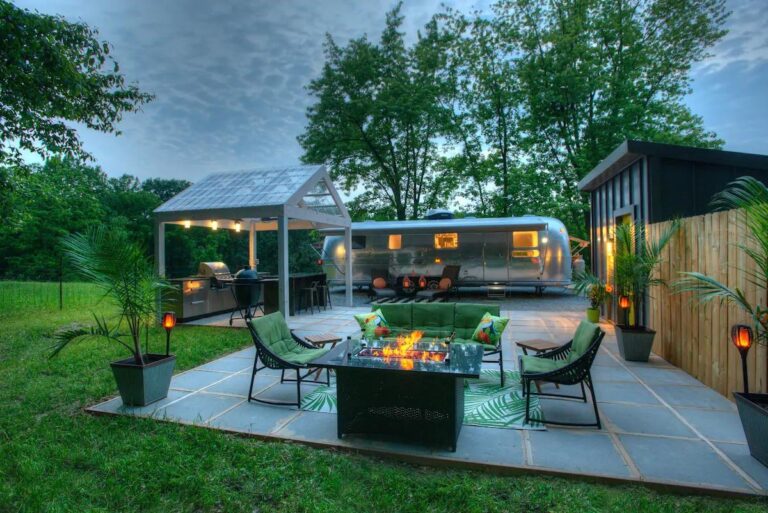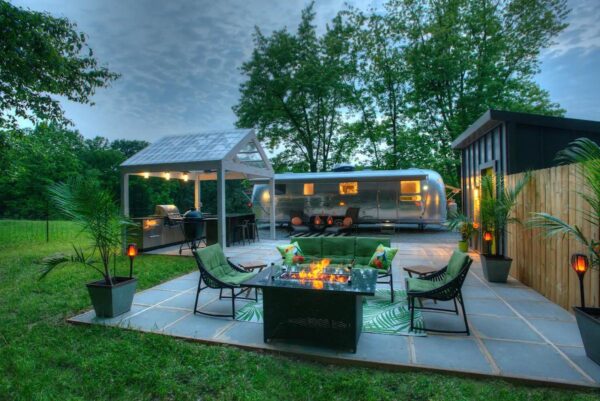 There might not be a more unique Lancaster County Airbnb than this Airstream trailer.
Located in the southwestern part of the county, two guests can spend the night in this beautifully restored trailer that features a great design and all the amenities you'll need. Outside, there is a large patio with a fire pit and an outdoor kitchen.
Adjacent to the glamper, you'll find a beautiful bathroom space for those that don't want to squeeze into the small bathroom in the RV.
Check Pricing and Availability Here!
Paradise Amish Bed and Breakfast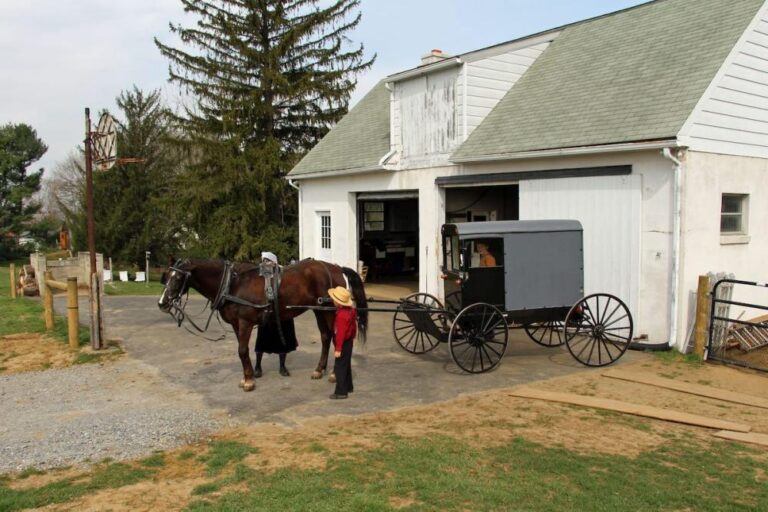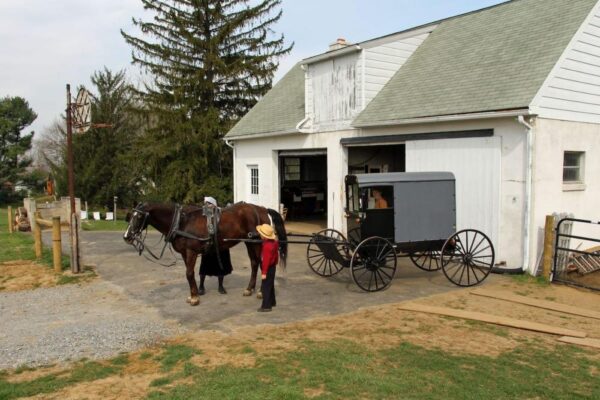 If you're coming to Lancaster County to experience the Amish culture, there are few better ways to immerse yourself in it than with a stay at an Amish farm.
This Amish Bed and Breakfast is located in the community of Paradise and gives visitors the chance to see a real Amish farm up close. However, don't worry, you won't have to rough it. This farm stay does feature modern amenities like electricity, hot water, and air conditioning.
In the morning, a simple breakfast is provided, in large part, from ingredients from the farm.
Check Pricing and Availability Here!
Caboose Train Car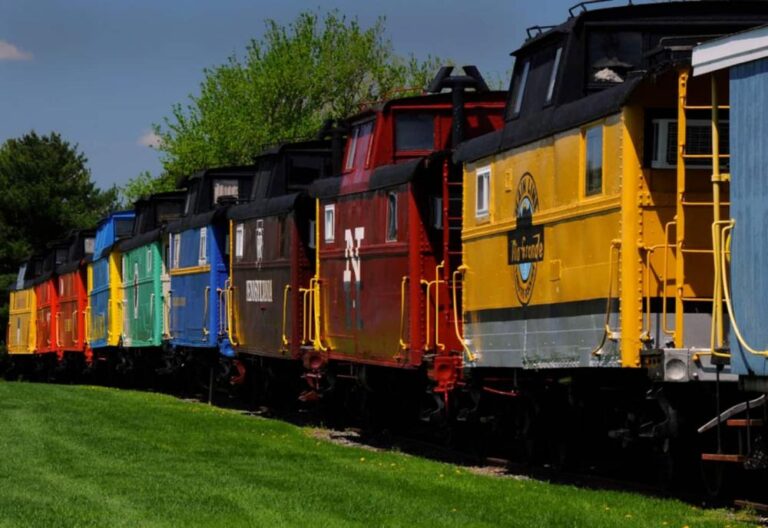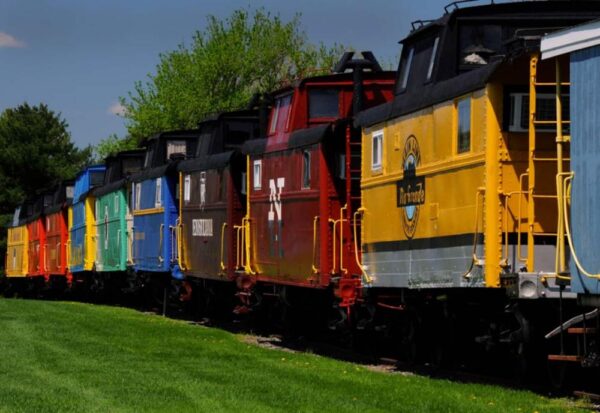 Looking for some extra unique? Spend the night in a historic caboose.
The Red Caboose Motel has a few of its cabooses on Airbnb for those looking for a fun spot to stay while in Lancaster County. The motel is located near Strasburg, a popular destination for railroad fans and home to the Railroad Museum of Pennsylvania, Choo Choo Barn, and other train attractions.
This particular caboose features two beds and all the normal amenities you'd expect in a hotel, just within the confines of a historic train car.
Check Pricing and Availability Here!
Ye Olde Stone Gables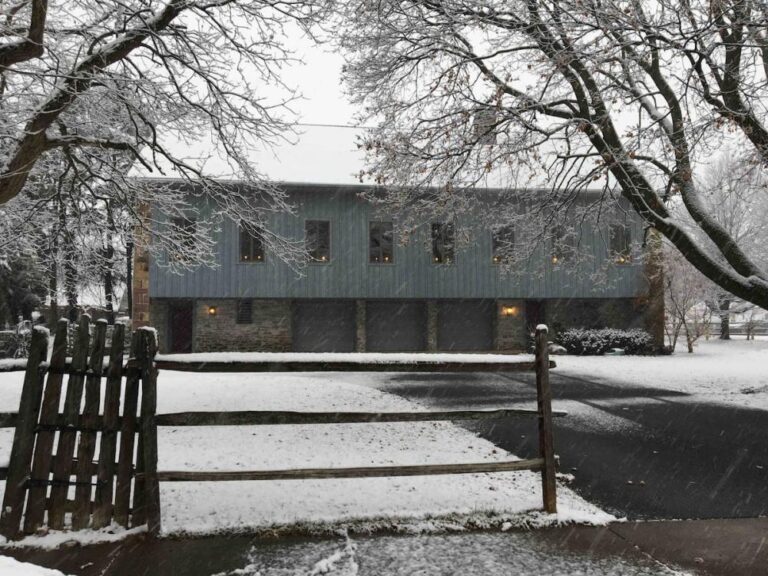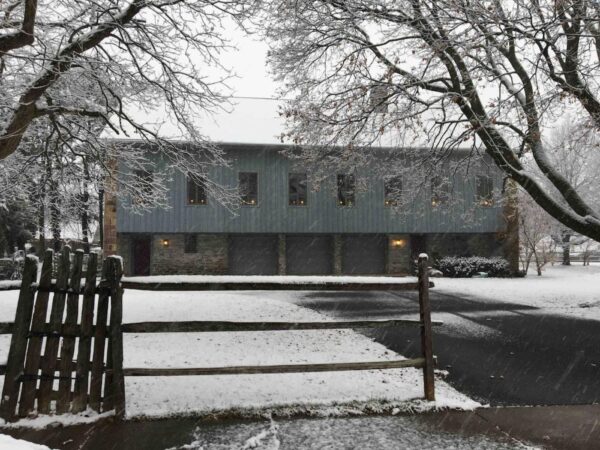 Stay the night in a 200-year old barn in the northern Lancaster County community of Ephrata.
This barn has been totally renovated to turn it into an amazing home with all of the amenities you could need in a Lancaster Airbnb. That includes three bedrooms, a fireplace, wood beams, and much more. There's even a huge cathedral ceiling in the great room.
Check Pricing and Availability Here!
The Sycamore A-Frame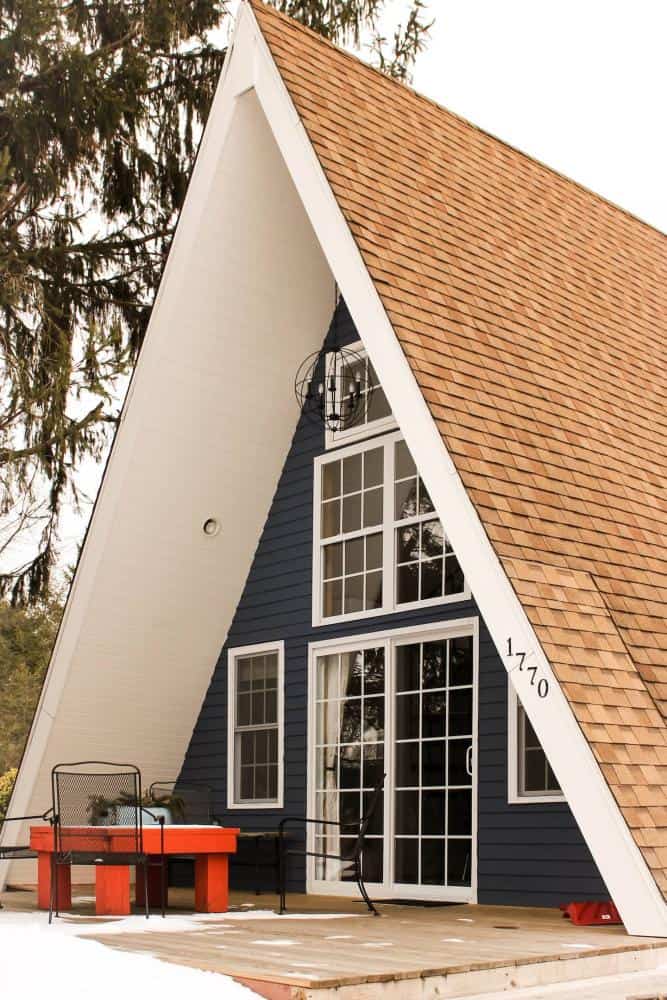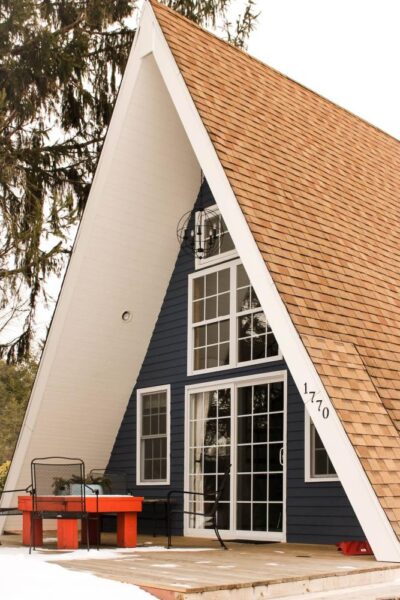 Despite being located only a short drive from downtown Lancaster, this beautiful A-frame cabin will still leave you feeling like you're away from it all.
This beautifully renovated cabin features a lovely kitchen and a stylish bedroom. There is also a spiral staircase that leads to a loft with an additional bedroom.
Outside, enjoy the fire pit and let the kids play on the swing set.
Check Pricing and Availability Here!
Historic Downtown Merchant's Home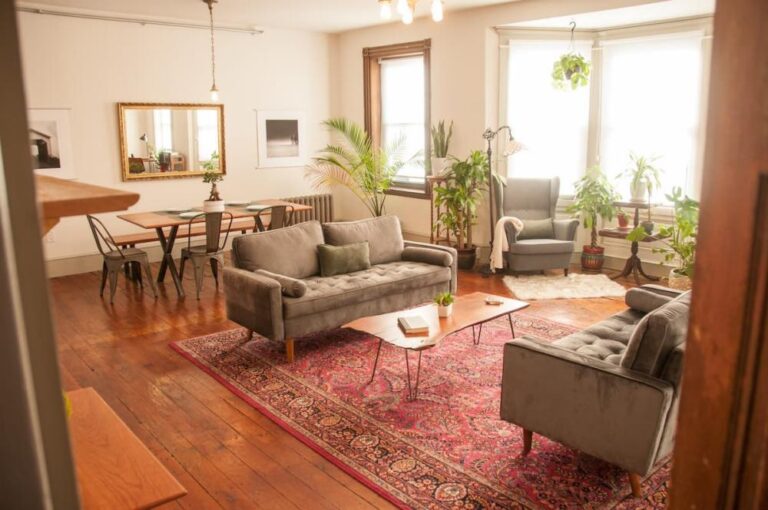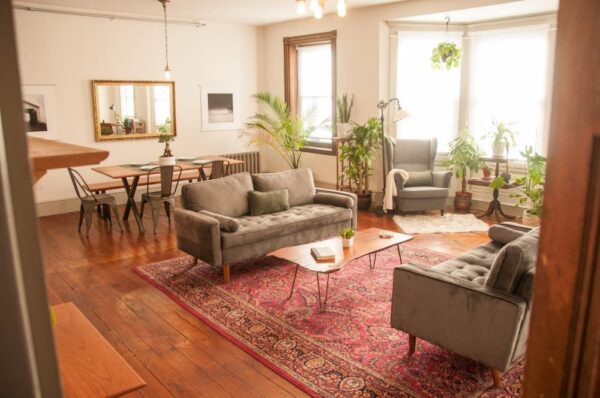 Downtown Lancaster is a lively place filled with shops, restaurants, and galleries. Be in the heart of the action while staying at this historic merchant's home.
Known as the Beittel House, this one-bedroom apartment features historical touches and a great Mid-century modern design. Even better, huge windows let in a ton of light during the day.
If you love great design and want to be in the heart of the city, this is a great Lancaster Airbnb to pick.
Check Pricing and Availability Here!
The Stone House Between the Streams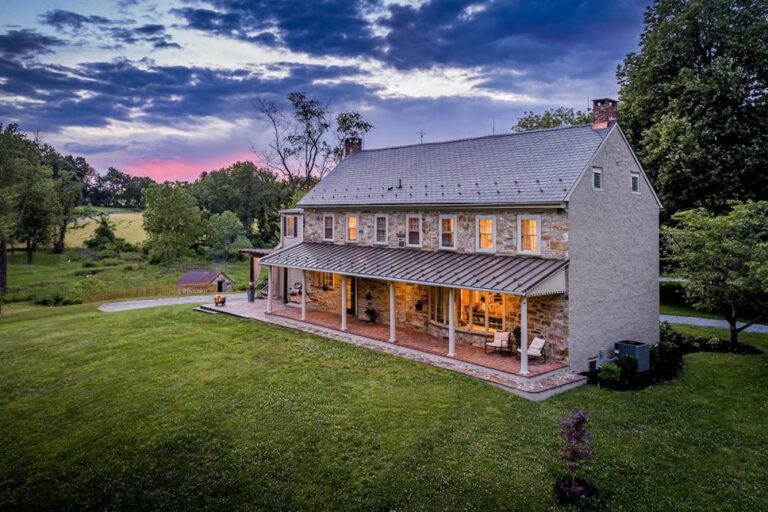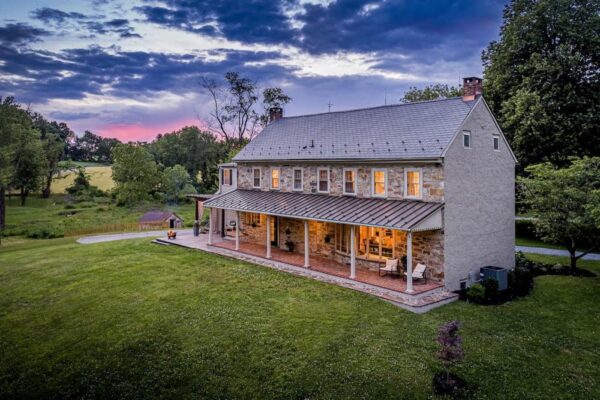 Located in the eastern part of the county and surrounded by Amish farms, this beautiful stone house might be the perfect Airbnb in Lancaster, PA.
This three-bedroom rental is located in a beautiful mid-18th century home. It features an inviting and airy design that is sure to delight.
Outside, there's a fire pit and a nearby stream that you can enjoy from the deck.
Check Pricing and Availability Here!
The Cube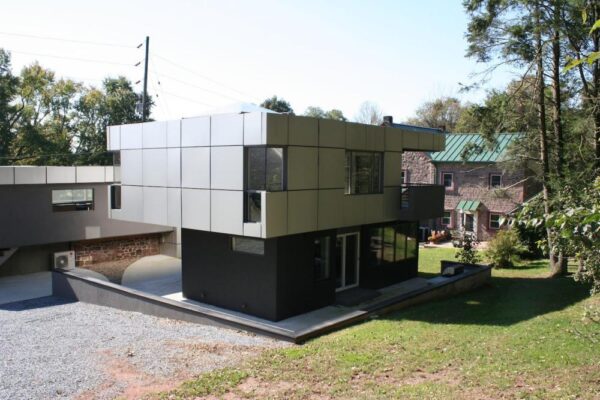 If you love modern architecture, you won't want to miss this incredible Lancaster County Airbnb that looks like it's floating in the air.
Inside, the modern architecture and touches continue, though with enough wood and large windows to brighten the space. The Cube features all the amenities of home, including two bedrooms and a small deck.
Outside, enjoy the three acres of land surrounding this rental or head to the many nearby attractions.
Check Pricing and Availability Here!
The Etown Firehouse Library Apartment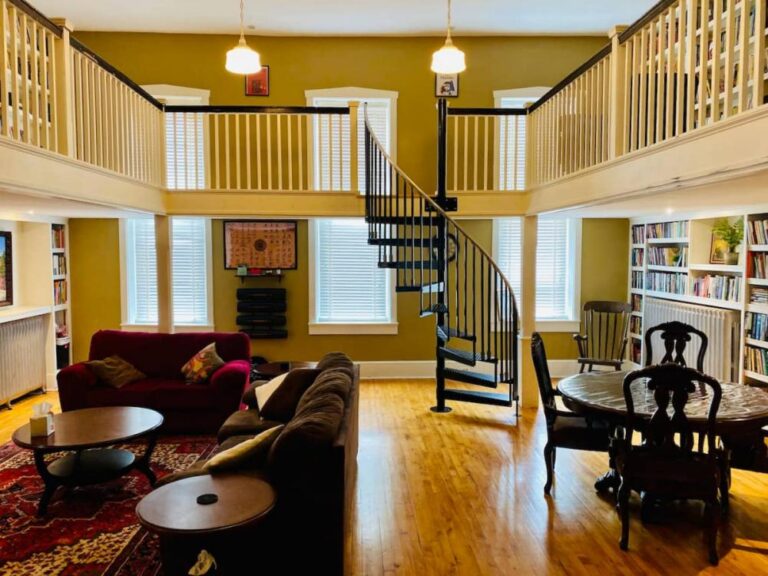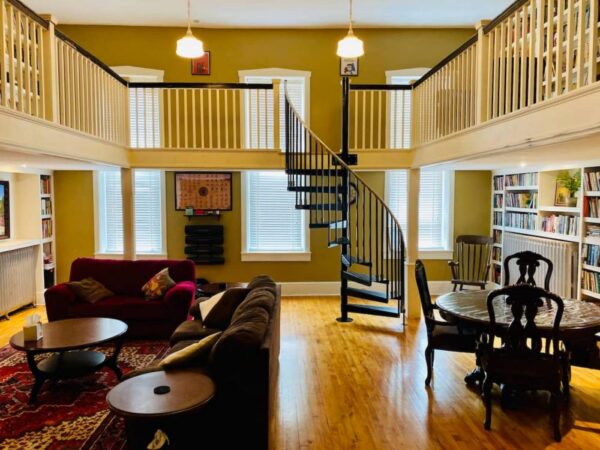 Located in the western Lancaster County community of Elizabethtown, you'll find this historic apartment.
In the past, this space was once a firehouse, dance studio, and an art gallery. Now, it's a one-of-a-kind Airbnb.
Inside, you'll find three bedrooms and many great touches. The highlight, however, is the large library that's complete with a TV, couch, and a spiral staircase. This is definitely the perfect spot for anyone that loves reading and relaxing.
Check Pricing and Availability Here!
The Conestoga Riverfront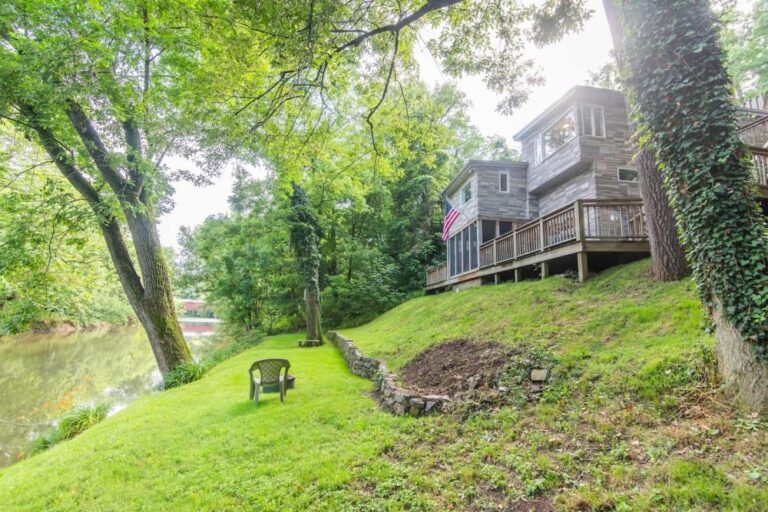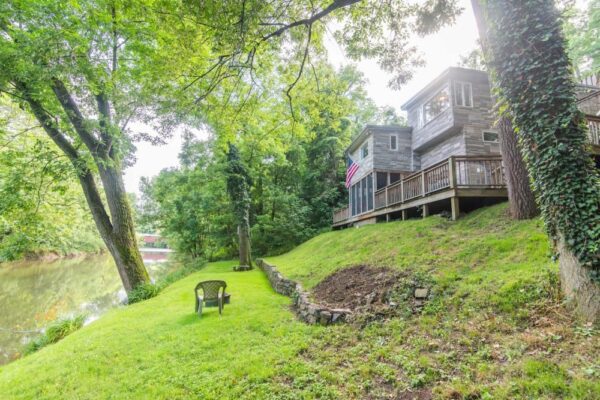 If you are looking for some riverside relaxation while exploring Lancaster, don't miss this incredible Airbnb located directly along the Conestoga River. Even better, it's centrally located and within view of one of Lancaster's covered bridges.
This cozy home features two bedrooms inside a stylish space that has all the amenities of home. There is also a large deck overlooking the river and a wood-burning fireplace to complete the stay.
Check Pricing and Availability Here!
Pleasant View Farm Guesthouse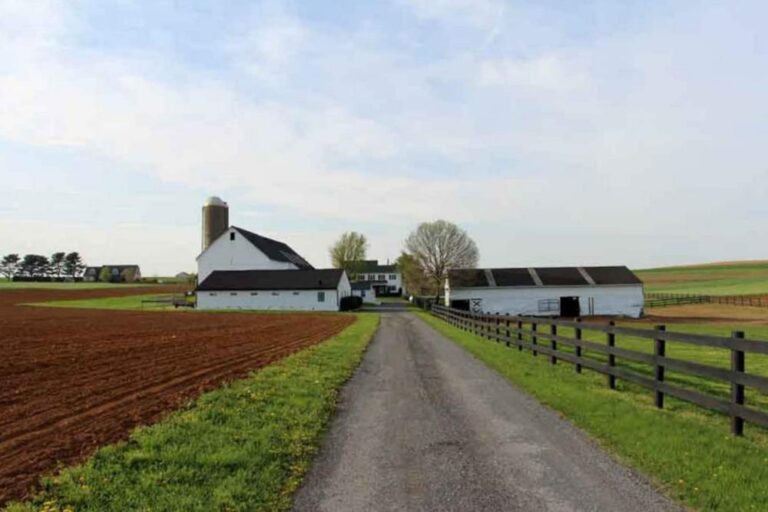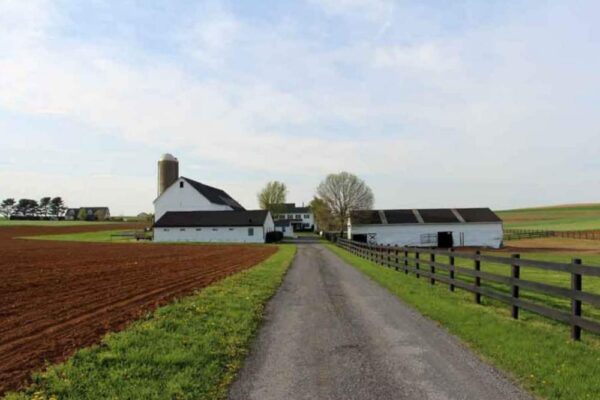 This non-working Amish farm near Intercourse is a great spot to stay if you want to immerse yourself in the local Amish culture.
This farm is owned by an Amish couple and visitors can stay in their guesthouse to enjoy a relaxing time in Lancaster County. The guesthouse features two bedrooms and does have electricity so visitors can charge all their devices.
Even though this is a non-working farm, guests can still get a glimpse into Amish farm life and see a variety of farm animals.
Check Pricing and Availability Here!
Gasthof Fretz in a Bavarian Village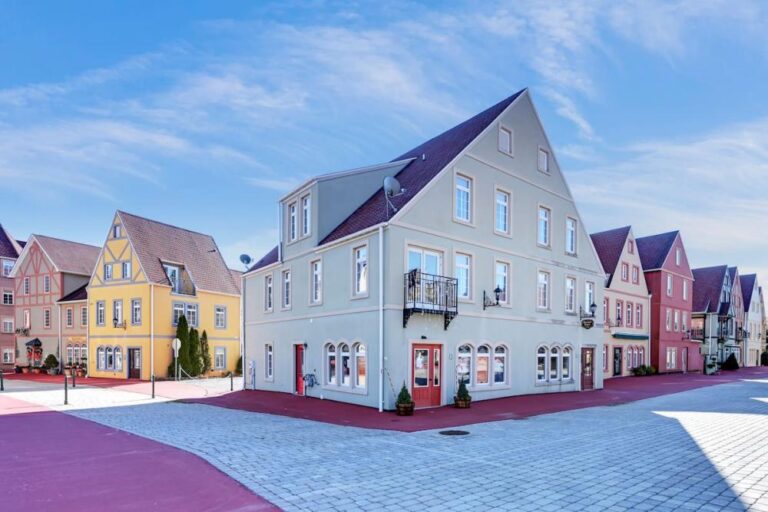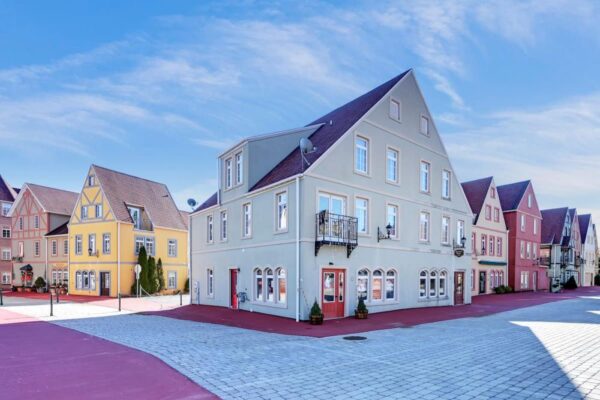 There are many unique communities in Pennsylvania, but few can compete with the small community of Stoudtburg Village in the northern part of the county. This small town was built to look just like a charming Bavarian village, and this great Lancaster Airbnb is located right in the heart of this unique place.
Inside, the home looks more like a normal house but features all the amenities you'll need and a stylish design.
Outside, explore the charming courtyard and the shops and restaurants within walking distance of this amazing spot.
Check Pricing and Availability Here!
The Family Home on the Lake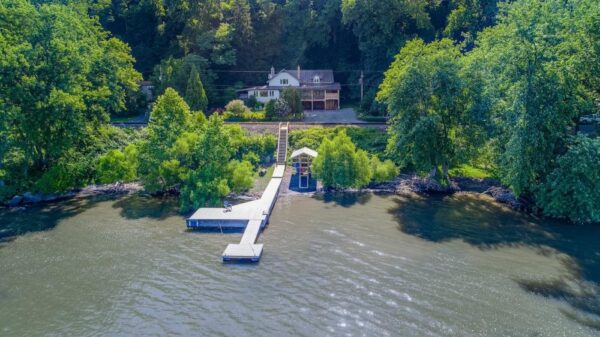 Once a fishing resort along the Susquehanna River, this amazing property is now an Airbnb that's perfect for the whole family.
This home is located near Pequea, PA along a portion of the river known as Clarke Lake. This area of the river is perfect for boating and fishing, both of which you can do from the home's dock.
Inside, you'll find great views of the river and five bedrooms. Outside, there is a hot tub, a fire pit, and a large deck.
Check Pricing and Availability Here!
Stone Gables Estate Liberty Spring House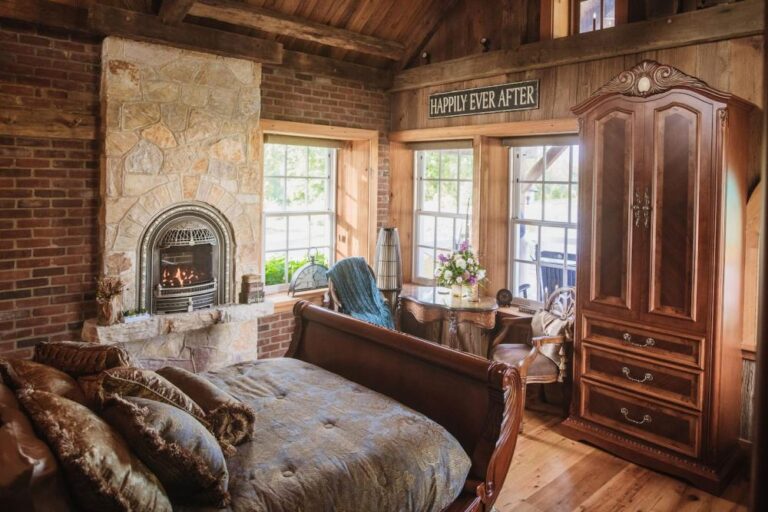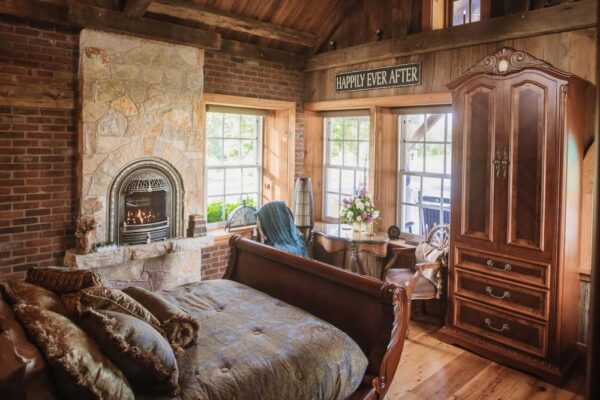 Located on Stone Gables Estate, a unique property in western Lancaster County, is the Liberty Spring House.
This historic property is perfect for a romantic weekend and features a cozy wooden interior and a beautiful clawfoot tub. There is also a small kitchenette in this small but inviting space.
Outside, enjoy the deck while overlooking a private lake.
Check Pricing and Availability Here!
City Center Carriage House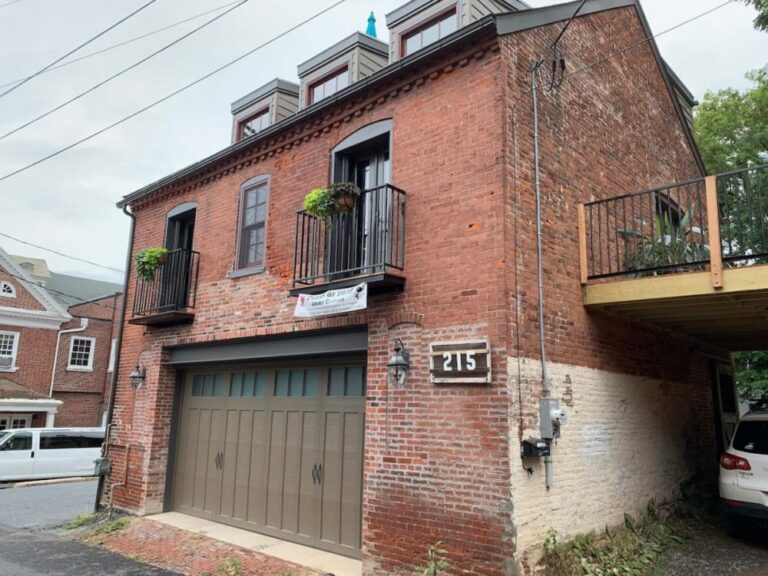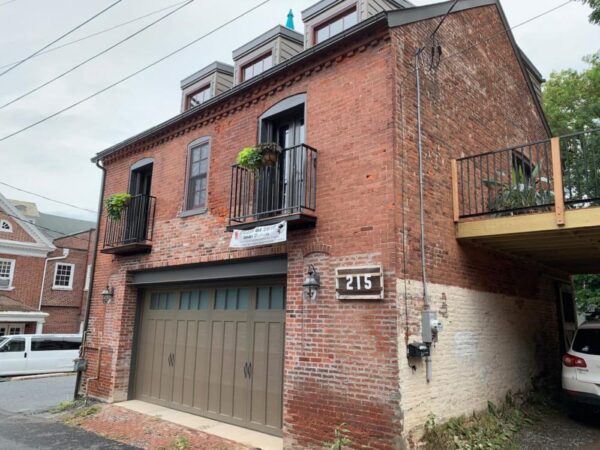 Located in the heart of downtown Lancaster, this historic carriage house is 150 years old and has been renovated into one of the most amazing Airbnbs in Lancaster, PA.
This studio apartment is located on the ground floor of the carriage house in what was once the horse stables. The owners have managed to maintain a ton of character in the unit, which gives it a beautiful and unique look.
Next to the apartment, there is covered parking and an outdoor space for guests to enjoy.
Check Pricing and Availability Here!
Want to explore the nearby area? Check out our favorite things to do in Lancaster City, the best free things to do in Lancaster County, and the top things to do in nearby Hershey, PA.
Looking for more great Airbnbs? Check out our favorite Airbnbs in Pennsylvania, the best Airbnbs in the Poconos, and the best Philadelphia Airbnbs.