Disclosure: This article may contain affiliate links. We will make a small commission from these links if you order something at no additional cost to you.
Every year, I enjoy looking back at my favorite images from the past year and picking my best Pennsylvania travel photos of the year.
This year, I've picked out my 10 favorite PA photos of 2018, and I really love every image that made the list this year. Scroll down to check out my favorite images from throughout the state and read a bit of the story behind each.
What to see our favorite photos of Pennsylvania from years' past? Check out our favorite PA photos from 2017, 2016, 2015 and 2014.
You can also join me for a Photography Workshop around Pennsylvania in 2019!
#10 – Seven Tubs in Luzerne County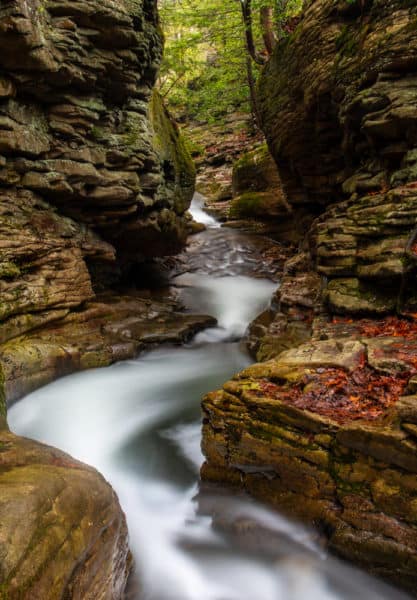 Seven Tubs Recreation Area near Wilkes-Barre is one of the most unique landscapes in all of Pennsylvania. I made my second visit here in the Spring while it was raining.
I came because I'd heard there were two more hidden waterfalls that I hadn't previously found. And, while I found them, my favorite shot was taken along the edge of the impressive gorge carved by the water here.
#9 – Sunset in Buchanan State Forest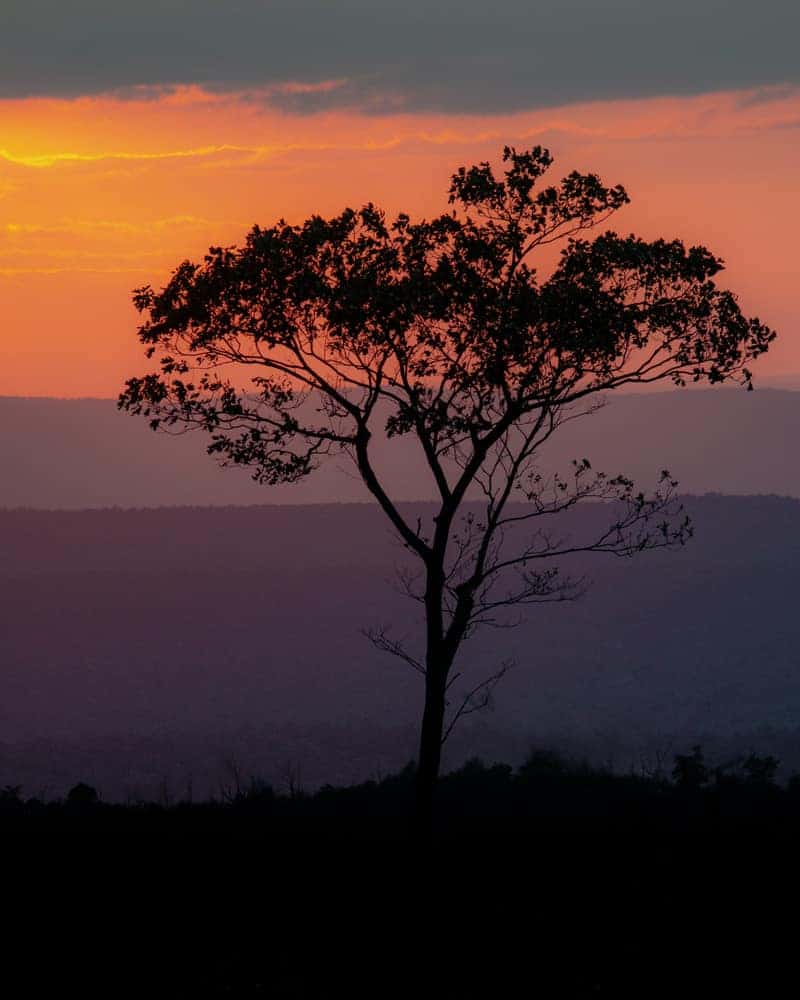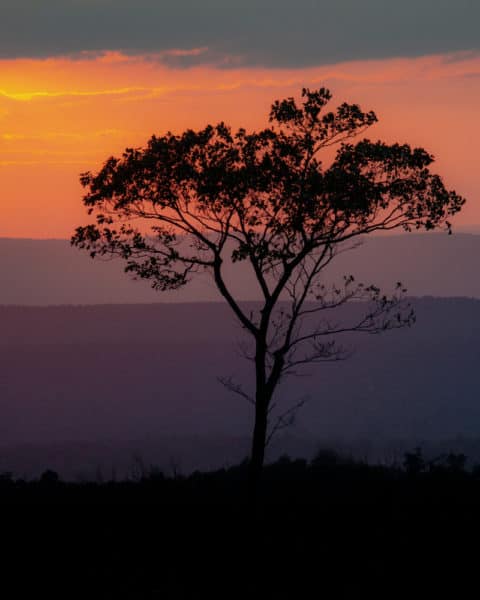 During the summer, while returning from a trip to Pittsburgh, I decided to take in the sunset at Big Mountain Overlook near McConnellsburg. It was my second visit to this spot, and while it's an amazing view, sunset in the corner of the sky visible from the vista was underwhelming.
However, as I was leaving the vista, I rounded a corner and came across a beautiful sky setting behind a series of trees. After searching for the perfect tree to photograph and pulling out a big zoom lens, I captured this lovely shot that is more reminiscent of Africa than of south-central PA.
#8 – Light Up Night Fireworks in Pittsburgh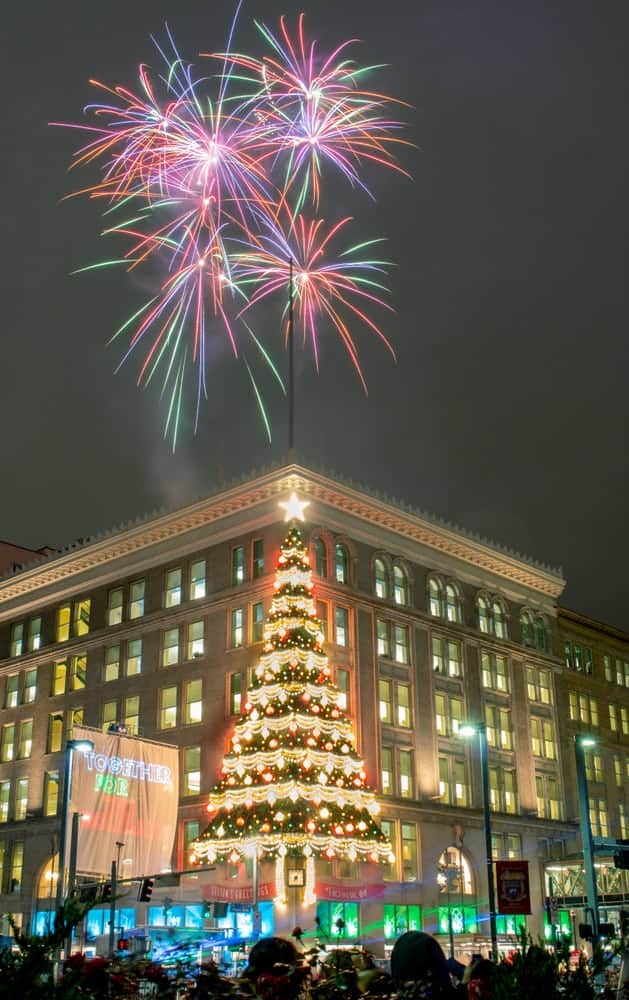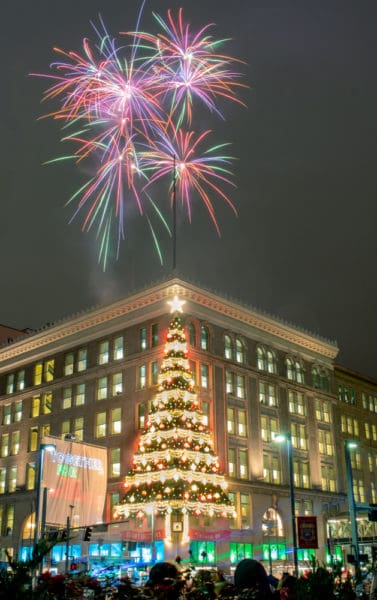 2018 was the year I was finally able to check out Light Up Night in Pittsburgh. This annual event is held in November and marks the start of the holiday season with several tree lightings and three different fireworks shows.
The shortest of the three shows is shot from the roof of the old Horne's building right after they light the building's family corner Christmas tree. While this show is only a few minutes long, I was lucky enough to be able to capture this great shot of the fireworks celebrating the holiday season.
#7 – Andy Warhol Bridge in Pittsburgh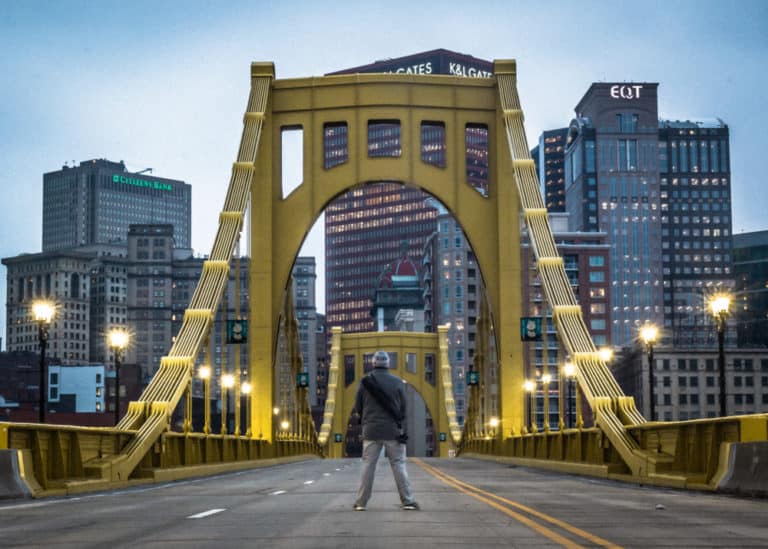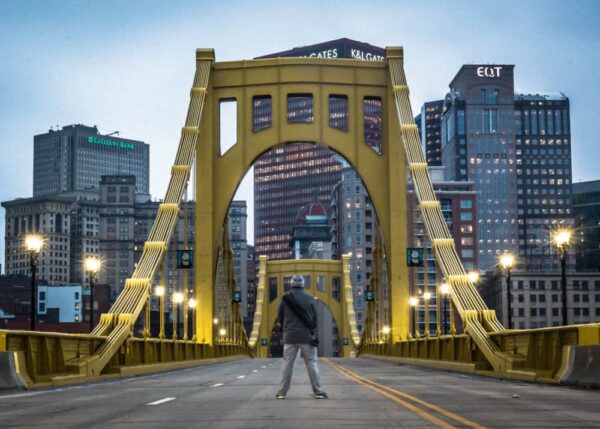 This shot is another one taken on Pittsburgh's Light Up Night. During the event, the Andy Warhol Bridge was closed to traffic. Of course, I couldn't pass up the opportunity to get some shots on the empty bridge.
My friend Jeremy of DiscovertheBurgh.com happened to walk into my shot while I was setting up. However, instead of getting mad, I yelled at him to stop and was able to get this epic shot of the city.
#6 – Summer Road in the Allegheny National Forest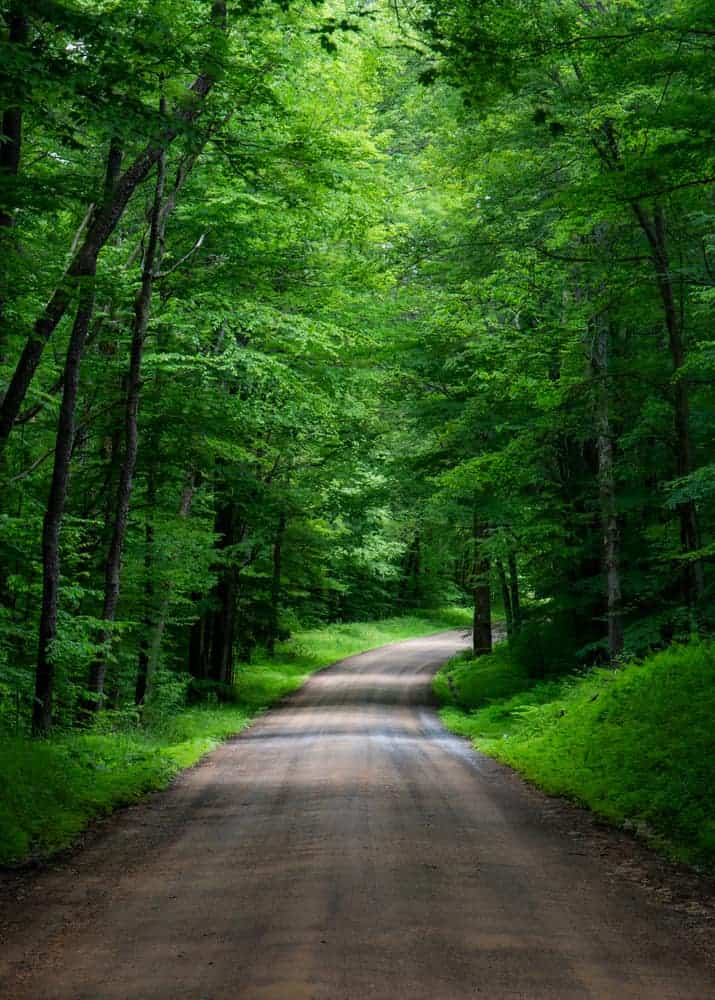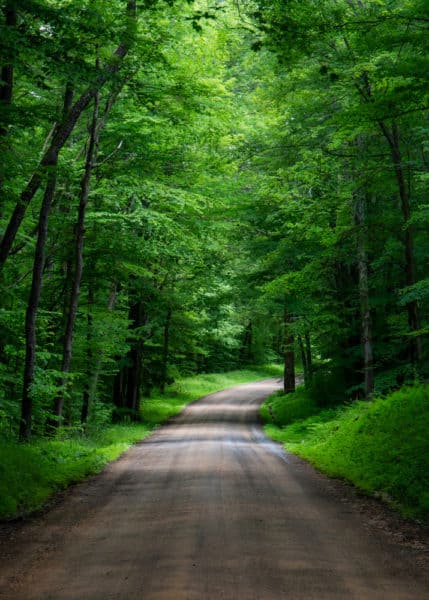 This summer, I made my way up to the Allegheny National Forest to hunt down two waterfalls near Marienville, PA. Driving along the road deep in the forest, I kept noticing how impossibly green the area was and how beautiful it made the entire forest.
After parking my car at the trailhead for the waterfall, I decided to walk back down the road a short distance and capture this beautiful scene.
#5 – Steam Engine at the East Broad Top Railroad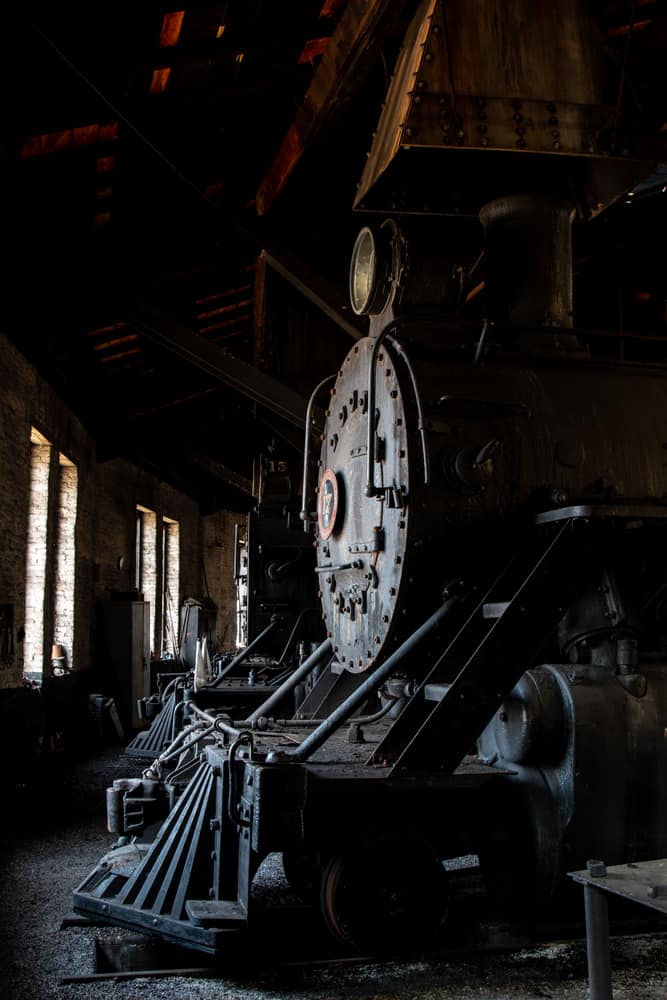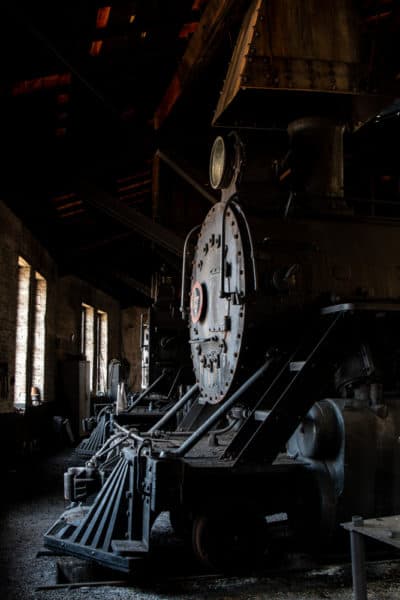 I always love photographing sites that are closed to the public, and this summer I had the chance to visit the frozen-in-time East Broad Top Railroad in Huntington County.
This railroad was in operation from 1873 until 1956. Fortunately, the railroad got a new lease on life, and operated as an excursion railroad from 1960 through 2011. Sadly, the railroad has been closed to visitors since then, but a dedicated group of volunteers do their best to keep up the site in hopes that it will one day run again.
Inside the railroad's roundhouse, six steam locomotives still sit. These locomotives date back to the first quarter of the 20th century and are just waiting for the chance to take tourists out on the tracks again.
#4 – Leopard at the Pittsburgh Zoo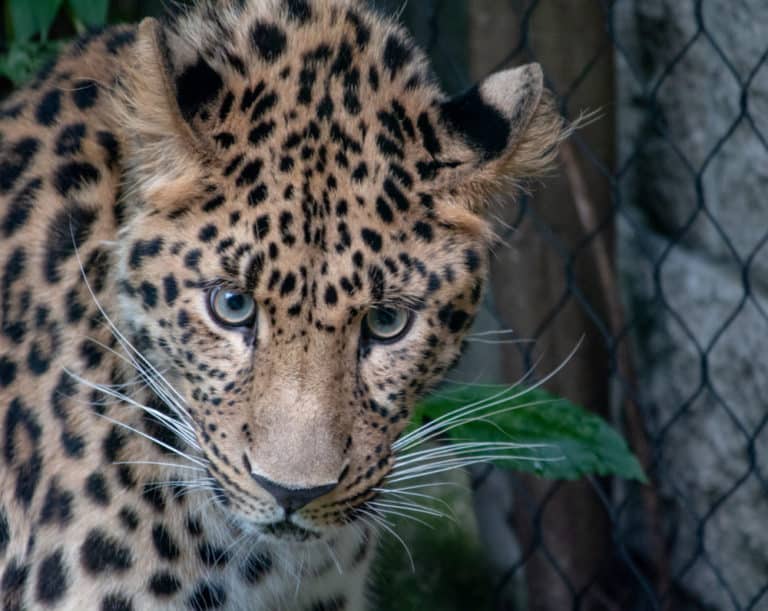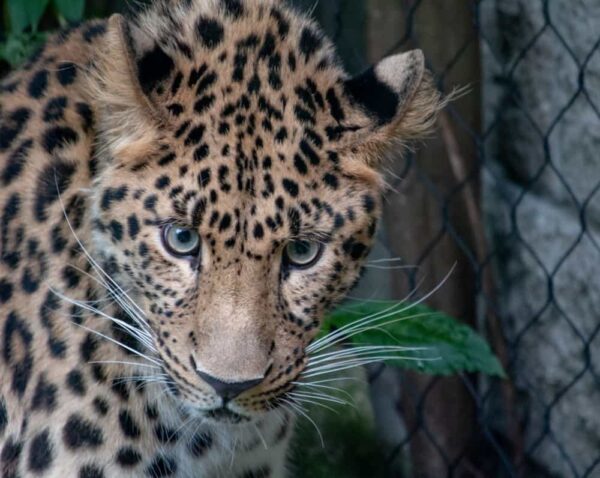 This summer, my family and I had the chance to visit the Pittsburgh Zoo and PPG Aquarium. While there, I decided to try my hand at wildlife photography, something I never shoot.
While I got a few shots that I like, this shot of the zoo's Amur leopard is my favorite. I love how it's looking right at me with its piercing eyes. Even better, I love that this was shot through glass, which always makes the photography much more challenging.
#3 – Waterfall in the Poconos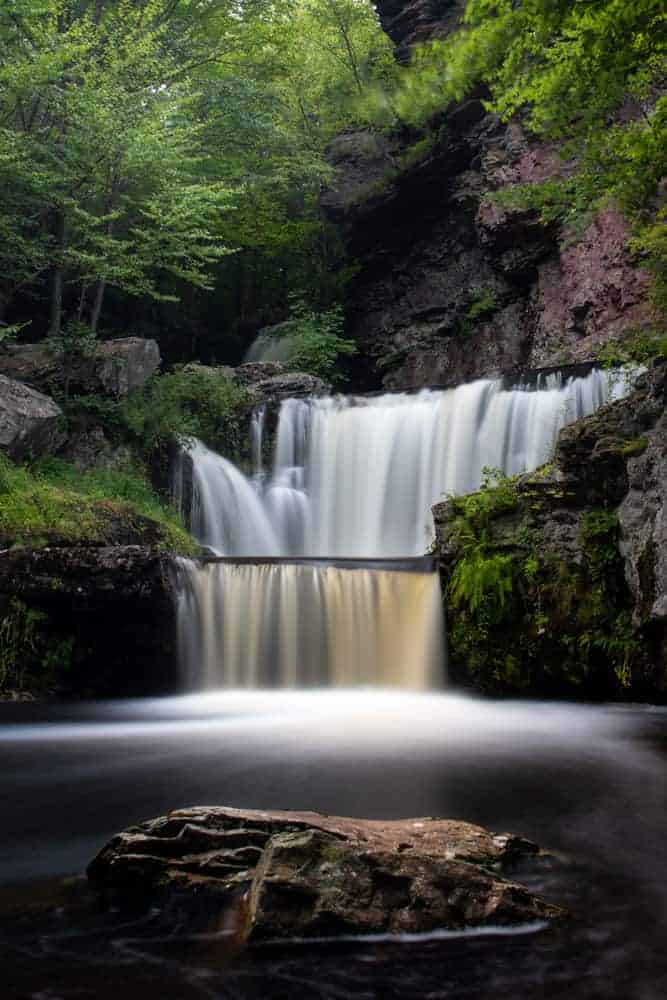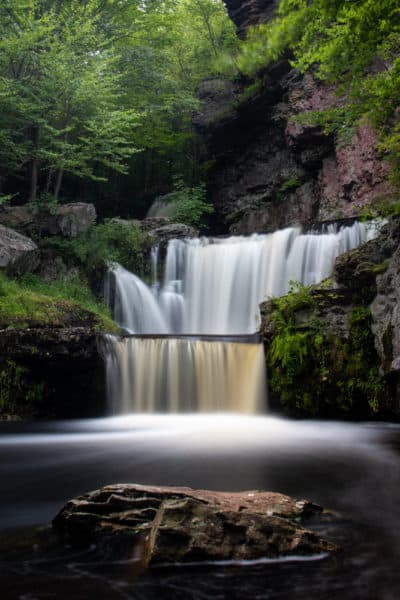 Pennsylvania Waterfalls are always one of my favorite subjects, so it's somewhat surprising to me that only one waterfall made my top 10 this year.
This waterfall is located on the property of a resort in Monroe County, Pennsylvania, and I feel privileged to have been able to photograph it this year.
While I've photographed many waterfalls in the Poconos over the years, this one is definitely one of my favorites.
#2 – Trees in Loyalsock State Forest


In September 2018, I was traveling through northeastern Pennsylvania and decided to stop at one of my favorite waterfalls in the area: Dutchman Falls.
While photographing the waterfall, I couldn't help but notice how beautiful the trees were that surrounding it in Loyalsock State Forest.
After snapping a few frames of the falls, I decided to turn my camera around and shoot a panoramic image of the trees. I'm glad I did because there's something about the light and the feel of this image that I really love.
#1 – Fireworks over the Pennsylvania Capitol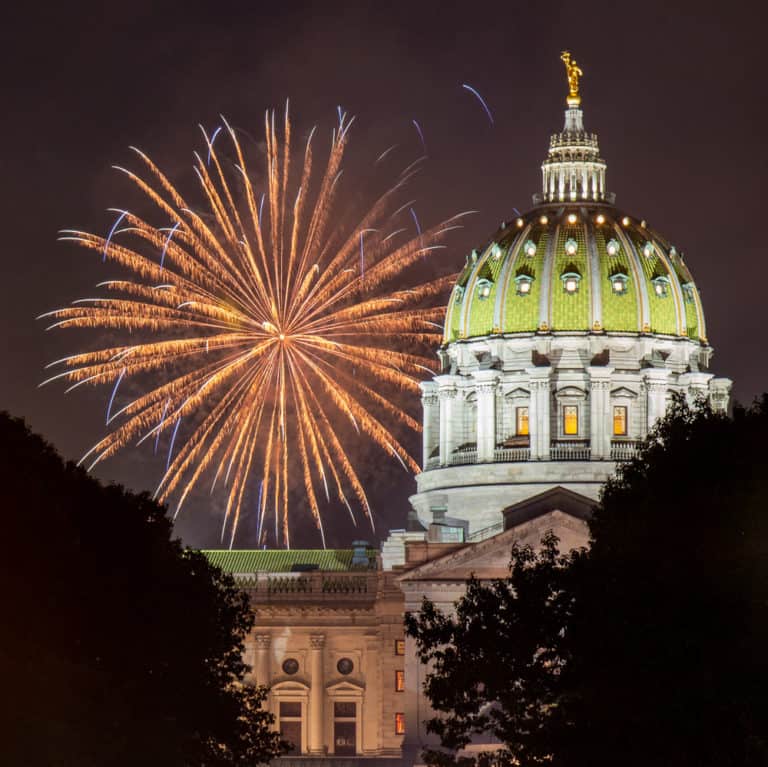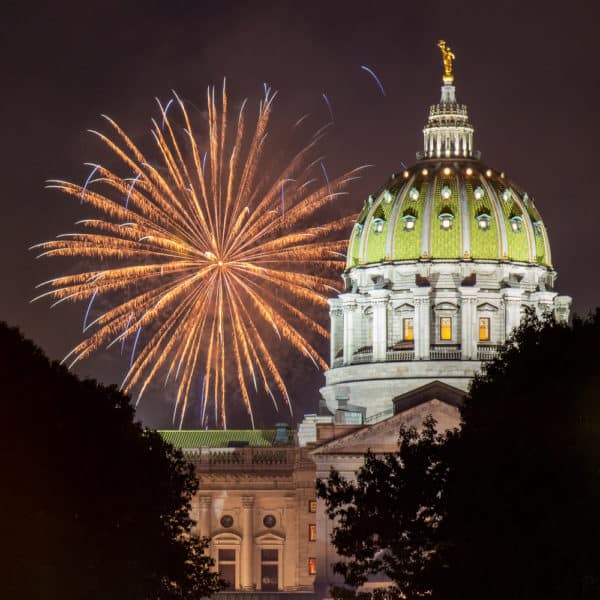 For this year's July 4th fireworks in Harrisburg, I decided I wanted to try something different. Instead of heading to the usual spots to photograph fireworks in Harrisburg, I decided to take a chance and head to the back of the Pennsylvania Capitol.
I set up close to the Capitol hoping to capture fireworks rising above the dome. Unfortunately, as soon as the show started, I knew I was too close to be able to see them.
Knowing I didn't have much time, I packed up my gear and ran 100 yards away from the Capitol and onto the Market Street Bridge. Fortunately, I arrived to this spot in plenty of time to shoot the fireworks, and they rose perfectly above the dome.
When it comes to photography, it's always fun to take chances and try something different because the reward can be a great story and unique shot if you succeed.
What to see our favorite photos of Pennsylvania from years' past? Check out our favorite PA photos from 2017, 2016, 2015 and 2014.
Click here to join me for a Photography Workshop around Pennsylvania in 2019!