Disclosure: This article may contain affiliate links. We will make a small commission from these links if you order something at no additional cost to you.
I recently finished counting down the top 31 photos of 2015 on the UncoveringPA Facebook page, and thought I'd take the time to give you a bit more information about the top 10 photos of the year. Narrowing it down to the top 10 was very difficult. I spent at least portions of more than 60 days this past year traveling to various parts of Pennsylvania. This year, I completed my goal of visiting at least one site in all of Pennsylvania's 67 counties, so I had thousands of photos of many amazing destinations from all over the state.
My top 10 photos of the year come from eight different counties and feature everything from beautiful natural scenery to abandoned industrial sites. However, they all represent somewhere that I really enjoyed visiting in 2015.
After reading about the top 10 photos, scroll all the way to the bottom of this article, where I've included a short video featuring all 31 photos in this year's top photo countdown. Also make sure to check out my top 10 photos from 2014, my top photos of 2016, my favorite photos of 2017, and our best PA photos of 2018.
Photo #10: The Chapel in Hickory Run State Park, Carbon County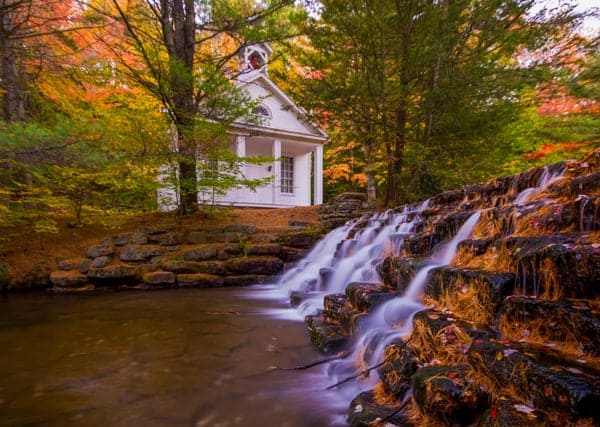 Hickory Run State Park is one of the most beautiful parks I've visited in Pennsylvania, and I went there on two separate occasions in 2015. A photo of the boulder field in the park made my countdown at number 27, and I very easily could have included several other photos of the park on the list. However, what caught my attention most was this photo of the park's chapel.
Located directly across Route 534 from the park office, the chapel is one of the most scenic buildings I've come across in the state. The small, man-made waterfalls along Hickory Run add to the beauty of the area and make this a place that is definitely worth visiting.
Photo #9: Rosecrans Falls, Clinton County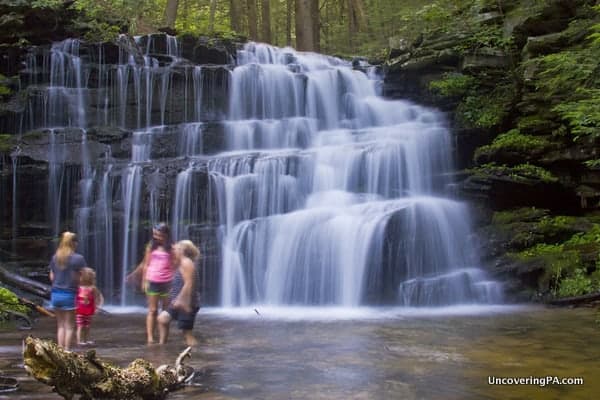 I visited dozens of waterfalls in 2015, but few were as impressive to me as the double waterfalls of Rosecrans Falls and McElhattan Falls. As I was setting up to shoot Rosecrans Falls, a family came down to the waterfall and started playing in the water. While I was initially disappointed that they had gotten into my shot, I decided to shoot a couple of shots while they were playing.
I was surprised when I got home and realized that my favorite shots of the waterfalls were those that I had taken of the family. I like how they provide a bit of perspective on the size of the falls and add a bit more motion to the shot of this beautiful waterfall.
Photo #8: The Portico of Union Station, Allegheny County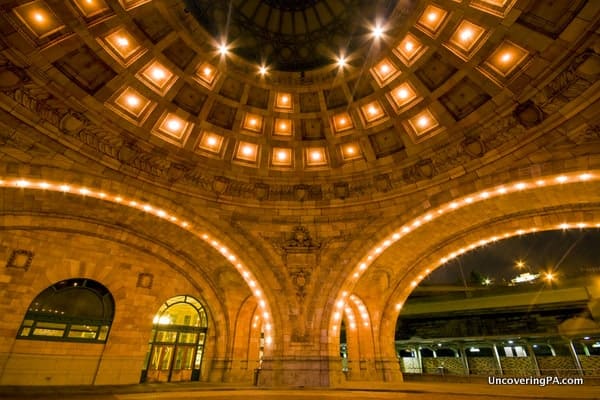 There are many amazing places to shoot photos of downtown Pittsburgh's skyline. In fact, two photos of the skyline made my top photos list, and I probably could have included even more. However, sometimes it pays to look around when taking photos. For example, while I was shooting photos of downtown Pittsburgh from Union Station, I happened to turn the camera around and photographed the beautiful interior of the architectural gem.
One thing I've worked on this year is to try and spend time looking around for less obvious shots, and I think that really paid off here.
Photo #7: Indian Ladder Falls, Pike County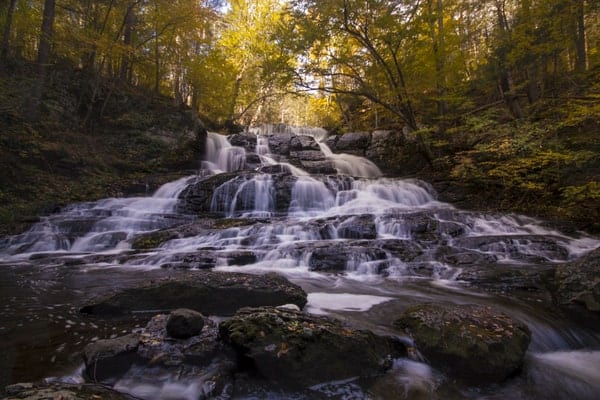 There are many well-known waterfalls in the Delaware Water Gap of the Pennsylvania Poconos, but the waterfalls along Hornbecks Creek aren't very well known. Sitting roughly halfway along the unmarked, but well-trodden trail between Route 209 and Emery Road sits the very beautiful Indian Ladder Falls. Roughly 40-50 feet tall and 60-70 feet wide at the base, this waterfall is one of the most stunning that I've come across in Pennsylvania.
After photographing this waterfall, I just took a few minutes to soak in its beauty. This is definitely a waterfall and a creek worth visiting during your time in the Poconos.
Photo #6: Manasses Guth Covered Bridge, Lehigh County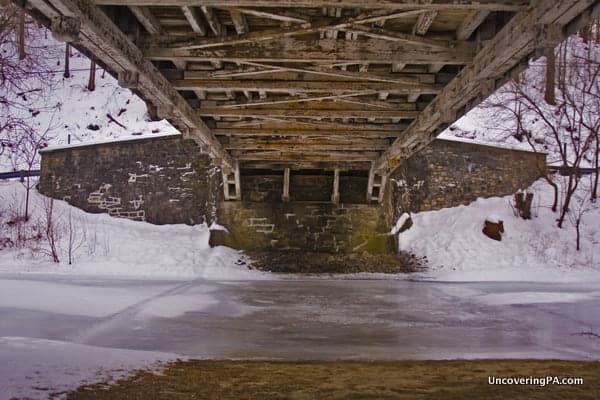 I photographed many covered bridges in 2015 and got many shots that I really liked. However, it was this unique photo of Manasses Guth Covered Bridge that was my favorite of those shots. This waterfall is one of five along Jordan Creek in Lehigh County, and I visited on a cold February day. I had already shot one side of the bridge, and decided to pass underneath to get to the far side for more photos.
Fortunately, as I was crossing under the bridge, I noticed the beauty of the scene underneath the bridge. The old wood combined with the ice-covered creek and snowy banks made for one of my favorite shots of the year.
Photo #5: Food Stand at the Elizabethtown Fair, Lancaster County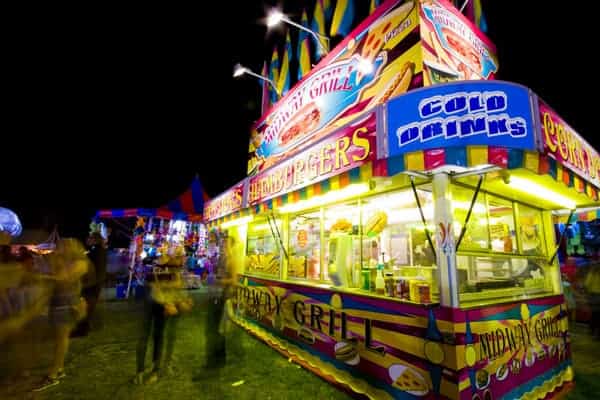 Ever since I settled in Pennsylvania a few years ago, I've found myself going to the Elizabethtown Fair in Lancaster County. This year, I decided to try and shoot some photos of the fair's buildings and rides after dark. While I got several shots that I liked, this photo of one of the food stands was by far my favorite shot of the night.
What I especially love about this shot is the beautiful color and the movement of the people around the stand that showcases how busy these local fairs can be. If you've never visited your local fair in PA, I'd definitely recommend it, as they are great places to have fun, people watch, and shoot some photos.
Photo #4: Carrie Furnace, Allegheny County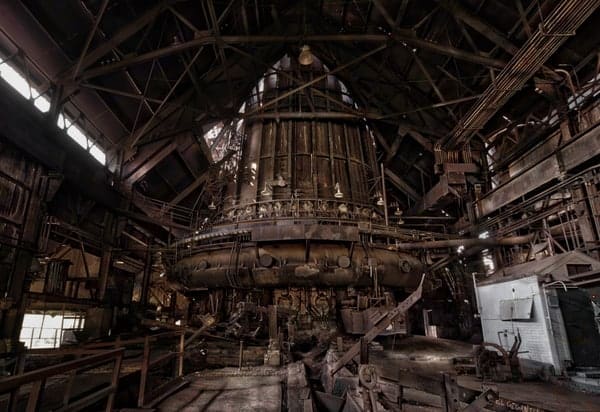 Located just outside the city limits of Pittsburgh is Carrie Furnace. Once part of the large Homestead Works that spanned both sides of the Monongahela, the furnace was shut down after 71 years of operation. Over the years, other parts of the works were closed, until the entire plant was shuttered and work began to tear down the furnaces. Fortunately, the Rivers of Steel National Heritage Area saved this furnace. Today, after years of restoration, they offer tours to those wanting to learn more about Pittsburgh's industrial past.
During my tour, I came across many great photo opportunities, and I could have spent all day shooting this amazing site. However, no matter how many awesome shots there were, this photo of the blast furnace stood out as being my favorite of the day.
Photo #3: Spruce Street Harbor Park, Philadelphia County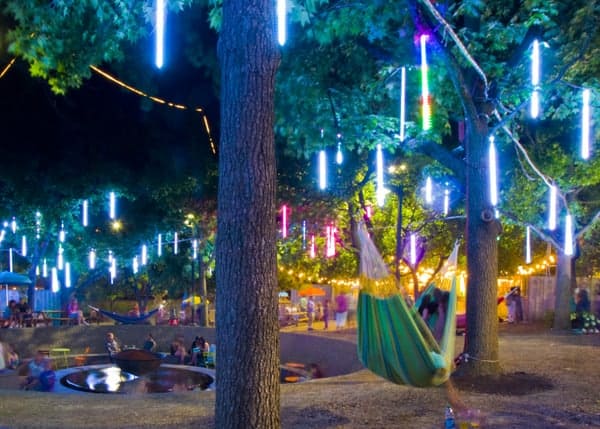 Each summer, Philadelphia comes alive with a variety of pop-up outdoor spaces and beer gardens. One of the most popular and beautiful is Spruce Street Harbor Park along the banks of the Delaware River. During the summer months, the park is filled with hammocks, food vendors, a beer garden, and, after dark, beautiful lights hung from the trees.
This atmosphere led to several great shots, but there was something about the dreaminess of this photo that I found especially nice. If you haven't ever had a chance to check out this park in the past, I'd definitely recommend a visit in 2016.
Photo #2: Downtown Harrisburg at Sunset, Dauphin County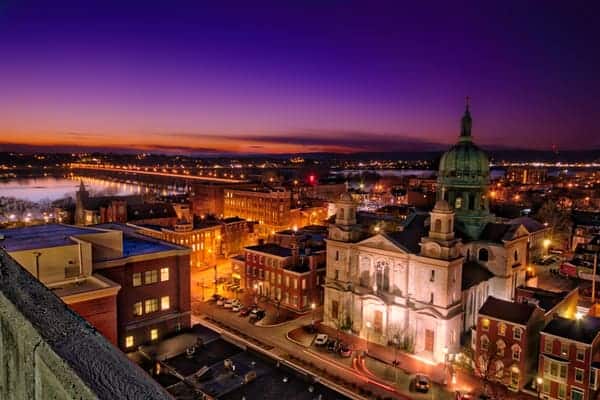 If I'm being perfectly honest, outside of the State Capitol, I used to think that Harrisburg wasn't very photogenic. However, while looking for new shooting locations to photograph the Capitol building from, I stumbled across this high vantage point in the heart of downtown.
Unfortunately, the Capitol building is somewhat blocked by several other buildings, but the view of the churches on State Street, the Harvey Taylor Bridge, and the Susquehanna River look quite stunning from here. I took many amazing shots from this vantage point during my three visits in November and December, but one of my first shots remains one of my favorites, probably because it makes Harrisburg look like a charming European city.
It's also worth noting that this photo was one of two from this top ten countdown, along with the chapel at Hickory Run State Park, that made my top nine most-liked photos of the year on Instagram.
Photo #1: The Roberto Clemente Bridge in Pittsburgh, Allegheny County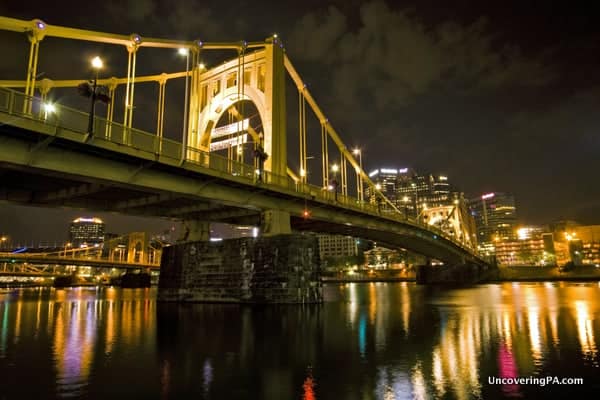 I love the bridges of Pittsburgh. During my visit there this year, I spent a lot of time capturing the bridges and skyline of the city from a variety of vantage points, but this shot stood out as my favorite from both the trip and the entire year.
The Roberto Clemente Bridge crosses the Allegheny River from next to PNC Park to the downtown area near the Point. This bright yellow bridge stands out along the skyline and makes for an amazing photo.
As promised, I've included a short video below that features all 31 photos that made it into my countdown of my favorite Pennsylvania travel photos of 2015. Take a couple of minutes to watch the video, and let me know in the comments below which photo is your favorite.
And, if you want to enjoy some of these pictures at home, consider purchasing the 2016 UncoveringPA Calendar, which is filled with some of my favorite photos of Pennsylvania.