Disclosure: This article may contain affiliate links. We will make a small commission from these links if you order something at no additional cost to you.
March 2022 Update: BWP Bats has suspended tours, though you can still visit their store to see their work and to purchase bats. As they hope to reopen tours at some point, this article is being left up.
Did you know that some baseball bats for your favorite Major League Baseball players are made in Pennsylvania? Neither did I until a few weeks ago.
Located in Brookville in Jefferson County just off I-80, BWP Bats sits in an unassuming white warehouse along a dirt road.
The entrance to BWP Bats is through their on-site store. The store is full of pre-made wooden bats and information on how to customize a bat made just for you. Covering the walls are posters, letters, and game-used bats from some of baseball's biggest stars who have used BWP Bats.
After you've spent some time looking around the shop, ask the clerk for a tour of the facility. Tours of BWP Bats are given on demand, ensuring that you won't have to tour the facility with a large group.
The factory itself is surprisingly small given that BWP produces over 40,000 baseball bats each year. Occupying only two floors of the small warehouse, tours are quite detailed but rather short.
The bats start as 37-inch billets, or long wooden blocks, that look more like table legs than baseball bats. The billets they use come from Brookville Wood Products just a few miles down the road. Brookville Wood Products is actually the parent company of BWP Bats. This means that BWP Bats controls the entire process from "forest to home run".
The billets are placed in a large machine called a lathe. The operator puts an existing bat inside the lathe, and in about two minutes, the machine produces an exact copy of the bat. However, just because you have something that looks and feels like a bat doesn't mean that the process is done.
From there, the bats are taken to the building's basement, where they are sanded and painted to meet the specifications of the player. Once the paint has dried, there are a few final details to finish, including engraving the bat with the player's name and number.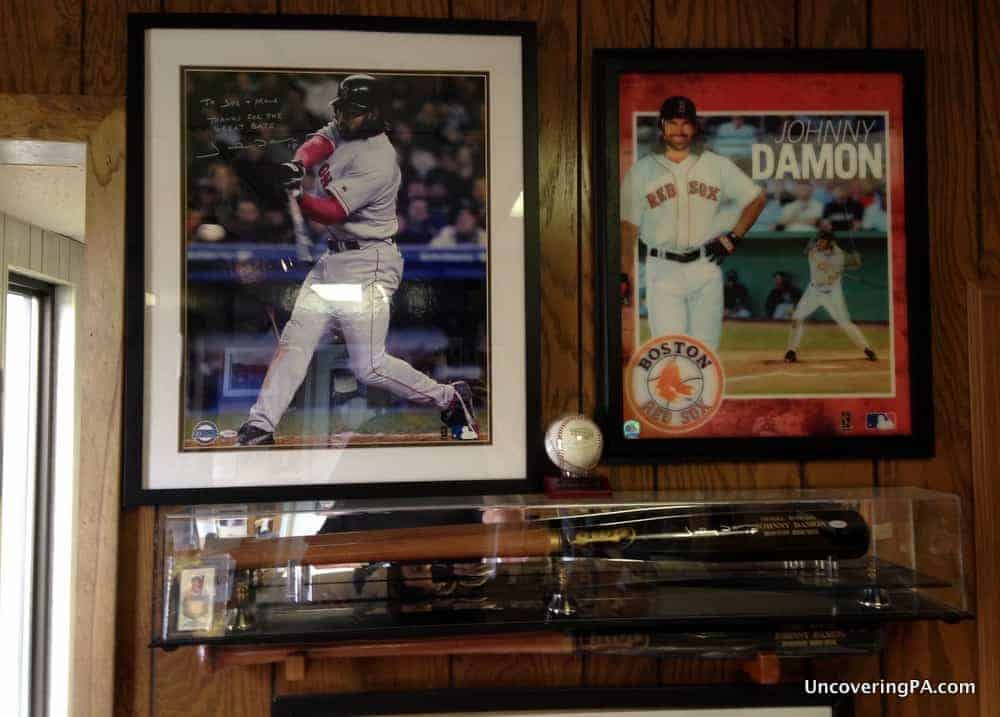 I found it interesting that the process used at BWP Bats is essentially the same as other bat manufacturers, such as Louisville Slugger. In other words, there is no difference between the bats made by any of the companies that supply them to the professional ranks. However, baseball players are quite superstitious and will change who makes their bats if they hit a cold streak.
Because of this, it's hard to say specifically which professional baseball players use BWP Bats. However, in the past, their bats have been used by well-known players like Barry Bonds, Johnny Damon, Justin Morneau, and many others. In fact, in any given year, about 30% of the bats made by BWP are used by professional baseball players.
If you don't care for baseball, a tour of BWP Bats might not be for you. However, as a big fan of baseball, I found the tour of BWP Bats to be very interesting. And, since it's located less than a mile off I-80 in Jefferson County, this is an easy stop for people traveling through the area.
So, if you've ever wondered how wooden baseball bats are made, a stop at BWP Bats is a must.
Looking for more to do in the area? Check out Scripture Rocks and Blackbird Distillery in Brookville and Fun Central in Clearfield. Other great factory tours in PA include Bluett Bros. Violins in York and Pulako's Chocolates in Erie.
---
BWP Bats Factory Tour
Hours: Monday-Friday: 8am-4pm, Saturday by appt only

Cost: Free

Website: BWPBats.com

Address: 80 Womeldorf Lane
Brookville, PA 15825
See map below for other area attractions.
---