Please do your best to limit your travels around PA during this time. If you decide to travel, please check the status of the places you are going. Some places around the state are temporarily closed or have changed their hours. We will not be updating individual articles to note these changes. Stay safe and wear a mask!


Located in a quiet valley of Columbia County, Pennsylvania, is one of the state's least likely and least publicized tourist attractions: Centralia. What draws people to this out-of-the-way town isn't the amazing culture or the fascinating historical sites.
Instead, it's the lack of things to see. You see, Centralia is a modern ghost town in PA. So, what's the history of the town and what is there to do when visiting Centralia, PA? Keep reading to find out.
In the early sixties, the borough of Centralia was just like any number of coal region towns in Pennsylvania. The community of roughly 1,500 was supported by the seam of coal that ran beneath the town. However, in 1962, a fire was lit in the town dump that spread beneath the entire valley and threatened the community's existence.
Disclosure: This article may contain affiliate links. We will make a small commission from these links if you order something at no additional cost to you.
The full extent of the problem wasn't known until 1979 when a gas station owner in Centralia measured the temperature of the gas in his underground containers to be more than 100° above normal. The situation escalated further when a 150-foot deep sinkhole opened beneath a 12-year old boy. Fortunately, the boy escaped death, but that was the last straw for many residents of the town.
Over the next few years, the Centralia, PA fire continued to burn around the community, increasing the levels of toxic gases like carbon monoxide to dangerous levels. By 1990, only 63 residents remained and by 2012, there were only 10 people left in Centralia.
Over the last two decades, many of Centralia's buildings have been torn down. However, there are still things to do in Centralia, PA.
Driving over the mountains from nearby Ashland, you'll come over the crest of the hill to a marker that still welcomes you to the borough of Centralia. Just down the road are three very well-kept cemeteries.
In Odd Fellows Cemetery on your right, it is said that smoke from the fire can sometimes be seen rising through the ground, making for a very eerie scene. Even if there's no smoke, however, the cemetery is interesting to see as the fence surrounding it and many of the gravestones show signs of how the fire has changed the landscape.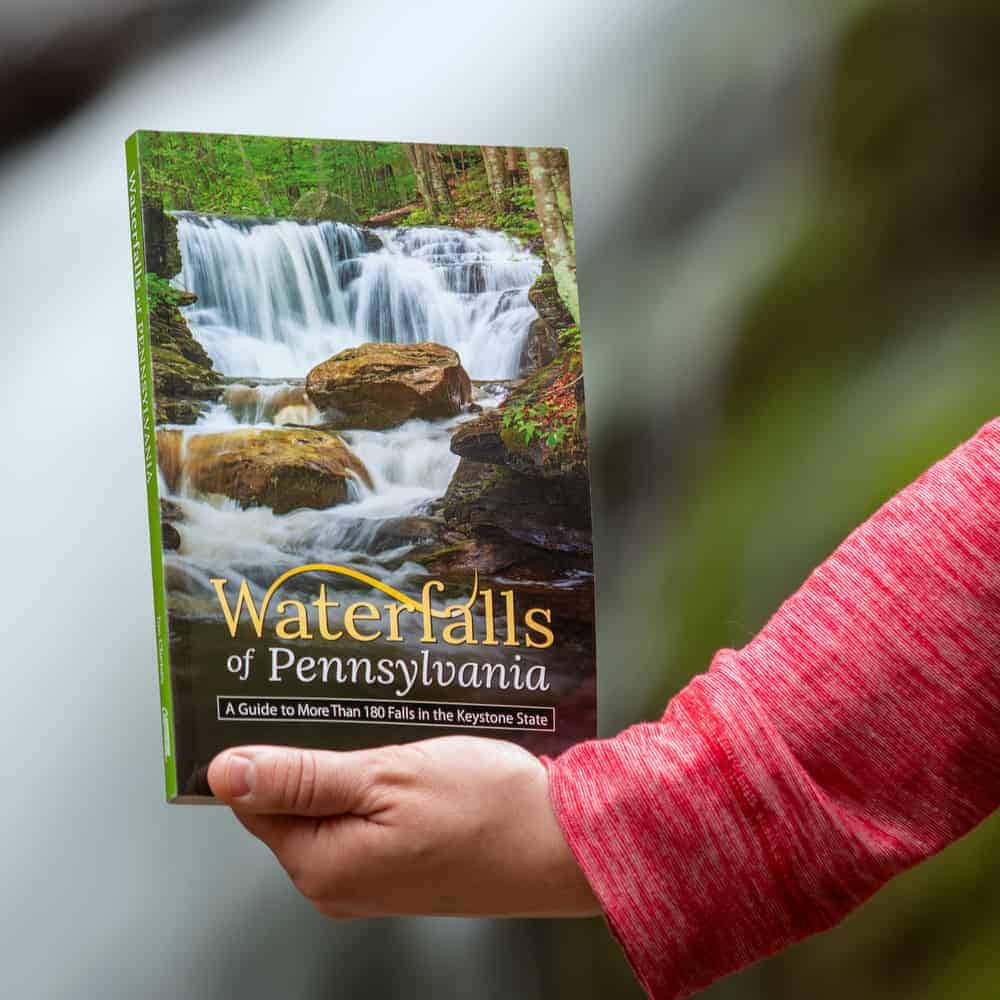 "Waterfalls of Pennsylvania" by Jim Cheney
If you love PA waterfalls, you won't want to miss this brand-new waterfall book from Jim Cheney, author of Uncovering PA, featuring more than 180 great waterfalls. Order it now on Bookshop.org or Amazon.
The land behind Odd Fellows Cemetery is where the fire is thought to have started. In this area, the effects of the fire can be clearly seen in the scorched earth and the plant life that has survived there. Metal venting tubes dot the landscape here, but little can be seen of the active fire on most days.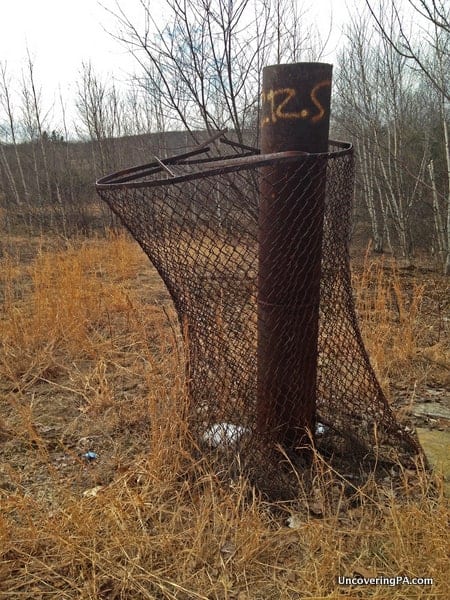 Continuing downhill into the town center, Centralia, Pennsylvania, almost has the feel of a town destroyed by war. Roads that once led to quiet residential streets now lead nowhere.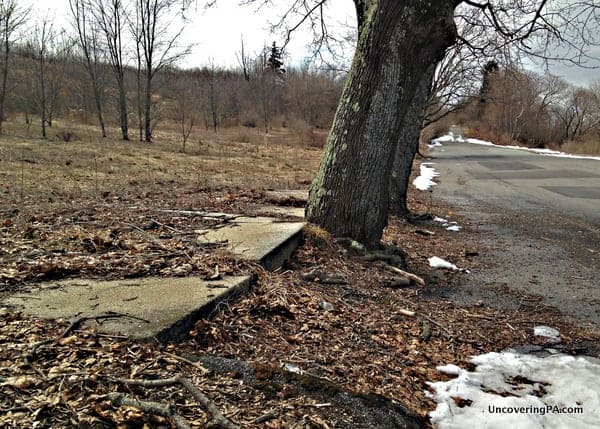 Driving down these deserted lanes, you can still see curbs, sidewalks, and front steps, many of which have been upturned by the power of the fire. The few houses that remain sit in isolated pockets around town, surrounded by lots where nature is reclaiming the land once occupied by happy families.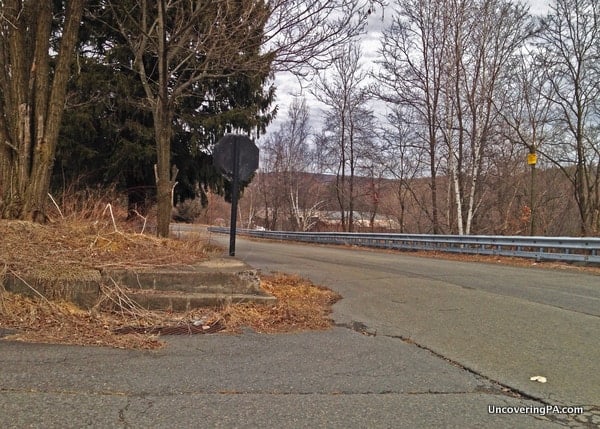 The only spark of color in Centralia is the beautiful Assumption of the Blessed Virgin Mary Ukrainian Greek-Catholic Church which sits on a hill above town and still holds weekly services. One of five churches in town when the first started, it is the only one still standing.
Also worth seeing is the former Veteran's Memorial, which still has a chain link fence and the base where the veteran's memorial statue once stood. There is also a time capsule buried in the ground that is due to be open in 2016, 50 years after it was buried in 1966. (Update: The time capsule was removed and opened in May 2014 after vandals dug it up.)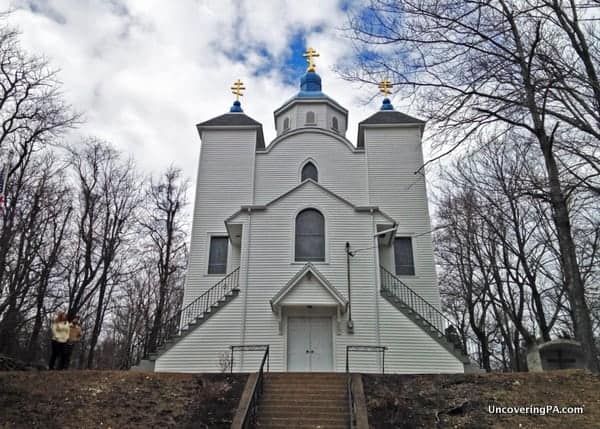 Note: As of early April 2020, Graffiti Highway has sadly be destroyed thanks to the tourism mismanagement in the area. I will update this article soon to reflect this tragic change, but I still think this is an area worth visiting if you are nearby.

No visit to Centralia, PA, is complete without a visit to the Graffiti Highway. Centralia's Graffiti Highway is located on what was once Route 61, which runs from Ashland to Centralia. However, the fire necessitated such frequent and expensive repairs to the road, that Route 61 was permanently rerouted around the area in 1994.
What was left, was a 3/4 mile stretch of abandoned roadway that can be accessed from a small dirt parking area next to St. Ignatius Cemetery.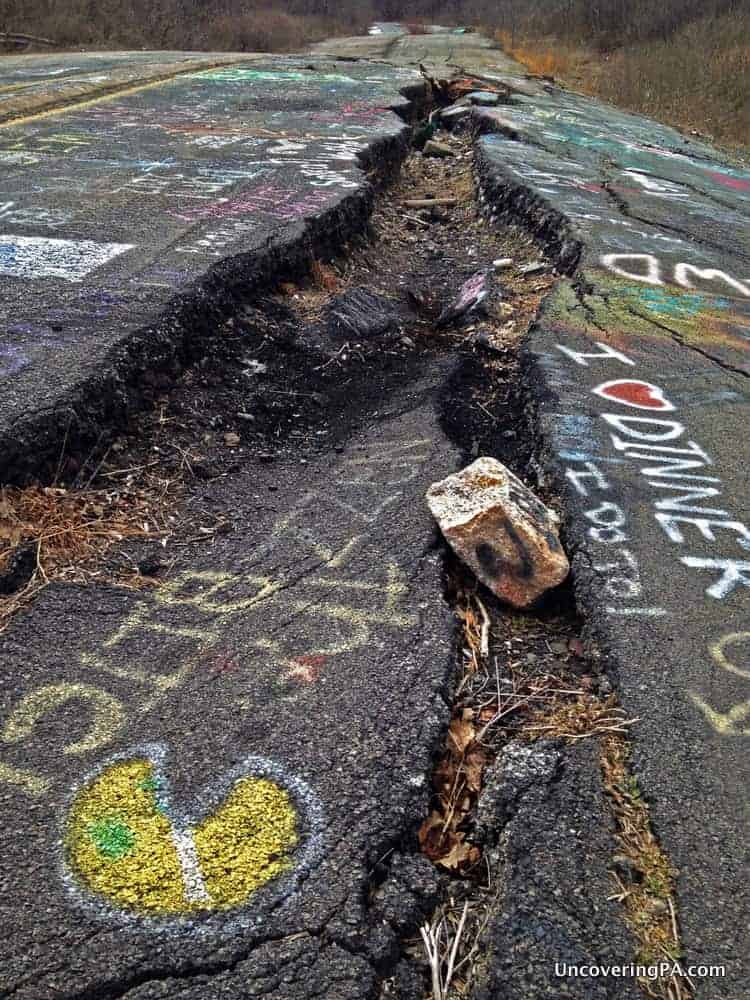 Today, the road is covered in graffiti. Some of it is insightful sayings and some of it could be considered art. Unfortunately, a high percentage of the graffiti is quite vulgar, a fact worth noting before taking the trip with children. However, those that decide to visit Centralia's Graffiti Highway are in for a treat because this is the best area to see the destructive power of the fire below.
For a large portion of the highway, it looks simply like an overgrown, abandoned road, similar to the Abandoned PA Turnpike near Breezewood. However, in the middle of the destroyed section is a large crack that runs through the road and has to be seen to be believed.
A bit further down, the road buckles into a 3-foot tall wall of asphalt. In many ways, it looks more like a set from a blockbuster action movie than a peaceful country highway. There are also reports that smoke can still be seen rising from the ground from time to time in this area.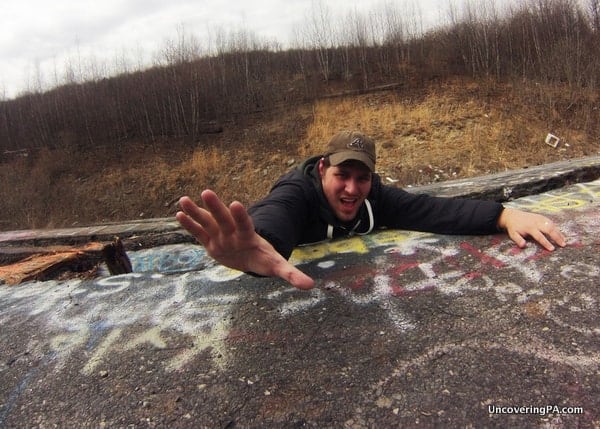 What has happened to Centralia over the past 50 years is quite humbling. However, visiting is a great way to better understand the destructive power of nature. While it might be one of Pennsylvania's least likely and least publicized tourist attractions, a visit to Centralia, PA is definitely worthwhile.
Check out our favorite abandoned places in PA that you can legally visit!
Note: There are still residents that live in town, and to my knowledge, all of the remaining buildings are occupied. Please make sure that you don't disturb residents' property and that you obey any "No Trespassing" signs that you might see while visiting Centralia, Pennsylvania. It's also a good idea to stay upwind of any smoke or steam that you see rising from the ground as it's likely toxic.
Need a hotel near Centralia?

Here are a few great options:
Looking for other things to do near Centralia, PA? Head to the Pioneer Coal Mine Tunnel, Big Mine Run Geyser, Swatara Falls, Knoebels Amusement Park, or Yuengling Brewery. If you enjoy this modern ghost town, consider Concrete City and the Abandoned Turnpike as your next destination.
See map for other area attractions.