Disclosure: This article may contain affiliate links. We will make a small commission from these links if you order something at no additional cost to you.
Visitors to Erie County typically make a beeline to the City of Erie, the gorgeous Presque Isle State Park, Erie Bluffs State Park, or the region's great wineries. However, those that take the time to drive the back roads of Erie County south of Lake Erie might stumble across the county's two remaining covered bridges.
These bridges couldn't be much more different. Not only do they sit on opposite ends of the county, roughly 45 minutes from each other, but they are also at quite different levels of historic preservation. One of these bridges is in great shape (Harrington Covered Bridge), while the other (Waterford Covered Bridge) is in one of the worst states of disrepair that I've seen.
It's worth noting that, until recently, there was a third historic covered bridge in Erie County. Unfortunately, arsonists destroyed Gudgeonville Covered Bridge in 2008, and it will not be rebuilt. Those interested in its history can read more about it here.
However, for covered bridge lovers, they are both worth seeing, as they are two of only three historic covered bridges remaining in Pennsylvania's Great Lakes Region (the other being in Mercer County). Visiting these bridges also gives visitors a great excuse to uncover some of the great countryside of northwestern Pennsylvania.
The covered bridges of Erie County can be visited in any order, and while neither is super convenient to the highways in the region, they are both a quick detour worth taking.
Waterford Covered Bridge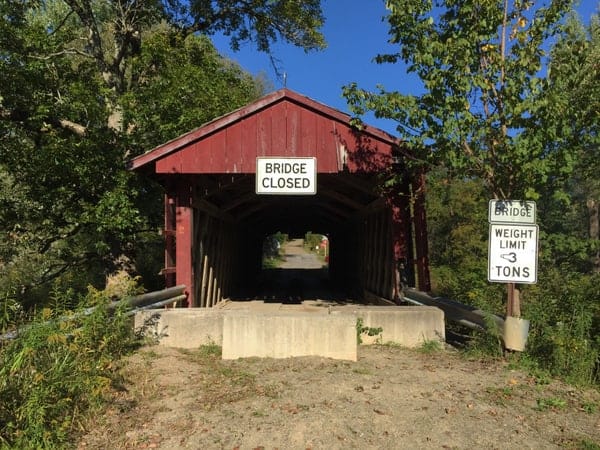 The eastern covered bridge in Erie County, Pennsylvania, is Waterford Covered Bridge. This bridge is located just outside of Waterford Township and has the distinction of being the northernmost historic covered bridge in Pennsylvania. It was built in 1875 and crosses 85 feet over LeBeouf Creek.
Waterford Covered Bridge has been closed to traffic since 2011 and is in pretty terrible shape, with missing sideboards and graffiti being the most obvious issues. Fortunately, I have heard that the bridge is slated for rehabilitation, possibly as early as 2016.
If you're visiting Waterford Covered Bridge, make sure to stop briefly in downtown Waterford to see the statue of George Washington. Washington's first mission in 1753 as a 21-year-old British officer was to deliver a message to a French fort along LeBeouf Creek. The statue here is the only one in the world to depict him in a British military uniform.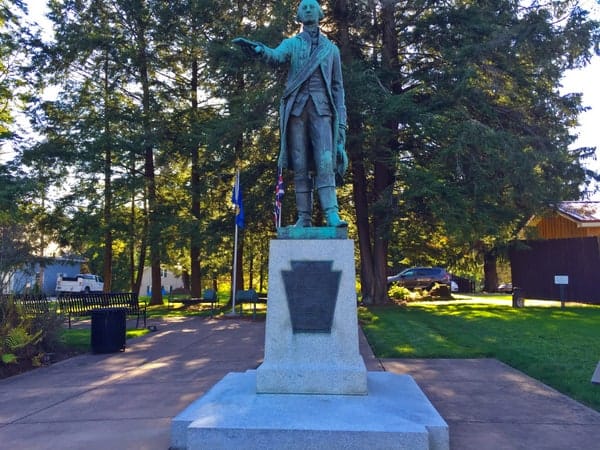 Getting There: Waterford Covered Bridge is located along a rural road just a few miles outside of the downtown area of Waterford and relatively close to Route 19. Waterford Covered Bridge is located at the following coordinates: 41.941084, -79.963349.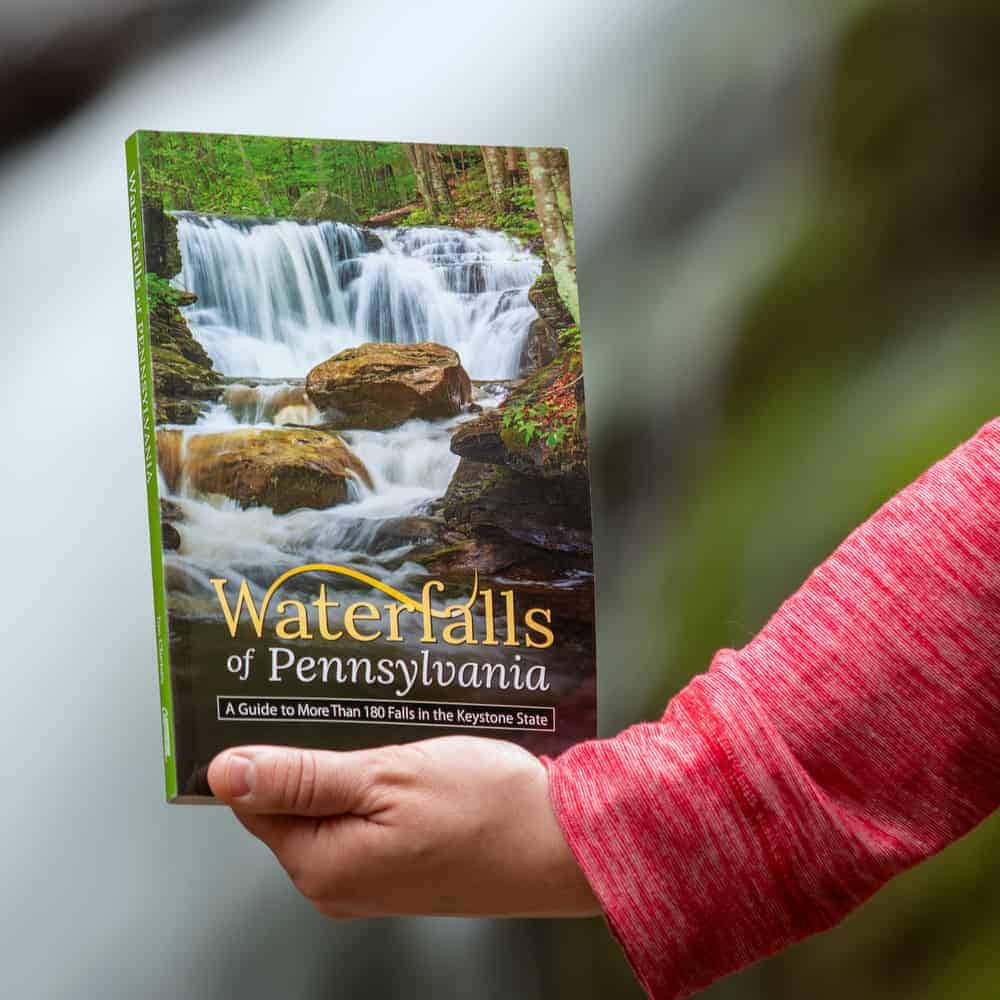 "Waterfalls of Pennsylvania" by Jim Cheney
If you love PA waterfalls, you won't want to miss this waterfall book from Jim Cheney, author of Uncovering PA, featuring more than 180 great waterfalls. Order it now on Bookshop.org or Amazon.
There is no official parking area at Waterford Covered Bridge, but since there is no traffic allowed through the bridge, parking in the road shouldn't be an issue. While cars are not allowed on the bridge, during my visit, visitors could walk through at their own risk.
Harrington Covered Bridge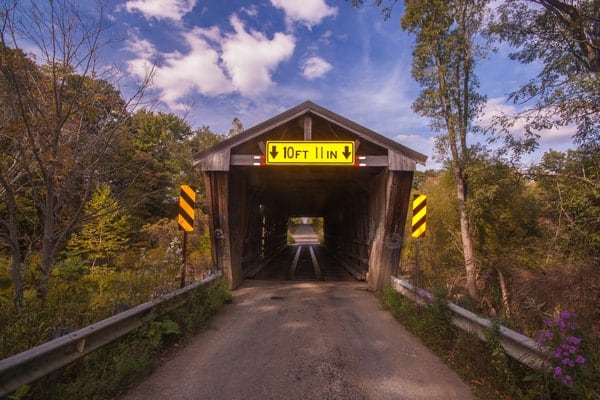 In stark contrast to Waterford Covered Bridge, Harrington Covered Bridge is a well-maintained bridge in Conneaut Township in western Erie County. It crosses the West Branch of the Conneaut Creek and is 72 feet long. The bridge was originally built in 1870 and was rebuilt in 1962.
The bridge sits along a rural road, but there are several nearby houses that own the land around the bridge. Much of this land is posted and full of thick underbrush. Unfortunately, this makes getting views from the side of the bridge difficult, if not impossible.
Nevertheless, the quality of Harrington Covered Bridge makes it an excellent one to visit for covered bridge enthusiasts in the area.
Getting There: Harrington Covered Bridge is located a few miles south of Route 6N and a few miles west of Route 18. It is located at the following coordinates: 41.869078, -80.428963.
Parking near the bridge is a bit tricky. There are no parking areas and the shoulders of the road near the bridge are rather narrow.
About 100 yards away from the bridge, the shoulder is wide enough that a car should be able to pull over, but it may be best to use your flashers if you're leaving your car unattended. It should go without saying to use caution, as you will be approaching the bridge on an active roadway.
Looking for more fun things to do in Erie County, Pennsylvania? Check out the lighthouses in Erie, the Erie Maritime Museum, and Waldameer Park.
[Click here for information about how to use the coordinates in this article to find your destination.]
See map for other area attractions.