Please do your best to limit your travels around PA during this time. If you decide to travel, please check the status of the places you are going. Some places around the state are temporarily closed or have changed their hours. We will not be updating individual articles to note these changes. Stay safe and wear a mask!


Despite Pennsylvania being the birthplace of the United States, you might be surprised to learn that only two presidents were born in the Keystone State: Presidents James Buchanan and Joe Biden. And, while other presidents, such as George Washington and Dwight Eisenhower, spent significant time in Pennsylvania, Buchanan was the only native son of Pennsylvania to rise to the office of the presidency until the 21st century.
James Buchanan was born in April 1791 in Franklin County, Pennsylvania, at a trading outpost owned by his father. When Buchanan was six years old, his father moved the family to the nearby borough of Mercersburg. Buchanan spent the rest of his childhood in Mercersburg, aside from his schooling at Dickinson College in Carlisle.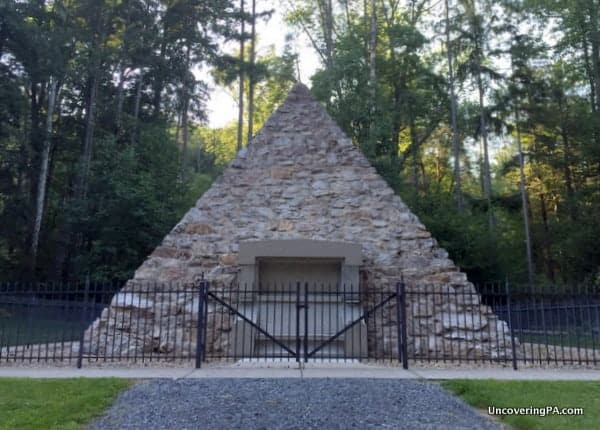 After graduating from school in 1809, Buchanan moved to Lancaster and became a lawyer. For the rest of his life, aside from when his political work required him to live elsewhere, Buchanan called Lancaster home.
Disclosure: This article may contain affiliate links. We will make a small commission from these links if you order something at no additional cost to you.
Buchanan's political career began in 1814 when he was elected to the Pennsylvania House of Representatives.
Throughout his nearly 60-year political career, Buchanan served as a Representative and Senator representing Pennsylvania, as an ambassador to both Russia and the United Kingdom, and as Secretary of State. He was also nominated to be a Supreme Court Justice by President Polk, but Buchanan withdrew himself from consideration.
In 1856, despite Buchanan not having campaigned for the position (nor having been in the country in the months leading up to the convention), he was nominated to be the Democratic nominee for the presidency, and in March 1857, James Buchanan became the 15th president of the United States.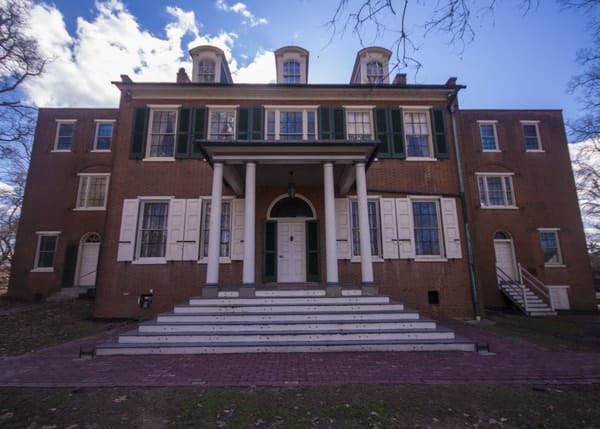 In between all of Buchanan's political work and time away from Lancaster, he purchased Wheatland in 1848. This large Federal-style home had been built in 1828 and Buchanan was the home's third owner. In 1868, seven years after his term as president was over, Buchanan passed away at Wheatland.
The home was inherited by his niece, Harriet Lane, who had served as Buchanan's de facto First Lady while he was president and lived with the life-long bachelor after he left office. Lane was responsible for preserving Buchanan's legacy, and donated the land where he was born to become Buchanan's Birthplace State Park. She maintained the home until 1881.
In 1934, the home was acquired by local citizens who wanted to preserve the home to tell the story of Buchanan's life and presidency.
Today, Wheatland sits on a beautiful, tree-lined property just outside the Lancaster city limits.
The stately home remains much the same as it did when Buchanan owned the property, with no major architectural changes made to the home over the years. And thanks to Harriet Lane's desire to preserve her uncle's legacy, close to 70% of the furniture in the home was owned by either Buchanan or Lane.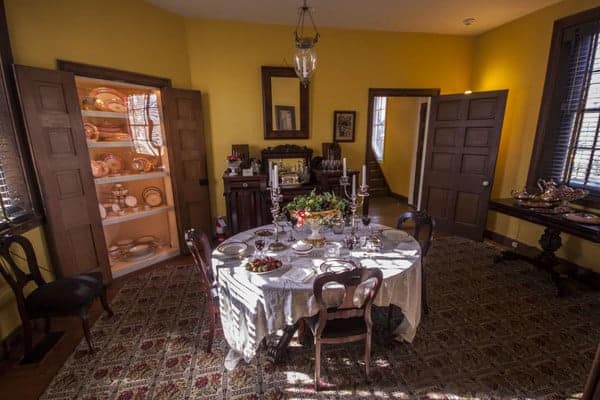 Tours of the home last about an hour and lead visitors through the first and second floors of the home.
Along the way, guides in period clothing tell visitors about the home and Buchanan's life and career. Highlights of the tours include seeing Buchanan's personal China, which is of the same design that he used in the White House, his White House desk, and drawings that were made of Buchanan in the home.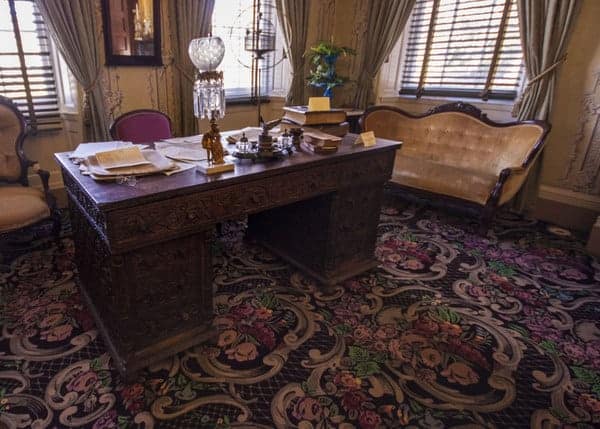 I was very impressed with the home tour and the depth of information provided about Buchanan and his time at the home.
Since there is so much information out there criticizing Buchanan's presidency, I appreciated the fact that the tour focused more on his positive contributions to the United States throughout his long political career. However, if you want to learn more about the negatives of Buchanan's presidency, take the time to watch the 10-minute video offered in LancasterHistory.org, which doubles as the Wheatland Visitor Center and Lancaster County Historical Society Museum.
The museum sits close to the home and offers visitors a chance to learn about both Buchanan and other interesting aspects of Lancaster County. There are several interesting Buchanan-related pieces in the museum, including paraphernalia from his 1856 presidential campaign, several items that were given to Buchanan by visiting dignitaries, and a plaster cast of his statue in DC.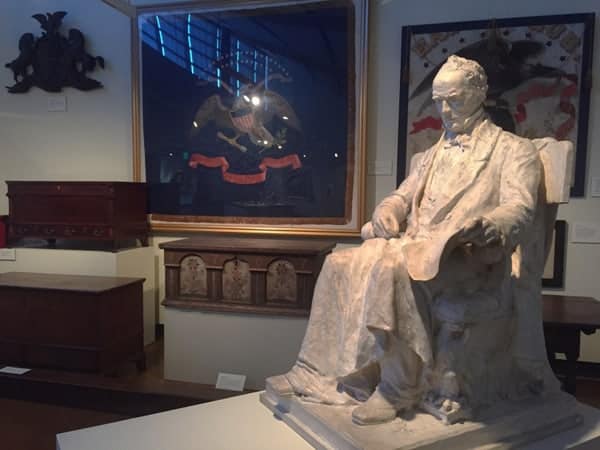 The rest of the museum, while not large, does cover a wide swath of Lancaster County history and is worth visiting for those interested in the history of the region.
In addition to Wheatland, there are two other stops that will interest those that want to learn more about our 15th president.
The first, is the James Buchanan statue at Buchanan Park. Located only half a mile from Wheatland, this statue is the only one in the city that honors Buchanan. It is located on the park's edge at the intersection of Buchanan Avenue and N West End Ave.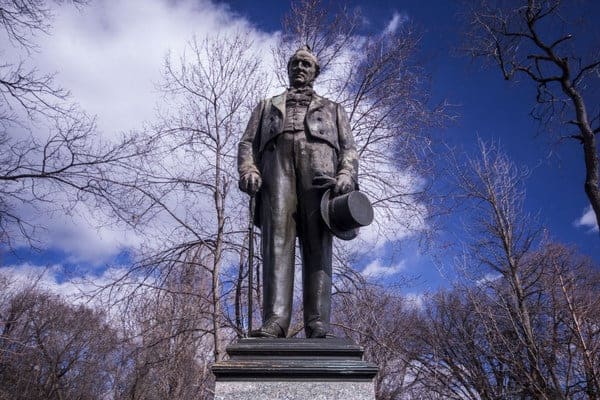 Those wanting to pay their respects to Buchanan can also head to his final resting place, which is located on the opposite end of downtown Lancaster in Woodward Cemetery. While the area around the cemetery is in need of some revitalization, Buchanan's grave is well maintained.
It is located in the middle of the cemetery at approximately these coordinates: 40.029115, -76.300659.
This grand grave is located in its own small grove and is set apart from the other graves in the cemetery. While Buchanan's gravesite in Lancaster might not be as grand as some president's graves, it is worth the drive across town for anyone visiting Wheatland.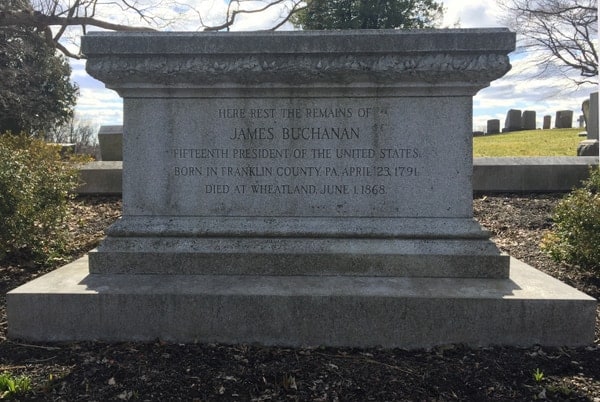 Whether you're a presidential historian or just want to learn about one of the most influential Pennsylvanians to ever live, make time to visit Wheatland in Lancaster, Pennsylvania.
[Click here for information on how to use the coordinates in this article to find your destination.]
Note: My visit to Wheatland was hosted by LancasterHistory.org. However, the opinions expressed in this article are my own.
---
Wheatland
Hours: Monday-Saturday: 9:30am-5pm
Tours on the Hour. Last tour at 3pm.

Wheatland Cost: Adults: $15, Children: $8, 10 & under: Free
Combined with LancasterHistory.org galleries: Adults: $22, Children: $8

Website: LancasterHistory.org

Address: 1120 Marietta Ave
Lancaster, PA 17603
See map for other area attractions.
---