Disclosure: This article may contain affiliate links. We will make a small commission from these links if you order something at no additional cost to you.
Despite Pennsylvania's importance in the founding of the country, you might be surprised to learn that, up until recently, Pennsylvania had only one homegrown president: James Buchanan.
Buchanan was born in Mercersburg, a small borough in Franklin County, and went to Dickinson College in Carlisle. Later in life, he served as a Representative and Senator from Pennsylvania, as well as Ambassador to Russia and Secretary of State, before becoming the 15th President of the United States.
Unfortunately, Buchanan is widely regarded as one of the worst presidents in American history. However, as Pennsylvania's first native president and as an important historical figure, it's still interesting to see sites related to his life in the Keystone State.
The most prominent site related to Buchanan in Mercersburg is Buchanan's Birthplace State Park, located just outside the borough in Peters Township.
Occupying 18 acres of land along Tuscarora Mountain, Buchanan's Birthplace State Park is located on the land where Buchanan was born. The land was donated by Harriet Lane, Buchanan's niece, who largely filled the role of First Lady during her uncle's presidency.
Buchanan's father owned a trading post on this land, known as Stony Batter, for people and goods traveling west through Cove Gap. Unfortunately, there are no remains of the trading post where Buchanan was born. Instead, a monument has been erected to Buchanan where it once stood.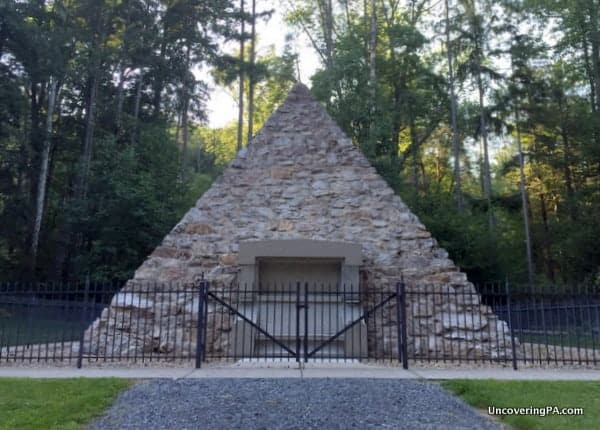 This large stone pyramid, made of stones from the local area, stands 31 feet high. Near the monument are several historical markers that tell about Buchanan's life in Mercersburg and his political career.
As I was reading through the signs in the park, I began to wonder if there were any other Buchanan-related sites in the area. A quick search on my phone yielded this great brochure from the Mercersburg Chamber of Commerce.
While it was a little difficult to read on my phone, I was able to use it to find a few other points of interest that are worth exploring while in the area.
Heading back to downtown Mercersburg, I parked my car along Main Street.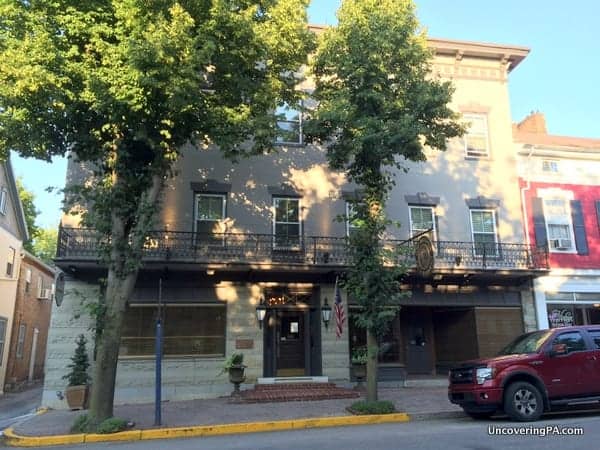 My first stop was the James Buchanan Pub and Restaurant. This building was originally built in 1797 by James Buchanan, Sr. as a store. A six-year-old James Buchanan, Jr. moved into the home and spent much of his childhood along the streets of the borough.
Across the street, at 14 North Main Street, was the home of his niece, Harriet Lane. She was the one that served as hostess while Buchanan was president, and donated the land and money to build the nearby memorial.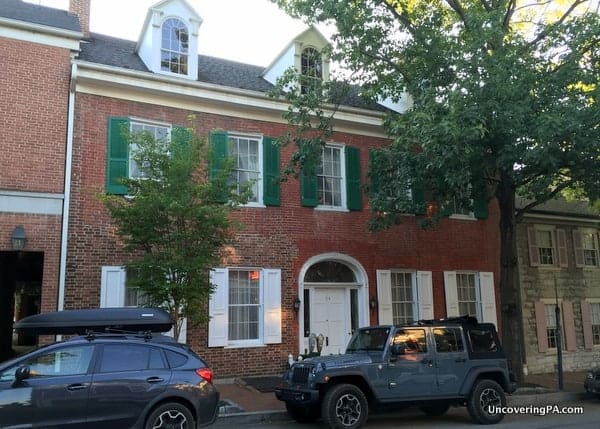 Just down the street, at 2 North Main Street, is Mansion House.
In 1856, Buchanan gave a speech from the balcony of this hotel, which is often seen as the first speech of his Presidential campaign. This building was also home to a few shots during the lead up to the Battle of Gettysburg, which resulted in the death of a Confederate soldier.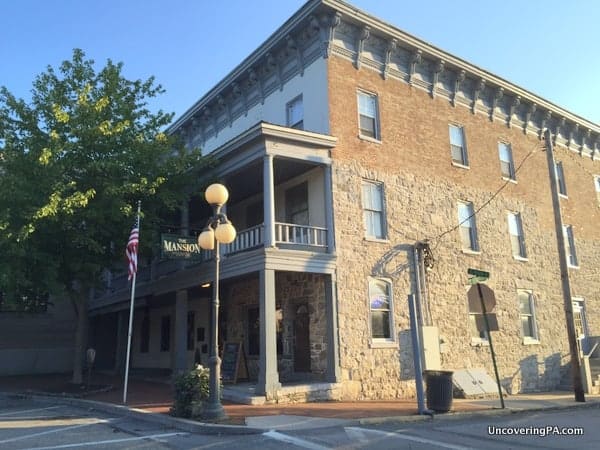 Before leaving downtown Mercersburg, make sure to check out the statue of Buchanan on the far side of the square next to the First National Bank.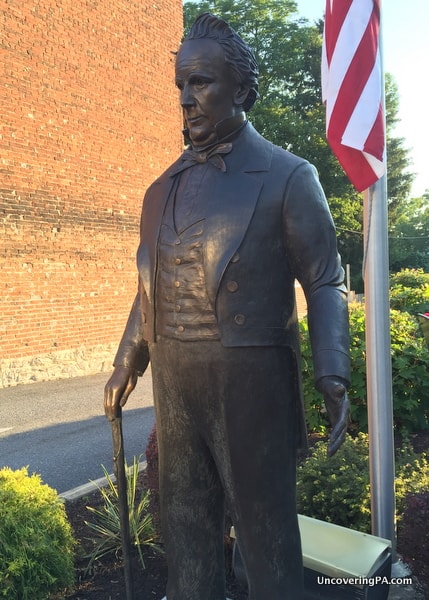 To continue your tour of Buchanan's life in Mercersburg, get back into your car and head to Mercersburg Academy.
This prestigious academy was built after Buchanan's childhood but does have a long list of famous alumni, including actors Jimmy Stewart and Benicio del Toro. The campus is home to many beautiful buildings, but there is one unassuming building that is worth visiting for those interested in President James Buchanan.
Located across the street from Mercersburg Academy are the last remnants of Stony Blatter, Buchanan's childhood home. While this log cabin was located at the home when Buchanan was born, it is not known if this building was the actual site of his birth. Moved here in the 1950s, it is interesting to see these remnants of Buchanan's home.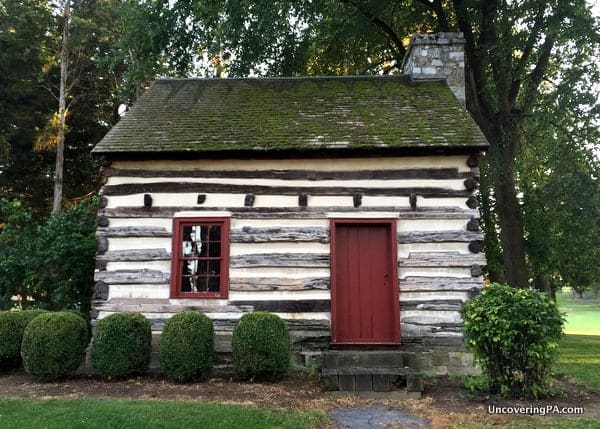 The last stop on the tour of Buchanan's life in Mercersburg is a few miles outside of the borough.
Spring Grove Cemetery is home to many graves spanning the last several centuries. In the back of the cemetery's property is the grave of Buchanan's father, James Buchanan, Sr., his mother, Elizabeth Speer, and 9 of his 10 brothers and sisters.
Spring Grove Cemetery is located along Etters Avenue, three miles north of Mercersburg. To find the cemetery, simply enter the following coordinates into your favorite GPS: 39.858744, -77.875313.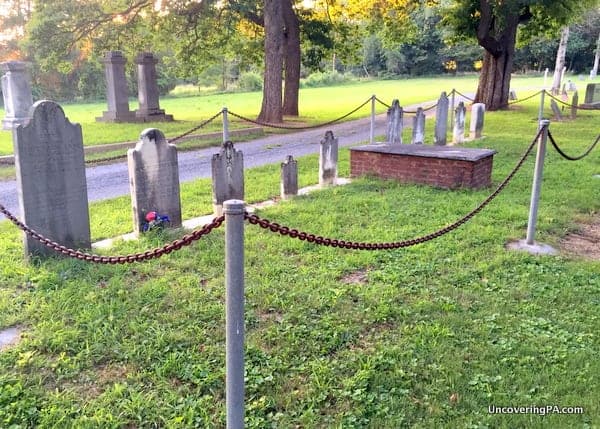 History hasn't been kind to President James Buchanan. However, as Pennsylvania's first native President, it is interesting to walk in his footsteps. Many know about Buchanan's home and grave in Lancaster, Pennsylvania, but few have taken the time to explore his life and legacy in his hometown of Mercersburg.
Looking to explore more in the area? Check out the John Brown House, the covered bridges of Franklin County, Jarrett Falls, and Caledonia Falls.
See map below for other area attractions.