Disclosure: This article may contain affiliate links. We will make a small commission from these links if you order something at no additional cost to you.
Did you know that Pennsylvania is home to 13 professional baseball teams? While most people are familiar with the Philadelphia Phillies and Pittsburgh Pirates, and some are even aware of the eight minor league teams, most don't know that PA is also home to three teams that are part of independent leagues.
One of these is the York Revolution of the Atlantic League. The Revolution play their home games in PeoplesBank Park in downtown York, a modern stadium built specifically for the team that opened in 2007.
As a baseball fan, I've taken in many professional games over the years at almost every level of the game, as well as the Little League World Series in Williamsport. However, having never seen an independent league game before, I was excited when I was invited to check out a York Revolution game in August 2019.
If you are thinking about checking out your first York Revolution Game, here's everything you'll need to know.
What Level of Baseball is the York Revolution?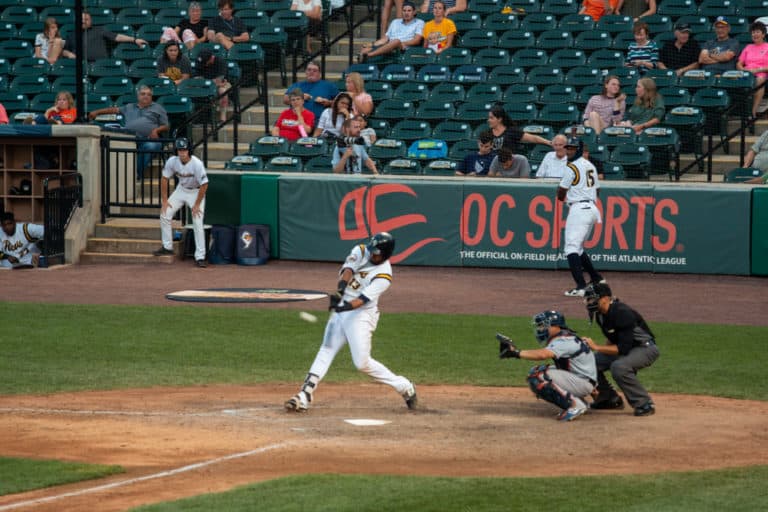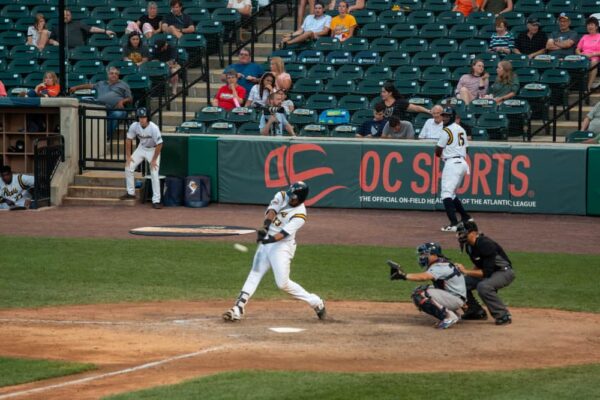 The York Revolution play in the Atlantic League of Professional Baseball, the same league in which the nearby Lancaster Barnstormers also play. This league is widely considered the highest level of independent baseball and regularly posts the highest attendance numbers.
Nearly all of the players in the league have professional baseball experience in the minor leagues, with a handful of players on each team having reached the Major Leagues for at least a brief period of time.
While individual players might be higher or lower, it's probably fair to compare the average player in the Atlantic League to someone in Double-A in the minor leagues. So, if you've taken in Harrisburg Senators or Reading Fightin Phils games, you'll have a good idea of the quality of baseball to expect at a York Revolution game.
What is PeoplesBank Park Like?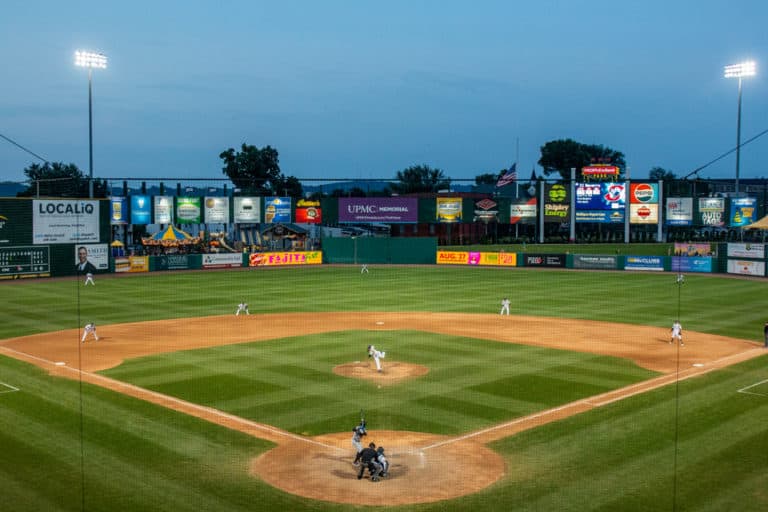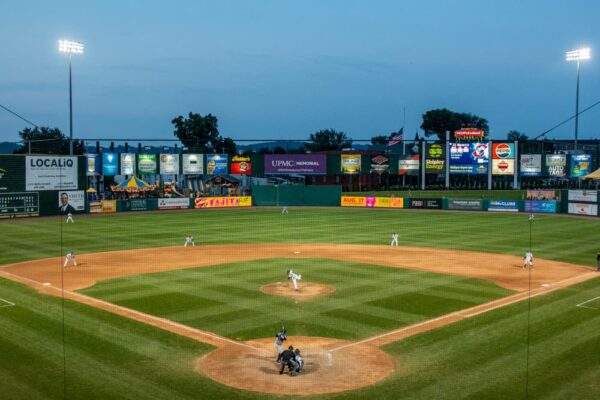 PeoplesBank Park is located on the edge of downtown York, sandwiched between homes and train tracks. This helps create an intimate stadium that has relatively short outfield falls in left and right field. In fact, the left-field wall is the highest outfield fence in professional sports, beating out the famous Green Monster in Boston by six inches.
In keeping with Atlantic League requirements, the field is kept at a minimum standard of a Triple-A-level stadium, though its size is closer to that of a Single-A or Double-A Stadium with a capacity of 5,200 fans.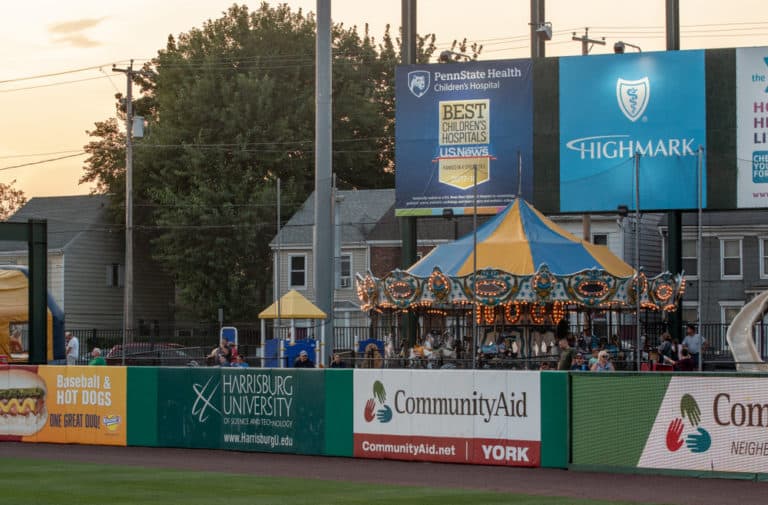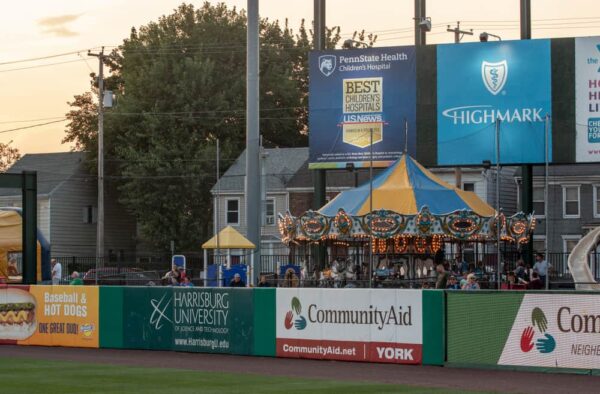 In the outfield, you'll find a kid's play area that features a carousel, playgrounds, slides, and much more. There is an additional charge for $5 per kid for this area, but they can play as long as they'd like and parents can still watch the game.
During the game, there is a series of on the field entertainment that is sure to keep you entertained between innings. They also do a nice job with their scoreboard video clips after key plays.
On aspect to keep in mind is that the Revolution have a small canon that is fired off throughout the game. I wasn't expecting this, so the loud explosion made me jump the first time I heard it. This canon is shot off in the middle of the first inning, after a home run by a Revolution player, and at the end of the game if York wins. Those that are sensitive to loud sounds may want to cover their ears.
What are the Seating Options?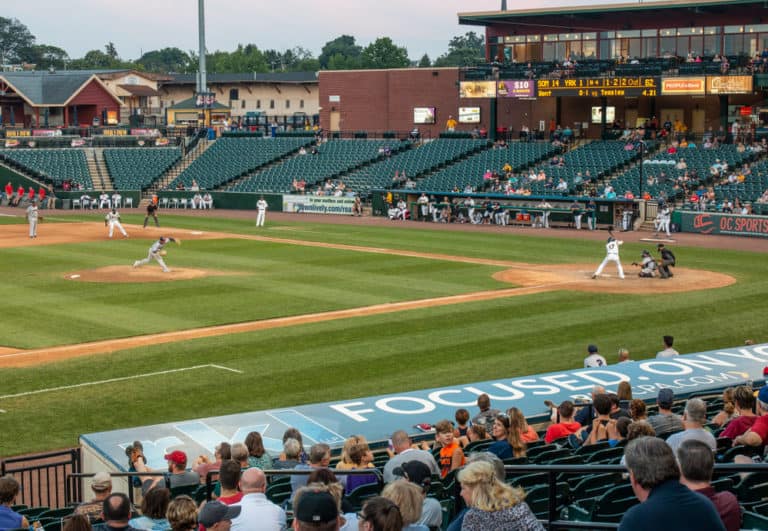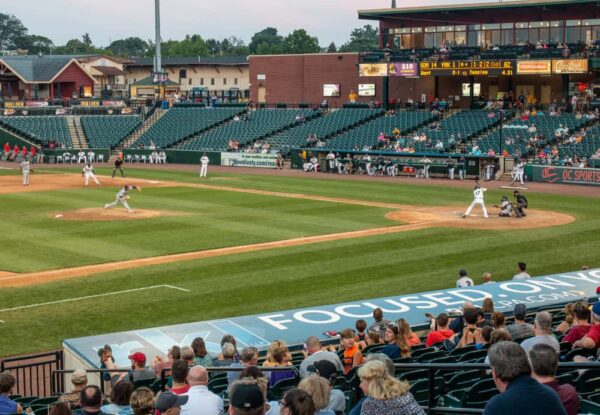 Given the intimate size of the stadium, there really aren't any bad seats at a York Revolution game.
The seating bowl is all on the lower deck with the exception of the suites and club level. Because of this, you'll never be far from the action no matter which seat you purchase.
Ticket prices range from $19 for Heritage Box seats right behind home plate to $9 for seats on the lawn in the outfield. Note that walk-up ticket prices are $2 more.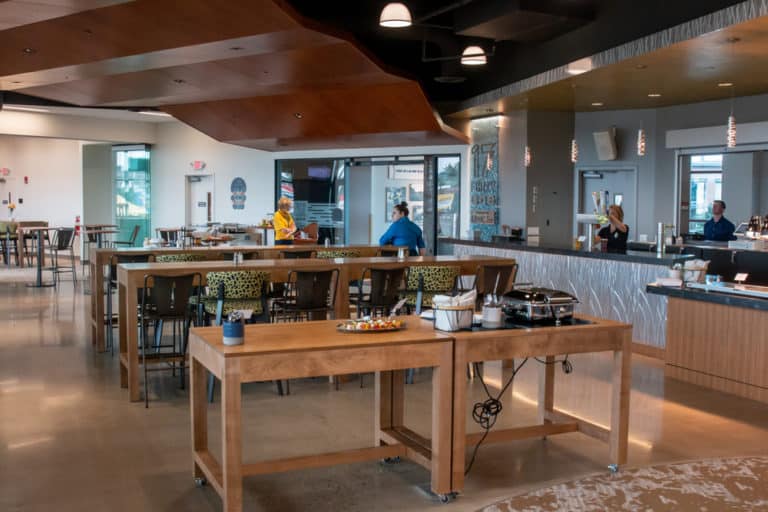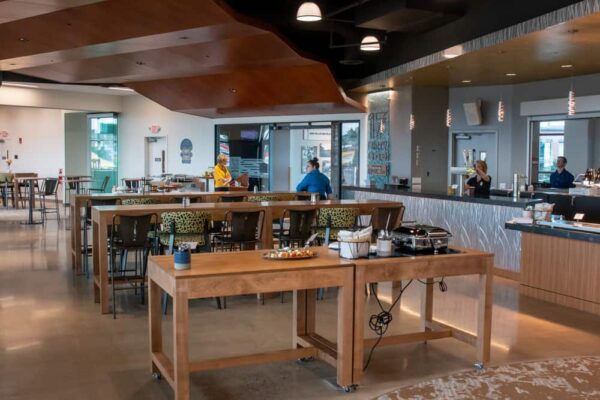 If you are looking for something extra special, however, consider purchasing $121 tickets for the 1741 Club, which was new in 2019 with a recent refresh for the 2022 season. This club is located on the second deck directly behind home plate and includes both indoor and outdoor seating.
Included with your ticket is a nice selection of both food and drinks.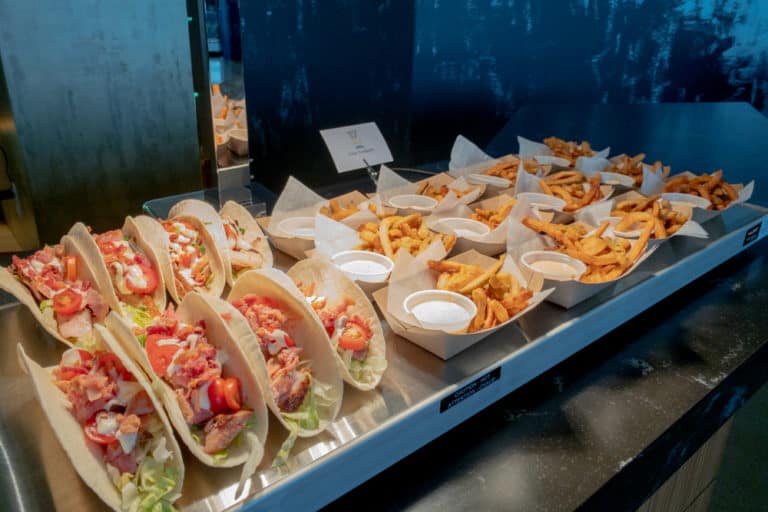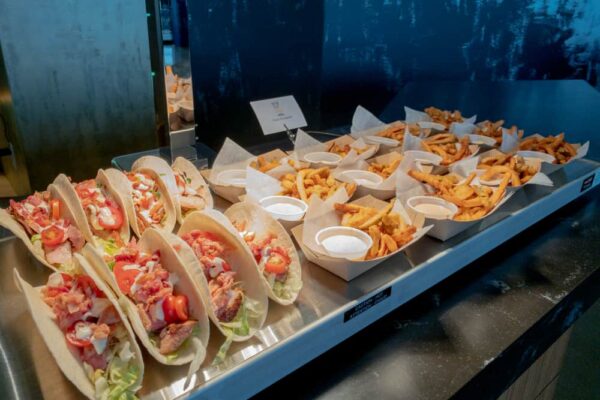 On the night I visited, the food consisted of hotdogs, hamburgers, tuna tacos, onion ring and jalapeno fries, and a strawberry shortcake dessert. There were also some snacks such as popcorn that were left out throughout the game.
The 1741 Club also features a selection of draft beers (Unfortunately no craft beers were included), three different wines, and non-alcoholic beverages throughout the entire game.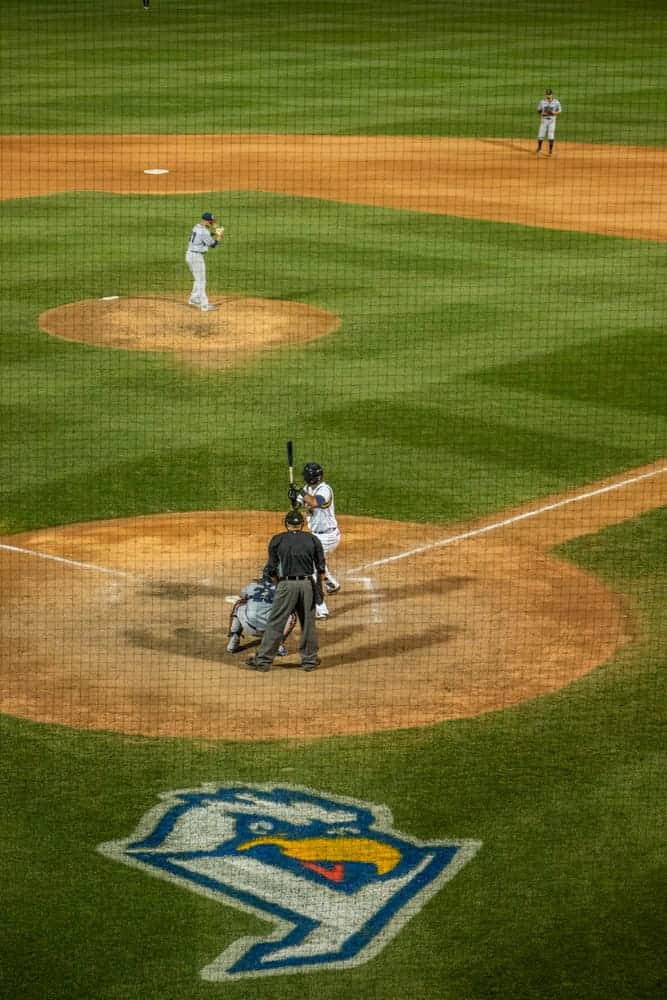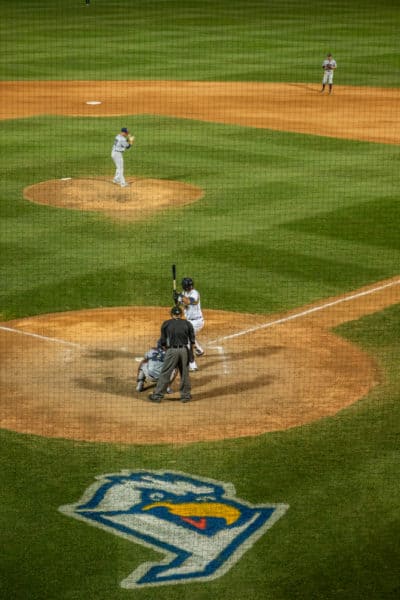 Other than the lack of a craft beer selection, my only complaint with the 1741 Club was that there were no speakers on the upper deck, which made hearing the announcer and in-game entertainment a bit difficult at times.
While the tickets are definitely more expensive than other seats at the stadium, you won't have to worry about additional concession costs, you'll get the best seats in the house, and you can get the experience of seeing a game in a suite without having to pay for an entire one.
What are the Food Options at PeoplesBank Park?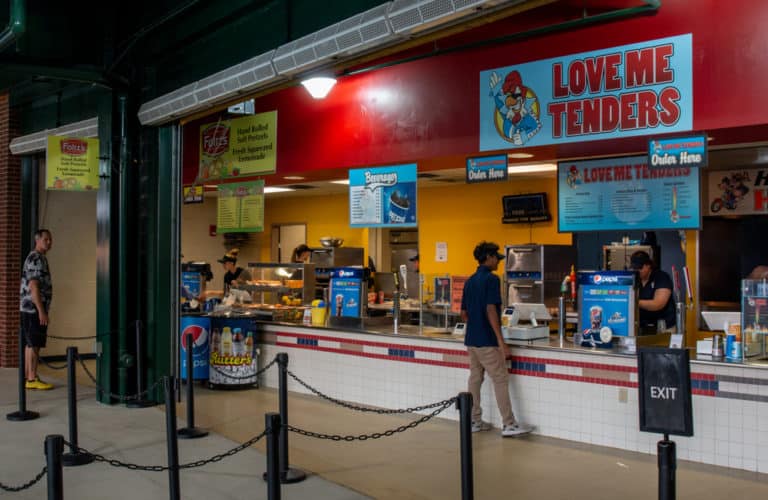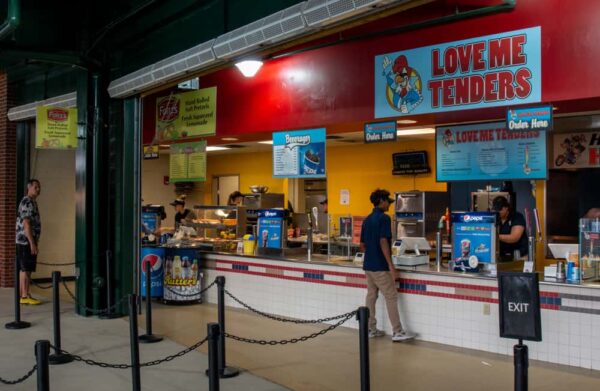 If you don't opt to go for the all-you-can-eat 1741 Club, there are still plenty of options for food in PeoplesBank Park in York, PA.
The concourse is full of spots to get food ranging from ballpark classics to a few rather unique options. If you are looking for unique fair, a few items that stuck out to me were the pumpkin funnel cakes, snow cones, and food from local brands Smok'n Hogs BBQ and Seltzer Lebanon Bologna.
Overall, from checking out the concession stands, I was impressed with the variety available, and I have no doubt that just about anyone will be able to find something to enjoy at the stadium.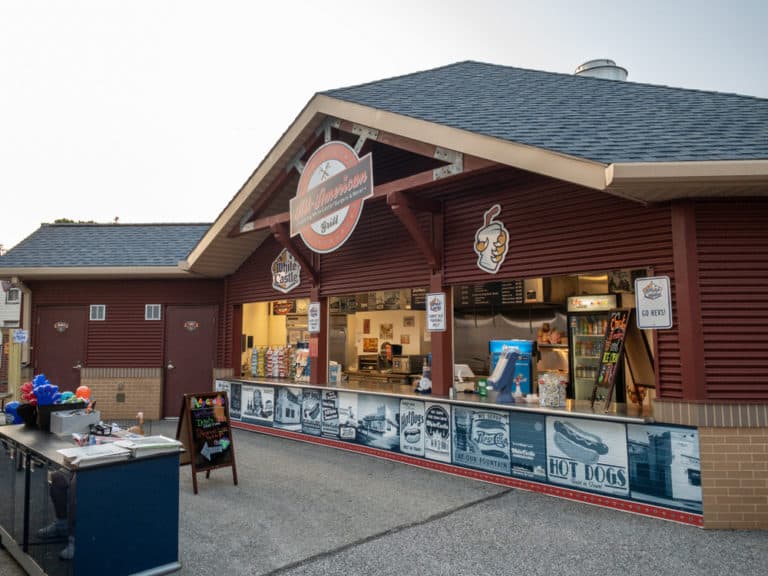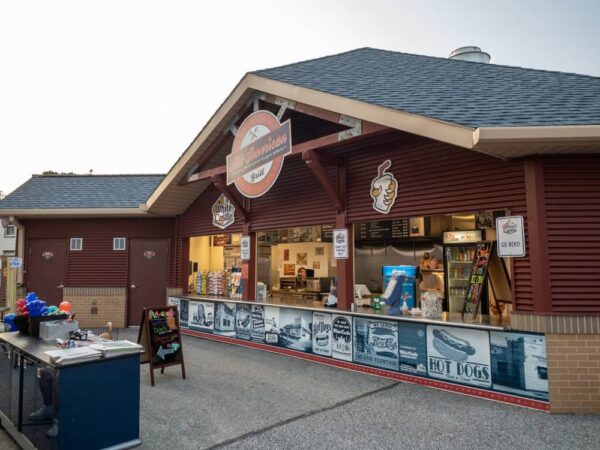 As for drinks, craft beer fans are in luck as PeoplesBank Park features a nice selection of local craft beers as well as the larger macro brews. Pricing seemed on par for what you would expect to pay at a baseball stadium.
For those looking to eat before the game, there are many fantastic spots and some great breweries in downtown York, including Liquid Hero, which is just across the train tracks from the stadium.
Where Do You Park for York Revolution Games?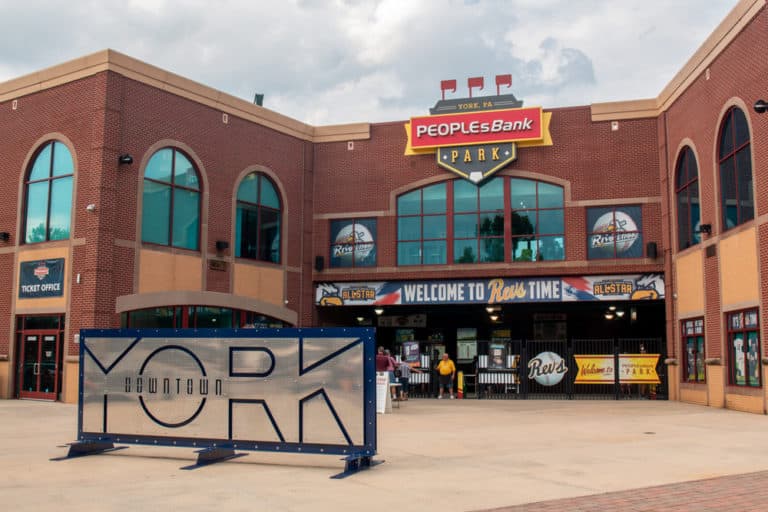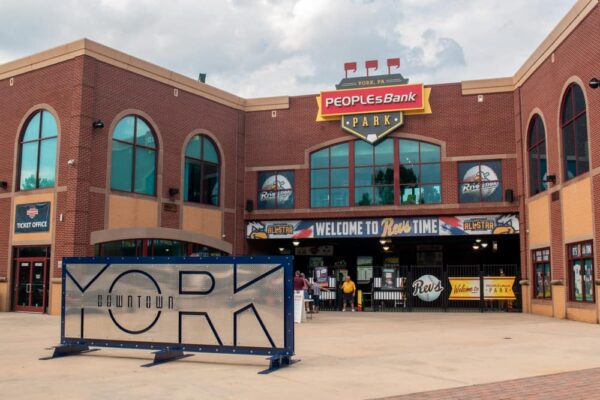 Given its location on the edge of downtown York, there are plenty of options for parking around the stadium.
The main lot for fans is called the Small Athletic Lot and is located at the intersection of George Street and Hamilton Avenue. Parking in this lot is $4 for the duration of the game.
If you don't mind walking a bit, there is both street and garage parking available in the city center. Parking on both the street and in the city garages is free after 5pm every day. Garages are free all day on Saturdays and Sundays while some street spots charge until 3pm on Saturdays, but are otherwise free on the weekend.
Of course, if you opt to park on the street, verify with the meter before assuming parking is free.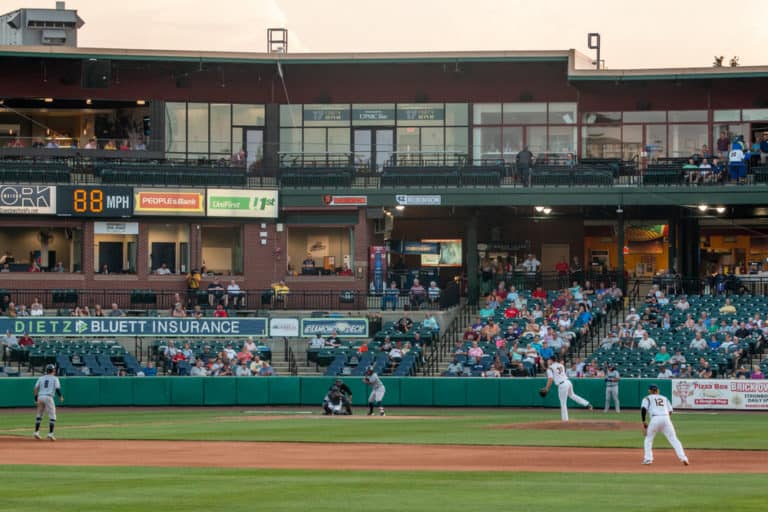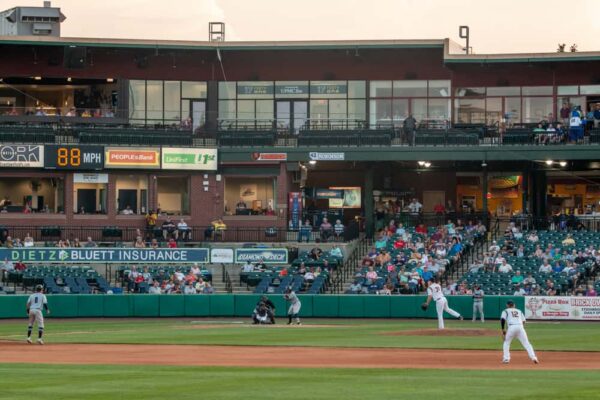 If you choose to park in a garage, the closest to PeoplesBank Stadium are the Market Street Garage (0.5 miles away) and the Philadelphia Street Garage (0.3 miles away).
For those with handicapped placards, there is parking directly adjacent to the stadium's entrance at the corner of George Street and North Street.
Note: I was hosted by the York Revolution so that I could write this article. The opinions expressed are completely my own.
Love baseball? Check out tours of PNC Park in Pittsburgh, the World of Little League Museum in Williamsport, and the graves of the Baseball Hall of Fame buried in Philadelphia.