Disclosure: This article may contain affiliate links. We will make a small commission from these links if you order something at no additional cost to you.
Pittsburgh is a city known for its hillsides. In fact, much of the city's character, from its many steps and bridges to its famous inclined planes, are a direct result of these hills.
These hills also afford many incredible views of Pittsburgh, and few are better than the views from the West End Overlook.
West End Overlook is located in the Elliott neighborhood of Pittsburgh atop Elliott's Bluff. While this has been an overlook for years (even dating back to the Native Americans), it was completely revamped and reopened in 2003, creating a much more park-like setting.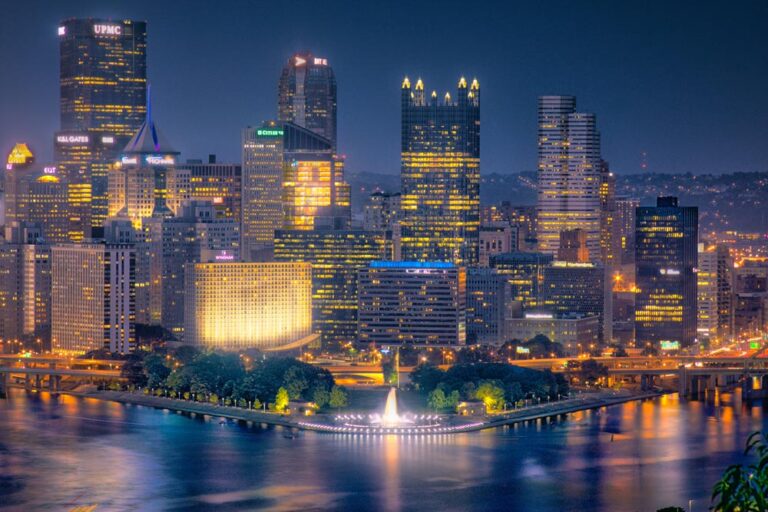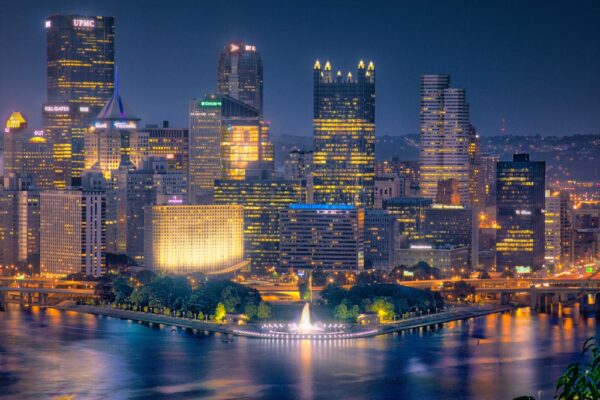 Today, the park's official name is the West End-Elliott Overlook Park, though most just call it the West End Overlook.
The viewing area at the overlook is situated on a bluff over the Ohio River about a mile west of the Point and downtown Pittsburgh. While Mount Washington definitely has the most iconic view of the city, the view at the West End Overlook is just as great.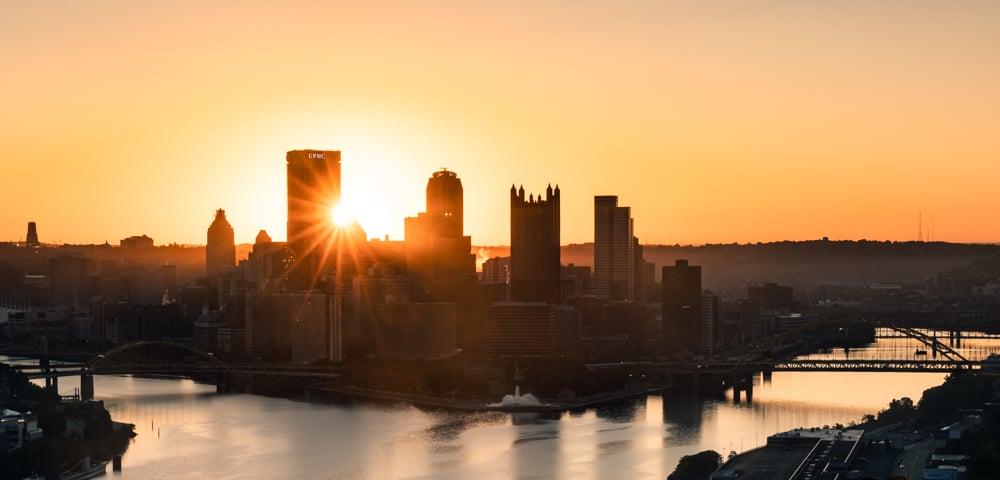 From here, you have a head-on look at the city's skyline and the meeting of Pittsburgh's three rivers: the Allegheny, the Monogahela, and the Ohio. You can also see both PNC Park and Heinz Field.
This is a great spot at any time of the day, but it's especially great at sunrise and sunset. It's also a perfect, though crowded, spot to watch fireworks from when Pittsburgh is having a show.

There's very little to this park itself aside from the great views, which can be enjoyed along a roughly 100-yard long sidewalk.
Adjacent to the sidewalk, there is a long stone bench that you can sit on while enjoying the views.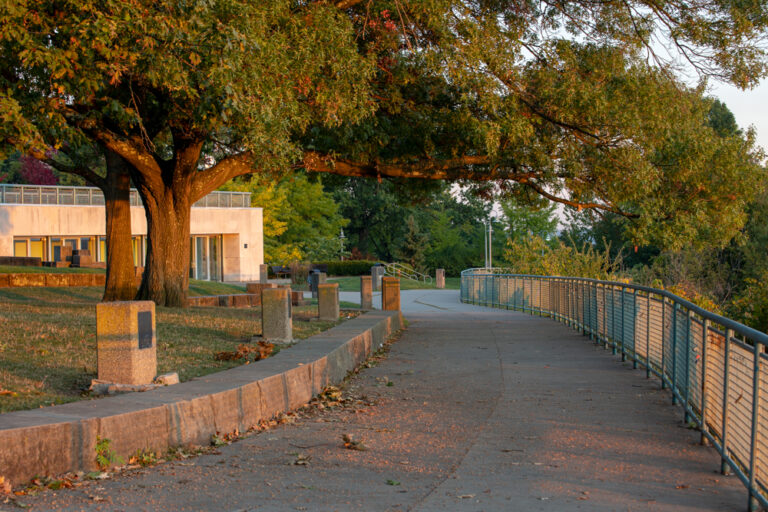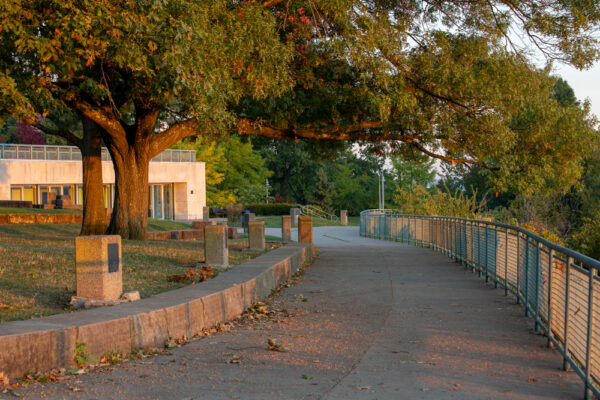 Away from the sidewalk, there is a grassy area that features a few trees (which are often popular photo subjects for photographers), and a few more places to sit.
There is one building in the park, though it appears to only be open for events, so it's not typically (if ever) open to the general public.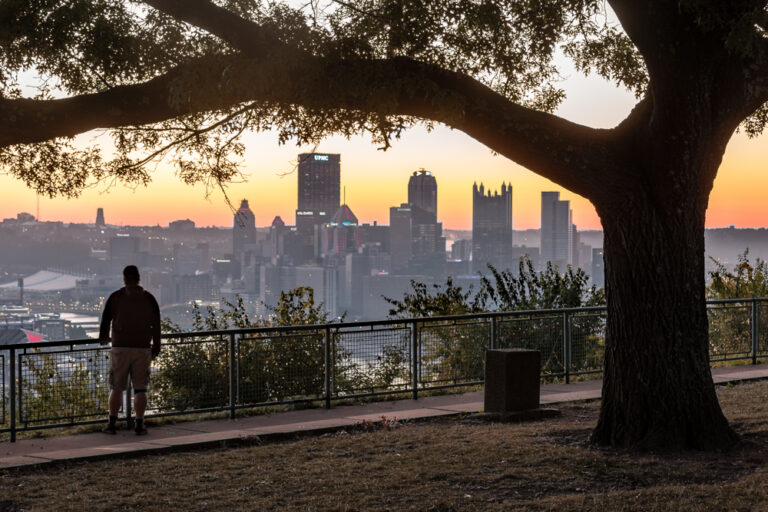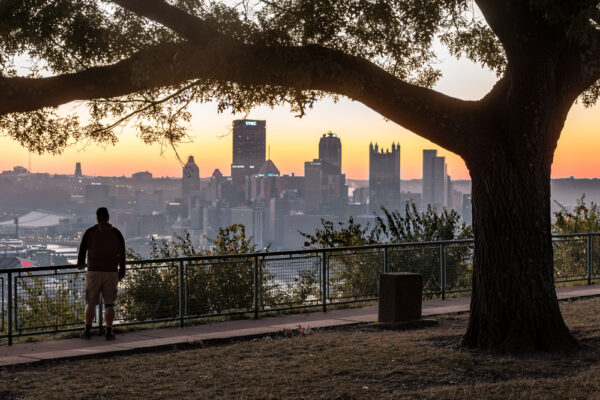 All that being said, enjoying the view is why people visit West End Overlook Park, so it makes sense that you wouldn't have much to distract from that.
Ultimately, there's no questioning the fact that the West End Overlook is one of the best places from which to view and photograph the skyline of Pittsburgh.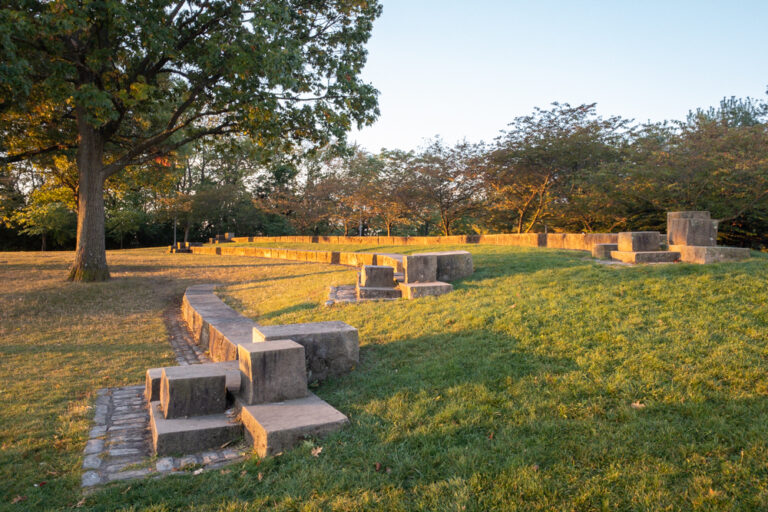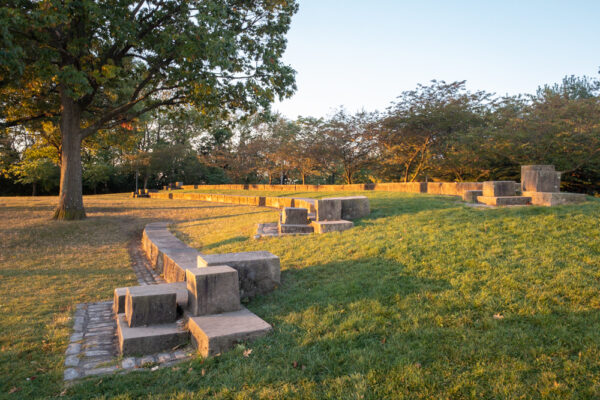 While, in my opinion, Mount Washington is the best skyline viewing area in the city, West End Overlook Park is a very close second and should definitely be a stop when you are visiting the city, especially if you are looking for free things to do in Pittsburgh or the best views of Pittsburgh's iconic skyline.
How to Get to the West End Overlook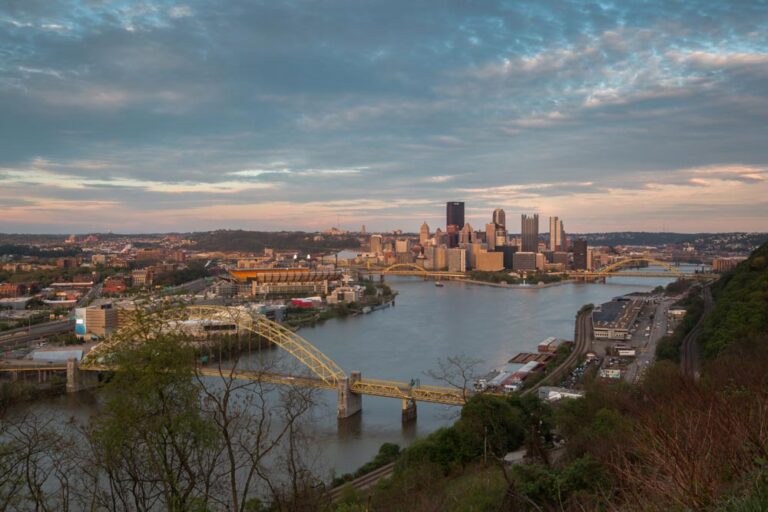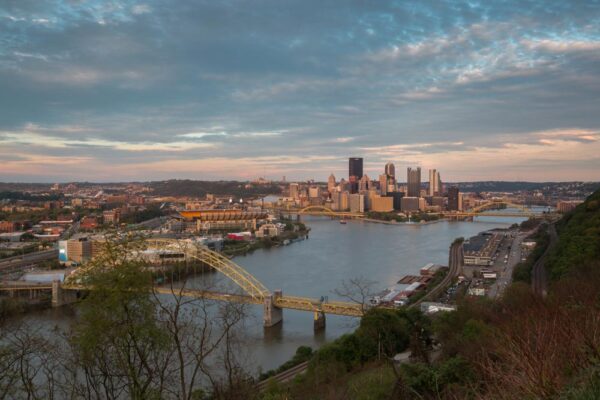 While West End Overlook Park isn't far from the city, the steep hillsides necessitate a bit of a roundabout approach to reaching it.
This involves navigating some of Pittsburgh's famous steep and narrow streets. While this isn't a huge concern most of the year, it's worth keeping in mind if things are a bit icy or snowy.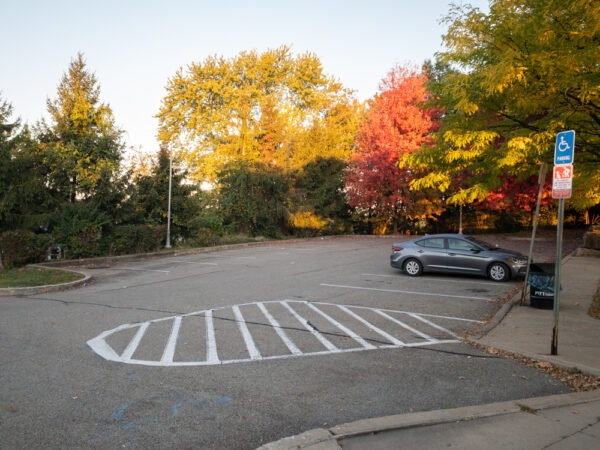 There are two parking areas for West End Overlook, both of which are adjacent to the park and feature handicapped accessibility to the viewing area.
The primary parking lot is located at the end of Fairview Avenue at the following coordinates: 40.44572, -80.03403.
This lot features about two dozen spots, so, outside of nights with fireworks or when events are being held in the park, there should be plenty of room to park here.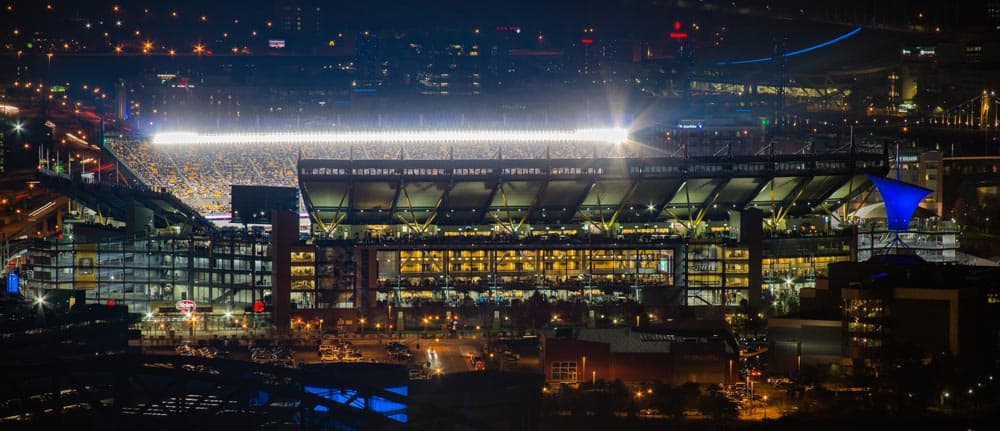 If this lot is full, there is another parking area just around the corner at the end of Marlow Street on Rue Grande Vue Street. This parking area is along the street, as opposed to in a specific parking lot, but the spaces are away from homes and used solely for the park.
This second parking area can be found at the following coordinates: 40.44655, -80.03424.
(Note that there is a second park nearby known simply as West End Park. If you are looking at a map, make sure you head to West End Overlook Park.)
Looking for even more great spots to visit in Pittsburgh? Check out the Fort Pitt Museum, Randyland, and the best breweries in Pittsburgh.
[Click here for information on how to use the coordinates in this article to find your destination.]