Disclosure: This article may contain affiliate links. We will make a small commission from these links if you order something at no additional cost to you.
Philly is filled with many historic spots, spots for amazing food, and cultural destinations. However, nowhere combines them together like Reading Terminal Market in Philadelphia's Center City.
Reading Terminal Market first opened in 1893 under the elevated train shed used by the Reading Railroad (of Monopoly fame). It was opened in response to the large number of vendors that were set up on the streets of the city; a practice that both crowded the city's sidewalks and was unsanitary.
While the type of businesses that are located within the market has changed over the years, it has reminded open since then, making it, according to some sources, the oldest continually-operating farmers' market in the country. Even the bankruptcy of the Reading Railroad couldn't derail the market's success.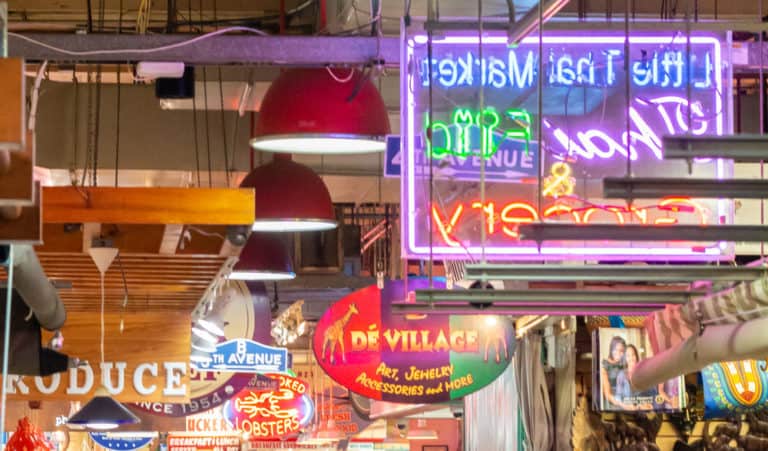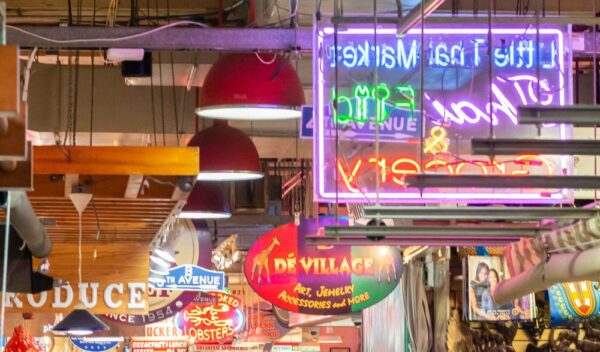 Today, the Reading Terminal Market is still located on the ground level of the building, though the upstairs now is part of the Philadelphia Convention Center.
All told, 80 vendors call the market home. The market is primarily a destination for food, both prepared and unprepared. However, there are also other vendors selling everything from flowers to French linens.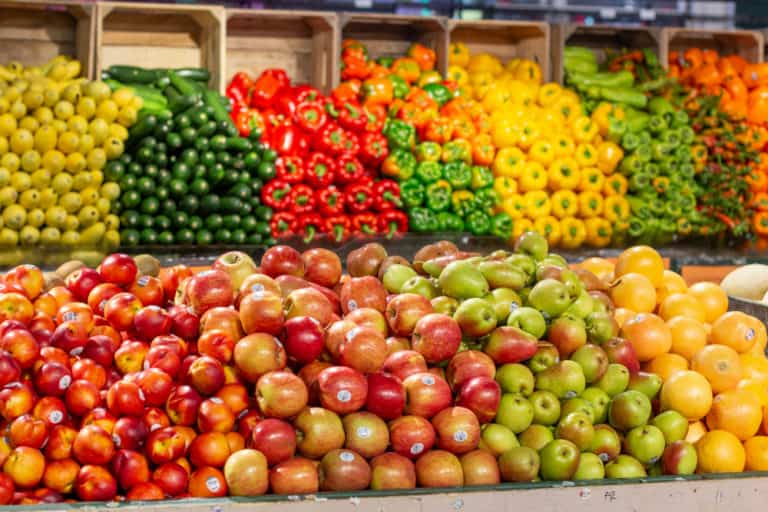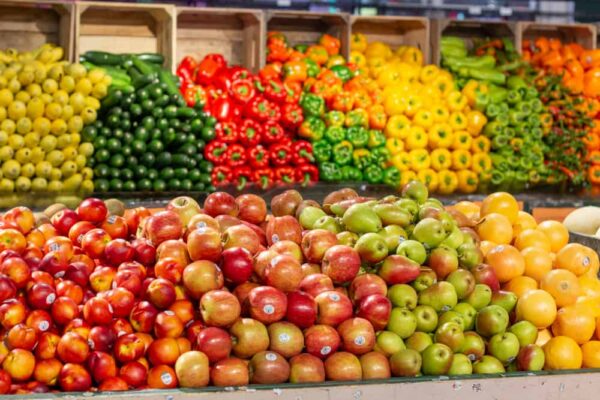 For me, there are two primary reasons to visit Reading Terminal Market. The first is simply to walk around and enjoy the sights, sounds, and smells of this bustling city market. You'll see local workers popping in for lunch and area residents buying the market's high-quality meats, produce, and cheeses instead of heading into a chain grocery store.
However, as much fun as it is to simply people-watch while inside Reading Terminal Market, I dare you to visit without indulging in some of the market's delicious foods.
While there is no doubt many more great spots to explore within the market, here are a few of my favorite Reading Terminal Market restaurants.
DiNic's Roast Pork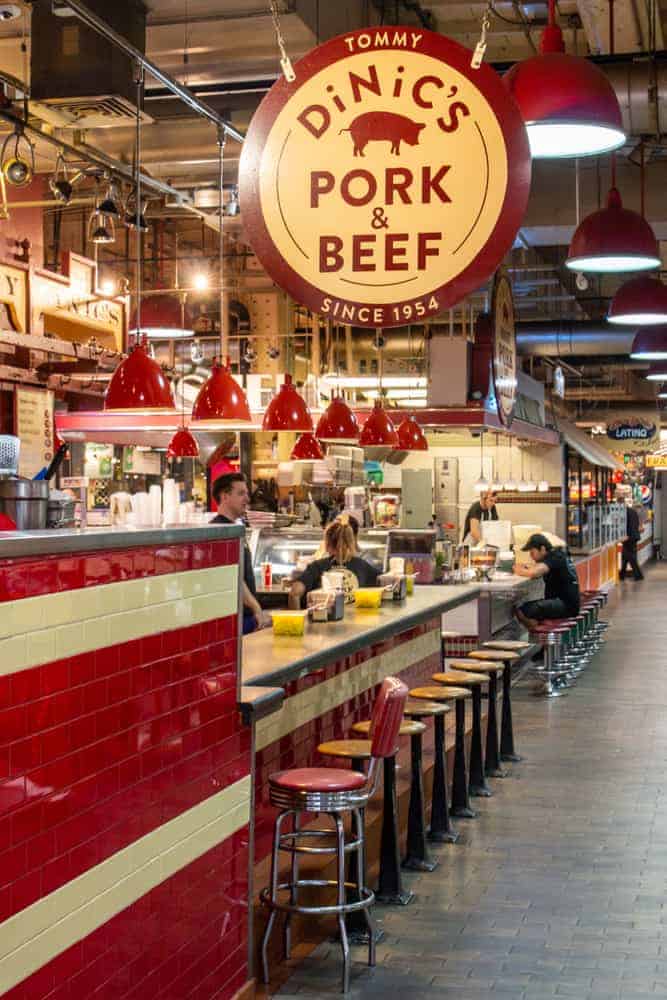 Of all the restaurants at Reading Terminal Market, few, if any have a line that rivals that of DiNic's Roast Pork.
Located in the center of the market, DiNic's is known for their roast pork sandwiches which features delicious roast pork slathered on a hoagie roll with sharp cheddar and broccoli rabe. While the sandwich might not be for everyone (my brother was not a fan when he visited), it was named the Best Sandwich in America by the Travel Channel in 2012.
DiNic's features a limited amount of stool seating, so most opt to get their sandwiches to go. If you get it to go, eat it quickly as the sandwiches juices soak through the bread pretty quickly and can create a soggy mess.
DiNic's is definitely a spot to hit up as early in the day as possible if you want to avoid the lines.
Bassetts Ice Cream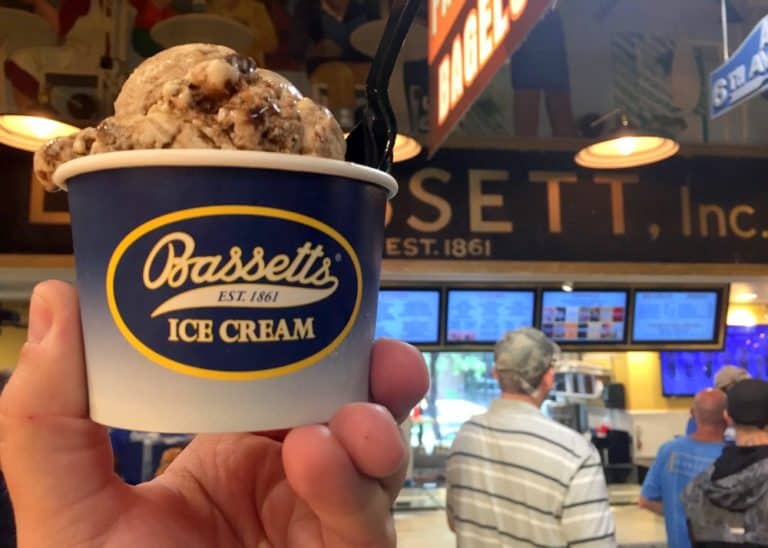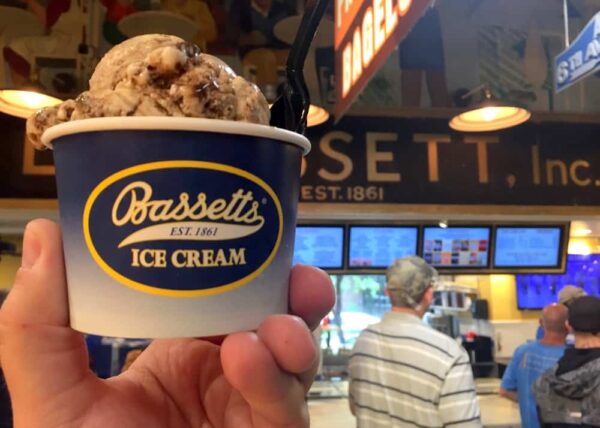 Bassets Ice Cream is one of the few places in the market that features a line that can rival that of DiNic's. Fortunately, though, the line moves quickly at one of the best places to get ice cream in Philly.
Bassetts has been making ice cream since 1861 and is possibly the longest-tenured vendor at Reading Terminal Market. On any given day, there are well over a dozen flavors of ice cream available in everything from traditional flavors to interesting concoctions.
Bassets is a great choice for dessert after visiting one of Reading Terminal Market's restaurants.
Miller's Twist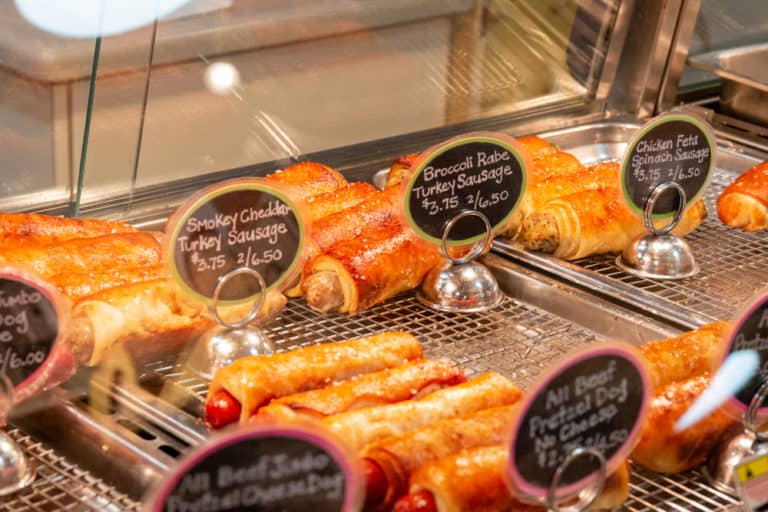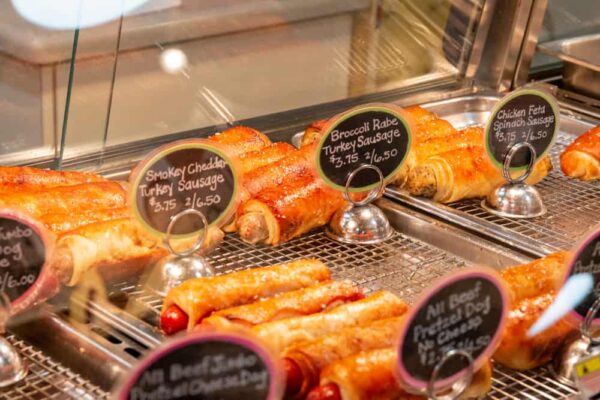 If you visit Philly, you can't leave without eating at least one soft pretzel, and one of my favorite spots for this delicious treat is Miller's Twist.
Their pretzels and made fresh throughout the day and are incredibly warm, buttery, and delicious. They also serve Philly cheesesteak pretzels, breakfast sandwich pretzels, and more.
And don't leave Miller's without a cup of their fantastic lemonade.
Carmen's Famous Italian Hoagies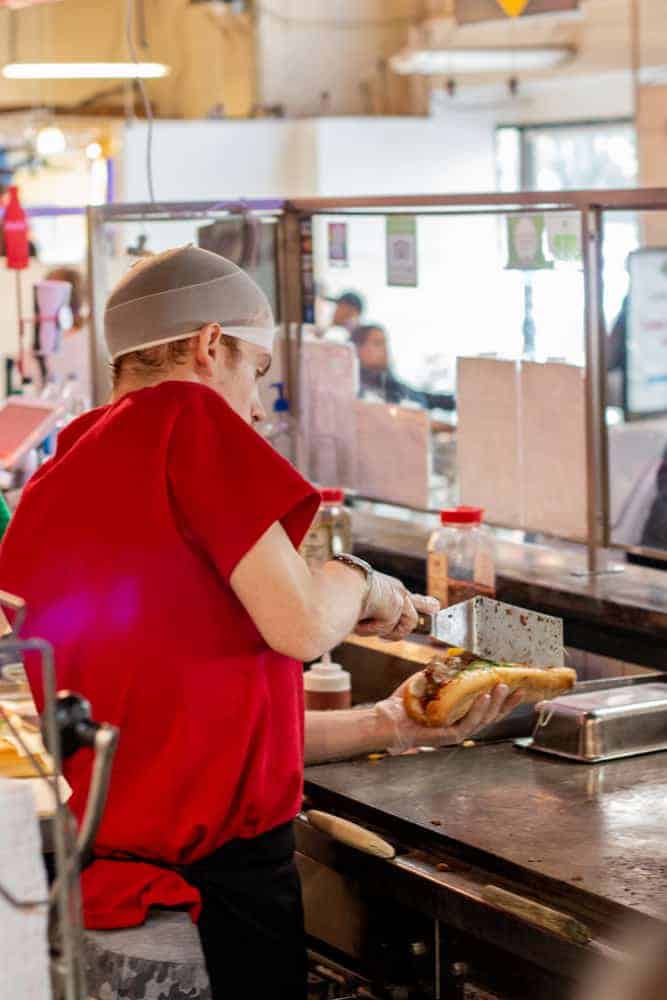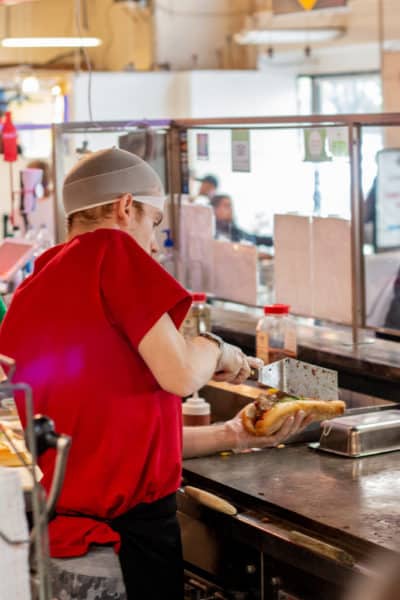 There are many great places to get cheesesteaks in Philly, so it should come as no surprise that Reading Terminal Market features several options.
Of all the options, Carmen's Famous Italian Hoagies is probably the best choice. Carmen's offers all of the normal cheesesteak options, as well as a unique concoction called The Franklin. The Franklin is a normal cheesesteak but is served with both American cheese and cream cheese. While I wouldn't recommend this for your first cheesesteak, it's a great alternative for those looking for something different.
While it might not be the best in the city, if you are looking for a cheesesteak in Reading Terminal Market or Center City, Carmen's definitely is among the top choices.
It's worth noting that service here can be slow, so if you aren't able to visit early in the day, be prepared to wait.
Famous 4th Street Cookie Company
If you love soft, gooey cookies, you won't want to miss Famous 4th Street Cookie Company, which is near the entrance to the market along 4th Street.
They offer many fantastic flavors of cookies that you can mix and match and pay for by the weight.
If you happen to be visiting the market near closing time, make sure to swing by their stall as they often offer some great discounts at the end of the day.
Fox and Son Fancy Corn Dogs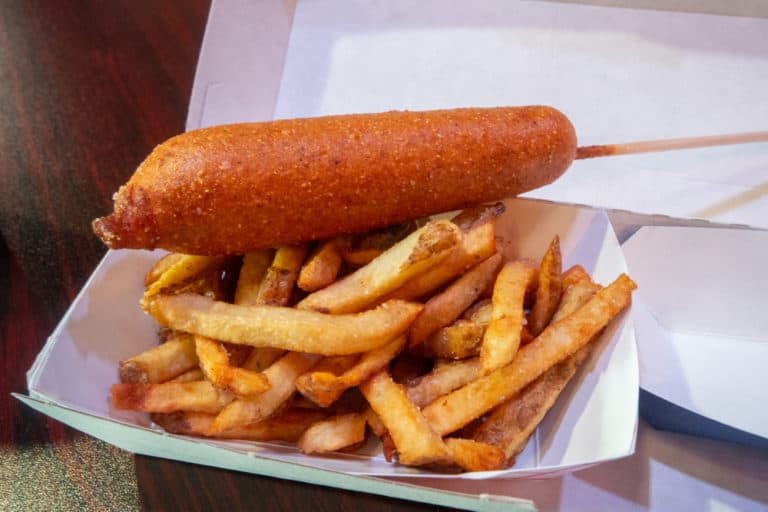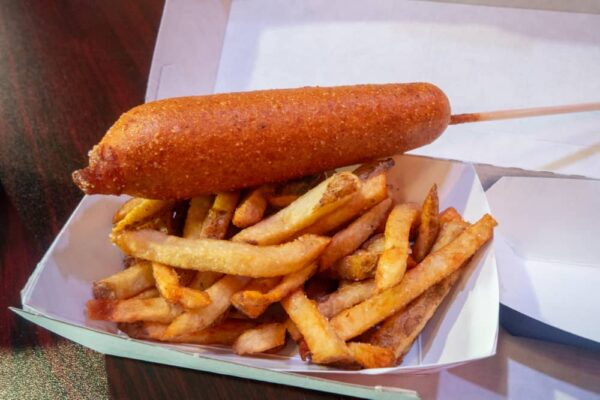 If you are looking for something a bit different to eat in Reading Terminal Market, Fox and Son Fancy Corn Dogs is a great choice. And, yes, I did say Fancy Corn Dogs.
Fox and Son is one of the newer restaurants in Reading Terminal Market but has quickly made a name for themselves by producing some of the best food you can get there.
They offer both regular corn dogs and ones covered in toppings such as cheese sauce and chili. I also loved their hand cuts fries (the poutine is especially good). They even offer funnel cakes which I've heard are delicious (but I haven't had a chance to try yet).
Termini Bros Bakery
Termini Bros Bakery is another one of the most well-known spots in Reading Terminal Market, though they have three other shops throughout the city.
Their counter is located in the heart of the market and features row after row of delicious baked goods and sweet treats inside glass display cases.
While everything looks incredible, my favorite treat from Termini Bros is their delicious cannoli. These delectable treats are freshly made using 10 steps and 10 different bakers. The dark chocolate chips included inside the filling add a perfect touch.
Old City Coffee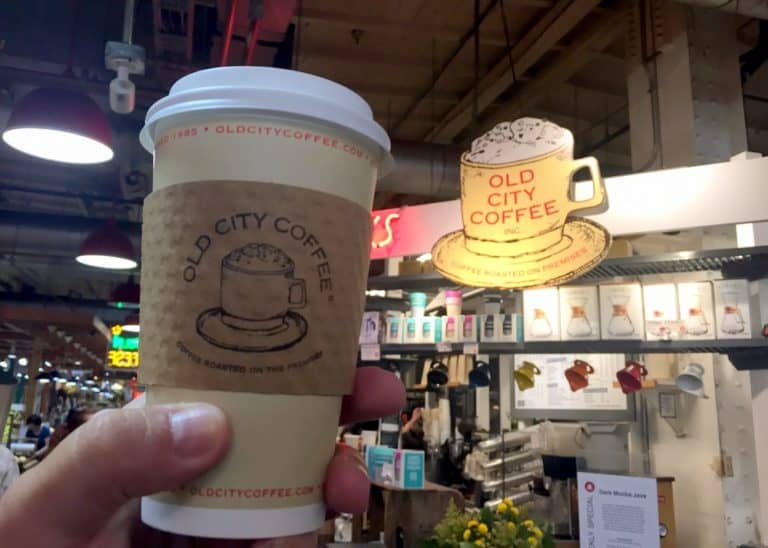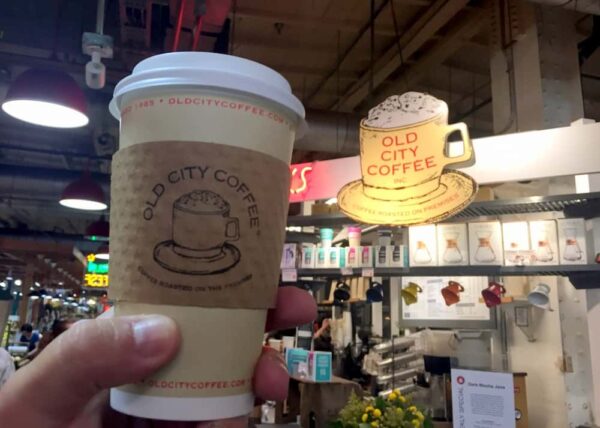 Whether you are visiting Reading Terminal Market in the morning or simply need an afternoon pick-me-up, Old City Coffee is a great choice.
Old City Coffee has been a staple of Philly since it opened in the mid-1980s and roasts their coffee at their shop in Old City. Inside the market, they feature two stands, both of which serve some of the best coffee and espresso drinks you can find in Center City.
Reading Terminal Market Tips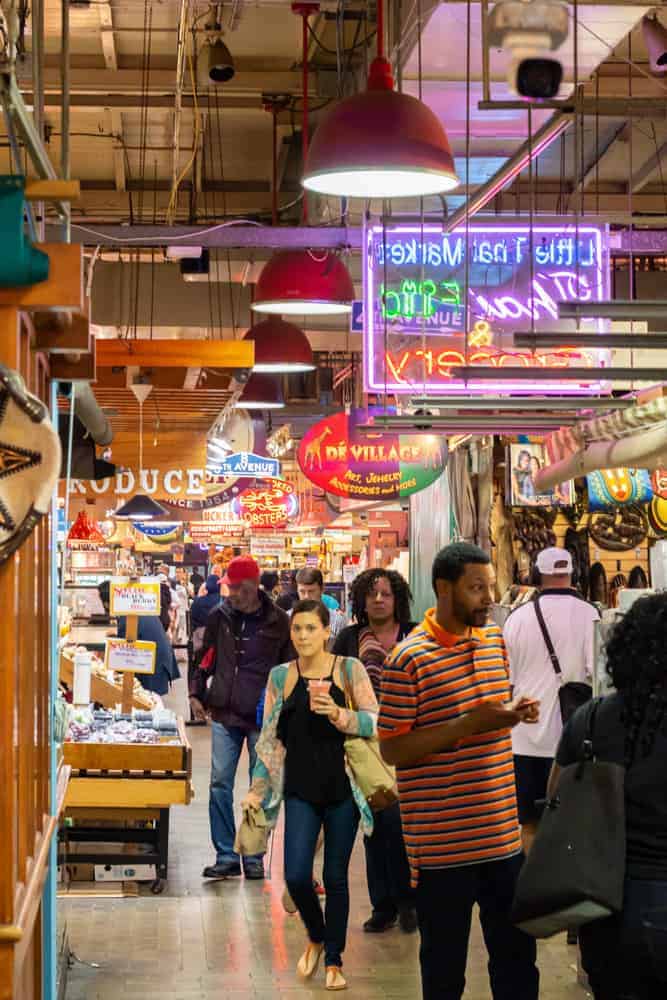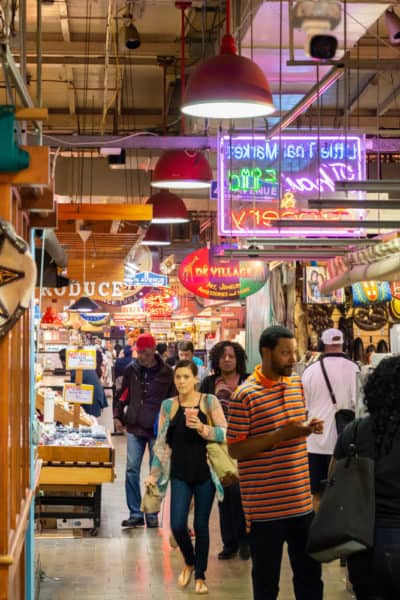 Bring cash – While many vendors in the market take credit cards, not all do. So, it's a good idea to have a bit of cash handy.
Visit Wednesday-Saturday – While Reading Terminal Market is open every day from 8a-6p, not all stalls are open every day. Many, including those run by the Pennsylvania Dutch, are closed Sunday-Tuesday.
Check vendors' hours – If you have a particular vendor you are coming to check out, make sure to check their hours. In addition to some vendors closing on certain days of the week, others open a bit later than the market or close a bit early.
Where to Sit – While a few stalls do offer seating, most do not. If you are looking for someone to enjoy a meal from a great restaurant at Reading Terminal Market, head to the center of the building where you'll find plenty of places to sit. There are also some tables and areas to sit outside of the market along the streets.
Holiday Season – During the holiday season, the market really comes alive and is a great spot to purchase a gift. There is also a model railroad set up in the center of the market that is a lot of fun to check out when visiting Philly at Christmastime.
Do you have a favorite Reading Terminal Market restaurant that we didn't include or a tip for those visiting for the first time? Let us know in the comments below.
Looking for more places to visit near Reading Terminal Market? Check out Pizzeria Beddia in Fishtown, the museum at the Pennsylvania Academy of Fine Arts, the City Hall Observation Deck, and the Wanamaker Organ.