Disclosure: This article may contain affiliate links. We will make a small commission from these links if you order something at no additional cost to you.
There are few places in the United States that had more impact on American history than Philadelphia. And, while there are many great hotels to stay at in the city, there are also many fantastic Airbnbs in Philadelphia, PA that you can book if you are looking for something a bit different.
Of course, when thinking of where to find a great Airbnb, Philadelphia might not be the first place to come to mind. However, I've scoured through hundreds of listings on the site to find many amazing Airbnbs that are unique, luxurious, or simply provide a great location for exploring the city.
So, whether you've visited the city many times or this is your first visit to the City of Brotherly Love, here are some of the best Airbnbs in Philadelphia to suit any taste.
(Photo at the top of the article used courtesy of Airbnb)
Stylish Loft in Old City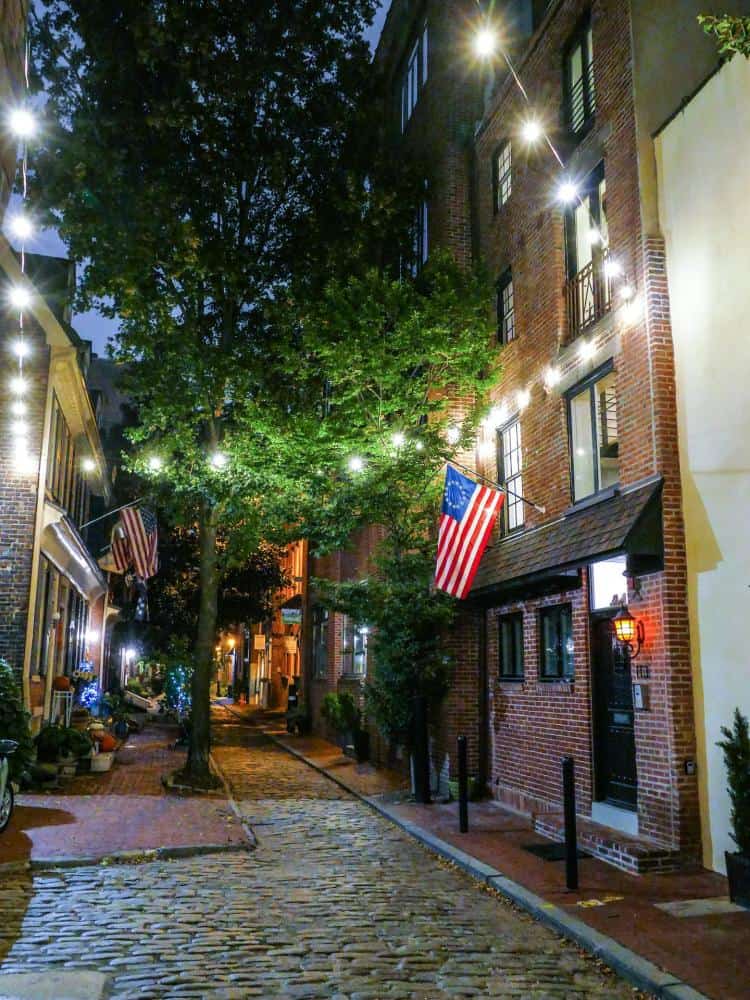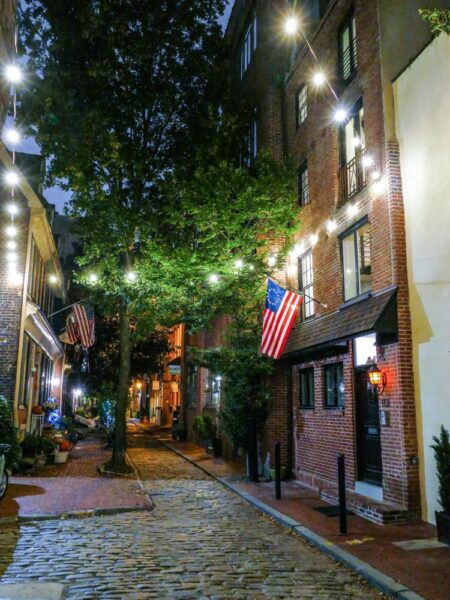 Want to stay somewhere stylish while still being only steps away from Independence Hall, Elfreth's Alley, and the Museum of the American Revolution? This beautiful Airbnb in Philadelphia is for you.
This two-story apartment is located on a small cobblestone street in the heart of Philly's Old City. It features an incredible modern yet comfortable style that has to be seen to be believed. It also has two bedrooms for those needing a bit more space than a traditional hotel room.
Check Current Pricing and Availability Here!
Glamping on the Water Houseboat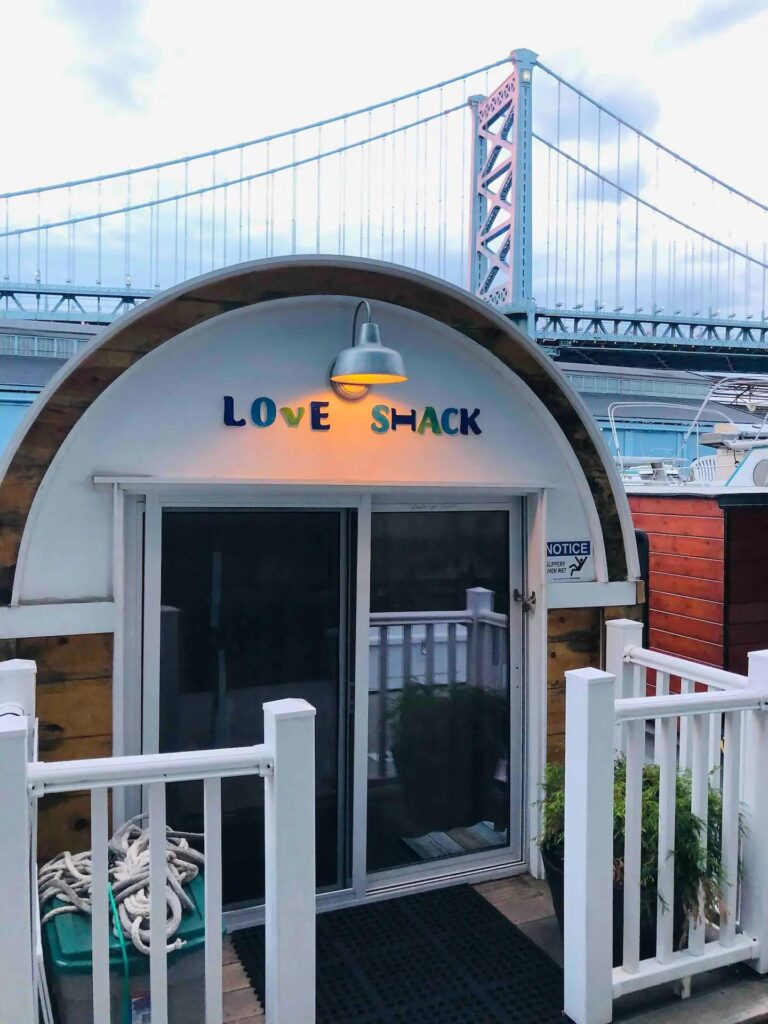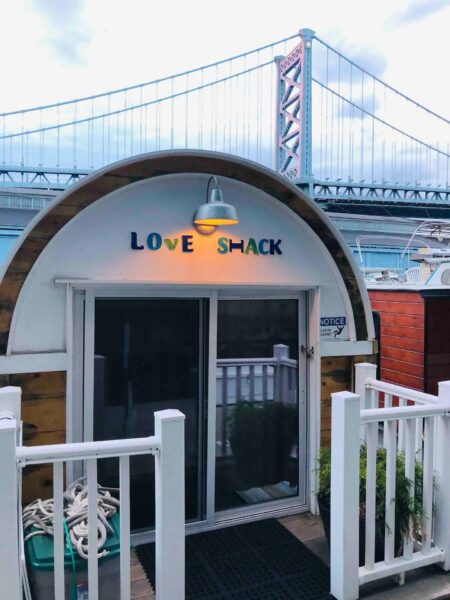 Get away from the urban sprawl of Philadelphia and spend the night on a houseboat. Even better, this houseboat is only steps away from the city's many great sights.
This small boat is docked near the Benjamin Franklin Bridge and features a seating area, a small kitchen, a projector, and a lofted bed. There is also a small outside area with a great view of the bridge.
Check Current Pricing and Availability Here!
Modern Airbnb with a Great View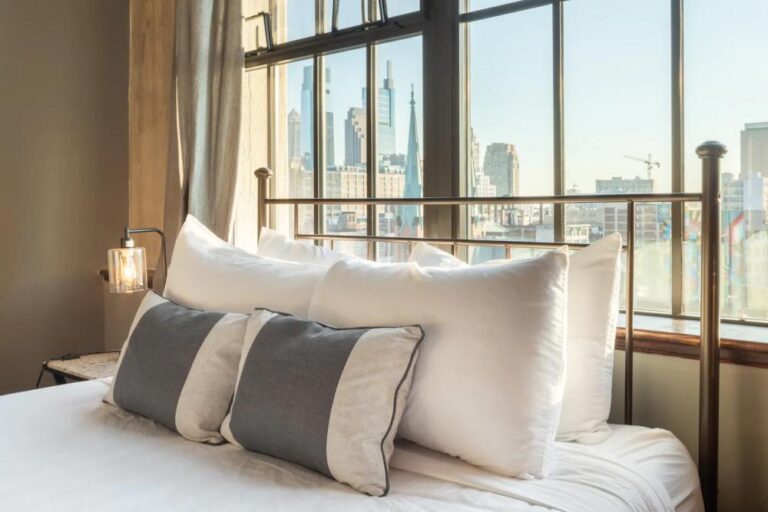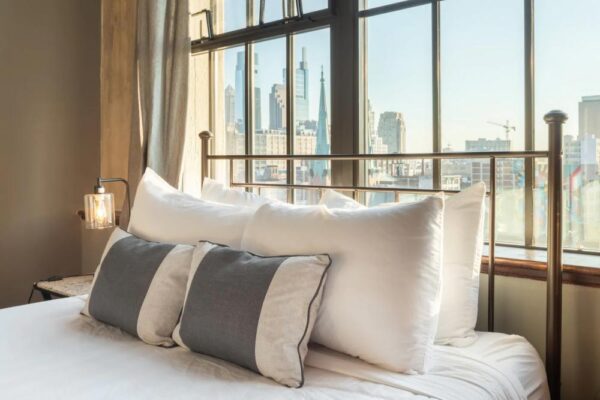 Located just north of Center City, you'll find Sosuite (which is home to many larger Airbnbs as well). This apartment is within a historic Liberty-style building and is a great place to stay if you want modern style, historic beauty, and incredible views of the Philly skyline.
This studio apartment features a kitchen, a beautiful bathroom, and a seating area with a TV. The building also has a gym and available parking (additional cost).
Of course, the star here is the incredible view of the skyline that is picture-perfect both day and night.
Check Current Pricing and Availability Here!
The Deacon Renovated Church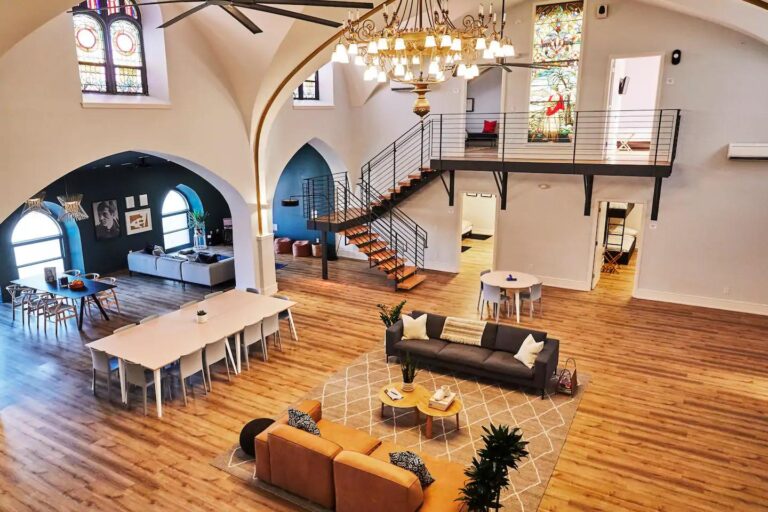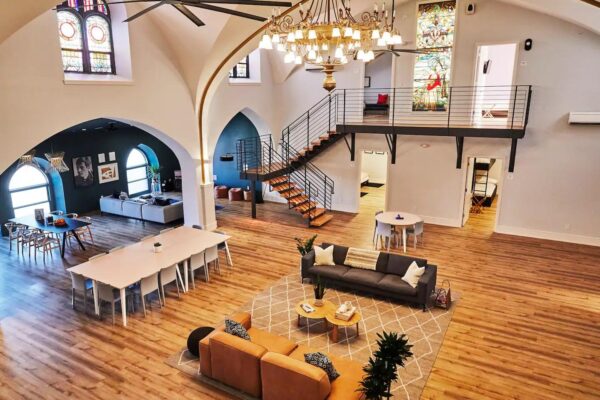 Traveling with a large group? The Deacon is a renovated Gothic Revival church that's perfect for families or a group of friends as it can hold as many as 16 people in its 8 bedrooms.
This luxurious Airbnb in Philadelphia has been renovated into a private boutique hotel and has a lot of both historic and modern elements in it. Relax in the large common areas before returning to the beautiful bedrooms, many of which have historic stained glass windows.
Check Current Pricing and Availability Here!
Retro Glamping in the City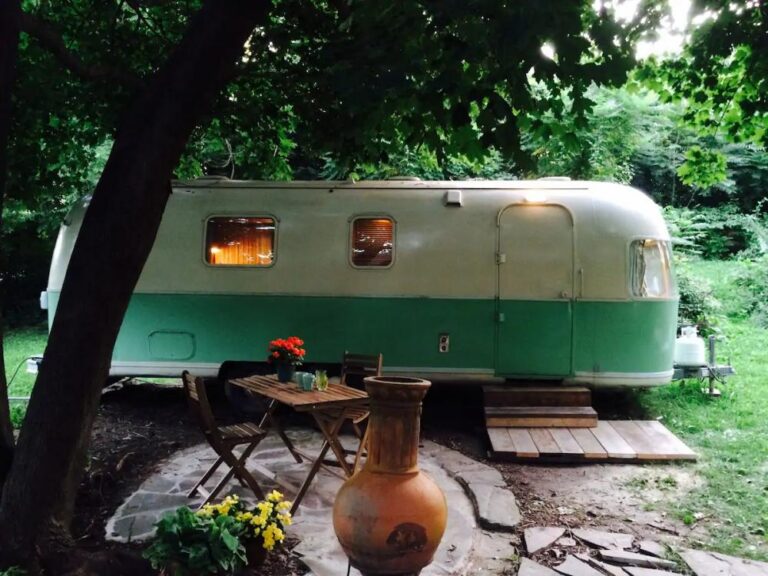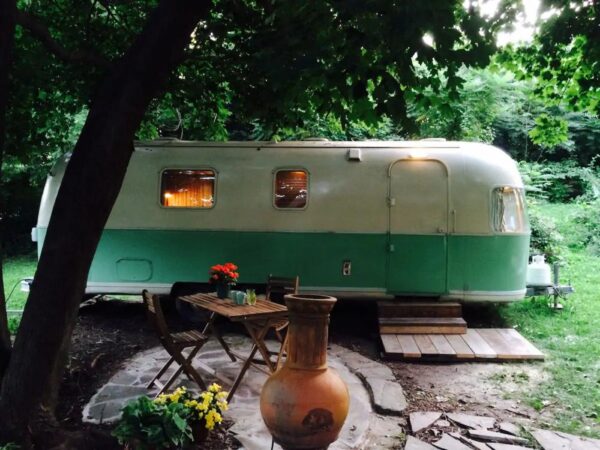 Located behind a house in northwest Philadelphia, this restored 1973 Airstream camper is a perfect option for those looking for a unique spot to spend the night in the city.
This 26-foot camper has been immaculately restored and feels like it was pulled right out of the 1970s. Inside you'll find a kitchen, seating area, and room for three to sleep.
Outside, enjoy the hammock, outdoor seating area, and a night by the fire.
Check Current Pricing and Availability Here!
Historic Philly Tiny House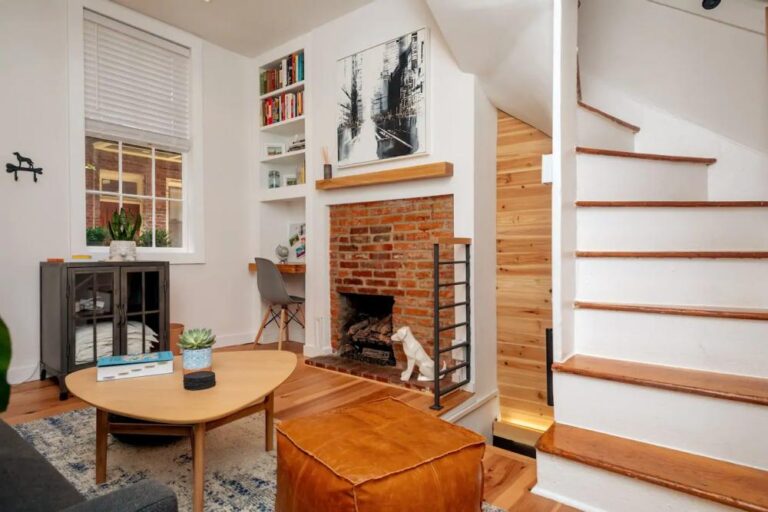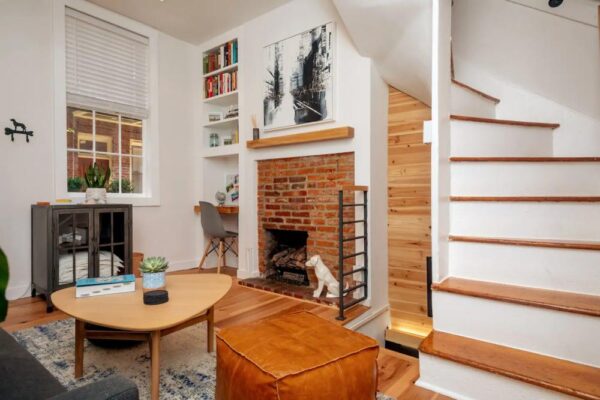 This historic home has to be one of the most unique Airbnbs in Philly.
This is a traditional Trinity House and features four stories of living with one room on each floor. Connecting the floors is a series of spiral staircases. However, despite its unique layout, you'll have everything you need in this beautiful house, including a bit of outdoor living space.
In addition to having a stylish place to stay, you'll be located very close to Center City and on a quaint street that's within walking distance of many of the city's best attractions.
Check Current Pricing and Availability Here!
Quirky Penthouse with a View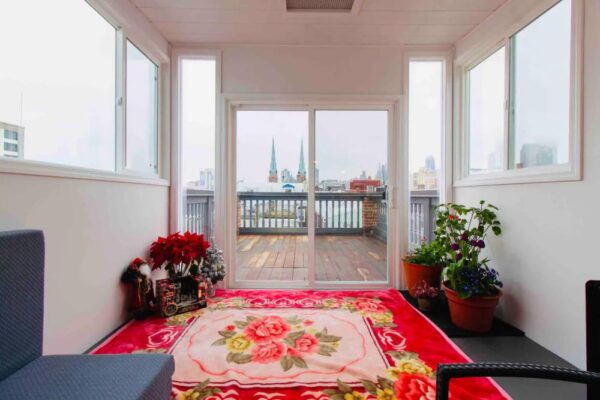 Located atop a rowhouse a short distance north of Center City, you'll find this unique Philadelphia Airbnb.
This apartment is located on the second and third floors of a home and features all of the amenities that you come to expect in a quirky and colorful environment. Even better, this Airbnb has a sauna for visitors to relax in after a long day of sightseeing in Philly.
Outside, you'll also find a balcony with great views of the city's skyline.
Check Current Pricing and Availability Here!
Hip Meets History in Old City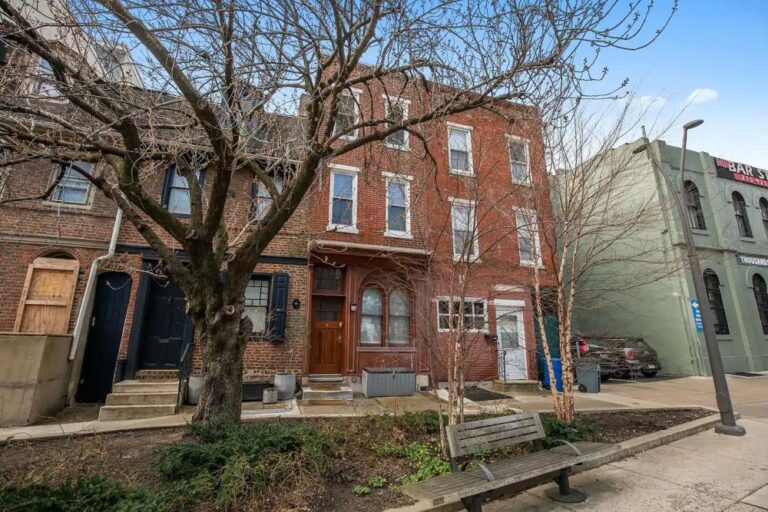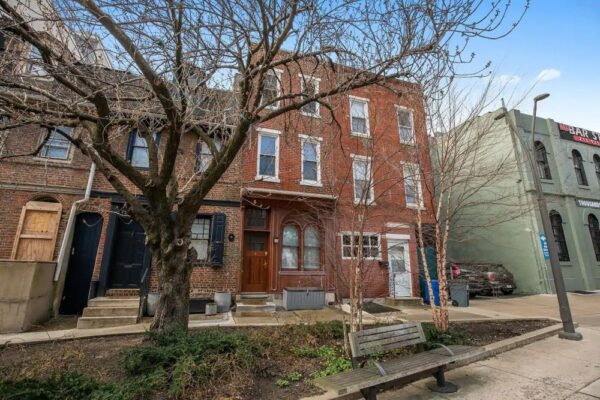 Looking for an Airbnb in Philadelphia's Old City? This historic home is a great choice and puts you within steps of great spots like the Liberty Bell, the Betsy Ross House, the Benjamin Franklin Museum, and more. In fact, it is said that this house was built in the 1840s on the site of Benjamin Franklin's stables.
This three-story house features four bedrooms, a large kitchen, and both indoor and outdoor places to sit and relax.
Check Current Pricing and Availability Here!
Luxury Airbnb in Philadelphia with Great Views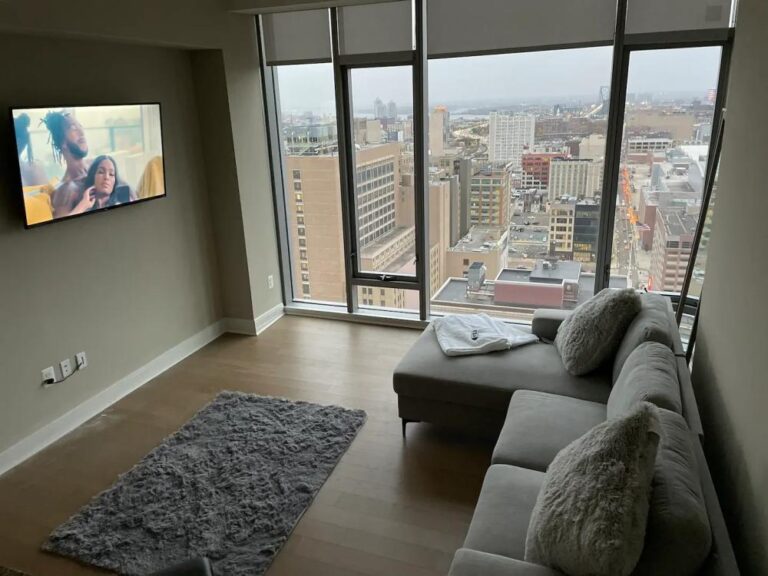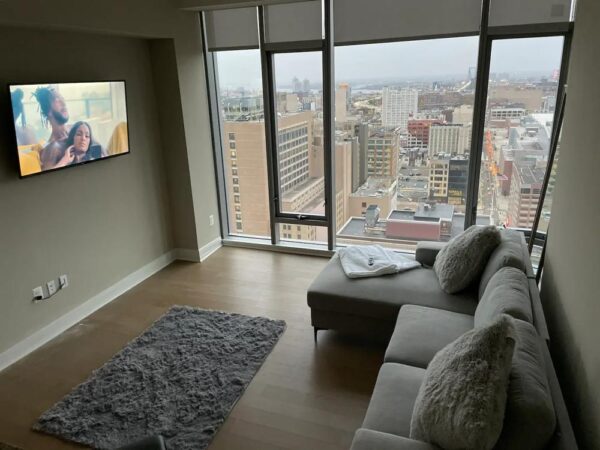 Located near the Benjamin Franklin Parkway and great museums like the Academy of Natural Sciences, the Barnes Museum, and the Franklin Institute, this apartment is a great choice for those that love an amazing view.
In fact, this has to have one of the nicest views I've seen at any Airbnb (Philadephia or otherwise). There's even a shared rooftop deck that you can access for an even better view.
In addition to the great view, this apartment features a comfortable living room and bedroom along with all the other amenities you'd expect in an apartment. There's also a nice gym in the building.
Check Current Pricing and Availability Here!
Mansion Apartment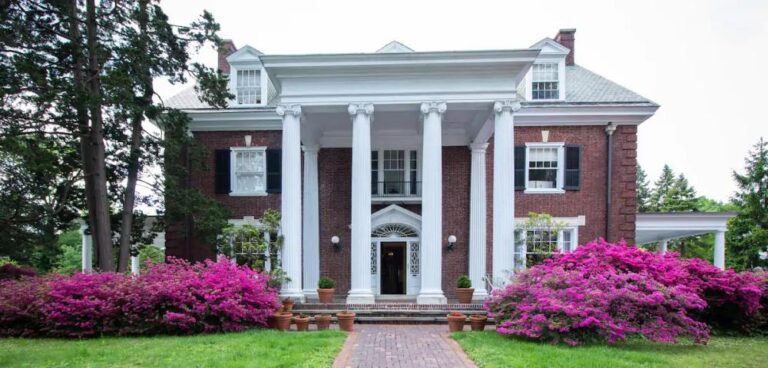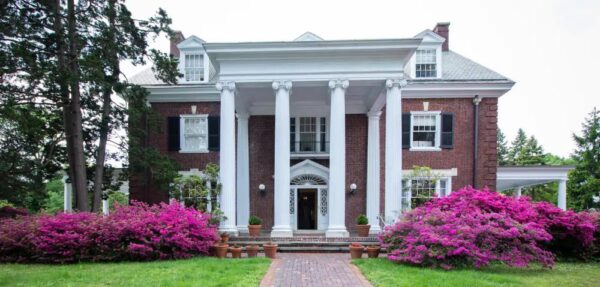 This three-bedroom mansion apartment is located in northwestern Philadelphia and is a great spot to stay if you want to be a bit out of the hustle and bustle of the city, but still have easy access into the heart of Philly. It's also located within walking distance of the incredible Wissahickon Gorge for those that want to do some hiking.
This wheelchair-accessible apartment is 2,300-square feet in size and located on the first floor of this beautiful Georgian Revival home. It has been beautiful maintained with both historic and modern touches.
Outside, you'll find a lot of beauty on this one-acre property as well as several outdoor spaces to sit and enjoy this country-like setting.
Check Current Pricing and Availability Here!
Stylish Apartment in Center City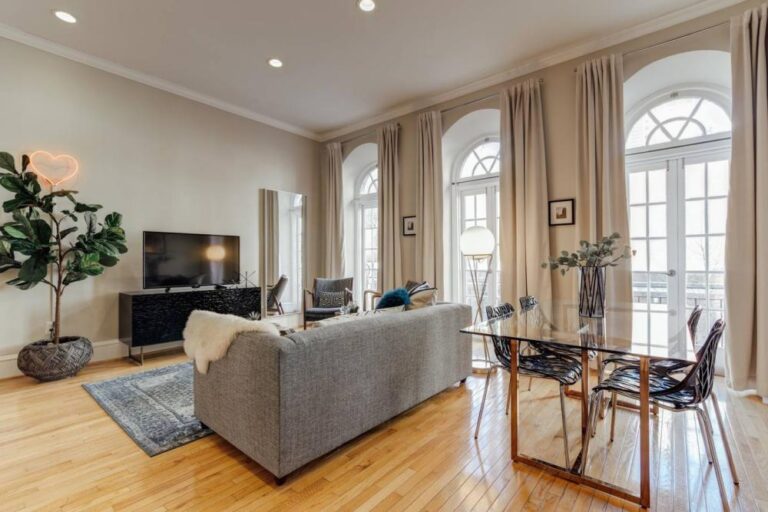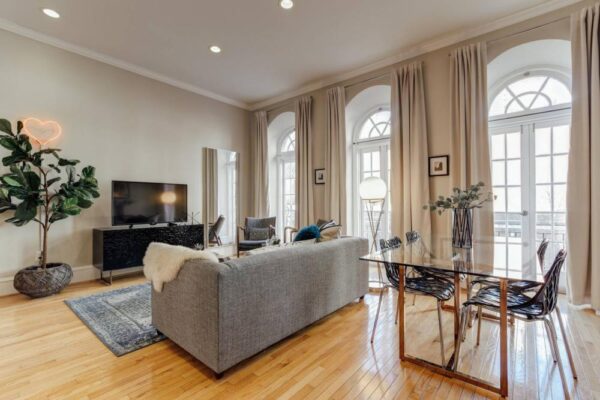 This apartment is located a short walk from great spots like Center City and Rittenhouse Square, making it a great central location for exploring the city.
Beyond that, this one-bedroom apartment features incredibly stylish furnishings, large windows, and a large kitchen. Even better, the apartment retains some of the building's historic touches.
Check Current Pricing and Availability Here!
Have you stayed at any of these Airbnbs in Philadelphia? Let us know in the comments below.
Looking to do even more during your time in Philadelphia? Check out some of the fun and unique Airbnb Experiences available in the city.
Rather stay in a hotel? The historic Loews Hotel and Embassy Suites, both in Center City, and the Hotel Monaco in Old City, all get my stamp of approval. There are also many incredible Airbnbs throughout Pennsylvania, Airbnbs in Lancaster County, and Poconos Airbnbs to stay in.