Disclosure: This article may contain affiliate links. We will make a small commission from these links if you order something at no additional cost to you.
Union County might be one of the smallest counties in Pennsylvania, but it is home to five great covered bridges.
Unlike some counties, the covered bridges in Union County are each very unique and offer some interesting curiosities. If you love covered bridges, you won't want to miss these great historical remnants.
The Union County covered bridges below are listed from north to south, as well as east to west. Visiting them in the order listed would work well, but you could also reverse the order just as easily.
Factory Covered Bridge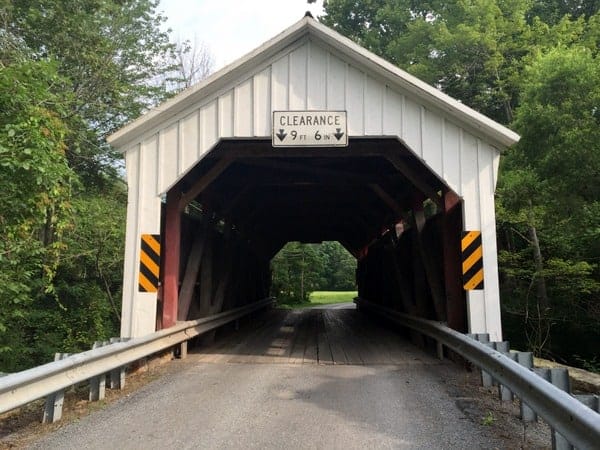 Factory Covered Bridge is the most accessible of the Union County covered bridges and is located just off of Interstate 80, a few miles west of its intersection with Route 15. Also known as Horsham Covered Bridge, this bridge was built in 1880 using both King and Queen trusses.
It was later repaired in both 1954 and 1976.
The bridge is open to traffic and carries vehicles 60 feet over White Deer Creek, a tributary of the Susquehanna River.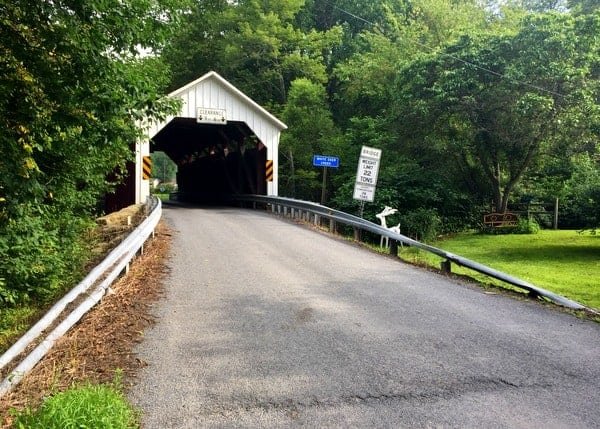 Getting There: Factory Covered Bridge is located in White Deer Township, just a short distance off of I-80. There is a pull-off on the northern side of the bridge from which to view the bridge.
Factory Covered Bridge can be found at the following coordinates: 41.073653, -76.902916.
Hubler Covered Bridge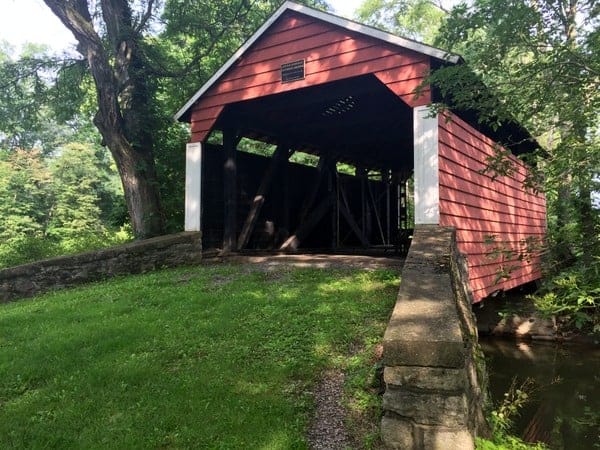 Out of all the covered bridges in Pennsylvania, the route to Hubler Covered Bridge might be the most interesting. That's because getting to this bridge requires traveling through the property of the high-security Lewisburg Federal Prison.
In fact, half of the bridge sits on their property. However, don't let this quirk deter you from visiting.
Hubler Covered Bridge was built in 1850, roughly 80 years before the prison was built. It crosses Little Buffalo Creek just a few yards above Buffalo Creek. The bridge is 33 feet long.
While the bridge appears to be in excellent shape, a chain-link fence keeps visitors from passing through it. I'm assuming that this has something to do with the nearby prison, but don't know for sure.
A small park has been constructed around the covered bridge, complete with a picnic table.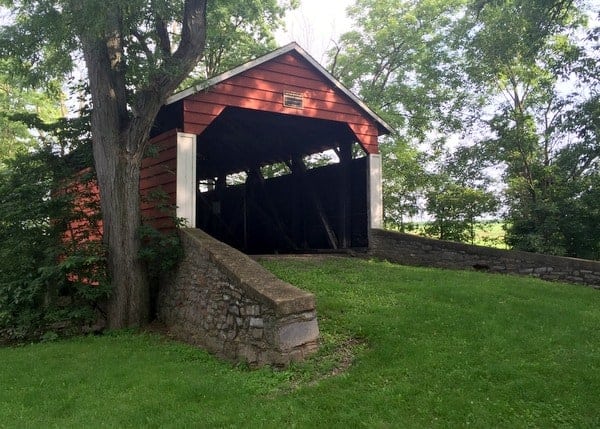 Getting There: As indicated above, getting to Hubler Covered Bridge requires traversing the grounds of United States Penitentiary, Lewisburg.
At the time of my visit, there were no restrictions on car travel through this area. However, given its location, it's entirely possible that there could be at some point, or that a guard could inquire about your presence on the property.
Should signs pop up in the future indicating that the road is closed, please respect them.
Hubler Covered Bridge is located at the following coordinates: 40.986050, -76.927862. Access to the bridge is from Sanford Bates Drive.
Hassenplug Covered Bridge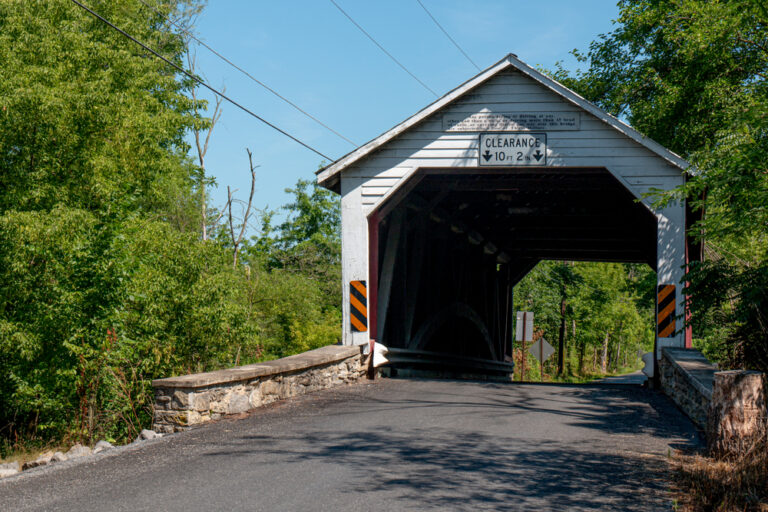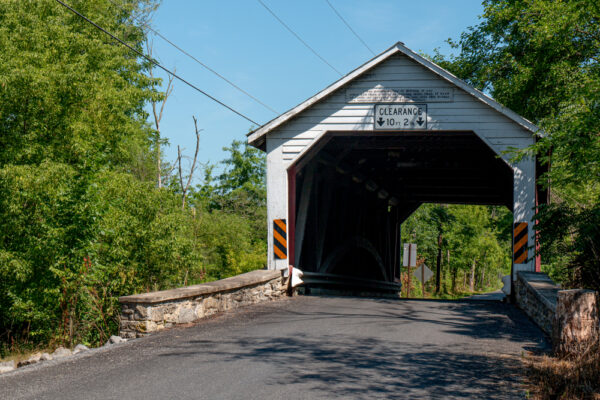 Hassenplug Covered Bridge is considered to be the oldest remaining covered bridge and (likely) the second-oldest covered bridge in the United States (Hyde Hall Covered Bridge near Cooperstown, NY is the oldest).
Built in 1825, the bridge crosses 80 feet over Buffalo Creek. It was refurbished in 1959.
The bridge is located just outside of the downtown area of Mifflinburg, making it an easy covered bridge to visit when traveling through the area or visiting nearby Rusty Rail Brewing Co and the Mifflinburg Buggy Museum. Given the bridge's age, it's amazing that it is still open to traffic.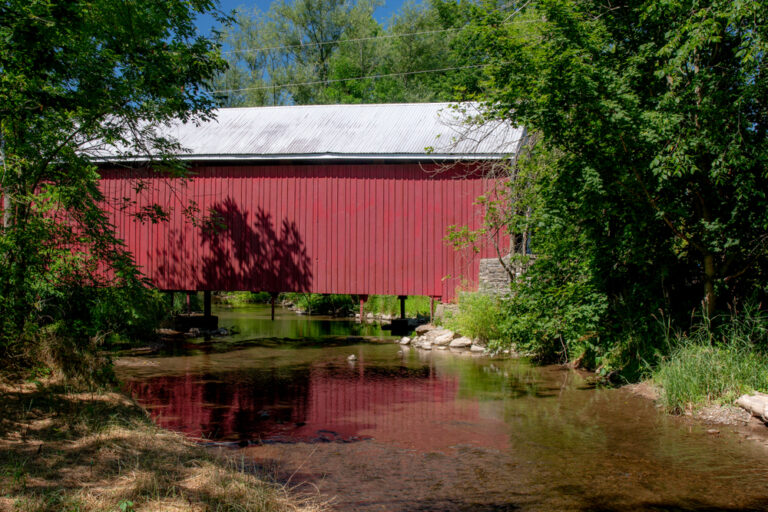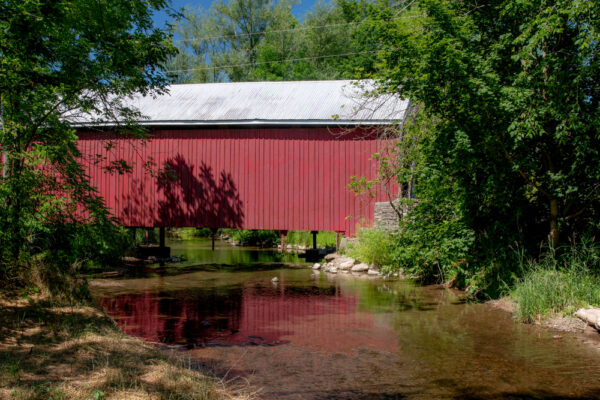 The bridge is also the trailhead for the Koon's Trail, which is a one-mile trail that follows Buffalo Creek. This trail offers a nice short hike through the woods and some unique views of Hassenplug Covered Bridge.
Getting There: Hassenplug Covered Bridge is located on North 4th Street, less than a mile from the heart of town. It is located at the following coordinates: 40.923651, -77.049775.
There is room to pull off the road on the side of the bridge closest to town.
Hayes Covered Bridge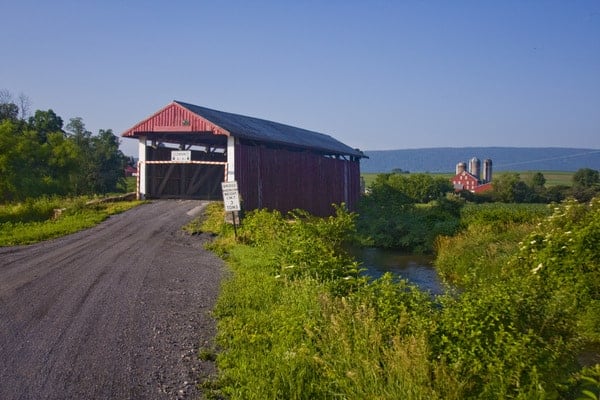 Hayes Covered Bridge is another of Union County's covered bridges to have a unique quirk. Built in 1882 using the King truss, this bridge crosses 63 feet over Buffalo Creek. This bridge is located in a rural area west of Mifflinburg and surrounded by picturesque farmland.
What makes it so unique is that the bridge sits up on a small hill, with an access road making a small half loop around the bridge, allowing oversized cars and trucks to avoid the bridge. However, unlike other covered bridges that have been bypassed by other roads, Hayes Covered Bridge is still open to traffic and part of the main roadway.
The bridge also has one of the lowest clearance bars I've seen on a bridge, at a height of only six and a half feet.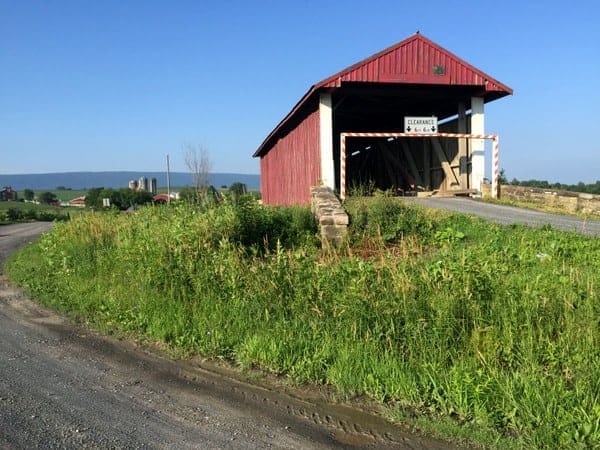 Getting There: Hayes Covered Bridge is located two miles west of Mifflinburg, PA, off of Route 45. The road to the bridge is a well-maintained dirt road but may not be maintained during the wintertime.
Hayes Covered Bridge is located at the following coordinates: 40.917326, -77.091513.
Millmont Covered Bridge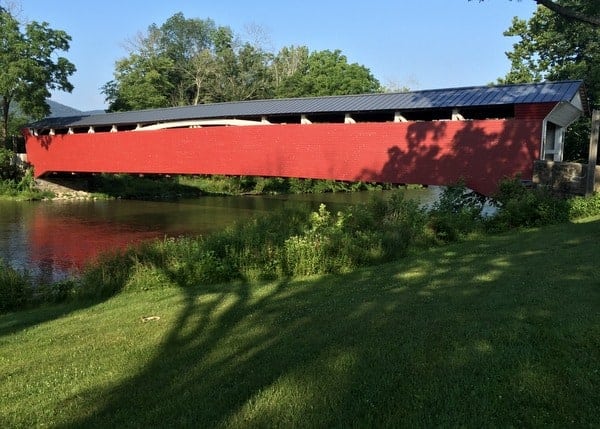 Millmont Covered Bridge (also known as Glen Iron Covered Bridge and Millmont Red Covered Bridge) is the longest covered bridge in Union County, Pennsylvania, at 131 feet in length. It crosses Penns Creek and was built in 1855.
In the Spring of 2016, the bridge was closed to cars due to structural issues but remains open for people to walk across the bridge.
Hopefully, this bridge will be reopened to vehicular traffic soon. However, the last time the bridge was closed, in 1998, it didn't open again to traffic for 12 years. D
riving across this bridge is interesting, as there are few windows, making the ride a bit darker and more claustrophobic than most covered bridges.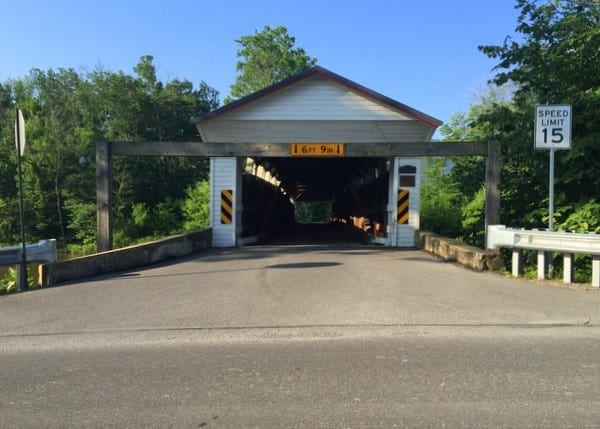 Getting There: Millmont Covered Bridge is located in a rural area of western Union County. The bridge is located at the intersection of Route 3004 and Covered Bridge Road. However, there is nowhere to park along Route 3004 to see this bridge.
Because of this, you may have to detour to another bridge to get to the southern side of Penns Creek, where parking space is available.
The coordinates for the parking area at Millmont Covered Bridge are 40.877833, -77.155740.
Other Nearby Destinations
If you're looking for other options in the area, there are covered bridges that can be visited in nearly every surrounding county including Northumberland, Snyder, Lycoming, and Clinton Counties.
Another option is to head to Clyde Peeling's Reptiland, just a few miles north of Factory Covered Bridge on Route 15 in Union County or to the very interesting abandoned bunkers of Alvira, Woodward Cave, and the Lewisburg Children's Museum.
[Click here for information on how to use the coordinates in this article to find your destination.]
See map for other area attractions.