Disclosure: This article may contain affiliate links. We will make a small commission from these links if you order something at no additional cost to you.
Throughout Pennsylvania, there are many fantastic orchards that can be visited in the fall. In fact, I put together a whole article recently highlighting a few of the best places to go apple picking in PA.
If you are looking for some fall family fun in the Harrisburg or York area, Mt Airy Orchards (formally Paulus Mount Airy Orchards) near Dillsburg in York County is a fantastic spot to check out.
Mount Airy Orchards is located in northern York County near Roundtop Mountain Resort. While this 150-acre farm is open for much of the year, it really comes alive during the fall.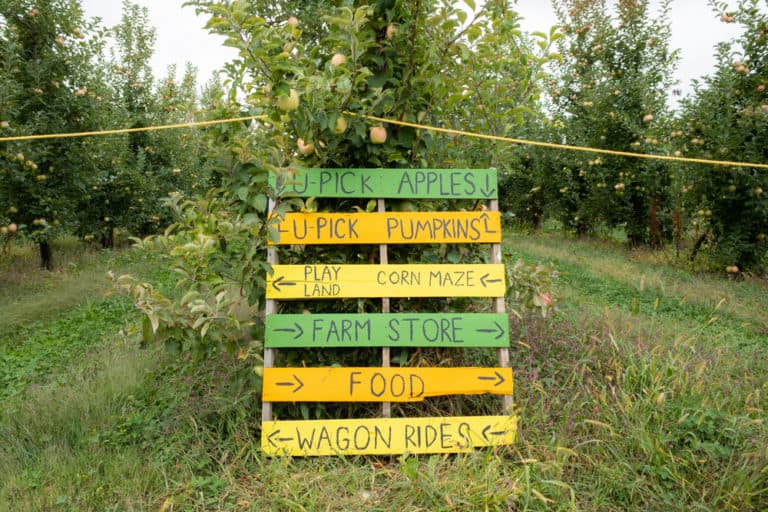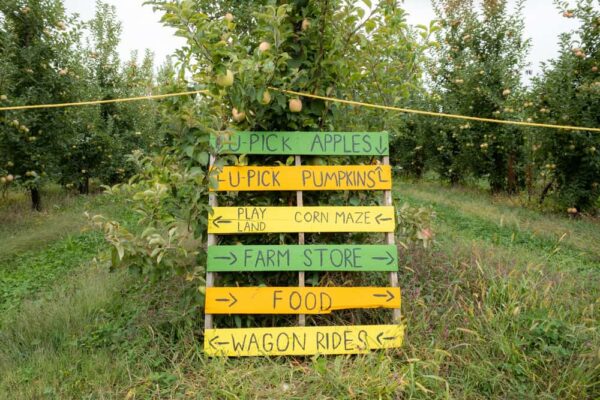 Wanting to check out the orchard, I headed there recently with my family to find out what there is to do at Mount Airy Orchards in the fall.
There are three main areas to explore on the farm this time of year: pumpkin and apple picking, the farm stand and kitchen, and PlayLand. While you can certainly visit just one or two areas of the orchard, taking the time to do all three can make for a fun day for the whole family.
Pumpkin and Apple Picking at Mt Airy Orchards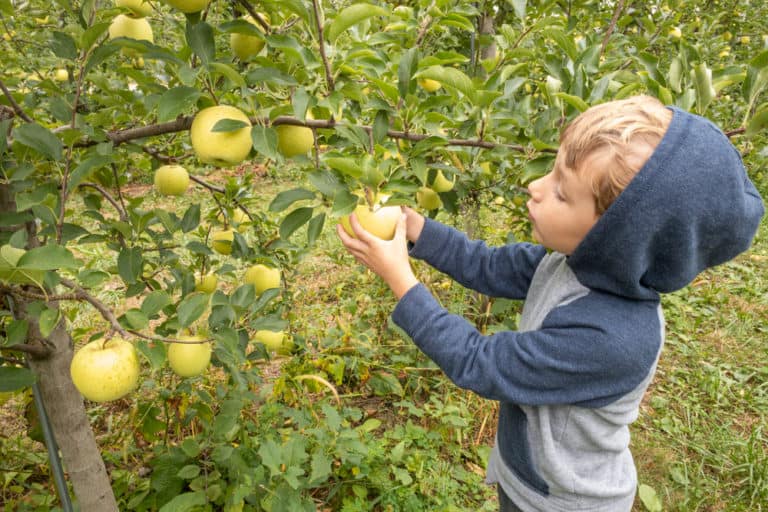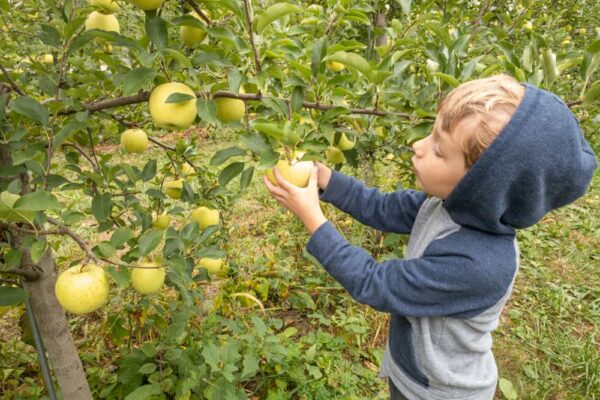 During autumn, visitors can go apple and pumpkin picking at Mt Airy Orchards on weekends.
Apple picking is one of the most popular activities here, and visitors can walk through the fields and find the perfect apples to take home with them from the orchard's 50,000 apple trees.
On any given weekend, a handful of the 20 varieties of apples grown at the orchard are open for picking. If you are looking for a particular variety, it's best to call ahead to find out what is being picked that weekend.
Picking your own apples at Mount Airy Orchards is not only a fun activity, but also lets you get incredibly delicious and fresh apples for less than you'd paid at the grocery store.
Another popular fall activity at the orchard is pumpkin picking.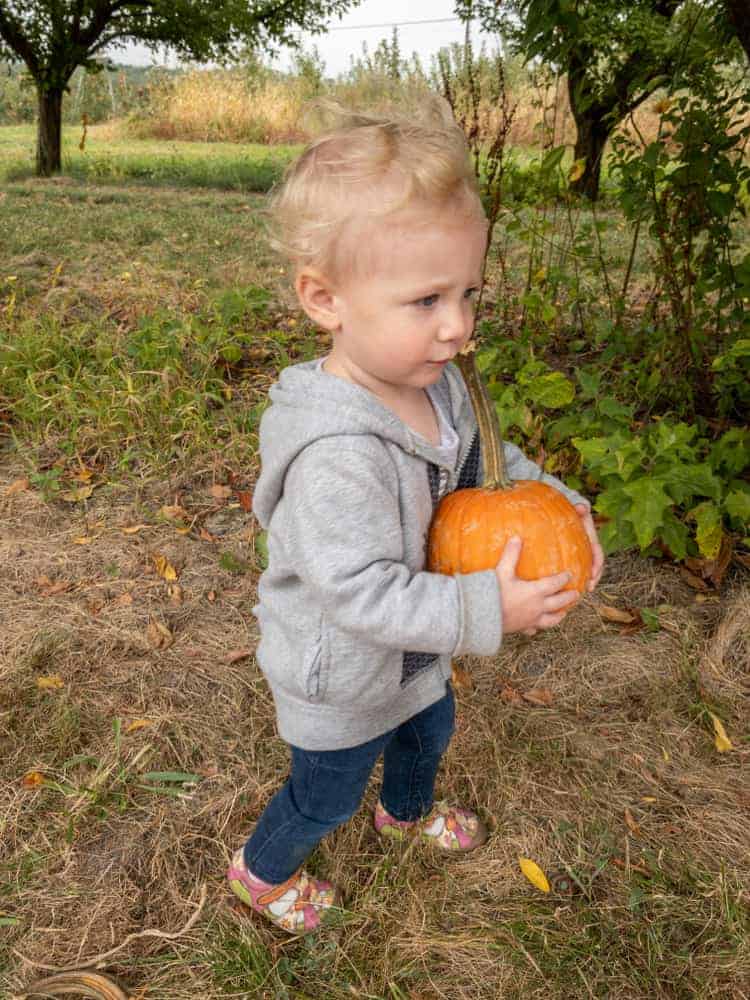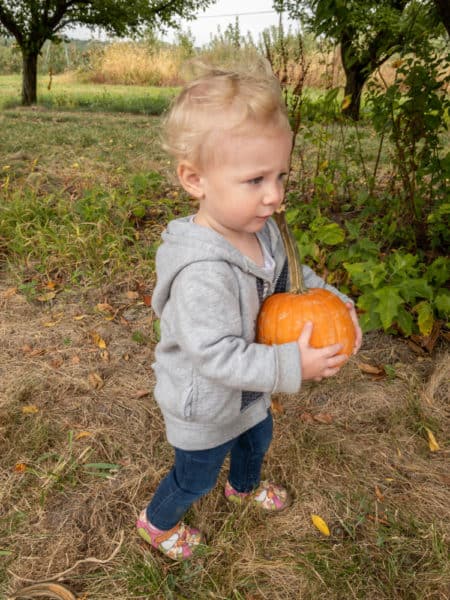 The pumpkin patch at the orchard features pumpkins in a variety of sizes and even a variety of colors. That's right, colors. You don't have to stick to the traditional orange pumpkins at the orchard. They offer pumpkin picking in colors ranging from white to pink and blue.
Early in the season, Mount Airy Orchards also features sunflower picking. They also offer a variety of other fruit picking throughout the year including strawberries, blueberries, and peaches in the summer months.
Mount Airy Orchards Farm Stand and Karen's Kitchen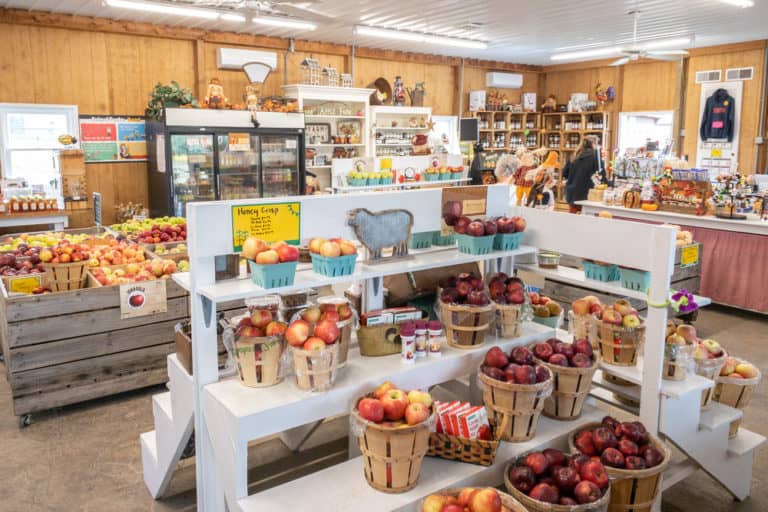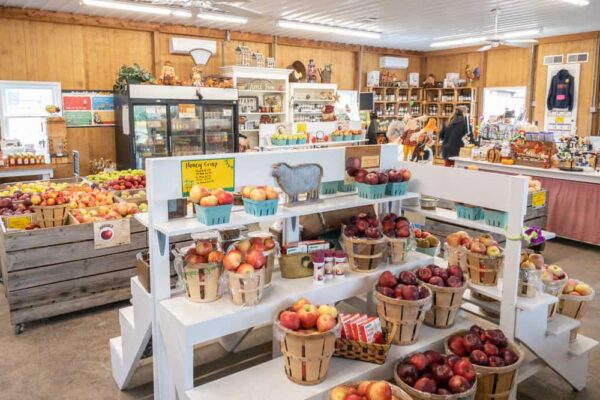 Located along Mount Airy Road at the front of the farm, Mount Airy Orchards farmstand offers a fantastic selection of in-season produce for those who would rather someone else pick the fruit for them. They also offer varieties of apples and other fruits that may not be open for pick-your-own.
Compared to some orchards I've been to, the farm stand at the orchard isn't overly large. However, they have a great selection of both fresh produce and locally-made goods (including soups, cheeses, and ciders).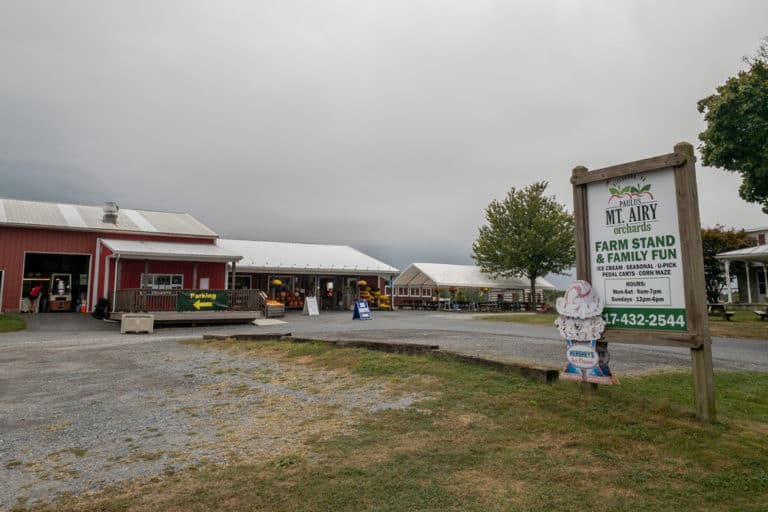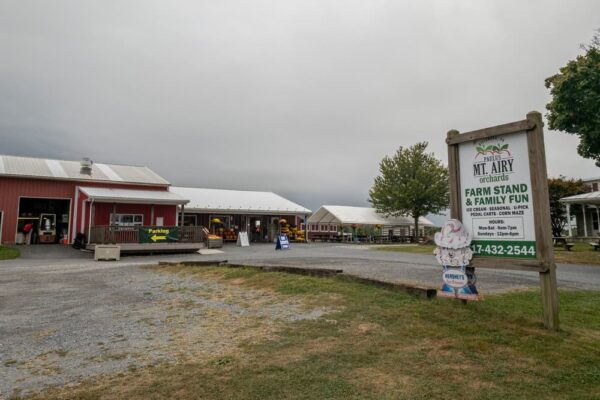 Adjacent to the farm stand, Mount Airy Orchards features a small eatery with some delicious food known as Karen's Kitchen. Whether you are looking for a meal or simply a quick snack, there are some really nice selections here.
My personal favorite was the apple cider slushy. If you love apple cider, this is a great fall treat.
PlayLand at Mt. Airy Orchards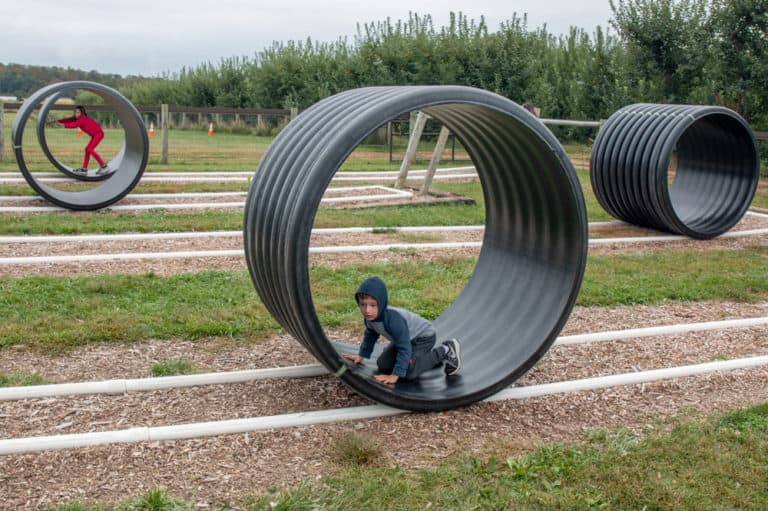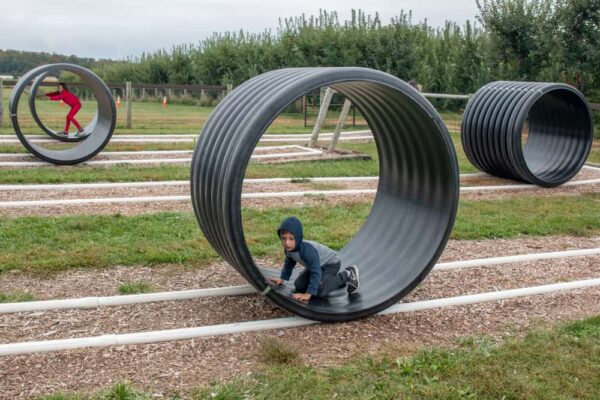 If you are visiting Mount Airy Orchards with kids, you have to save some time for PlayLand. Located behind the market, PlayLand features a wide variety of kid's activities (some of which are also a lot of fun for older kids or adults).
By my count, there are nearly 20 different things to do at PlayLand. These include large slides, human foosball, a jumping pillow, giant board games, and much more.
Of course, being that you are spending fall at an orchard in PA, there is also a large corn maze. The five-acre maze is perfect for those who have always wanted to get lost in a giant field of ripened produce. Of course, finding your way out is just as much fun.
There is also a mini corn maze for those looking for a bit less of a challenge.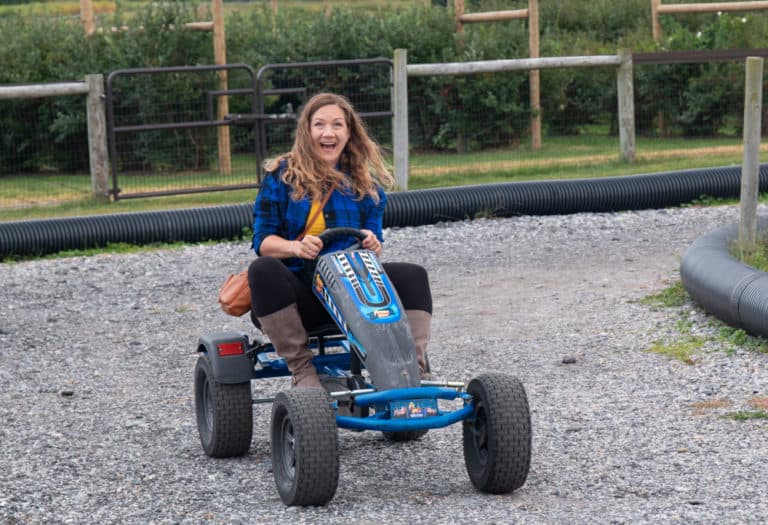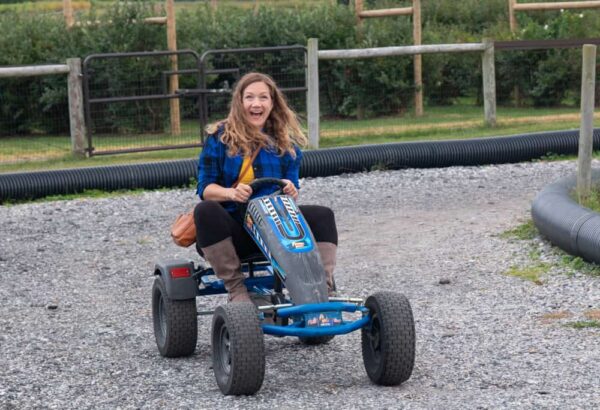 I also really enjoyed the pedal carts. There are two tracks and two sizes of carts: one for younger kids and one for older kids and adults. While moving them was challenging, it was a ton of fun going around the track and seeing how fast I could go.
There are also a ton of other activities throughout the orchard including wagon rides, a cow train, and pumpkin carving.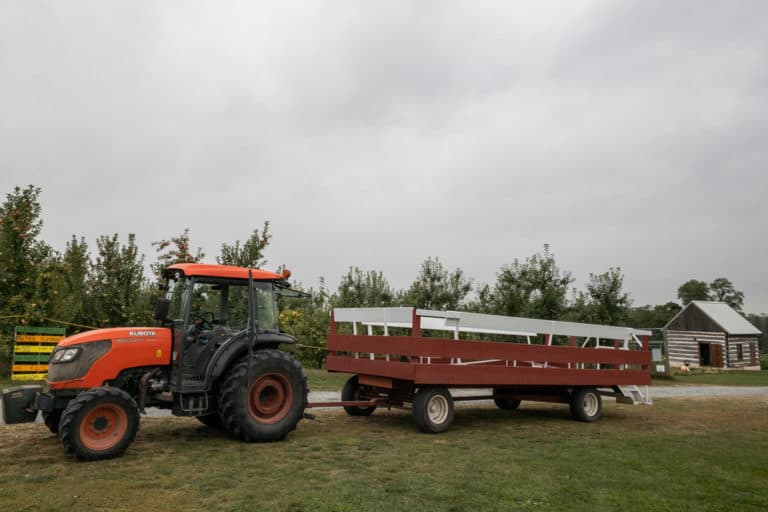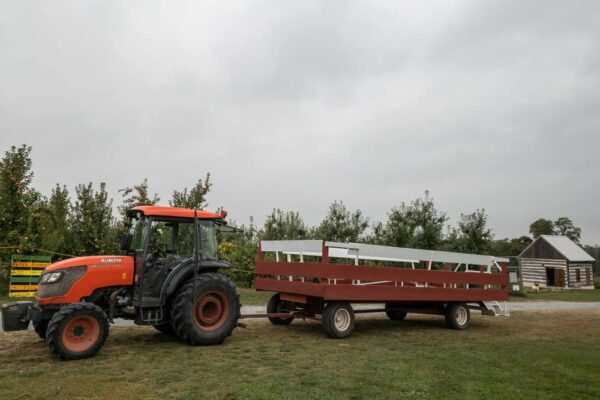 PlayLand is open on weekends in September and October in 2023 with advanced ticket purchase strongly recommended. Note that some activities listed above might not be available at PlayLand every season so please confirm on their website.
Final Thoughts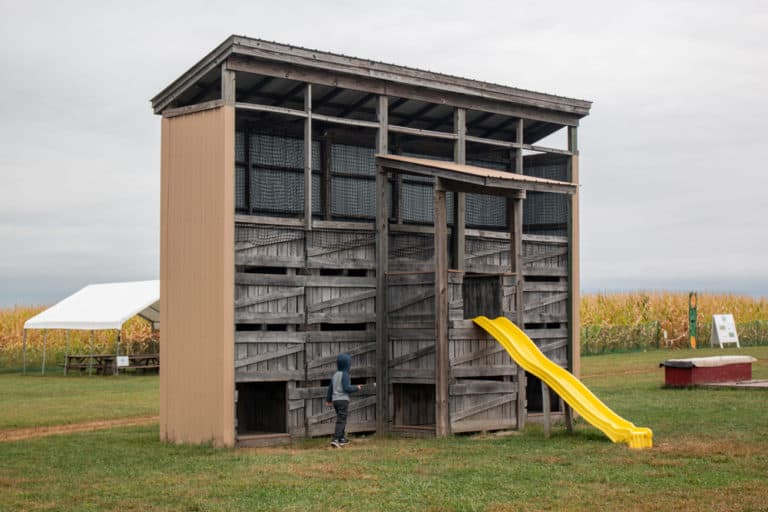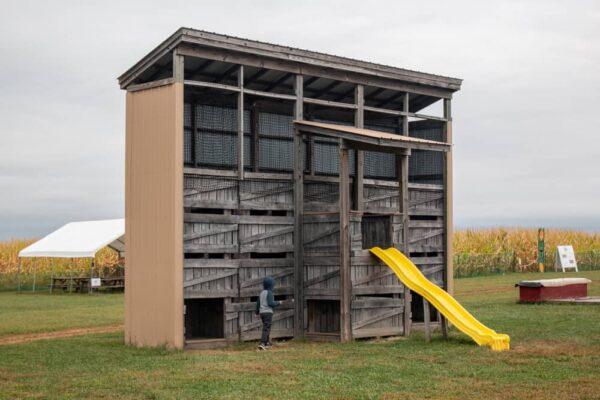 Without a doubt, Mt. Airy Orchards in Dillsburg, PA, is a ton of fun to visit during the autumn season. Whether you want to spend all day having fun with your family at PlayLand, a few hours picking your own apples and pumpkins, or just a few minutes at their farm stand (or the whole day doing it all), there's a bit of something for everyone looking to enjoy fall in PA.
Mt Airy Orchards is located at 522 East Mount Airy Road, Dillsburg PA 17019.
PlayLand is open for the fall season on weekends from Labor Day Weekend through the first weekend in November, as well as on Columbus Day. The farm stand is open daily during the autumn season.
Looking for more things to do nearby? Check out Fields of Adventure near Gettysburg, the covered bridges of Cumberland County, and the Martin Potato Chip Factory Tour.