Disclosure: This article may contain affiliate links. We will make a small commission from these links if you order something at no additional cost to you.
Northern Adams County, with its many apple orchards and forested hillsides, is a fantastic area to lose yourself for a day or two, especially in the fall. The winding roads take you through breathtaking valleys, past brimming apple orchards, and, if you plan it right, to Fields of Adventure.
Fields of Adventure is entering their sixth season of entertaining visitors at Smithfield Farms, a few miles north of Biglerville. Looking for a bit of family adventure, my wife, 1-year old son, and I hopped in the car and made the short trip to the farm.
At first glance, Fields of Adventure looked like a big empty field. However, undaunted, we headed in. It took us very little time to realize that there is a lot going on at Fields of Adventure.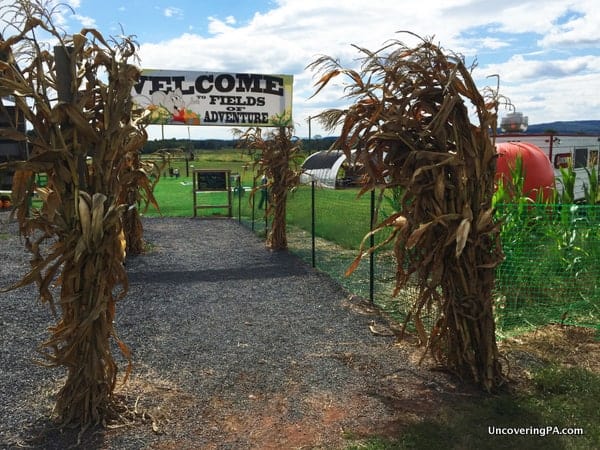 Our first stop was the giant, 7-acre corn maze. What I loved about this corn maze was that it's not just a regular old corn maze. Instead, everyone is given an activity sheet that has word puzzles and even a hidden map of the maze.
While walking through the maze, which changes every year, we would come across wooden stands that provided fun clues to the puzzles or even allowed us to look at a map of the maze.
Working our way through the maze proved to be more of a challenge than I would have imagined, but it was also a ton of fun. If a regular corn maze doesn't sound challenging enough, Fields of Adventure offers nighttime corn maze adventures of Friday and Saturday nights that are sure to provide a very fun challenge.
Once outside the maze, we hopped aboard the farm's tractor for a ride around the pumpkin patch. Pumpkins of every imaginable size are available to pick and take home.
It was a lot of fun making our way through the pumpkin patch looking for the perfect pumpkins to bring home. We eventually decided on one orange and one white pumpkin to add a bit of autumn color to our home.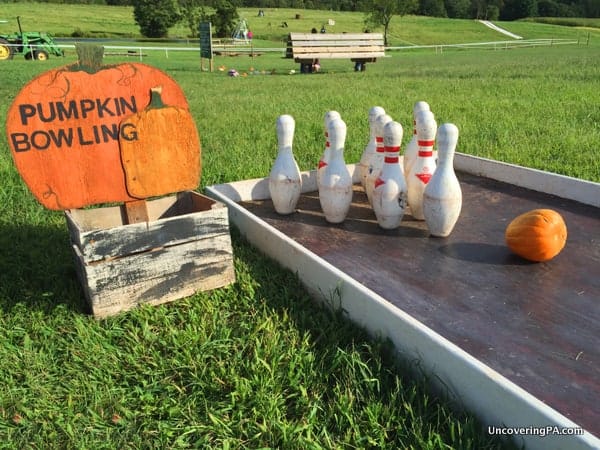 Other attractions at Fields of Adventure include a 600-foot-long zip line over the field's pond, a pumpkin slingshot, and even an underground slide! While some of these activities do have a small additional charge, they really provide a great opportunity for adventure for adults and kids of all ages.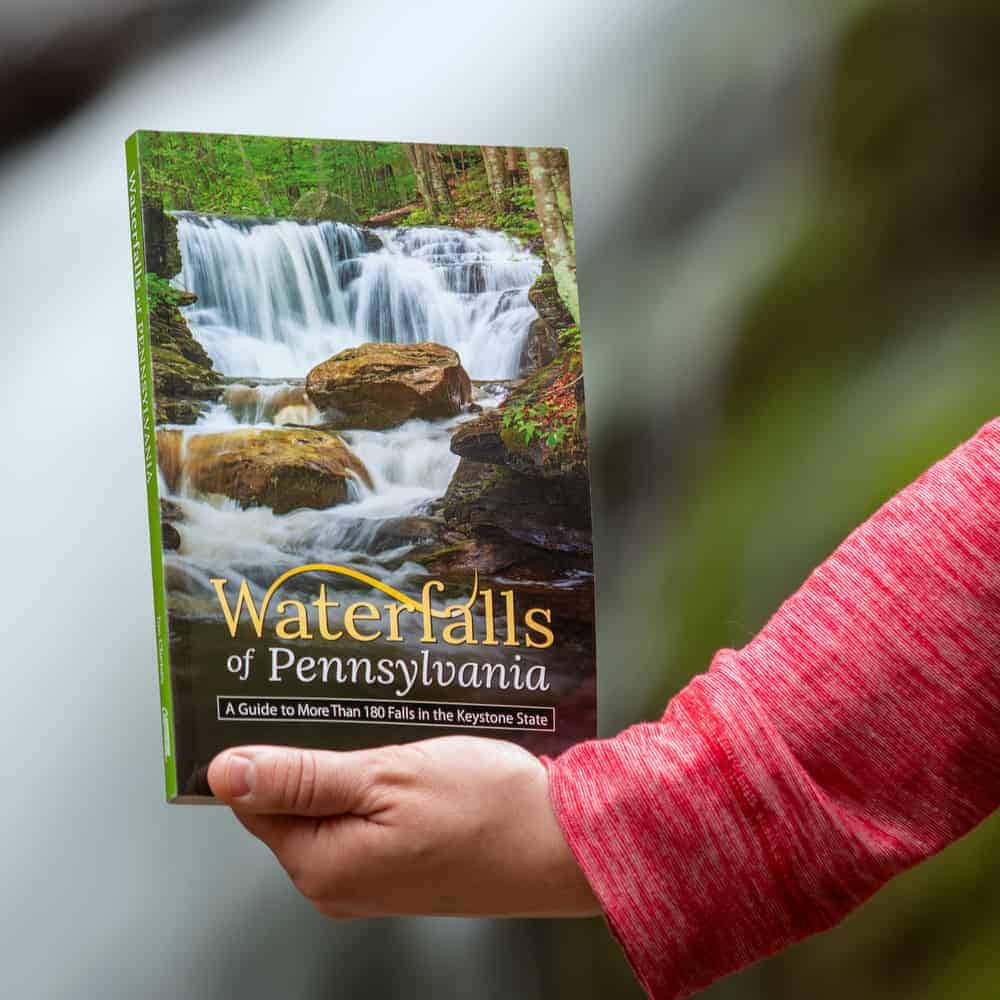 "Waterfalls of Pennsylvania" by Jim Cheney
If you love PA waterfalls, you won't want to miss this waterfall book from Jim Cheney, author of Uncovering PA, featuring more than 180 great waterfalls. Order it now on Bookshop.org or Amazon.
Truth be told, there was enough to do at Fields of Adventure to keep my family busy for a whole day, and I know I'm excited to visit again when my son is older.
While he enjoyed things like the petting zoo and swings, at 1-year old, he was a bit young to fully appreciate all of the activities on site. However, if the other kids that were there during my visit are any indication, in a few years, he might never want to leave Fields of Adventure.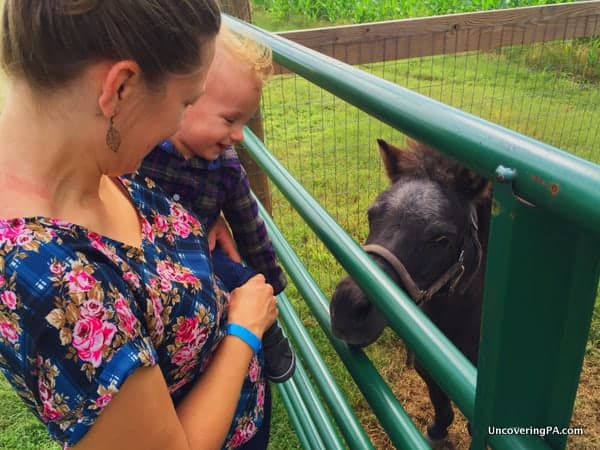 Fields of Adventure is just one of the many great things that you can do in Adams County during the fall season. Whether you want to go apple picking in PA's largest apple region, scare up some ghosts in downtown Gettysburg, drive through an autumn wonderland on the Scenic Valley Tour, or shop for antiques in New Oxford, there are few better fall destinations in Pennsylvania than Adams County.
Fields of Adventure is located in Aspers, just a few miles off Route 34 in northern Adams County. It is open Saturdays and Sundays from the first weekend of September through the first weekend in November. It is also open Fridays in October. For hours, rates, or more information, visit the Fields of Adventure website.
This post about my experiences at Fields of Adventure in Gettysburg is brought to you by Destination Gettysburg.
Looking for more to do in the fall? Check out fall at Paulus Orchard, our top places to see fall colors in Pennsylvania, our top PA fall road trips, and our favorite of PA's fall festivals.
---
Fields of Adventure
Hours:Saturday: 10am-6pm
Sundays: 1pm-6pm
Saturdays til 10pm in October and November
Fridays 6pm-10pm in October and November
Open Early September – early November

Cost: Adults: $12
Some activities extra.

Website: FieldsofAdventure.com

Address: 64 Tree Lane
Aspers, Pennsylvania 17304
---
See map below for other area attractions.