Disclosure: This article may contain affiliate links. We will make a small commission from these links if you order something at no additional cost to you.
The Pennsylvania Grand Canyon is an area of great natural beauty with many great vistas and waterfalls to see.
Pine Island Run Falls is located deep within this gorge hidden from view but easy to reach. In fact, you could pass within a few hundred yards of it and never know that it was there.
The waterfall is located on Pine Island Run in the upper part of the canyon in Tioga County, PA. This stream crosses the Pine Creek Rail Trail a little over four miles from the nearest road at either the Blackwell Access Area or the Tiadaghton Access Areas.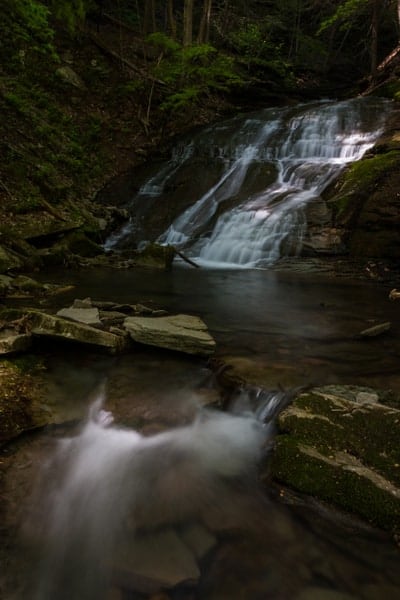 While it is slightly closer to Tiadaghton, I've listed directions here from Blackwell because it allows you to more easily see several other waterfalls in the area and the roads to the parking area are in better condition.
Because of the distance (8.5 miles roundtrip), I recommend using a bicycle to reach this waterfall. However, the rail trail is also open to hikers and, distance aside, it's a very easy walk.
Park your car in the Blackwell Access Area at the following coordinates: 41.556223, -77.381728. This is a large area, but it can fill up on busy weekends, so make sure to arrive early in the day if possible.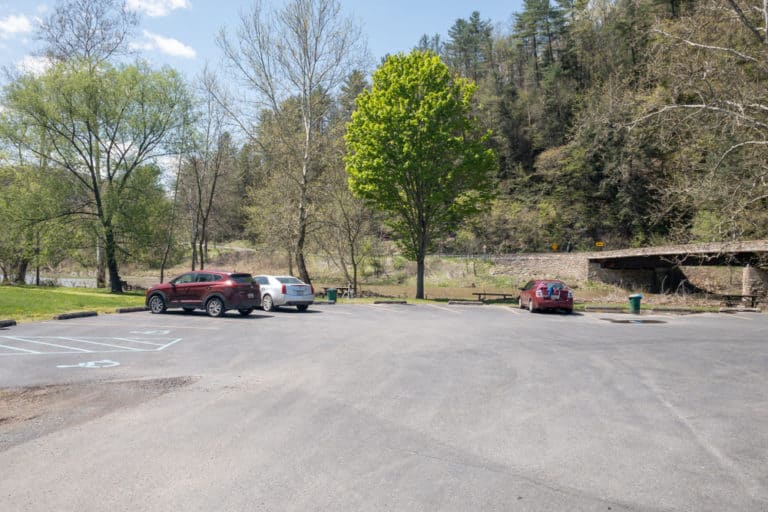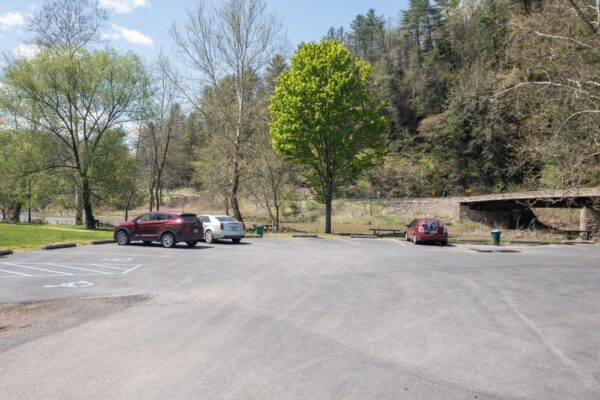 This parking area is also the starting point for the Bohen Falls Trail on the opposite bank of Pine Creek.
From the parking area, turn right and walk 200 feet. Cross the road and continue to follow the Pine Creek Rail Trail north for 4.2 miles. At 1.2 miles, you'll pass the small Stone Quarry Falls and had 2.3 miles, you'll pass Water Tank Run Falls. Both of these waterfalls are worth a brief stop to see.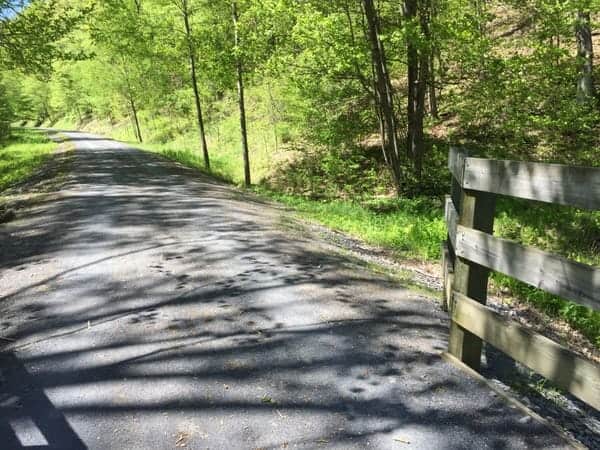 When you reach Pine Island Run, which is marked with a sign, cross the bridge, and look for an overgrown trail to your right. While the waterfall can't be seen from the Pine Creek Rail Trail, it's only about a tenth of a mile up Pine Island Run.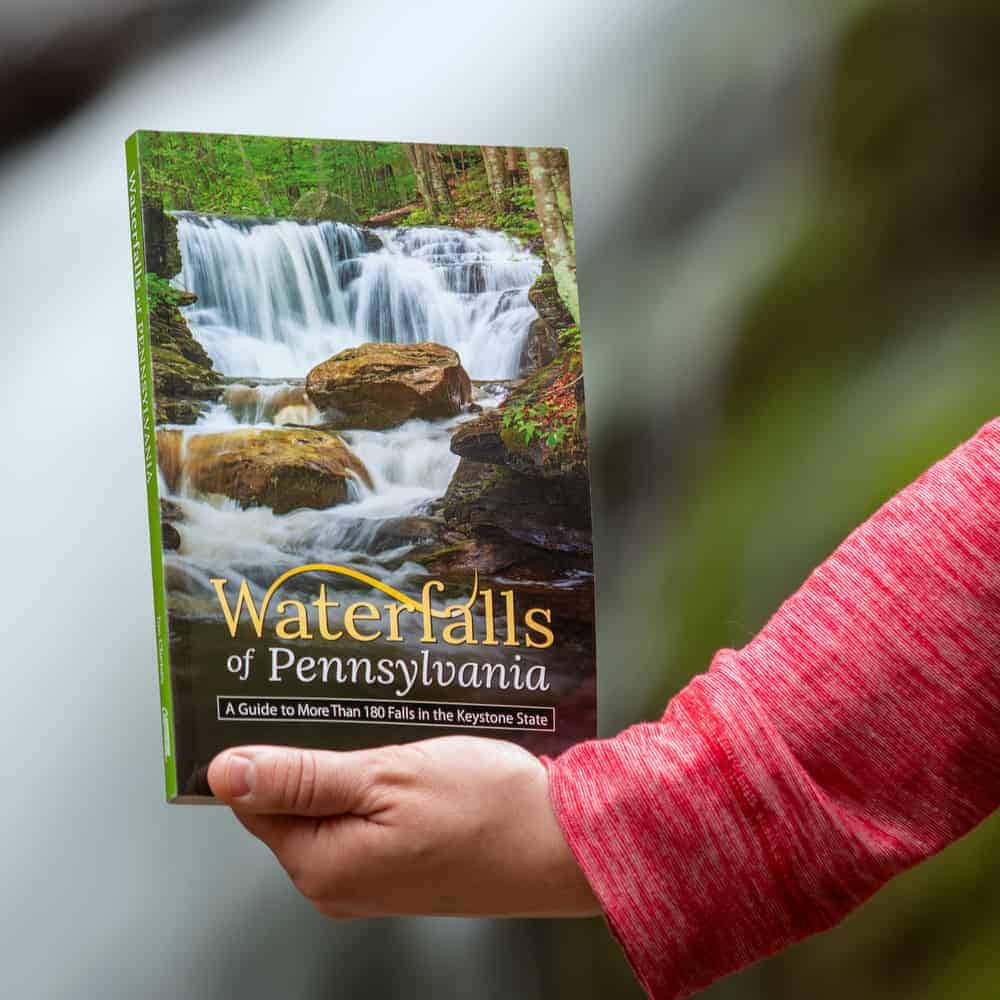 "Waterfalls of Pennsylvania" by Jim Cheney
If you love PA waterfalls, you won't want to miss this waterfall book from Jim Cheney, author of Uncovering PA, featuring more than 180 great waterfalls. Order it now on Bookshop.org or Amazon.
(Note that if you are coming from the north, as most people biking the entire rail trail will be, the trail to the waterfall will be on your left just prior to crossing the bridge over Pine Island Run.)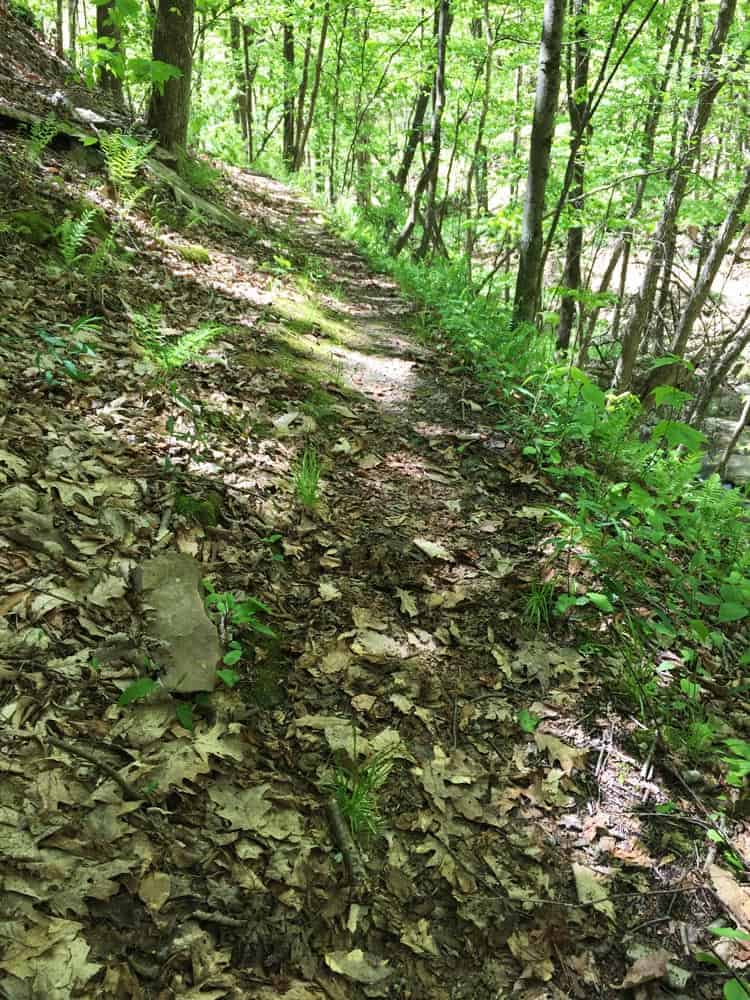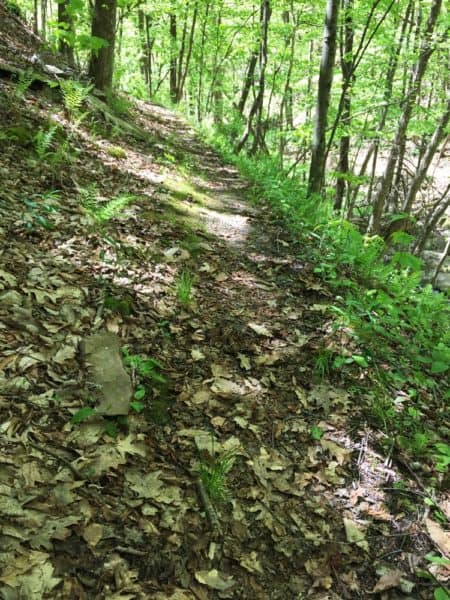 Follow the trail uphill for a short distance. The trail will soon make a turn to the left. If water levels are high, look across the stream, and you'll be able to see another branch of Pine Island Run cascading down the hillside.
Just past the turn in the trail, you'll come to Pine Island Run Falls. This waterfall features three drops of 10-20 feet that add up to about 40-50 feet of total height.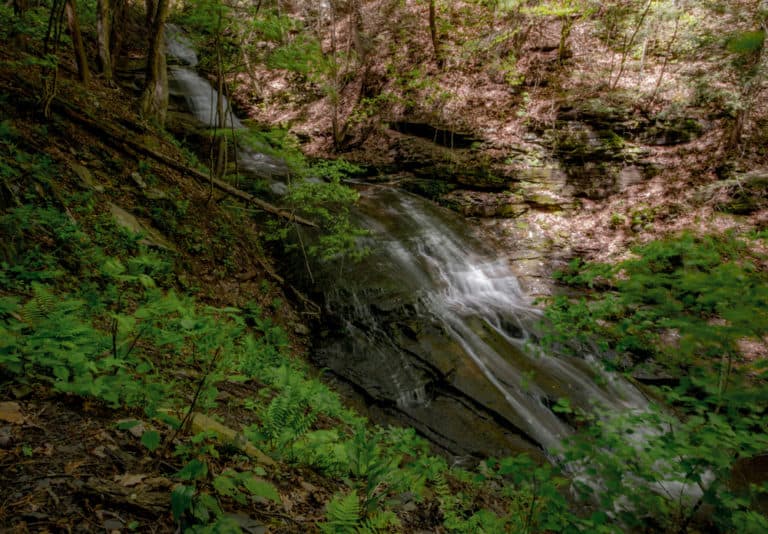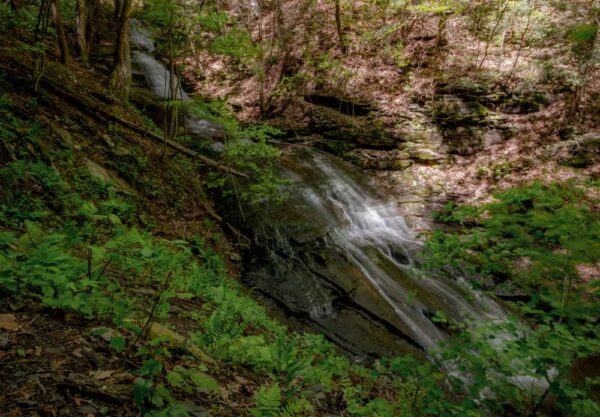 For those that use coordinates, the waterfall can be found here: 41.612139, -77.406750.
The lowest of the three drops is by far the easiest to visit and photograph. Beyond this, the trail gets a little sketchy, so make sure to use extreme caution if you want to get a better look at the upper two tiers.
Like most waterfalls, Pine Island Run Falls is best seen in the spring, so try to visit it at a time when water levels are a bit higher to see this spot at its most beautiful.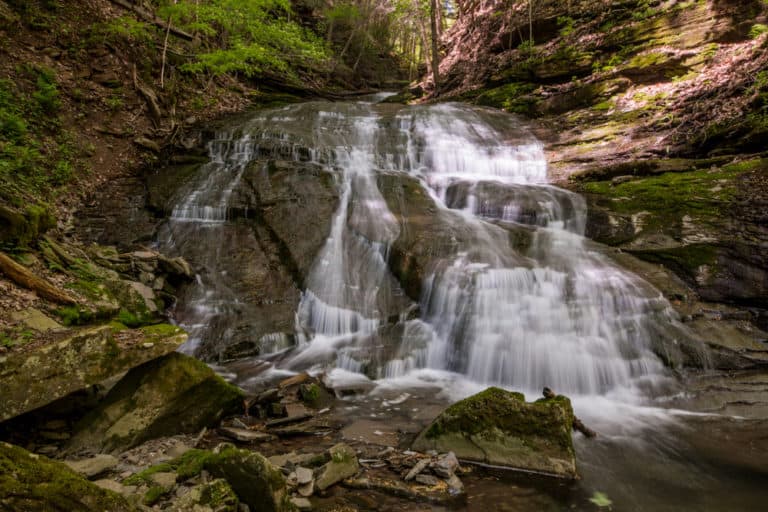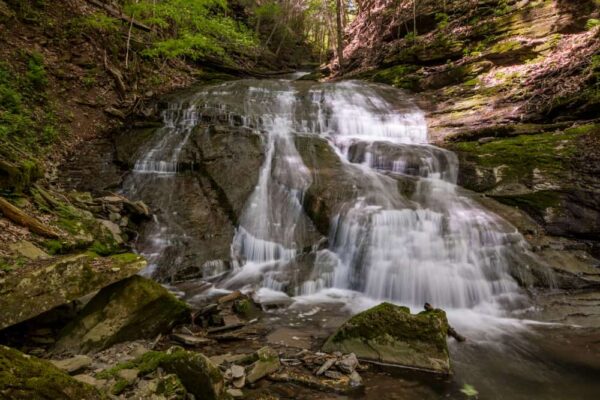 Once you've had your fill of this relaxing spot, simply return to the rail trail and head back the way you came.
While Pine Island Run Falls is, on its own, probably not worth the 8.5-mile round-trip hike or bike ride, the beauty of this area is well worth seeing, and the chance to experience two other trailside waterfalls on the way make this a neat spot to explore.
Even better, make a trip out of it and bike the entire Pine Creek Rail Trail from near Wellsboro in the north to Jersey Shore in the south, taking a few minutes to stop at Pine Island Run Falls along the way.
Looking for more great spots to visit nearby? Check out Chimney Hollow Falls, the Barbour Rock Trail, and the covered bridges of Lycoming County, PA.
[Click here for information on how to use coordinates to find your destination.]