Disclosure: This article may contain affiliate links. We will make a small commission from these links if you order something at no additional cost to you.
There are many popular and well-known waterfalls in the Laurel Highlands, but there are still a few hidden gems to be discovered. One of these is Stewarton Falls.
Stewarton Falls is only a short drive from the popular Ohiopyle State Park within a little-visited parcel of the Bear Run Nature Reserve. This reserve is managed by the Western Pennsylvania Conservancy, the same group that owns the nearby Fallingwater, and features many miles of free hiking trails.
However, to reach this waterfall, there is no hiking required as it sits about 10 feet off of a dirt road deep in the forests of Fayette County, PA.
Stewarton Falls can be found along Stewarton Road. This road connects directly to Route 381, making it easy to visit this spot when traveling to and from the Ohiopyle/Fallingwater area.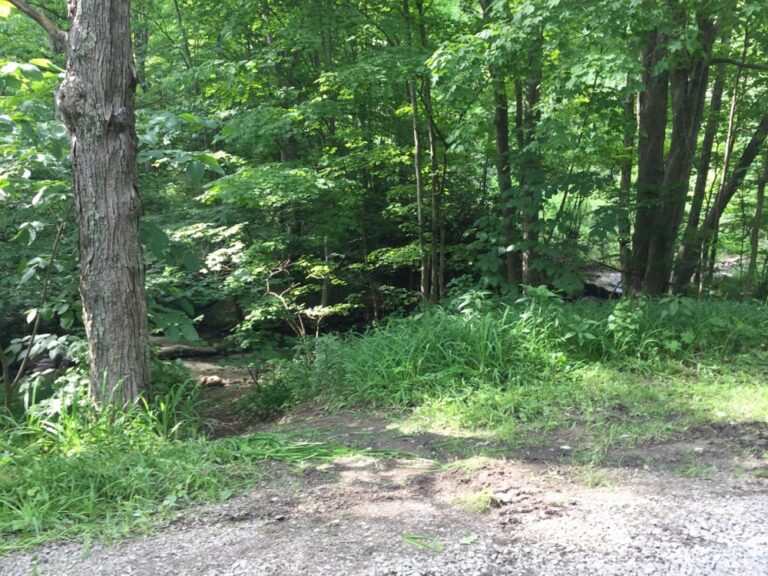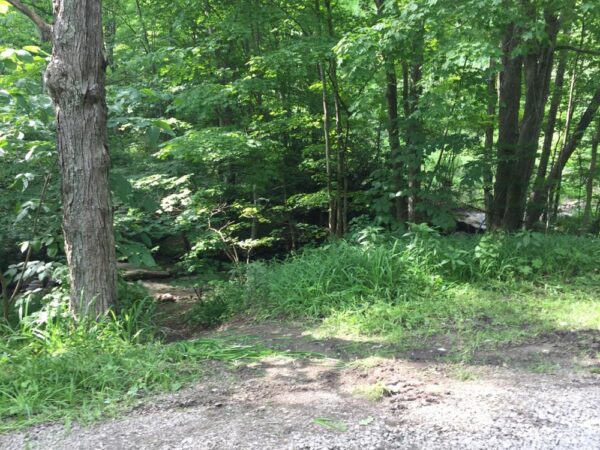 For the last bit before the waterfall, this road is a dirt road that is relatively well maintained, at least as far down as the waterfall (more on that later). It is quite narrow, though, so use caution when driving down the road and when turning around at the end of your visit.
For parking, there is a small pull-off on the right side of Stewarton Road adjacent to the waterfall that is big enough for 1 or 2 cars. It can be found at the following coordinates: 39.928472, -79.478056.
It's worth noting that while there are no signs in the area, I have confirmed with the conservancy that this waterfall is located on the edge of their property.
Stewarton Falls is roughly 15 feet in height and features numerous small drops and cascades for the water to tumble over.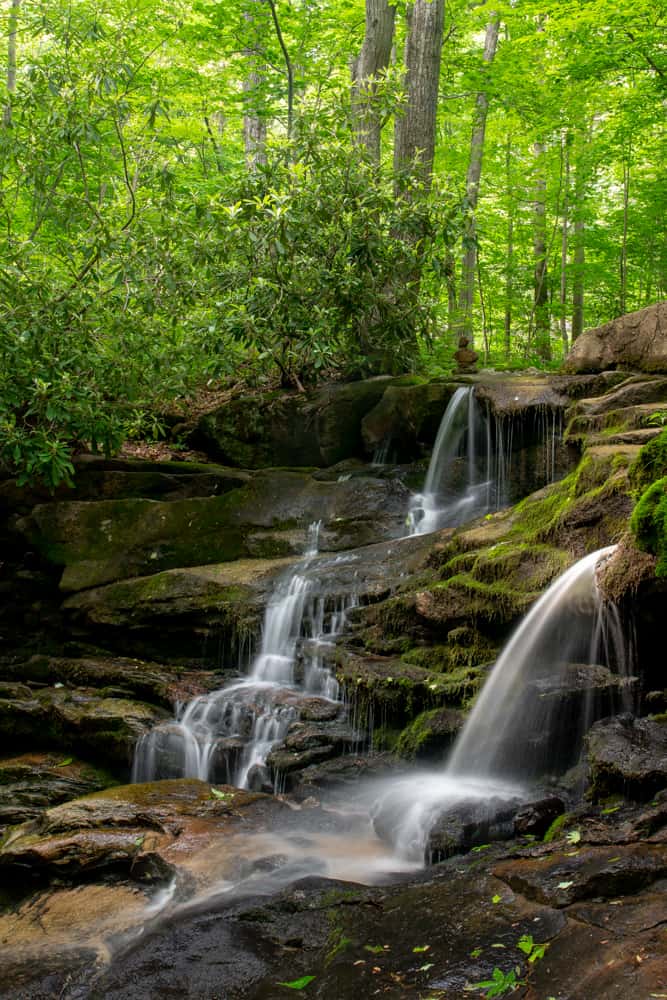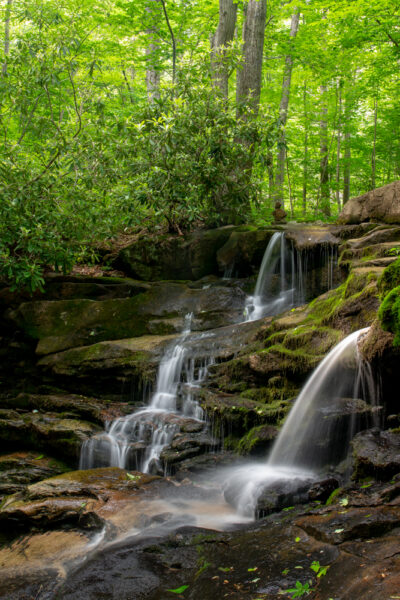 Unfortunately, this waterfall isn't along a heavily flowing stream. In fact, Crooked Run is often dry during the summer months, so I definitely recommend only visiting this spot when water levels are quite high in the area.
Stewarton Falls can be easily viewed from above. In fact, you can see the top of the waterfall without even leaving your car.
Getting to the bottom of the falls is a bit trickier, but can be accomplished if you are used to descending waterfalls in PA. Just make sure to use caution if the area around the waterfall is wet and slippery.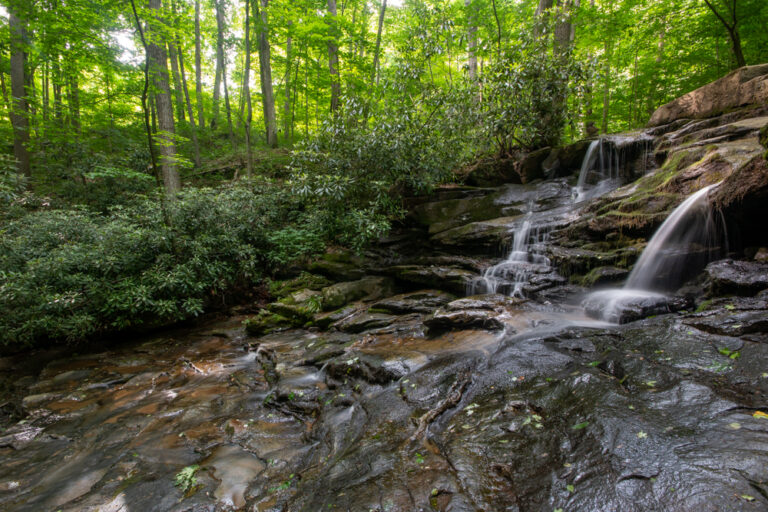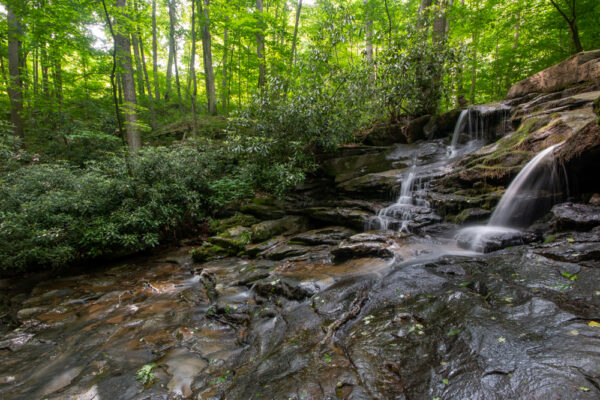 Stewarton Falls is definitely a waterfall that is going to most appeal to photographers and others that love the simple beauty of falling water. There is no plunge pool at the base of the waterfall, and its remote location means there isn't anything else to do here other than enjoying the beauty of this spot.
When visiting, you may note that the road continues beyond Stewarton Falls. However, it gets noticeably worse just after the falls, so I don't recommend going any further down the road unless you are in a high-clearance vehicle.
In fact, I almost bottomed my car out attempting to see if there was anything else to see further down the road.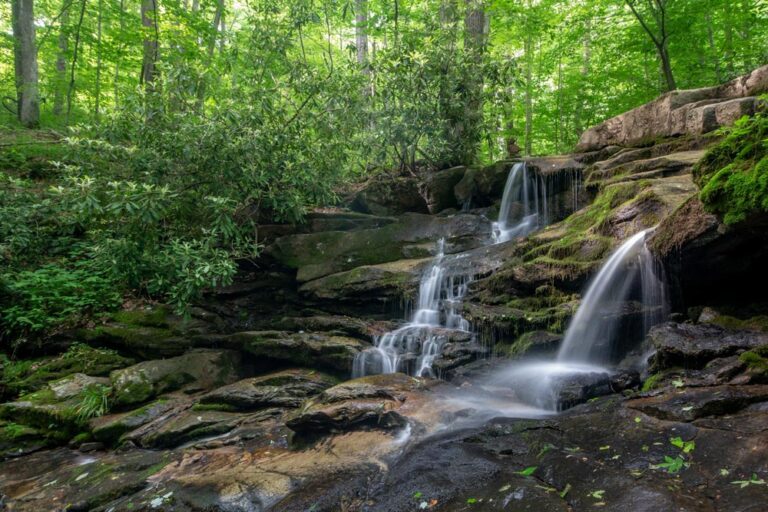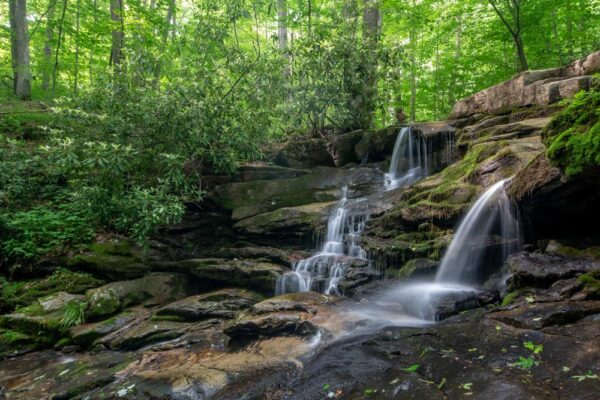 Ultimately, if you love waterfalls and are visiting the Ohiopyle area during the spring thaw or when the waterfalls are flowing really well, Stewarton Falls is definitely worth the 15-20 minute drive to check out.
While it's not among the most awe-inspiring waterfalls near Ohiopyle, it's a beautiful spot that few have a chance to see.
Looking for even more things to do in the Laurel Highlands? Check out Cucumber Falls, Living Treasures Wild Animal Park, and the best places to eat in Ohiopyle.
[Click here for information about how to use the coordinates in this article to find your destination.]