Disclosure: This article may contain affiliate links. We will make a small commission from these links if you order something at no additional cost to you.
When it comes to zoos in Pennsylvania, the Philadelphia Zoo, the Pittsburgh Zoo, and the National Aviary get most of the attention. However, there are several other wildlife parks in Pennsylvania that deserve the attention of travelers as well. One of these is the Living Treasures Wild Animal Park in the Laurel Highlands.
Opened in 1998 after the success of their first location in Lawrence County, Living Treasures Wild Animal Park offers visitors the opportunity to view more than 50 different species of animals ranging from common farm animals to exotic species such as lions, tigers, and kangaroos. While it may be smaller than a big city zoo, Living Treasures sets itself apart by giving visitors the chance to get much closer to the animals than you can typically get at most zoos.
Animals like the tigers and lions have glass-fronted enclosures, allowing you to get within inches of the animals without risking your limbs. The lions at the zoo are listed as Barbary lions. However, they are only a high-percentage Barbary, as pure-bred Barbary lions are extinct in both the wild and in captivity. However, their genetic makeup does give them a slightly different appearance, which is interesting to see.
I also really liked that visitors can feed many of the animals at Living Treasures Wild Animal Park. The animals in the petting zoo, as well as more exotic species like ostriches, can be hand-fed. However, animals that are more likely to bite your hand than the food, like alligators, brown bears, and monkeys, can be fed through a tube. Of course, to prevent issues with the animals' health, all food that is fed to them must be purchased at the park.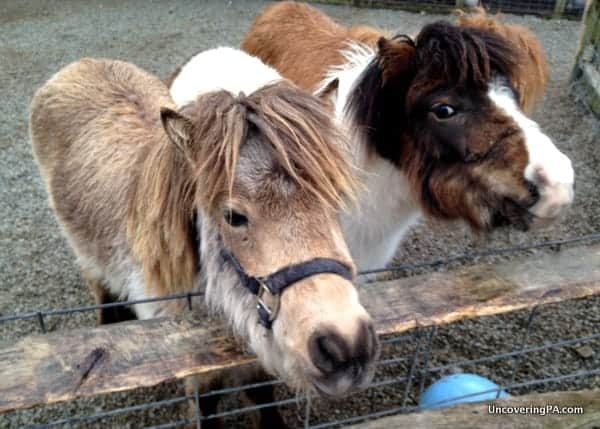 One concern I always have when visiting zoos is the welfare of the animals. Looking around the grounds of Living Treasures Wild Animal Park, I felt like the animals were well-cared for and that they were kept in high-quality enclosures, even if some of them seemed a bit on the small side.
Overall, I think that Living Treasures Wild Animal Park in the Laurel Highlands is a great destination for anyone looking for a more intimate wildlife experience than you get at many zoos. While they may not have all of the animals that you typically expect to see at a zoo, the opportunities to interact with the animals more than make up for it. The park also continues to expand with plans to add baby wolves as well as a farm experience area likely to have already been implemented since my visit.
The park is located about half-way between Ohiopyle State Park and Ligonier and close to Linn Run State Park, making it a great stop if you're traveling between two of the Laurel Highland's most popular destinations. It's also a great stop for those looking for things to do with kids along the Pennsylvania Turnpike, as it's just a few miles off the highway.
Given it's location and quality, I would definitely recommend visiting Living Treasures Wild Animal Park to anyone who loves animals, especially those with young children.
Note; My visit to Living Treasures Wild Animal Park was hosted by the Laurel Highlands Visitors Bureau. However, the opinions expressed in the article are my own and were not subject to review.
---
Living Treasures Wild Animal Park – Laurel Highlands
Hours: Open Daily at 10am
Closing time varies by month
Open April – Mid-November

Cost: Adults: $15.99, Children: $12.99

Website: LTAnimalPark.com

Address: 288 Pennsylvania 711,
Jones Mills, PA 156462
See map below for other area attractions.
---