Disclosure: This article may contain affiliate links. We will make a small commission from these links if you order something at no additional cost to you.
Pennsylvania is home to hundreds of caves, but only a select few of these PA caverns are open for self-guided exploration. Of these, possibly the most unique is Tytoona Cave.
Tytoona Cave is located in the Sinking Valley of Blair County, PA. It is a short distance east of I-99 in a rural area between the communities of Tyrone and Altoona (hence the name Tytoona).
The cave and the seven acres of land that surround it are owned by the National Speleological Society. While there are rules that must be followed when visiting the Tytoona Cave Nature Preserve (including leaving no trace of your visit), portions of the cave are open to self-guided exploration from 6 am to 9 pm without any cost or appointment.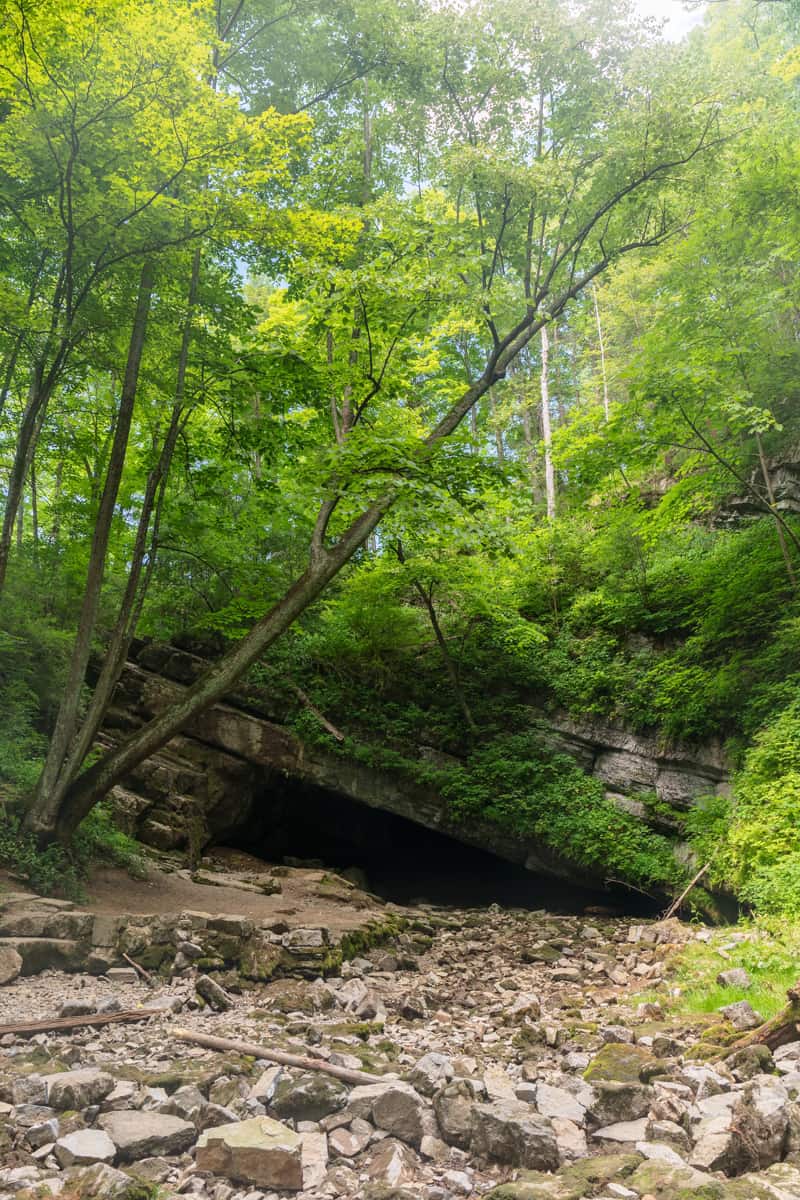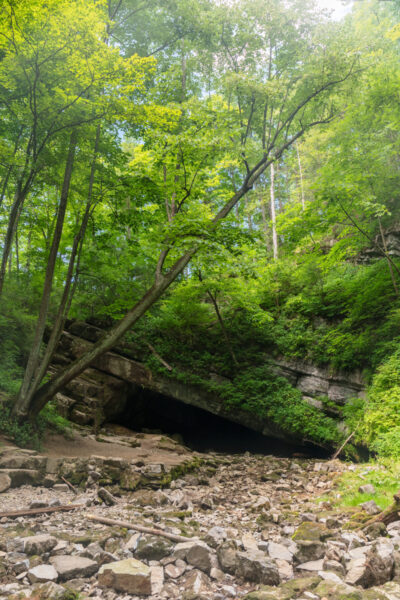 While there are other caves that are just as open in PA, most, if not all, of them are somewhat difficult to access for one reason or another. However, Tytoona Cave is easy enough for almost anyone to explore, with a large flat entrance that you can walk straight into and nearly 1,000 feet of passageways that can be relatively easily explored.
Of course, even though this cave is relatively easy to explore, there are still inherent dangers here and this is an explore at your own risk sort of situation. I strongly encourage you to visit with someone else, especially if you plan to venture beyond the entrance area.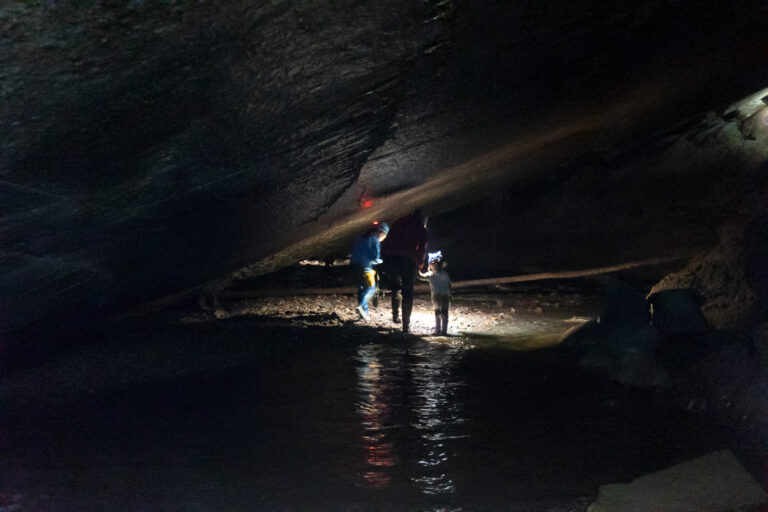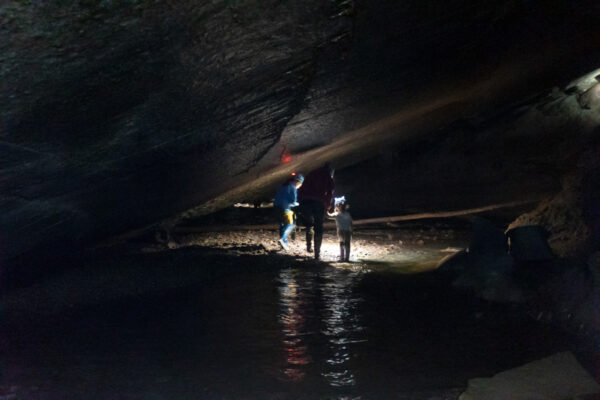 Tytoona Cave has been known to settlers since at least the mid-1700s and was likely used by Native Americans even earlier. In fact, according to local folklore, two Native Americans who killed settlers were chased into the cave in the mid-18th century and never emerged. This has led some to claim that the cave is haunted.
Two attempts were made to commercialize the cave in 1947 and 1972. The second of these ended after Hurricane Agnes destroyed all of the infrastructure shortly after it was opened as Indian River Caverns.
Today, it's a fun and relatively easy spot to visit on your own. Keep reading to find out everything you need to know to visit Tytoona Cave.
Where is Tytoona Cave?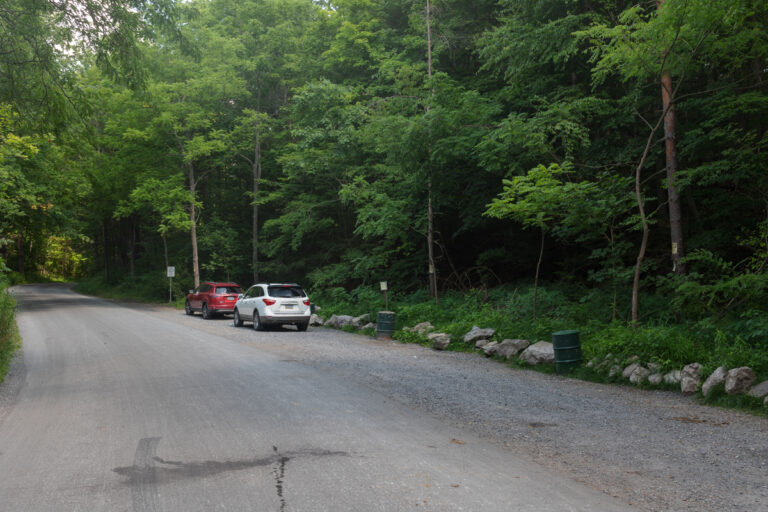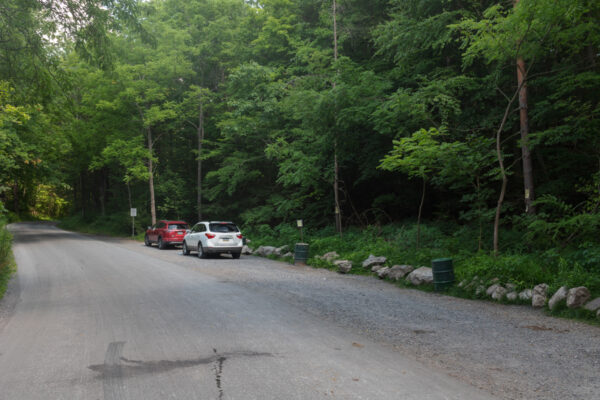 Tytoona Cave sits in a tranquil area of Blair County east of I-99 and only 25 minutes from downtown Altoona.
The area here is surrounded by small parcels of forest interspersed between farmland, and it is only a short drive from the popular Fort Roberdeau. And, while the roads are narrow in places, they are paved, so any vehicle can easily reach the parking area for the cave.
While there is no parking lot, there is room along Morrow Road for approximately 6-8 cars to park. Note that if this area is full, there aren't really any other good parking areas, so I definitely recommend visiting early in the day on weekends.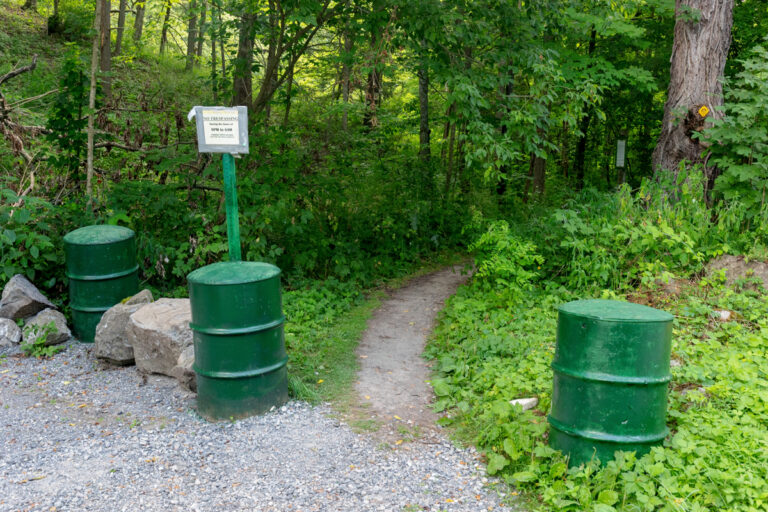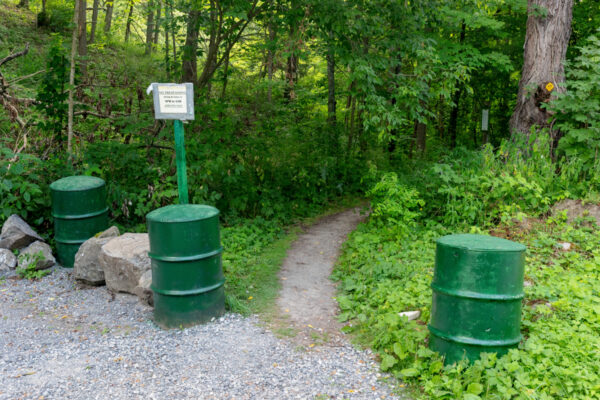 The parking area for Tytoona Cave can be found at the following coordinates: 40.602186, -78.217215.
[Click here for information on how to use the coordinates in this article to find your destination.]
Exploring Tytoona Cave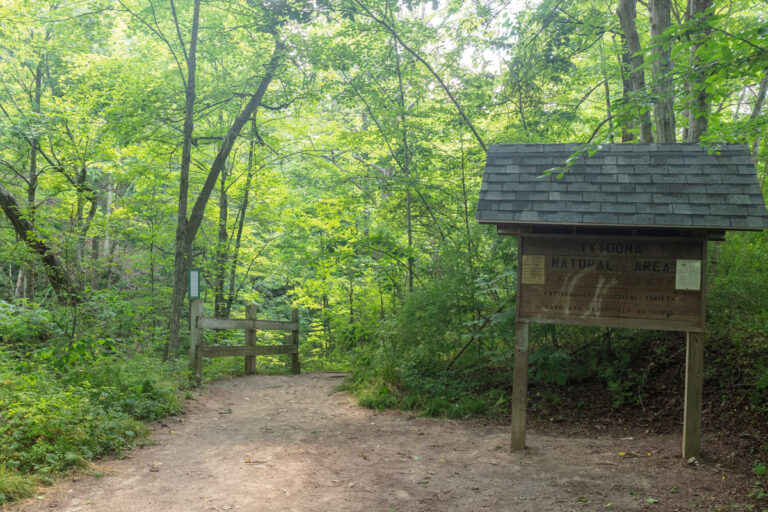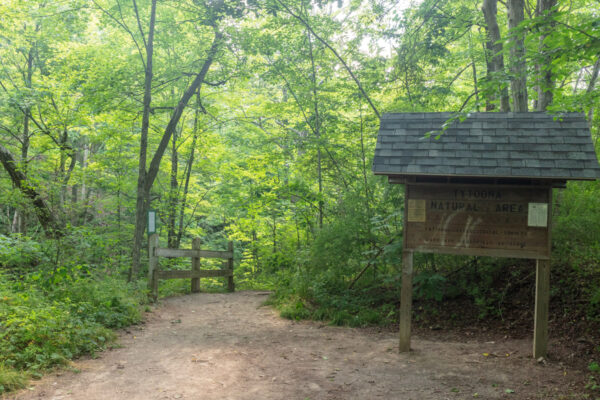 From the parking area, it's only a couple hundred feet to the entrance of Tytoona Cave.
Starting at the marked trailhead at the end of the parking area, follow the trail past an information sign (making sure to read the rules and a bit more about the history of the area). The trail then descends down several dozen wooden stairs into the sinkhole at the entrance to Tytoona Cave.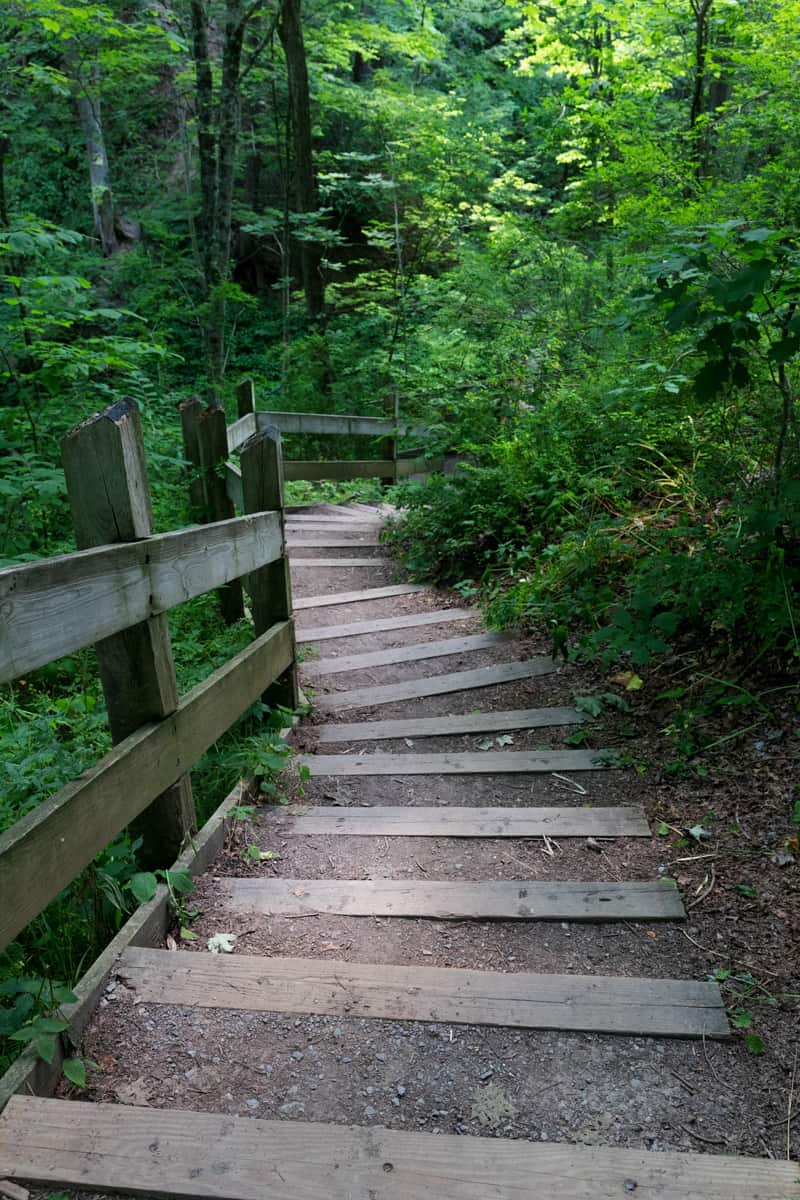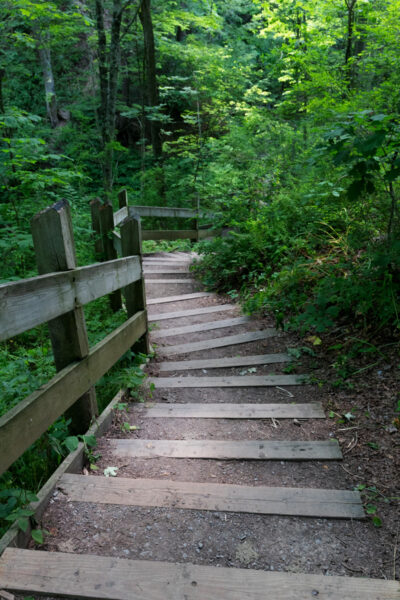 It's worth noting that this sinkhole is a dry stream bed. However, during periods of higher water, this will actually turn into a stream that sometimes makes entering Tytoona Cave either difficult or impossible. Make sure to use caution if the stream is visibly flowing from the outside during your visit.
The entrance to the cave is through a very large piece of limestone that is slanted, creating a very unique opening in the ground.
When things are dry, as they were on the day of my visit, the entire width of the cave will be dry land. However, soon, water will emerge from the ground, covering much of the cave in a shallow stream.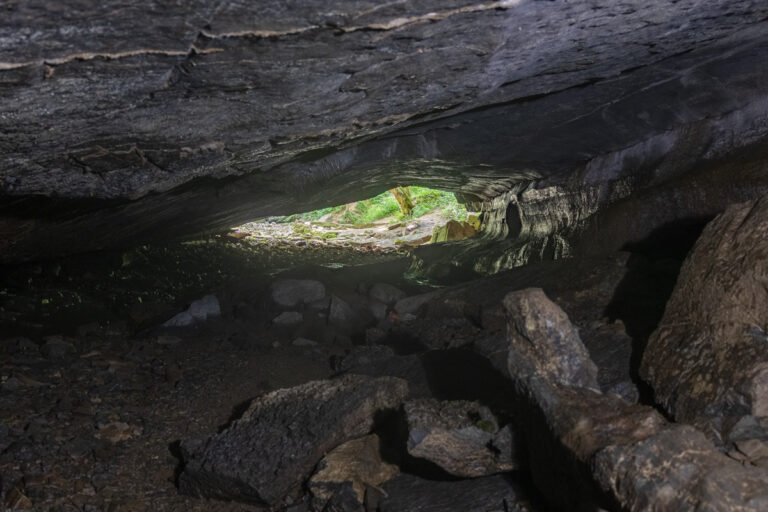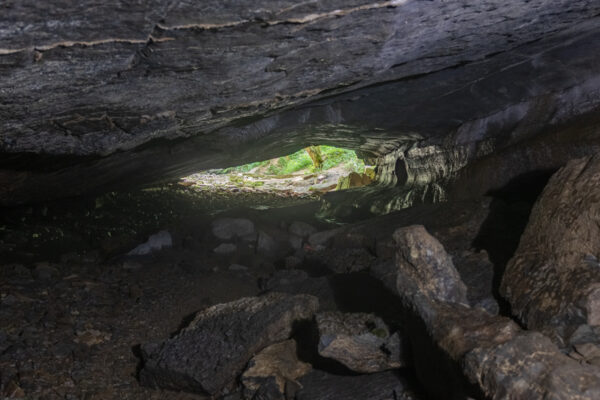 Unless you only plan on going in a few yards, it's best to assume that your feet will get wet during your visit to Tytoona Cave, even in very dry conditions as this underground stream seems to flow quite reliably.
The first room of the cave is fairly easy to navigate as there is amble light pouring into the cave from the outside and there is typically at least some dry land for you to explore.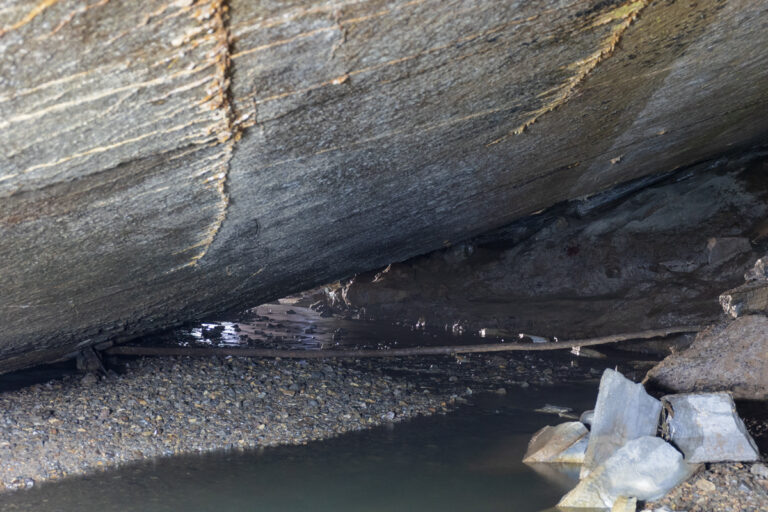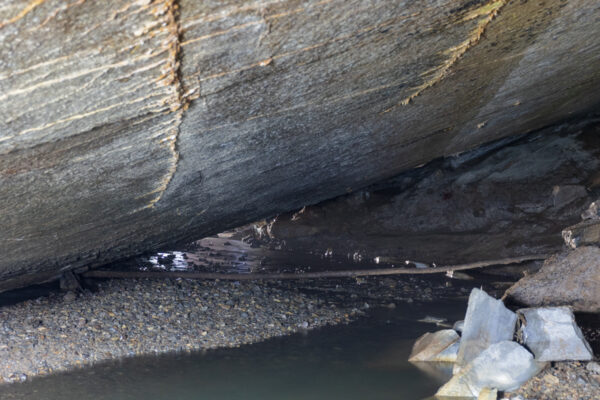 If you opt to go beyond the first few feet of the cave, you will absolutely need a strong flashlight (your phone's flashlight isn't strong enough). I also recommend a second light as an emergency backup in case the batteries die in your main light.
You will also want shoes that can get wet and have good traction, as well as clothes that can get dirty. A helmet of some kind is also a good idea, both to protect you from low ceilings and to protect you if you were to slip on the muddy rocks.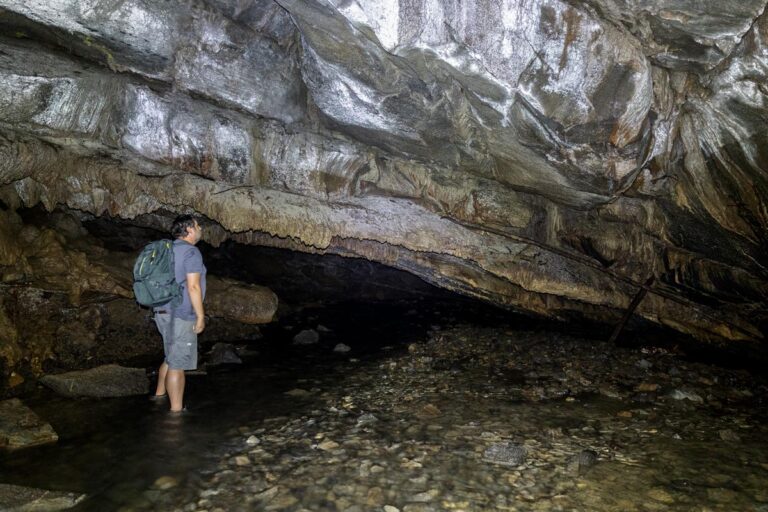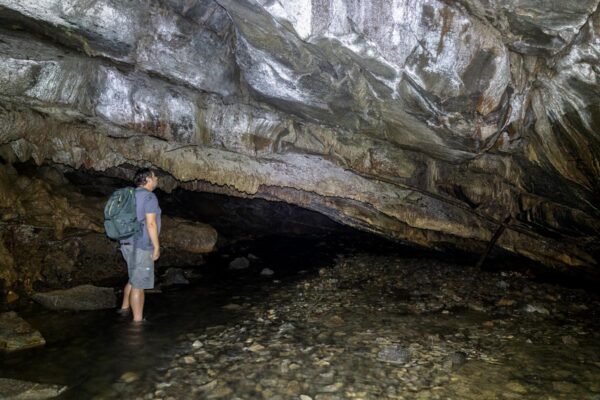 Many of the rocks in Tytoona Cave are covered in a thin layer of slippery mud. Because of this, I actually found walking through the stream to be easier in some spots, but use your best judgment during your time in the cave.
Other than the ground being a bit slippery in spots, I didn't find Tytoona Cave to be difficult to navigate. For the most part, there is one single passageway that heads back into the cave. I'm told this goes back about 1,000 feet, though I only went in a few hundred feet (into the third large room).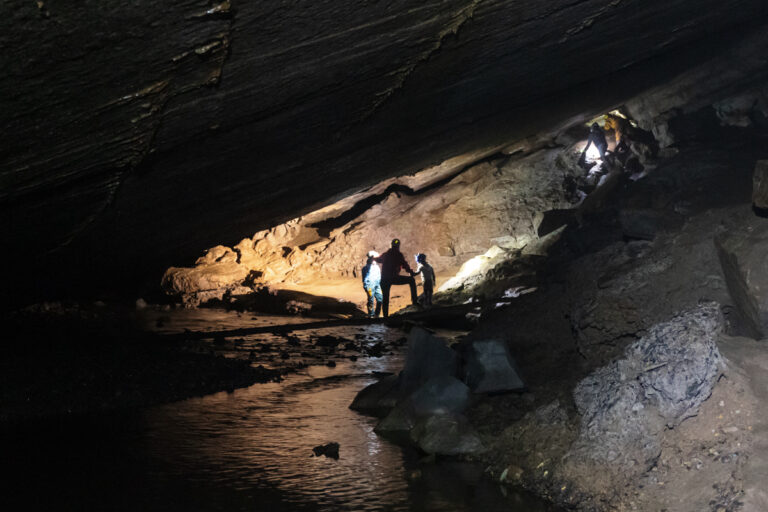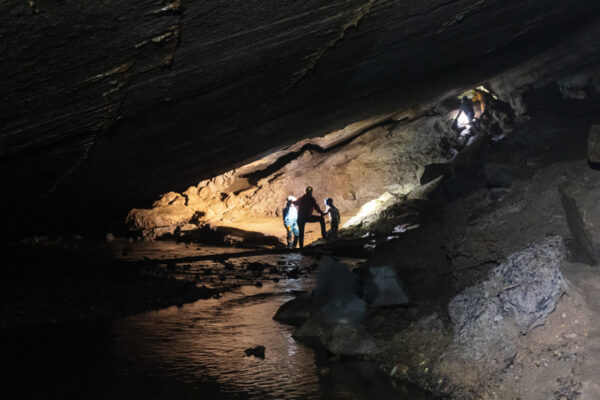 In this portion of the cave, you won't find many, if any formations. That's likely a combination of both the wear and tear of so many visitors over the last 250 years and the amount of water that fills the cave from time to time.
About 400 feet back into the cave, there is a large logjam that must be climbed over if you want to continue further. This makes a good spot to turn around if you've gotten this far.
Beyond that, once you get approximately 1,000 feet into the cave, there is a sump where the water drops the passageway down quite far. If you make it back this far, do not attempt to approach the sump as this is a very dangerous area, and even experienced cave divers have died after entering the water in these cave sumps.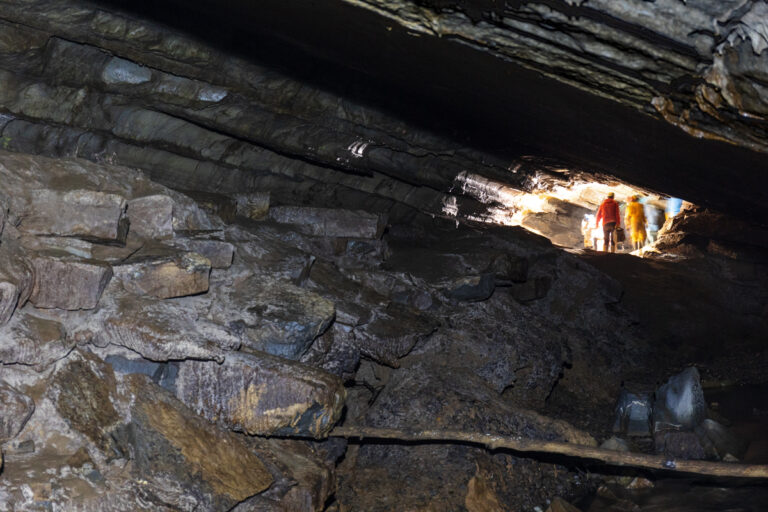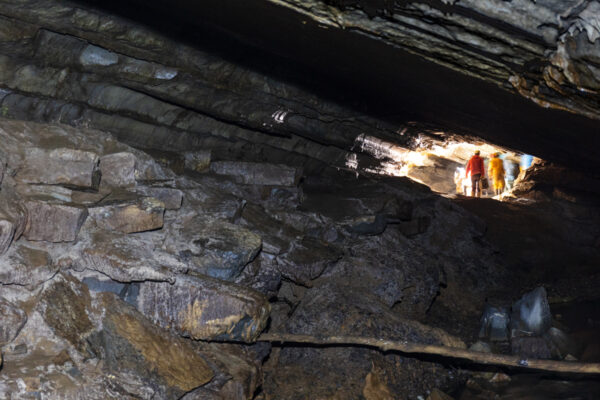 It is said that there are a series of sumps that lead hundreds of feet further into the cave, including into a totally cut-off room filled with spectacular formations that can only be reached by experienced cave divers with prior permission from the National Speleological Society. Eventually, the underground stream reemerges from the ground at Arch Spring a little over a mile down the road.
Arch Spring, which is said to possibly be the only natural stone bridge in PA, sits on private property, but it can be viewed from Kettle Road at the following coordinates: 40.605732, -78.203567.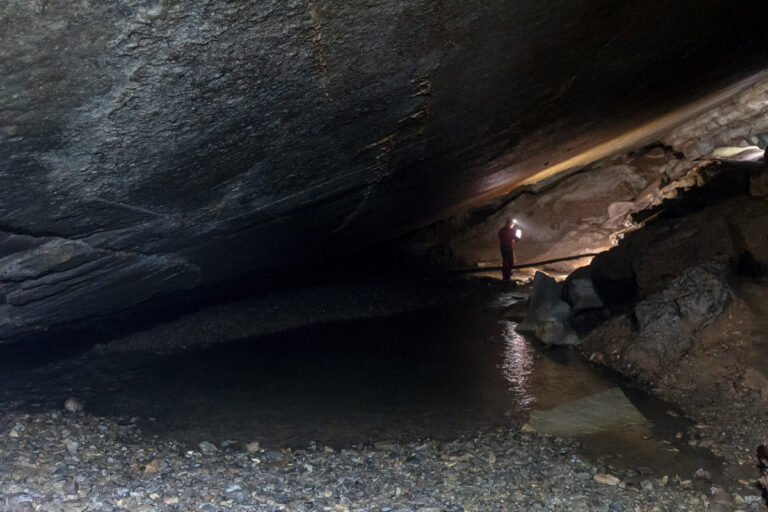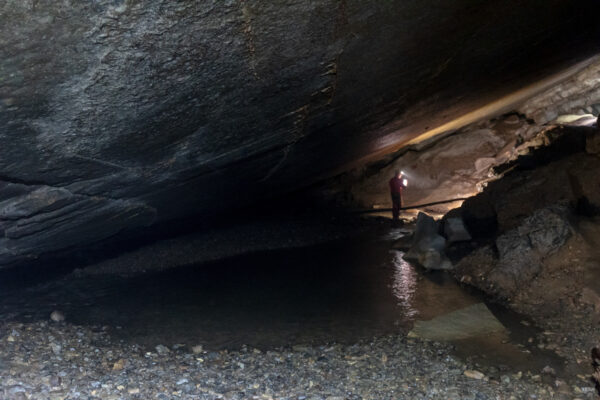 Overall, Tytoona Cave is one of the most fun spots I've explored in the Alleghenies Region of Pennsylvania and one of the most unique caves anywhere.
With some basic safety precautions and a dash of common sense, this is a spot that can be enjoyed by just about anyone. Because of that, visiting Tytoona Cave is definitely something that I think should be high on the list for anyone that loves outdoor adventures in PA.
Again, while Tytoona Cave is relatively easy to explore, it is not without unique risks. Explore with caution, make sure to bring several strong flashlights, and don't visit alone. And please leave this spot as good or better than you found it.
Looking for even more spots to visit nearby? Check out DelGrosso's Amusement Park, Raystown Lake, and Canoe Creek State Park.