Disclosure: This article may contain affiliate links. We will make a small commission from these links if you order something at no additional cost to you.
Thanks to the state's geological makeup, there are hundreds of caves in Pennsylvania. And while many of these spots are closed to the public or totally undiscovered, some are open for tours and exploration.
During my time exploring Pennsylvania, I've had a chance to visit each of the show caves in PA, as well as a few that sit on public property awaiting intrepid (but cautious) explorers.
Below are a few of the best Pennsylvania caves that I've had a chance to visit during my travels.
Penn's Cave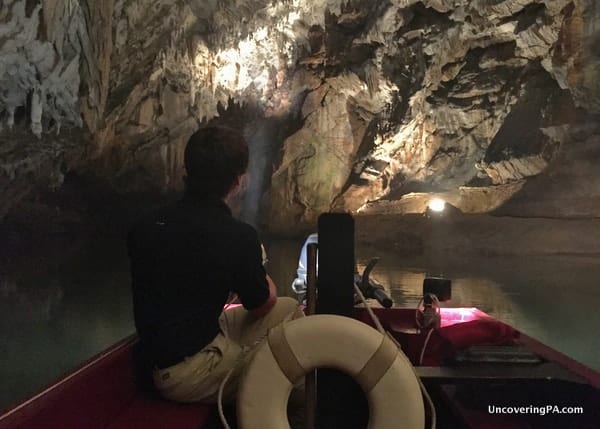 If you've driven anywhere near Centre County you've no doubt seen billboards for Penn's Cave, possibly the most advertised of all the caverns in PA.
This is also the most unique cave in the state because the entire tour is done by boat as the vast majority of Penn's Cave is flooded by an underground stream. It is said that this is the only all-water cave in the country.
As you float through the cavern, guides point out many of the cave's interesting formations.
In addition to the cave, this site features a wildlife park, a maze, and several other fun attractions.
Indian Echo Caverns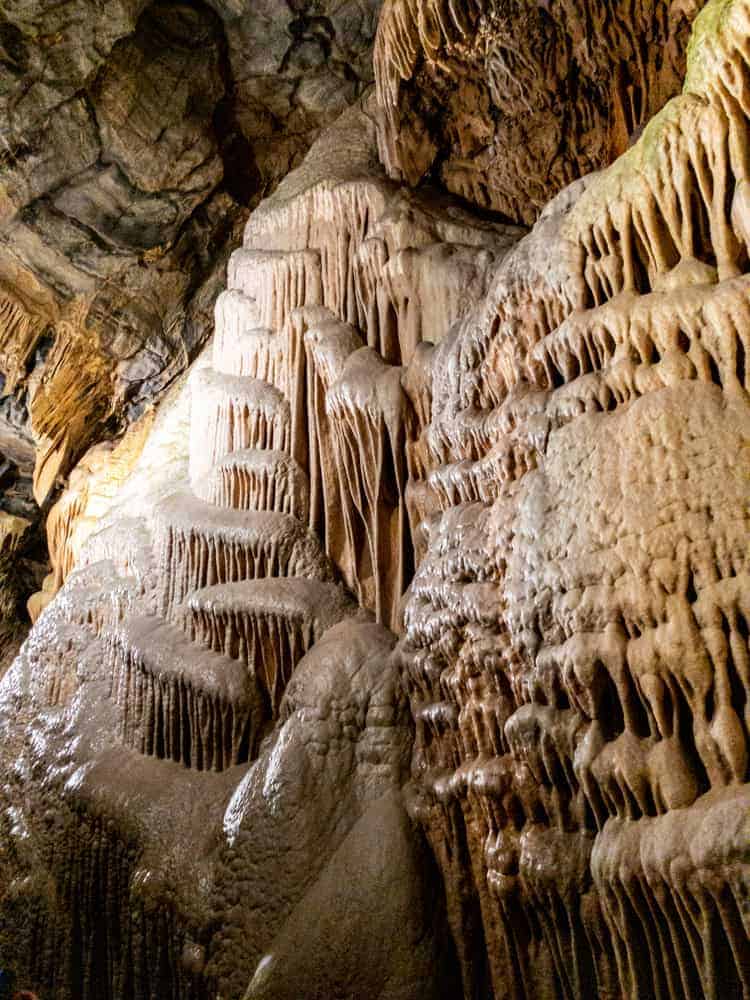 Indian Echo Caverns is located near both Hershey and Harrisburg in Dauphin County making it a convenient spot to visit if you are near those popular areas.
Indian Echo Caverns got its name because of its use by Native Americans long before European settlers first arrived in the area. The cave was also home to a hermit for many years and was where a mysterious box was found in the early 20th century (which is on display in the gift shop).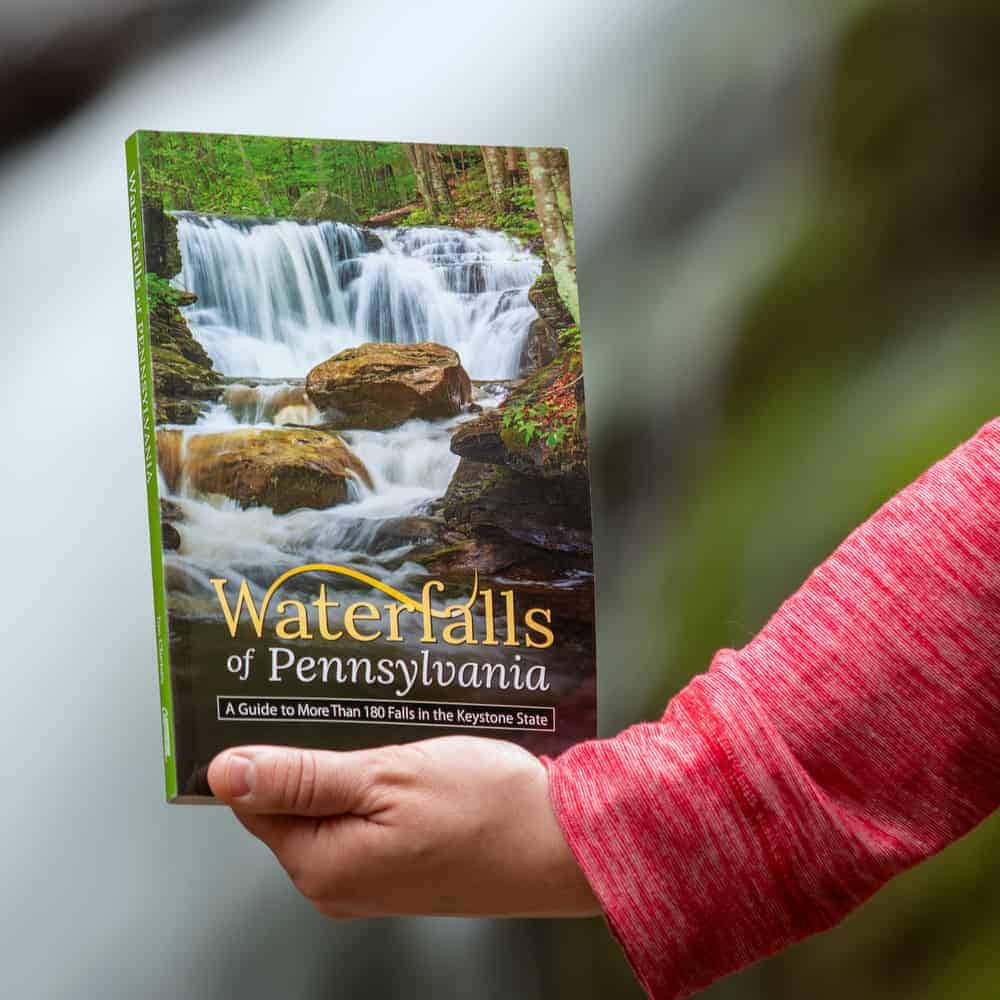 "Waterfalls of Pennsylvania" by Jim Cheney
If you love PA waterfalls, you won't want to miss this waterfall book from Jim Cheney, author of Uncovering PA, featuring more than 180 great waterfalls. Order it now on Bookshop.org or Amazon.
Tours take you through the rooms of this cavern and its many beautiful and large formations.
Laurel Caverns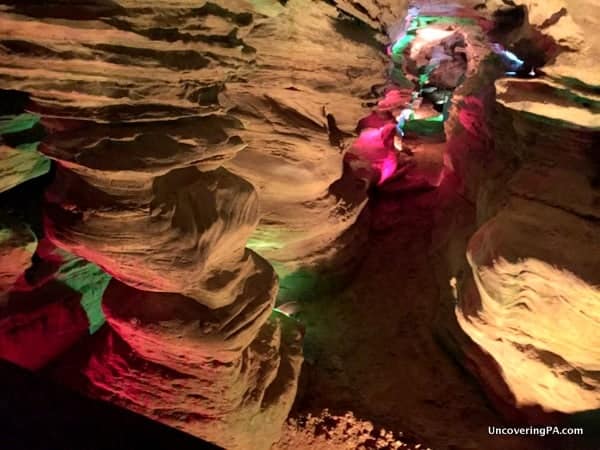 Laurel Caverns is the only show cave in the western half of Pennsylvania and is also the largest of the caverns in Pennsylvania. In fact, it's one of the largest in the country!
Laurel Caverns, which is located only a short distance from the popular Ohiopyle State Park, offers both guided and self-guided tours of its underground world. This cave is unique among caves in Pennsylvania in that it lacks a large number of formations due to its mineral composition and has incredibly smooth walls.
In addition to regular tours, Laurel Caverns also offers spelunking opportunities deep underground in its ever-expanding passageways.
Black-Coffey Caverns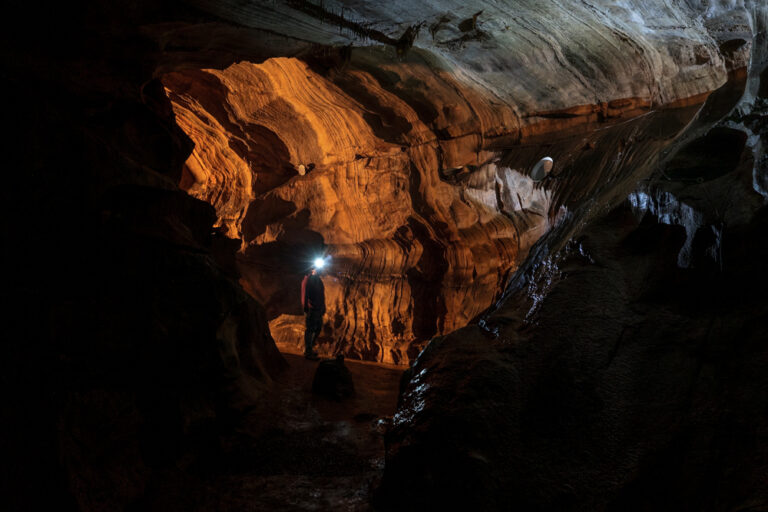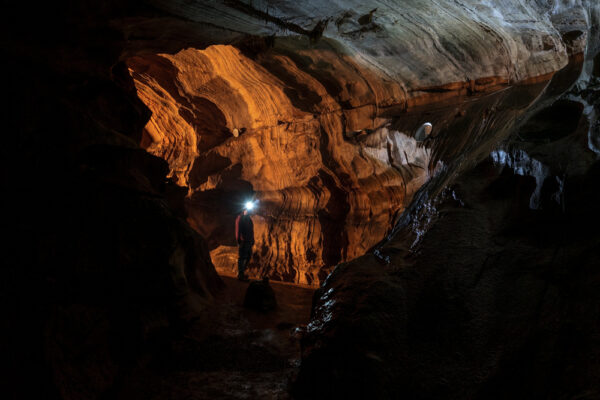 For nearly 70 years, Black-Coffey Caverns in Franklin County was closed to the public, but in 2021, it reopened for limited tours on select days.
Interestingly, the cavern is accessed via a door in the basement of a private home, which means that the family that owns it has their own private cave!
Below ground, there are no lights, so the cave is lit only by the flashlights of visitors exploring this underground world. And, while it doesn't have as many formations as some other caves, the unique experience here and the twists and turns of the narrow passageways at the far end make for a very unique experience.
If you're lucky, the guides might even show you the cave's fluorescent rocks, something you won't see in many other PA caverns.
Lost River Caverns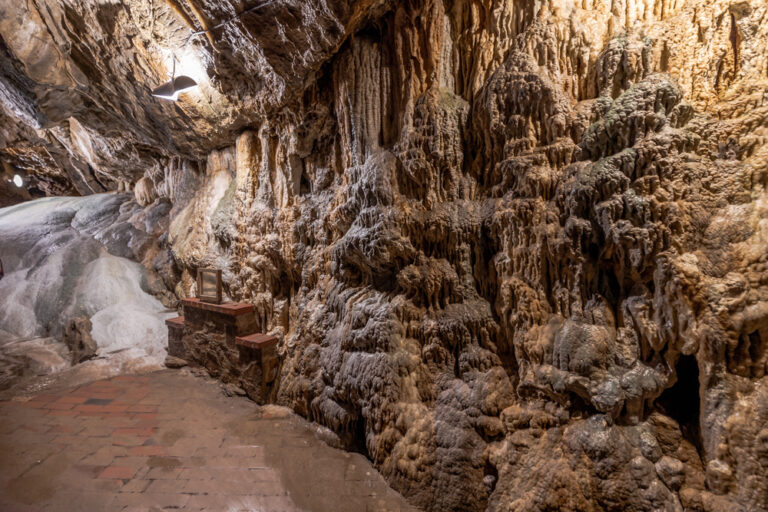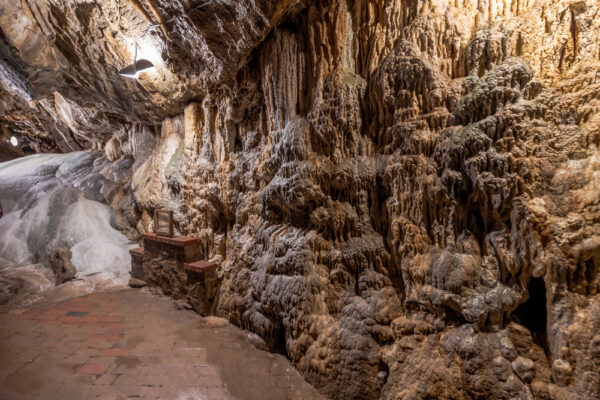 Lost River Caverns is located in the Lehigh Valley only a few minutes outside of Bethlehem, PA.
Owned by the same family since it first opened to the public more than 90 years ago, this Pennsylvania cave features many beautiful formations, including some great examples of flowstone.
The highlight of the cavern is, not surprisingly, the Lost River. This underground waterway can be both heard and seen at several points during the tour. It is said that the outlet of the stream has never been discovered despite several attempts to figure out where the water comes above the surface.
Coral Caverns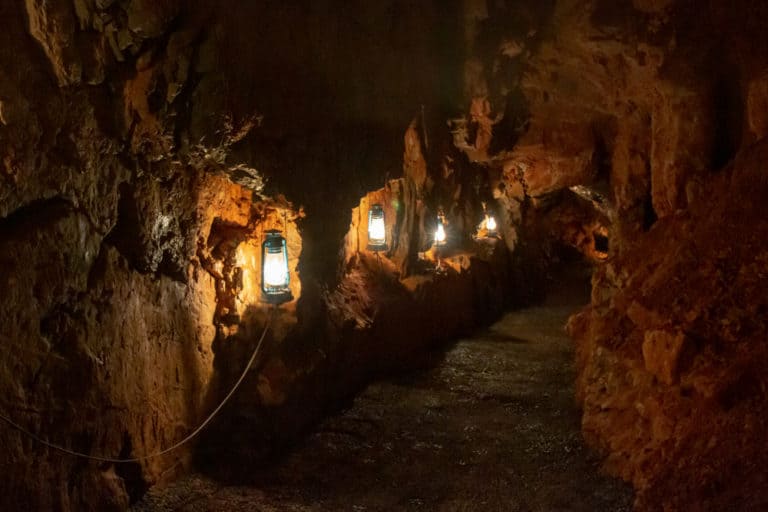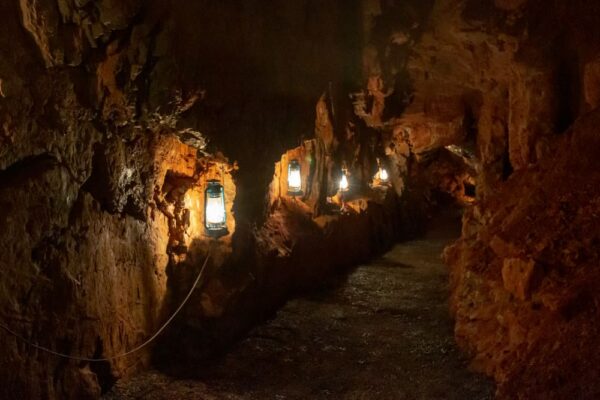 Of all of the caves in Pennsylvania, there might be none that are less known than Coral Caverns in Bedford County. That's because this site has nearly no internet presence at all.
However, those adventurous enough to visit are in for a real treat at this family-owned cave.
Coral Caverns was discovered during mining operations in the area and is one of the smallest PA caves. However, the unique lighting and interesting geology here make this a spot well worth visiting.
Interestingly, the cave features a wall with fossilized coral embedded into it (which gives the cavern its name). These fossils are said to date back to when the area was covered by an inland sea over 400 million years ago.
Lincoln Caverns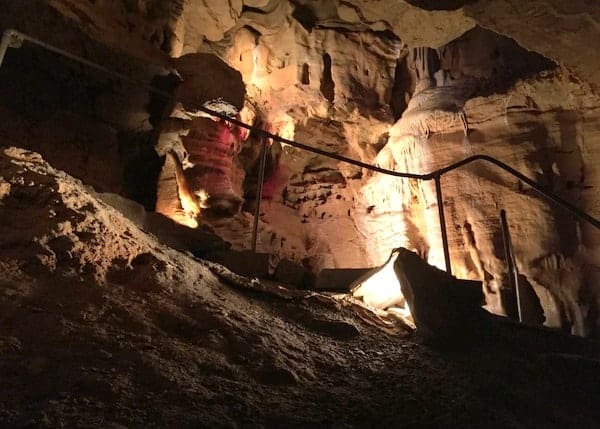 Lincoln Caverns can be found near Huntingdon, PA, and the popular Raystown Lake and is directly along Route 22. In fact, it was first discovered during the construction of the highway.
There are actually two different caverns that can be seen on a tour of Lincoln Caverns, and it's thought that they don't connect despite being very close to each other. These two caves also have different looks, which makes seeing them both quite interesting.
Lincoln Caverns is also unique among Pennsylvania caves for running many different underground events including a haunted cave experience and visits with Santa.
Woodward Cave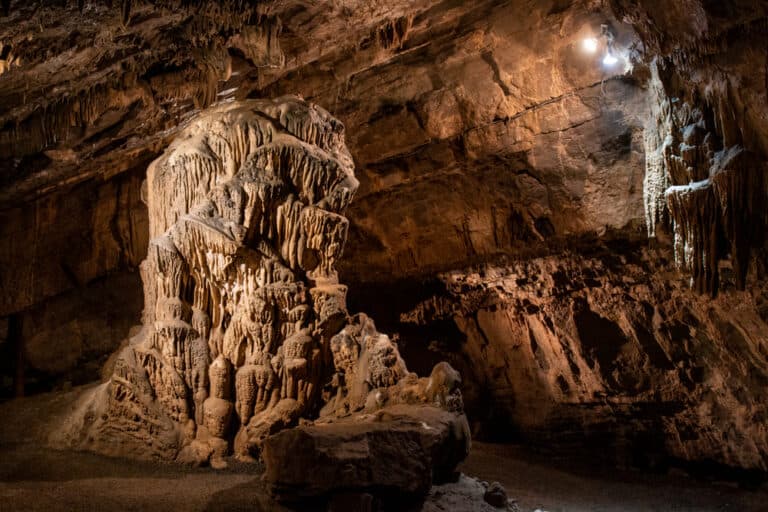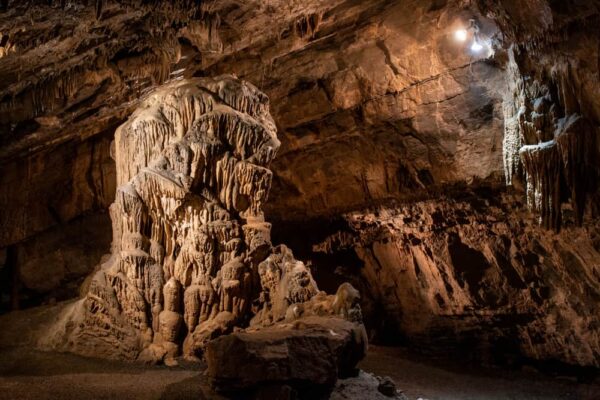 Woodward Cave is a beautiful underground world located in eastern Centre County. (Making Centre County the only county in PA with two show caves.)
This cavern is best known for having a large stalagmite known as the Tower of Babel. It is said that this is the largest-known stalagmite in Pennsylvania, and it's quite large and impressive to see.
I also enjoyed seeing parts of Woodward Cave that are considered dead, meaning there are no formations growing anymore and large cracks in the rock aren't being repaired by nature. There are even several places where large boulders that fell thousands of years ago sit in the middle of the rooms.
Crystal Cave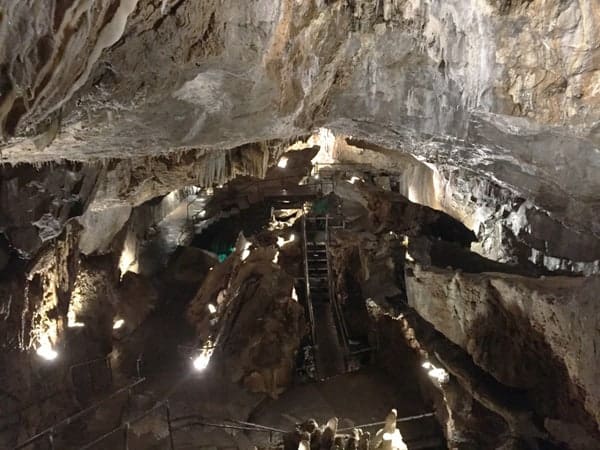 Crystal Cave in Berks County has the distinction of being the first of Pennsylvania's caves to open to the public, with the first paying guests visiting in 1872.
Tours of the cave start with a video about its history, the only cave that offers a video along with its guided tour. The underground world here is quite beautiful and it got its name because early explorers thought the underground rocks shimmered like crystal.
I was especially impressed by the large central room here, which is among the largest underground spaces in PA.
Tytoona Cave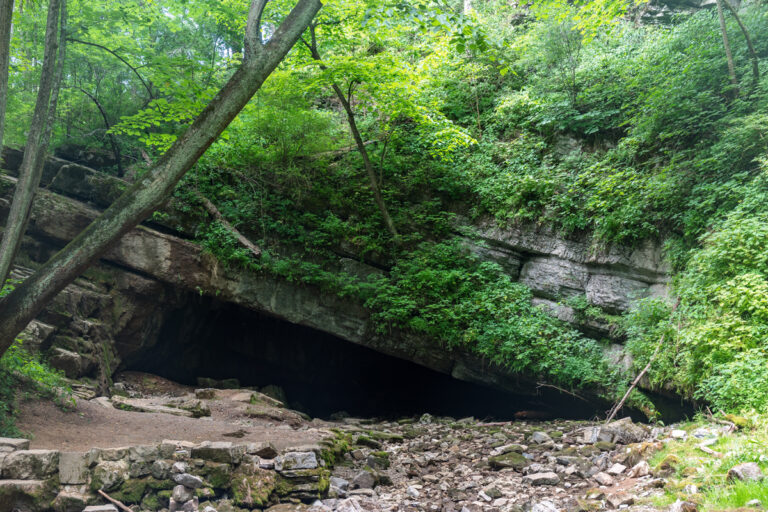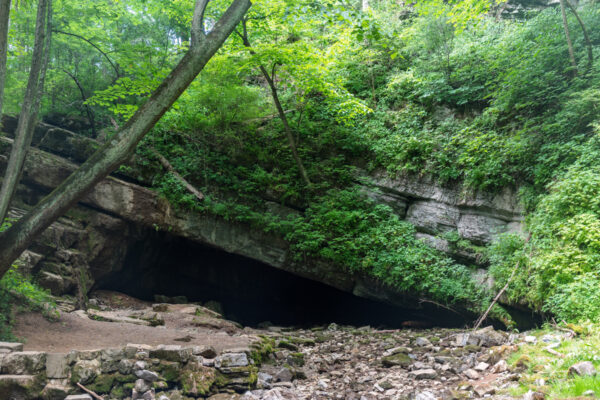 Most Pennsylvania caves that are open for visitors to explore require you to take a guided tour, but Tytoona Cave in Blair County is an exception.
This spot is simply open for anyone who wants to go in and have a look around to visit whenever they would like as the land is owned by the National Speleological Society.
The large opening here is half stone passageway and half stream (though if water levels are high, there may be no passageways at all). Visitors can walk into the cave and go back nearly 1,000 feet along the main passageway to try their hand at some amateur spelunking.
Going further requires both permission from the owners and diving equipment.
What are your favorite caves in Pennsylvania to visit? Let us know in the comments below!
Looking for more great places to visit in PA? Check out my Pennsylvania Bucket List, my picks for the 7 Natural Wonders of PA, and the Best Pennsylvania State Parks for History Lovers.