Disclosure: This article may contain affiliate links. We will make a small commission from these links if you order something at no additional cost to you.
At one time, there may have been as many as fifty covered bridges in Cumberland County, Pennsylvania. However, today, there are only two remaining. Fortunately, both of these bridges are well-maintained and should hopefully last for a very long time.
The bridges here are listed north to south. There are no other covered bridges close to either bridge, but it wouldn't be unreasonable to also visit some of the covered bridges in Perry County, Franklin County, or Dauphin County before or after exploring these two bridges. It's also worth noting that these two bridges sit on opposite ends of the county, roughly 45 minutes apart.
Bowmansdale Covered Bridge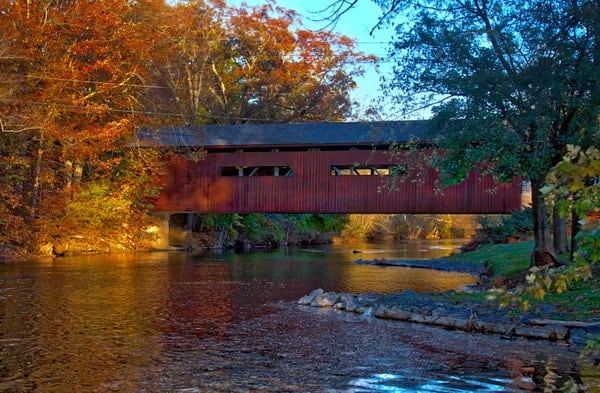 Bowmansdale Covered Bridge sits on the campus of Messiah College in Grantham, just a few miles off of Route 15. Of all the covered bridges in Pennsylvania, I have visited this bridge the most times, crossing it dozens if not hundreds of times as a student and alumni of Messiah College.
Bowmansdale Covered Bridge was built in 1867 and originally crossed the Yellow Breeches in Bowmansdale. After being bypassed by another bridge and being damaged in an arson fire, the bridge was purchased for the college by the Stoners in 1970. In some campus publications, the bridge is referred to as Stoner Covered Bridge or Bowmansdale Stoner Covered Bridge.
The bridge was rebuilt using roughly 50% of the original materials and completed in 1972. Unlike many covered bridges, the base of the bridge is not wood, but rather concrete. It leads to the campus athletic fields and is actually large enough for a full-size bus to just barely drive through.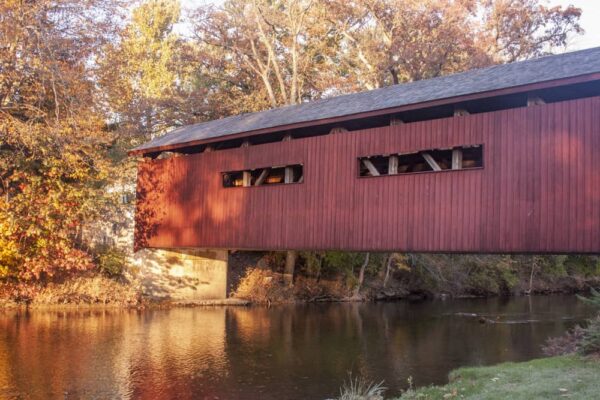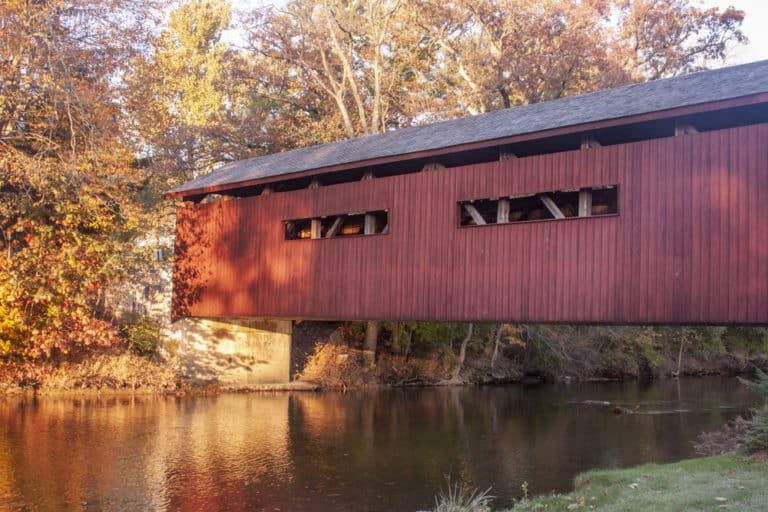 Today, the bridge still crosses the Yellow Breeches several miles downstream from its original location. It is 112 feet long and actually spans Cumberland County and into York County, making this the only covered bridge that is at least partially located in York County.
The area around the bridge is well landscaped and owned by the college. Visitors are allowed and can view the bridge well from all sides. There are even benches set up within sight of the bridge. It is also a very popular fishing spot.
There's also one of PA's best swinging bridges just a few hundred yards downstream, which is also interesting to check out while in the area.
Getting There: Bowmansdale Covered Bridge is located just off of Route 15 between Camp Hill and Dillsburg. This is the closest covered bridge to downtown Harrisburg that can be driven across. The bridge is located at the following coordinates: 40.155257, -76.991305.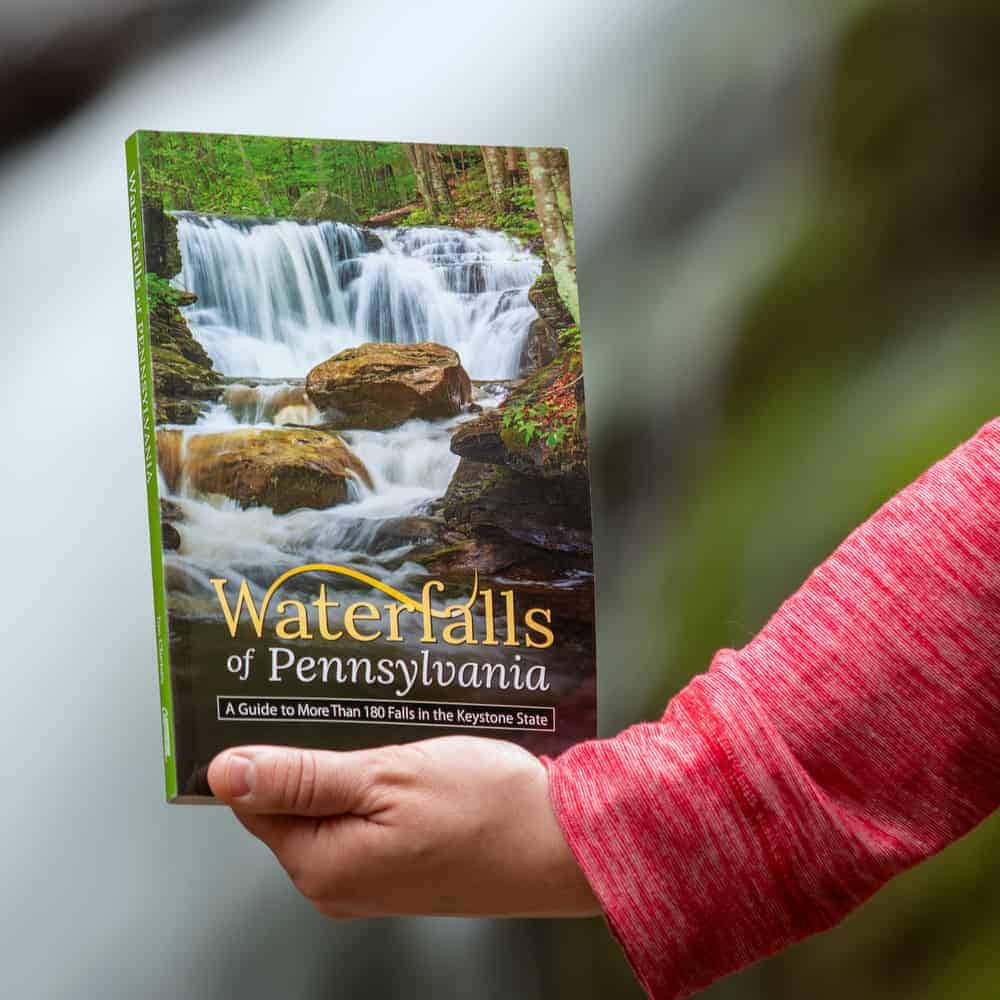 "Waterfalls of Pennsylvania" by Jim Cheney
If you love PA waterfalls, you won't want to miss this waterfall book from Jim Cheney, author of Uncovering PA, featuring more than 180 great waterfalls. Order it now on Bookshop.org or Amazon.
Ample parking is available in the large parking lot on the far side of the bridge. It's worth noting, however, that campus events, especially sports games, can make parking here a challenge.
Ramp Covered Bridge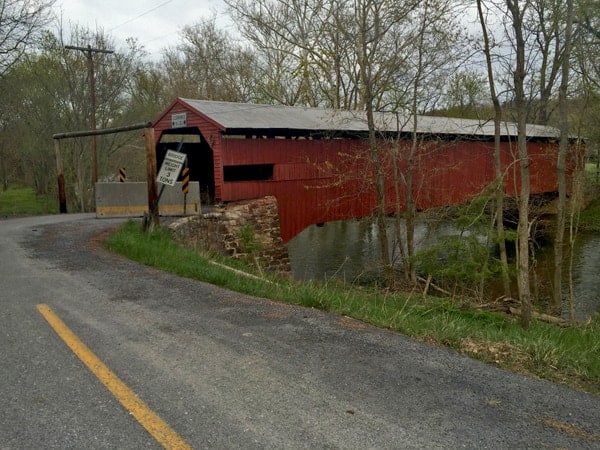 Located between Newville and Shippensburg in western Cumberland County, Ramp Covered Bridge is located in a much more secluded area of the county. Unlike Bowmansdale Covered Bridge, it is still in its original location, crossing the Conodoguinet Creek. The bridge is 130-feet long and was built in 1870. While you can drive across it, it appeared that they were trying to limit access to a degree with concrete barriers during my April 2015 visit.
The area around Ramp Covered Bridge is very rural, and it appeared that there were a few Amish farms nearby. Private property surrounds the bridge, so you can't get too close. Fortunately, the tree cover is minimal, so it's possible to get a good view of the bridge from the road, at least when the trees are bare. Despite not being able to get close to the sides of the bridge, what can be seen from the road, along with the setting around it, make it a beautiful one to visit.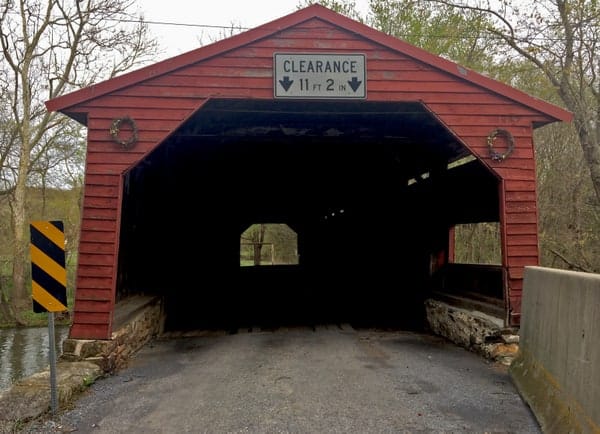 Getting There: Ramp Covered Bridge is located a few miles off of both Interstate 81 and the Pennsylvania Turnpike. It is located between Newville and Shippensburg at the following coordinates: 40.136332, -77.523460.
There is enough room for a car or two in a pull-off on the eastern side of the bridge.
If you want to visit even more covered bridges in Pennsylvania, check out our archives.
Looking for more places to visit in the area? Check out the Cumberland County Historical Society Museum, the Army Heritage Center, and the Gettysburg Battlefield.
[Click here for information about how to use the coordinates in this article to find your destination.]
See map for other area attractions.