Disclosure: This article may contain affiliate links. We will make a small commission from these links if you order something at no additional cost to you.
The history of baseball in Philadelphia dates back further than nearly any city in the country. A form of baseball has been played in Philly since the 1700s, and by 1860, what some consider to be the first real baseball team, the Athletic Club, began in the city. Just a few years later, in 1865, the Al Reach signed with the Athletics as one of the first paid baseball players in the country.
Over the next 150 years, Philadelphia would become one of the biggest baseball cities in the country, first with the Philadelphia Athletics and then the Phillies. There were also several Negro League teams that flourished in and around the city including the Philadelphia Stars, Hilldale Club, and the Philadelphia Giants.
With all of this baseball history, it should come as no surprise that eight Baseball Hall of Famers are buried in Philadelphia and its suburbs. Visiting their graves offers the chance to learn more about them and their impact on the game.
Read about the six Baseball Hall of Famers Buried in Pittsburgh, the Baseball Hall of Famers buried in northeastern PA, and Cristy Mathewson's PA birthplace and grave.
Connie Mack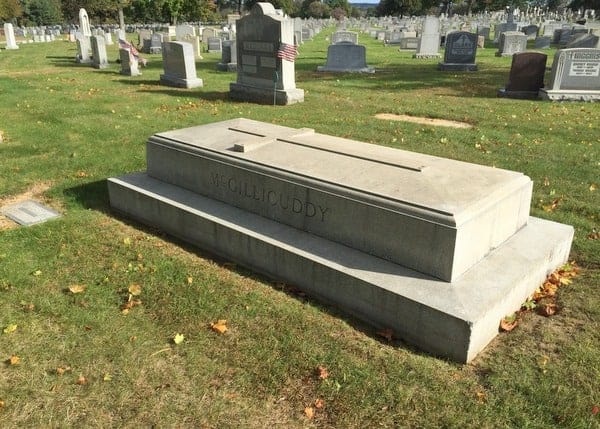 Of all the names associated with the history of baseball in Philadelphia, none may be more consequential than Connie Mack. Born Cornelius McGillicuddy, Mack was a player for 11 seasons in Washington, Buffalo, and Pittsburgh, but is better know as a manager.
Mack began his managerial career as a player/manager from 1894-1896 with the Pittsburgh Pirates. He then moved on to become the full-time manager and part-time player for the then minor league Milwaukee Brewers from 1897-1900. In 1901, he became part-owner and manager of the brand-new Philadelphia Athletics in the American League.
Ultimately, Mack would manage the Athletics for 50 seasons, before retiring in 1950. In addition to being the longest-serving manager in Major League history, Mack is still the Major League career leader in both wins and losses. During his 50 seasons in Philly, Mack won nine pennants and five World Series.
Connie Mack was inducted into the Baseball Hall of Fame in 1937, 13 years before he would finally leave the dugout. He joined manager John McGraw of the Yankees as the first managers inducted into the Hall of Fame in the second year of the hall's existence.
Mack died in Philadelphia on February 8, 1954 at the age of 93. He was buried in Holy Sepulcher Cemetery in Cheltenham Township, just a few hundred yards outside of the Philadelphia city limits.
Mack's grave features a large, but simple, horizontal stone roughly six feet in length. The only markings on the grave are a large cross on top and the word McGillicuddy written along the side. Those wishing to pay their respects can find his grave at the following coordinates: 40.085839, -75.175984.
Louis Santop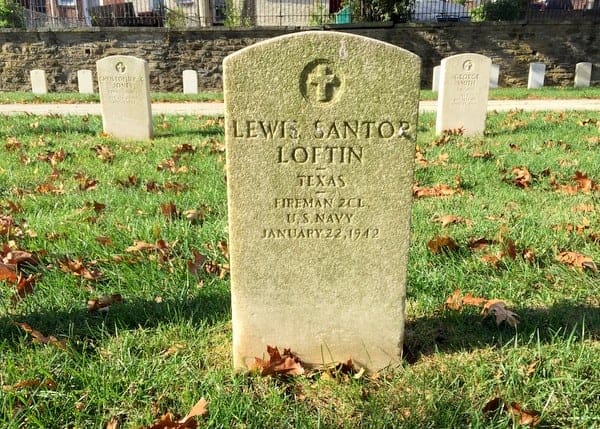 Louis Santop was a catcher in the Negro Leagues and one of the first African-American superstars. He was known as a powerful home run hitter and was the first to be called the "Black Babe Ruth." Santop played in the Negro Leagues from 1910-1926. His first stop in Philadelphia was with the Giants in 1911, before returning to the city to play from 1918-1926 with the Hilldale Club, which was based in nearby Darby.
Santop's career lacked significant record keeping, with only 101 games during his 15 years career listed on online stat websites. However, Santop was credited with hitting a 500-foot home run in 1912 and once got three hits in an exhibition game against Babe Ruth in 1920.
Santop was inducted into the Baseball Hall of Fame in 2006.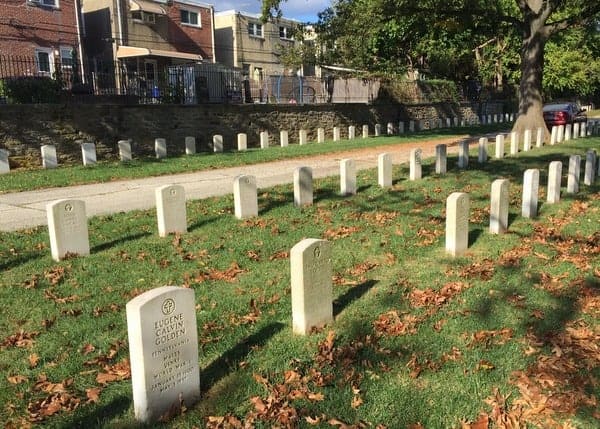 Santop's career was put on hold from 1918-1919 when he served in the Navy. After he died on January 22, 1942, he was buried in Philadelphia National Cemetery.
In Philadelphia National Cemetery, all gravestones look the same, making finding Santop's grave a bit of a challenge. Also, for a reason that I can't find an answer for, Louis Santop's grave is marked "Lewis Santop Loftin." Santop's grave is located at roughly the following coordinates: 40.058086, -75.156305. It is located to the left of an empty plot in the second row from the road.
Chief Bender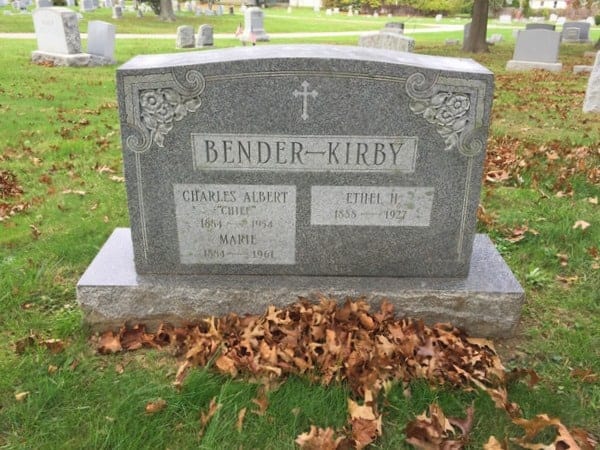 Chief Bender was a star pitcher who played in the Major Leagues from 1903 to 1917, with a brief appearance in 1925. He played in Philadelphia for his entire career, with the exception of the 1915 and 1925 seasons.
Born Charles Albert Bender, he was a half Chippewa Indian and received the Native American name Mandowescence. Bender attended the controversial Carlisle Indian Industrial School in Carlisle, Pennsylvania, the same school that produced Jim Thorpe.
Bender debuted in the Major Leagues when he was 19, and according to his longtime manager, Connie Mack, "If everything depended on one game, I just used Albert – the greatest money pitcher of all time."
During his career, Bender won more than 200 games, pitched a no hitter, and won three World Series.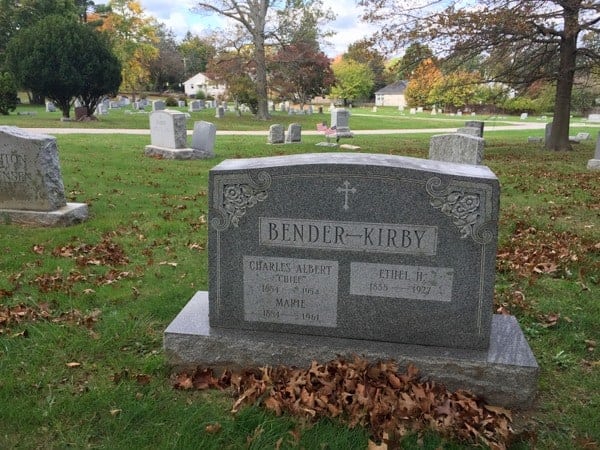 After the main portion of his career ended in 1917, Bender went on to become a manager in the minor leagues, at the Naval Academy, and for the White Sox. He spent the last years of his life as a coach and scout for the Philadelphia Athletics.
Bender died on May 22, 1954. He is buried in Hillside Cemetery in Roslyn, just north of Philadelphia. His grave can be found at roughly the following coordinates: 40.114947, -75.153444. It should be noted that at the time of my visit, the nearest gates to Bender's grave were not open to cars. However, a gate for pedestrians was open.
Richie Ashburn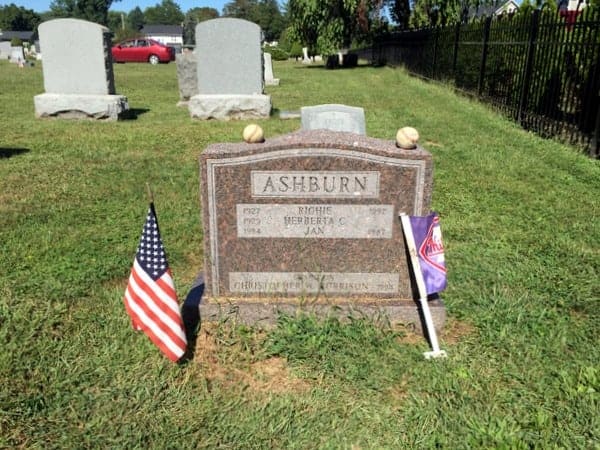 Richie Ashburn is one of the most well-known players in the history of the Philadelphia Phillies. Born in Nebraska in 1927, Ashburn spent 12 of his 15 Major League seasons in Philadelphia, finishing his career with stints in Chicago and New York.
During his career, Ashburn was elected to six all-star teams, won the National League batting title twice, and the National League stolen base title once. After his playing career in 1962, Ashburn became an announcer for the Phillies on TV and radio from 1963 until his death in 1997. He was elected to the Baseball Hall of Fame in 1995 by the Veterans Committee.
Ashburn is buried in Gladwyne Methodist Church Cemetery, a small cemetery located adjacent to the church.
Ashburn's grave doesn't significantly stand out from others in the cemetery, though there were baseballs sitting atop the tombstone when I visited. His grave is located in the cemetery's northwestern corner near the rear of the church. He is buried in the same plot with his daughter, Jan, who died in 1987. Richie Ashburn's grave can be found at the following coordinates: 40.035974, -75.279385.
Harry Wright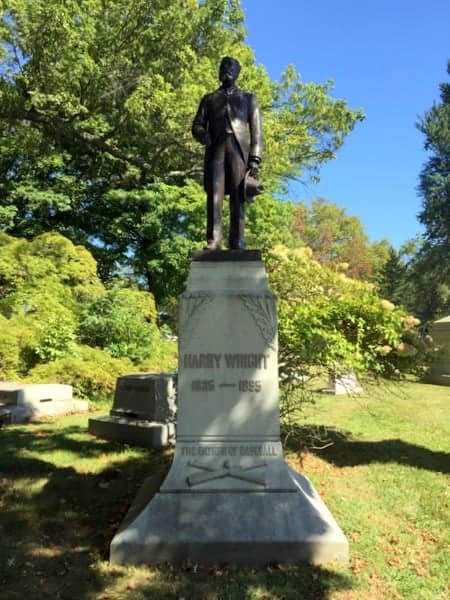 Harry Wright is not a name that is well-known today. However, his contributions to baseball can't be understated and he was known during his time as the "Father of Professional Baseball." Wright was born in England in 1835 to a professional cricket player. His family immigrated to the United States when he was three.
Wright played both baseball and cricket growing up in New York. In 1857, Wright joined the New York Knickerbockers, one of the first organized baseball clubs. He later moved to Gotham of New York before joining a team in Cincinnati in 1866.
In Cincinnati, Wright put together what many consider to be the first fully professional baseball team in 1869. One of the players was his brother, George, who is also a member of the Baseball Hall of Fame. (The Wrights are one of only two pairs of brothers in the Baseball Hall of Fame.)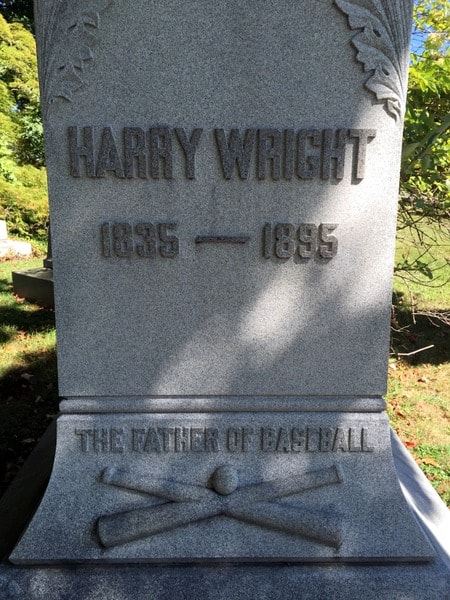 Wright would serve as a manager until 1893 in Cincinnati, Boston, Providence, and finally for the Philadelphia Quakers from 1884-1893. During his tenure as a manager, Wright is credited with creating the concepts of backing up plays and defensive shifts.
He was elected to the Baseball Hall of Fame in 1953 by the Veterans Committee.
Wright died in Atlantic City, New Jersey, in 1895 and is buried in West Laurel Hill Cemetery. His gravestone is quite grand with a larger-than-life statue of Wright standing atop the stone. His grave can be found at the following coordinates: 40.016501, -75.220379.
Harry Kalas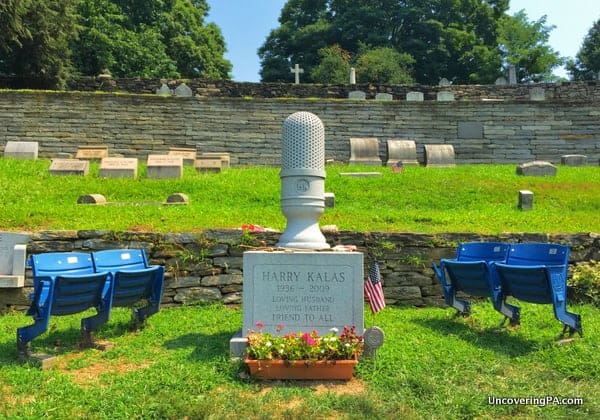 Harry Kalas might not be an official member of the Baseball Hall of Fame, however, he won the Ford C. Frick Award in 2002. This award is given by the Hall of Fame to honor a sportscaster and is the closest equivalent to induction into the Baseball Hall of Fame for sportscasters. Given his award and importance to the Philadelphia Phillies, I thought I would include him in this article.
Kalas was born in Illinois in 1936 and began calling minor league baseball games in Hawaii in 1961. He called games for the Houston Astros from 1965 until 1970. In 1971, he was hired by the Philadelphia Phillies and called games for the Phillies until his death in April 2009. He was the longtime broadcasting partner of Richie Ashburn.
Kalas is buried in Laurel Hill Cemetery. His gravestone is one of the most memorable I've ever come across. A microphone has been carved into marble above his grave and is flanked by two sets of seats from Veterans Stadium. At the base of the microphone, Kalas' signature has been carved into the stone. His grave can be found at the following coordinates: 40.003730, -75.189798.
George Davis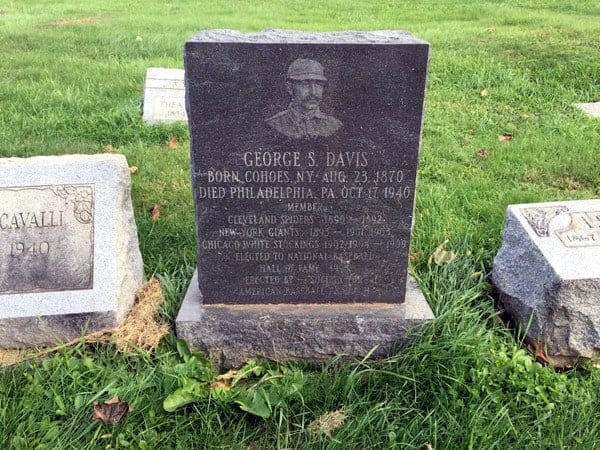 George Davis was born in New York in 1870 and played in the Major Leagues from 1890-1909. During his career, he played in Cleveland, New York, and Chicago. He also served as the player-manager for the New York Giants (then a baseball team) in 1895 and again from 1900-1901.
Davis played his career during the Dead-Ball Era, meaning that his offensive statistics don't stand up well to modern numbers. However, he was one of the offensive leaders at the turn of the 20th century.
Davis was elected to the Baseball Hall of Fame in 1998 by the Veterans Committee. His election was significantly helped by baseball statistician Bill James calling Davis the best baseball player not in the Hall of Fame in 1995.
In 1997, baseball researcher Frederick Ivor-Campbell said Davis was "the most neglected player of the 19th century. He's definitely the best eligible player not in the Hall, and he's a lot better than a lot of guys already in."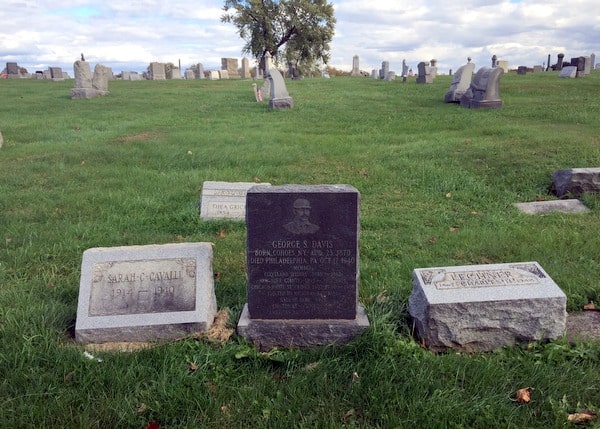 George Davis died in a Philadelphia mental institution in 1940. He is buried in Fernwood Cemetery in Upper Darby. His tombstone was replaced by the Society for American Baseball Research and features an etching of Davis along with information about his career. His grave can be found at the following coordinates: 39.944650, -75.252842.
Herb Pennock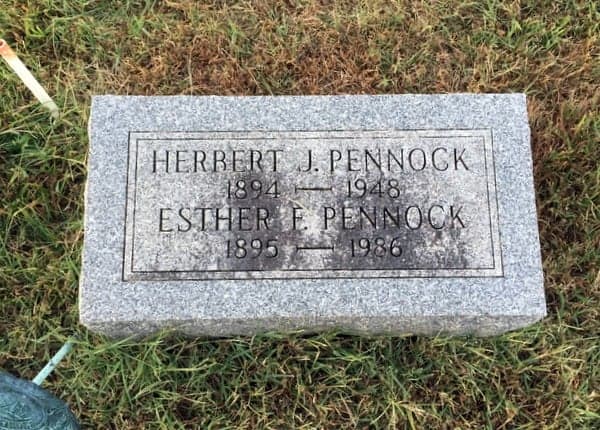 Herb Pennock was born in Kennett Square, Pennsylvania, in 1894. He was a star pitcher for some of the greatest New York Yankee teams in history. Pennock played baseball from 1912-1934 for the Philadelphia Athletics, Boston Red Sox, and New York Yankees. He won six World Series titles (two in Philadelphia and four in New York).
Regarded as one of the greatest left-handed pitchers in baseball history, Pennock was teammates with Babe Ruth and Lou Gehrig. After his career, Pennock served in the front office of the Philadelphia Phillies. His legacy is forever tarnished by his opposition to integration in baseball, and a statue that was to be built in Kennett Square was stopped over this issue.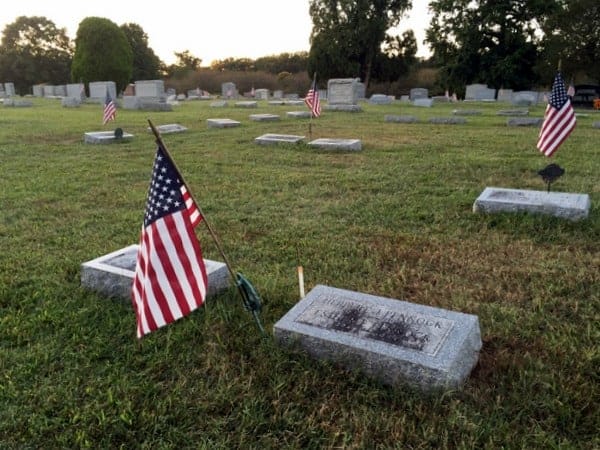 Pennock died in 1948 and is buried in Kennett Square's Union Hill Cemetery. His simple marker can be found at the following coordinates: 39.852605, -75.714915.
Looking for more baseball destinations in PA? Take a tour of PNC Park in Pittsburgh, see how bats are made a BWP Bats, or take in a game at the Little League World Series. You can also read my tips for visiting the Baseball Hall of Fame on my other site.
[Click here for information on how to use coordinates to find your destination.]
See map below for other area attractions.