Disclosure: This article may contain affiliate links. We will make a small commission from these links if you order something at no additional cost to you.
When it comes to museums in Lancaster County, PA, there are many great ones to choose from. However, if you're looking for something a bit unique and different, don't miss the fantastic American Military Edged Weaponry Museum in Intercourse.
The American Military Edged Weaponry Museum is the personal collection of Larry Thomas. Thomas has been collecting military knives since he was 13 years old in 1942. Thomas and his wife, Ann, opened the museum in the mid-1980s inside what was once the National Bank of Intercourse. The building was constructed in 1909 and still retains much of the look of a bank, including the old vault which now serves as the museum's office.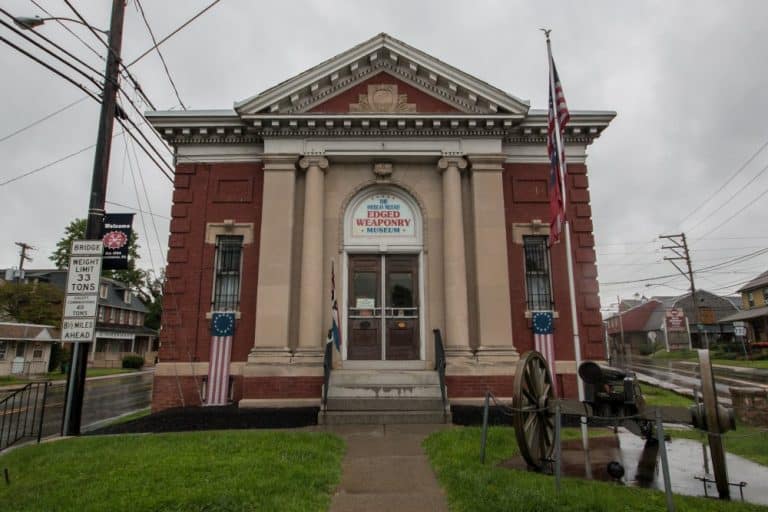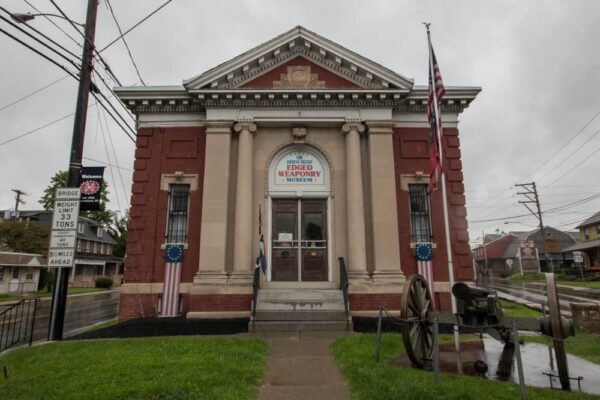 The museum features a collection of more than 3,000 items, making it the largest collection of its kind in the United States. The vast majority are edged weapons, such as knives, but there are other interesting pieces on display such as guns, unopened packs of military-issued cigarettes, and even a Mexican-American War-era cannon.
The knives and weapons on display were all used by the American military in every major war and conflict dating back to the French and Indian War. This provides a fascinating look at how edged weaponry has changed throughout the years.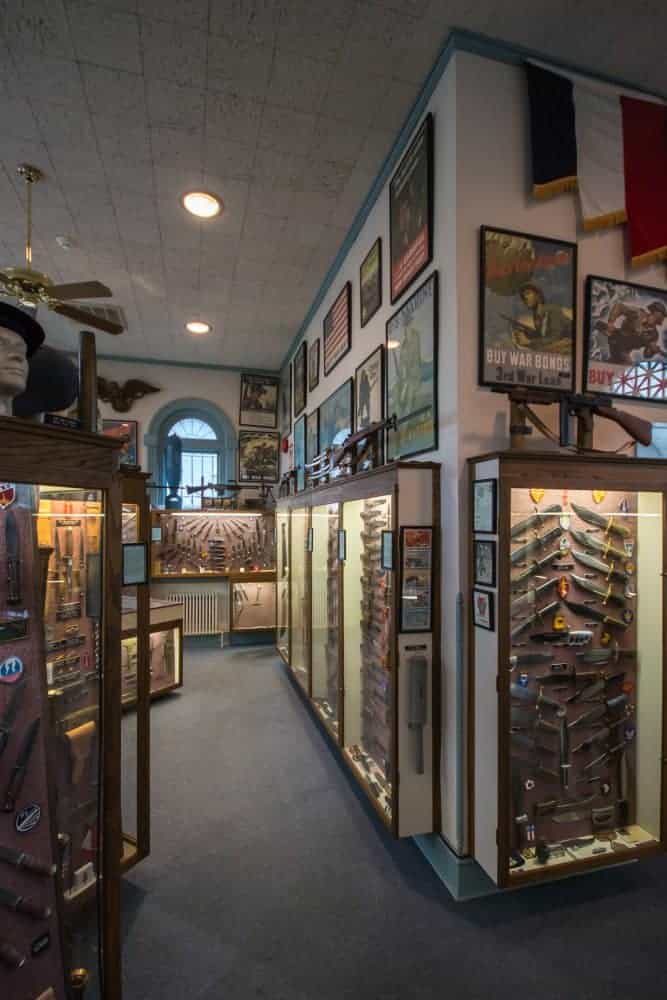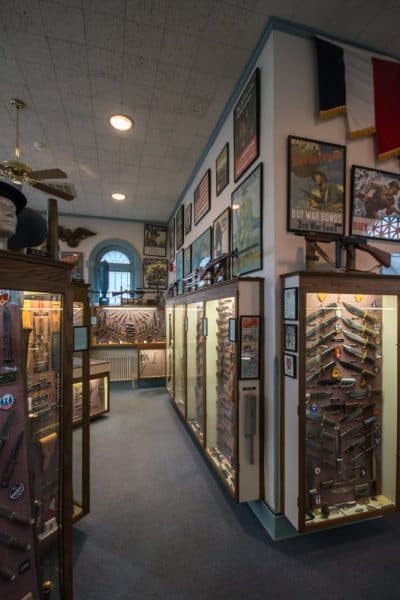 Many display cases showcase a number of similar items, but Thomas assured me that each one is unique in some way. In fact, you could even make a game of trying to distinguish the differences between some of the knives on display. That being said, it would have been nice for there to be a bit more signage explaining the history of the pieces on display to make the differences more obvious.
One of the areas of the museum that stood out to me was the case of secretive weapons developed by the Office of Strategic Services (OSS), the precursor to the CIA. In this case are weapons straight out of a James Bond film, except that they were actually used by those hidden behind enemy lines during World War 2. My favorite pieces in this collection were a group of coins that had hidden knives inside.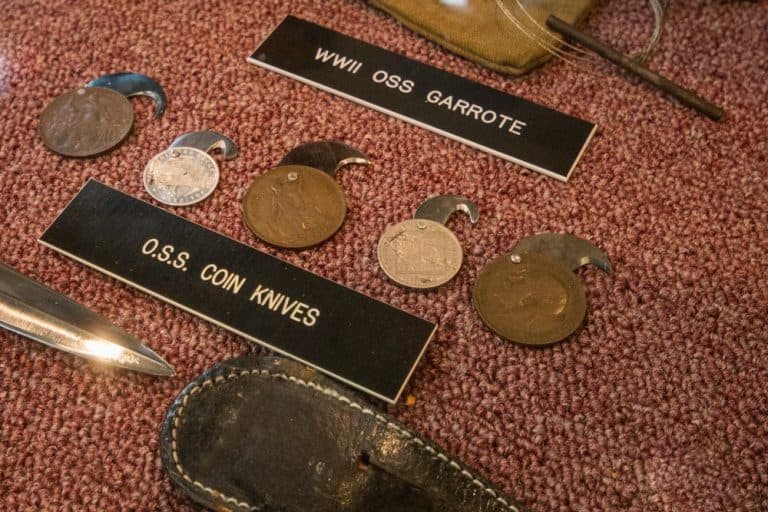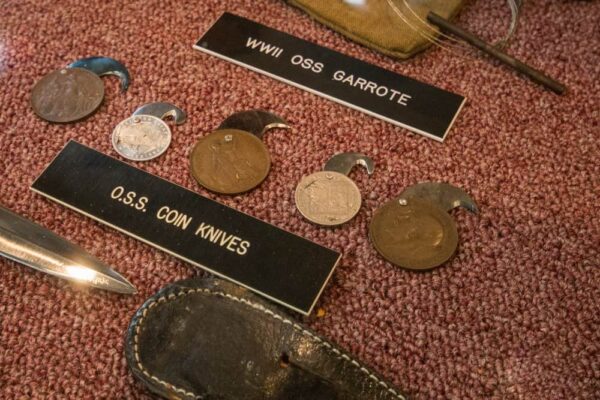 There were also a few especially interesting pieces from the Civil War. One was a sword that was once owned by Confederate Captain John S. Mosby. Mosby headed a group of soldiers known as Mosby's Raiders, a group that was known for their raids against Union soldiers behind enemy lines.
Also from the Civil War, the museum showcases a well-rusted knife that was recovered from a battlefield.
Overall, the American Museum of Edge Weaponry is one of the best military museums I've visited. While it might not cover the breadth of information you'll find at more general military museums like the Pennsylvania Military Museum or the Eldred World War II Museum, its unique focus offers a fascinating look at one aspect of American military history and how it has changed over the years.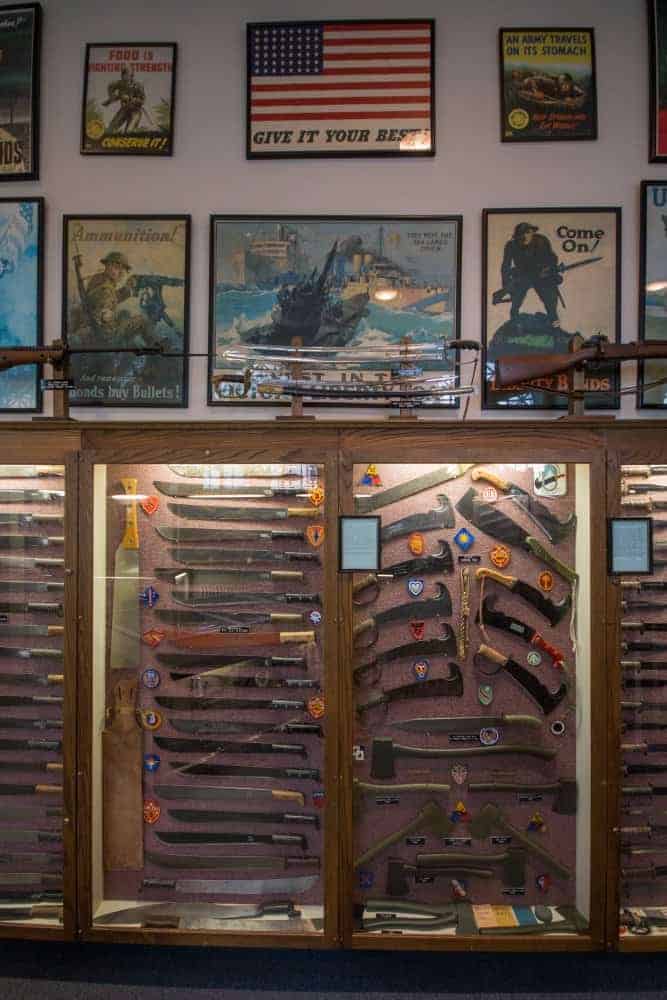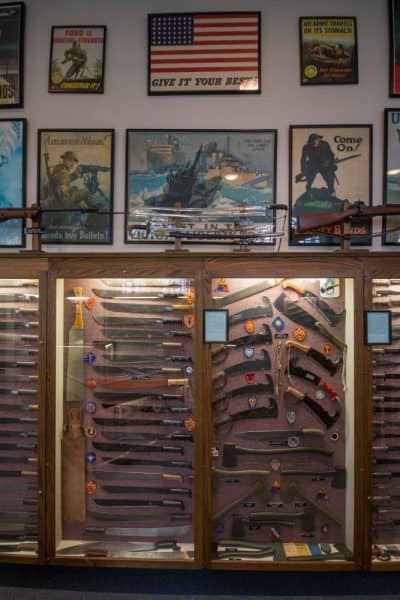 Having visited many museums in Pennsylvania that have been based on private collections, such as the Maridon Museum, Check's Radio Museum, and the Swigart Museum to name a few, I can say without a doubt that Larry Thomas' collection at the American Military Edged Weaponry Museum in Intercourse, Pennsylvania, is one of the best.
If you're fascinated by military history or just enjoy browsing unique and fascinating collections, don't miss this great museum in Lancaster County, PA.
Note: My visit to the American Military Edged Weaponry Museum was hosted by the site. However, the opinions expressed in this article are my own.
---
American Military Edged Weaponry Museum
Hours: Monday-Saturday: 10am-5pm
Closed December-April

**Temporarily closed

Cost: Adults: $5, Children: $2.50
Other tour options available.

Website: DiscoverLancaster.com

Address: 3562 Old Philadelphia Pike
Intercourse, PA 17534
See map below for other area attractions.