Disclosure: This article may contain affiliate links. We will make a small commission from these links if you order something at no additional cost to you.
This article is brought to you by Destination Gettysburg.
This won't come as a surprise to Gettysburg insiders, but as beautiful as the battlefield is, the true beauty of Adams County lies in the surrounding countryside. However, like many visitors and locals alike, despite visiting downtown Gettysburg on multiple occasions, I had never taken the opportunity to really explore the rest of the area.
To remedy this, I decided to take the 36-mile Scenic Valley Tour that's been put together by Destination Gettysburg. This tour took me through some of the most beautiful areas of western Adams County. My trip was full of beautiful valleys, full apple orchards, and interesting history, all told to me through the tour brochure.
During the trip, there are 29 markers that guide your way and point out interesting sights along the way.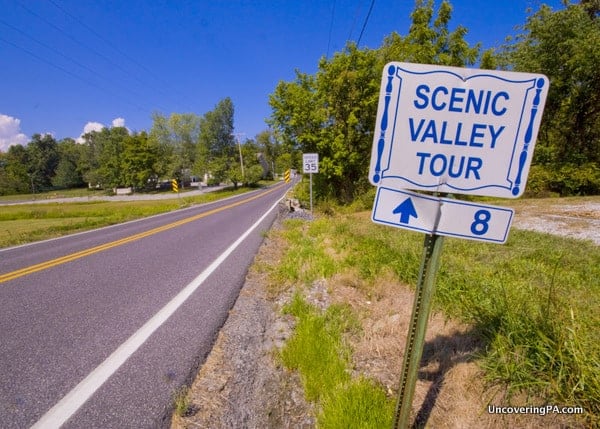 Leaving from downtown Gettysburg, I first passed Lutheran Theological Seminary.
In addition to being one of the oldest Lutheran Seminaries in the US, it was also a pivotal site on the first day of the battle and is home today to the Seminary Ridge Museum.
I continued along Seminary Ridge through the Gettysburg National Battlefield and passed many of the monuments and locations that I had explored many times in the past. However, since my tour was more about scenery than history, I found a new appreciation for the beauty of the area as I drove.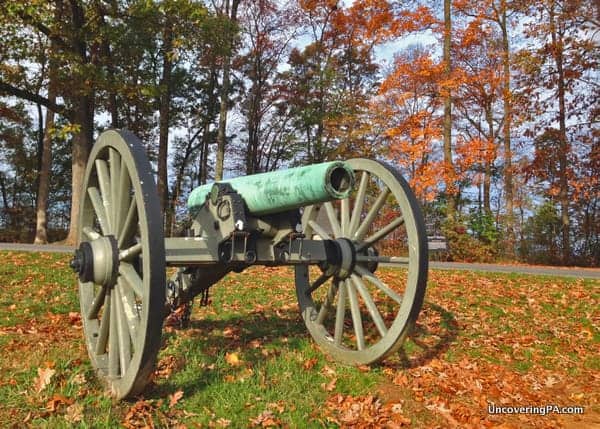 I quickly reached the outskirts of the battlefield and took a brief detour to see Sach's Covered Bridge. This bridge is one of two public covered bridges in Adams County and might be the most historically important bridge in the area. During the battle, this bridge was used by both the Union and Confederate armies, leaving an impact on the bridge that some say never left.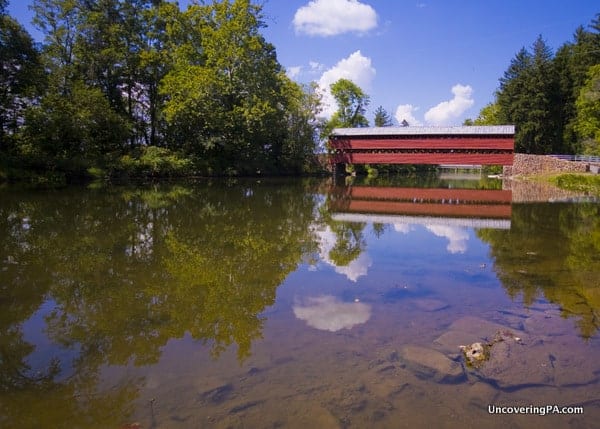 Once leaving the covered bridge, I was immediately immersed in Adams County's beautiful countryside. Away from the battlefield farmland, apple orchards, and rolling hills dominate the landscape. While this scenery is beautiful during any season, it is especially beautiful during autumn.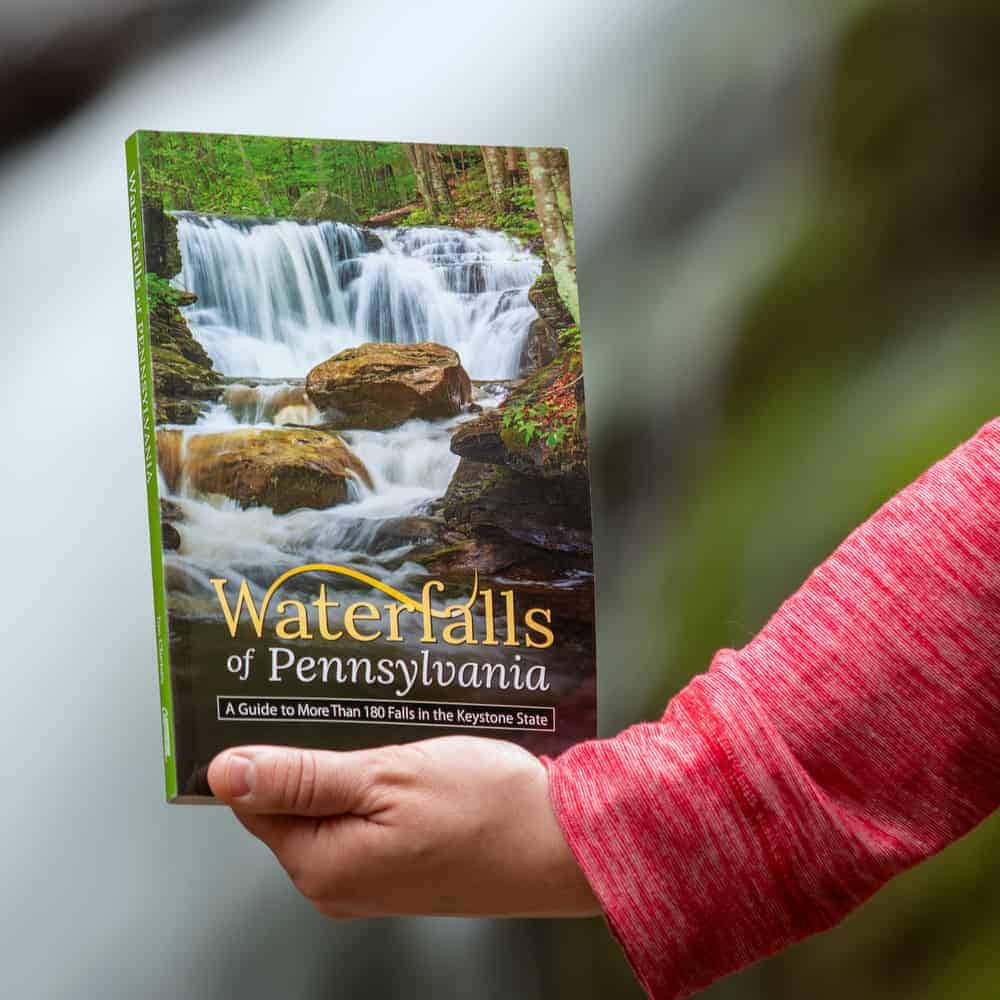 "Waterfalls of Pennsylvania" by Jim Cheney
If you love PA waterfalls, you won't want to miss this waterfall book from Jim Cheney, author of Uncovering PA, featuring more than 180 great waterfalls. Order it now on Bookshop.org or Amazon.
Not only does autumn bring beautiful colors to the many trees along the route, but it also brings apples to the region's many orchards. Northwestern Adams County is Apple Country and is the fourth largest apple producer in the country.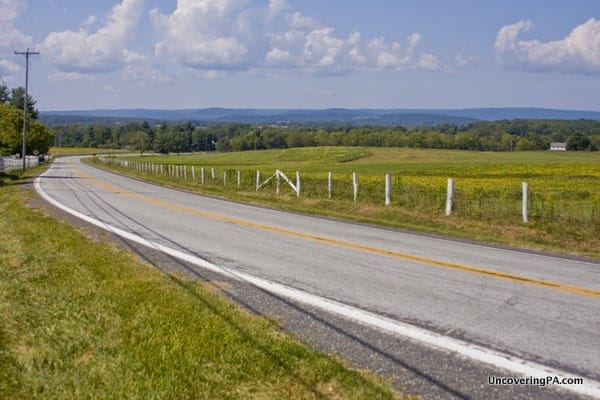 A ride along the Scenic Valley Trail in fall gives you a chance to stop at one of the many farm stands on and near the route to buy some of the region's amazing apples.
During my trip, I stopped at McDannell's Fruit Farm and Market and got to buy some delicious apples and apple cider. They also had a great selection of other fall items like pumpkins and Indian corn. Of course, you can't really go wrong with any of the farm stands along the tour route.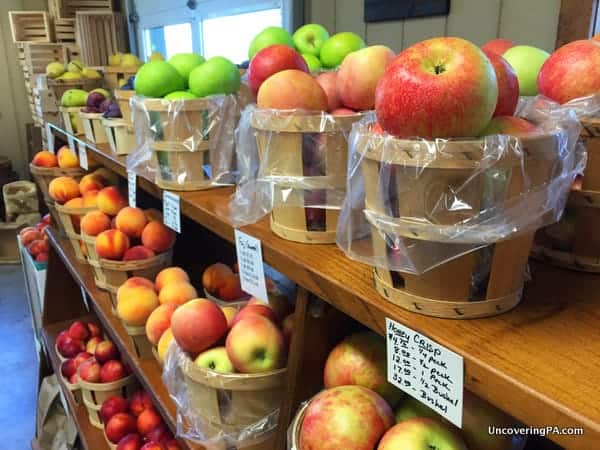 In addition to the beautiful scenery, I also learned a bit about the history of Adams County during my trip. For example, a trip along the route will give you the chance to learn the story of Mary Jemison.
Mary and her family were captured by a group of Frenchmen and Shawnee Indians in the late 1750s. All except for Mary and a small boy were killed by the Indians. Mary was adopted by the tribe and lived with them until her death in 1833. A small statue of Mary Jemison in native clothing sits outside of the beautiful St. Ignatius Loyola Church and is a worthwhile stop along the route.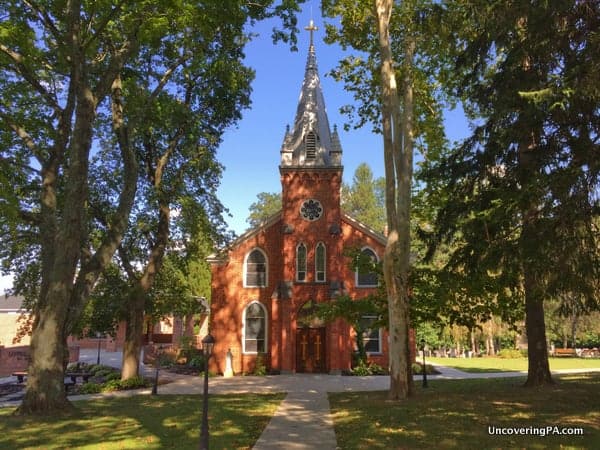 While the Scenic Valley Tour is only 36 miles long, there any many options to make the tour into an all-day, or even multiple-day, trip through the countryside of Adams County. With just a short detour, you can visit Mr. Ed's Elephant Museum, Gettysburg's Roundbarn, Jack's Mountain Covered Bridge, several wineries, and even a tavern George Washington slept in.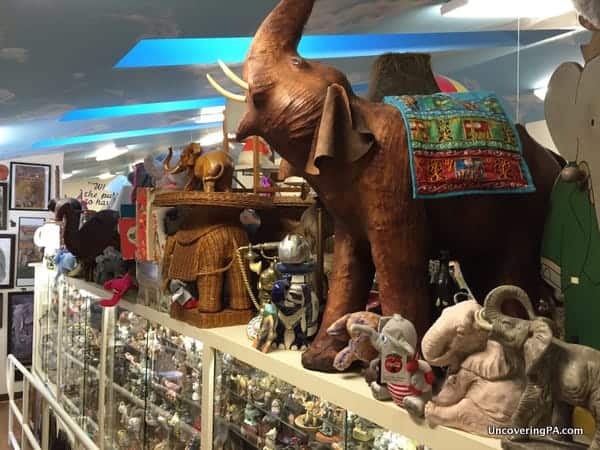 So, the next time you're in Gettysburg, make sure to save some time to get out of town and explore the beautiful scenery and amazing history of western Adams County along the Scenic Valley Tour.
To obtain your copy of the Scenic Valley Tour, visit the Destination Gettysburg Visitor Center or visit their website.
This article is brought to you by Destination Gettysburg.
Looking for more to do in the fall? Check out our top places to see fall colors in PA, our favorite fall foliage drives in PA, and our favorite of Pennsylvania's fall festivals.