Disclosure: This article may contain affiliate links. We will make a small commission from these links if you order something at no additional cost to you.
This is a guest post from Susan Bonser of the Adams County Journal.
Adams County, Pennsylvania, is known as an outstanding tourism destination. You'll find magazines, brochures, and pamphlets promoting things to do, restaurants, entertainment, special events, shopping, vineyards, orchards, ghosts, history, tours of all kinds, and more.
You can spend a lot of money having fun in Adams County, but did you know there are many really fun, meaningful, and memorable things you can do here that are absolutely free? Here are 10 of the best free things to do in Gettysburg, PA and the rest of Adams County, during the spring and summer:
Gettysburg National Military Park
Gettysburg National Military Park is the biggest source of free things to do in Gettysburg, and summer is the most active season here. Free battlefield walks and programs take place almost every day.
If you have a choice, the most entertaining ranger is Matt Atkinson and Troy Harman has the best presentation. Check out the Gettysburg National Military Park's YouTube page for past presentations to find your favorite park rangers before you go.
Visiting Gettysburg National Military Park is also a great way to get outdoors, learn something new, and do something with the kids. Bicycles and pets are welcome in the park.
You can take photos and videos to share or just recall the experience later. Special challenges are available for kids: a five-part patch for Boy Scouts and a Junior Ranger patch that is open to all. There is also a nighttime weekly campfire program that the whole family can enjoy.
Start at the "Things To Do" page, and check out the "Schedule of Events," "Ranger Programs," and "Summer Ranger Programs" links. There is free parking, but be advised it gets busy in the summer. When the lots are full, you can park in the overflow areas and take the free trolley to the park.
Find Peace, Quiet, and Beauty at Long Pine Run Reservoir in Michaux State Forest
Michaux State Forest is a designated recreation area with parking and boat launch for non-motorized craft. Long Pine Run Reservoir is a beautiful place to kayak or canoe. Not a boater? Walk the trails around the lake. Fishing is allowed for free for those with a Pennsylvania fishing license.
See the Historic Round Barn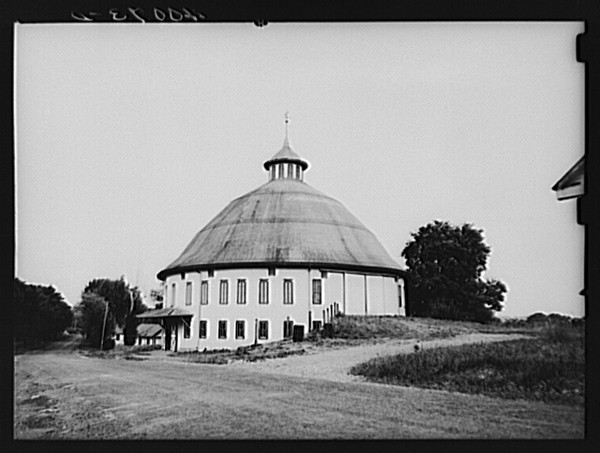 Take a drive through apple and peach orchard country. In the spring you'll see beautiful blossoms on the trees, in the summer, fruit, and in the fall, the harvest. You will pass vineyards and farmed fields. Stop and see the Historic Round Barn, one of only a handful of true round barns surviving today.
Inside you will see local produce for sale and often they have programs of music or other local events going on. Outside you will often find farm animals.
The Round Barn is located at 298 Cashtown Road, Biglerville, PA, just off Route 30. More information can be found on their website.
Visit a Free Museum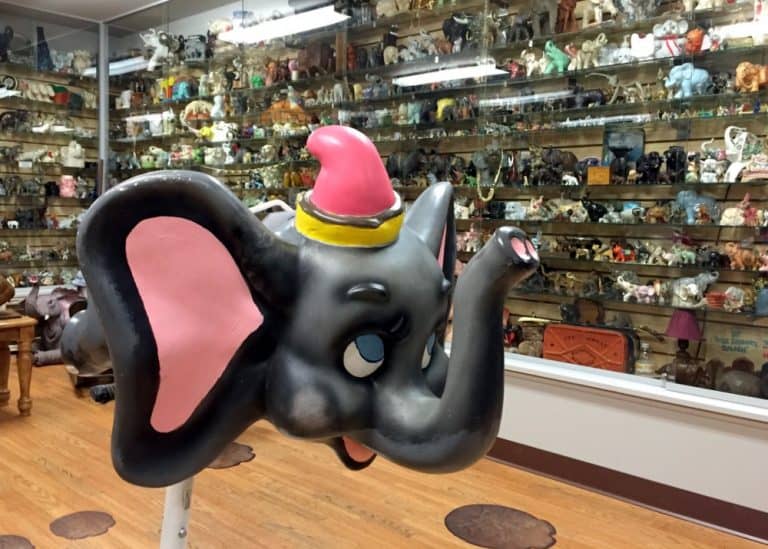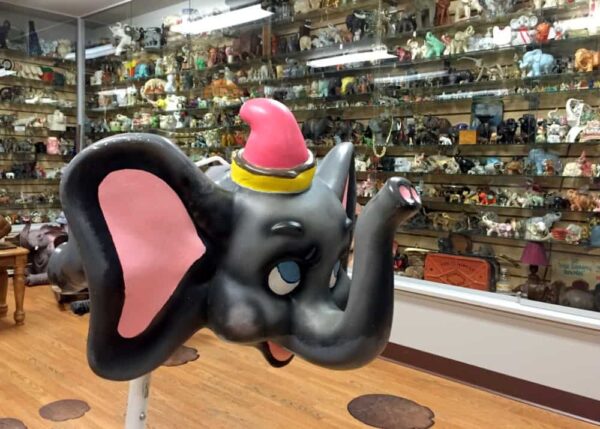 Two of these venues are really stores, but they have created extensive exhibits that are free to view and you might find interesting.
First, an odd and unique local attraction and family business is Mr. Ed's Elephant Museum. He has more than 12,000 elephant figurines and gardens with fish ponds for a little walkthrough. Of course, the nearby fudge, roasted peanuts, and candies are for sale, but exploring the museum and gardens are free-of-charge.
Second, the Gettysburg Museum of History, as seen on American Pickers and Pawn Stars, encourages visitors to browse their collection of over 4,000 Civil War relics, exhibits and more.
Third, if you like antique fire equipment, the Gettysburg Fire Department Museum at 35 North Stratton Street in Gettysburg is part of the working fire department operated by its members on the north side of the fire station.
(Check out our picks for the best free museums in Pennsylvania!)
Stop for a Picnic
The best picnic area within the Gettysburg National Park is in the woods on South Confederate Avenue. (Open fires are not allowed at park picnic sites.)
Families are also welcome to use the Gettysburg Area Recreation Park grounds to picnic for free. However, if the picnic involves a large number of people (party, reunion, etc.), they must rent the facilities to cover the cost of cleanup.
Take Your Own Fantastic Postcard Photo
Adams County is full of great photo ops. Here are just two ideas for outstanding photos.
Covered Bridges near Gettysburg: Sachs Covered Bridge was built in 1852 and is on the National Register of Historic Places. It spans Marsh Creek on Waterworks Road in Gettysburg. Jack's Mountain Covered Bridge on Jack's Mountain Road in Fairfield was built in 1894. It spans Tom's Creek and is an example of Burr truss construction.
Best Sunsets: The best sunset spot in Adams County can be found at Little Round Top on the battlefield. For people tired of the General Gouverneur Warren statue, our next favorite sunset spot on the battlefield is at Oak Ridge.
For elevated views, the observation tower at Culps Hill offers a spectacular panoramic view. All of the battlefield locations are easy to park and access the photo spots.
Stroll a Historic Small Town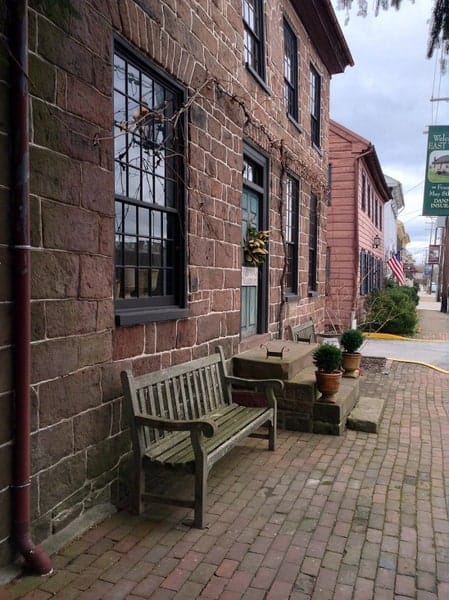 If you have already walked the streets of Gettysburg, there are three more beautiful and historic towns in Adams County that offer self-guided maps to create your custom tour.
East Berlin was founded in 1764 and the main street is on the National Register of Historic Places. Park anywhere on West King Street and begin your stroll. Many of the houses are preserved and the doorways and gardens visible from the street and alleys are charming.
In addition to private restored homes, five structures are maintained by the local historical society and may be open to visitors or have programs going on at the time you choose to be there. The Historical Society locates and describes their own structures on their website. Visitors were overheard to say it reminded them of Williamsburg.
New Oxford, also known as the "Antiques Capital of South Central Pennsylvania" offers a free self-guided walking tour through town. If you've ever driven by on your way to Gettysburg and thought the town and architecture interesting, park for free and take this 60-minute tour.
Take a Scenic Drive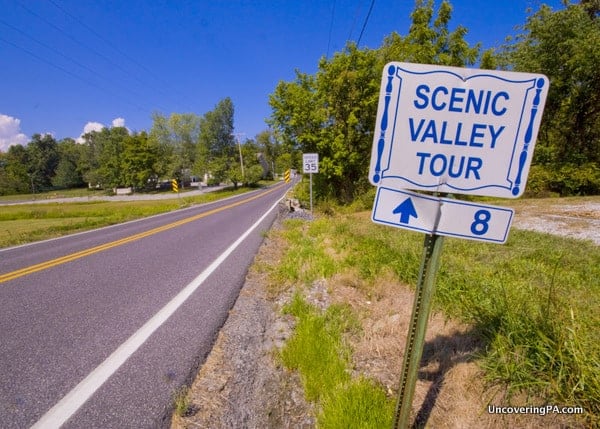 The Gettysburg Visitor Center has prepared two maps and directions for self-guided tours of beautiful Adams County towns and the countryside.
The Scenic Valley Tour takes you through fruit orchards set among beautiful farms. You will find signs on the roads to help guide you. Bring your camera; take your time. This is a gorgeous drive any time of the year!
The Historic Conewago Valley Tour takes you from Gettysburg through the historic and architecturally very different New Oxford and East Berlin as well as beautiful Adams County farmlands.
Visit The Christmas Haus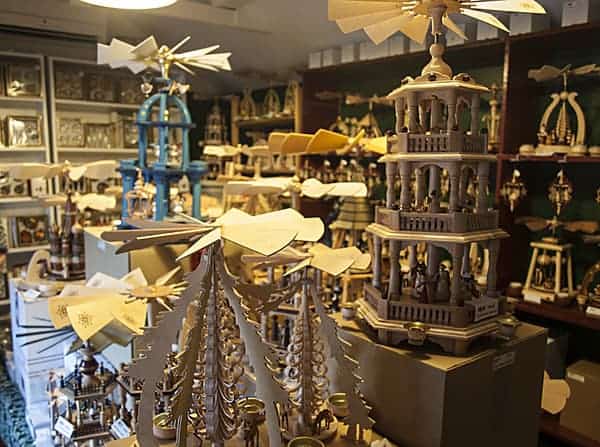 The Christmas Haus in New Oxford has several buildings full of traditional glass ornaments, wooden trees, incense smokers, and old-world decorations. Open year-round, there is easy parking on site.
While it is a store, there is no pressure to buy and you can enjoy walking throughout the complex. For more information, check out their website or a full review of The Christmas Haus on UncoveringPA.
Visit an Auction
If you find antiques interesting, see the treasures of Adams County, Pennsylvania's past on the block at local auctions. Visit on preview day and you won't even be tempted to bid, but visit on auction day and we can't guarantee it will be a free trip.
Antique lovers can also stop in the antique barns on Route 30 between New Oxford and Gettysburg to take a trip back in time.
Do you have a favorite free thing to do in Gettysburg and the rest of Adams County, Pennsylvania? Let us know in the comment section below!
Looking for more free things to do in the regions? Check out our lists of great free things to do in Harrisburg and in Lancaster.
Photo at the top of the article by Susan and David Bonser.
See map for other area attractions.