Disclosure: This article may contain affiliate links. We will make a small commission from these links if you order something at no additional cost to you.
Ever since I was a kid, I've been a huge fan of zoos. While it obviously can't compete with seeing these animals in their native environments, it's a great opportunity to see a wide variety of animals at a significantly lower cost than your typical African safari. So, when I had the opportunity to visit the Philadelphia Zoo, I jumped at the chance to explore the park.
The Philadelphia Zoo is actually the oldest zoological park in America. The zoo was slated to open in 1859, but it was delayed for 15 years because of the Civil War. Finally, the zoo opened in 1874 with 1,000 animals, not too many fewer than they have today.
Over 140 years later, the Philadelphia Zoo still welcomes millions of visitors a year, and this fall, I joined them for my first visit to Philly's zoo.
My first impression of the zoo was that it was nicely laid out, with reasonably sized enclosures for the animals. It does have a bit of an urban feel to it, most likely because of the close proximity to roads and railroad tracks, but that doesn't distract much from the overall experience.
In that regard, the zoo is quite good. Aside from the surprising lack of elephants, the zoo features most of the animals that you would expect to find at a large American zoo. Animals like giraffes, gorillas, and big cats, roam their enclosures or simply lay around enjoying the day.
In many ways, the zoo isn't that different from zoos in most large American cities, such as the zoo in Pittsburgh. However, it does have one very unique feature that makes the zoo a great stop: Zoo360.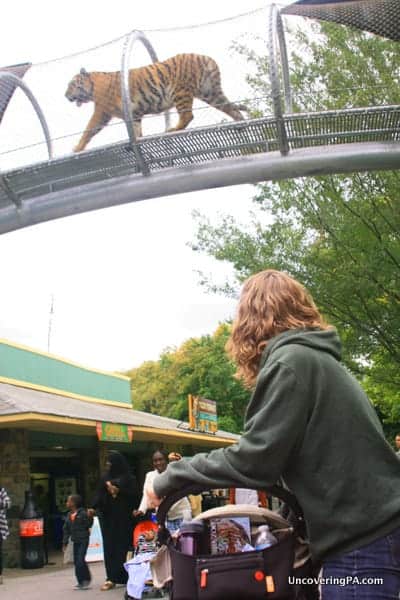 Consisting of three trails, Zoo360 allows some of the zoo's most popular animals the ability to explore outside of their regular cages. Two of these aerial, mesh enclosures allow monkeys and apes the ability to cross over your head while exploring a bit more of the zoo. My favorite, though, was the big cat crossing.
On the day I visited, I had the chance to see several tigers crossing the enclosure 15 feet above my head. It was very cool to see these beautiful animals up close and to get a unique vantage point of these majestic creatures.
Overall, the Philadelphia Zoo is a really enjoyable place to visit. It might not be as amazing, or as inexpensive, as the National Zoo in Washington, DC, but it's still a great place to visit in Philly with kids. It's really the Zoo360 that sets the zoo apart and is the reason I would visit again (even if I'm without a press pass the next time).
(Experience the zoo during the holiday season during their LumiNature event from mid-November through early January.)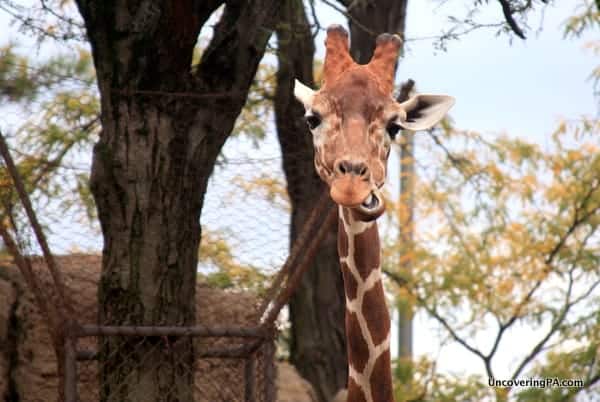 Insider's Parking Tip
If you're cheap like me, $16 to park is a bit pricey. However, there is an alternative if you are willing to be a bit adventurous.
Located just a block further from the zoo than the main parking area, is a residential part of town with no visible parking restrictions or meters. This area may be a bit sketchy for some, and I would recommend hiding any valuables and returning to your car before dark. However, if you are willing to take the risk and don't mind walking an extra block, you can park for free.
To find this area, head to the intersection of North 38th Street and West Cambridge Street using this address: 1101 North 38th Street, Philadelphia, PA 19104.
Note: My visit to the Philadelphia Zoo was hosted by Visit Philly. However, the opinions expressed in this article are my own.
Looking for more things to do in Fairmount Park? Check out Smith Memorial Playground, the Please Touch Museum, Shofuso Japanese Garden, and Wissahickon Gorge.
You can also live-stream the penguin enclosure at the zoo to watch these playful animals every day.
---
Philadelphia Zoo
Hours: Daily: 9:30am-5pm
Winter Hours: Thursday-Sunday: 9:30am-3pm

Closed January 9, 2023-February 1, 2023

Cost: Adults & Children 2+: $16

Children under 2: Free

Parking: $17

Website: PhiladelphiaZoo.org

Address: 3400 W Girard Ave
Philadelphia, PA 19104
See map for other area attractions.
---