Disclosure: This article may contain affiliate links. We will make a small commission from these links if you order something at no additional cost to you.
Lancaster is a great destination throughout the year, but Christmas in Lancaster, PA is really something special to enjoy.
No matter if you're looking for music, shopping, displays, or generally festive atmospheres, Lancaster County has got you covered. Below we've pulled out some of our favorites for this Christmas season.
Scroll down to see what festive spots you can visit both in and around Lancaster this holiday season.
(All dates are for the 2021 holiday season)
Weekend Winter Wonderland
Typically, there is a Christmas tree lighting ceremony in downtown Lancaster on the weekend after Thanksgiving. In 2022, the tree lighting is scheduled for November 25.
They will also be hosting weekend events so come and see Santa riding through Lancaster, enjoy great shopping downtown, see beautiful lights, and more.
You can see a full list of events on the city's website.
A Longwood Christmas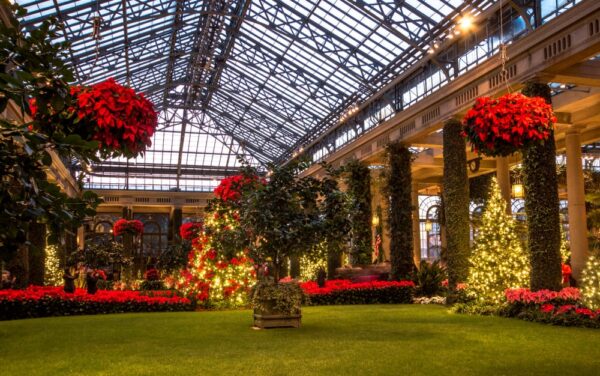 As we can attest, Longwood Gardens is a breathtaking destination at any time of year. But this destination takes the beauty up a notch for the Christmas season, on display from November 18 to January 8.
Wreaths, trees, and ornaments deck out the Conservatory, Christmas music brings the water fountains to life, and thousands of lights round out the festive atmosphere.
For more information about visiting during the holiday season, check out our article about visiting Longwood Garden at Christmas.
Christmas Spirit Light Show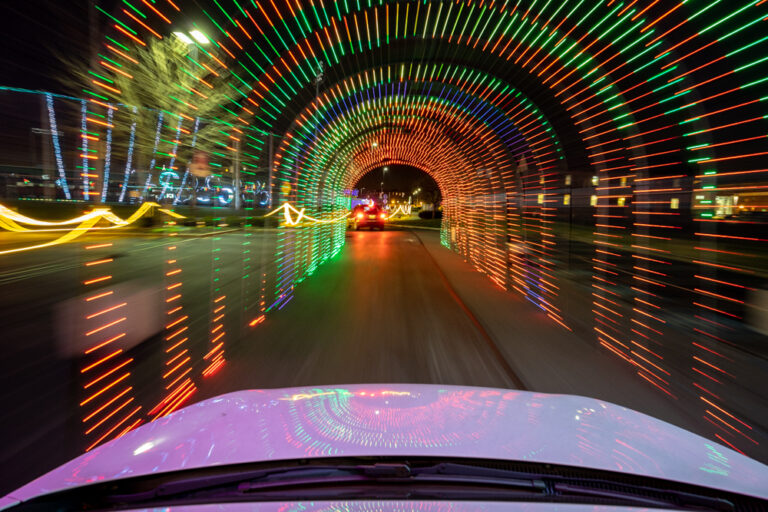 While Clipper Magazine Stadium, the home of the Lancaster Barnstormers, is typically known for its summer fun, this holiday season, it is home to the Christmas Spirit Light Show.
This Pennsylvania drive-through light display features hundreds of thousands of colorful and changing lights that showcase many whimsical and festive scenes. There will also be great Christmas music to accompany the show.
Kitchen Kettle Village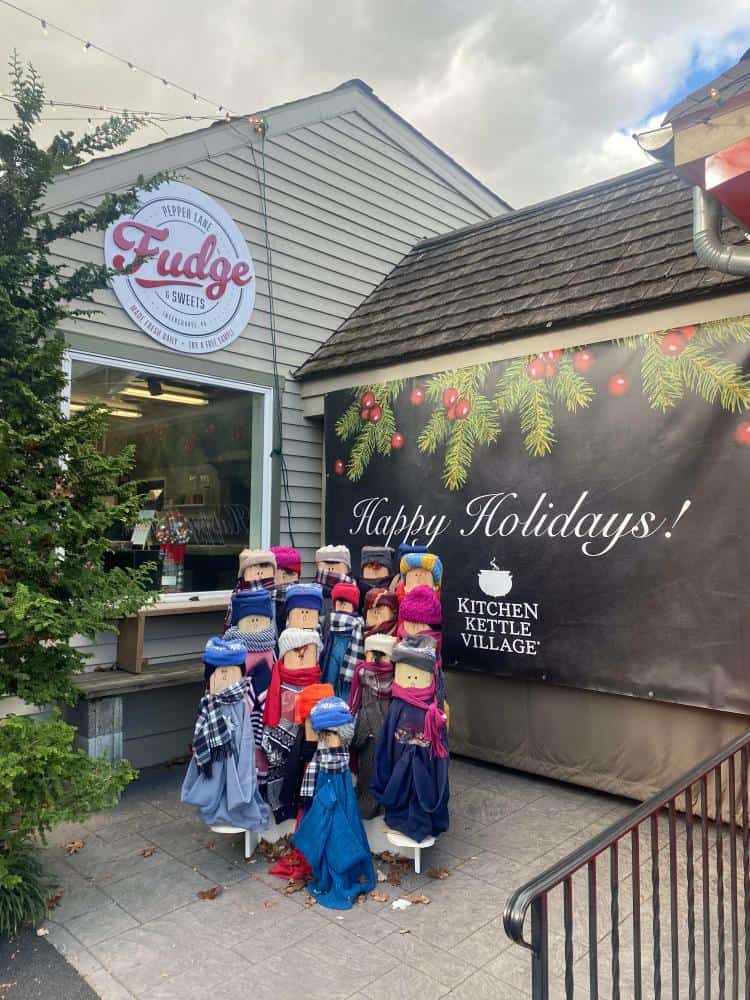 After Thanksgiving, another great spot to enjoy Christmas in Lancaster, PA is Kitchen Kettle Village. Brave the brisk weather while dashing between shops. Warm up while roasting a marshmallow over an open fire. Visit on a Saturday to listen to carolers.
Head out later in the evening to enjoy the twinkling lights. Even after the Christmas season passes, Kitchen Kettle Village is one of many free destinations in Lancaster County.
Visit the Kitchen Kettle Village's website for more information about this winter wonderland.
Hersheypark Christmas Candylane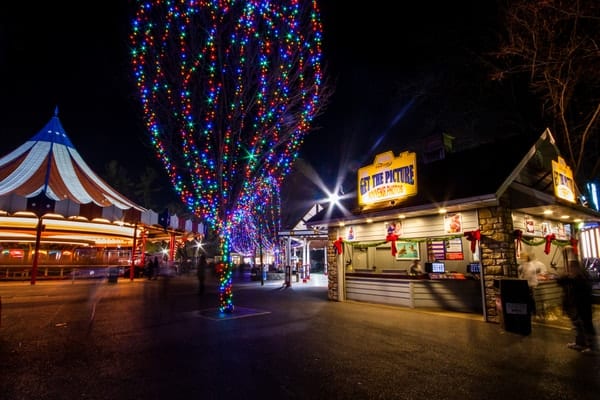 Hershey, PA is best known for its amusement parks and sweet treats, and the two come together for Hersheypark's Christmas Candylane. Choreographed lights shows, holiday rides, and Santa and his reindeer pay a visit to Chocolate Town USA.
Hershey is also home to the very festive Hershey Sweet Lights.
Hersheypark Christmas Candylane runs from mid-November through New Year's Day and is great for those looking for festive thrills this holiday season.
Herr Foods Lights Display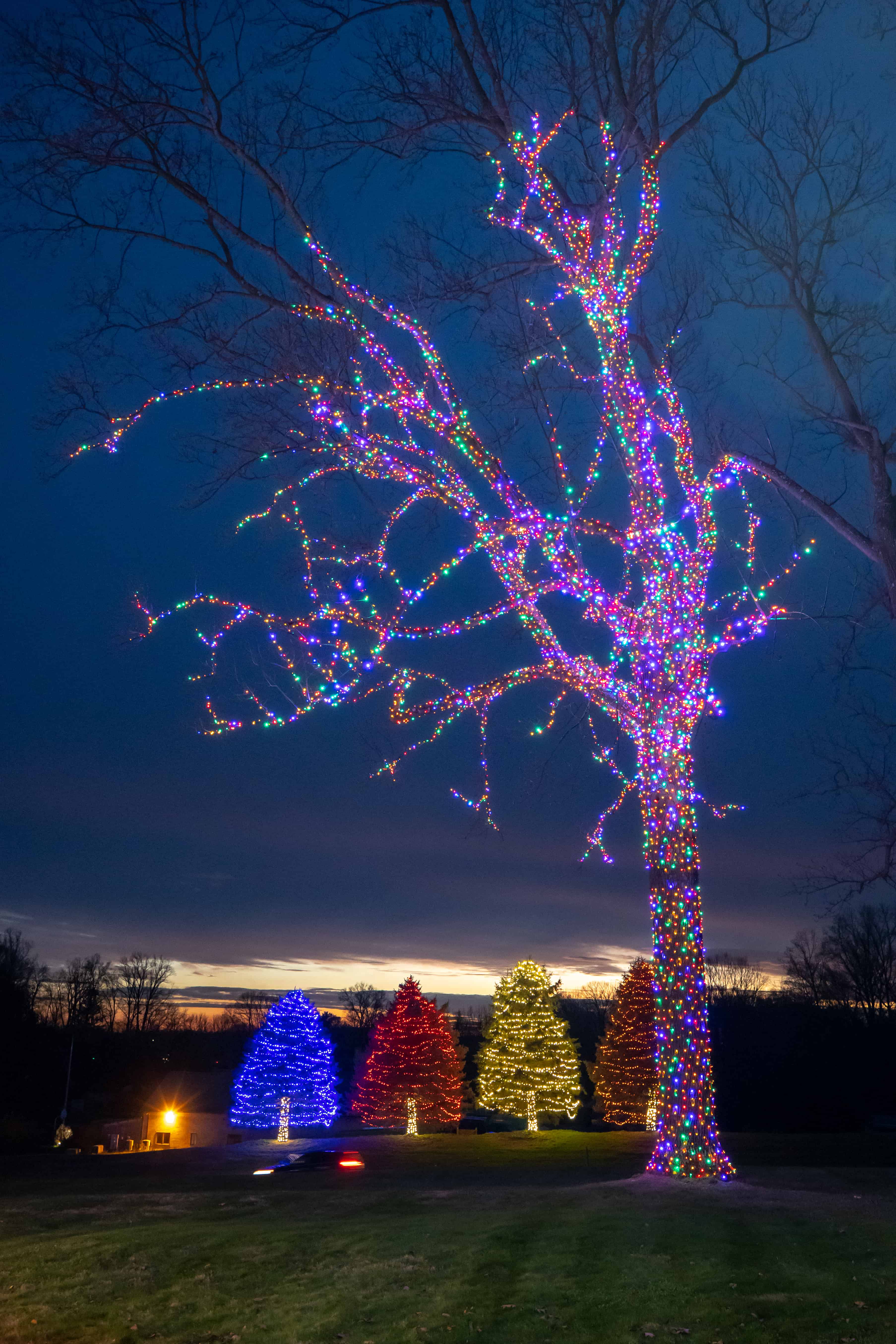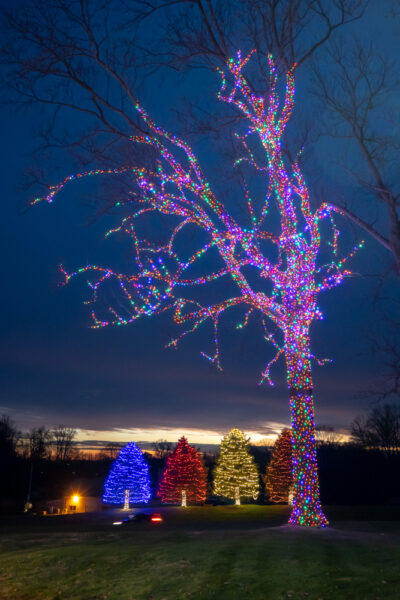 The annual lights display at Herr Foods factory in Nottingham, PA may be little known, but it is spectacular. From Thanksgiving Eve to New Year's Eve, I always look forward to gathering a group of friends and paying a visit to the factory. The drive-thru display features thousands of colorful lights and is open to visitors all night long.
If you're interested in visiting the Nottingham factory at other times of the year, check out UncoveringPA's review of the Herr's Snack Factory Tour. (Note: Due to current restrictions, tours must be booked in advance.)
Choo Choo Barn Christmas Display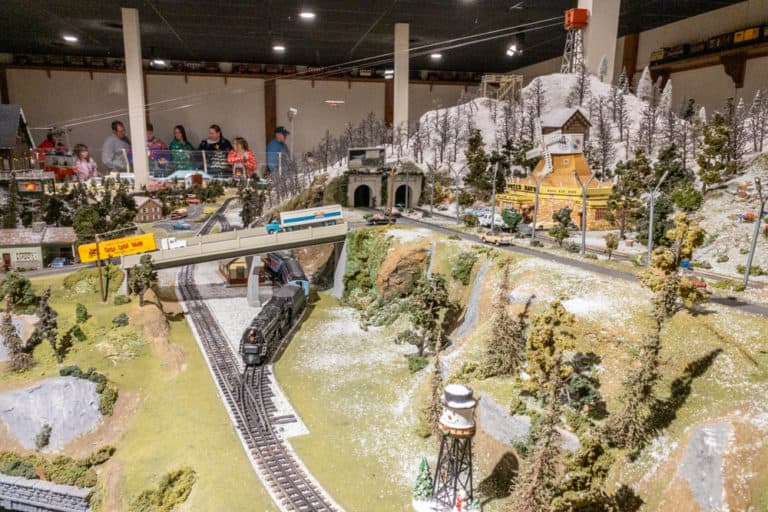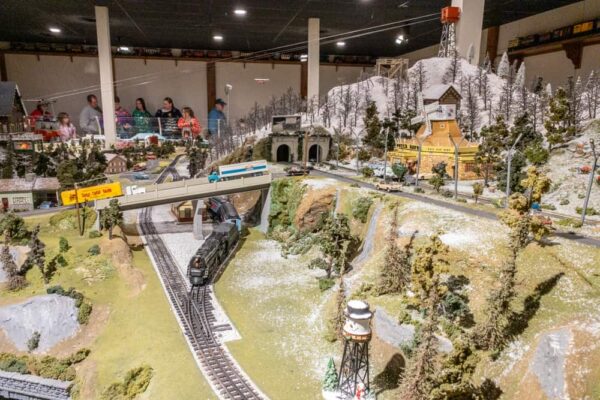 With hand-built figures and fully operating model trains, the Choo Choo Barn in Strasburg is a sight to behold. And for the past seven years, the Groff family has transformed Traintown into a winter wonderland.
Typically, the Choo Choo Barn sets up a fun holiday display each November and December to celebrate Christmas in Lancaster County.
For more information, check out our review of the Choo Choo Barn in Strasburg.
Koziar's Christmas Village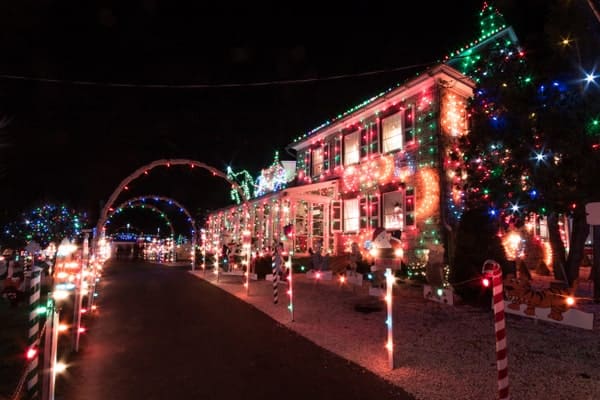 With over a million lights spread across an entire town, Koziar's Christmas Village may be the ultimate Christmas destination in Pennsylvania. Now in its 75th season, the Christmas village is still run by the Koziar family. Walk through a variety of displays and destinations including an outdoor model train, giant Santa Claus, kissing bridge, and snack shoppe.
After Thanksgiving, the village is open to visitors every evening of the week, with a little lighter crowds and a little more peaceful atmosphere Monday through Thursday.
Check out UncoveringPA's review of Koziar's Christmas Village for more information about this seasonal destination.
Strasburg Railroad Christmas Rides
Catch a ride on The Night Before Christmas Train, Christmas Tree Train, or Santa's Paradise Express. The historic Strasburg Railroad offers special holiday-themed rides on select days after Thanksgiving.
Anticipate the coming of Christmas, handpick and transport a Douglas Fir tree, see a show, or hang out with Santa.
To reserve your ticket on one of these themed train rides, go to the Strasburg Railroad's website.
Do you have a favorite thing to do during Christmas in Lancaster? Let us know in the comments below.
If you're willing to go on a little bit of a road trip, check out these 10 things to do in Hershey, Harrisburg, and the surrounding area this Christmas. Looking for even more things to do this holiday season? Check out our top Christmasy things to do in Pennsylvania, the most festive towns in PA, our top picks for Christmas events in Philadelphia, the best Christmas lights in Pittsburgh, and the best things to do in Bethlehem, Pennsylvania, at Christmas.
Article updated November 2022 to reflect the 2022 holiday season.