Disclosure: This article may contain affiliate links. We will make a small commission from these links if you order something at no additional cost to you.
The Great Allegheny Passage (GAP) is a 150-mile rail trail that stretches from Cumberland, Maryland to Pittsburgh, Pennsylvania. Having biked the entire route, I can say that, without question, the most beautiful portion of this trip stretches from Confluence to Connellsville in PA's Fayette County.
A large part of this beauty is the many waterfalls along this portion of the trail, most notably Great Passage Falls.
Great Passage Fall is a somewhat seasonal waterfall located just a few miles south of Connellsville, PA. While there are many great waterfalls in Ohiopyle State Park near the trail, such as Ohiopyle Falls and Cucumber Falls, Great Passage Falls is the most impressive waterfall that sits directly alongside the trail.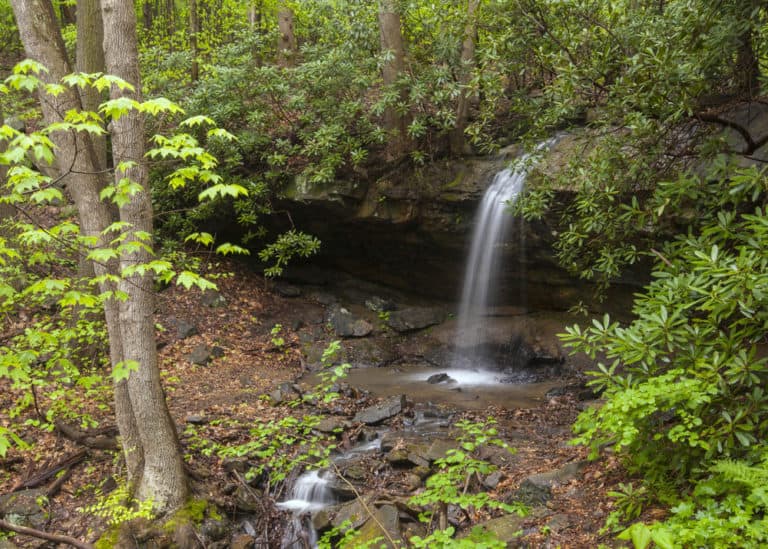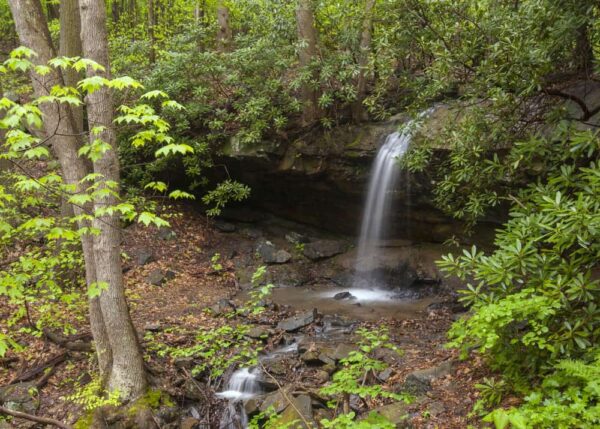 Great Passage Falls is a 12-15 foot plunge waterfall on a seemingly unnamed creek. It's possible that this waterfall runs very low for a good portion of the year, so I'd definitely recommend checking it out in the springtime or when water levels in the area are high.
I actually spent a bit of time trying to hunt down whether this stream has a name and/or if the waterfall is locally known by a specific name. Since it doesn't appear that there is a name for either the stream or the waterfall, I've decided to dub it Great Passage Falls after the GAP Trail that runs next to it.
The waterfall is located about 100 feet off of the trail but is easily visible from it because the area around the waterfall is quite open.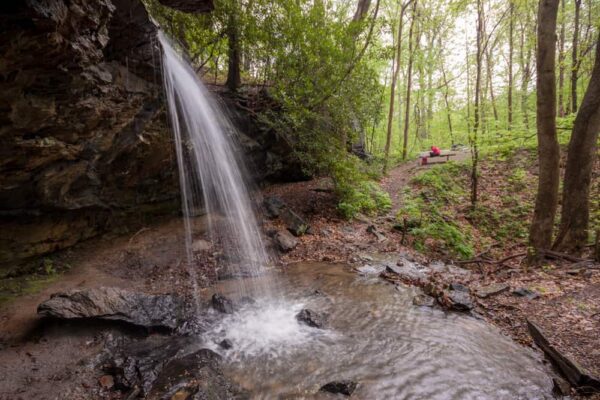 Directly along the trail, there is a nice bench where you can stop for a bit and enjoy the waterfall without having to leave the main trail. However, for those that want to take a closer look, there is a well-worn path that heads straight to the waterfall.
Part of what makes this such a great spot is that the water plunges off of a rock overhang. That makes this one of the few waterfalls in Pennsylvania that you can go behind. Of course, if you opt to do that, use caution as the area behind and below the waterfall is quite slippery.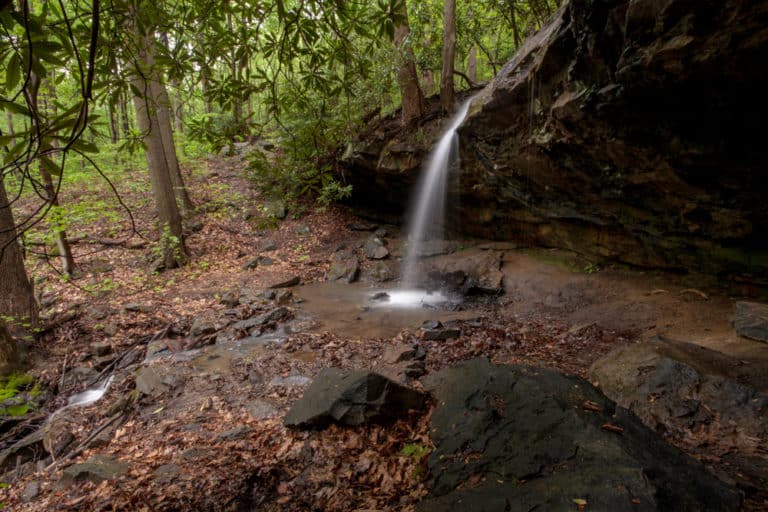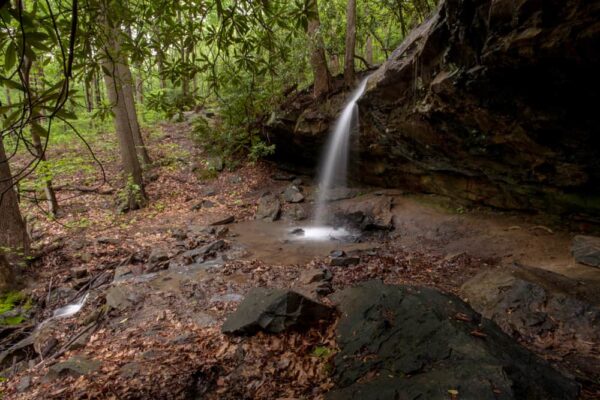 Without a doubt, this is a spot that is well worth taking the time to see. Whether you are biking the entire Great Allegheny Passage, doing an excursion from Ohiopyle State Park, or simply going straight to this waterfall, you definitely won't be disappointed (assuming you go when water levels are high).
How to Get to Great Passage Falls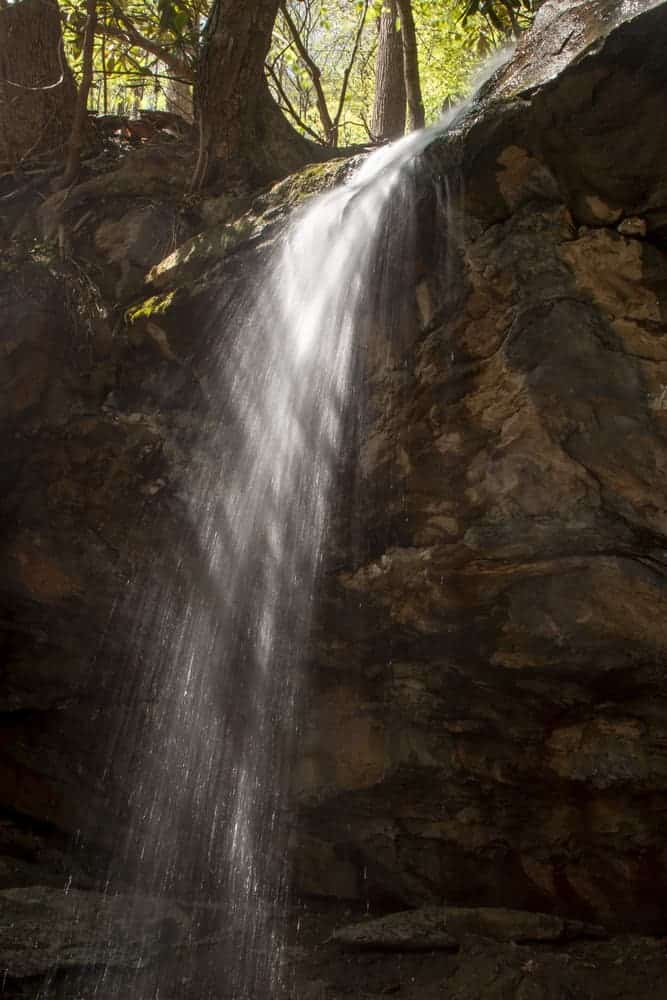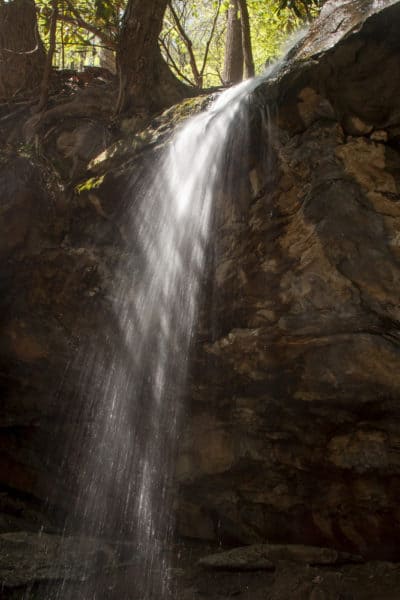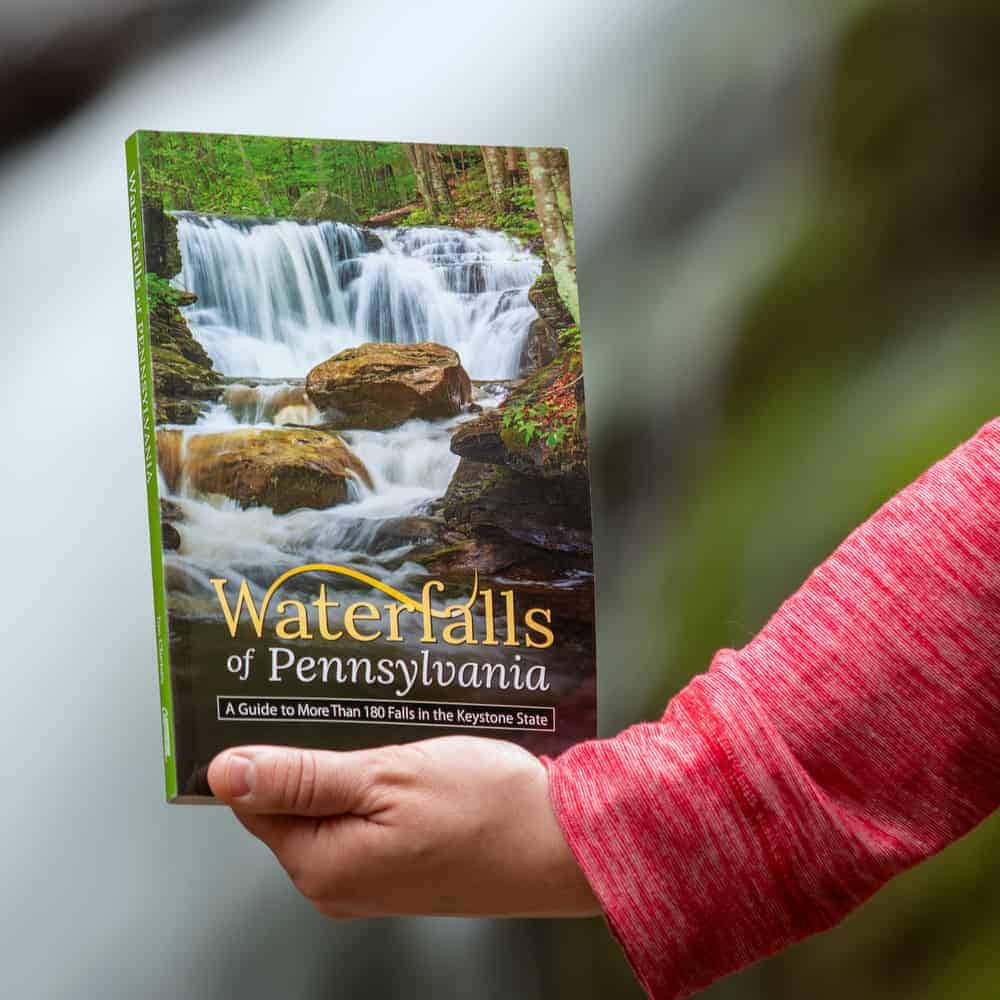 "Waterfalls of Pennsylvania" by Jim Cheney
If you love PA waterfalls, you won't want to miss this waterfall book from Jim Cheney, author of Uncovering PA, featuring more than 180 great waterfalls. Order it now on Bookshop.org or Amazon.
Great Passage Falls is located along the Great Allegheny Passage between Connellsville and Ohiopyle State Park in the Laurel Highlands. It is closer to Connellsville and can be found at the following coordinates: 39.983934, -79.589909.
There are two ways to get to this waterfall. Though neither is short, it's easy walking or biking along a flat trail.
The closest access point is from downtown Connellsville. The trail can be picked up at the corner of South 1st Street and South 3rd Street on the western banks of the Youghiogheny River at the following coordinates: 40.015695, -79.594829.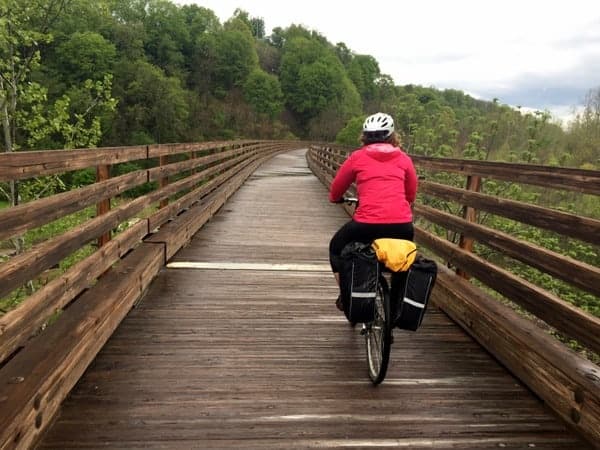 From here, head south on the Great Allegheny Passage for 2.4 miles to reach the waterfall, which will be on your right. While it's not a short distance, you do have a chance to cross the incredible Dunbar Creek Viaduct on your way to and from the waterfall.
Downtown Connellsville is also home to the beautiful waterfalls in East Park and Robinson Falls, so this is a great area for waterfall lovers to check out.
If you are looking for more of an adventure, start your journey in Ohiopyle State Park. From here, it's about 14 miles one-way to the waterfall, but it's one of the most beautiful bike rides in all of Pennsylvania.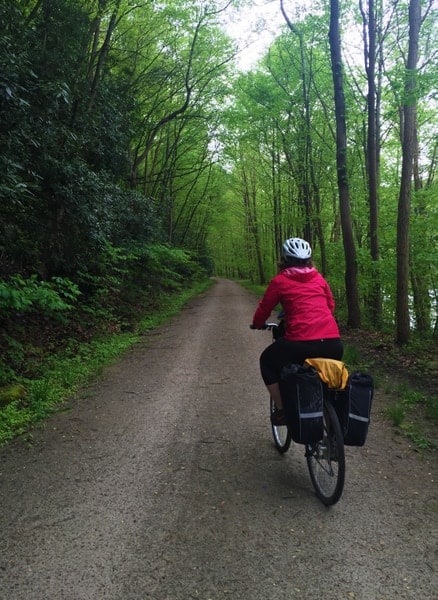 Along the way, if water levels are high (which they should be if you are heading out to this waterfall), you'll pass several other seasonal waterfalls along your way. You'll also have easy access to the waterfalls on Jonathan Run and Sugar Run Falls within the park itself.
Should you need a bike, there are places within Ohiopyle State Park to rent bicycles.
Looking for more things to do in the area? Check out white water rafting in Ohiopyle, Fallingwater, and Fort Necessity National Battlefield.
[Click here for information on how to use the coordinates in this article to find your destination.]