Please do your best to limit your travels around PA during this time. If you decide to travel, please check the status of the places you are going. Some places around the state are temporarily closed or have changed their hours. We will not be updating individual articles to note these changes. Stay safe and wear a mask!


Located on the outskirts of the northwestern Pennsylvania city of Meadville is one of the oddest things I've seen in the state: the PennDOT Road Sign Sculpture Garden.
Officially named "Read Between the Signs," this 1200-foot long wall follows along the fencing of the Crawford County offices for Pennsylvania's Department of Transportation (PennDOT) along Smock Highway. On a small knoll nearby is another art piece titled "Signs and Flowers."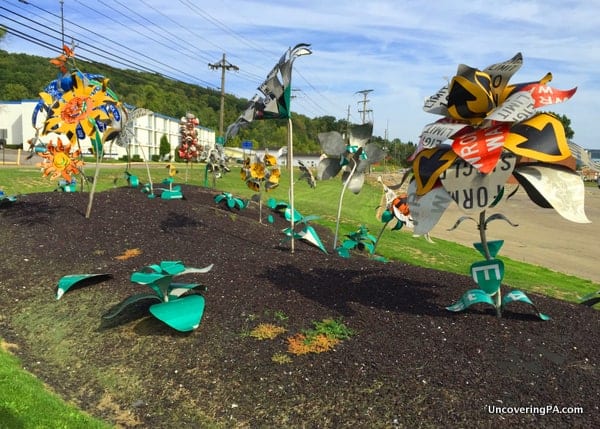 When I found out about these amazing pieces of public art, I knew I had to check them out during my visit to Crawford County. However, I had no idea how cool it was going to end up being. As my wife and I walked along the fence, we were completely blown away with how awesome it was.
Disclosure: This article may contain affiliate links. We will make a small commission from these links if you order something at no additional cost to you.
To find out more, I tracked down the woman responsible for the art pieces, Amara Geffen, an art professor at nearby Allegheny College. Geffen first worked with PennDOT and her students to create the road sign flowers that can be seen on the corner of Smock Highway and Mercer Pike.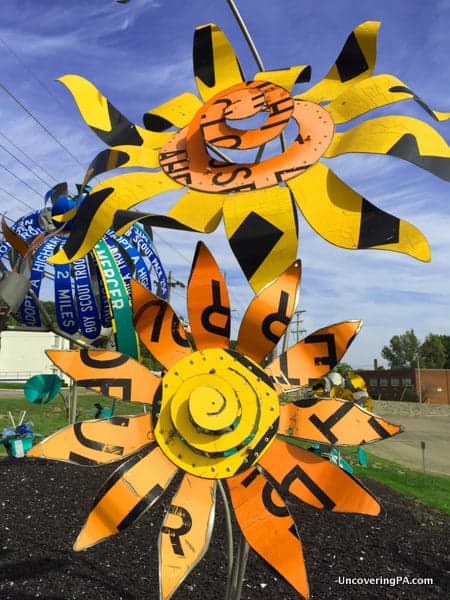 While working on this project in 2000, she had the idea to create a large mural along the chain-link fence that went along the perimeter of the PennDOT compound. Working with them to procure the signs, Geffen and her student helpers started on a decade-long project to build the mural out of nothing but used Pennsylvania road signs.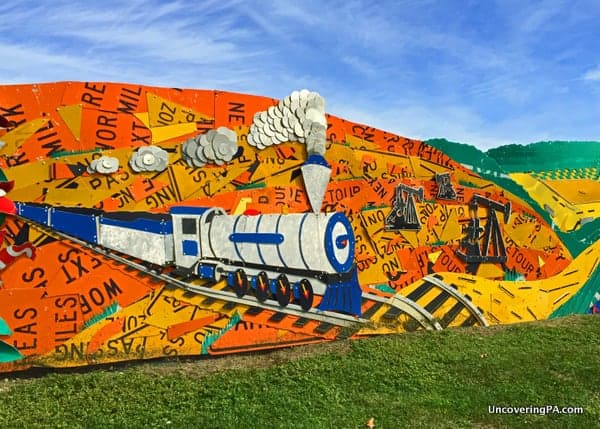 Getting ideas from their own imagination as well as community suggestions, the wall is a fantastic representation of Meadville and the surrounding communities.
Many of the ideas came from local youths, and Geffen, "used their drawings to create the imagery for the project, weaving together images that celebrated what the children shared with us."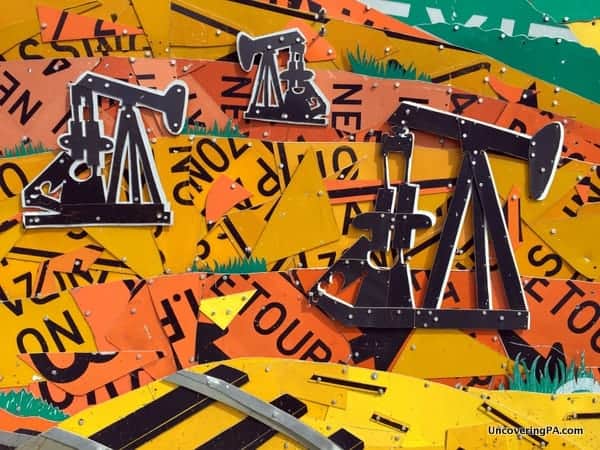 As I walked along the wall, each part of the mural seemed even more impressive than the last. Even though this was my first time in Meadville, I was able to pick out points of interest around town that were incorporated into the PennDOT Road Sign Sculpture Garden.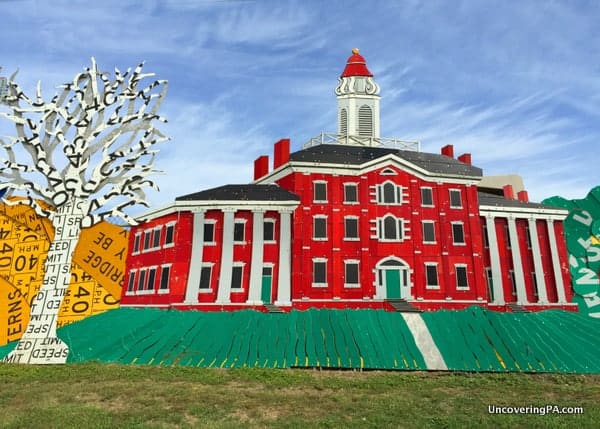 Along the wall, scenes jump from the wall, extending both above the fence and out from the fence. Some parts, like the giant Ferris wheel, even move!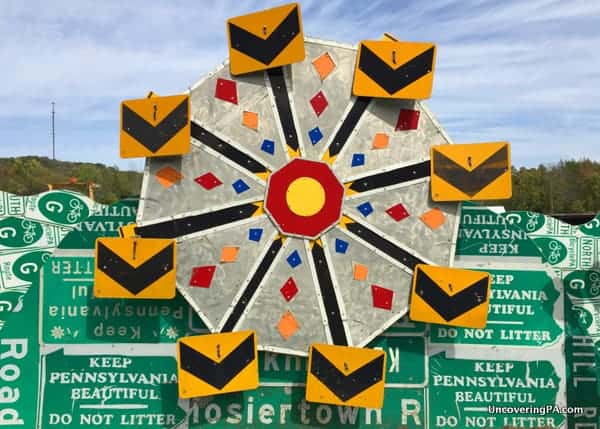 Along the hillside near the intersection, a collection of towering metal flowers is grouped together.
This was the original art piece and is well worth checking out as well. It really is quite impressive how beautiful a flower made from used road signs can be.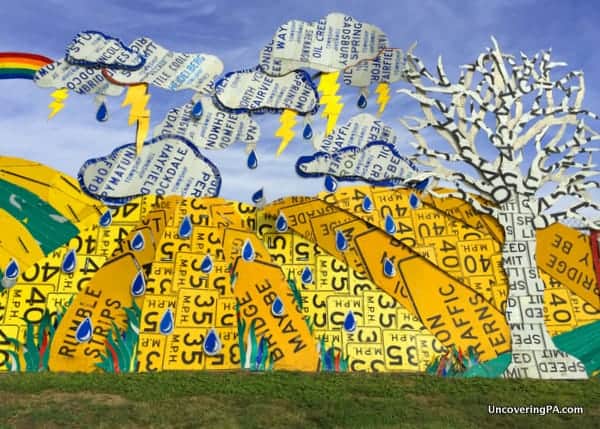 Honestly, the PennDOT Road Sign Sculpture Garden is one of the coolest roadside oddities I've come across in Pennsylvania and, along with the nearby Schaefer's Auto Art, one of the most unique pieces of public art in PA. Definitely take some time to stop here and check it out. (Scroll down for even more photos of this awesome destination in Crawford County.)
Getting to the PennDOT Road Sign Sculpture Garden
The PennDOT Road Sign Sculpture Garden is located southwest of downtown Meadville, only half a mile off of Interstate 79. Whether you're driving along I-79 through northwestern Pennsylvania or are already visiting Meadville, this is a worthwhile stop.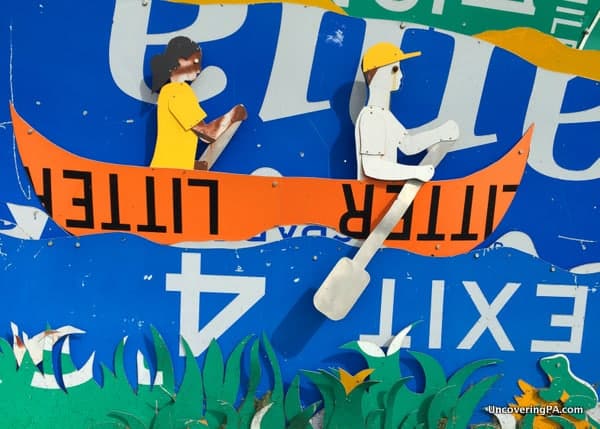 The mural is located in front of the PennDOT Maintenance Building at 18499 Smock Highway in Meadville. Parking is a little tricky here because the mural and sculpture garden are along a busy road.
The maintenance building has a parking lot, and there are no notices that indicate that you can't park there. However, keep in mind that there is no guarantee that parking is allowed there.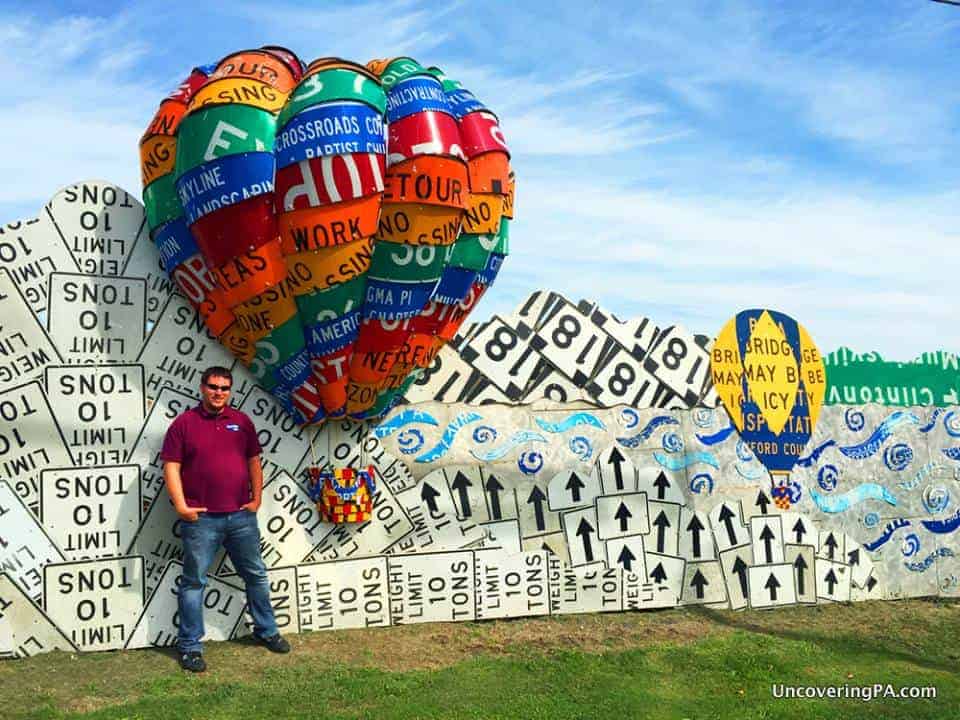 Another option is to park in the shopping center across the street, but keep in mind that parking in shopping centers is usually reserved for customers only.
While visiting the PennDOT Road Sign Sculpture Garden, make sure to use extreme caution as you will be standing along a very busy road. It can be very easy to back up close to the road while taking photos or walking along the wall.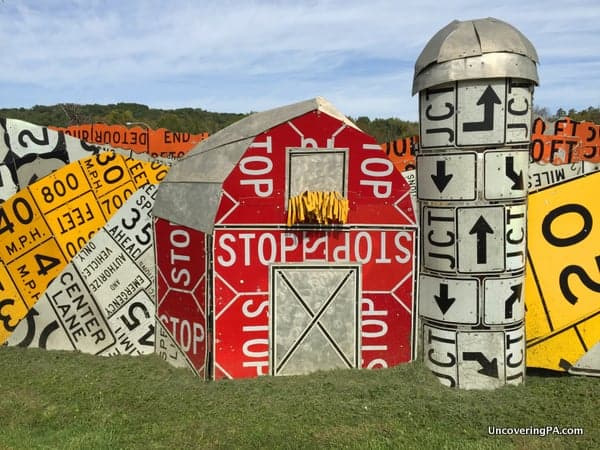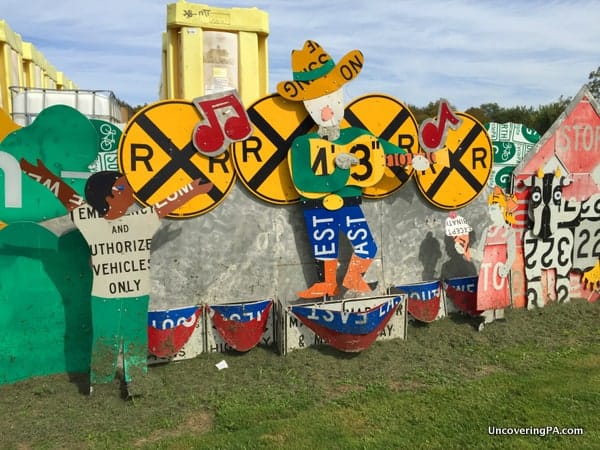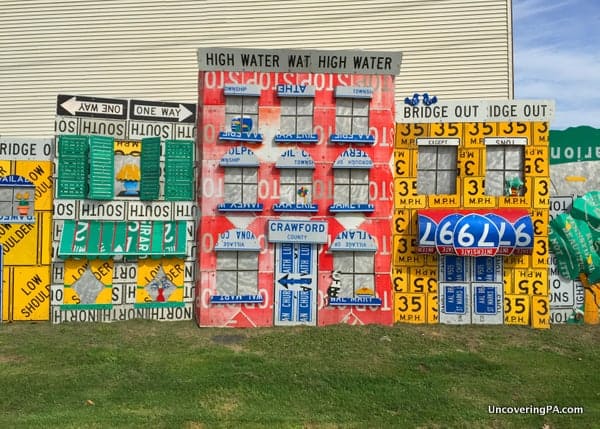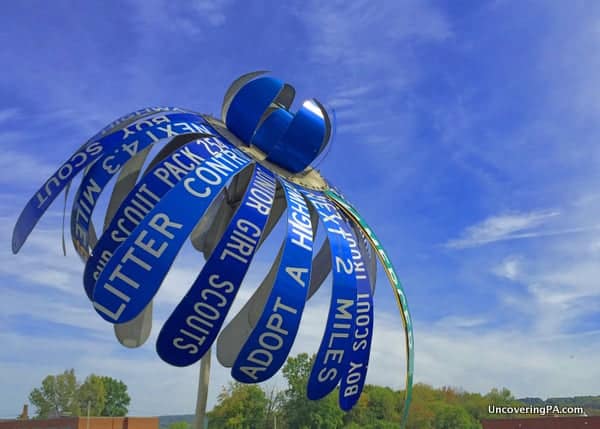 Looking for more places to visit nearby? Check out the Erie Art Museum, the Erie National Wildlife Refuge, and the Baldwin-Reynolds House Museum.
See map below for other area attractions.