Disclosure: This article may contain affiliate links. We will make a small commission from these links if you order something at no additional cost to you.
There are few better summertime destinations in Pennsylvania than Presque Isle State Park in Erie. However, as a primarily beach destination, it's often quiet in the off-season. So, when I heard they set up Christmas lights during the holiday season, I was excited for an excuse to visit.
Presque Isle Lights, as the event is known, started in 2020 and offers the chance to drive through the park and see some beautiful lights. Unlike many other drive-through light displays in Pennsylvania, the road isn't lined with lights. Instead, lights are placed periodically around the park in places where there is access to power.
This means that there are times when you'll drive for several minutes without seeing any lights. However, this does make the appearance of the lights much more interesting as they just pop up from the dark forest around the park.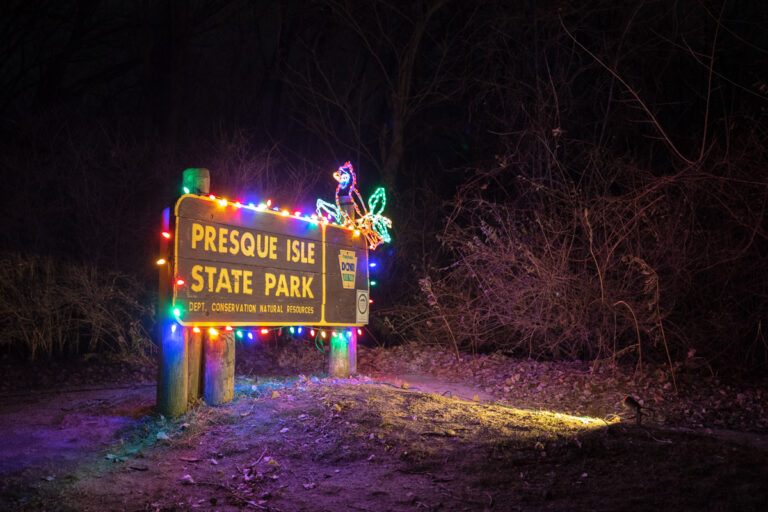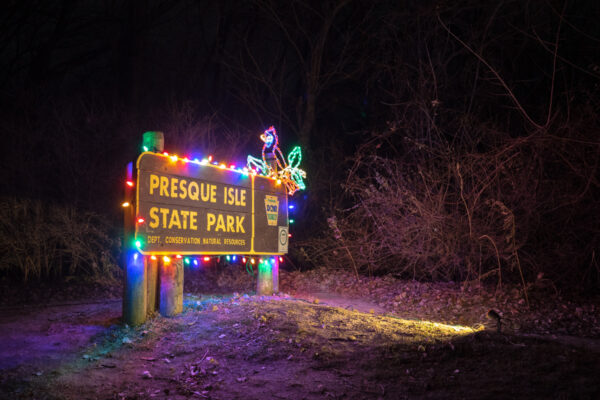 There are displays throughout the park, though they are more numerous close to the entrance. After you get 3-4 miles into the park, the lights become less frequent, though there were still displays along the entire 13.5-mile route that I took through the park.
The displays in the park are a mixture of lights, which keeps things interesting and make for a really fun display.
The most prominent are the lit buildings, which aren't overly dissimilar from the type of lights you might find on a home in a residential neighborhood. Still, their setting around the ponds, forests, and beaches of Presque Isle makes them especially beautiful.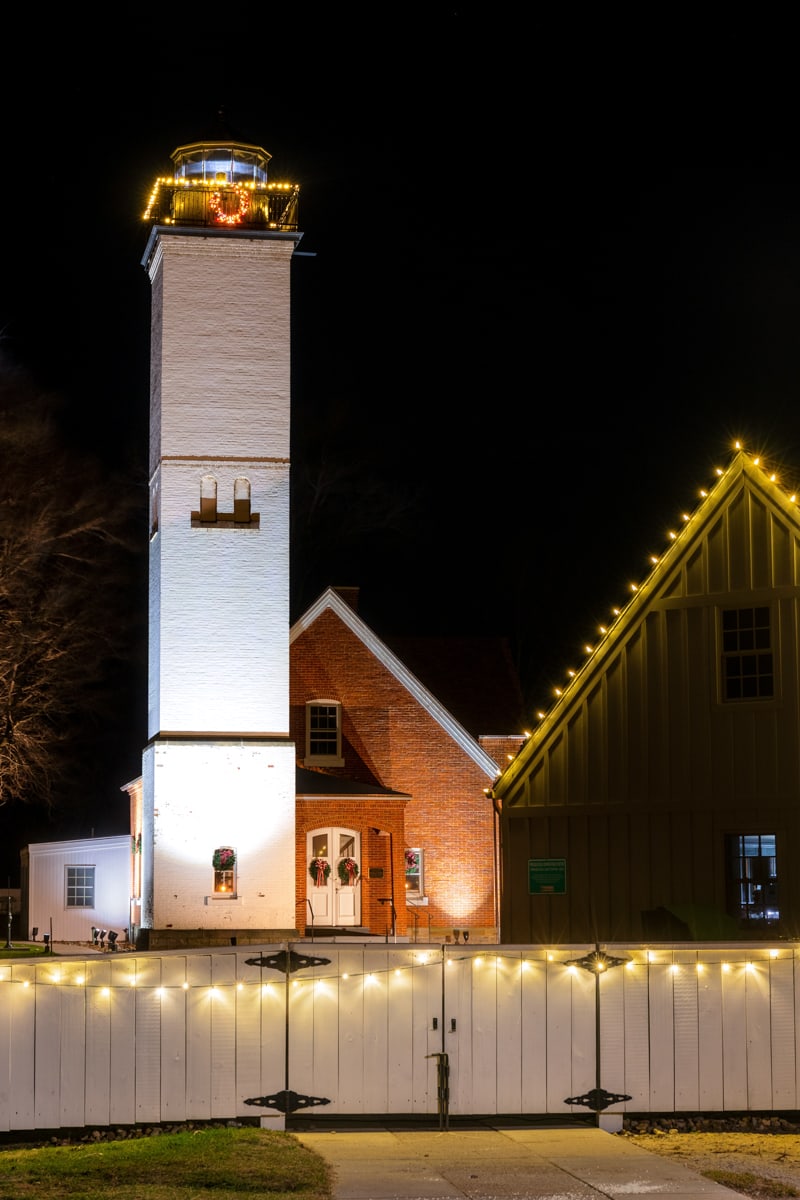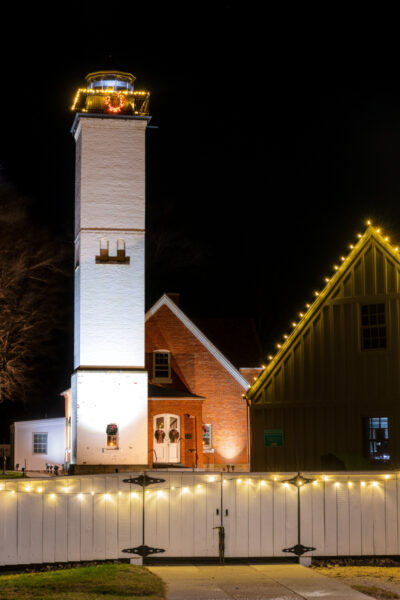 My favorite of these was Presque Isle Lighthouse. While the lights here aren't overly inventive, they provided a beautiful and classic look that made the lighthouse really stand out.
Definitely make sure you don't miss this spot when driving through the park for Presque Isle Lights.
There are also a handful of the type of light displays that you usually find at Christmas light shows in PA, such as a really cool set up of lit characters playing volleyball and what I'm assuming was supposed to be Bessie (Lake Erie's version of Nessie). These displays added some fun and whimsy to the display area, and I really enjoyed seeing them.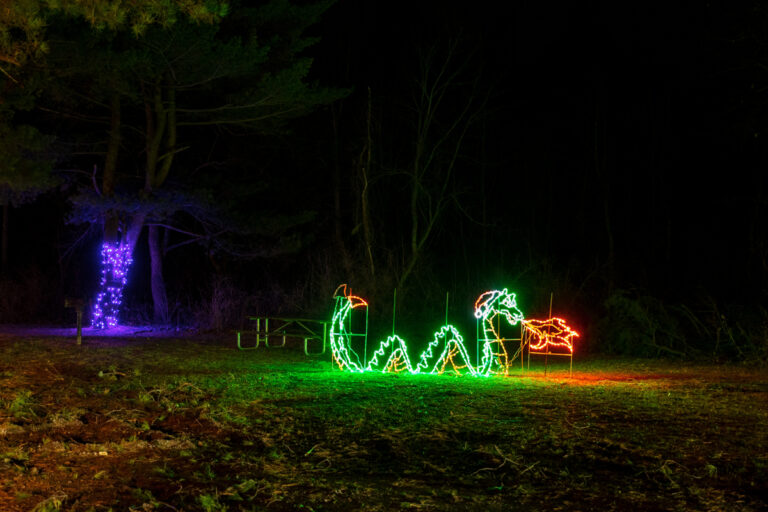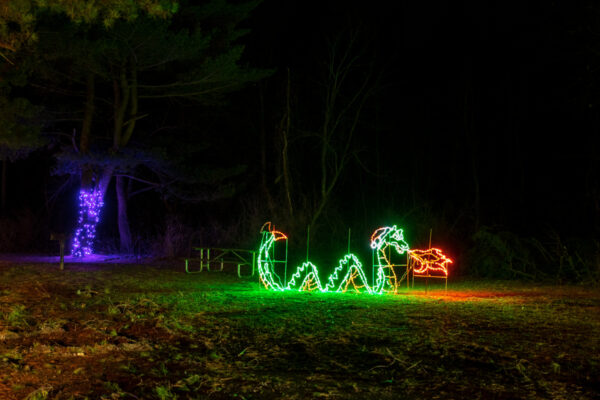 In addition to those types of lights, you'll also find many beautifully wrapped trees, lights attached to electric poles, and beautiful nighttime views of the city of Erie from the road.
Presque Isle Lights is free to visit, but they do accept donations at one of the parking areas near the entrance to the peninsula (on select nights). For $5, you can get a souvenir pin and a chance to win a gas gift card. There is also hot chocolate available to buy on most Friday and Saturday nights.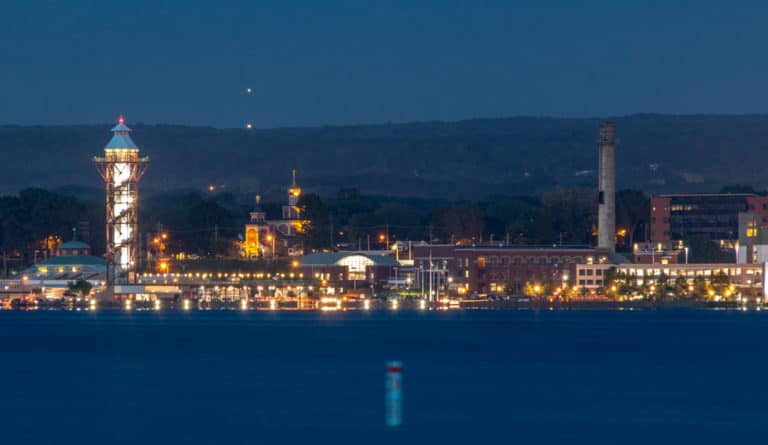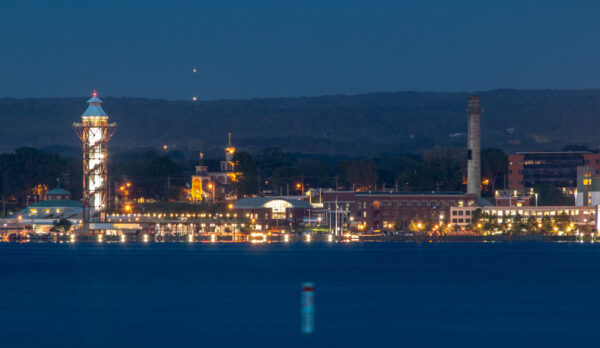 The money collected during the event is used to fund both this display but also other projects around Presque Isle State Park.
While Presque Isle Lights definitely has a lot of empty space between displays, and, quite frankly the number of lights on the long route is less than you'd find at much shorter drive-through displays, I really enjoyed my time here.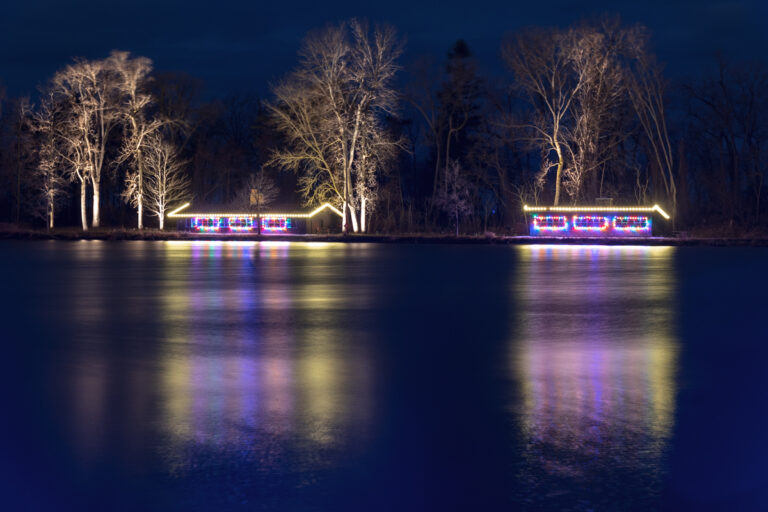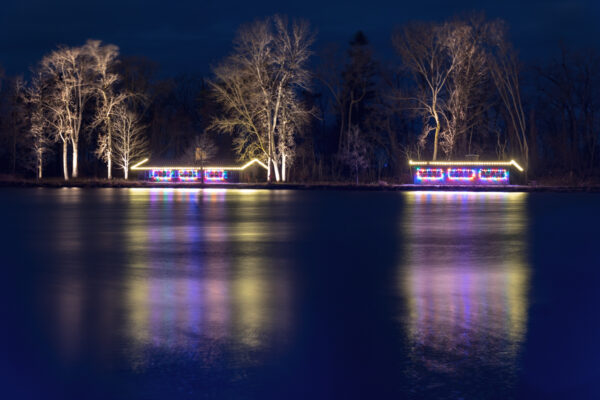 Not only was the setting very different and the displays here unique, but it's also very visitor friendly.
Much of the route features two lanes of traffic, so you can easily pass someone if need be, but you can also go a bit slower in the right lane and not have to worry about bothering other guests who might want to drive at a bit faster pace. The two lanes should also ensure that long wait times are virtually nonexistent.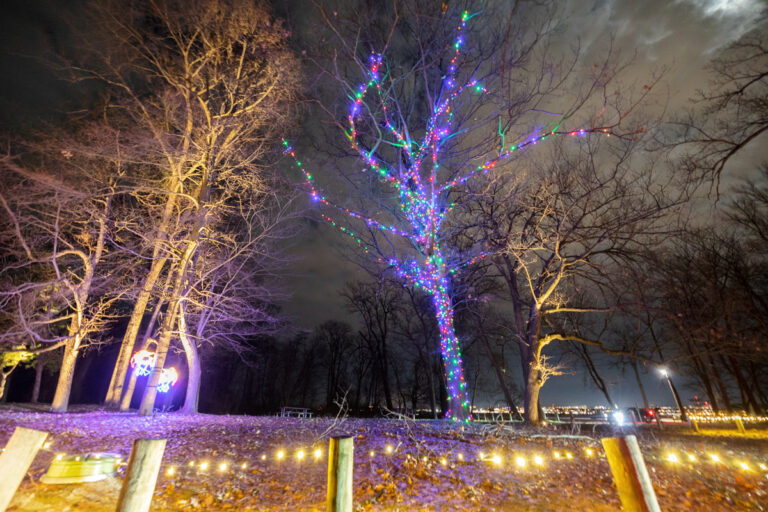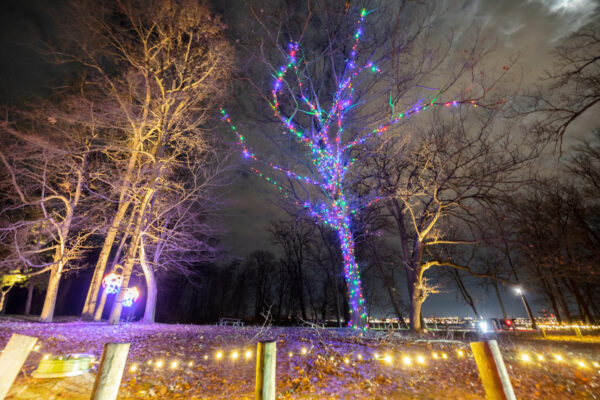 Also, while an entire loop of Presque Isle would be between 13 and 15 miles, depending on the route you take, there are plenty of spots where you can turn around, thus not having to make the entire loop. This is great if you just want to see a few lights or have anxious kids.
Overall, Presque Isle Lights is quite beautiful and among the most unique Christmas light displays that I've visited. That being said, there aren't a ton of lights here and the ones that they have are spread out, so if you are looking for a large concentration of lights, you might want to look elsewhere.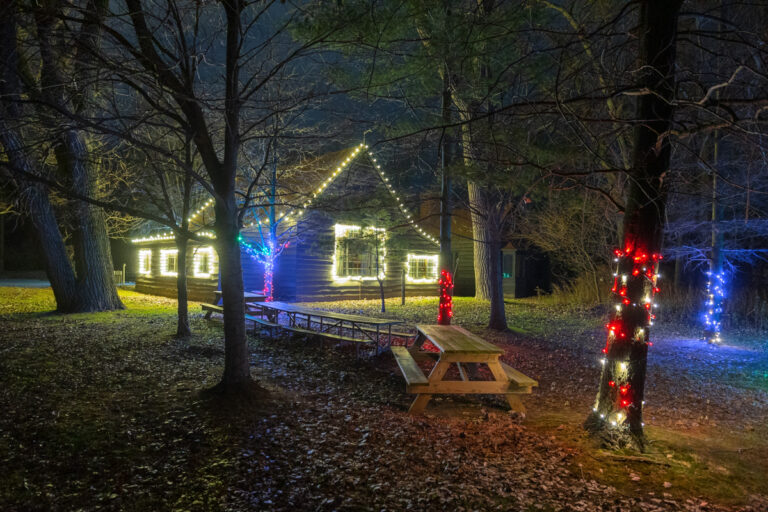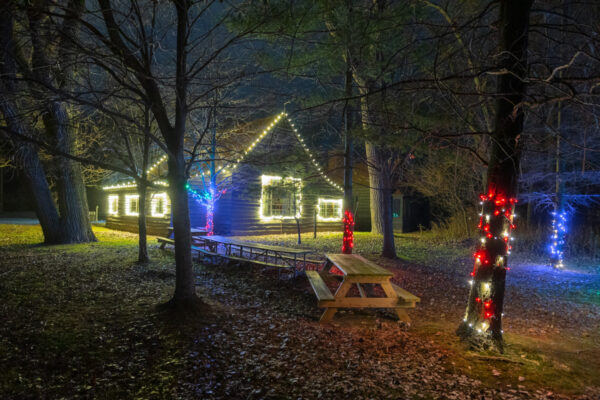 All that being said, if you are in the Erie area, I definitely recommend checking out this fun and totally free light show. And, even better, you can combine it with a visit to the fun walk-through light display at Asbury Woods, only a few miles away (and also free).
Presque Isle Lights is open Friday through Sunday evenings from December 1 through December 31, 2023. The lights are turned on at 6 pm and the gates to the park are closed at 9 pm.
Looking for more places to visit nearby? Check out the Erie Maritime Museum, the Tom Ridge Environmental Education Center, and the best breweries in Erie.