Disclosure: This article may contain affiliate links. We will make a small commission from these links if you order something at no additional cost to you.
One of the most famous natural oddities in Pennsylvania is Bucks County's Ringing Rocks. The rocks in this boulder field in eastern PA make a metallic ringing sound when you strike them with a hammer; a sound that delights visitors of all ages.
However, I recently discovered that there are more ringing rocks beyond those found in Ringing Rocks County Park. In fact, there is an even larger field located just a few miles to the southwest in Bucks County's State Game Lands 157 (as well as a smaller one located in Ringing Rocks Park in Pottstown).
So, during a recent visit to Bucks County to revisit the more famous Ringing Rocks, I decided to scout out this lesser-known field.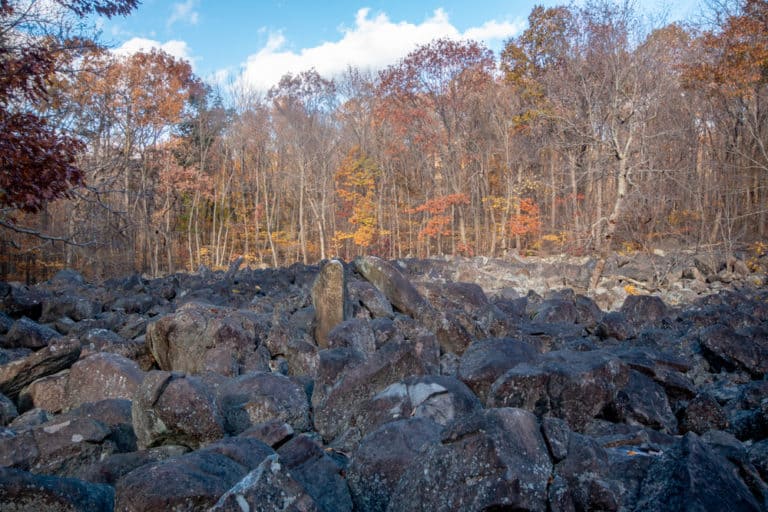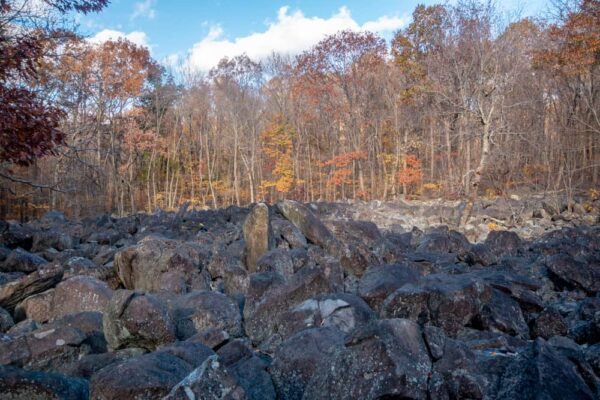 State Game Lands 157 is located in Upper Bucks County, just north of Nockamixon State Park. Hidden amongst its 2,000 acres is a large, but disjointed boulder field where the rocks ring like a bell. This field extends for half a mile, making it much larger in total size than its more famous cousin.
No one knows exactly why these rocks ring, though it's thought to have something to do with their composition, their density, and vibrations against each other (if you remove a rock from the field, it will no longer ring).
Stony Garden has been known since at least the late 1800s. In fact, in 1890, a local musician collected rocks from throughout this field and gave a musical performance with an accompanying brass band.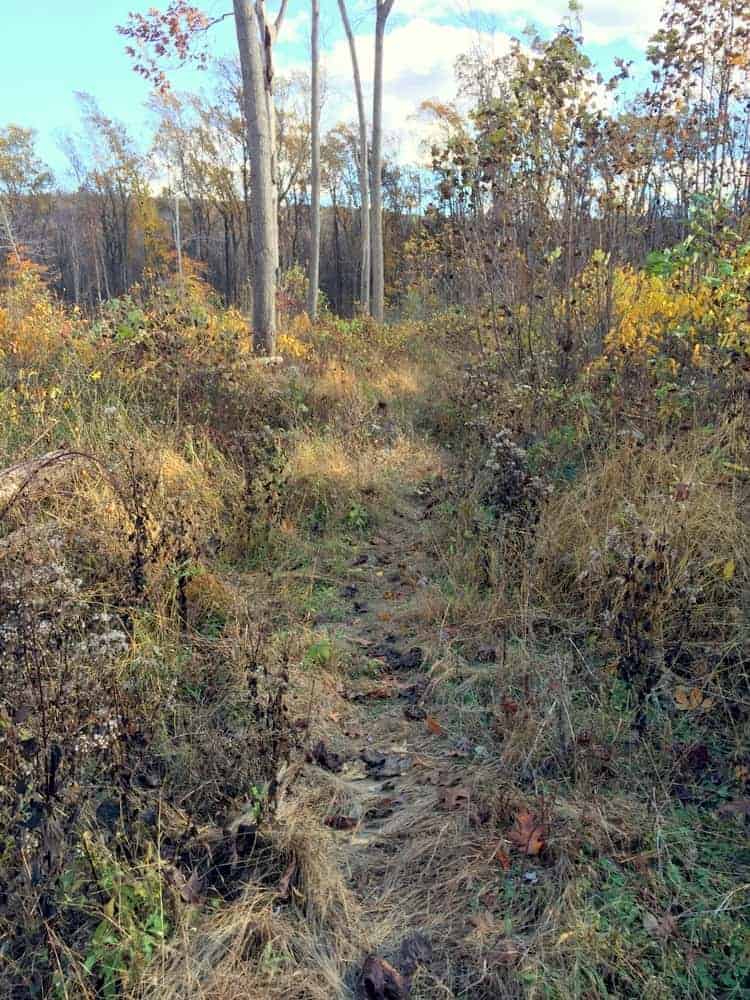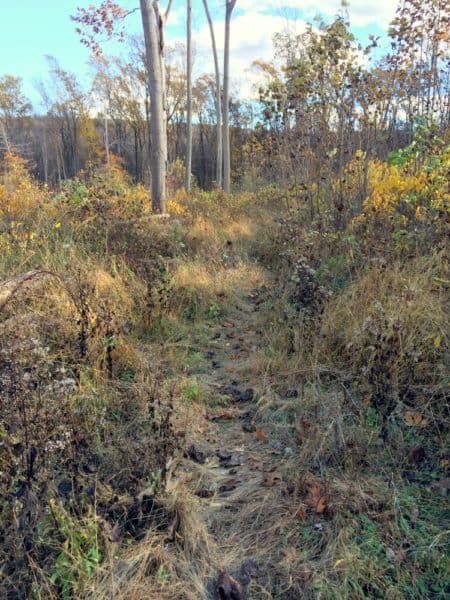 Anxious to check out this site, I headed for a state game lands parking area just off of Stony Garden Road. From this parking lot, I headed into the woods on a very narrow and overgrown path. (Full directions at the bottom of this article.)
The trail to Stony Garden is only about a third of a mile long, and the trail can be broken into three parts. The first is a very narrow and windy hike along an overgrown trail with tall grass. The second part is rocky and marshy and ends with a wet crossing of a wide stream. The final half of the trail is fairly flat and dry, though you do have to climb around some rocks to get to the boulder field.
While this trail is relatively short and flat, it does offer some challenges climbing over rocks and crossing the stream, so it should be treated with caution.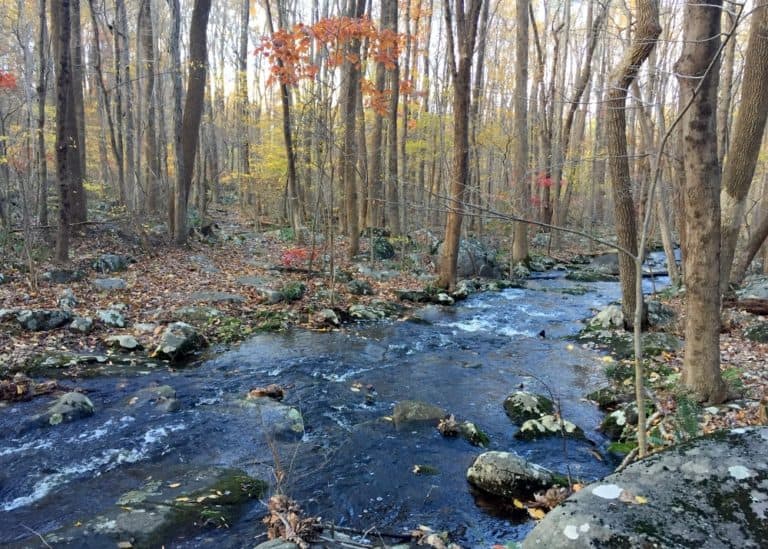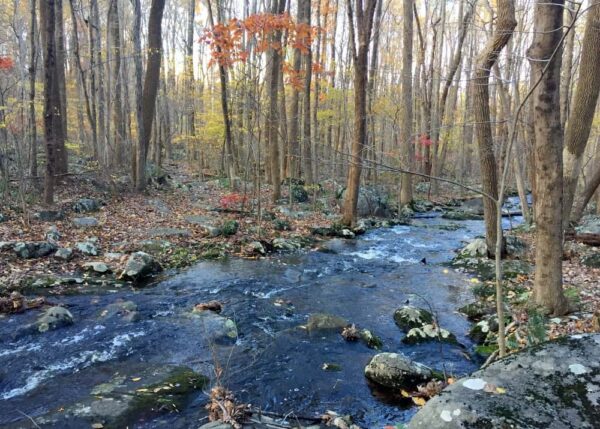 After hiking on the trail, it peters out just as Stony Garden comes into view on your left. While this clearing isn't overly large, it's possibly more impressive than the boulder field at Ringing Rocks County Park as the field here looks deeper and contains larger boulders.
Once you climb into the field, pull out your hammer (You did bring a hammer right?), and start hitting away on the rocks. While not all of them make a ringing sound, most do.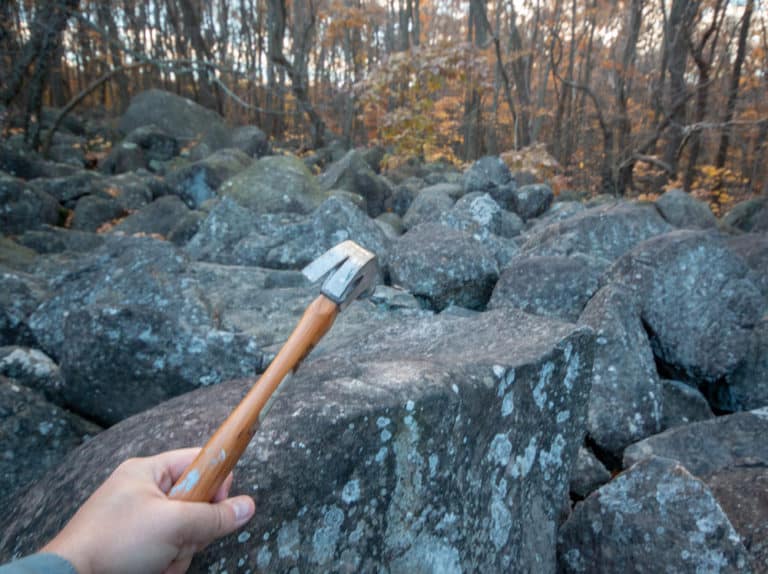 To be honest, I thought that, overall, the quality of the metallic ringing sound was much better and much more consistent at Stony Garden than it was at Ringing Rocks.
After exploring this large open field that is part of Stony Garden, it is possible to hike through State Game Lands 157 to other rock fields. However, I would recommend against this unless you have a handheld GPS as it would be quite easy to get turned around in this area due to the lack of trail markings.
Once you are done exploring the area, head back along the same trail that you came in on to return to your car.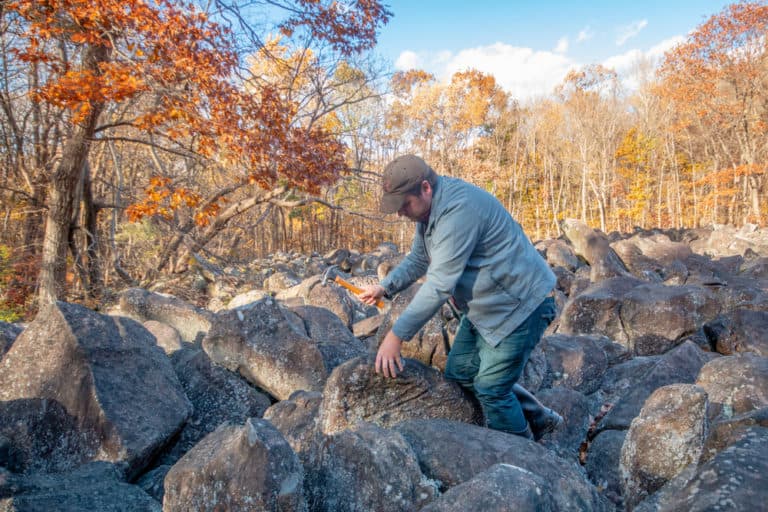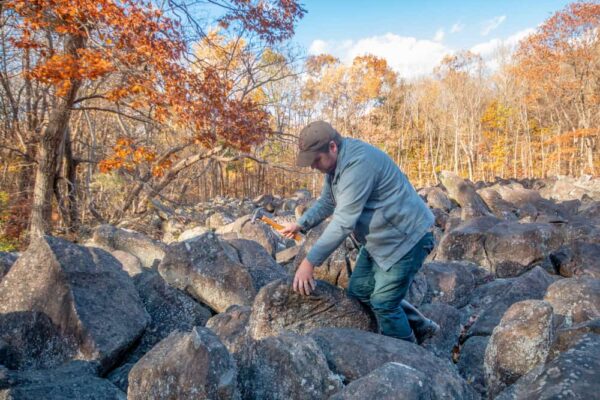 Overall, Stony Garden in Bucks County's State Game Lands 157 is a lot of fun to explore. While there are often other people at nearby Ringing Rocks County Park, you are likely to have this boulder field all to yourself. The fact that it makes even better sounds than the more popular field makes this a must-visit for anyone looking for a unique outdoor attraction in Pennsylvania.
How to Get to Stony Garden in Bucks County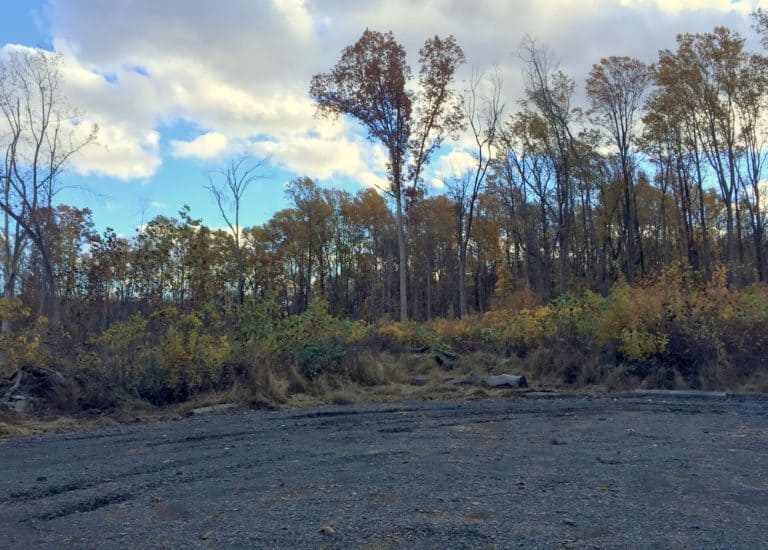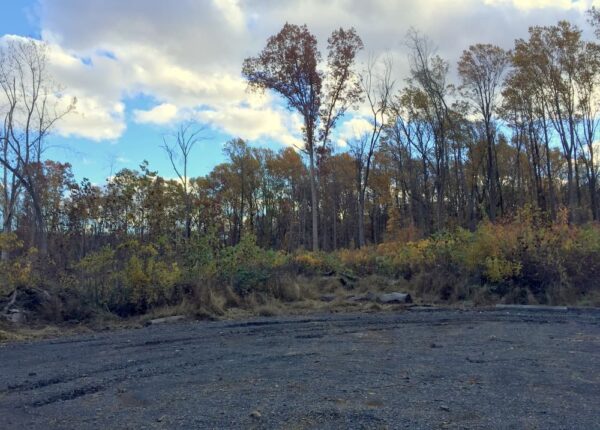 Stony Garden is located in State Game Lands 157 in Upper Bucks County, PA, less than a 20-minute drive from Ringing Rocks County Park.
To reach this boulder field, park at the state game lands parking area off of Stony Garden Road at the following coordinates: 40.509625, -75.241053. Note that the turn off also serves as a driveway for a private home, so make sure you park in the public parking lot.
From the parking area, there is a trail that leads off through the field at the back corner of the parking lot. There are no markings at the trailhead, but at the time of my visit in early November 2018, there was a large log laying over the entrance to the trail.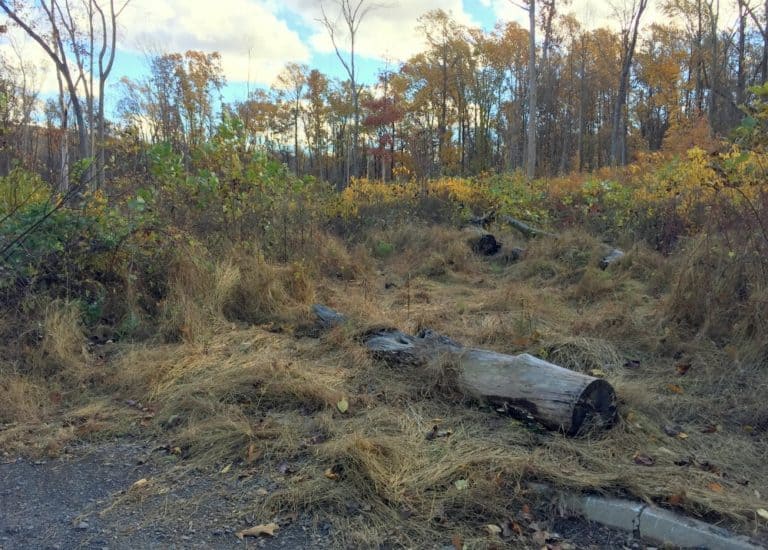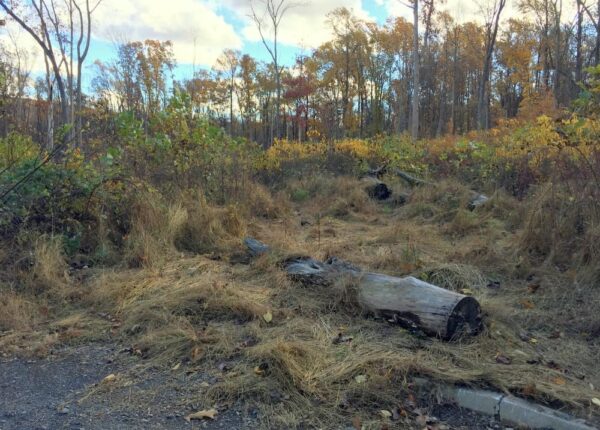 From here, the trail is overgrown and unmarked, but not difficult to follow. About halfway to Stony Garden, you will have to cross a fairly wide, but shallow creek. It is likely impossible to cross this stream without getting your feet wet, so make sure you come prepared.
After crossing the stream, pick up the trail as it skirts on the edge of private property. After a couple of minutes of hiking, you'll see a clearing and the main boulder field of Stony Garden just off to your left.
The easiest-to-access portion of Stony Garden can be found at the following coordinates: 40.506683, -75.236601.
When you visit, make sure to bring a hammer with you to hit the rocks with. Otherwise, you can't really enjoy what makes this field so strange.
Note: This hike is located in state game lands and one that is especially popular for hunting. If you opt to visit Stony Garden, I highly recommend checking out if there is any hunting season occurring. I also recommend wearing blaze orange to make sure that you can be seen while on state game lands.
If you'd rather hike in area's where hunting is not allowed, here are a few of my top suggestions.
Looking for more places to visit in the area? Check out the covered bridges of Bucks County, ride the New Hope and Ivyland Railroad, or make the drive up to Columcille Megalith Park.