Disclosure: This article may contain affiliate links. We will make a small commission from these links if you order something at no additional cost to you.
If you've been reading this site for a while, you know that I've uncovered a lot of really
odd places in Pennsylvania
. However, no matter how odd places like
Centralia
and
Gravity Hill
are, they pale in comparison to Ringing Rocks County Park in
Bucks County
.
Located in a nondescript park on an isolated hillside above the Delaware River, Ringing Rocks County Park might not seem at first to be anything too special when pulling into the secluded parking lot. However, follow the single, flat trail that leads from the parking lot for just a few minutes, and you'll end up at one of the oddest places in Pennsylvania.

Known officially as the Bridgeton Boulder Field, this seven-acre field is better known as the ringing rocks for the curious sound that many of the rocks make when struck by a hammer. People have asked for years, "Why do the Ringing Rocks ring?"
No one is quite sure why the rocks make such an interesting metallic sound when hit, but it likely has something to do with the internal stresses of the boulders and their resonance when put together. Whatever the reason though, the boulders at this county park are seriously cool.
Visiting the Ringing Rocks in Bucks County has been on my list of things to do since I started this site, but I hadn't had the chance to visit for a few years. However, after spending the day in New Hope, I made the ridiculously beautiful drive north along the Delaware River to the park.
(Did you know that there's an even larger ringing rocks field nearby called Stony Garden, as well as another, smaller one in Ringing Rocks Park in Pottstown?)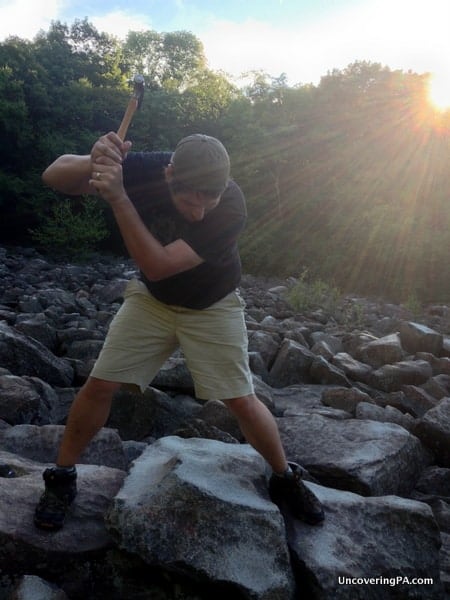 After parking and walking the few minutes to the park, I was amazed at the size of the boulder field. While the rocks' sound gets all the hype, the field itself is pretty cool in general.
What makes it even better, though, is that no one really knows why the rock field is even there. The rocks in the field are igneous, or volcanic rocks, with a very high iron concentration. Of course, since Pennsylvania isn't exactly known for its volcanoes, this struck me as a bit odd. Theories as to the field's origin have gone from the unlikely (volcanoes, glaciers, and rockslides), to the truly bizarre (alien landing site, meteor).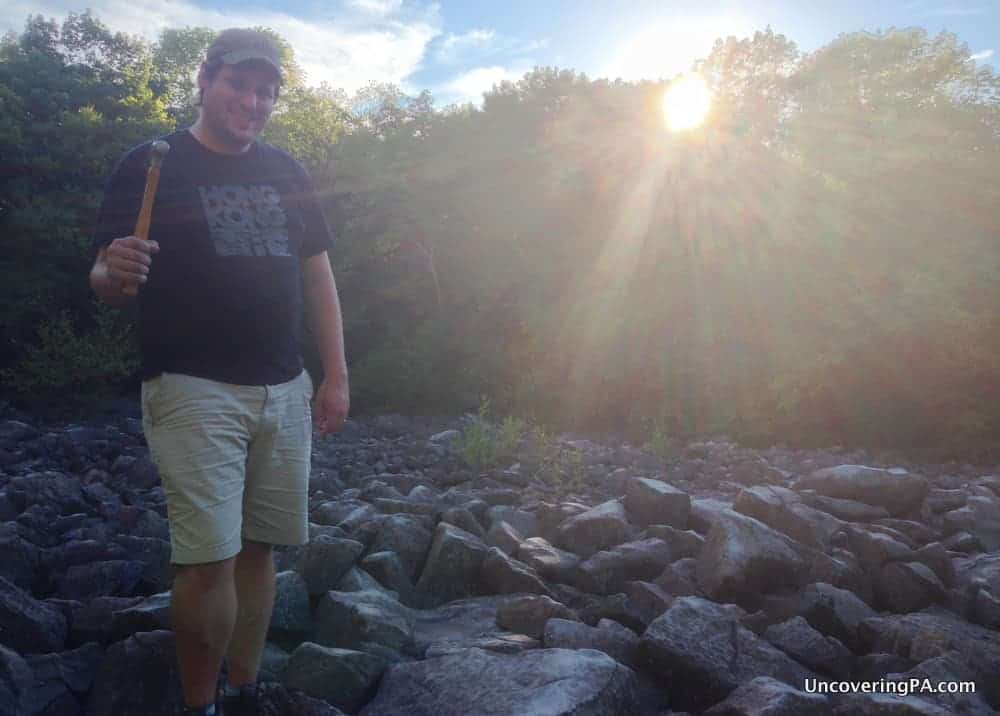 However they got there though, their existence and the odd ringing sound the comes from them is definitely worth seeing and hearing.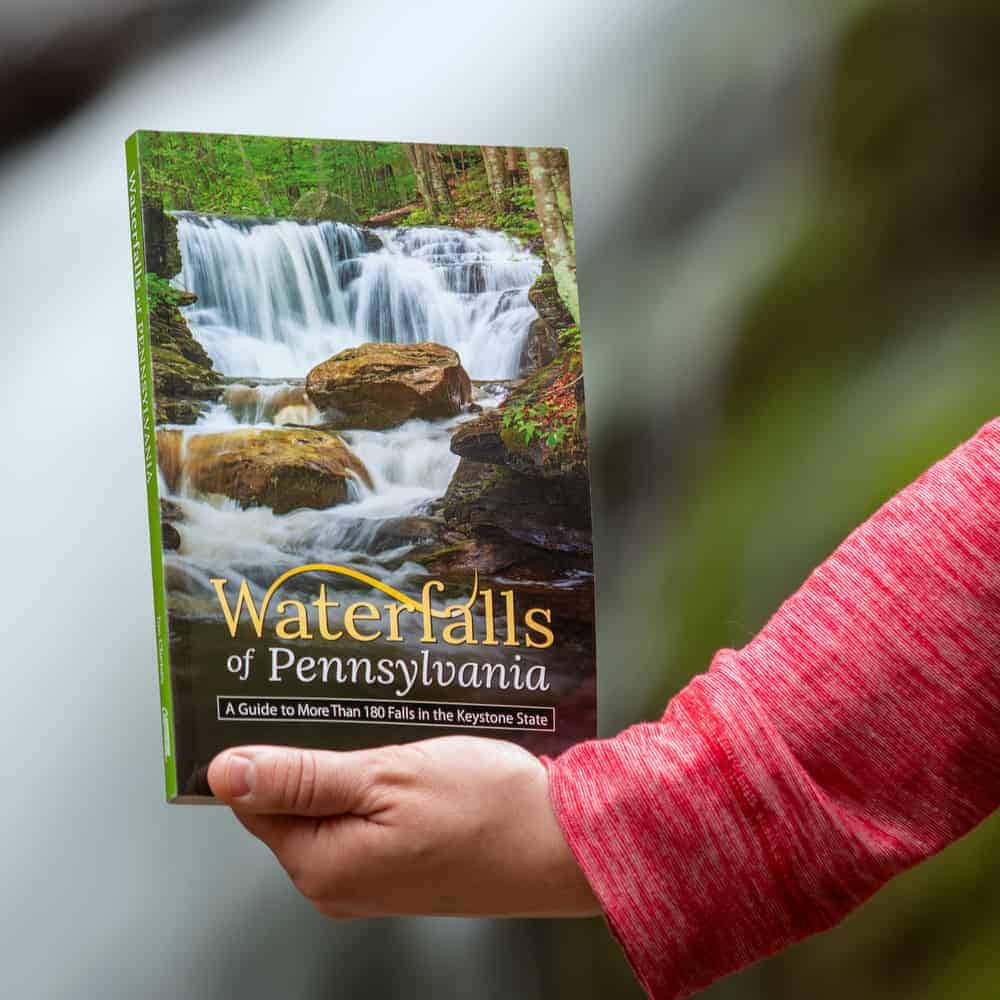 "Waterfalls of Pennsylvania" by Jim Cheney
If you love PA waterfalls, you won't want to miss this waterfall book from Jim Cheney, author of Uncovering PA, featuring more than 180 great waterfalls. Order it now on Bookshop.org or Amazon.
The park is located in northern Bucks County, just a short distance from the Delaware River below. The entrance to the park is marked only by a small sign next to a narrow entrance to the parking lot. It is quite easy to miss, and it's worth noting that Apple Maps on my iPhone had trouble routing me to the right area (though it did at least get me to the correct road).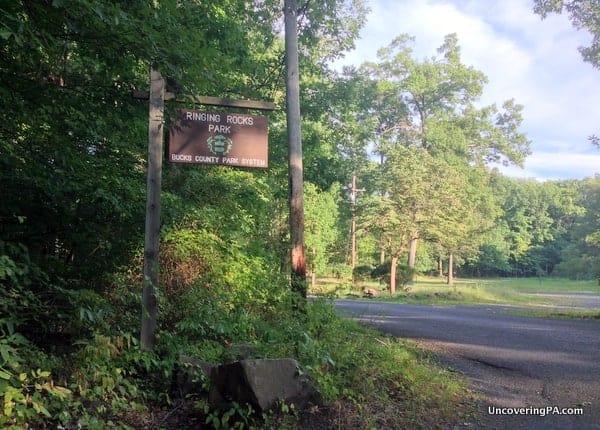 The park doesn't have an address, but the following coordinates can be copied into your favorite GPS and should provide you with accurate directions to the park: 40.559916, -75.128538.
The park itself is very basic, with a few picnic tables and only one small sign marking the trail entrance. Ringing Rocks County Park hours of operation are sunrise to sunset. There is no trail map at the park, but the walk is relatively straightforward.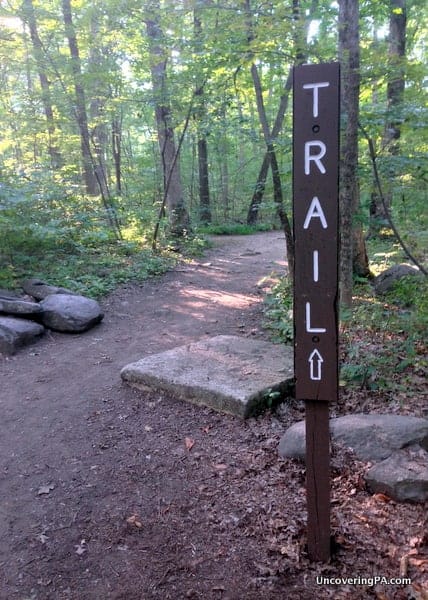 A few hundred yards down the trail, it splits in two different directions. Following either will take you to the field, though the right fork is about half the distance. However, if you are visiting on a busy day, going along the trail to the left might take you to a less visited area of the boulder field.
Also down the right trail, about 5 minutes from the rocks, is Bucks County's largest waterfall, High Falls.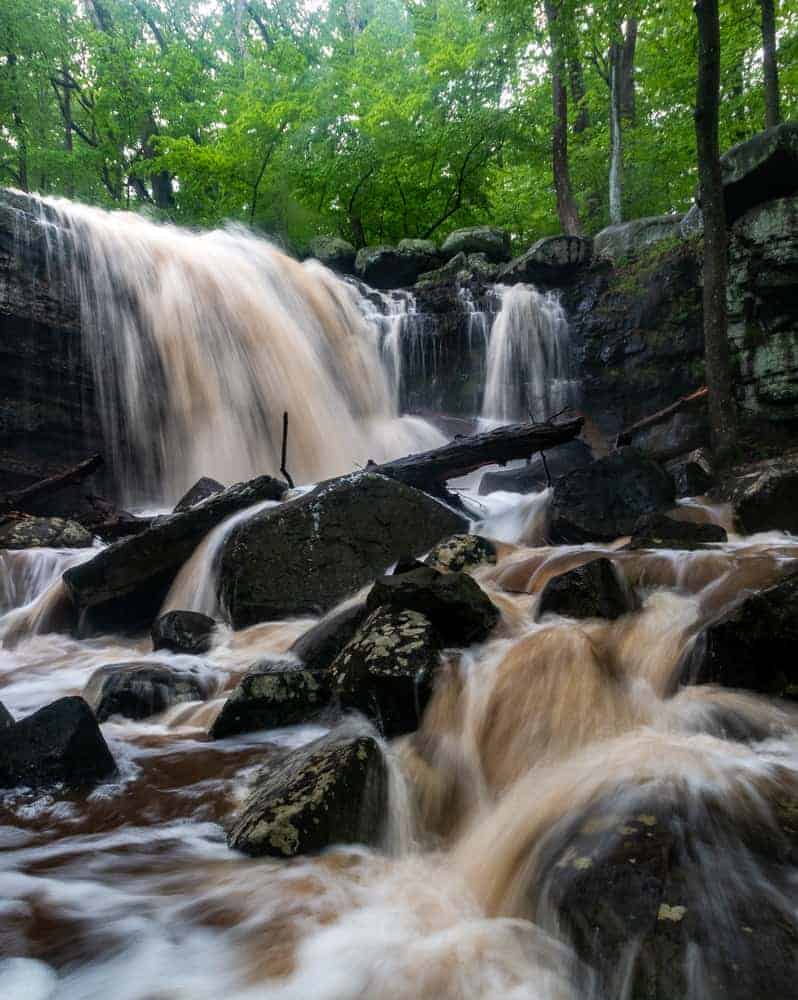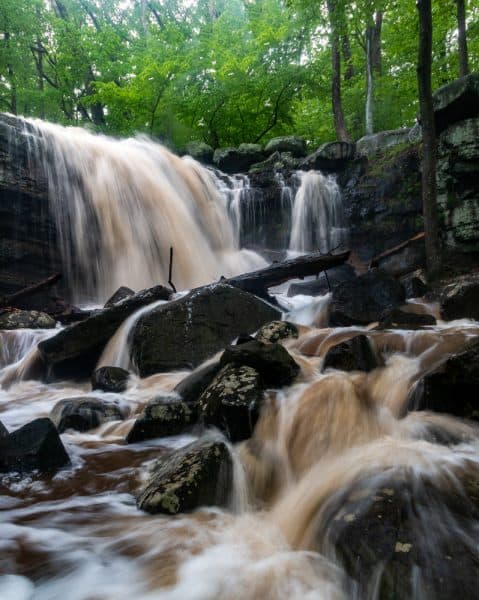 While this Ringing Rocks waterfall is quite impressive when running well, note that it is very seasonal and likely only runs during periods with a significant amount of water. When I first visited on an early September day, there wasn't a drop of water to be found. However, when I later visited after a few days of rain in mid-May, I was greeted with a waterfall that was flowing quite well.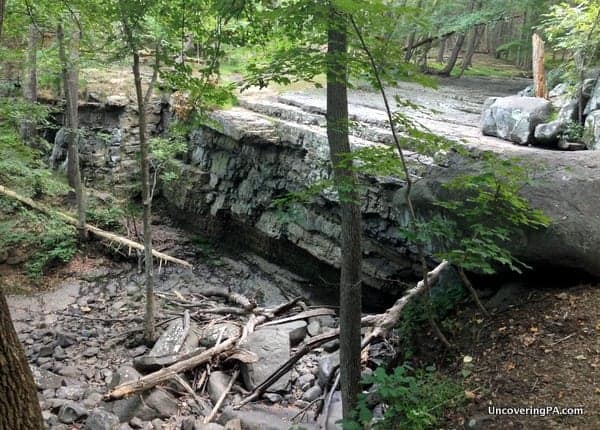 High Falls is located on High Falls Creek. The waterfall is roughly 15 feet in height. What makes it especially interesting is how to water cascades over a large, smooth slab of stone that slants towards the trail to the falls.
Even in high water, High Falls typically only flows off the far right side of the cliff face.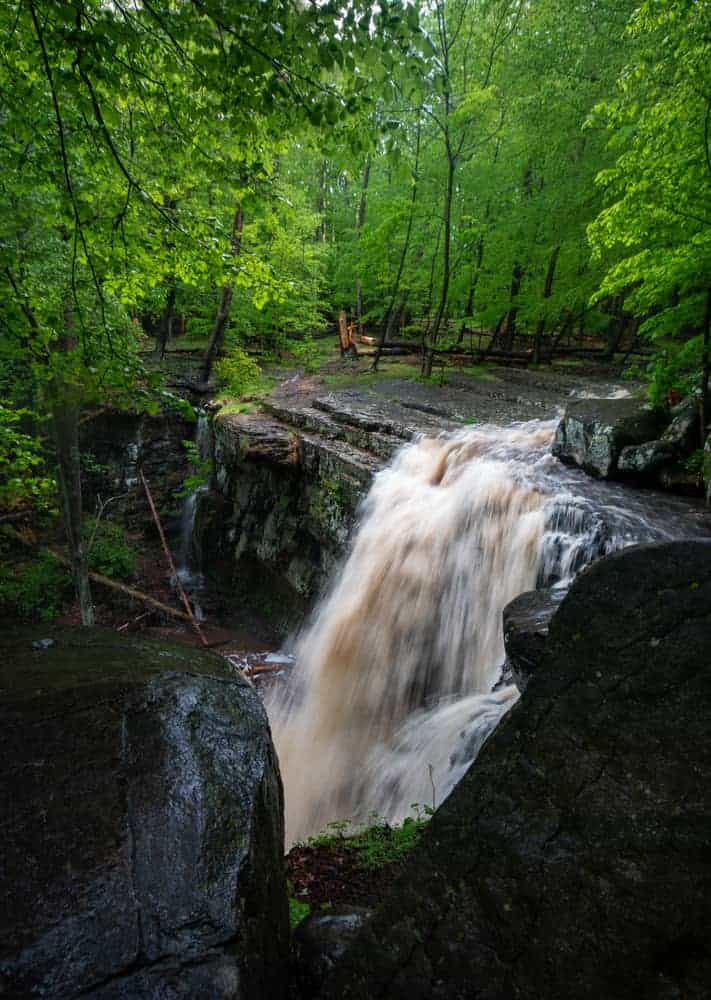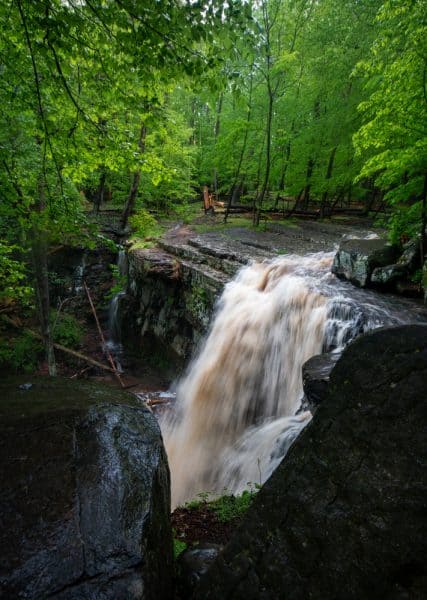 High Falls is a neat spot to check out while visiting Ringing Rocks, and it's probably the largest waterfall near Philadelphia.
Ringing Rocks County park is open from dawn until dusk year-round. There is no entrance fee to visit the park.
For those interested, check out the map below for the approximate location of the parking area to use when visiting Ringing Rocks County Park in Bucks County.
Interested in more unusual natural phenomena? Consider visits to Coudersport Ice Mine, Bilger's Rocks, and Archbald Pothole State Park.
[Click here for information on how to use the coordinates in this article to find your destination.]
See map below for other area attractions.