Disclosure: This article may contain affiliate links. We will make a small commission from these links if you order something at no additional cost to you.
Western Pennsylvania is home to many great breweries, but almost all of them are located in either Pittsburgh Breweries or in Erie. Fortunately for those looking for some quality micro-brewed beer in between the two cities, there's North Country Brewing Company in Slippery Rock.
I walked into North Country Brewing on a cold, rainy night and instantly felt at home. The lightly stained wood that filled nearly every nook and cranny of this impossibly cozy 18th-century building felt like a warm blanket. If it hadn't been for the electric lights and the modern clothing, I might have thought I'd walked through a time warp into the distant past.
Once I'd settled into one of the many high-backed wooden booths, I realized how much North Country Brewing Company stood out from other breweries. In most breweries, the bar, restaurant, or tasting room has a very industrial feel. However, North Country Brewing felt more like a quaint highway lodge than a brewery.
Once I got over my wonderment at the beauty of the inside of North Country Brewing, I settled down to the important matter of choosing my beer.
North Country Brewing features a rotating mix of 13 different beers, ranging from light ales to dark stouts. They also throw in a few creative brews including several fruit-infused beers and a double IPA at the time of publication. They even serve one beer a day as a slightly warmer English cask beer.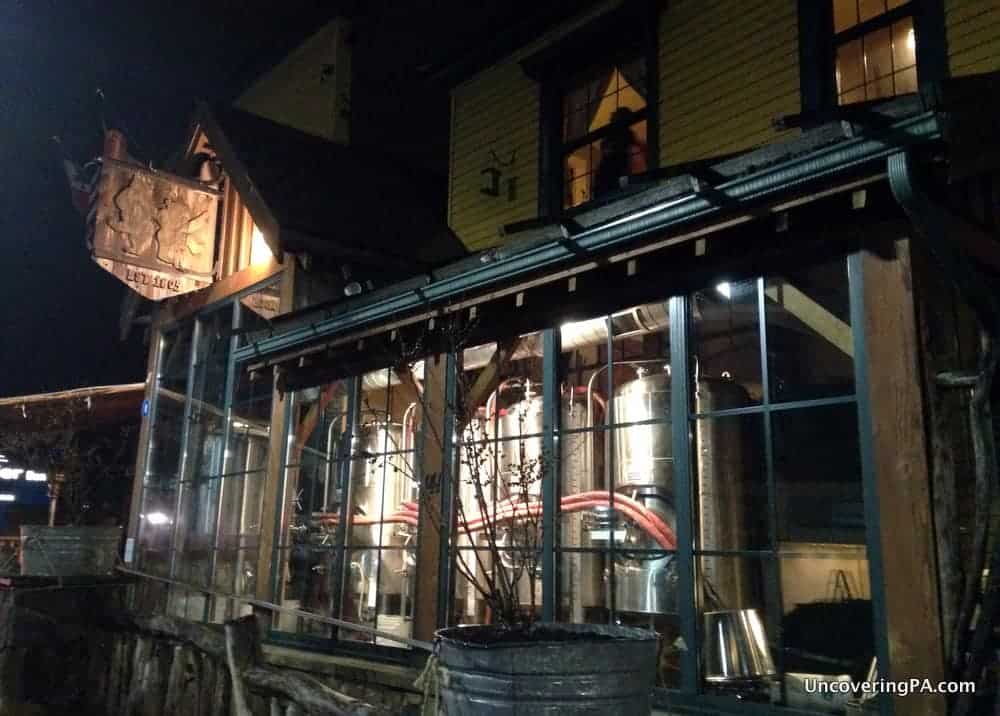 The creativity in their brews is one of the things that instantly stood out to me. Many craft breweries are creating unique brews to feature on the menu, but North Country Brewing seemed to push the envelope a bit further than most.
Given the diversity of their offerings, I opted for a six beer sampler (they also offer 9 and 13 beer samplers). I tried to choose a broad range of beers, highlighting several of the four beers that North Country Brewing cans, as well as a few that looked especially good.
Of the ones I tried, my two personal favorites were the Double Vision IPA, a hoppy IPA that had just the right amount of bitterness, and the McAfferty's Ale, a very pleasant Irish red. While the beers were all very good, their Paleo IPA was a bit too sweet for me, but those who prefer their IPAs without a lot of hops would likely enjoy it.
I also had a chance to try some of the food offered by North Country. I eventually settled on a "Farm-to-Fork" hamburger because it was one of the menu items that offered meat from the restaurant's own cattle ranch. That's right, their own cattle ranch. How many restaurants in Pennsylvania do you know of that offer meat from their own cattle ranch? Needless to say, the burger was quite tasty.
I was also impressed with the brewery's commitment to local ingredients. All of their chicken and buffalo meat come from the community, as do many of the other ingredients in their dishes. And, as I said before, many of their beef dishes feature their own local meat.
Ultimately, the quality of the beer, the commitment to locally sourced food, and the cozy interior left me really impressed with North Country Brewing Company. If you find yourself near Slippery Rock or traveling along I-79 between Pittsburgh and Erie, or you're already in Butler County, Pennsylvania, a visit to North Country Brewing Company is well worth the trip.
While in the area, don't miss the fantastic breweries in downtown Butler, the Wolf Creek Narrows Natural Area, and hiking at Jennings Environmental Education Center.
Note: My visit to North Country Brewing Company was hosted by the restaurant. However, the opinions expressed in this article are my own and were not subject to review.
See map for other area attractions.