Disclosure: This article may contain affiliate links. We will make a small commission from these links if you order something at no additional cost to you.
The Appalachian Trail offers many incredible views along its 232-mile route through Pennsylvania, but few can compare to Bake Oven Knob.
Bake Oven Knob is located in the northern reaches of the Lehigh Valley, with the ridgeline that the trail runs along separating the Lehigh Valley from the Poconos.
There are actually several vistas along this ridgeline, but when people are referring to Bake Oven Knob, they are typically thinking of a large rocky outcropping facing to the south and east. With an unobstructed 180-degree view, this is truly one of the best scenic overlooks in Pennsylvania.

The hike to Bake Oven Knob is relatively short at only four-tenths of a mile, and since you park a the top of the ridgeline, there is only about a 150-foot elevation gain to get to the overlook.
That being said, while this is a short hike, it isn't an overly easy one. In fact, while hiking this part of the trail, you will fully understand why Appalachian Trail hikers have dubbed Pennsylvania "Rocksylvania".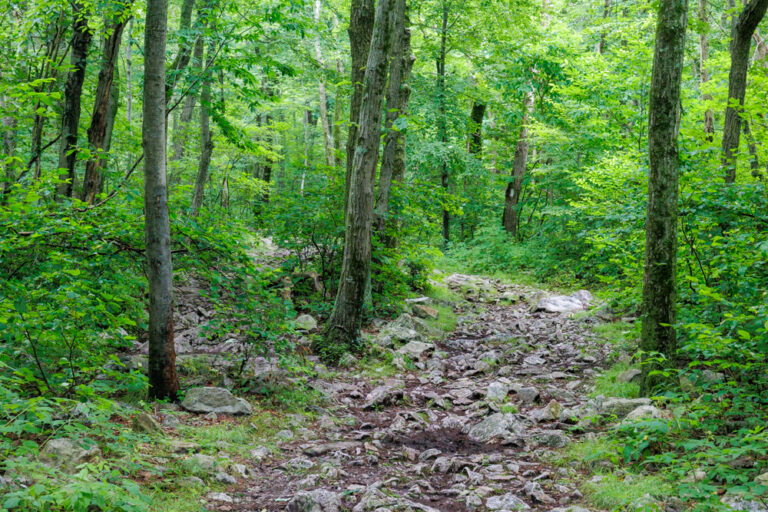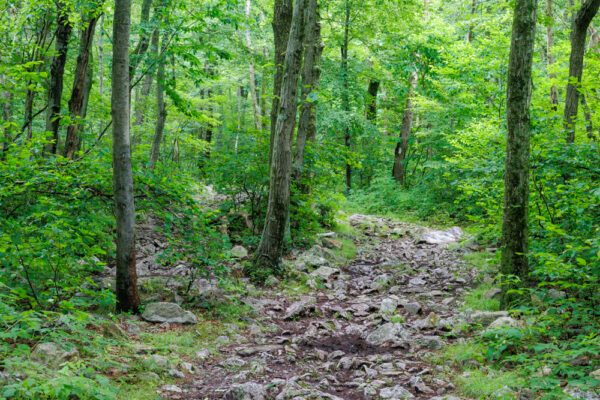 In fact, for portions of this trail, you are really just walking over small boulders as you climb to the overlook. So, while this trail isn't especially difficult, it is challenging in places, and you should make sure you feel comfortable hiking up and over boulders before embarking on the hike to Bake Oven Knob.
I also highly recommend wearing proper hiking shoes when tackling this trail due to the difficult nature of the terrain, especially when it's wet.
With that warning out of the way, here's everything you need to know to get to Bake Oven Knob along the Appalachian Trail.
Where to Park for Bake Oven Knob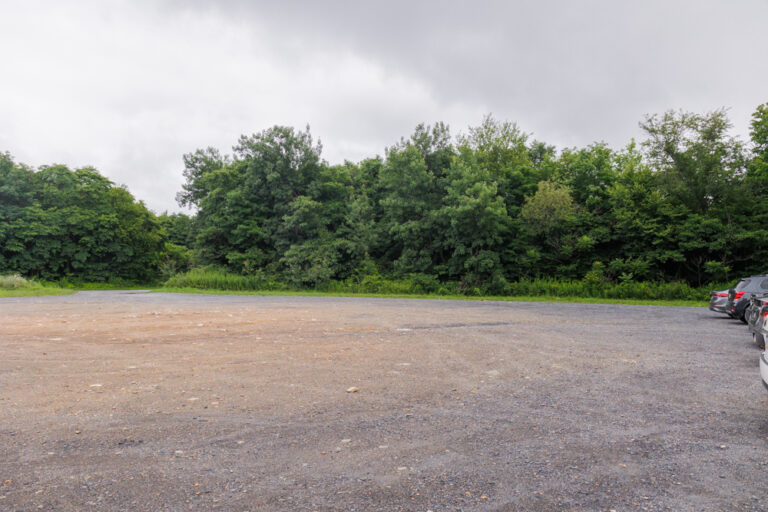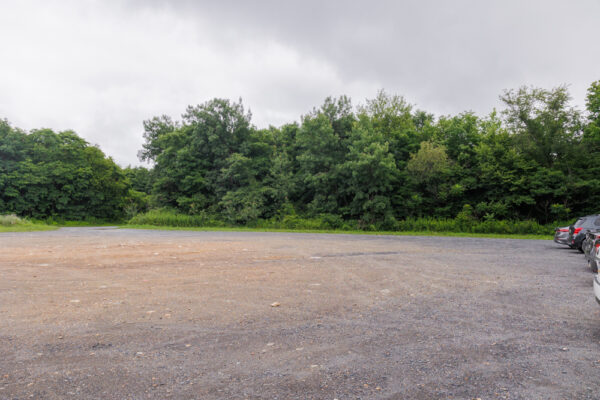 Since the Appalachian Trail extends for a thousand miles in both directions, there are plenty of parking lots where you could park for the hike to Bake Oven Knob.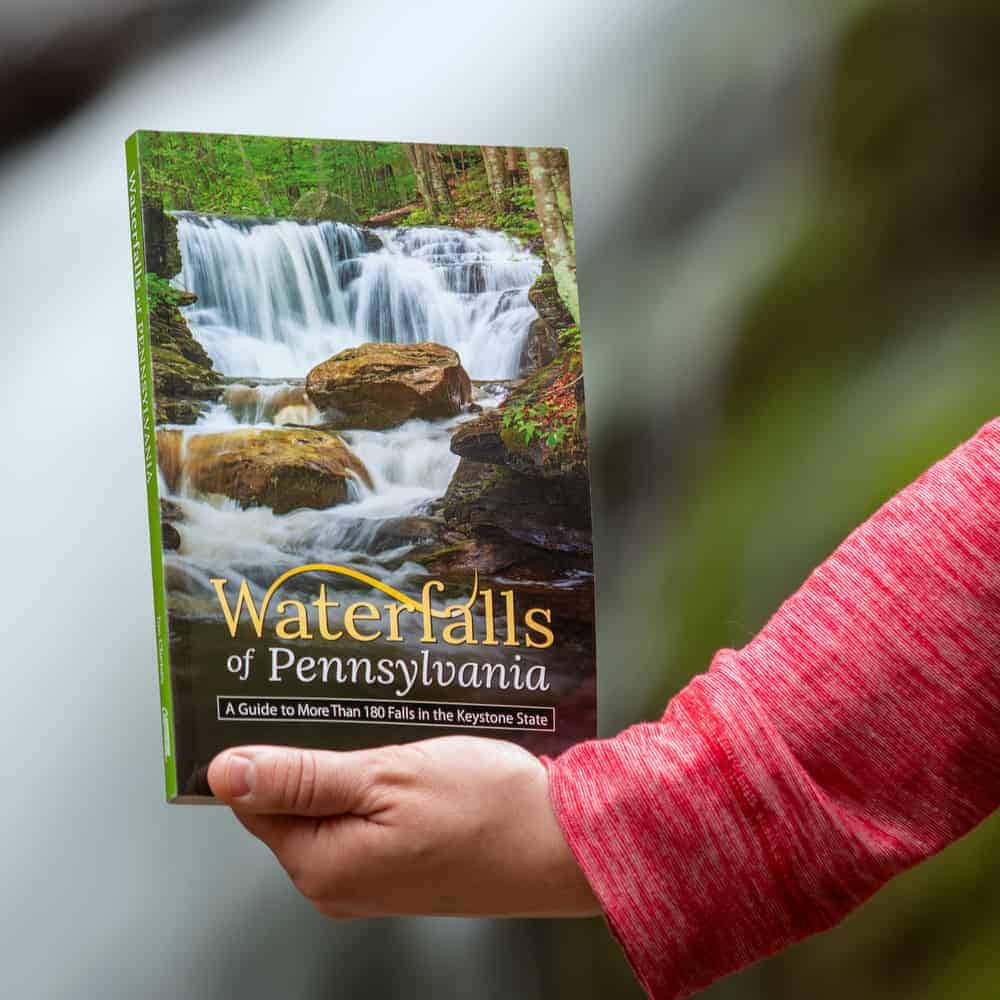 "Waterfalls of Pennsylvania" by Jim Cheney
If you love PA waterfalls, you won't want to miss this waterfall book from Jim Cheney, author of Uncovering PA, featuring more than 180 great waterfalls. Order it now on Bookshop.org or Amazon.
However, if you are looking for the closest and easiest access to Bake Oven Knob, you'll want to park in the large dirt lot at the top of the mountain along Bake Oven Road. This parking lot can be found at the following coordinates: 40.744694, -75.738417.
When I visited in the summer of 2021, I accessed this parking lot from the southern side, coming up from Allentown in Lehigh County. For this part of the drive, Bake Oven Road is a gravel road, and I was able to drive the road without too much trouble in a standard car. Just make sure you go at a slower speed as there were a few potholes and the narrow road can make passing difficult in some spots.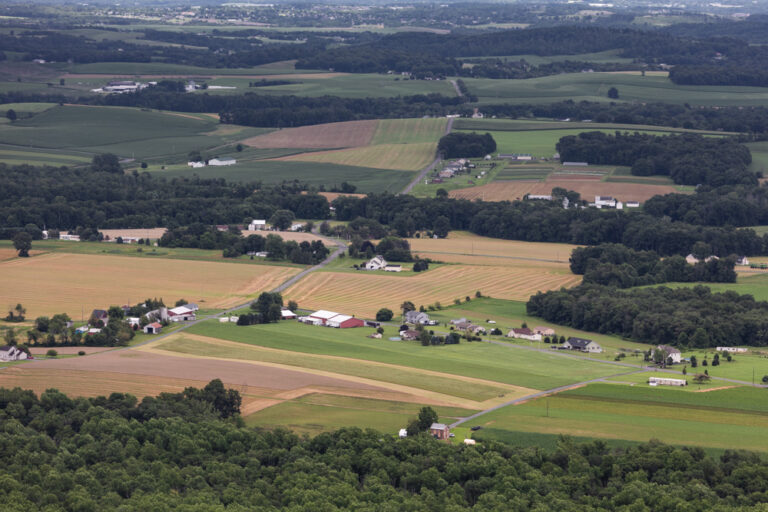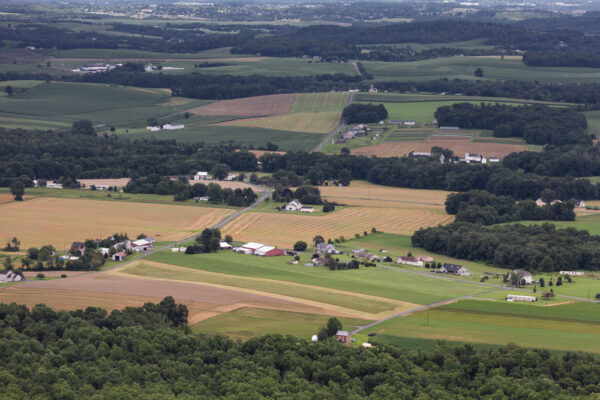 Given the popularity of this hike, I would assume the drive up from Jim Thorpe and the Carbon County side of the ridge would also be doable in a regular car, but I haven't personally done it to be able to say for sure.
I would recommend not driving this road if there is snow and ice in the area as this road is likely not maintained in the winter.
[Click here for information about how to use the coordinates in this article to find your destination.]
Hiking to Bake Oven Knob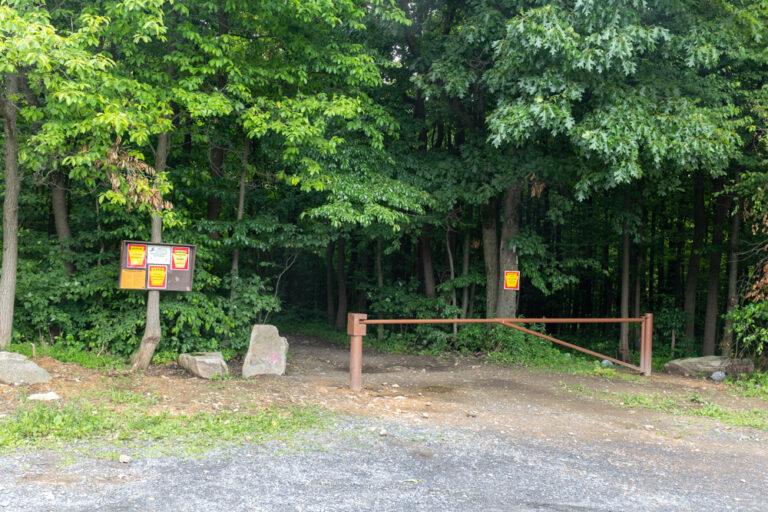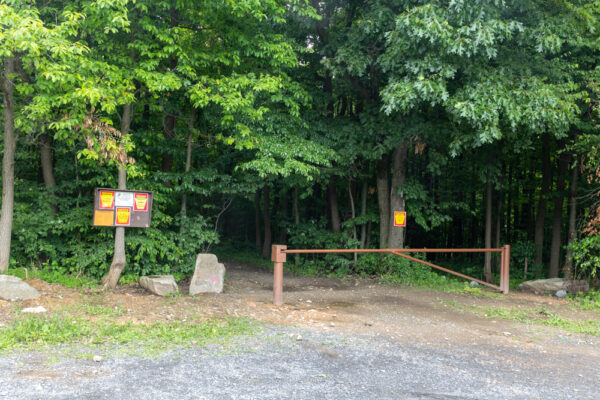 From the large parking lot, you'll want to look for the trailhead at the back right corner of the parking lot. Look for a brown gate and a signboard with information from the Pennsylvania Game Commission.
It's worth noting that you'll be doing this hike on State Game Lands #217. Since this hike is on state game lands, it's recommended that you wear some blaze orange, especially if you are hiking in the autumn so that any hunters in the area can see you.
From the gate, the white-blazed Appalachian Trail starts out deceptively easy as it's simply a wide and flat dirt path through the woods. Soon, however, you'll notice the trail getting rockier and rockier underfoot.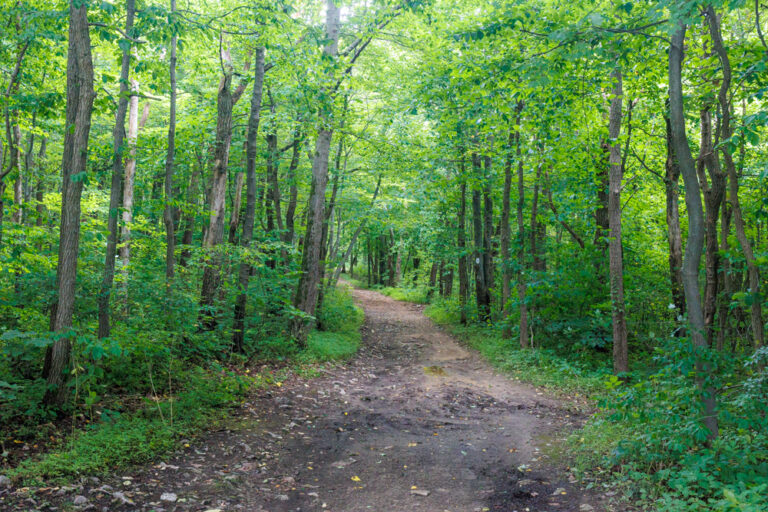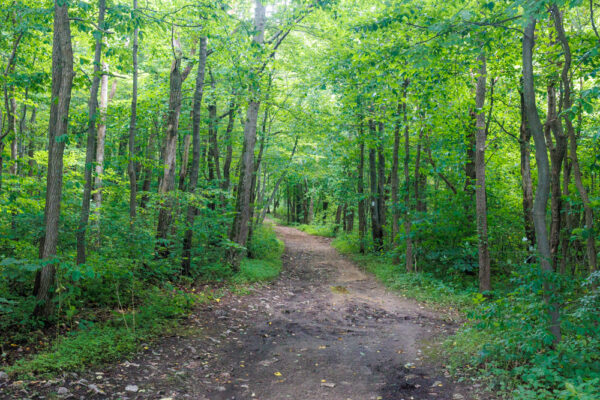 As you continue hiking, the rocks on the trail only get worse until you are more or less scrambling up an entirely rock-covered trail.
Unless you have trouble on uneven terrain, don't let this description discourage you. While it's a bit challenging and you may need to take your time in places, I personally always find these trails a lot of fun (at least in short distances), and it's not overly difficult if you just go slowly and watch your footing.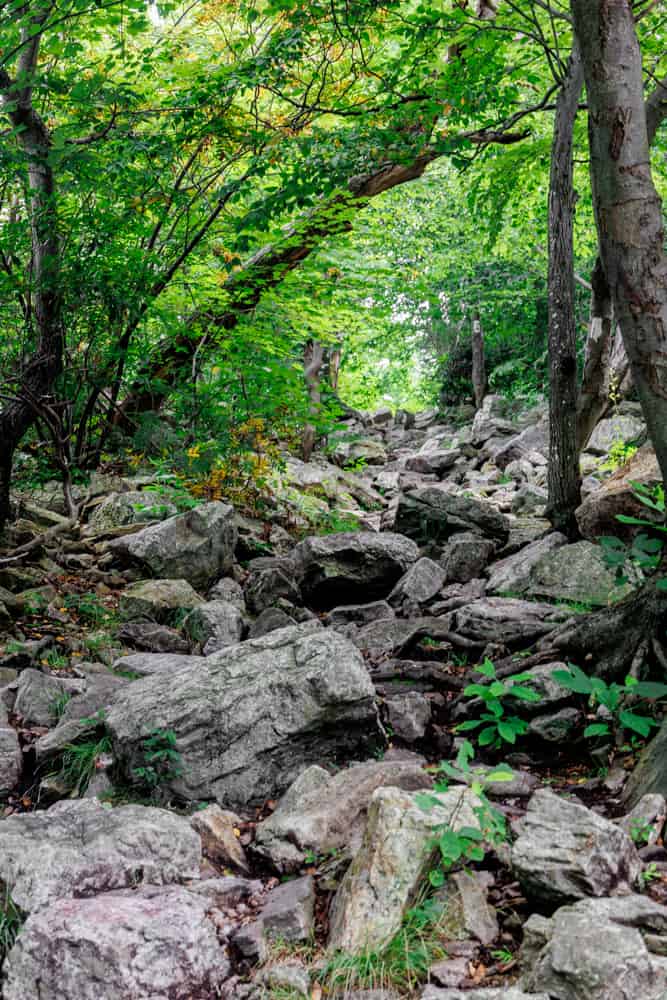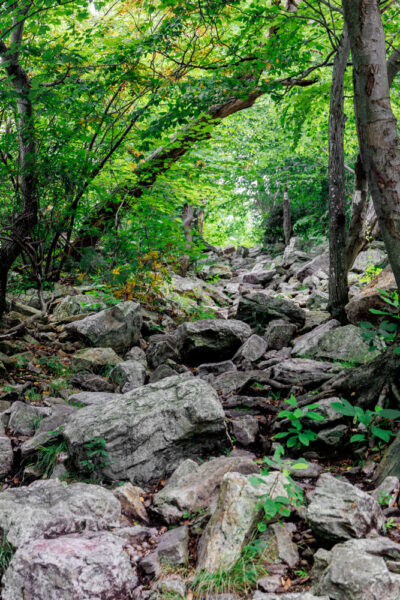 Along the way to the overlook, you'll see several smaller overlooks to your left, some of which are easier to scramble up to than others. While the views from these are nice, they aren't nearly as good as the views from Bake Oven Knob itself.
After hiking for 0.4 miles, the forest opens up a bit, and the trail levels off. There are no signs indicating that Bake Oven Knob is off to your right, so keep an eye out of the overlook, which you can see about 100 feet off of the trail to your right.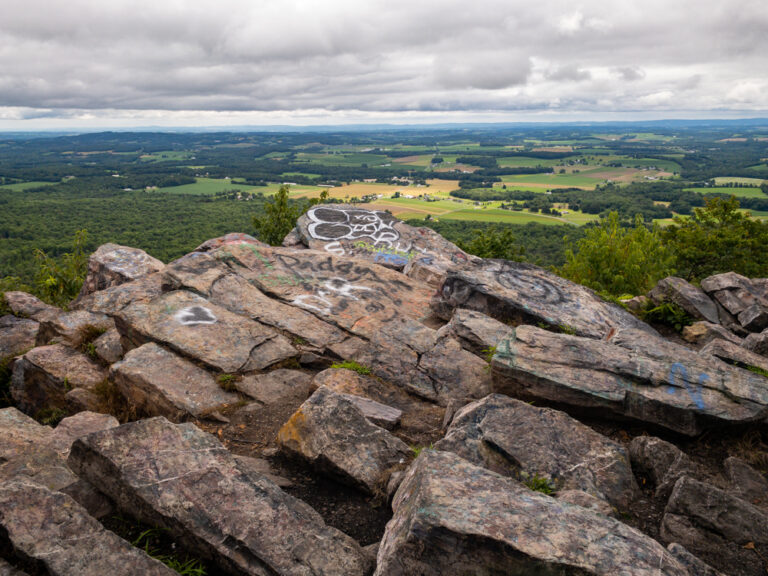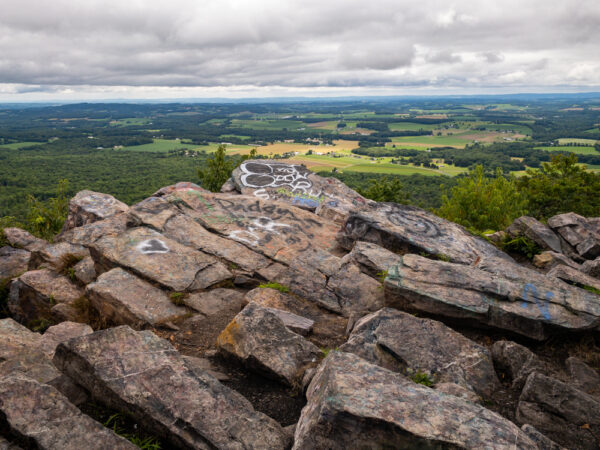 For those that use a GPS when hiking, the coordinates for Bake Oven Knob are 40.748373, -75.733627.
The trickiest part of this hike is picking your way across the forested boulder field to reach the relatively flat area that the overlook occupies. Don't rush in this area as you won't want to have an accident so close to your destination.
Once you reach Bake Oven Knob, take a moment to pick your jaw off of the ground after you first spot the view here. This is truly an incredible overlook.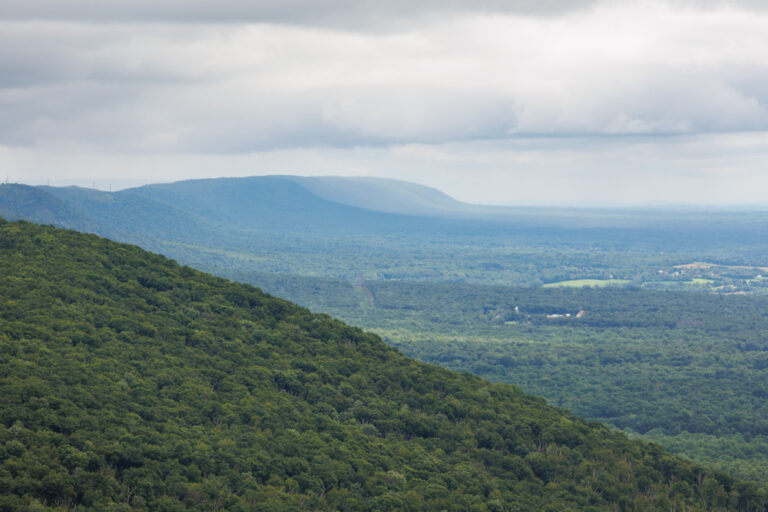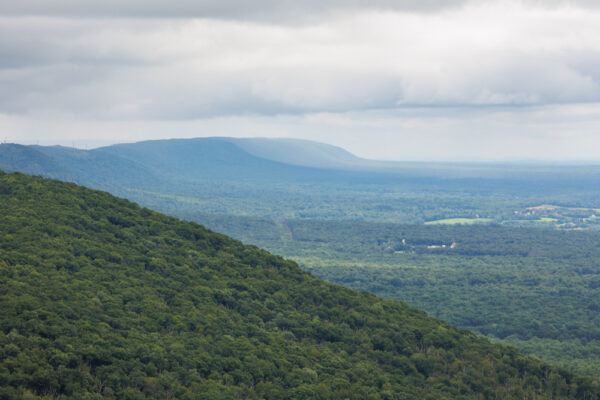 With the view to the south and east being totally unobstructed, you can see for miles and miles across the pastoral lands of northern Lehigh County, PA.
There are many different areas along the rocks where you can stop and rest for a bit while enjoying the view. Just make sure you don't sit too close to the edge, and, if the weather is warm, it's probably a good idea to check around your seat for snakes. That being said, on the cloudy summer day that I visited, I didn't see any snakes here (but I'm sure they are there).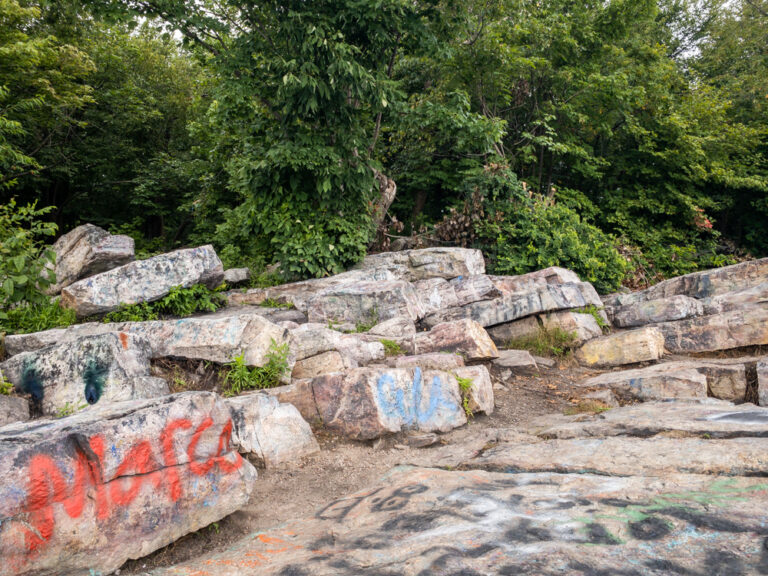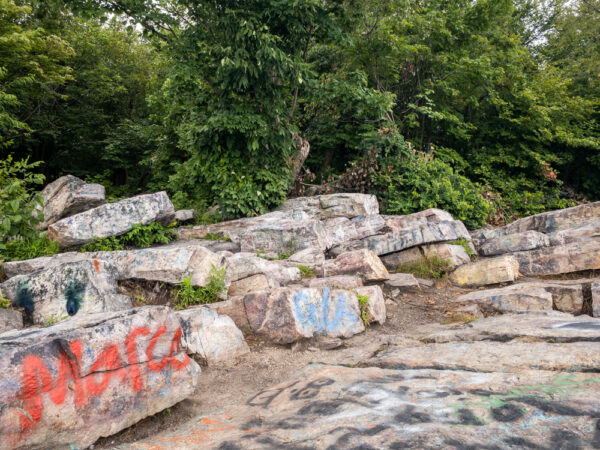 Unfortunately, over the years, Bake Oven Knob has become a magnet for graffiti, some of which isn't family-friendly, which does take away from this spot. However, the views here are worth visiting to see despite this unfortunate situation.
It can also get crowded at the overlook, so if you can, visit either early in the morning or on a weekday, especially during the busy times of the year.
Once you've had your fill of the views from Bake Oven Knob, carefully retrace your steps back over the rocks and head back towards your car. Conversely, you could continue hiking further along the Appalachian Trail if you wanted to extend your hike.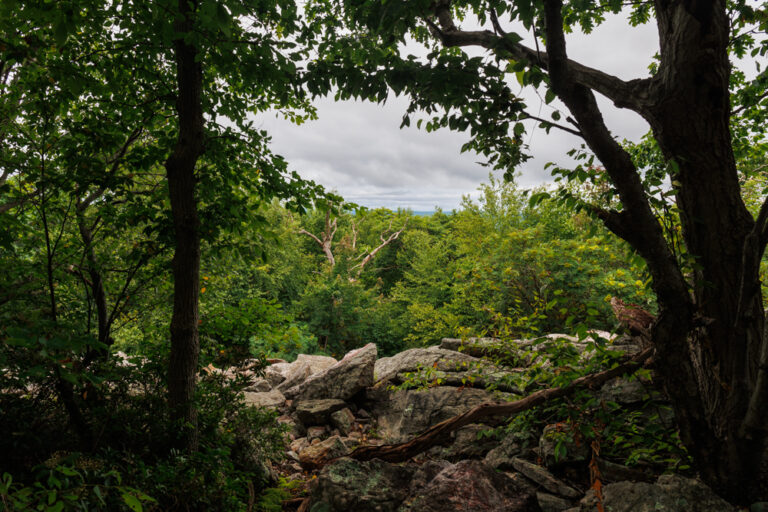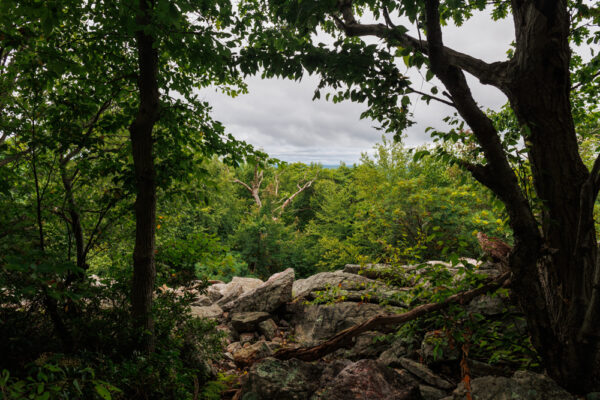 Overall, the hike to Bake Oven Knob is a ton of fun and a must-do hike while exploring the Lehigh Valley or the Poconos. While it might be a bit challenging for some, it's a relatively short hike (less than a mile roundtrip) and doesn't have much elevation gain, meaning that anyone that can handle the uneven rocks should be able to complete it.
Even better, not only is the hike fun, but you won't find many better vistas in PA.
Looking for more places to visit nearby? Check out Wild Creek Falls, the covered bridges of Lehigh County, and the Number 9 Coal Mine.