Disclosure: This article may contain affiliate links. We will make a small commission from these links if you order something at no additional cost to you.
One of my family's favorite summertime destinations is Erie, PA, and when we visit, we are always looking for fun things for the whole family to do. So, when I discovered Scallywags Pirate Adventures, I knew we had to give them a try.
To be perfectly honest, I wasn't entirely sure what to expect of Scallywags. In the past, I've been on most of the boat tours in Erie and have always enjoyed the relaxing ride and narrations. Going in, I knew this would be very different, but I didn't know how much fun my entire family would have.
Scallywags Pirate Adventures leaves from their dock on Dobbins Landing near Erie's Bicentennial Tower and Sheraton Erie Bayfront (which is a great spot to stay).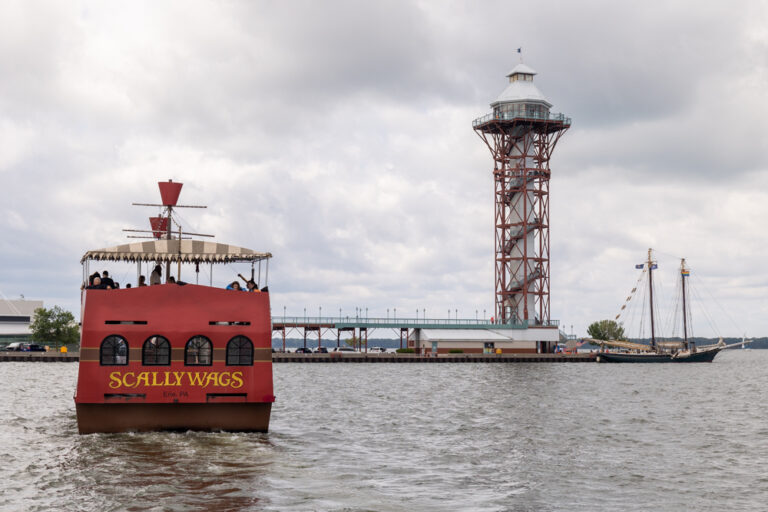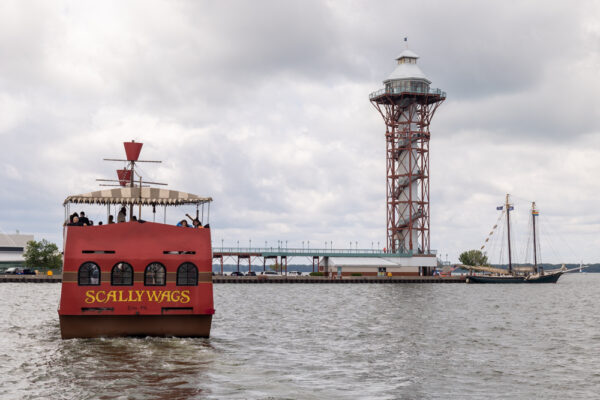 During the season (roughly mid-May through September), they offer daily Family Fun Cruises that last 90 minutes. These cruises are fully-scripted shows and are best for those with elementary-aged kids (though parents and older kids will definitely have fun too).
It's worth noting upfront that this is not an educational cruise. If you are looking for a relaxing boat ride where you can learn a bit about the history and ecology of the area, you'd be better off going on a ride aboard the Lady Kate (which is part of the same company).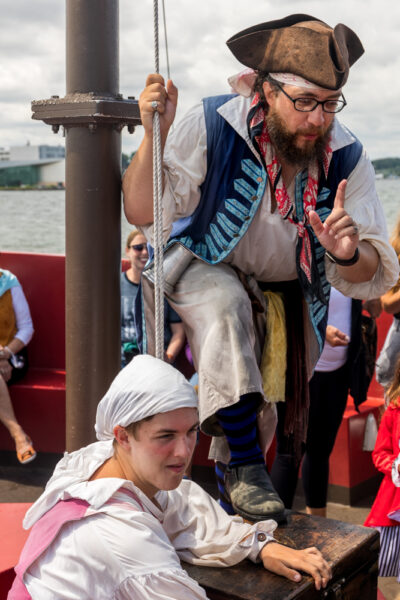 Instead, this is a fully immersive pirate adventure that takes guests on a quest to recover a hidden treasure while battling the evil Captain Skull.
The boat consists of a large open area near the bow with about a dozen water cannons for kids to shoot during the battles. There is also a covered upper and lower area in the back and a bar with a few pre-packaged snacks, and both alcoholic and non-alcoholic drinks.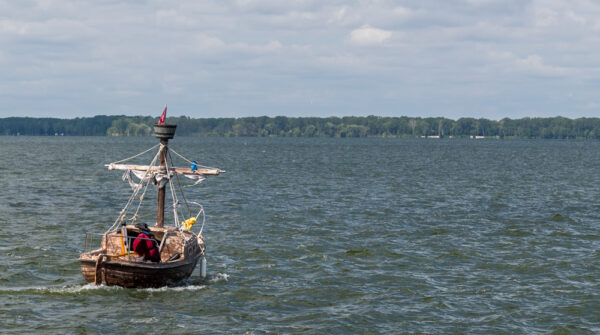 The show starts before the boat, known as the Scallywags, leaves the dock and continues for the entire trip. All staff on board the boat are decked out in costumes and stay in character, even when going over things like the safety briefing at the beginning of the trip.
The show is led by two crew members who do an excellent job moving the story along, leading fun games for kids, and creating an immersive environment.
While the entire trip is fun and engaging, the highlights of the ride are the interactions with Captain Skull.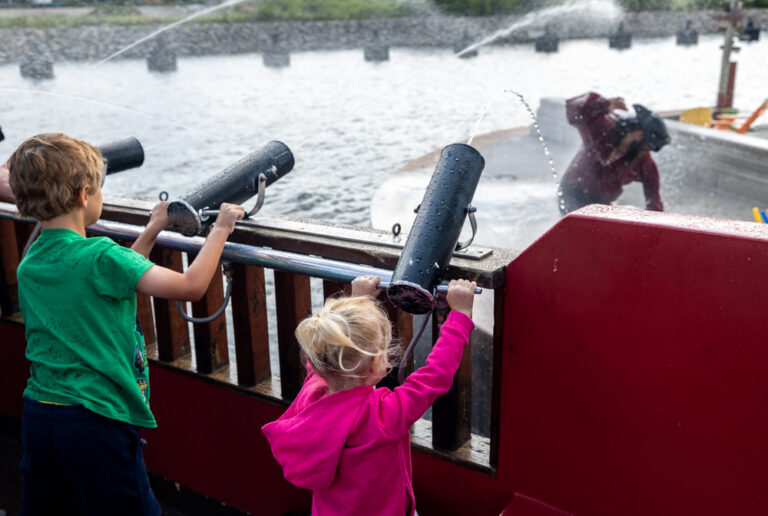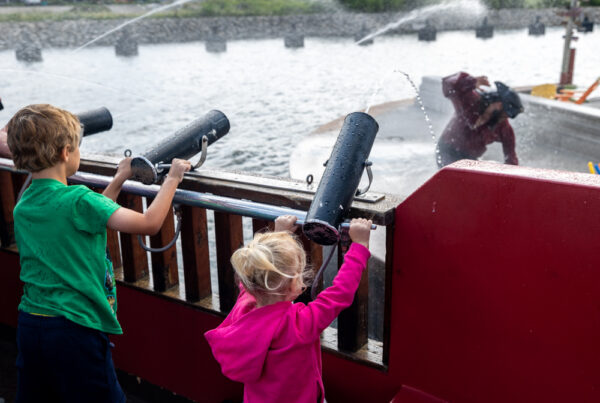 Captain Skull makes four appearances during the show, and there are three water battles between him and the boat during the cruise. These battles involve him shooting water blasters at the ship while those on the ship fire back at him using the water cannons built into the ship.
This is easily the most fun part of the adventure, but be warned that things do get quite wet on board and, if you are on the main deck, you will likely get at least somewhat wet (Stay to the enclosed parts of the boat if you don't want to get wet). While you are unlikely to get soaked, it might not be a bad idea to have a change of clothes in your car if you have big plans after the cruise is over.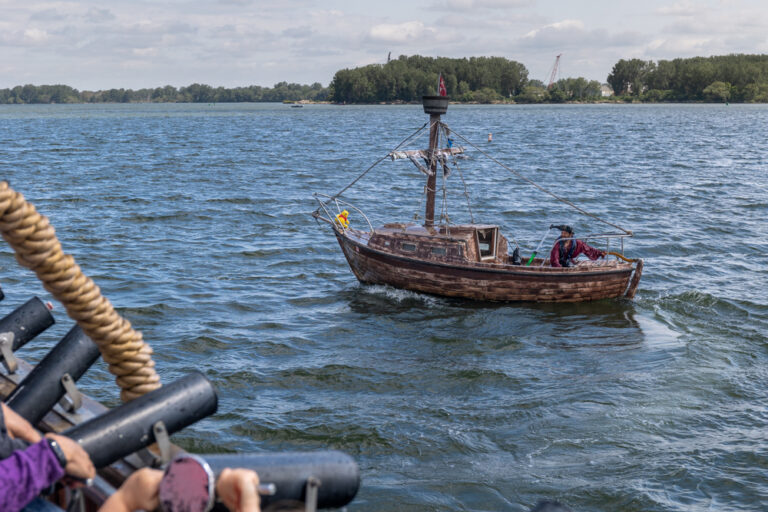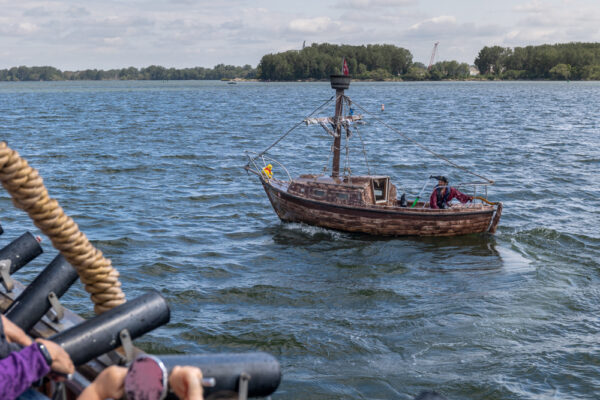 Eventually, the pirates and the guest crew defeat Captain Skull and are able to locate the hidden treasure.
Each child is given a share of the treasure (which is basically a few pieces of candy, a couple of cheap piratey things, and a plastic gold coin or two). Still, most kids would probably prefer that to an actual treasure at the end of a fun day of water fights with pirates.
Honestly, I wasn't entirely sure what to expect from the Family Fun Cruise with Scallywags Pirate Adventures in Erie, but I came away super impressed with the quality of the experience.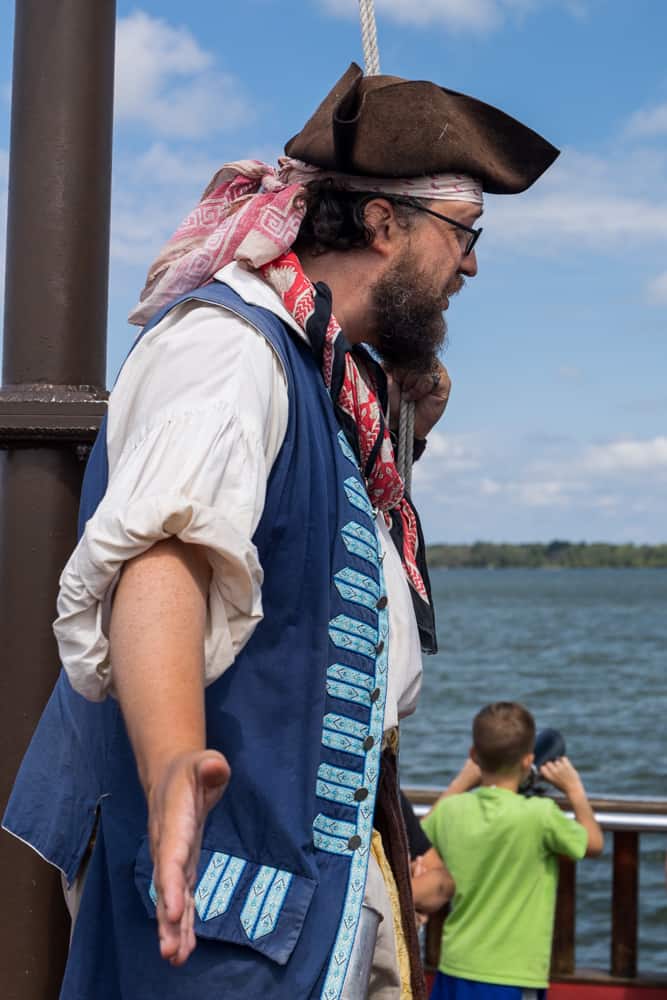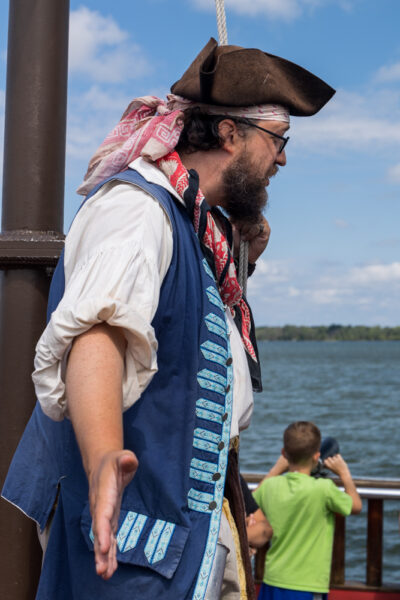 Even better, my kids absolutely loved our time on the boat, and my son was still talking about it a few days later and declared it his favorite part of our week-long vacation.
So, if you're looking for fun things to do in Erie with kids, this is definitely a boat ride that you won't want to miss.
You can find out more and get tickets on the website for Scallywags Pirate Adventures.
A Few Final Thoughts on Scallywags Pirate Adventures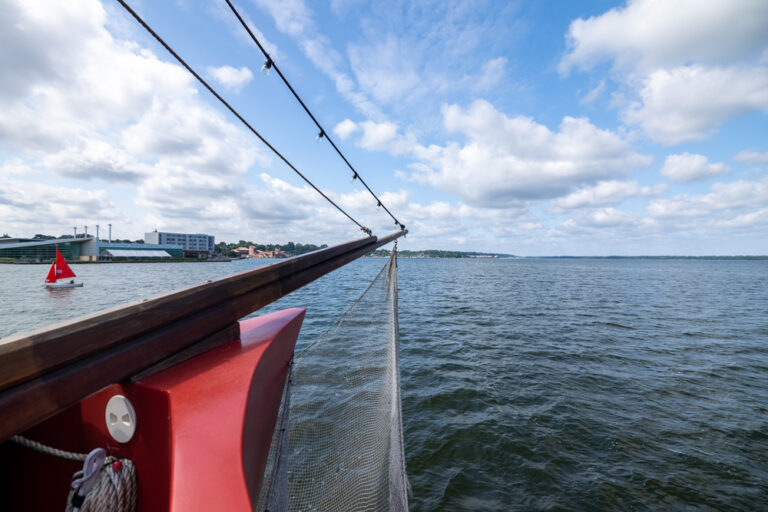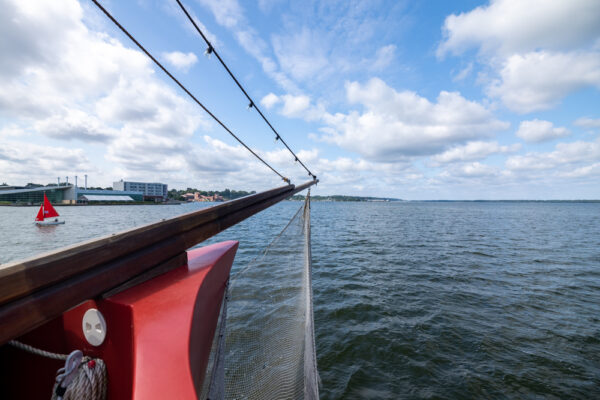 There are a few other things I thought were worth mentioning in this article that didn't really fit above, so I'm adding them down here.
I have no idea if this happens all the time or not, but when we went in the summer of 2021, the first water fight with Captain Skull happened while he was on land outside of Rum Runners, a bay-side restaurant on Dobbins Landing with decent food and a great signature cocktail.
After our cruise, we went there for lunch and were excited to see this fight from land.
Not only did we get to see the fight, but Captain Skull also offered anyone who wanted to help him a plastic gold coin for their services. My kids loved being able to use the water blasters to help Captain Skull fight against the ship that they had only hours before so vigorously protected.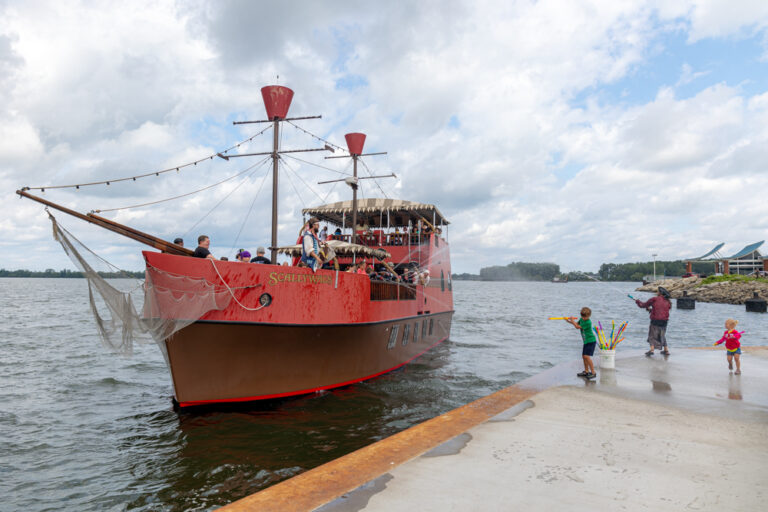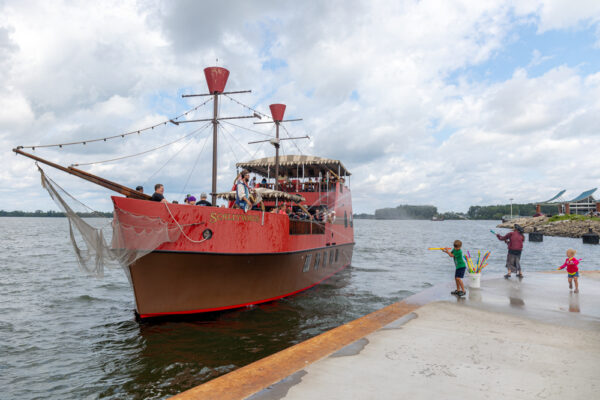 So, if you are looking for a fun activity after the cruise, head over to the dock by Rum Runners (you don't have to be eating there to be on the dock) about 15-20 minutes after the boat is scheduled to leave on its cruise, and you too might be able to be an evil pirate.
Also, for those without kids (or those with kids looking for something fun to do on a date night), Scallywags also offers a Wobby Pirate Cruise for adults. This fun experience is offered several days a week during the season.
While I haven't yet had a chance to take this 21-and-over cruise, I can imagine it would be a lot of fun based on the quality of the kids' trip.
Looking for even more things to do in the area? Check out the lighthouses in Erie, the best things to do in Presque Isle State Park, the Erie Seawolves Baseball Team, and expErience Children's Museum.