Disclosure: This article may contain affiliate links. We will make a small commission from these links if you order something at no additional cost to you.
If you love riding your bicycle, you're in luck because there are many great rail trails in Pennsylvania to explore.
In fact, Pennsylvania is home to the third-most rail trails in the country (behind only Michigan and Minnesota) with more than 2,100 miles along nearly 200 different trails throughout the state.
Rail trails, sometimes called rails-to-trails, are converted railroad right-of-ways where the tracks have been removed and a bicycle trail has been put in its place. Because these trails used to be for trains, the trails are typically quite flat, with there rarely being long stretches with a grade of more than 2%.
This makes them easy bike rides, and their status as former train lines also means that they often are quite beautiful. Even better, their gentle course and beautiful scenery also make them a great choice for those looking for an easy walk or running trail.
During my travels throughout the state, I've had a chance to bike many great Pennsylvania rail trails. Here are a few of my favorites.
Great Allegheny Passage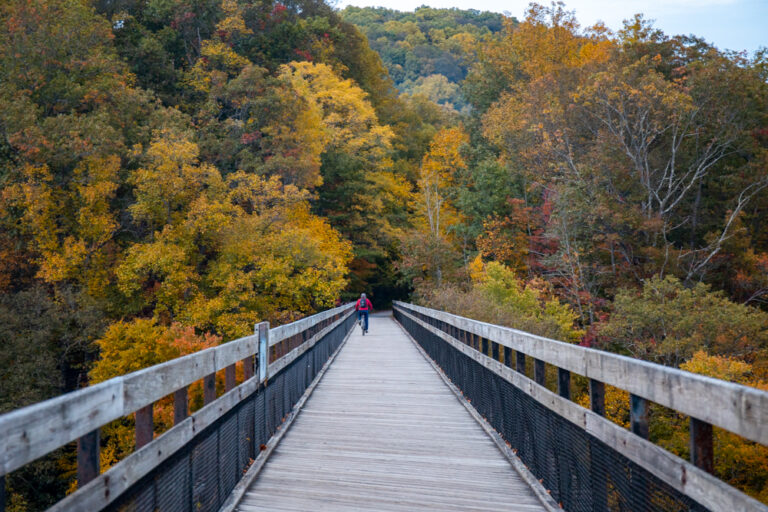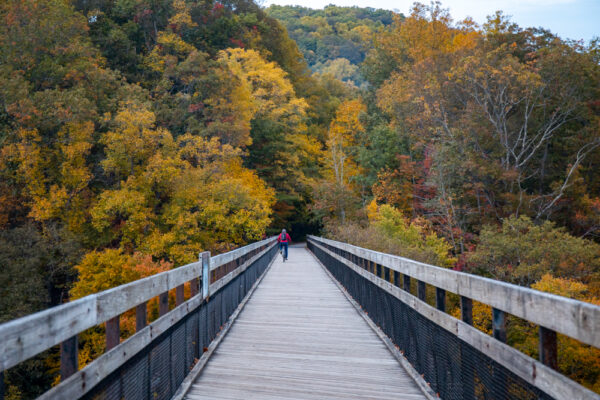 There's no better rail trail to start with than the Great Allegheny Passage.
This 150-mile trail runs from Point State Park in Pittsburgh, Pennsylvania to Cumberland, Maryland (roughly 130 miles of the trail are in Pennsylvania). This great length makes the Great Allegheny Passage the fourth-longest rail trail in the country and the longest of the completed rail trails in Pennsylvania.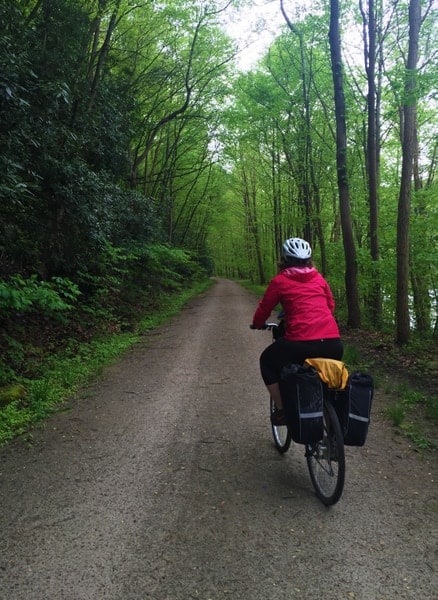 While biking the entire trail is a great adventure that is frequently done in 2-5 days, you can also bike parts of it as day trips.
In some places, shuttles can even complete one of the legs for you, ensuring that you don't have to backtrack to get back to your vehicle. The section between Confluence and Connellsville (which is centered around Ohiopyle State Park) is an especially great section for a single-day ride.
Pine Creek Rail Trail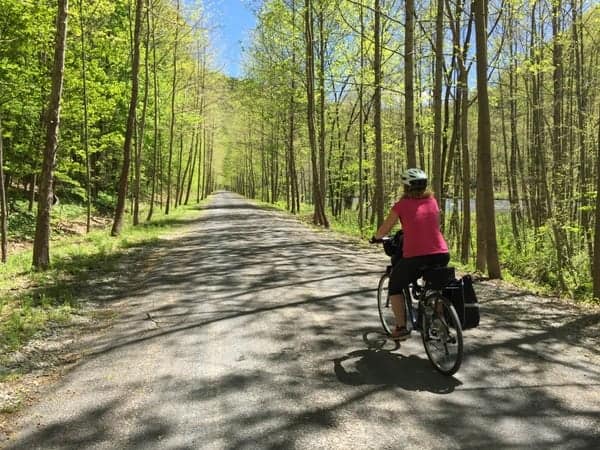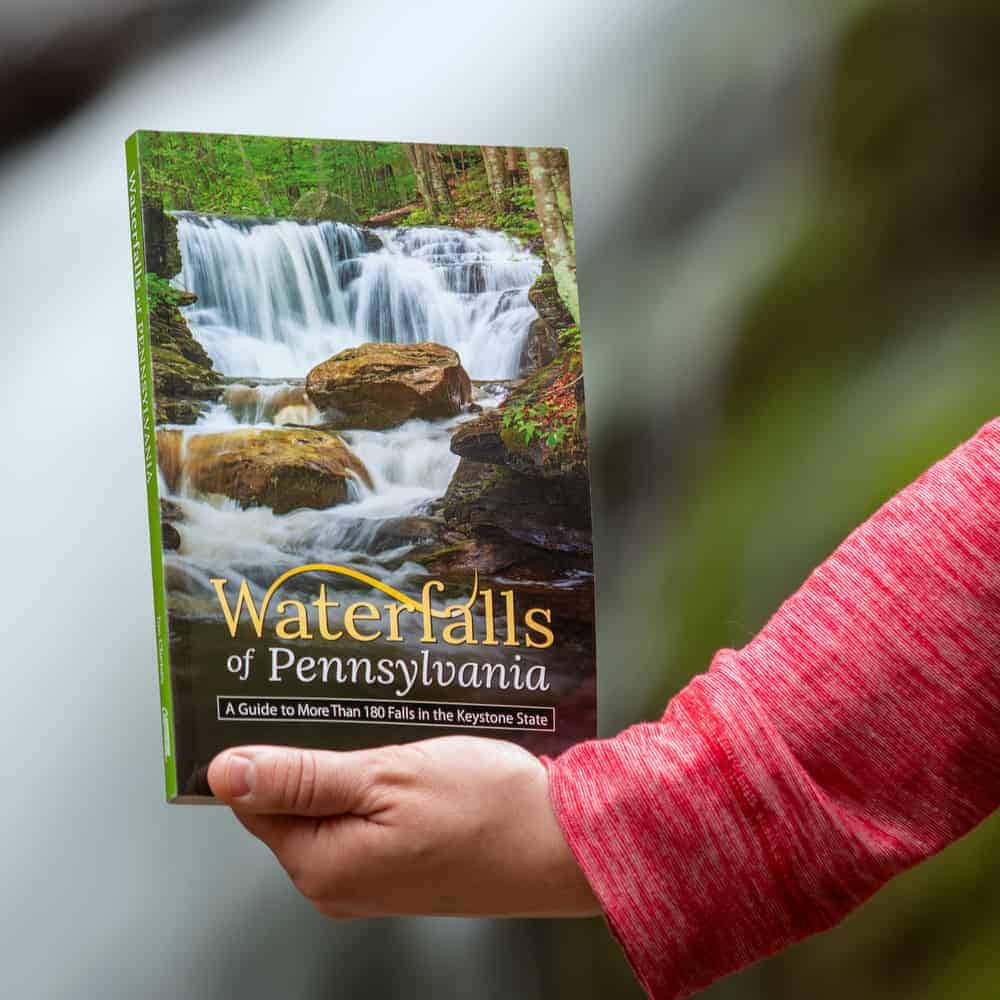 "Waterfalls of Pennsylvania" by Jim Cheney
If you love PA waterfalls, you won't want to miss this waterfall book from Jim Cheney, author of Uncovering PA, featuring more than 180 great waterfalls. Order it now on Bookshop.org or Amazon.
The Pine Creek Rail Trail runs 65 miles through the Pennsylvania Grand Canyon in Tioga and Lycoming Counties. It was originally built for the Jersey Shore, Pine Creek, and Buffalo Railroad and opened in 1883.
This trail is one of the, if not the, most beautiful of the rail trails in Pennsylvania. It follows an abandoned railroad corridor through the forested hillsides of the PA Grand Canyon, which can extend upwards of 1,000 feet above the trail.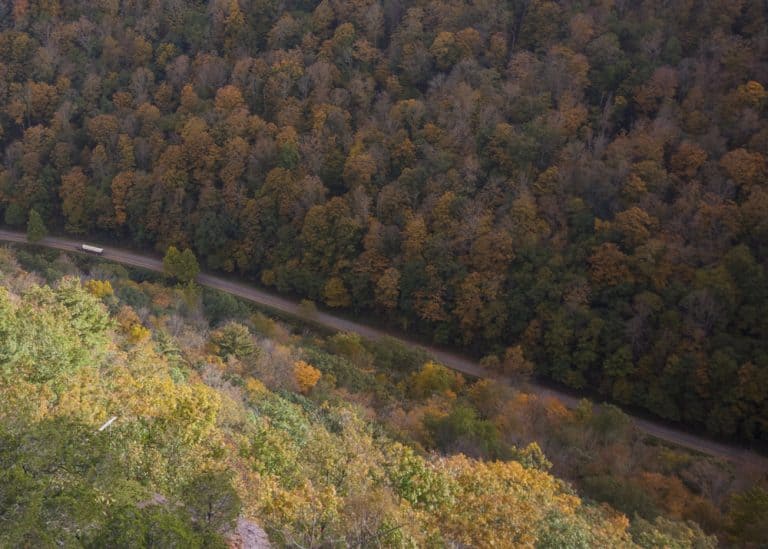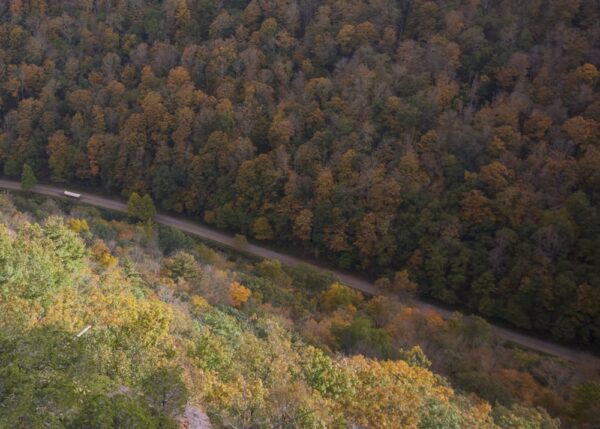 Along the way, you'll pass hiking trails, beautiful waterfalls (including Water Tank Run Falls and Pine Island Run Falls), and many great fishing spots. This trail is commonly done either as a two-day trip or a day trip, with shuttle services offered out of the Wellsboro area.
A great one-day trip is the 17-mile route between Ansonia and Blackwell.
Clarion-Little Toby Creek Trail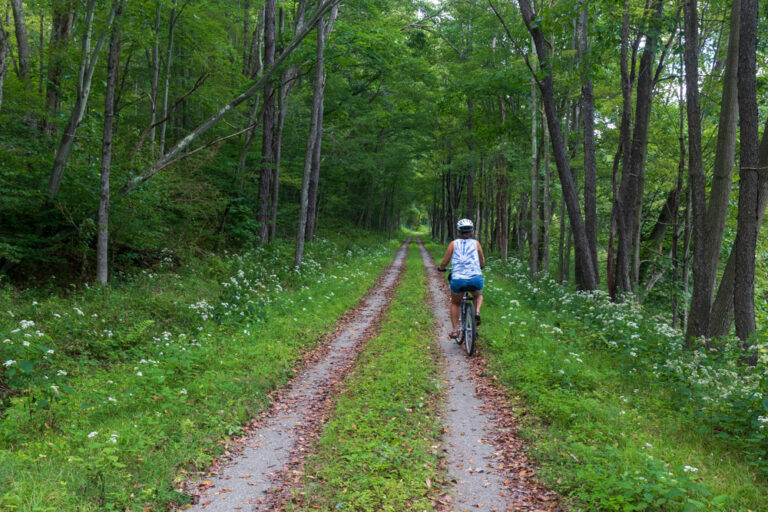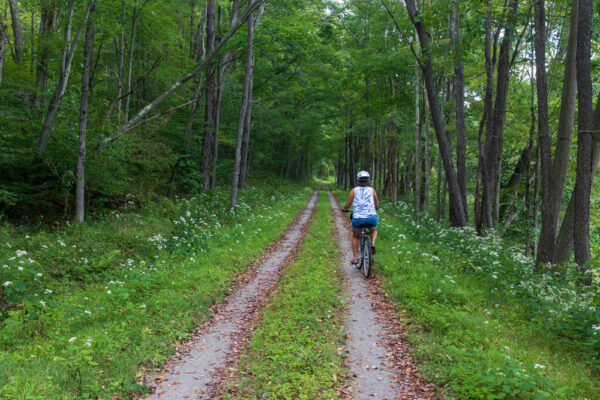 The Clarion-Little Toby Creek Trail is an 18-mile trail that runs from Ridgway to Brockway in the Pennsylvania Wilds. Along the way, it follows two beautiful waterways, the Clarion River and the Little Toby Creek.
Along these waterways, there used to be many towns built up by Pennsylvania's lumbering industry over a century ago. Signs on the side of the trail offer a bit of information about these historic communities, some of which can still be seen if you venture into the surrounding state game lands in search of foundations.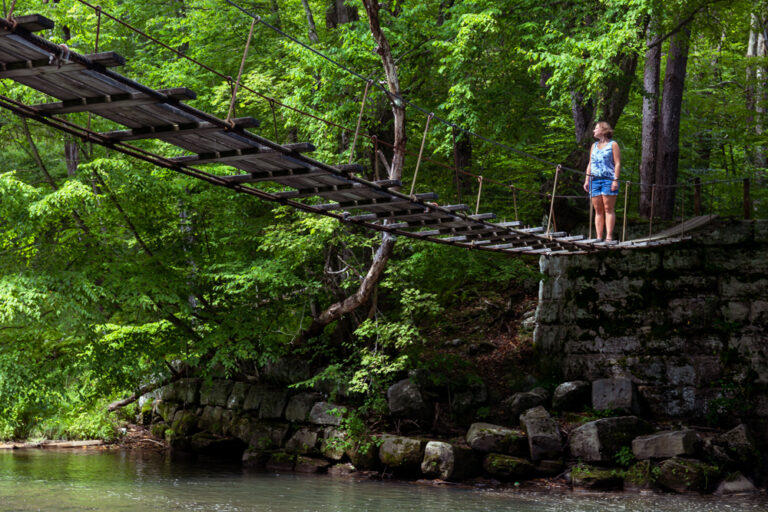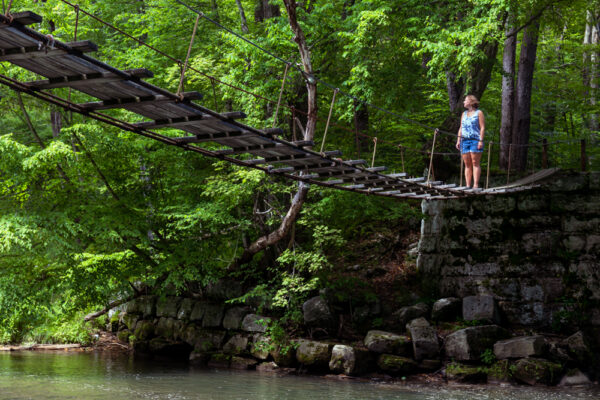 In addition to the beauty of the trail, the highlight is the Little Toby Swinging Bridge, which can be found just a few miles north of Brockway, PA.
Armstrong Trail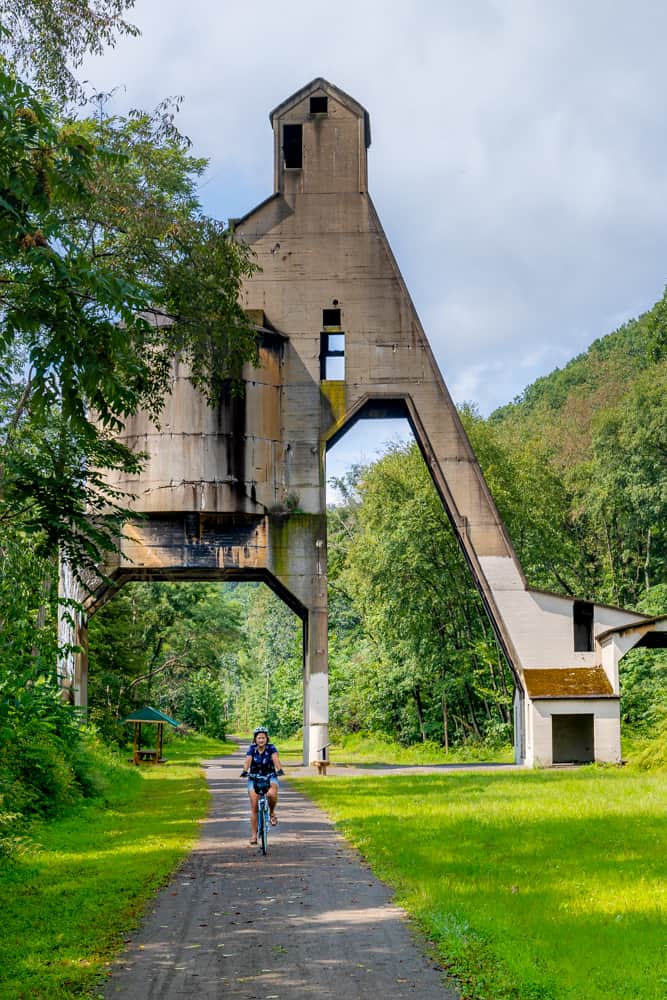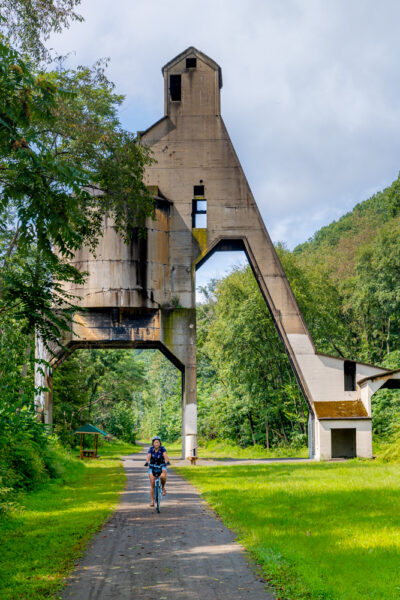 The Armstrong Trail is a 35.5-mile rail trail that follows the Allegheny River through Armstrong County, PA.
This trail follows the path of the Allegheny Valley Railroad, which started operations in 1855. This corridor would see rail service under several names until 1984.
Today, this trail offers incredible views of the Allegheny River, as well as some pretty fascinating remnants of the railroad, especially in the northern few miles of the trail. These include an abandoned railroad tunnel, a giant coaling tower, and a roundtable.
Lehigh Gorge Rail Trail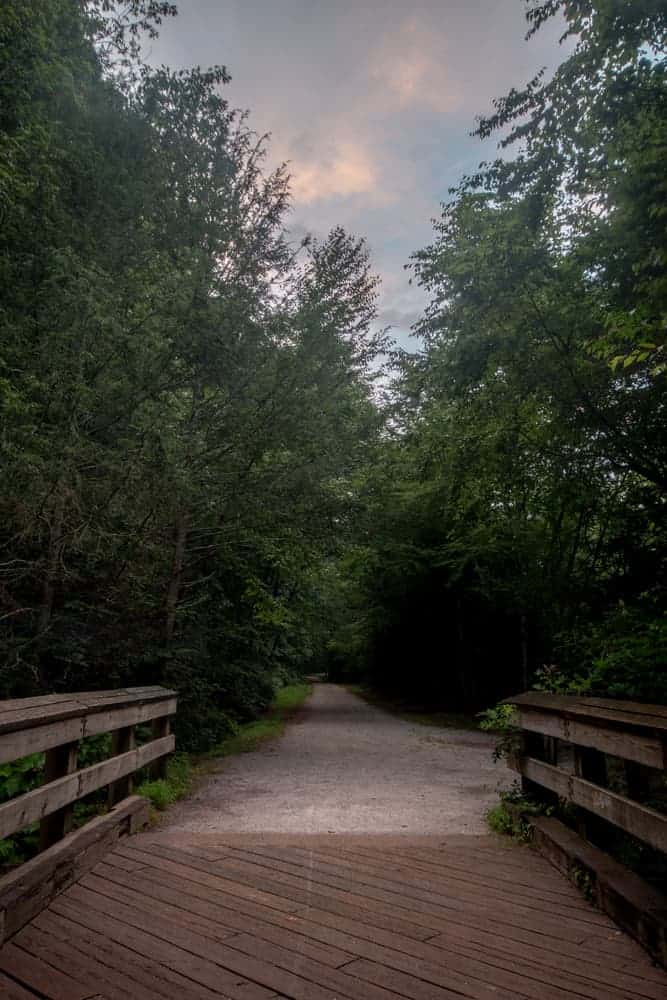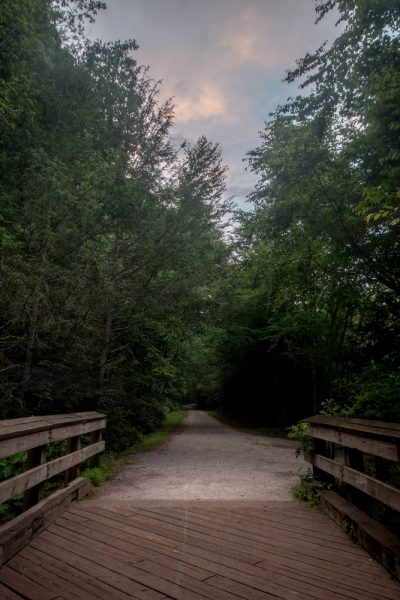 The Lehigh Gorge Rail Trail follows the Lehigh River from White Haven to Jim Thorpe, PA. This trail is a small part of the longer D&L Trail, which runs from the Wilkes-Barre area to Bensalem, though with several disconnected sections.
This 26-mile stretch of trail is largely within Lehigh Gorge State Park and passes by several beautiful sights, including Luke's Falls and Buttermilk Falls.
This trail is also unique for being one of the two on this list that you can combine a bike ride and a train trip. The Lehigh Gorge Scenic Railway has periodic Bike Trains, where riders can catch a ride to the end of the trail and bike back downhill to Jim Thorpe. You also have the option of renting a bicycle if you don't have your own for the trip on the Bike Train.
Samuel Justus Recreation Trail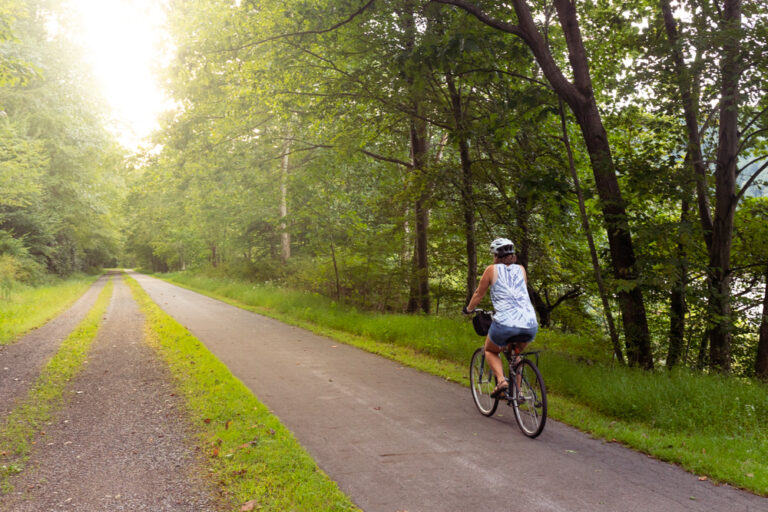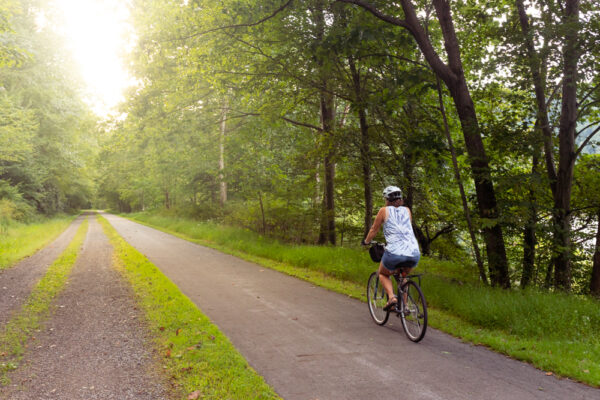 The Samuel Justus Recreation Trail is a seven-mile trail that connects Franklin to Oil City in Venango County, PA. Like the Armstrong Trail, it follows the path once taken by the Allegheny Valley Railroad.
This Samuel Justus Recreation Trail stretches along the Allegheny River for its entire length, offering fantastic views of this beautiful river. Also of interest are the ruined gates of the mansion of US Senator Joseph P. Sibley and the many oil pumps, many of which still pump oil for local refineries.
This trail also featured several great spots to relax and even had a campground just south of Oil City for those taking a longer trip.
Allegheny River Trail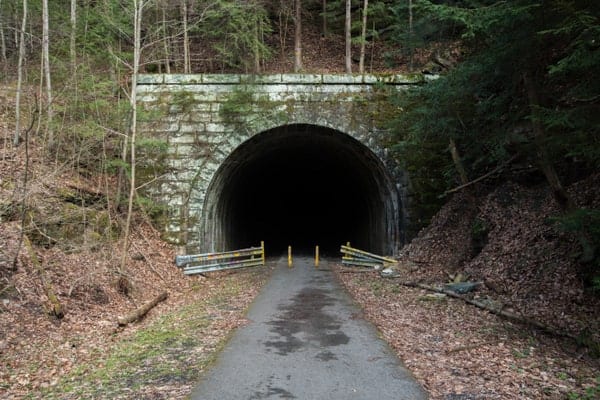 If you didn't know, you wouldn't be able to tell where the Allegheny River Trail meets the Samuel Justus Recreation Trail near Franklin, PA, but since they are listed as separate rail trails, I thought I'd include both here.
The Allegheny River Trail unsurprisingly follows the Allegheny River, and is 27 miles long, running from Franklin in the north to Emlenton in the south.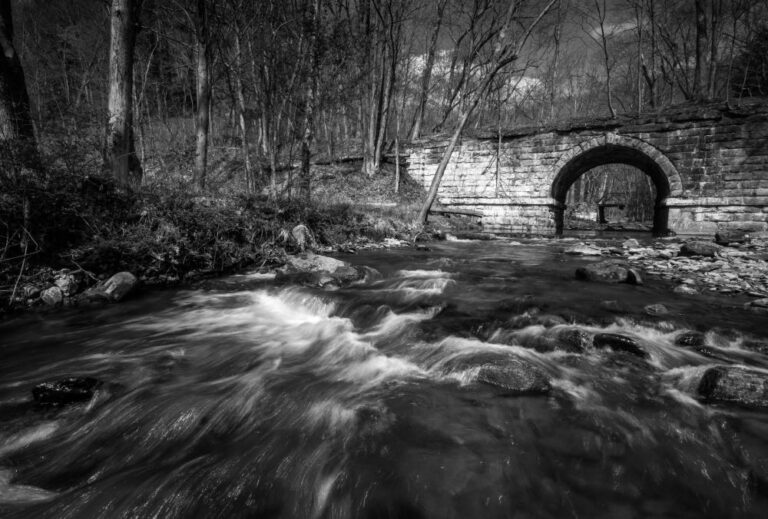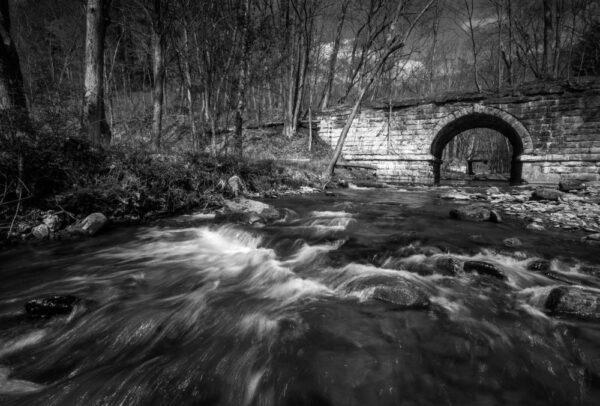 Along the route, this trail offers not only great views of the river but also two long former railroad tunnels that the trail passes through (Make sure to bring a bright light with you). It also is located within a short walk of the fantastic Freedom Falls, as well as several other beautiful spots, such as Dotter Eddy.
If you are looking for a longer bike ride, you can combine this trail with the Samuel Justus Recreation Trail for a 34-mile bike ride.
Abandoned Pennsylvania Turnpike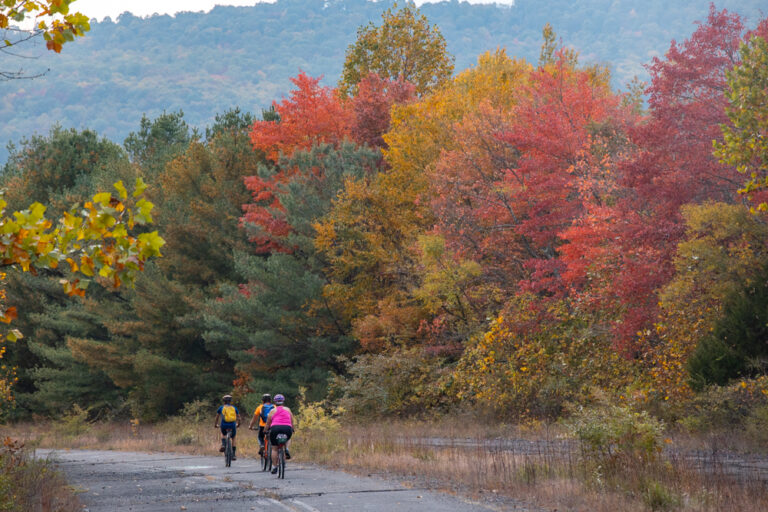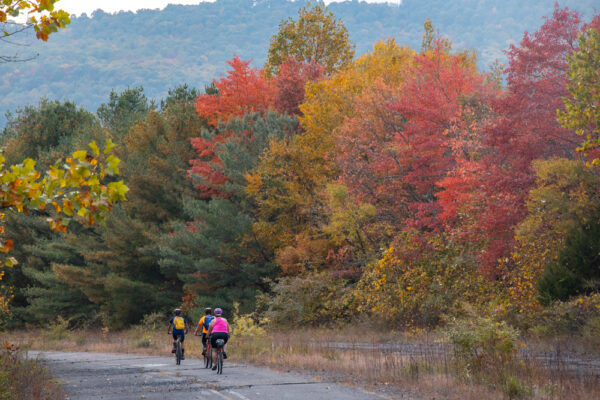 Technically, the Abandoned Pennsylvania Turnpike, also known as Pike2Bike, isn't a rail trail. However, the tunnels were first dug and the route first cleared for the South Pennsylvania Railroad, a railroad that never get to the point of operating. Because of this, in my opinion, the site's history and grade make it unofficially a Pennsylvania rail trail, so I've opted to include it here.
Despite it never having seen train traffic, this trail does have a rich transportation history. That's because when that railroad failed to materialize, the tunnels and cleared land were turned into part of the original route of the Pennsylvania Turnpike in 1940.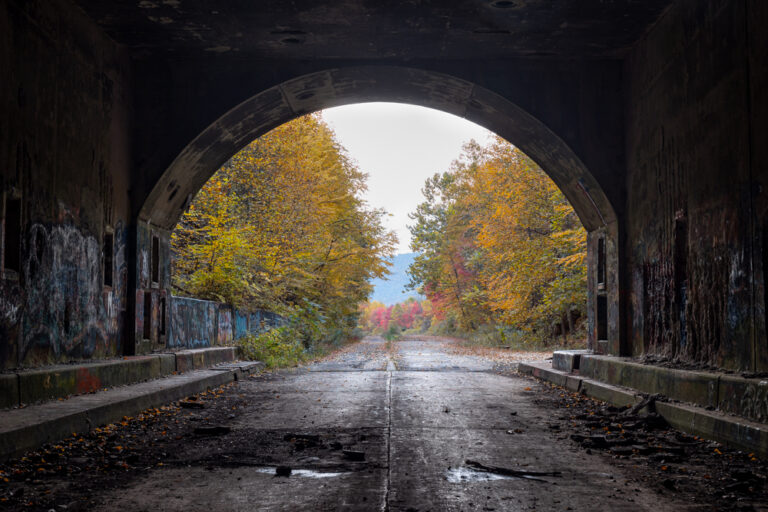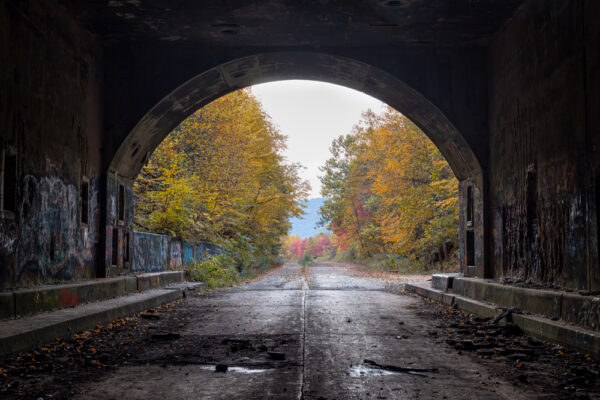 The Abandoned Pennsylvania Turnpike is 12-miles long in Bedford and Fulton Counties. Along the route, you'll find two tunnels, one of which is over a mile long!
This combination of unique history and tunnels makes this one of my favorite rail trails in PA to explore.
Oil Creek Bike Trail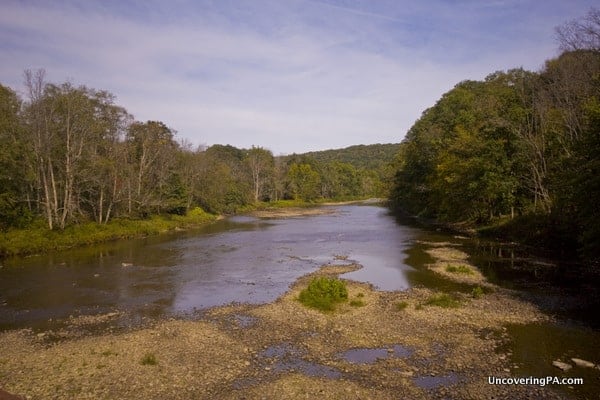 The Oil Creek Bike Trail passes through one of the most world-changing parts of Pennsylvania. It was in this valley that the world's oil industry was born, and the trail starts in the north at the Drake Well Museum, where the first purposefully-dug oil well was located.
This nearly 10-mile rail trail passes through a large portion of Oil Creek State Park and travels along Oil Creek. Along the trail, you can see old oil equipment, ghost towns, and the beautiful creek.
On select days, you can also do a train and bike trip with the Oil Creek and Titusville Railroad, meaning that you only have to bike the trail in one direction.
Schuylkill River Trail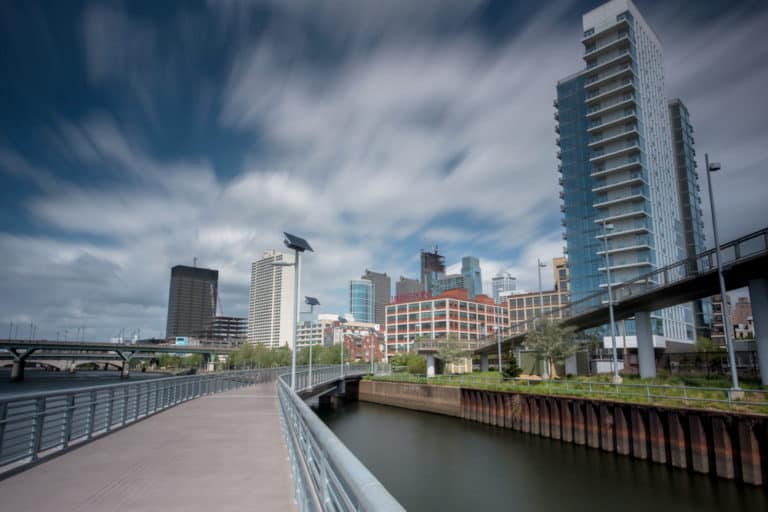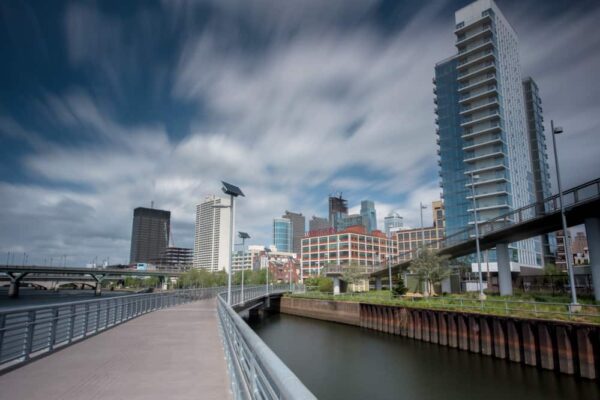 The Schuylkill River Trail is a planned 140-mile rail trail stretching along the Schuylkill River from Schuylkill County to Fort Mifflin in Philadelphia. The longest completed portion of the trail extended 23 miles from Oaks, PA to Center City Philadelphia.
This path follows an abandoned railroad bed through Montgomery County before continuing into Philadelphia through Fairmount Park and into the heart of the city.
Probably my favorite part of this trail is the elevated boardwalk over the Schuylkill River in the heart of Center City Philadelphia.
Ghost Town Trail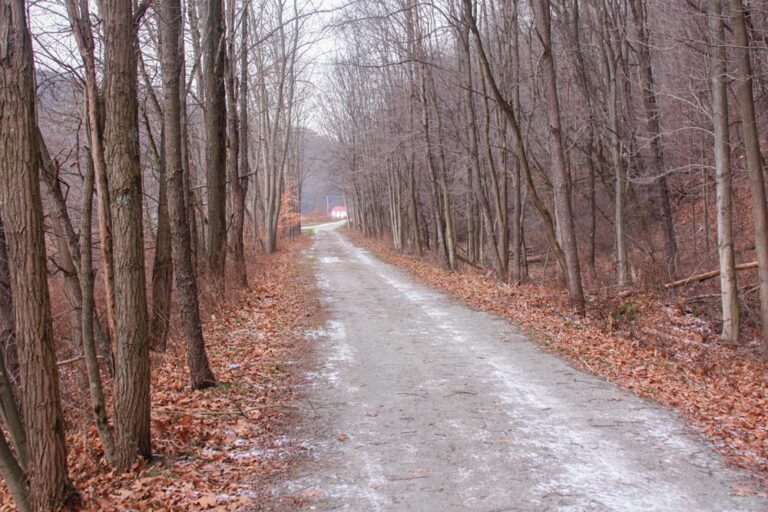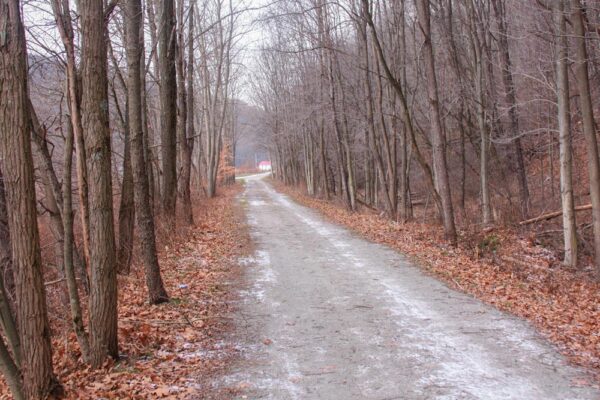 The Ghost Town Trail is a 36-mile rail trail in Indiana County and Cambria County, Pennsylvania. This trail was the corridor for the Ebensburg and Blacklick Railroad, which primarily transported coal until the early 1990s.
Today, this Pennsylvania rail trail passes by many ghost towns, which gives the trail its name, as well as several historic iron furnaces. The most well-known of these is the Eliza Furnace in Vintondale near the middle of the trail.
Of course, like most of the rail trails in Pennsylvania, you'll be biking along several different streams, giving you the chance to really enjoy the beauty of the region.
Do you have a favorite rail trail in PA? Let us know in the comments below.
Looking for even more great things to do in Pennsylvania? Check out our PA Bucket List, the Best State Parks for Waterfall Lovers, and the 7 Natural Wonders of Pennsylvania.