Disclosure: This article may contain affiliate links. We will make a small commission from these links if you order something at no additional cost to you.
Bedford County, Pennsylvania, is home to 14 historic covered bridges. Most of these bridges are located within a short distance of Interstate 99, the Pennsylvania Turnpike, or Route 30. However, there are two covered bridges located in the southern portion of the county. These bridges are very far off of the beaten path, but for covered bridge enthusiasts or those that want to see some of Pennsylvania's most beautiful and isolated countryside, they make for great stops.
When I say that these two bridges are two of the most isolated covered bridges in Pennsylvania, I'm not exaggerating. Both require traveling over 20 miles south from Route 30, the closest major road in PA, along narrow two lane roads to reach.
These two bridges are only 13 miles apart as a bird flies, but the fastest route between them takes 40 minutes, covers 28 miles, and requires traveling south to Cumberland, Maryland, before returning to Pennsylvania to see the second bridge.
However, despite this difficulty, you certainly won't be disappointed by the beauty of these historic covered bridges in Bedford County, PA.
They are listed here with the easternmost bridge listed first, but the order that you visit them in doesn't particularly matter.
Hewitt Covered Bridge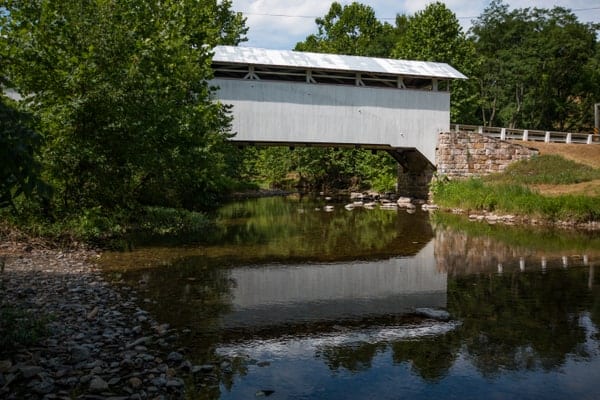 I've visited nearly all of Pennsylvania's historic covered bridges, and I don't believe that there is a more remote bridge than Hewitt Covered Bridge. This bridge is located 20 miles south of Route 30, and six miles north of a quiet exit off of Interstate 68 in Flintstone, Maryland. It is located only three miles north of the Maryland/Pennsylvania border.
Hewitt Covered Bridge was built in 1880. It crosses 88 feet over Town Creek. Since it's only a public road, traffic can still cross the bridge. Hewitt Covered Bridge is painted a very beautiful white color, with rather unique red accents around the edges of the bridge.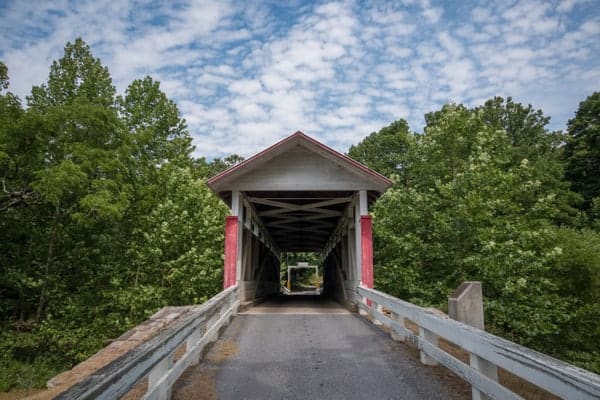 The remote location of this bridge and the quality of its preservation make this one of my favorite covered bridges that I've photographed. It really is a worth the drive south to see.
Getting There: Hewitt Covered Bridge is located in Clearville, Pennsylvania, at the following coordinates: 39.754540, -78.511069.
Parking here is quite easy as there is plenty of room to pull off to the side of the road along its western side. At the time of my visit, there were no issues accessing a variety of view points from which to photograph this bridge.
Fischtner Covered Bridge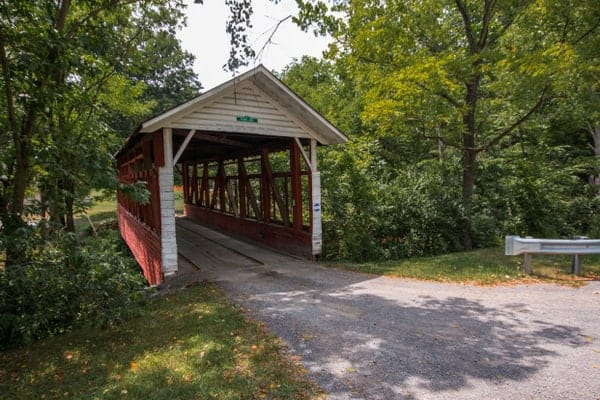 Fischtner Covered Bridge, also known as Palo Alto Covered Bridge, is located just off of Route 96 in Hyndman, PA. The bridge is less than four miles from the Mason-Dixon Line and only about 20 minutes north of Cumberland, Maryland.
The bridge was once part of the roadway before it was bypassed. Today, it only accesses a group of private homes. Because of this, the bridge has a no trespassing sign. However, that doesn't mean that you can't stop your car along the public road to check out the bridge.
Fischtner Covered Bridge was originally built in 1880. It crosses 56 feet over Gladdens Run. The bridge uses Kingpost trusses in its design, and its low-side walls make for a striking covered bridge that is quite different from most seen in Pennsylvania.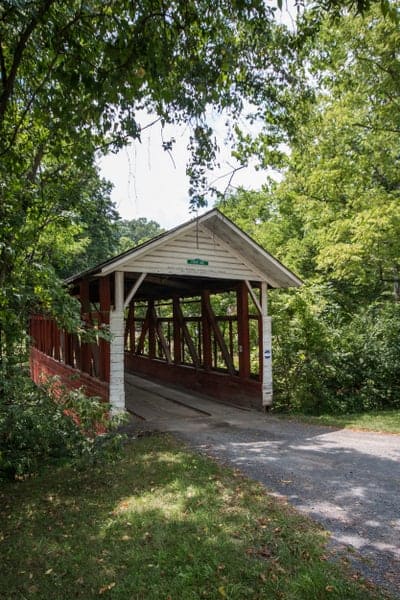 Getting There: Fischtner Covered Bridge is located just off of Route 96 in southern Bedford County. it can be found at the following coordinates: 39.763587, -78.751451.
There isn't much room to park next to the bridge, but it is possible to find a spot or two along Kennells Mill Road near the bridge. Make sure that you don't block the bridge as it is used to access several homes, and always obey any no trespassing signs.
Suggestions for Further Exploration
Given their remote location, there aren't many other attractions near these two bridges. However, here are a few other suggestions that aren't too far away.
[Click here for information on how to use the coordinates in this article to find your destination.]
See map for other area attractions.