Disclosure: This article may contain affiliate links. We will make a small commission from these links if you order something at no additional cost to you.
The fall of 1777 was not kind to George Washington and his Continental Army. Over the course of several months, Washington's army had lost the United States capital city of Philadelphia to the British army and had been beaten back in their attempts to recapture the city.
After moving encampments many times over the course of the fall, Washington finally decided to settle his army at Valley Forge, 20 miles west of Philadelphia. The army arrived at their encampment on December 19, 1777, and stayed at the site for six months, until leaving on June 19, 1778.
Over the course of their time at Valley Forge, the Continental Army faced significant hardships, leading to thousands of soldiers dying from disease, malnutrition, and exposure. However, despite the hardships, good news came in the form of an alliance with France and training from Prussian General Friedrich Wilhelm von Steuben.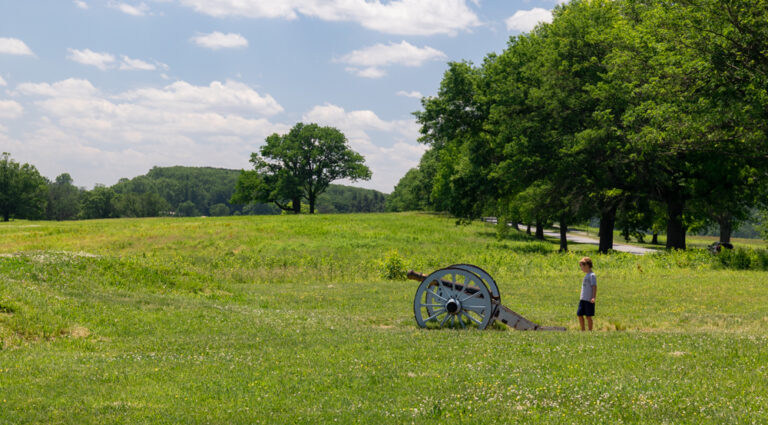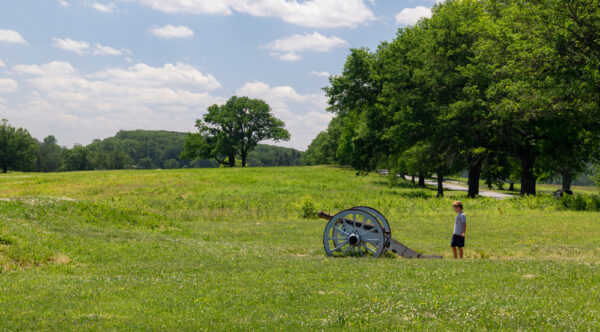 It was these two developments that allowed the Continental Army to emerge from Valley Forge in June 1778 a different army, and one that was able to eventually defeat the British and secure independence for the United States.
Today, visiting Valley Forge National Historical Park is a much more pleasurable experience than it was for those soldiers 237 years ago. And over one million people flock to the park each year to learn about the hardships that were endured here.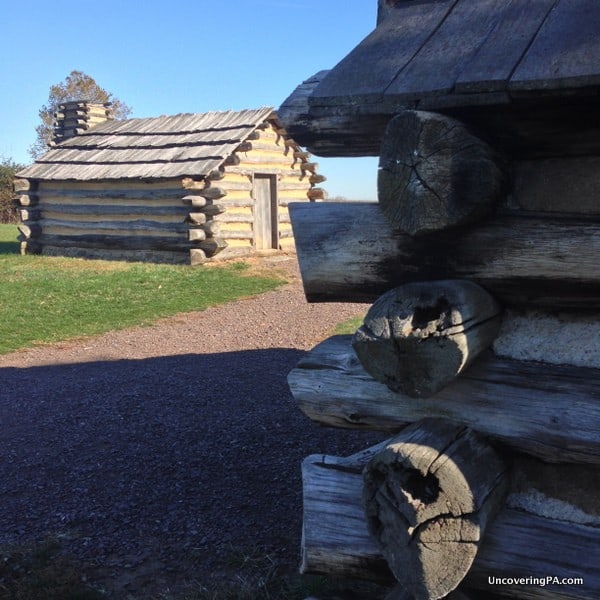 When visiting Valley Forge National Park, start in the visitor center.
While here, make sure to pick up a map from the park rangers, and take some time to check out the park's museum, which has a lot of great information about both Valley Forge and the Revolutionary War in general. The visitor center also features a short film that tells the story of Valley Forge and sets the stage for the rest of your time in the park.
Once you finish at the visitor center, hop in your car for the 10-mile Encampment Tour. This tour takes you by the most important spots in Valley Forge National Historical Park and is the best way to see the area. (Should you not have a car, scroll down for my recommendations on how to visit Valley Forge without a car.)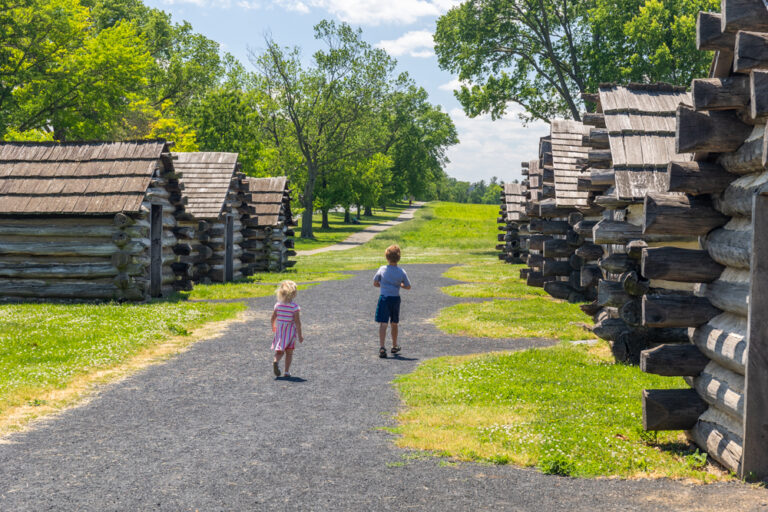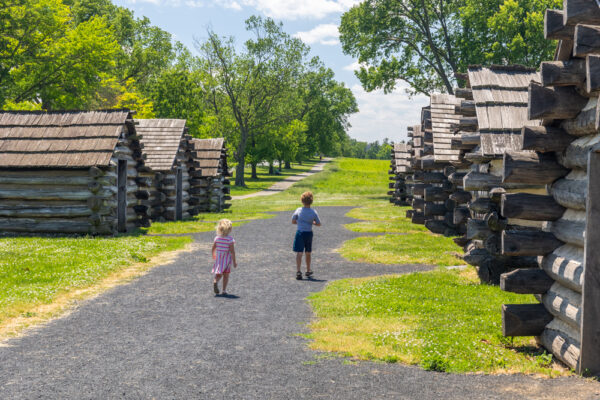 The first stop you come to on the tour is a reconstruction of the huts that the soldiers lived in.
While it's a bit hard to imagine the entire field being strewn with these makeshift buildings, it's not hard to imagine what life was like for those living in them.
Stepping inside the building, the hard wooden bunks seemed cold even on a beautiful autumn day. Worse still, the cramped conditions would have made for little privacy for the soldiers and provided little insulation against the outside weather.
Driving through the park, you'll pass many monuments, some large, and some small, to the soldiers and commanders that served at Valley Forge.
The largest of these is the 60-foot tall National Memorial Arch. Built in 1910, it commemorates the commanders and soldiers who served at Valley Forge. Make sure to stop here and take some time to check out this beautiful monument.
Another interesting stop, which isn't actually on the Encampment Tour, is Knox Covered Bridge. Located on park property, but in Chester County, this white bridge is very scenic and is worth checking out, even if finding parking is a bit tricky.
The bridge is located less than 100 feet off the tour route, just after Knox's headquarters, making this an easy stop and well-worth checking out. It's also the access point for the fantastic Mount Misery Hiking Trails if you want to get out and stretch your legs a bit.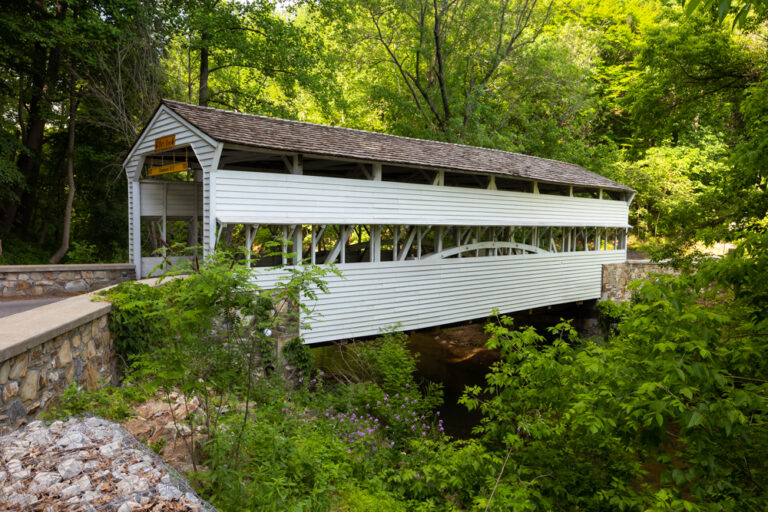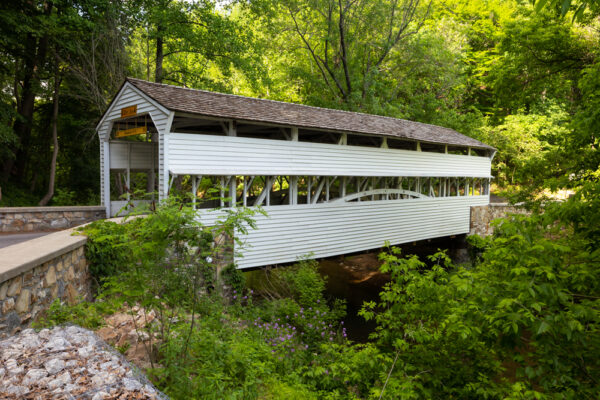 Next on the tour is Washington's headquarters. This stone house is the park's one must-visit building, even if it is fairly sparsely furnished.
Walking up to the former headquarters, there is information about Washington's time at Valley Forge and even a statue of him. Make sure you don't miss the small museum located inside the beautifully restored train station close to the headquarters.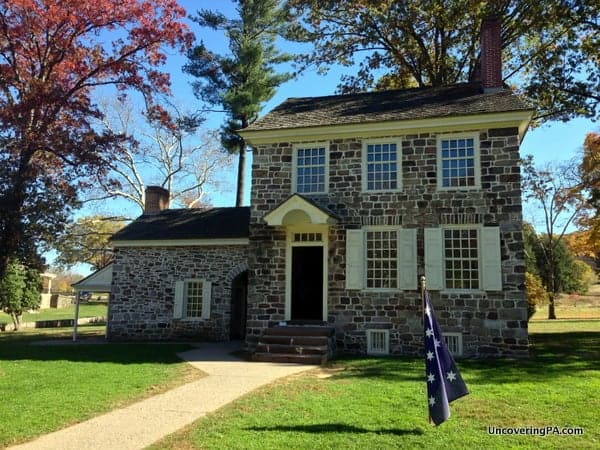 By this point in my visit, I was beginning to wonder about things like defensive positions and artillery.
Maybe it's because I've visited so many battlefields around the country, but even though Valley Forge was never the site of a battle, I was surprised I hadn't seen any yet. However, once leaving Washington's Headquarters, I finally came to an area with reconstructed fortifications and even a few cannons.
I really enjoyed checking out these sections of the park and found it very interesting to learn how the army would have defended itself had it been attacked.
The last must-see stop at Valley Forge National Historical Park is Washington Memorial Chapel. The church serves as both a memorial to Washington and as an active Episcopalian Church. Take some time to walk in and around the church and experience the beauty of the building.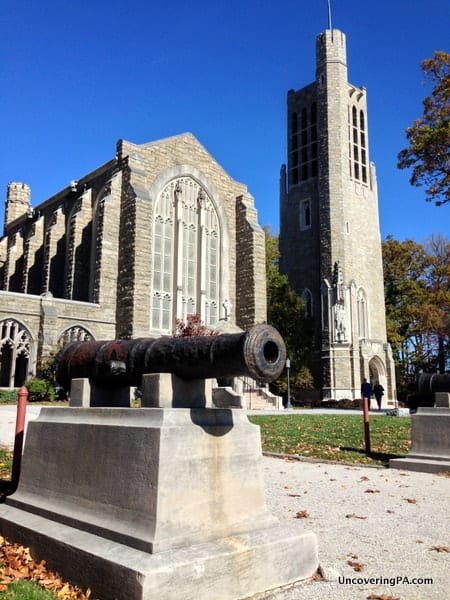 Visiting Valley Forge National Historical Park might lack some of the excitement of visiting an actual battlefield, but there are few places you can visit in America that had such a direct impact on the history of the United States.
Because of this, I really enjoyed my time at Valley Forge. All told, I spent about two hours at the park, but you might spend a bit more or a bit less depending upon your interest. While it would have been nice for there to have been more signage at the park, the free call-in audio tour the park provides gave a lot of great information during my visit.
How to Visit Valley Forge National Park Without a Car
Many visitors to Philadelphia arrive by either plane or train and don't have access to a car. Since getting a taxi to Valley Forge would be very, very expensive, it's best to consider public transportation if you want to see the park.
From downtown Philadelphia, SEPTA bus 125 runs from the intersection of 13th Street and Market Street to Valley Forge National Historical Park.
Trips take a little over an hour, and the buses leaving from downtown Philadelphia at 8am, 9am, and 10am are your best bets if you want to spend a good amount of time at the park (Weekend buses to Valley Forge start running at 9am).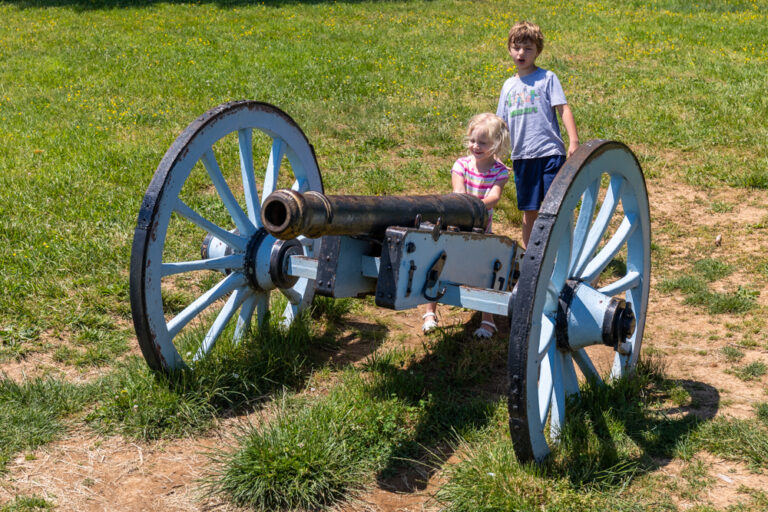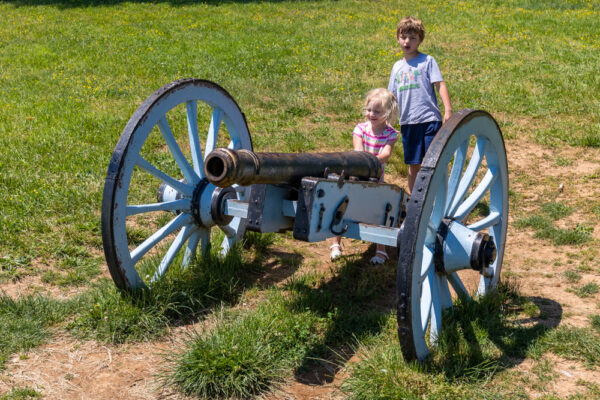 Once you arrive at the Valley Forge National Historical Park Visitor Center, you have a few options. Walking is possible to a few of the sites, but because of the distance covered by the driving tour, it isn't a viable option if you want to see the entire park.
Another option is the 90-minute trolley tours that are offered for an additional cost from the visitor center gift shop. Tours are conducted on weekends from late March to late November, and daily from roughly June to August. Information about trolley tours at Valley Forge can be found here.
When you are ready to return to downtown Philadelphia, take SEPTA bus 125 from the visitor center. It leaves once an hour, roughly on the half-hour, with the last bus leaving at 3:50 pm on weekdays and 4:20 pm on weekends.
Looking for more places nearby? Check out the American Treasure Tour, our favorite things to do close to nearby Eastern University and the Wharton Esherick Museum.
---
Valley Forge National Historical Park
Hours: Daily: 9am-5pm

Cost: Free

Website: NPS.gov/VAFO

Address: 1400 North Outer Line Drive
King of Prussia, PA 19406
See map for other area attractions.
---