Disclosure: This article may contain affiliate links. We will make a small commission from these links if you order something at no additional cost to you.
If you love natural beauty, a visit to Ohiopyle State Park in southwestern Pennsylvania should be on your list. Home to many beautiful waterfalls, great white water rafting, and scenic vistas, this park offers something for every outdoor lover. However, the one drawback of the park is the lack of lodging options nearby.
Fortunately, there is a fantastic campground at Ohiopyle State Park that offers the chance to immerse yourself in the area's beauty.
So, if you are thinking about camping at Ohiopyle State Park during your next visit to the Laurel Highlands, here's everything you need to know.
Camping in Ohiopyle State Park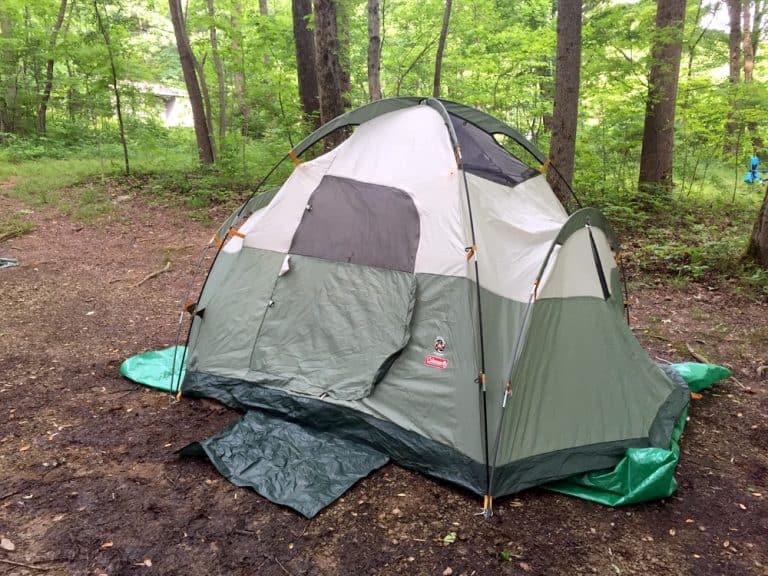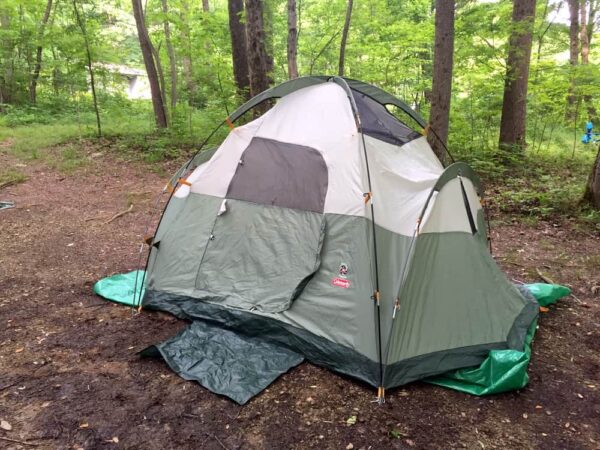 The campground at Ohiopyle State Park is quite large and features roughly 200 campsites. Called the Kentuck Campground on the park map, the campground is located off of Kentuck Road on a hillside above the town of Ohiopyle.
For the most part, the sites are close together, and you are unlikely to be more than about 50 feet away from your neighbor's tent (but probably closer than that).
If you prefer a bit more separation, there are approximately 25 walk-in campsites located at the back of the campground. Unlike the other campsites where you park your car adjacent to your tent, these campsites require a short walk to reach. They are also much more spread out and should offer a bit more privacy.
That being said, most people in the campground are respectful of others and quiet hours. However, if you are a light sleeper, you'll be close enough to other campers that a loud snorer or crying child could cause some issues.
There are also several cabins and yurts available for rent at the campground, though they are very popular, and making an early reservation is highly recommended. The cabins at the campground are all fairly rustic and do not include bathroom facilities, though are near the campground's bathrooms.
Camping at Ohiopyle State Park is somewhat unique among state park campgrounds in PA in that it is located just a few minute's drive from a fairly bustling town. While Ohiopyle is small, it features several restaurant options even during the offseason and offers the chance to get any basic necessities that you may have forgotten.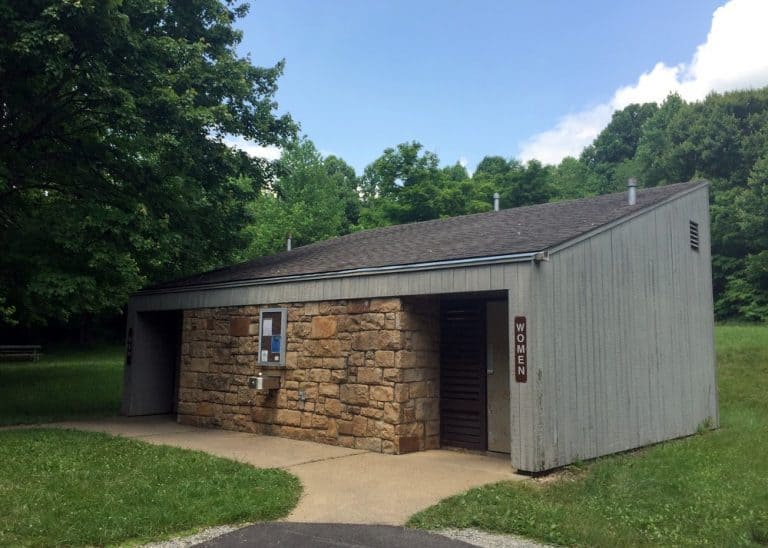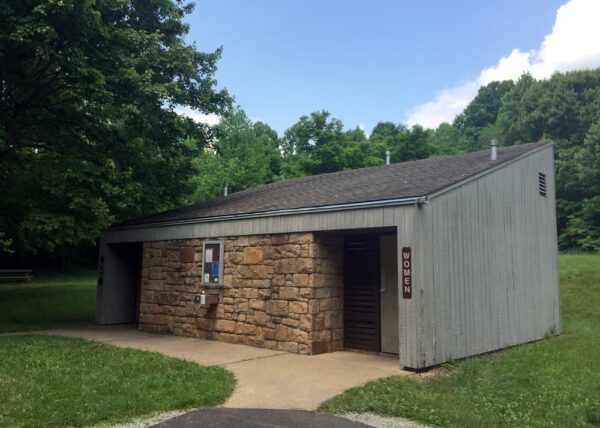 The campground features five bathhouses that feature hot, running water and flush toilets, as well as four smaller bathroom areas. While the campground is large, the facilities are fairly well maintained and seem large enough to accommodate campers without too much of an issue.
It's worth noting that the Kentuck Campground at Ohiopyle State Park is located atop a hillside above the Youghiogheny River. If you are biking the Great Allegheny Passage and planning to camp in Ohiopyle, a tough hike or very tough bike ride will be required to reach the campground.
A map of the Ohiopyle State Park campground can be found here.
What is Each Campsite like at Ohiopyle State Park?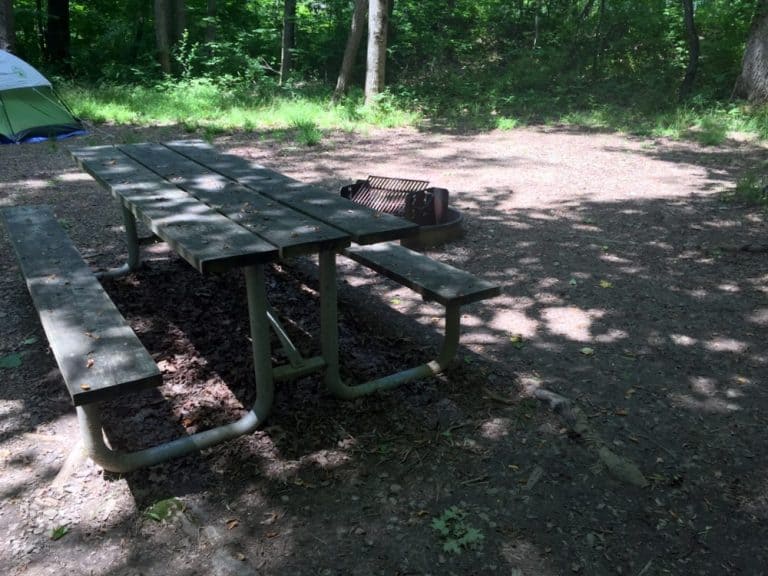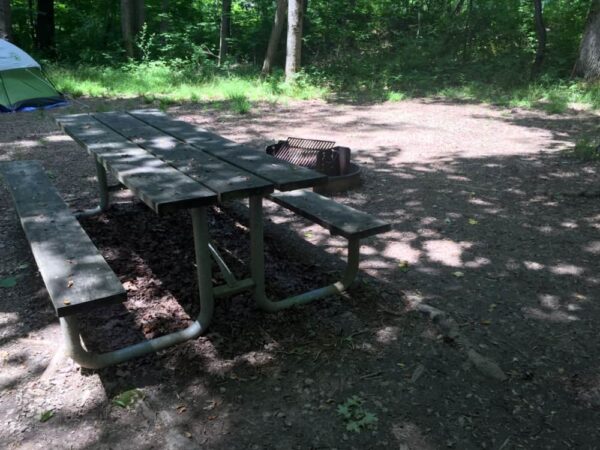 Each campsite at Ohiopyle State Park features a fire ring, a picnic table, and a pad for parking your car or RV (with the exception of walk-in sites that don't have parking).
While these sites are small, they are clean and offer a flat area that is great for setting up a tent. The ground can be hard in places, so I definitely recommend a sleeping pad of some sort and a mallet to nail down your tent spikes.
The majority of the campsites do not feature electric hookups, though they are large enough to accommodate most RVs. However, there are roughly 50 sites in the campground that feature electric power. If that is important to you, make sure to plan ahead to ensure you get a spot with the correct amount of power for your needs.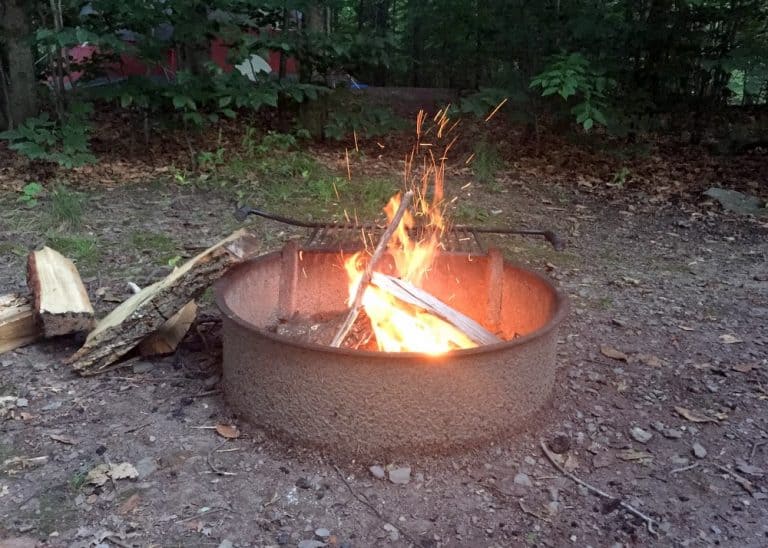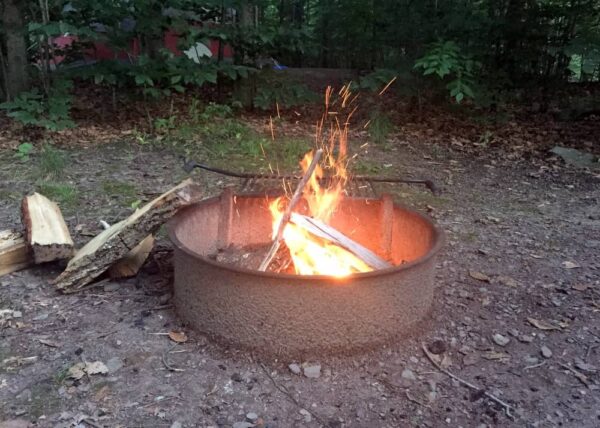 Campsites are limited to five people and two tents per site. It's worth noting that no alcohol is allowed while camping at Ohiopyle State Park. However, the benefit is that it helps keep things under control in the campground.
Firewood can be purchased at a small stand near the entrance to the campground. If you opt to purchase it elsewhere, make sure to do so in close proximity to the park to keep out unwanted insects.
How to Book a Campsite at Ohiopyle State Park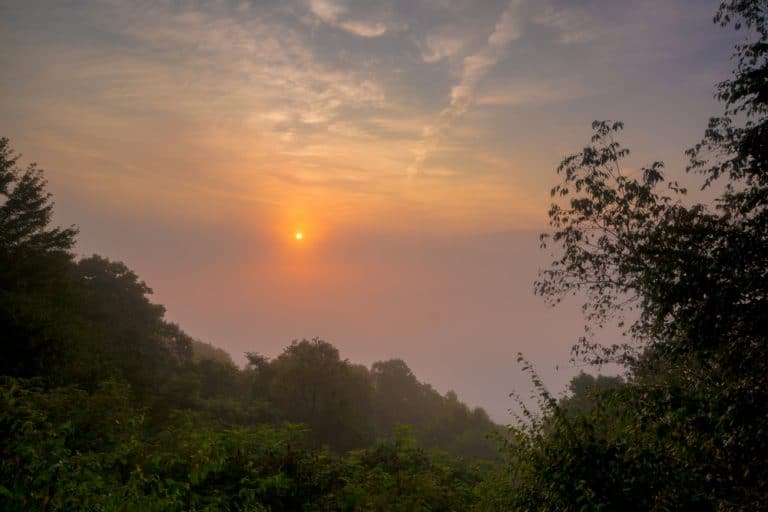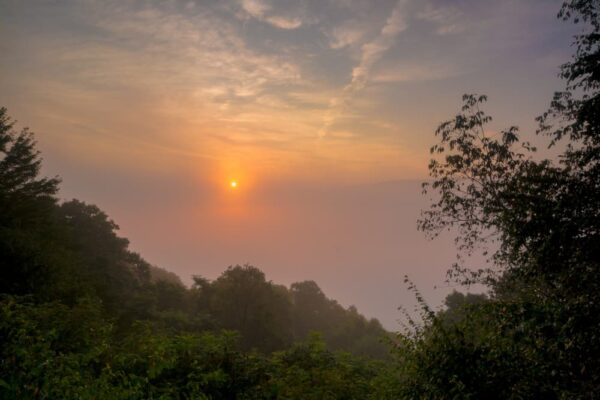 If you are planning to go camping at Ohiopyle State Park, booking in advance is highly recommended. This is especially true on weekends in the summer as the campground can fill up fast or if you are looking for particular features (distance to others, electrical hook ups, etc.).
All reservations for campsites at Ohiopyle are done through Reserve America or by calling 1-888-PA-PARKS.
Reservations can be made as much as 11 months in advance, though it's unnecessary to do so unless you want a specific site or are wanting to book one of the few cabins at Ohiopyle State Park.
In 2018, campsites cost $20 per night on weekdays and $24 per night on weekends. There is also a $6 booking fee that is charged no matter how many nights you stay.
The campground at Ohiopyle State Park is open from early April through mid-December each year.
If the campground isn't full, it is also possible to get a spot simply by approaching the small building at the entrance to the campground. Any open spaces are available on a first-come, first-served model, so it's worth checking early if any spaces are available for that evening.
If you would rather stay in a hotel, check out the nearby Summit Inn or get current rates for other nearby hotels.
What to do at Ohiopyle State Park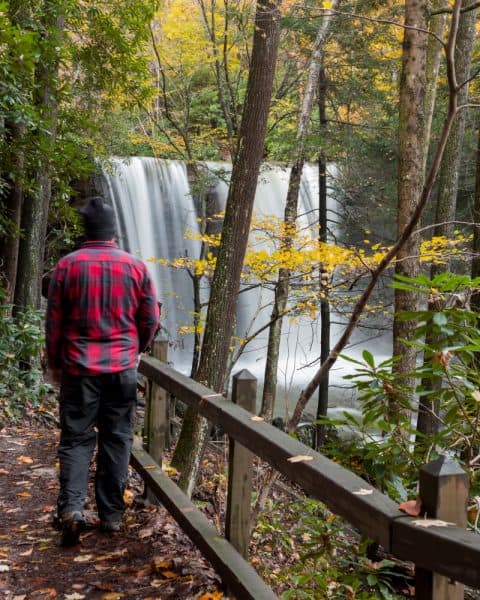 If you're staying overnight in Ohiopyle State Park, it's likely that you are looking for a few things to do in the park. If so, you're in luck, as there are a ton of fantastic things to do in and around the park.
There are many beautiful waterfalls in Ohiopyle State Park. Popular choices include Cucumber Falls, Ohiopyle Falls, and the waterfalls on Jonathan Run.
The park also features 79 miles of hiking trails, some of which can be directly accessed from the campground. The 150-mile Great Allegheny Passage travels through the park and offers bicyclists a smooth trail between Pittsburgh and Cumberland, Maryland (with an onward trail to Washington, DC).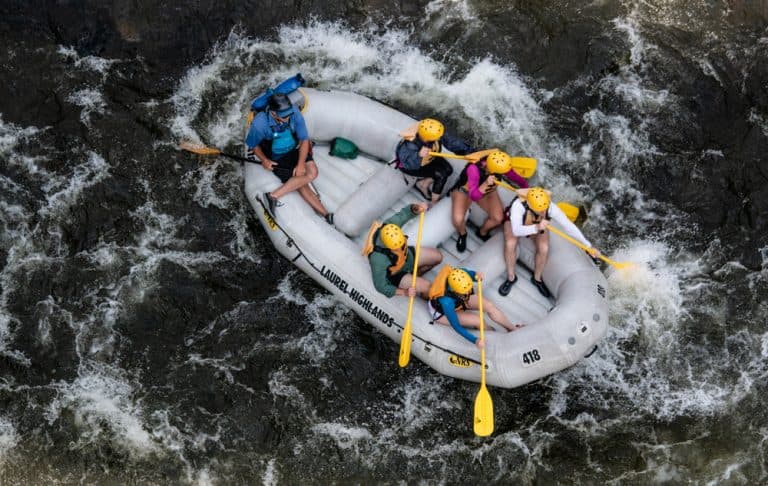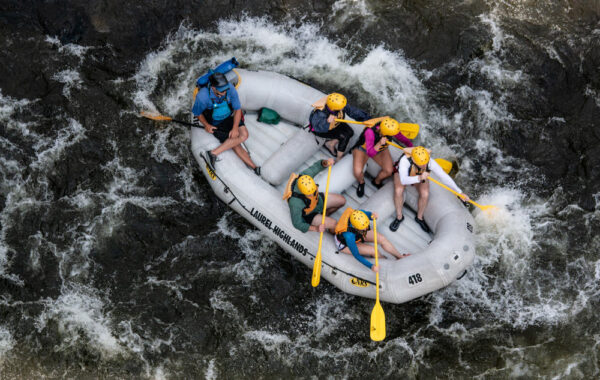 Adventure junkies will enjoy the chance to go white water rafting in Ohiopyle State Park or taking a ride down the natural water slides.
Outside of the park, other great places to visit include Fallingwater, Fort Necessity, Laurel Caverns, and Kentuck Knob. There are also some fun things to do if you are visiting Ohiopyle on a rainy day.
Looking to go camping in another state park? Check out our guide to camping in Ricketts Glen State Park. You can also check out the best Laurel Highlands Airbnbs.
See map below for other area attractions.