Disclosure: This article may contain affiliate links. We will make a small commission from these links if you order something at no additional cost to you.
The Pocono Mountain region of northeastern Pennsylvania is one of the most popular destinations in the state thanks to its many great waterfalls, hiking trails, and much more. Fortunately, for those looking to stay the night, there are many incredible Poconos Airbnbs that you can stay in.
And, whether you are looking for a quaint cabin, a modern villa, or something rustic, there's a bit of something for everyone to enjoy on this list.
So, the next time you are planning to visit this popular region of Pennsylvania, here are a few of the best Airbnbs in the Poconos to check out.
(Note: Photo at the top of the article used courtesy of Airbnb.)
Rivendell Creekside Escape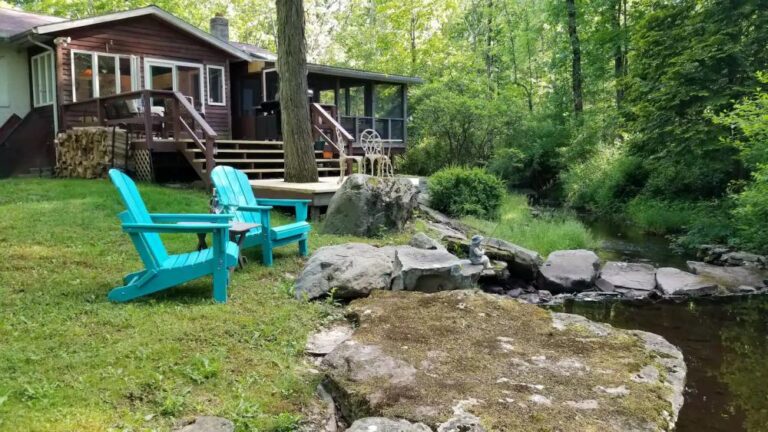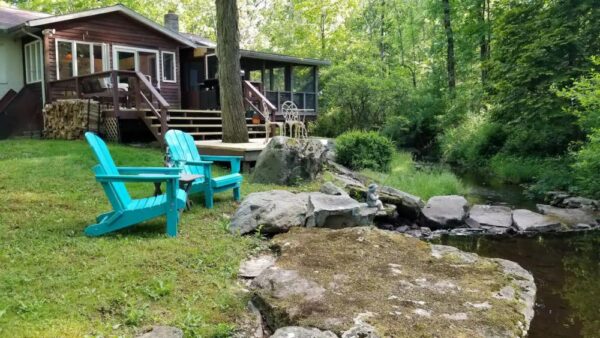 Looking for one of the most beautiful cabins in the Poconos that's located right next to a stream? Look no further than this great spot.
This three-bedroom cabin features all of the amenities of a comfortable home, but with a beautiful outdoor setting that's perfect for relaxing after a day exploring the area, skiing at the nearby ski resorts, or simply doing nothing. At the end of the day, enjoy the fire pit near the creek and cook some s'mores with the provided ingredients.
Check Pricing and Availability Here!
Charming Chestnut Cabin in the Woods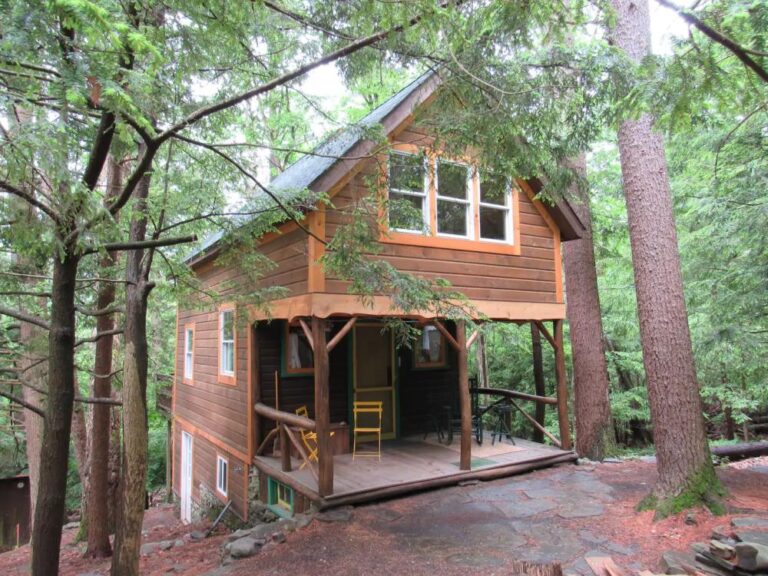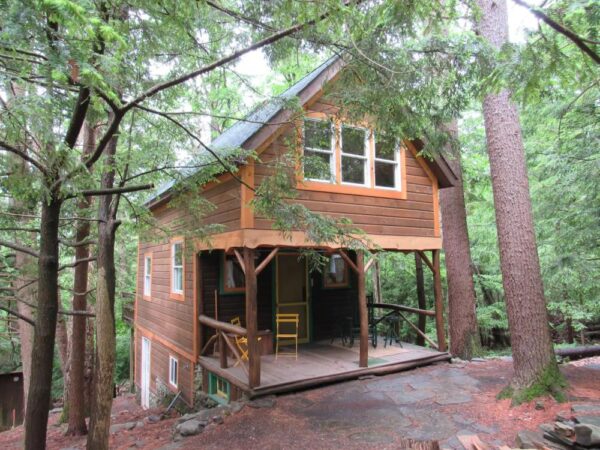 Located adjacent to the Delaware Water Gap National Recreation Area and near Dingmans Creek, home of PA's second tallest waterfall, this cabin is one of the most unique Airbnbs in the Poconos.
This open cabin features one bedroom and lots of space to spread out and enjoy this woodland retreat. The cabin features two decks, both with great views and guests can even build a campfire after a long day exploring the Poconos.
Check Pricing and Availability Here!
Octagonal Lake House – Space Place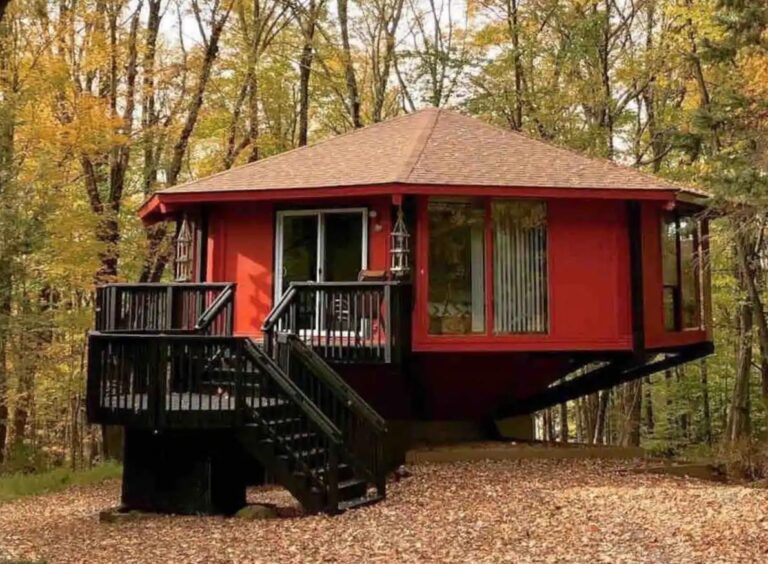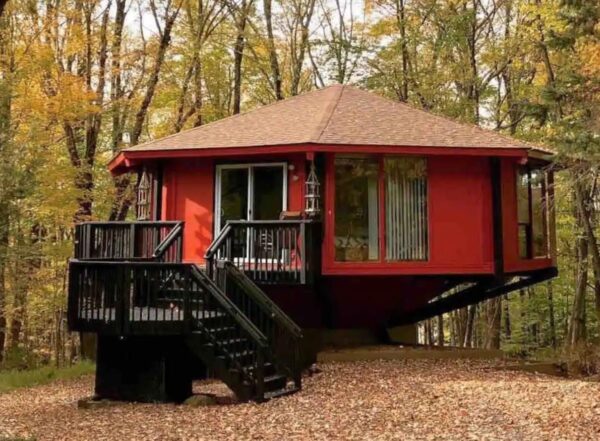 Located only a short distance east of Scranton, this Poconos Airbnb is a great choice for those looking to get away from the hustle and bustle. This cabin is located in the woods only a short distance from a beautiful lake and comes with many great community amenities outside the home.
Inside this unique Pocono Mountains Airbnb, you'll find a beautiful retro but cozy style and three bedrooms. There is also a great deck to sit out on and enjoy the outdoors.
Check Current Pricing and Availability Here!
The Barn on Stoney Hollow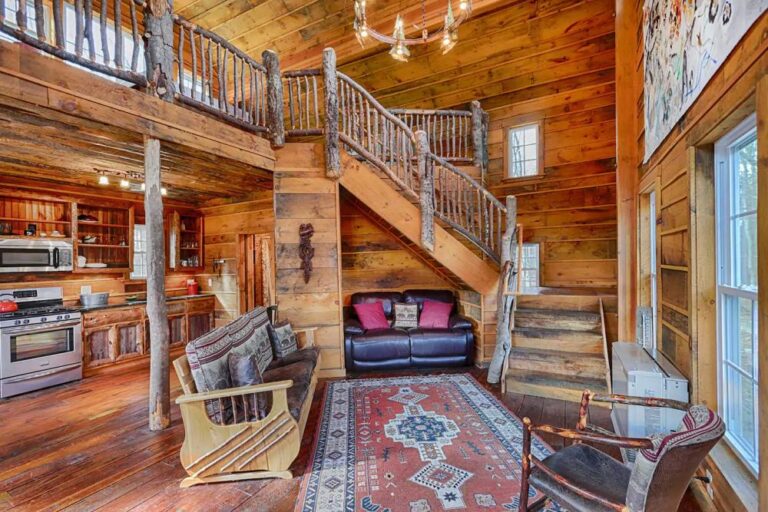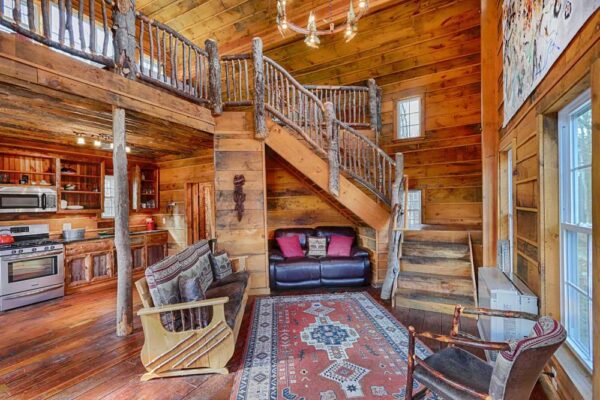 Spend the night in this incredible converted barn on a 12-acre historic farm in the Poconos.
Inside this barn, you'll find incredible touches that really set this cabin apart from others in the area. If you appreciate woodworking and high-quality craftsmanship, you'll no doubt love this beautiful spot.
Inside, you'll find a lofted bedroom and a beautiful kitchen and bathroom. Outside, you can enjoy the fire pit and the acres of land around the cabin, as well as the public land across the street.
Check Pricing and Availability Here!
Creekside Cabin Near East Stroudsburg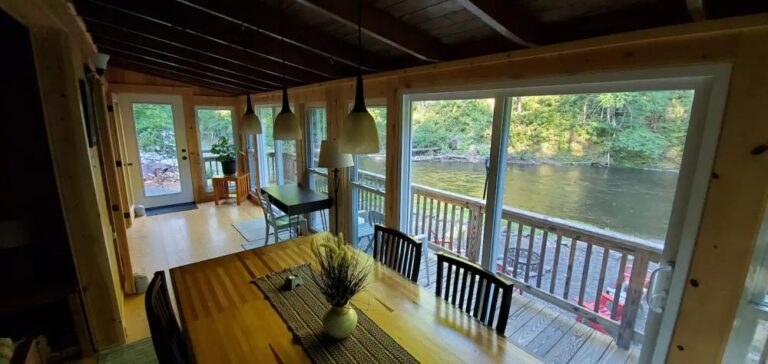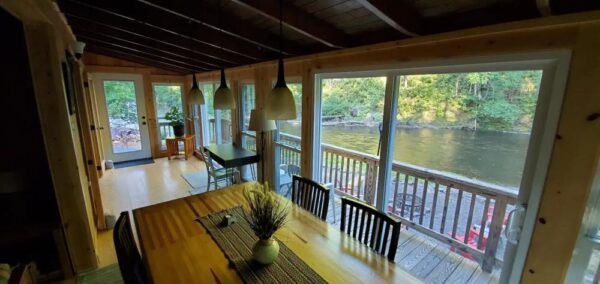 Looking for a relaxing getaway along a beautiful stream that's perfect for fishing? Look no further than this great cabin near East Stroudsburg.
This quaint cabin is the perfect combination of rustic charm and modern convenience. However, the real star is the incredible view of Bush Kill that you can see from both inside and outside the rental. Even better, there's a fire pit directly adjacent to the creek for those looking for a way to relax at the end of the day.
Of course, the close access to popular spots like Bushkill Falls and Resica Falls is what really makes this a great spot to stay while exploring the region.
Check Pricing and Availability Here!
A Creek Runs Through It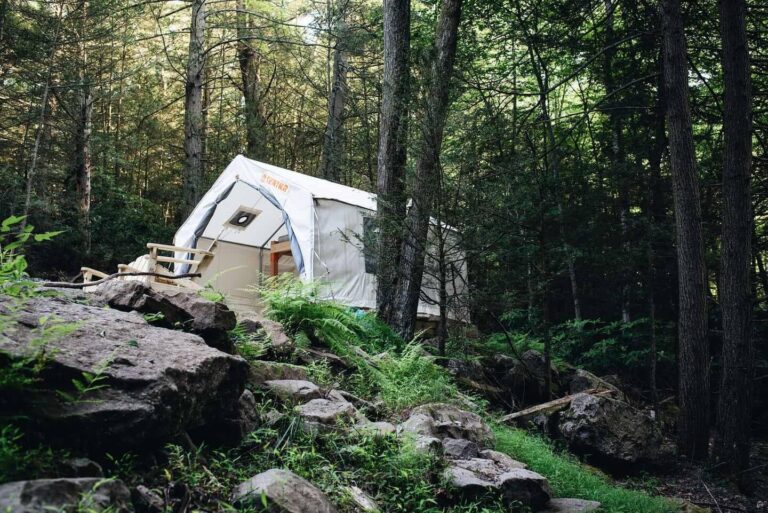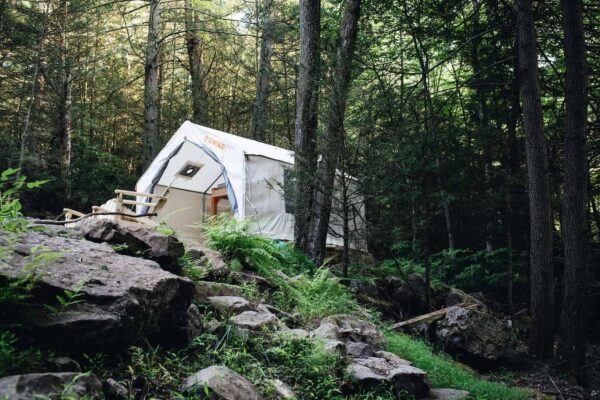 If you love waterfalls, you won't want to miss this fabulous glamping tent in the Poconos.
Located on a 400-acre parcel of private land, this tent features a large bunk bed, Adirondack chairs, a picnic table, and a fire pit. It is perched close to a small but beautiful waterfall. There is also a swinging bridge on the property.
And, if that's not enough, there are several miles of private hiking trails that you can explore while staying here.
Check Pricing and Availability Here!
Mountainside Waterfall Retreat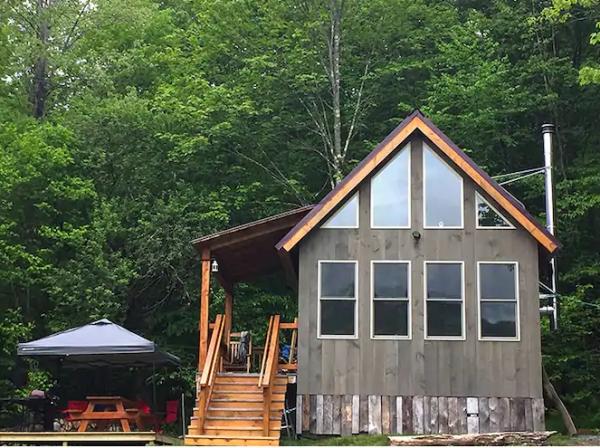 Located in the northern Poconos near the Delaware River, this tiny house was featured on HGTV and is a perfect place to stay while exploring the region.
While it's only 280-square feet in size, this cabin features a full kitchen, space to relax, a bathroom, and a lofted bedroom. Adjacent to the cabin, a beautiful glamping tent is set up to accommodate more guests.
Even better, on the property's 12-acres, you'll find a beautiful waterfall just waiting for you to explore! Without a doubt, this is definitely one of the best rental cabins in the Poconos.
Check Pricing and Availability Here!
The Treehouse by Camp Caitlin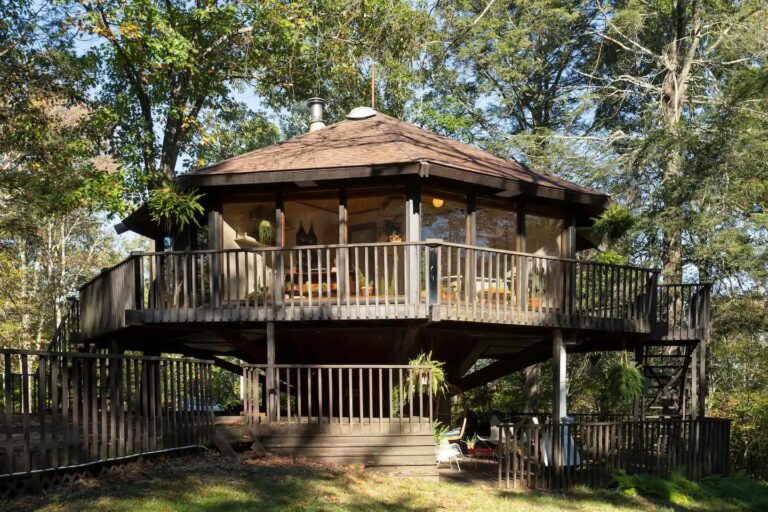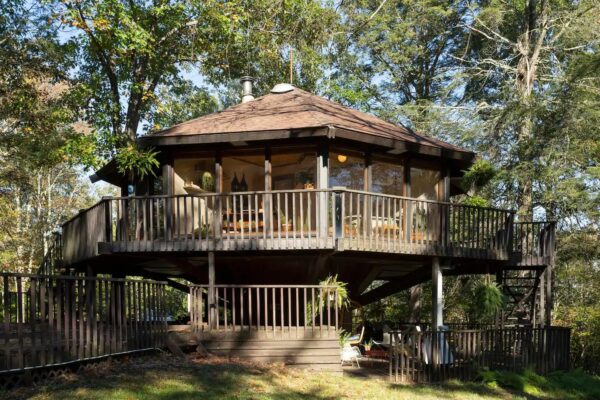 Located near the northeastern corner of Pennsylvania, this beautiful raised cabin is located on a hilltop and surrounded by nine acres of private land.
This treehouse features only one bedroom, but there is plenty of room for families to spread out in this unique rental. Inside, you'll also find a clawfoot tub and a fireplace! Two features that you won't find in many other Poconos Airbnbs.
Outside the home, there is a large deck, which is perfect for sitting outside and enjoying the beauty of the Pocono Mountains.
Check Pricing and Availability Here!
Woodland Retreat in the Poconos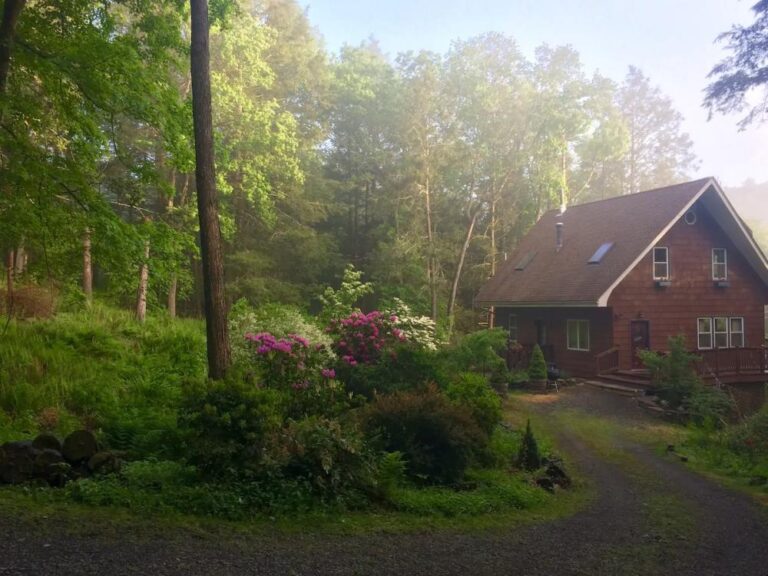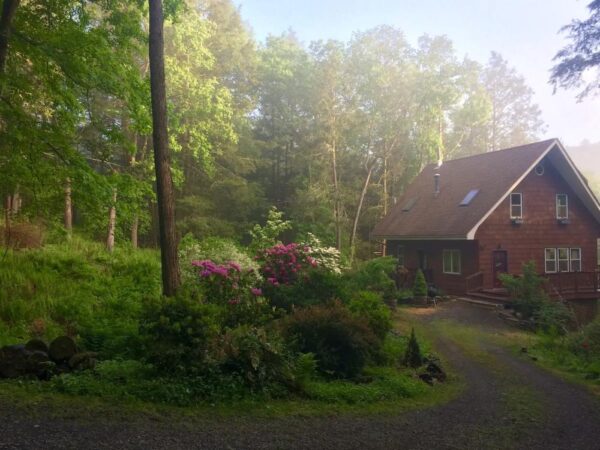 This charming cabin in the Poconos is only a short distance west of Milford along Route 6 and quite close to the beautiful Savintine Falls and Sawkill Falls.
Located on 10 acres of private land, this three-bedroom cabin is the perfect spot to relax and enjoy the beauty of this corner of PA. Step out onto the large deck and enjoy the peacefulness of the surrounding forest or stay inside and enjoy the cabin's ample book and DVD collection.
Check Pricing and Availability Here!
Tranquil Chalet Retreat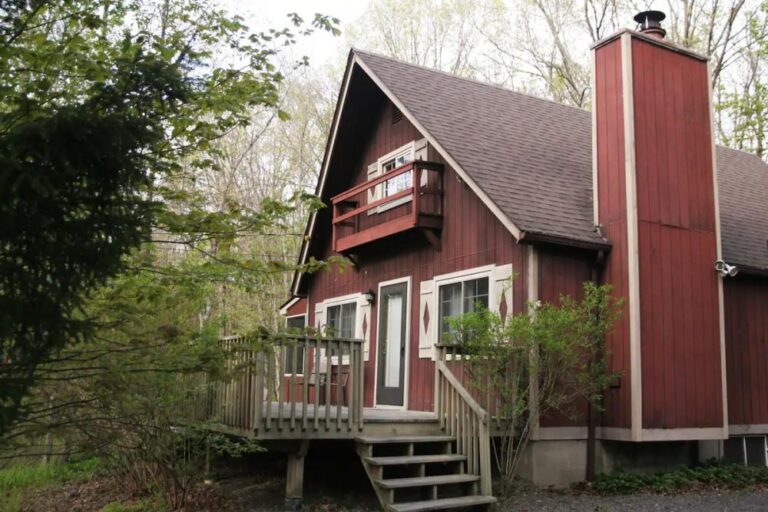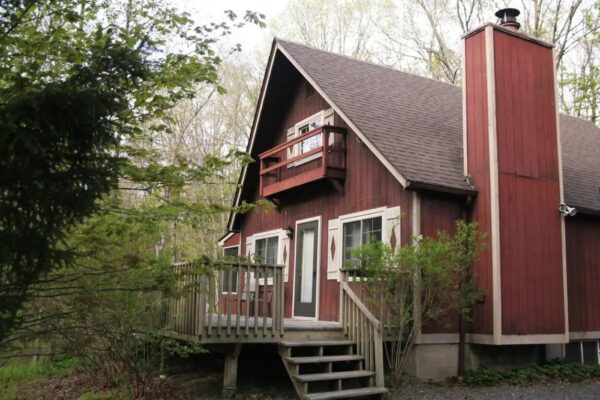 This tranquil cabin is located near the charming community of Jim Thrope, one of my favorite small towns in Pennsylvania.
This three-bedroom chalet offers a large deck that also features a screened-in section that is perfect for a rainy day or simply avoiding the bugs. Inside, you'll find a relaxing and well-appointed home that contains all of the amenities that you'll need during your stay.
There's also a fire pit outside so you can have a campfire in the evening.
Check Pricing and Availability Here!
Yurt at the Farm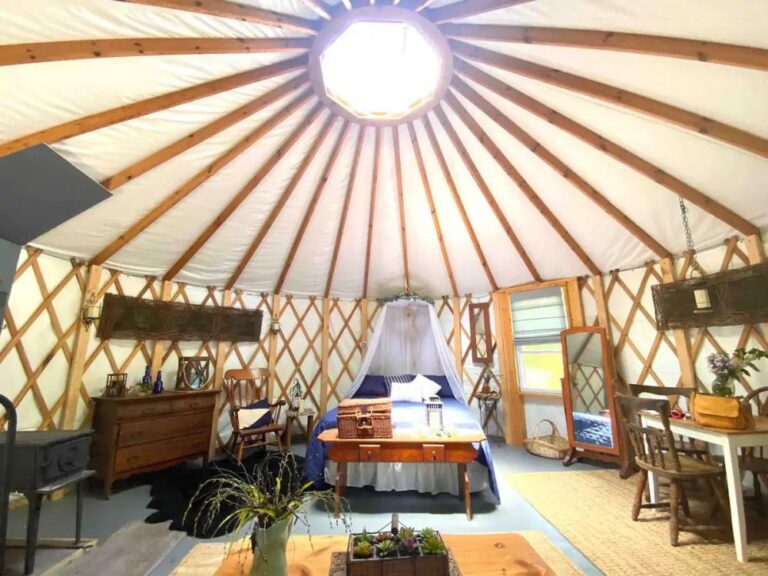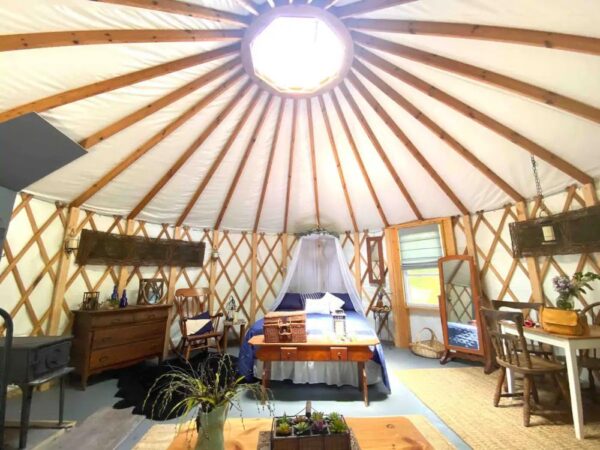 Located on a 40-acre working farm, this yurt is the perfect spot to unwind in the western Poconos.
This one-room yurt is beautifully furnished and provides many comforts to help you relax during your stay. While it lacks electricity and running water, it makes up for it with great ambiance.
At night, sit by the campfire outside or cozy up with the indoor fireplace to keep warm.
Check Pricing and Availability Here!
Which of these Airbnbs in the Poconos is your favorite? Let us know in the comments below.
Looking for more great Airbnbs? Check out our favorite Airbnbs in Pennsylvania, the best Airbnbs in the Laurel Highlands, and the best Philadelphia Airbnbs.
Looking for some great spots to visit in the Pocono Mountains? Check out the best waterfalls in the Poconos, Bushkill Falls, and the Cliff Park Hiking Trails.