Disclosure: This article may contain affiliate links. We will make a small commission from these links if you order something at no additional cost to you.
This is a guest post from Angela Anderson from AngelaTravels.com.
Did you know that Pennsylvania has a Grand Canyon located in Tioga County just west of Wellsboro, PA?
Carved by Pine Creek, the Pennsylvania Grand Canyon, or Pine Creek Gorge, has amazing views of the rolling Appalachian Mountains and is being preserved as a National Natural Landmark.
Get out and explore Pennsylvania's finest and do what the locals do on the weekends: enjoy nature. From birds to bears, the wildlife will keep you on your toes while exploring what the gorge has to offer.
Below are some great recommendations for finding adventure in the Pennsylvania Grand Canyon.
Hiking
There are several short hikes to choose from.
If you are looking for a short hike, consider hiking the Turkey Path down to the river. You'll pass many waterfalls as you switch back down to the gorge floor.
Is two miles not enough? Hike along the Pine Creek Rail Trail to add some miles to your hiking boots. However, be ready to gain elevation as you climb back out! If you do not want to hike but want an overlook, the vista at the Turkey Path trailhead provides great views into the gorge, as does Barbour Rock on the western rim of the Canyon.
If you are feeling ambitious and want to do some overnight backpacking, the West Rim Trail is a popular option and is 30 miles. Add to the gorgeous views of the canyon by hiking during peak fall foliage in PA.
White Water Rafting/Kayaking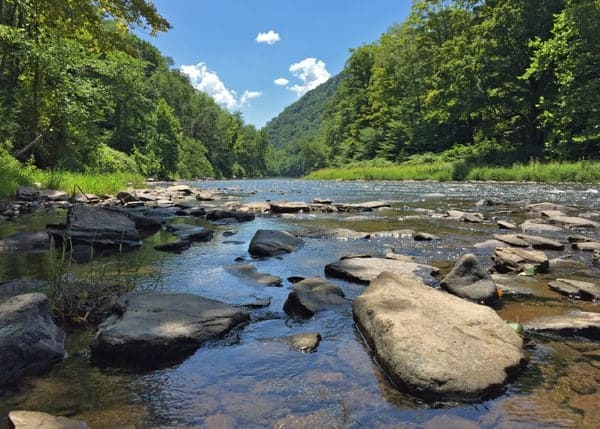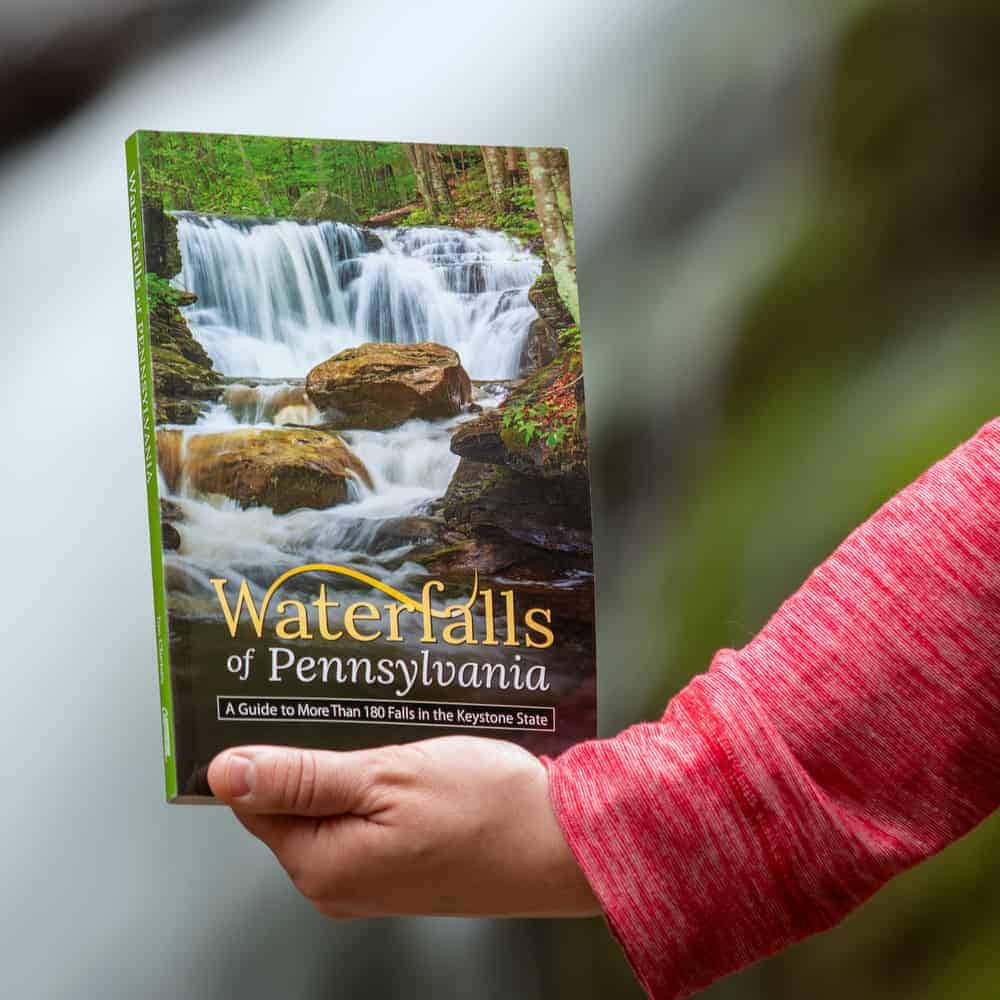 "Waterfalls of Pennsylvania" by Jim Cheney
If you love PA waterfalls, you won't want to miss this waterfall book from Jim Cheney, author of Uncovering PA, featuring more than 180 great waterfalls. Order it now on Bookshop.org or Amazon.
If you are looking to dabble in some easy white water conditions on your own, consider practicing here when the water levels are just right in the spring and fall.
One company, Pine Creek Outfitters has guided and non-guided activities and rentals. A family-run establishment with great character, they give you the true experience.
Jump in the water just behind Pine Creek Outfitters and kayak, canoe, or raft the 17 miles through the gorge before reaching the shuttle pick-up point.
Biking
Rent or bring your own bikes to the gorge and ride along the gorge floor on the Pine Creek Rail Trail, a relatively flat gravel trail system. It is a great way to see the gorge quickly and was reviewed by USA Today as one of the top places to take a bike tour in 2001.
Camping
To get a full experience of the area, consider camping. There are multiple state parks that are located within Pine Creek Gorge, along with privately-owned campgrounds.
Choose from multiple campsites as you set up a home base to explore from. Pine Creek Outfitters does a great job for providing information on all the accommodations and hotels near the PA Grand Canyon.
I have many memories of exploring the Pennsylvania Grand Canyon.
I have done multiple Thanksgiving morning hikes, no matter the weather, on the Turkey Path to build up an appetite for a homemade country feast.
I've also kayaked Pine Creek on Memorial Day weekends. It is interesting how water levels can vary from one year of scraping bottom at times to white water the next. The Pennsylvania Grand Canyon always surprises me with different experiences each visit.
Plan your trip today!
See map below for other area attractions.