Covid-19 Update: Please do your best to limit your travels around Pennsylvania during this time. If you decide to travel, please check the status of the places you are going. Many places around the state are temporarily closed, and we will not be updating individual articles to note these changes. Stay safe!


Disclosure: This article may contain affiliate links. We will make a small commission from these links if you order something at no additional cost to you.
Of all the months of the year, October might be my favorite. Not only is the weather amazing, but trees are colorful, waterfalls are flowing, and there are a ton of great things to do throughout the state.
As always, I've looked through many events to pick out 10 of the most interesting and fun things to do in Pennsylvania in October. These include great outdoor events highlighting the fall colors, Halloween festivities, events trying to grasp that last bit of warm weather, and so much more.
Check out our list of great things to do in PA in October and then start planning your travels today.
(Article Updated September 9, 2019, for Pennsylvania events in October 2019.)
Covered Bridge and Arts Festival in Elysburg – October 3-6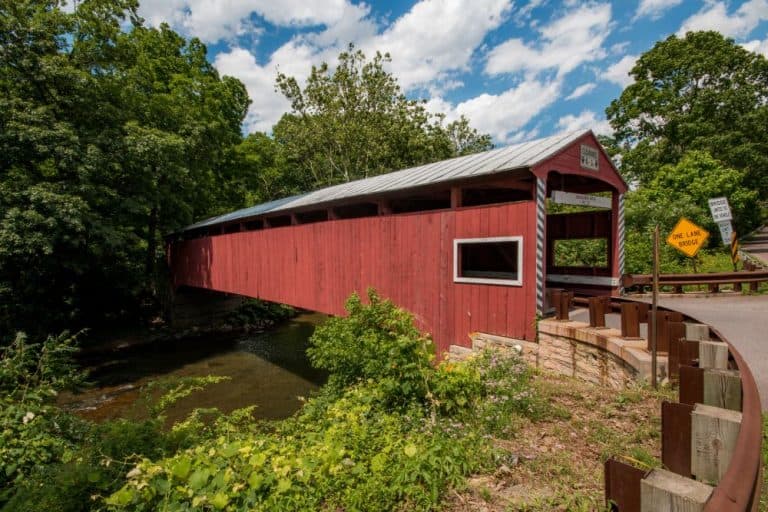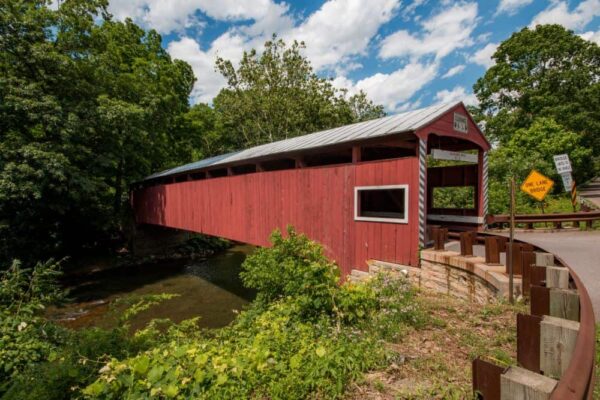 Now in its 38th year, don't miss the Covered Bridge and Arts Festival at Knoebels, one of Pennsylvania's best amusement parks. In addition to rides being open throughout the festival, visitors can browse the nearly 400 vendors set up in the park.
The event will also feature live music, a 5k race, and guided bus tours to some of the most beautiful covered bridges in Columbia County, PA.
For more information on the festival, click here.
Applefest in Franklin – October 4-6
Applefest in the northwestern PA city of Franklin is one of the region's largest autumn events. Now in its 37th year, Applefest celebrates the bounty of fall and the region's beautiful foliage.
During Applefest, visitors can browse wares from more than 300 vendors, run in a 5k race, take historic downtown tours, enjoy an antique car show, and much more. There will also be many apple-related events including pie-eating contests and an apple pancake breakfast.
Find out more about this event on its website.
Head of the Ohio Regatta in Pittsburgh – October 5-6
The 33rd annual Head of the Ohio Regatta will take place in Pittsburgh in early October. This is one of the largest regattas in the country and brings rowers from throughout the country to Pittsburgh for this two-day event.
Take your place along the Pittsburgh riverfront and watch as some of the world's best rowers compete in a variety of distances and age groups.
For more information, check out the event's website.
Ghosts and Goblins at Lincoln Caverns in Huntingdon – October 5, 11-12, 18-19, 25-26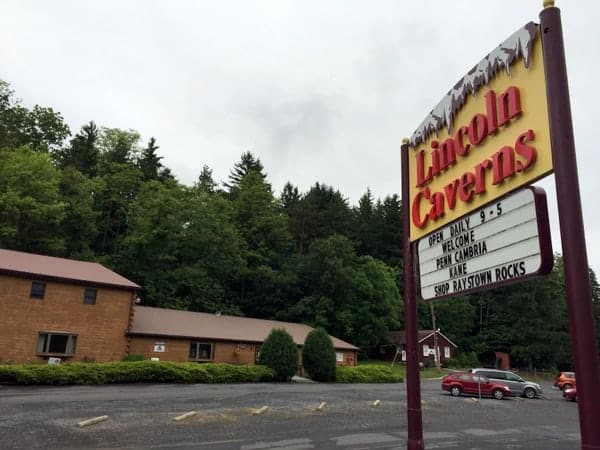 Lincoln Caverns in Huntingdon, Pennsylvania, will be hosting their annual Ghosts and Goblins tours on Fridays and Saturdays in October. Now in its 36th year, visitors can experience three different activities during their visit.
First, the cave is decorated with family-friendly frights and humor, which give a unique feel to this beautiful cave. Second, take a haunted walk through the woods, followed by a fantastic hayride through a farm.
For more information about this spooky, family-friendly event, check out LincolnCaverns.com.
National Apple Harvest Festival in Arendtsville – October 5-6, 12-13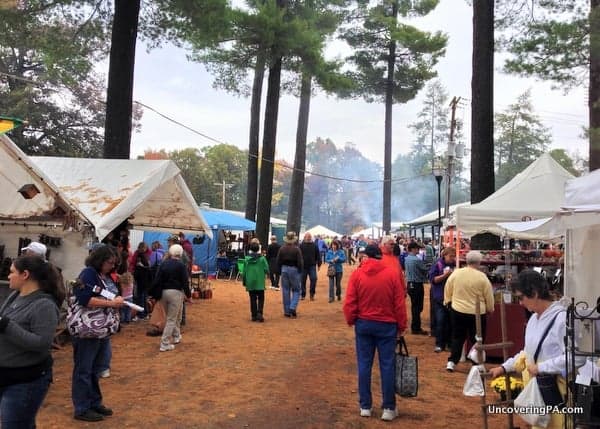 Love apples? Head to the largest apple-growing region in Pennsylvania for the National Apple Harvest Festival. Held at the South Mountain Fairgrounds in Arendtsville near Gettysburg, this fantastic fall festival in PA celebrates the harvesting of this delicious fruit.
Visitors can browse more than 300 vendors, enjoy a classic car show, sample delicious foods made from apples, and learn about antique machines. There is also a wide variety of live entertainment, activities for children, a petting zoo, and much more.
For more information, go to AppleHarvest.com.
And, if you are looking for somewhere to go apple picking in PA, there are plenty of nearby options.
Bedford Fall Foliage Festival in Bedford – October 5-6, 12-13
Now in its 56th year, the Bedford Fall Foliage Festival is one of Pennsylvania's largest autumn events. This event draws tens of thousands to Bedford County to enjoy the beauty of fall, as well as explore this beautiful community.
In addition to the chance to drive around and explore the beautiful countryside and covered bridges of Bedford County, the event itself will feature craft vendors, live music, an antique car show, and many activities for kids in downtown Bedford.
Find out more about the festival on their website.
Fall Foliage Weekends in Jim Thorpe – October 5-6, 12-13, 19-20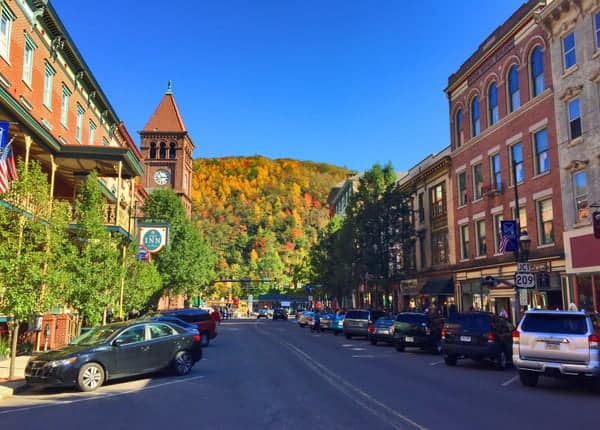 Jim Thorpe, one of my favorite small towns in Pennsylvania, comes alive during the annual Fall Foliage Weekends in October. Held the first three weekends of the month, visitors can explore the town's shops, take a tour of their old jail, see live music, and enjoy food and crafts from the many vendors set up throughout town.
Also, don't miss the chance to see the fall foliage of Lehigh Gorge State Park aboard the Lehigh Gorge Scenic Railroad.
For more information, visit the community's website.
Fort Ligonier Days in Ligonier – October 11-13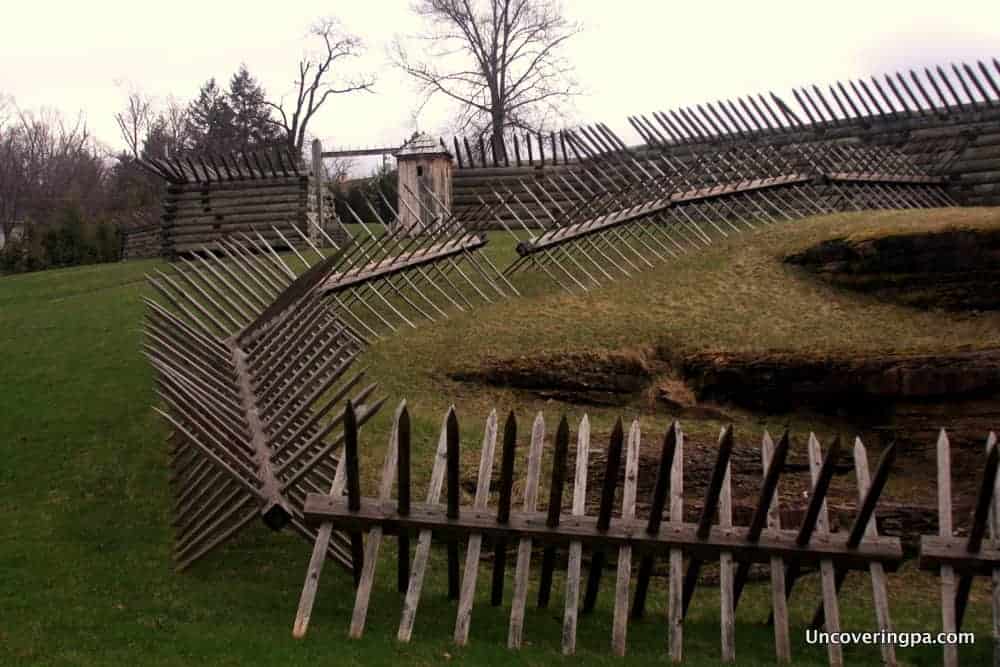 The Battle of Fort Ligonier was fought on October 12, 1758, and the area will again be remembering this French and Indian War battle during their annual Fort Ligonier Days.
Visitors to the event can see costumed reenactors and explore this great fort and learn its history. The nearby downtown area of Ligonier also comes alive with craft and food vendors, live music, a parade, and much more.
Find out more on the event's website.
Black Bear Film Festival in Milford – October 18-20
One of the year's most anticipated film festivals returns to the Pocono Mountains this October. The Black Bear Film Festival takes over downtown Milford with three days of independent films that have been selected for inclusion.
Come see up-and-coming stars in the film industry and watch a variety of movies that you might not be able to see anywhere else.
For more information, visit BlackBearFilm.com.
Experience Pennsylvania's Fall Foliage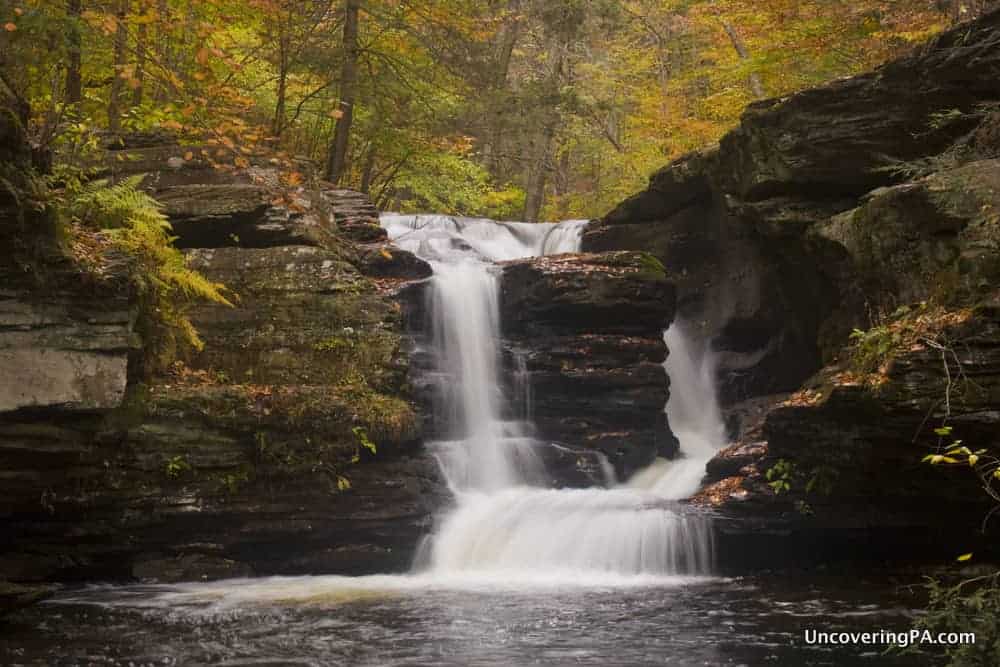 One of my favorite things to do in October in Pennsylvania is just to drive the back roads enjoying the beauty of the season. I've previously written about some of my favorite places to see fall color in PA, but truthfully, the fall season is beautiful no matter where you are in the state.
Whether you want to explore Pennsylvania's most beautiful counties, drive the back roads on a covered bridge tour, or even track down some scenic Pennsylvania waterfalls, there's really nowhere that you can go that isn't beautiful this time of year.
To see what areas of the state are currently at their peak, check out this great chart put out by the state, which is updated weekly starting in late September.
Do you know of a great event happening in Pennsylvania in October? Let us know in the comments section below!
Looking for other things to do in Pennsylvania? Check out our list of things to do in September and things to do in PA in November.
Do you have an upcoming event that you would like to promote in a future monthly edition? Click here for more information and to submit your event.