Disclosure: This article may contain affiliate links. We will make a small commission from these links if you order something at no additional cost to you.
There are hundreds of beautiful Pennsylvania waterfalls scattered throughout the state.
Some of these are roadside waterfalls while others require long hikes to see. While the waterfall hikes in PA on this list aren't necessarily the longest or most difficult (though there are some of each here), these are all exceptional hikes that are not just about the destination but also the trip to see them.
So, the next time you are looking for a great hike that also happens to feature a beautiful waterfall, you won't want to miss these great PA waterfall hikes.
Falls Trail at Ricketts Glen State Park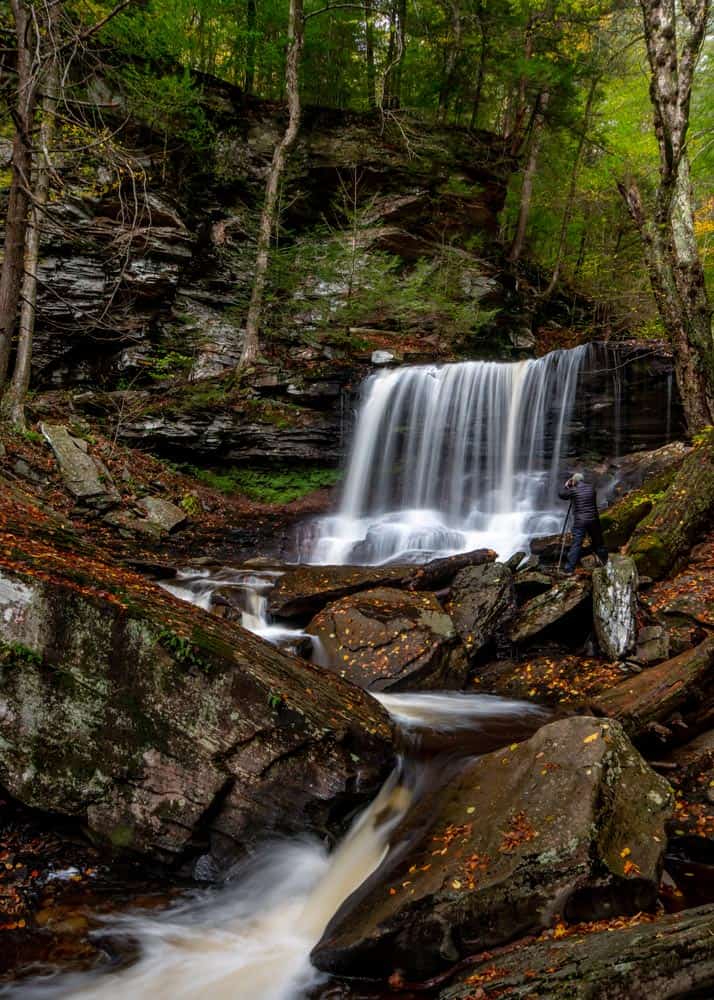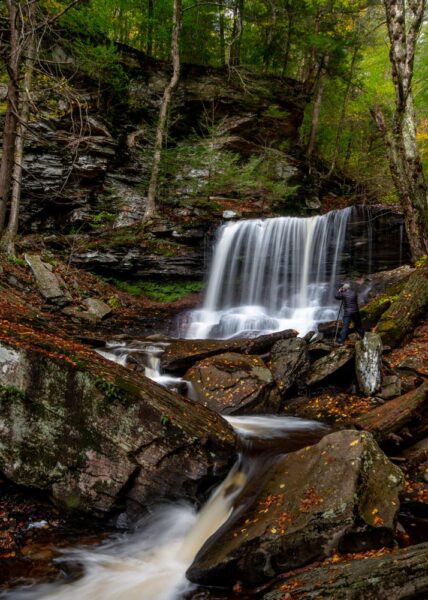 There's probably no better hike in Pennsylvania than the Falls Trail at Ricketts Glen State Park. This 7.2-mile trail features more than 20 beautiful waterfalls with the tallest being nearly 100 feet tall!
While this trail does get crowded on nice weekends, it's worth dealing with the crowds if you must. However, if you can hike this trail in the shoulder season, on a weekday, or early in the morning (or all three), you can enjoy this trail practically all to yourself.
If you're looking for the ultimate challenge, hike the Falls Trail in the winter to see the amazing waterfalls (just make sure you have the necessary equipment).
Jonathan Run Trail at Ohiopyle State Park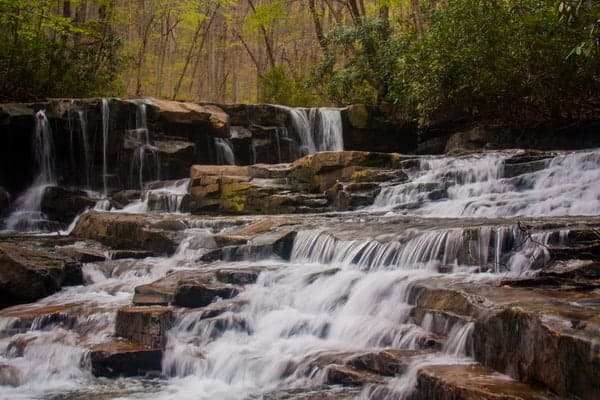 There are many beautiful waterfalls in Ohiopyle State Park, but if you are looking for a great hike, try to Jonathan Run Trail.
This trail is located on the northwestern end of the park and is a 1.7-mile trail that runs from Holland Hill Road to the Great Allegheny Passage Rail Trail. Since this isn't a loop, double the distance to 3.4 miles for a roundtrip hike (though it's also worth adding another tenth of a mile or so to see Sugar Run Falls).
The Jonathan Run Trail isn't an overly difficult trail, though getting to the base of the two waterfalls is a bit of a challenging off-trail hike. However, what makes this a great waterfall hike in PA is the sheer beauty of the trail as it follows Jonathan Run through the woods of Ohiopyle State Park.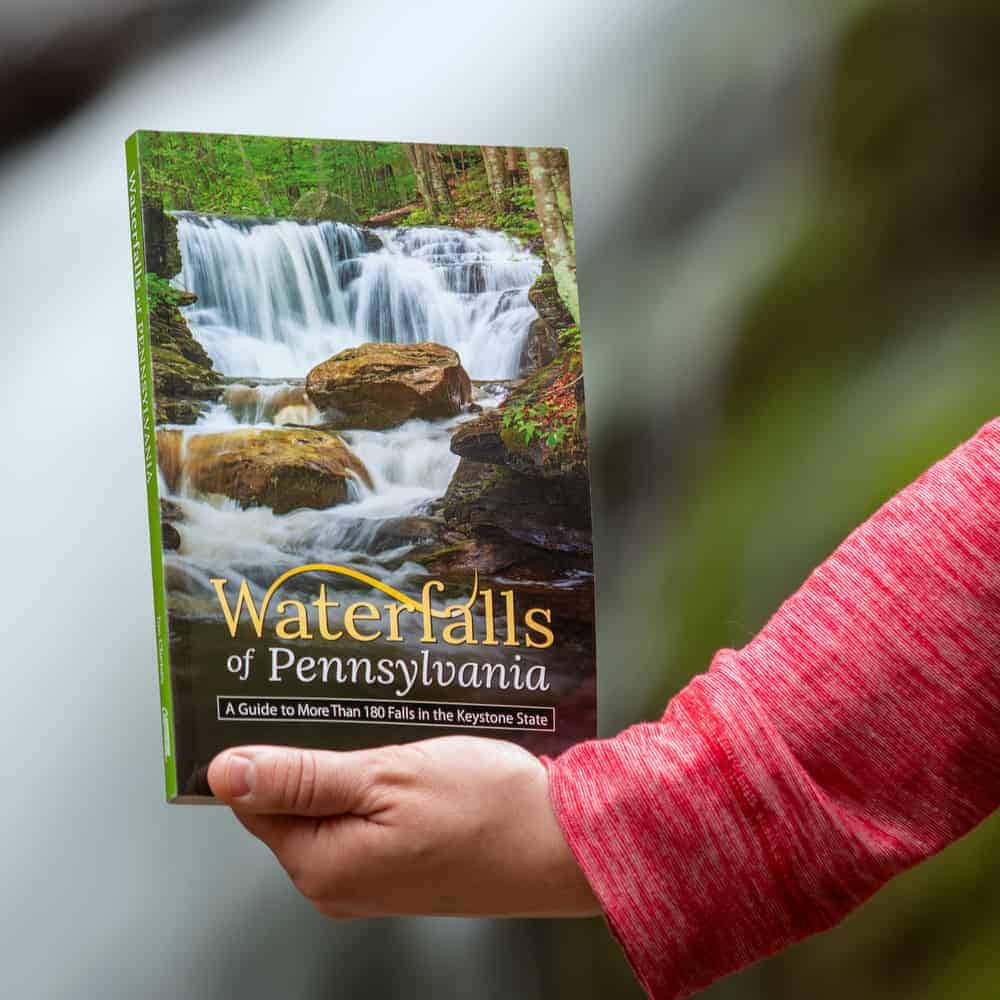 "Waterfalls of Pennsylvania" by Jim Cheney
If you love PA waterfalls, you won't want to miss this waterfall book from Jim Cheney, author of Uncovering PA, featuring more than 180 great waterfalls. Order it now on Bookshop.org or Amazon.
If you're looking for another great hike in the park, the Meadow Run Trail from Cucumber Falls to the Cascades, via the Natural Waterslides, is another great choice.
Sand Run Falls in Tioga County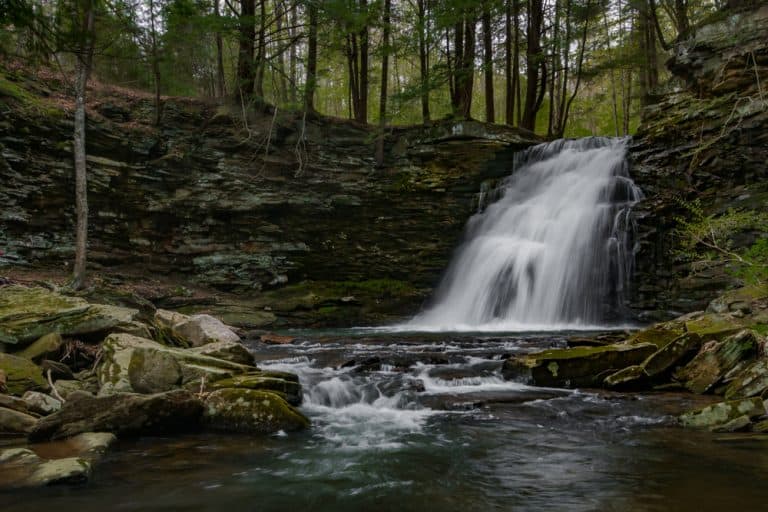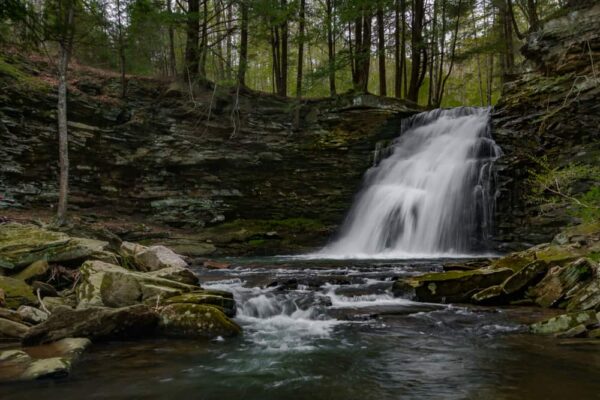 Located deep in Tioga State Forest along the Mid-State Trail, you'll find Sand Run Falls. While there are some shorter ways to reach this waterfall, the most common way is a six-mile loop hike that is perfect for those looking for one of the best waterfall hikes in PA.
At the mid-point of the hike, you'll find this beautiful 25-30 waterfall near Babb Run. If water levels are high, there are several other nearby waterfalls that are worth seeking out, including one that requires a bit of off-trail hiking to see.
Those looking to go camping can enjoy the beautiful campsite adjacent to the waterfall, just make sure you apply for a free camping permit with the state forest.
Jarret Falls in Fulton County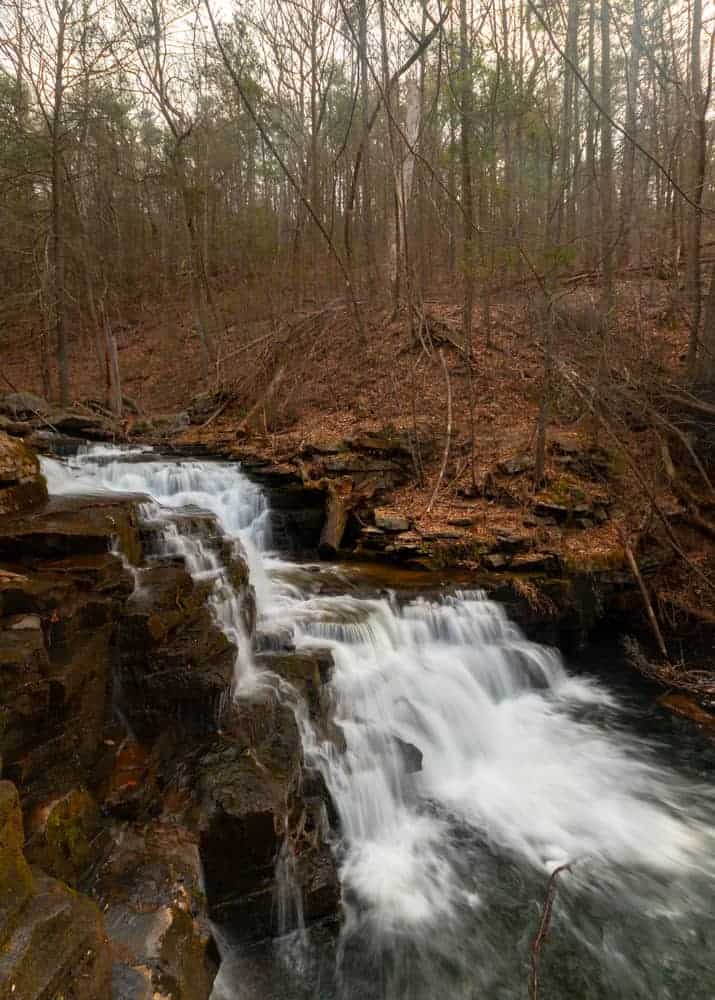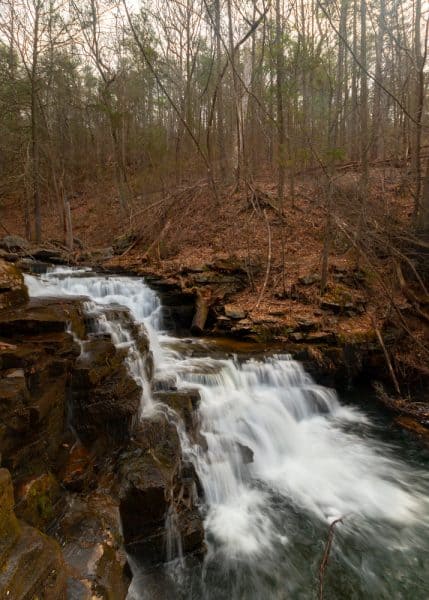 Jarret Falls is one of the least known waterfalls on this list, but the hike to reach it might just be the most fun.
This waterfall is located on state game lands near McConnellsburg, PA and while the trail is fairly easy to follow, it's likely you won't see another soul while on the hike.
The trail to reach the waterfall is 1.8 miles one way and isn't overly difficult for the most part. However, what makes this hike so great are the several stream crossings, which include creek wading and even balancing on metal wires strung across the creek.
While these crossings aren't for the faint of heart, they are a lot of fun and make this a fantastic waterfall for those that love hiking.
Ketchum Run Gorge in Loyalsock State Forest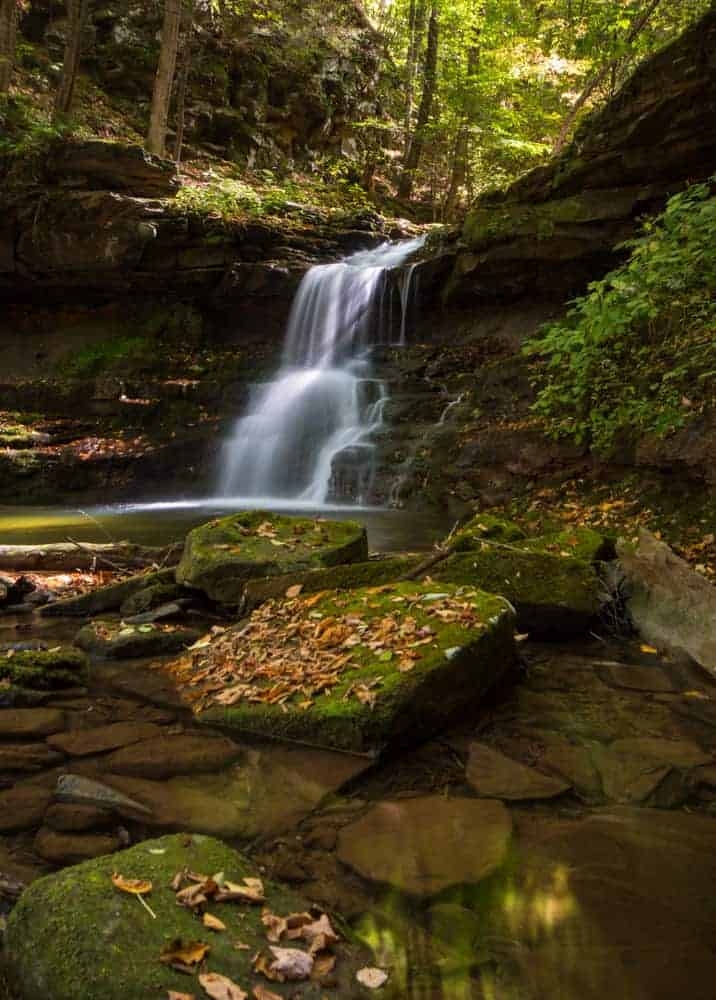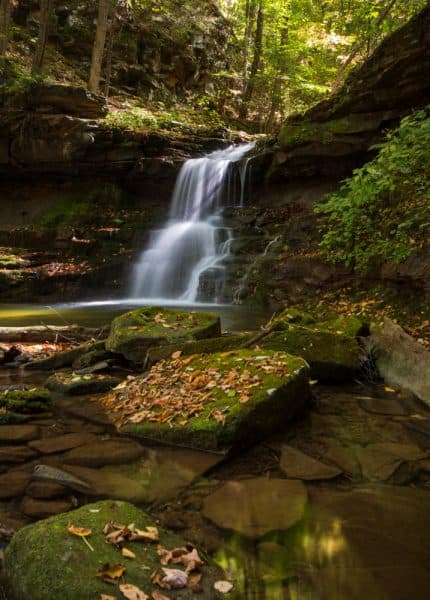 There are many great waterfalls in Loyalsock State Forest (some of which are further down this list), but one of my favorite waterfall hikes in the area is through Ketchum Run Gorge.
This hike combines both on-trail and off-trail hiking into a trip of roughly 4 miles. Along the way, you'll pass four beautiful waterfalls and hike a portion of the popular Loyalsock Trail.
The highlight of the hike comes at the furthest point from the parking area when you have to climb down a wooden ladder to reach the base of Rode Falls, a unique feature among PA waterfall hikes.
Yoder Falls near Johnstown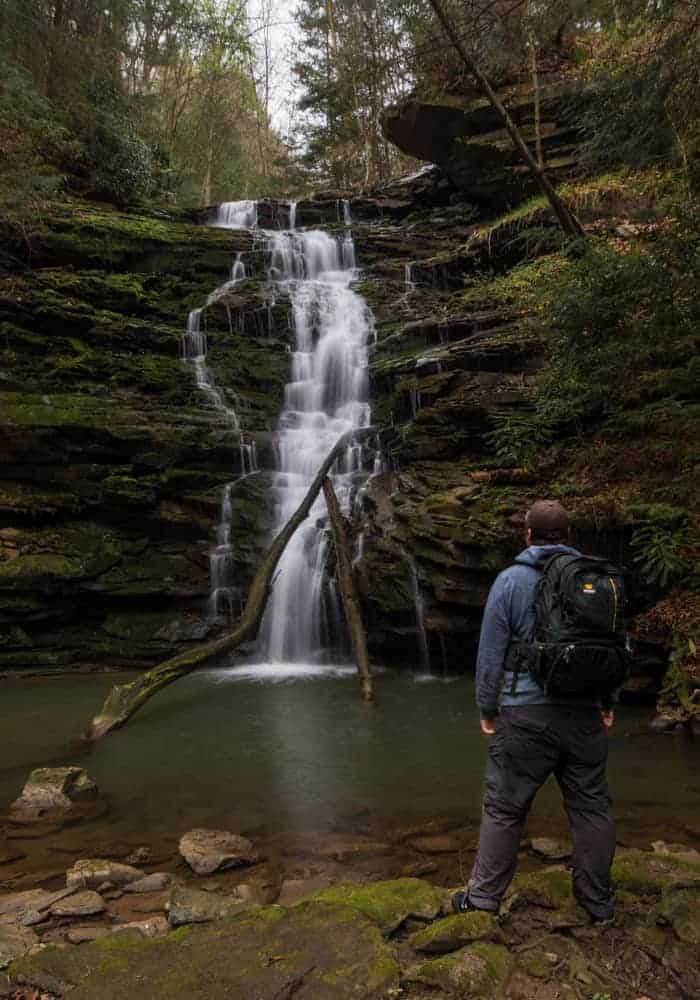 While it used to be a popular tourist attraction decades ago, Yoder Falls is a spot that was lost for many years. However, when I rediscovered this waterfall a few years ago, I knew I had found one of the best waterfall hikes in PA.
The hike to Yoder Falls isn't overly long (once you find the hidden trailhead). However, this great hike requires some fun off-trail hiking over a few small waterfalls to reach the base of the main drop. You'll also pass the ruins of a trolley line that used to run along the Stony Creek River.
Hell's Hollow Falls in McConnells Mill State Park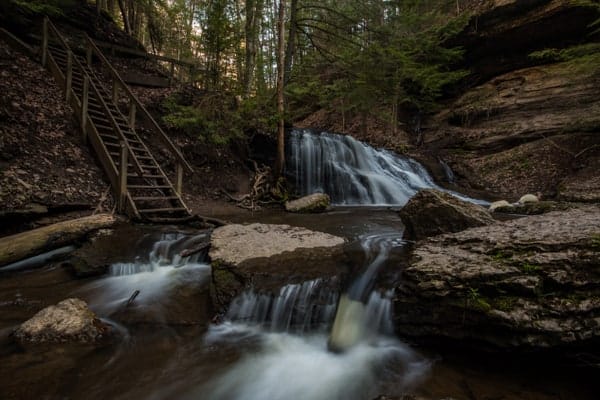 The hike to Hell's Hollow Falls is by far the easiest hike on this list. In fact, some might think I'm crazy for including it. However, if you are looking for a fun and unique waterfall hike that's perfect for the whole family, this is a great choice.
The hike to Hell's Hollow Falls is only about a mile one-way. Along the way, however, the stream has cut a narrow channel into the rock that was once underground (before the roof caved in). This creates one of the most unique streams in PA.
Even cooler, there is an abandoned furnace adjacent to the base of the falls, adding some interesting history to this hike.
Waterfalls of Miners Run in the McIntyre Wild Area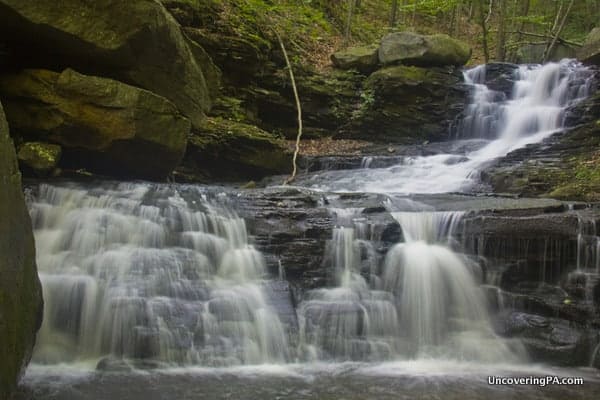 Miners Run is a beautiful stream located in the McIntyre Wild Area of northern Lycoming County.
This stream features seven beautiful waterfalls that are quite neat to see in person. However, there is no trail up the stream, so, other than the one waterfall that is roadside, you have to climb directly up the stream to see the waterfalls here.
Sometimes, this involves walking along small game trails on flat ground, and other times, you have to climb directly up smaller waterfalls. All in all, though, they combine to create one of the most fun waterfall hikes in Pennsylvania.
Bushkill Falls in the Poconos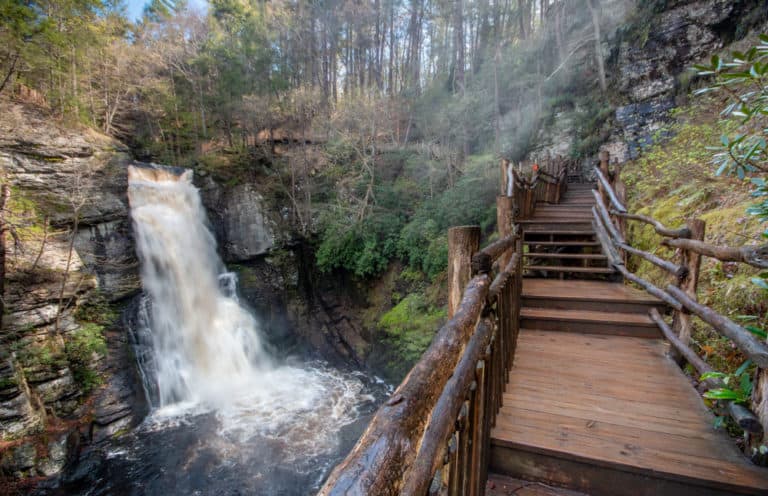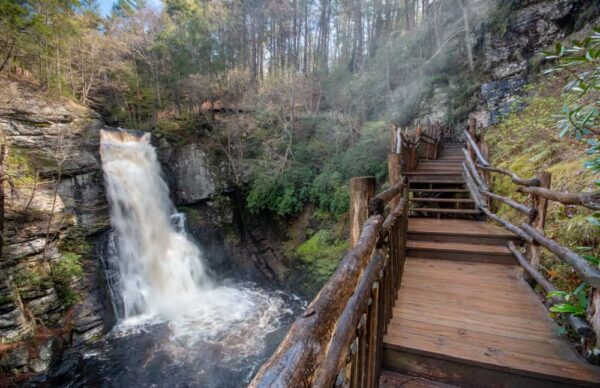 Bushkill Falls is located in the Poconos and is the only waterfall in PA that you have to pay an admission charge to see. Nevertheless, if you are looking for a great waterfall hike, this is one not to miss.
While the main 100-foot waterfall here can be seen easily, a great two-mile hike takes you past eight total waterfalls in the park. What makes this area especially great are the wooden pathways that pass over the creeks and cling to the cliff faces. These are quite unique and really beautiful to see in person.
Jacoby Falls in Loyalsock State Forest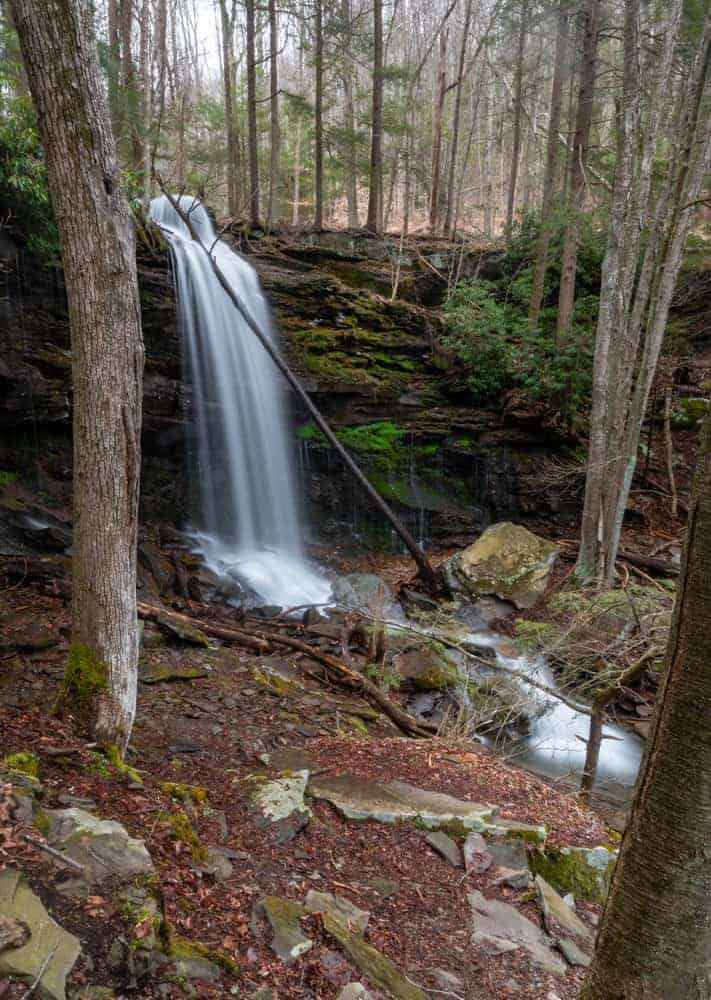 Located a short drive north of Williamsport, you'll find Jacoby Falls.
Jacoby Falls is located along a 3.2-mile out-and-back trail that winds its way through a beautiful forest. In times of especially high water, there might be several additional waterfalls in the woodland just off of the trail, so make sure to keep an eye out for those.
The hike ends in a hollow carved by the 30-foot tall waterfall. Note that this waterfall is fairly seasonal, so it's best to visit this spot in the spring or after heavy rains.
Bohen Trail in the PA Grand Canyon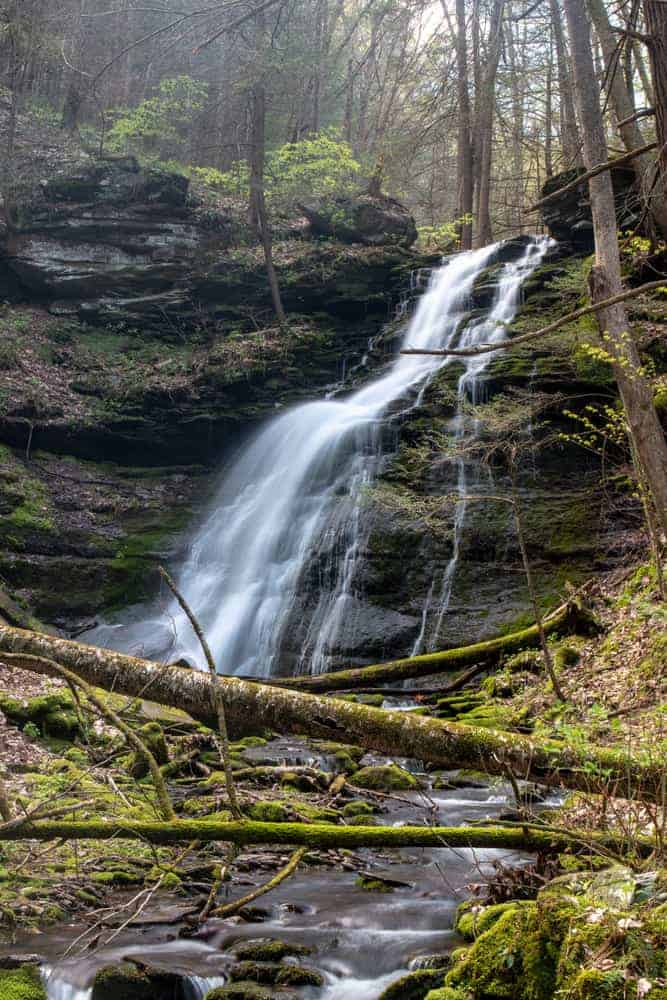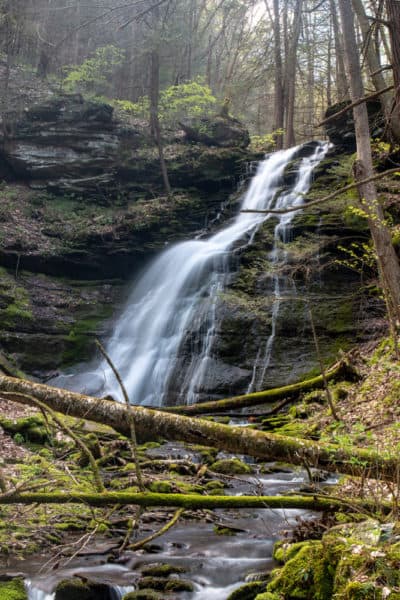 Bohen Falls and Jerry Falls are two beautiful waterfalls along the Bohen Trail. This trail starts on the western banks of Pine Creek in the Pennsylvania Grand Canyon near Blackwell.
This trail combines both on-trail and off-trail hiking into a nearly four-mile hike that's quite beautiful. Along the way, you'll pass above Jerry Falls before reaching Bohen Falls deep in a hollow off of the main trail (Make sure to bring a GPS so you don't get lost on this hike.)
If you love hiking, this is definitely a waterfall hike in PA that you won't want to miss.
Waterfall Wonderland of State Game Lands 13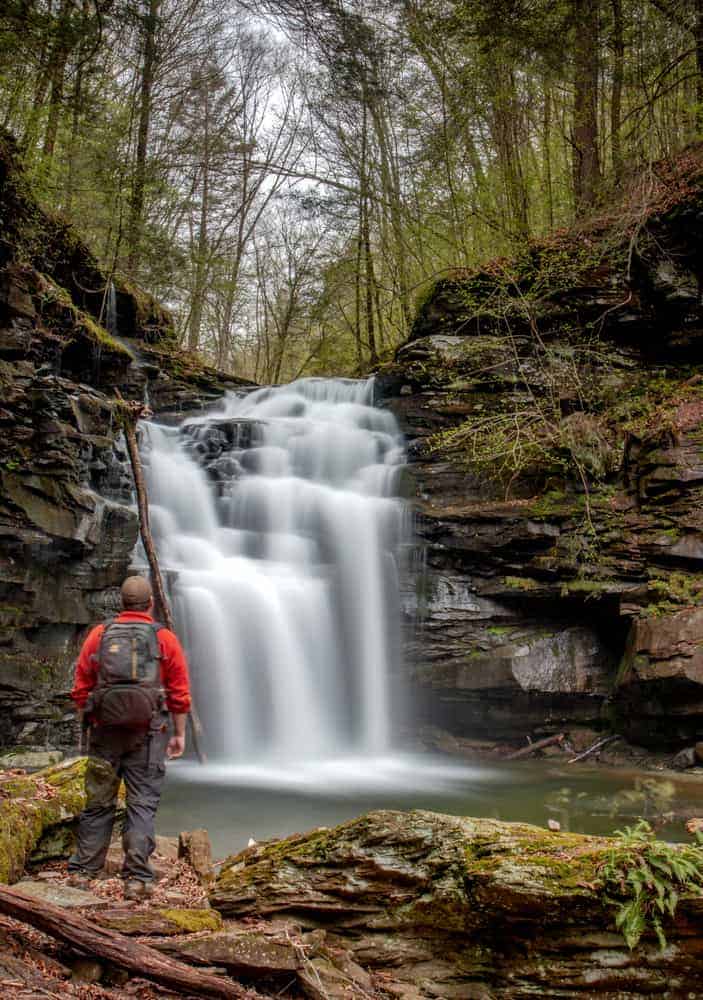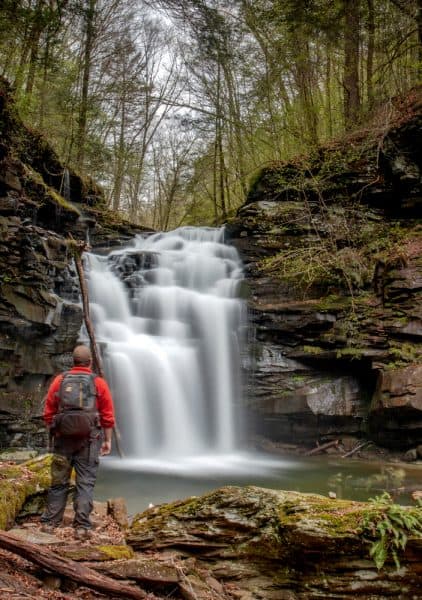 While Ricketts Glen State Park gets thousands of visitors each day, few make it over to see the many waterfalls in State Game Lands 13. While a few, like Sullivan Falls, require little hiking to see, there are dozens of waterfalls deep in the woodland that are quite beautiful to see.
Dubbed the "Waterfall Wonderland" by "Hiking the Endless Mountains" author Jeff Mitchell, this hike isn't for the timid as it's eight miles of off-trail hiking around and over waterfalls with no cell service to be found should you run into trouble.
While I've visited several of the waterfalls along Heberly Run, I haven't gotten up the gumption to do the whole hike, but if you are looking for the ultimate waterfall hike in Pennsylvania, this is the one for you.
Fall Brook Trail in Salt Springs State Park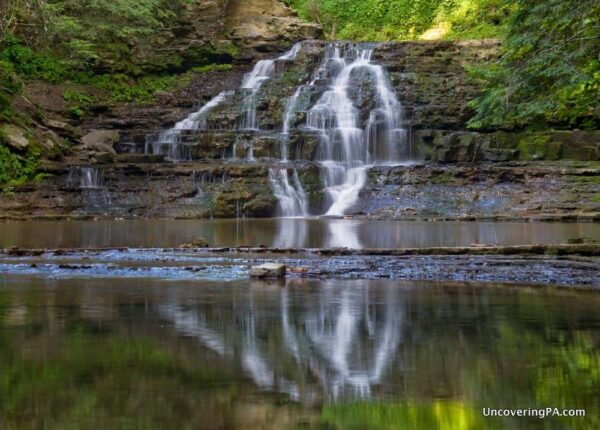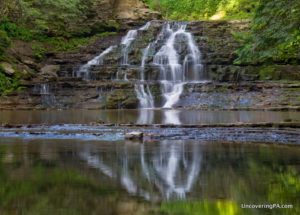 If you are looking for a fun waterfall hike that's great for the whole family, the Fall Brook Trail in Salt Springs State Park is a perfect choice.
This northeastern PA trail features three beautiful waterfalls along a half-mile trail directly up Fall Brook. The trail here follows along the banks of the creek, in some places dropping into the water and requiring you to scale directly up these small but beautiful waterfalls.
At the end of the trail, you can retrace your steps or connect to one of the park's other trails for a fun loop hike.
Have you done any of these waterfall hikes in PA, or do you have another favorite? Let us know in the comments below.
Looking for even more great places to explore in Pennsylvania? Check out the 7 Natural Wonders of PA, our Pennsylvania Bucket List, and My Favorite PA Counties for Outdoor Adventure.