Disclosure: This article may contain affiliate links. We will make a small commission from these links if you order something at no additional cost to you.
As a kid, I visited Pennsylvania Dutch Country A LOT with my parents. And, while many of the things they liked to do were lost on a hyperactive child, one place that we almost always visited was Hershey's Chocolate World.
Situated in Hershey, Pennsylvania, next to HersheyPark, down the hill from the Hotel Hershey and Hershey Gardens, and just down the road from the Hershey Chocolate factory, Hershey's Chocolate World is a great stop, not just for kids, but for adults as well.
I recently had the chance to revisit Hershey's Chocolate World to see how it has changed over the years. And, while it still had a very familiar feel, I was quite impressed with the additions to the facility.
If you're thinking about visiting, here are seven great reasons to check it out!
Tour the Hershey's Chocolate Factory…Sort of
Hershey's Chocolate World was originally opened in 1973 because actual factory tours were getting overcrowded due to their popularity. So, Hershey's instead built the Great American Chocolate Tour Ride in a building next to HersheyPark.
While I really enjoy the Great American Chocolate Tour, I'm not entirely sure that it's an equal substitute for an actual tour of the chocolate plant. However, it does do a good job of teaching you how chocolate is made, albeit in a very Disney-fied way.
I was a bit disappointed to discover that recent changes made their classic "Hershey's Chocolate World" song less of a focal point, but those of you who hate "It's a Small World" will likely be happy with that change.
Seriously though, this free ride does do a good job explaining the chocolate making process to both kids and adults and ends with free chocolate. What could be better than that?
(Discover more free things to do in Hershey and Harrisburg)
Create Your Own Hershey's Candy Bar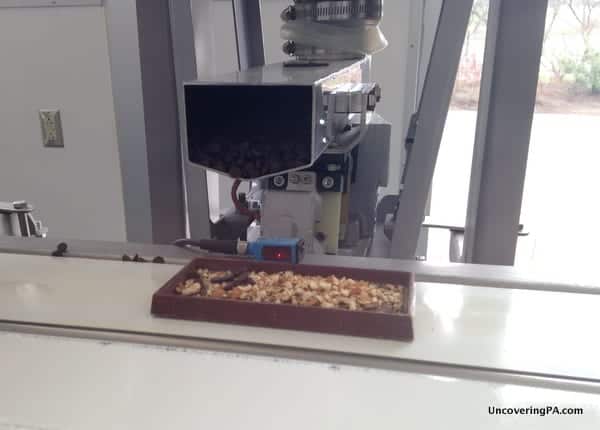 Probably the coolest new thing to do at Hershey's Chocolate World is the Create Your Own Candy Bar Attraction.
Stepping into the creation studio, you can do everything from designing your wrapper to picking which ingredients go into your candy bar. The process is all done digitally, and there are enough options to ensure that you'll be able to find something that you will find delicious.
Once you've picked all your options, head into the factory, where you can watch your candy bar being made along the conveyer belt. The process really is quite fun to watch. After your candy bar is made, you'll get to see your packaging printed, and then you'll receive your candy bar in a nice metal tin.
The created candy bar was quite delicious, and I'd be tempted to do it again just for another candy bar.
Solve a Chocolate Mystery in an Interactive 4D Show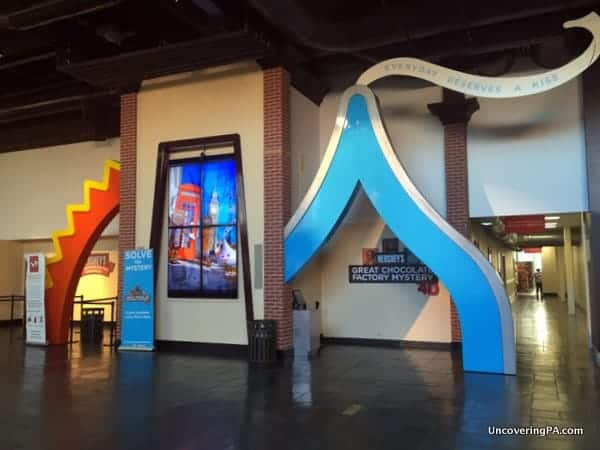 Of all the attractions at Hershey's Chocolate World, I would say that the Great Chocolate Mystery 4D Show is the one most geared towards kids. However, that's not to say that adults won't enjoy it as well.
The basic premise of the show is that the audience is helping several talking Hershey's candy bars save the factory from the evil Victor Von Sour and his No-Bots as they try and destroy the Hershey's Chocolate Factory.
I was really impressed with how the show incorporated live user interaction to create a well-done show that, according to my research, has over 100 possible scenarios. It's worth noting, that the friendly questions that the staff asks you before the show starts have a very good chance of coming up during the show. So, if you aren't comfortable with that, just be prepared.
Learn About Chocolate with a Chocolate Tasting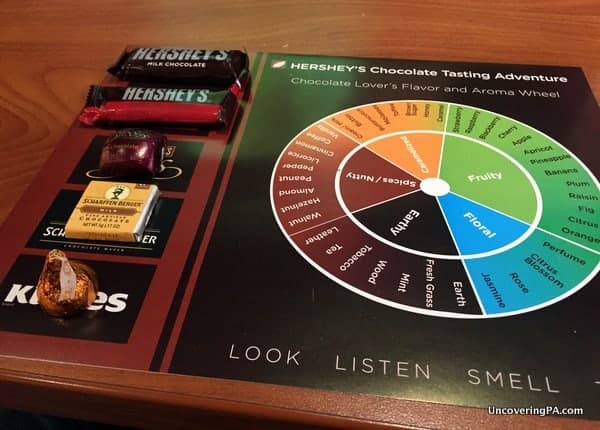 If you want to learn more about chocolate, there's no better way than the Chocolate Tasting Adventure at Hershey's Chocolate World.
The 25-minute chocolate tasting will guide you through the process of how chocolate is made and how to taste the chocolate to discover which flavors are present. If you're ever done a wine or beer tasting, this is very similar.
After learning about chocolate, you are given five pieces of chocolate to slowly taste by placing them on your tongue and letting the piece melt. Since I've never been one to slowly enjoy a piece of chocolate, I found it quite interesting how letting the piece really does bring out a lot of different flavors, especially in darker chocolate.
If I had one criticism of the Chocolate Tasting Adventure, it would be that my fifth piece was a carmel-flavored Hershey's Kiss. While it's certainly a good tasting piece of chocolate, there isn't much of a tasting you can do with this piece. I would have liked to have seen another piece of tasting chocolate offered.
Overall, though, the Chocolate Tasting Adventure was a great way to learn more about chocolate. However, it is probably better suited for adults and older kids because of the tasting nature of the session.
Learn About Hershey's History with a Trolley Ride Through Hershey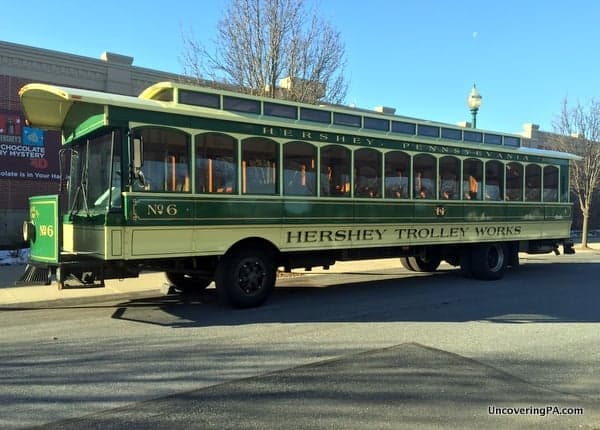 The town of Hershey has a fascinating history that is heavily intertwined with the Hershey Chocolate Company. To find out more about this history, the taking a ride through Hershey with Hershey Trolley Works is a great choice.
The 75-minute ride takes you through the entire town, past notable buildings like the Hershey Chocolate Factory (where 94% of Hershey's Chocolate is still made), the first Reese's Peanut Butter Cups factory, Milton Hershey's birthplace, and many of the other important buildings in the town. During the trip, the host intertwines true stories with a significant amount of humor. It can be hard at times to tell where the joke ends and the truth begins, but overall, the storytelling is really well done.
While it might sound a bit boring to spend 75 minutes learning about the history of the town, I really found it quite interesting, even after having learned about Milton Hershey's life and Legacy at The Hershey Story (of course, that could have also been because of the insane amount of free chocolate passed out during the tour).
Buy (or at Least Take a Photo with) a Giant Candy Bar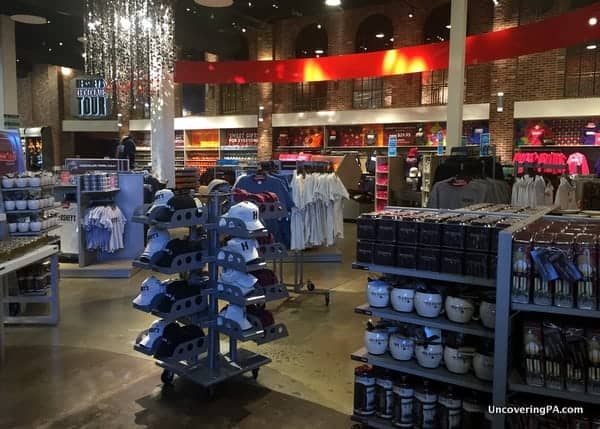 Hershey's Chocolate World isn't just full of fun attractions, it's also a great place to buy products related to your favorite Hershey's product. T-shirts, plush dolls, and candy bars line the walls of the shops, but what's really special are the giant chocolate bars.
Self-dubbed the largest Hershey products on the market, these giant chocolate bars make great souvenirs for the Hershey's lover that has everything. Or, just get your photo taken holding a giant Hershey's candy bar. Either way, it's something you won't want to miss when visiting Hershey's Chocolate World.
Taste some Hershey's Inspired Treats
Hershey's Chocolate World isn't just a great place to pick up a giant candy bar, but it's also a great place to get a treat. Everywhere you look are delicious cookies, cups of hot chocolate, or pieces of cake made with Hershey's products. True, each one of them probably has more calories than you should be eating in a week, but man are they good!
Given that many of the products are only made their, don't miss your chance to get some delicious dessert. That is, if you can eat more chocolate after the insane amount you'll get at the various attractions at Hershey's Chocolate World.
Note: My visit to Hershey's Chocolate World was hosted by the attraction. However, the opinions expressed my own.
Looking for more than chocolate on your next visit to Hershey, PA? The region also boasts Hershey Gardens, Troegs Brewery, and the Antique Auto Club of America Museum. Slightly further away, visit the Turkey Hill Experience and the nearby National Watch and Clock Museum.
---
Hershey's Chocolate World
Hours: Open Daily at 9am, Closing time varies by season

Cost: Varies by activity.

Website: Hersheys.com/ChocolateWorld

Address: 251 Park Boulevard
Hershey, PA 17033
See map for other area attractions.
---