Disclosure: This article may contain affiliate links. We will make a small commission from these links if you order something at no additional cost to you.
There are many great spots to enjoy fall foliage in Pennsylvania, but there's something special about fall in Philadelphia.
If you're willing to travel around the state, autumn colors can be enjoyed in PA from late September through mid-November, and the southeastern corner of the state is always the last area to change. That means that you can usually enjoy beautiful colors in the Philadelphia area from late October through mid-November, long after many other areas of the state are well past peak.
So, whether you are finally getting a chance to see fall colors near home or are looking to extend your autumn enjoyment after exploring a few other areas of PA, here are some of my favorite places to see fall foliage near Philadelphia.
Wissahickon Gorge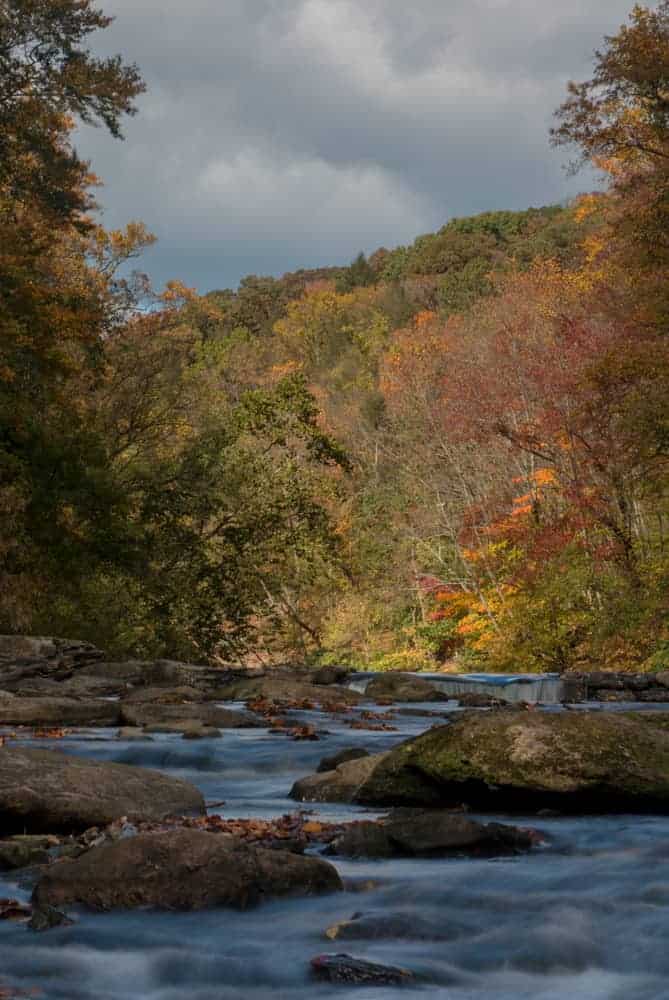 There's probably nowhere I enjoy hiking more in the Philadelphia city limits than Wissahickon Gorge. Located in North Philly, this spot comes alive in the autumn, making it one of the best places to see fall colors in Philadelphia.
This 1,800-acre park features 50 miles of hiking trails, some of which are also open to mountain biking and horseback riding. There are a ton of highlights within the gorge that are worth seeing, including Valley Inn, which is pictured at the top of this article.
However, if you are looking for one specific spot to check out, head to Thomas Mill Covered Bridge, the only historic covered bridge remaining in any major US city. Without a doubt, this is one of the most beautiful spots during fall in Philadelphia.
Old City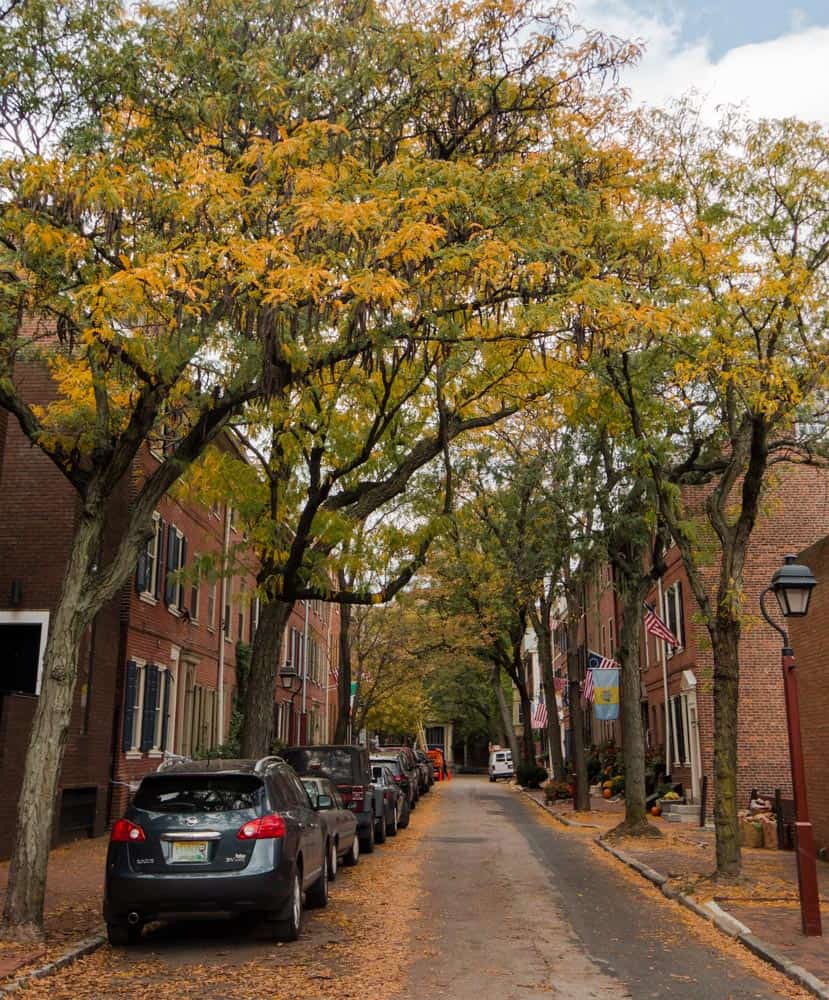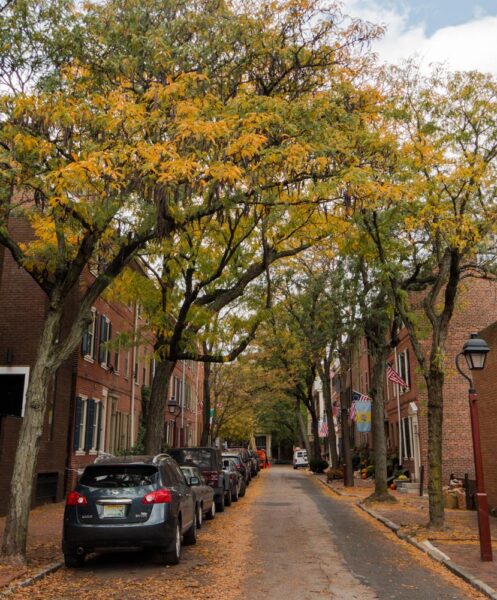 Philadelphia's Old City is best known for its world-changing history. However, it's also one of the most beautiful areas in the city.
In autumn, the tree-lined streets and pocket parks come alive with a myriad of amazing colors, which contrast nicely against the historic buildings around Independence Hall.
Taking a walk or drive through this part of the city is a great way to enjoy the beauty of fall in a way that's accessible to everyone.
Bryn Athyn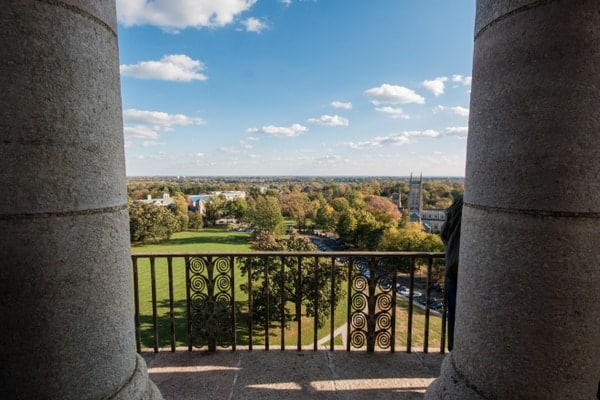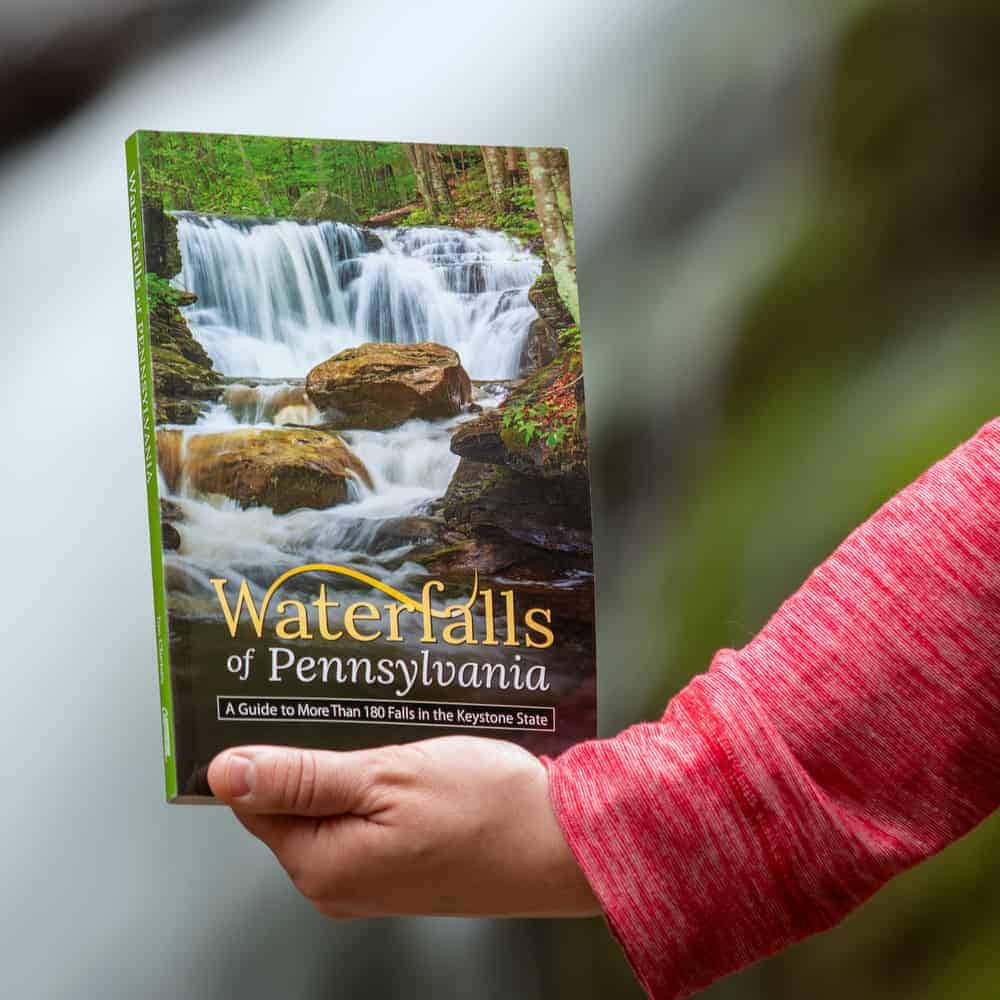 "Waterfalls of Pennsylvania" by Jim Cheney
If you love PA waterfalls, you won't want to miss this waterfall book from Jim Cheney, author of Uncovering PA, featuring more than 180 great waterfalls. Order it now on Bookshop.org or Amazon.
Located just outside the city limits, Bryn Athyn is a beautiful community with great museums, a beautiful European-style cathedral, and several great trails.
My favorite area to explore during autumn is the area around the Glencairn Museum and Bryn Athyn Cathedral, both of which are quite beautiful in the fall. The view from the roof of the Glencairn Museum is especially great.
If you want to enjoy a bit more serenity, the Pennypack Trail is a five-mile rail-trail that cuts through Bryn Athyn and offers a lot of great beauty while walking or biking.
Ralph Stover State Park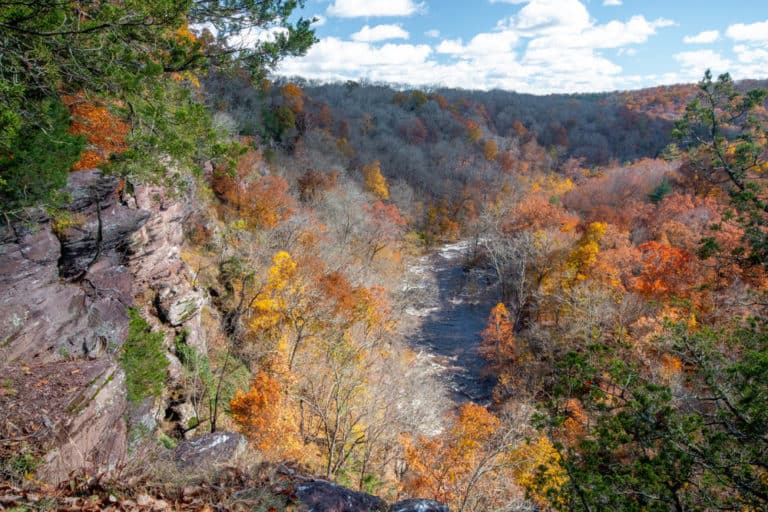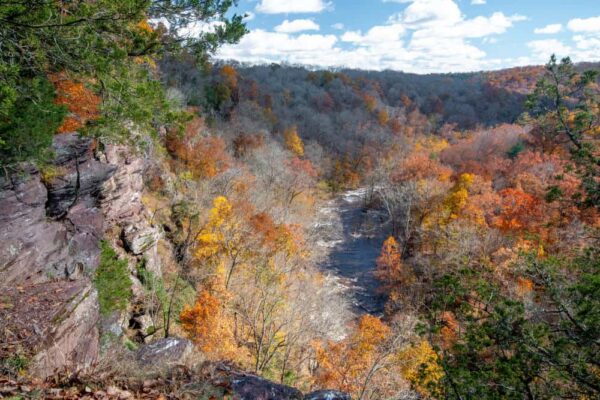 Ralph Stover State Park is located in northern Bucks County, a short drive from the city, but is definitely worth a trip to enjoy the great foliage here.
The main highlight at this small park is High Rocks Vista. A great hiking trail through this area features several overlooks and provides incredible views over Tohickon Creek and the colorful forests far below.
Belmont Plateau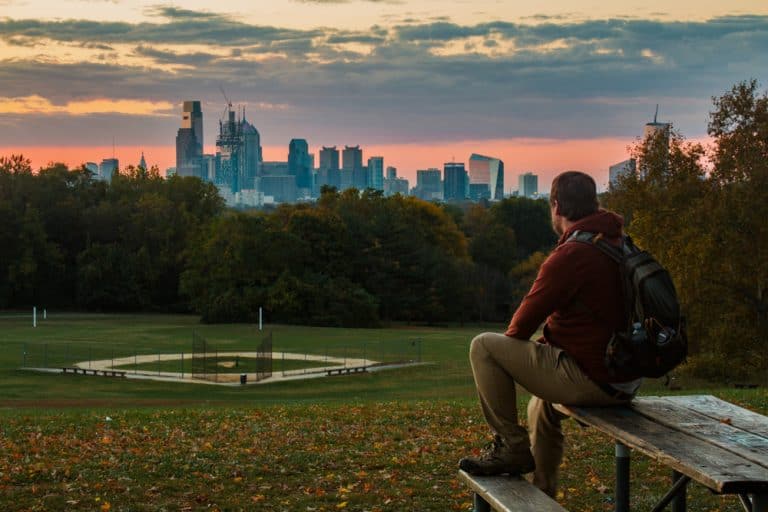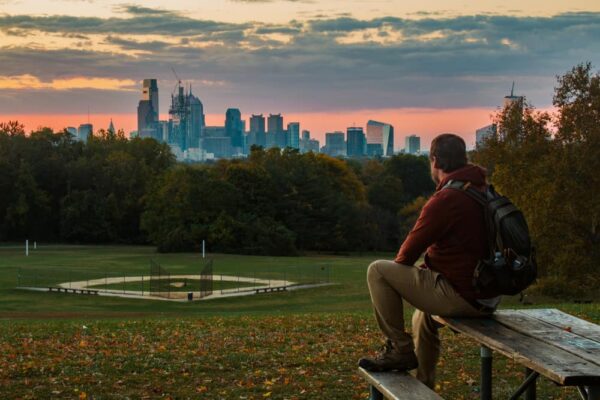 If you're looking for an overlook within the city, look no further than Belmont Plateau.
From the top of the plateau, near the Underground Railroad Museum at Belmont Mansion, there is an expansive view over the city's skyline. In fact, this is one of my favorite places to view Philly's skyline throughout the year, especially at sunrise.
During the fall, the trees surrounding the skyline come alive with beautiful colors that really amplify the scene.
Evansburg State Park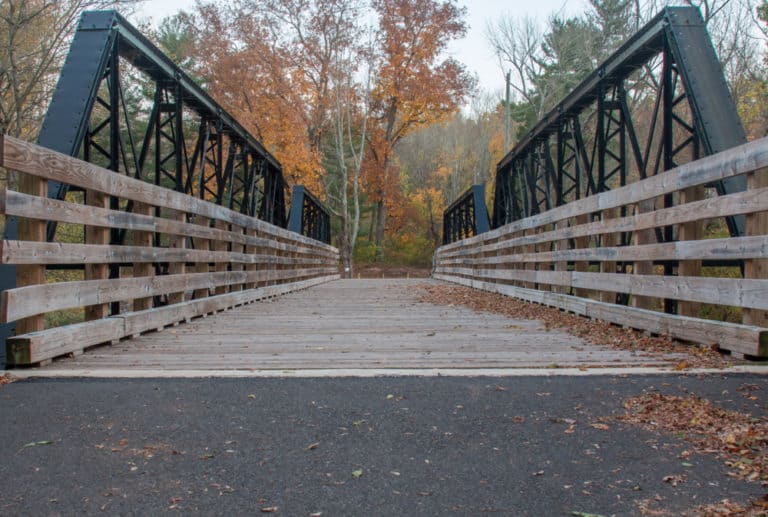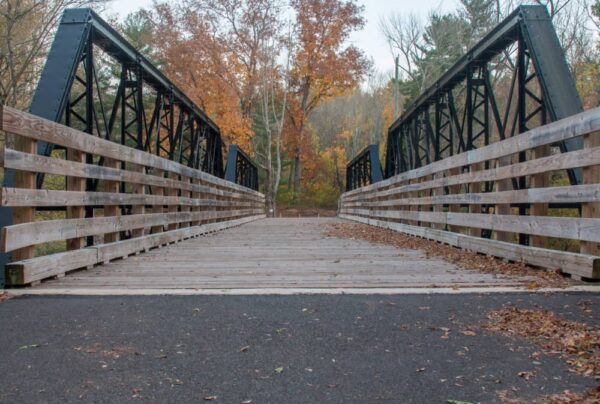 Evansburg State Park is a 3,000-acre state park in Montgomery County and is one of my favorite places to go hiking near Philadelphia, especially in the autumn.
There are six miles of hiking trails through the park, with the Skippack Creek Loop Trail and the Mill Race Trail providing beautiful views of the forested hillsides of this park. Wherever you head in the park, however, you really can't go wrong.
Cuttalossa Farm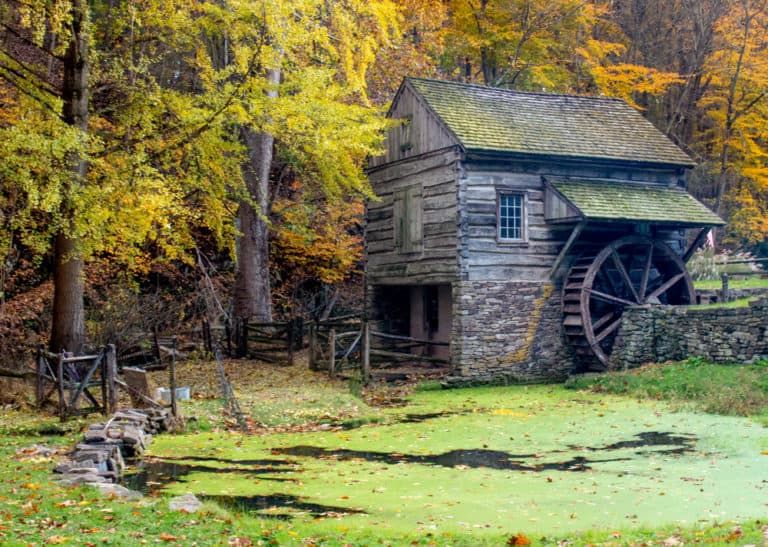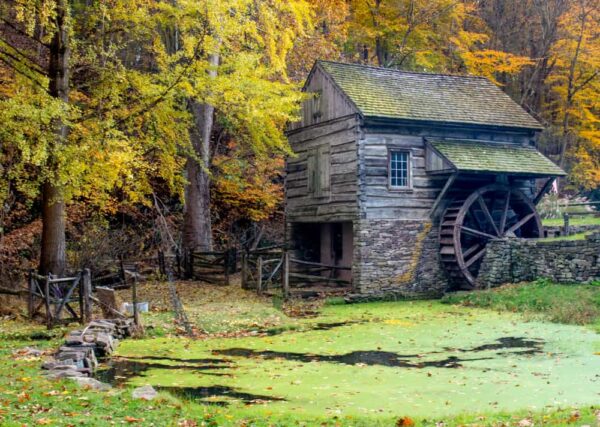 Cuttalossa Farm is a historic farm located in Upper Bucks County. While it is located on private property, it's possible to pull off on the side of the road and view/photograph this scene from the roadway (Please respect the property and don't cross onto private property while visiting).
This beautiful area was once home to famous impressionist Daniel Garber, an instructor at the Pennsylvania Academy of Fine Arts in Center City Philadelphia. He painted many images of Bucks County, including his beautiful farm.
At this spot, there are several beautiful buildings that provide great photo subjects or simply nice views during autumn.
John Heinz National Wildlife Refuge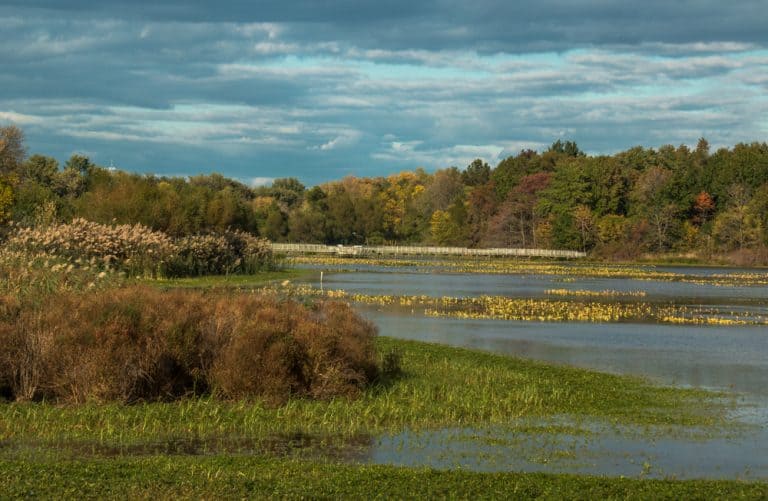 Located on the border of Philadelphia and Delaware County near Philadelphia International Airport, you'll find the John Heinz National Wildlife Refuge.
This 1,000-acre refuge protects the largest remaining section of tidal marshes in Pennsylvania. For much of the year, it's a great spot to visit to see birds. However, there's also a lot of great natural beauty here, which makes it a great spot to see fall foliage.
Even better, the trails here are mostly easy to walk, making it a perfect spot for the whole family.
Valley Forge National Historical Park
While Valley Forge is primarily known for its historic importance, it's also one of the most beautiful spots in Montgomery County.
Miles of walking, hiking, and biking paths are scattered throughout the park and amidst the historic structures and signage of the park. This makes it a great place for those that love both nature and history.
If you love historic covered bridges, one of Chester County's Covered Bridges is located on the edge of the park and is another great spot to head during fall foliage season in southeastern PA.
Fairmount Park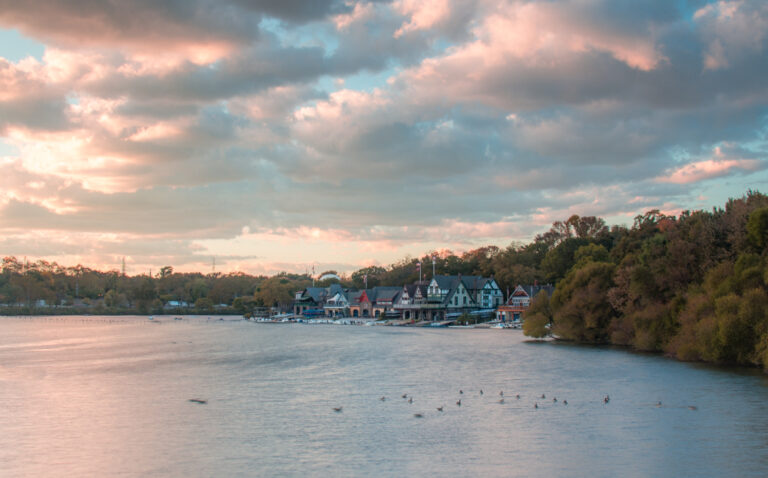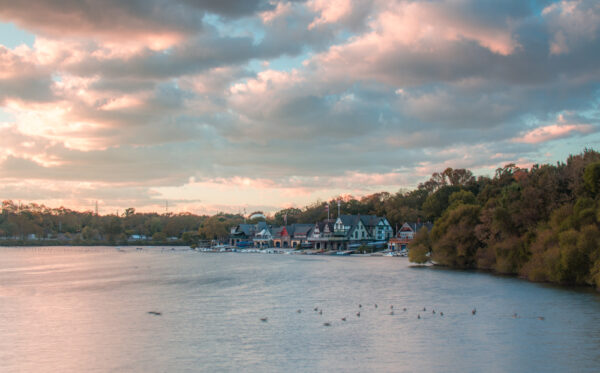 Fairmount Park is one of the gems of Philadelphia and is one of the best places to enjoy fall foliage in Philadelphia.
In total, Fairmount Park is over 2,000 acres in size and spreads out over both sides of the Schuylkill River. Within the park, there are miles of walking and biking trails, along with great attractions like the Philadelphia Zoo, Please Touch Museum, and Shofuso Japanese Garden.
This beautiful area features many tree-lined roads and paths which really come to life during autumn.
Route 32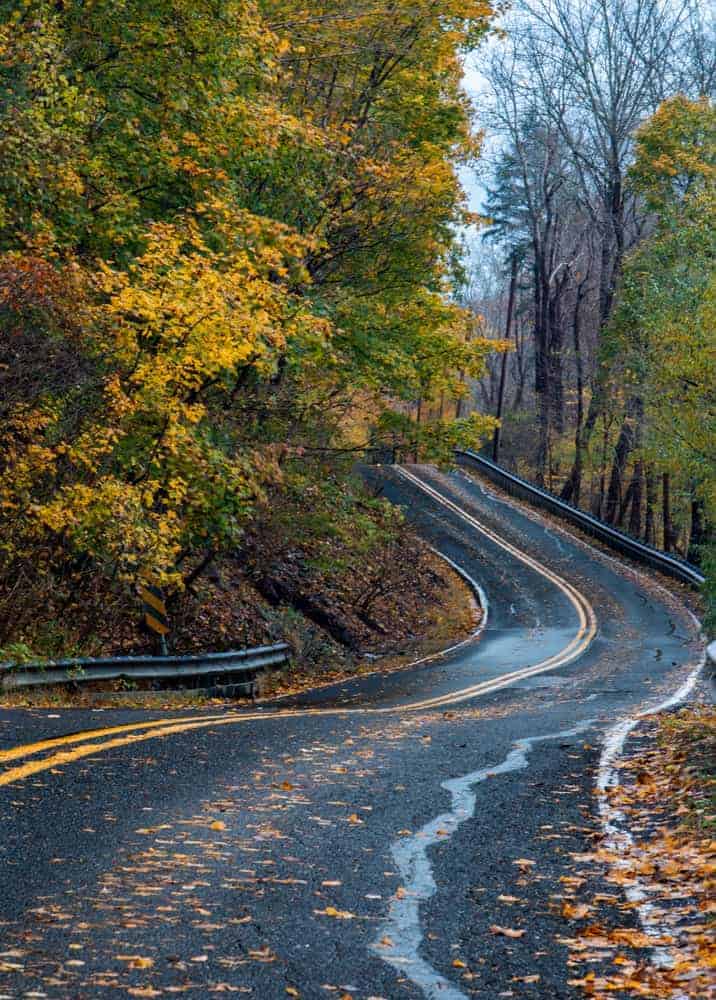 There are many great roads to drive in the fall, but I think there might be no prettier drive in Pennsylvania than Route 32 in Upper Bucks County.
While this road actually stretches nearly all the way down to Philly, the most beautiful portion is a 25-mile stretch from the charming community of New Hope to Kintnersville, PA.
Along the way, the road passes several seasonal waterfalls and remnants of the Delaware Canal and its towpath. It also passes very near to the unique Ringing Rocks County Park and several historic Bucks County covered bridges.
While this is a fantastic drive throughout the year, it's absolutely breathtaking in the fall.
Ridley Creek State Park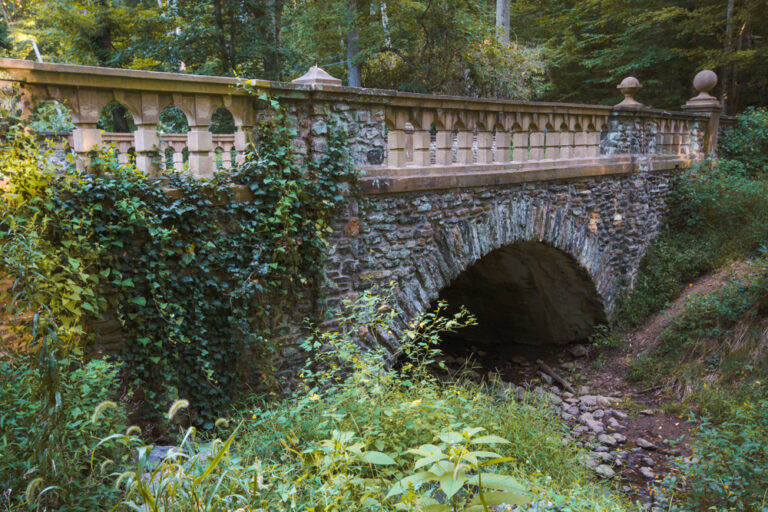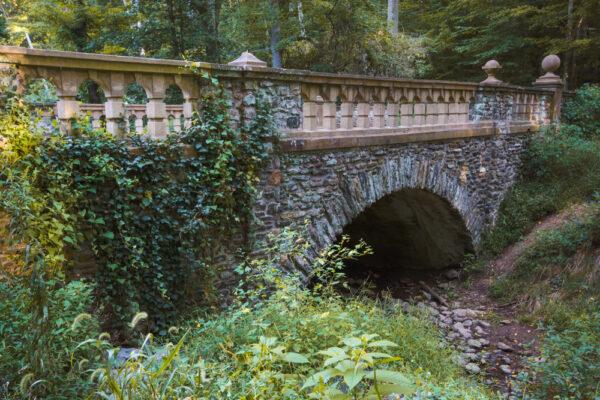 Ridley Creek State Park is located in Delaware County and is one of the region's most popular state parks. However, there is still room to enjoy the outdoors in peace.
The park's 2,600 acres are crisscrossed by 13 miles of trails, which are a mixture of traditional trails and paved paths. The historic areas near Hunting Hill Mansion and Sycamore Mills offer beautiful historical buildings set in a woodland that is brimming with color in the fall.
If you want to see even more fall foliage near Philly, head next door to the fantastic Tyler Arboretum.
Bowman's Tower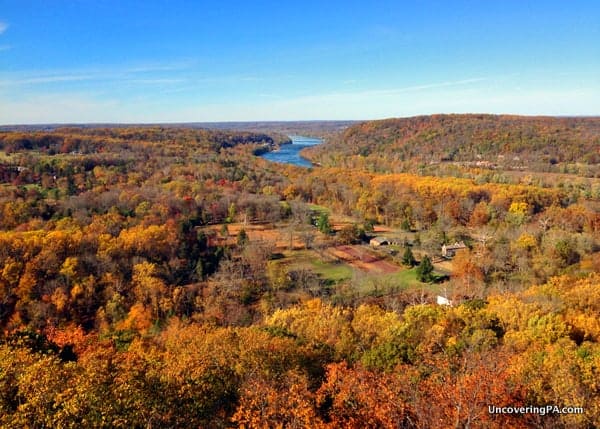 Located near the Delaware River in Bucks County is Bowman's Tower. This 125-foot tower was opened to the public in 1931 and is part of Washington Crossing Historic Site.
From the top of this beautiful tower, there is an expansive view of the Delaware River Valley in Pennsylvania and New Jersey. In this area, most of the land near the tower is forested, offering incredible views of all of the colors of fall.
Bartram's Garden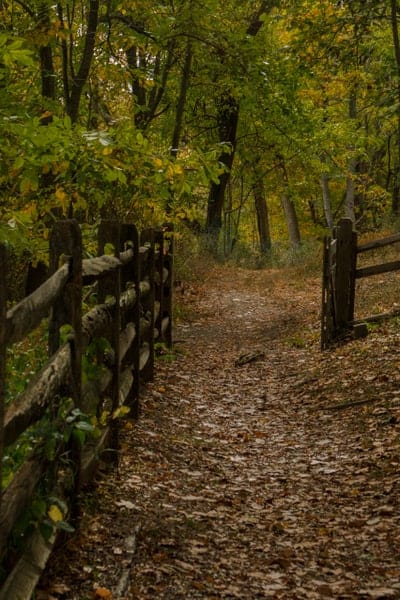 Bartram's Garden is located in Philadelphia and is the country's oldest botanical garden having been started in 1728.
The garden is a mere 46 acres in size, but what it lacks in size, it makes up with natural beauty. It's also a wonderful spots for those that love botany as it's home to some very rare and old specimens.
In the autumn, the large variety of trees here come alive with color and provide a lot of beauty to the banks of the Schuylkill River.
Marsh Creek State Park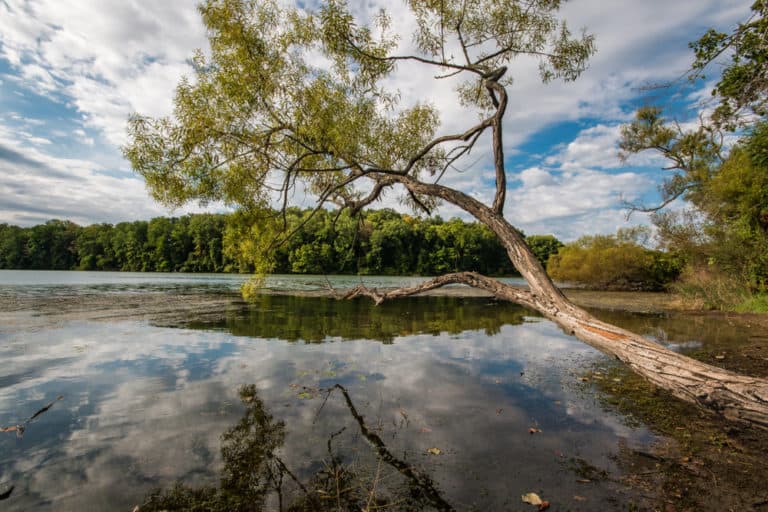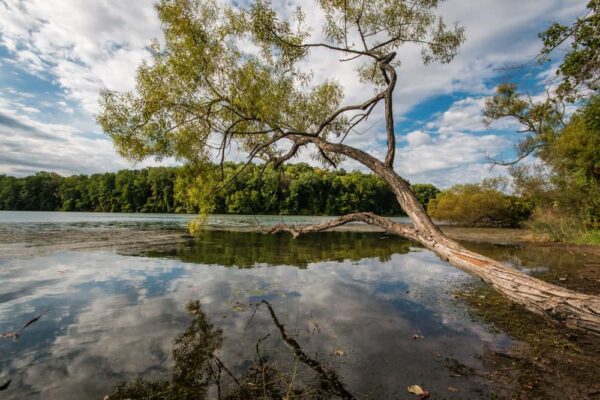 Marsh Creek State Park is one of the most beautiful spots in the Philly suburbs and offers a large lake and nearly 20 miles of hiking trails, many of which are also popular with mountain bikers and equestrians.
One of the most popular trails in the park is the White Trail. This trail is located along the southern and western ends of the lake and offers incredible views of the lake and fall foliage.
Do you have a favorite place to see fall foliage near Philadelphia? Let us know in the comments below.
Looking for more great things to do in Philadelphia? Check out our favorite waterfalls near Philadelphia, the best free things to do in Philly, and the first-timers weekend in Philadelphia.