Disclosure: This article may contain affiliate links. We will make a small commission from these links if you order something at no additional cost to you.
I don't know about you, but there's something magical about fall in Pennsylvania. The weather is crisp, waterfalls are flowing, the changing leaves are some of the most colorful you'll find anywhere in the northeast, and there are a ton of great
fall festivals in PA
and
great road trips to see fall foliage around the state
.
While you can find peak fall colors in PA for nearly a full month from early October through late November, it can still be difficult to figure out where to visit to maximize your leaf-peeping. So, while I'm sure there are dozens, if not hundreds, more great destinations to view the beautiful fall foliage in PA, here are 31 of my favorite spots around the state.
The Pennsylvania Grand Canyon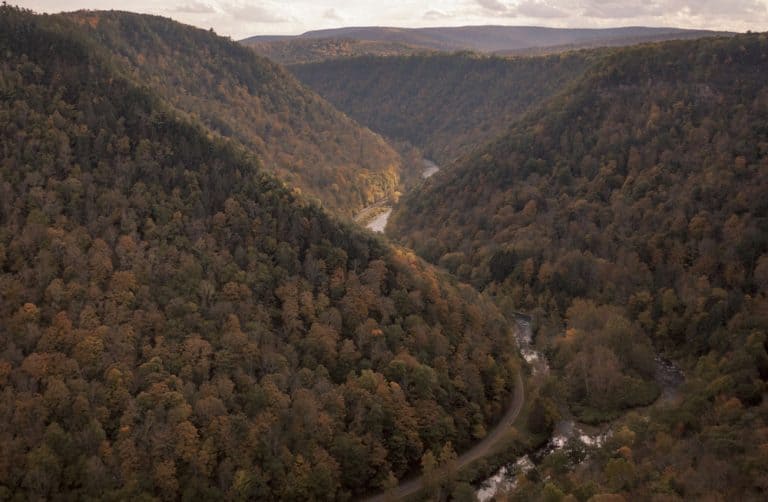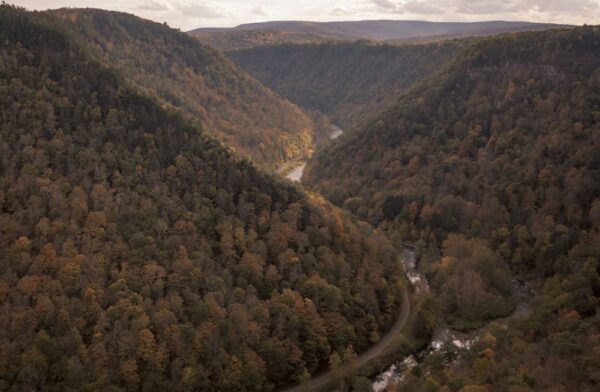 There might be no better destination for fall foliage in PA than the Pennsylvania Grand Canyon. Known officially as Pine Creek Gorge, the Pennsylvania Grand Canyon offers miles and miles of forested trails, many beautiful waterfalls, and great observation platforms that anyone can visit.
To see fall colors, head to Leonard Harrison State Park or Colton Point State Park and check out their observation decks and the trails that lead down to the bottom of the gorge from both. Another great option is a walk or bike along the Pine Creek Rail Trail along the creek at the bottom of the gorge.
Ricketts Glen State Park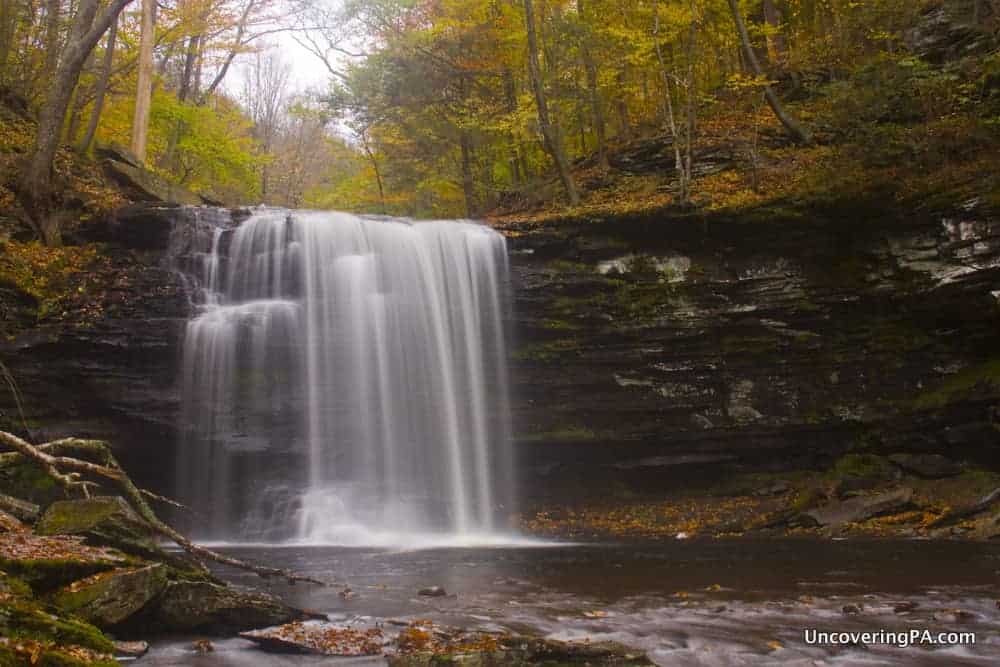 Pennsylvania's best destination for waterfall lovers is at its best during the fall foliage season. Not only are the waterfalls generally flowing well thanks to the early fall rain, but the leaves are breathtaking, and the crowds, at least during the week, are minimal.
In my opinion, the Falls Trail in Ricketts Glen State Park, which takes you past the park's 23 named waterfalls, is the best hike in the entire state. And, visiting when fall colors in PA are at their peak gives you a chance to not only spend time on the trail but to also see one of the most scenic areas of Northeastern Pennsylvania.
Ohiopyle State Park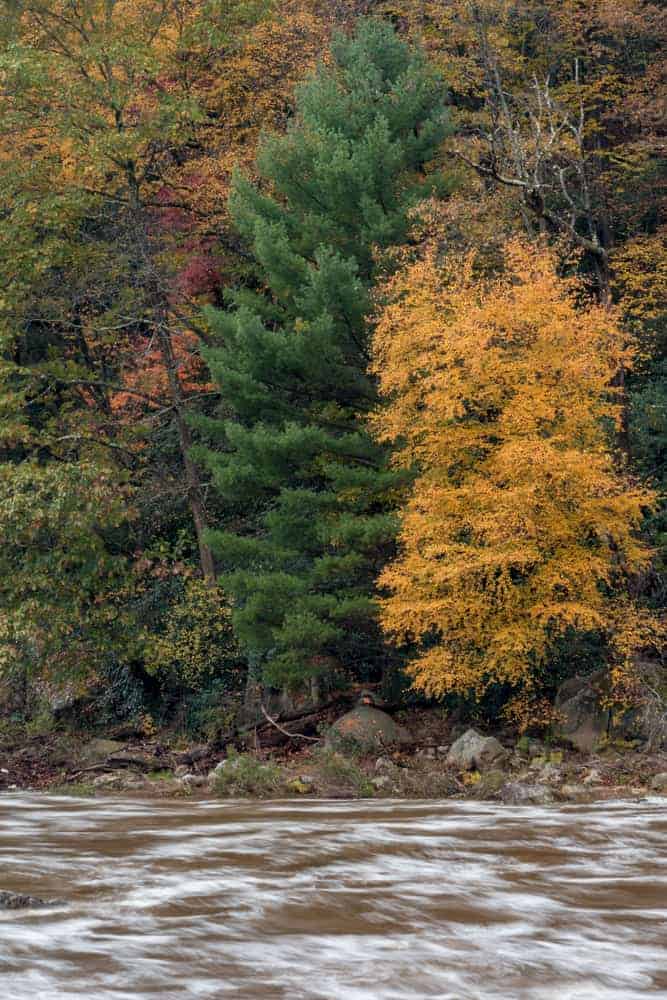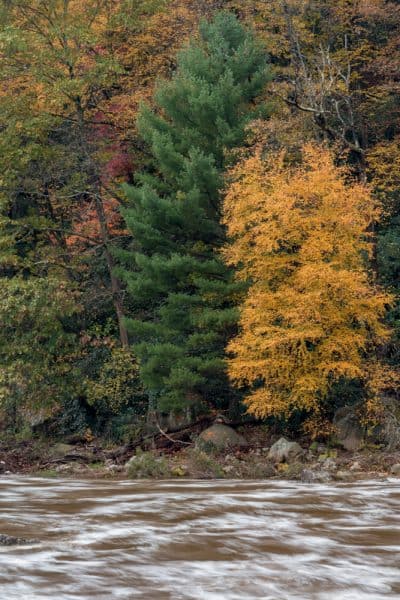 There's no doubt that Ohiopyle State Park is beautiful any season of the year, but it comes alive during autumn. The parks many forested trails and hidden waterfalls lend themselves to amazing autumn scenes. The fall colors here are simply breathtaking and make the entire park look much more beautiful than it does any other time of the year.
In addition to the park, Frank Lloyd Wright's Fallingwater, which sits just outside of the park's boundaries, is equally stunning amidst the beautiful colors of fall in Pennsylvania.
Of course, those are just a few of the incredible places to enjoy fall foliage in the Laurel Highlands.
Jim Thorpe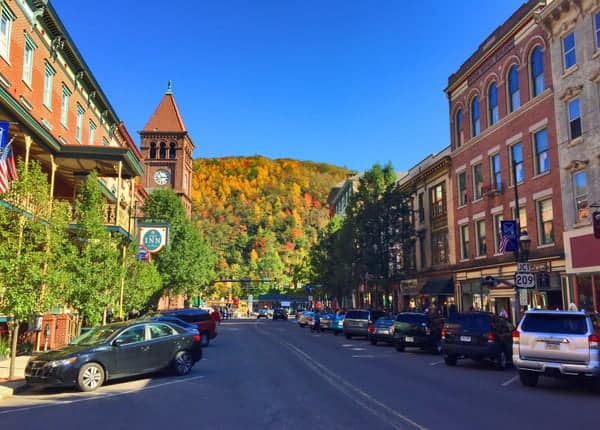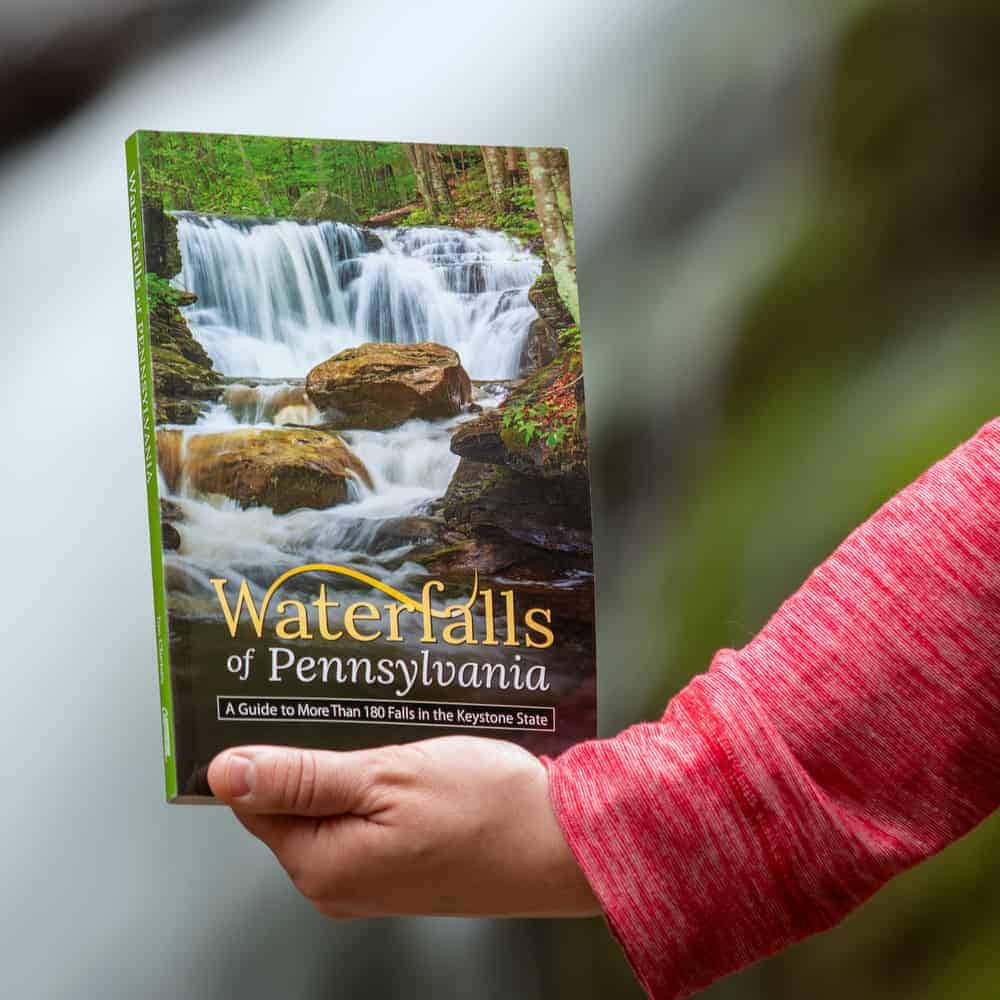 "Waterfalls of Pennsylvania" by Jim Cheney
If you love PA waterfalls, you won't want to miss this brand-new waterfall book from Jim Cheney, author of Uncovering PA, featuring more than 180 great waterfalls. Order it now on Bookshop.org or Amazon.
The small Carbon County borough of Jim Thorpe is a popular destination all year long but really comes alive during autumn. The borough hosts Fall Foliage Weekends the first three weekends of October each year, which bring thousands of people to the downtown area of Jim Thorpe.
However, outside of the borough, the foliage is even more stunning with places like Lehigh Gorge State Park being very popular destinations for hiking and leaf-peeping.
Bowman's Hill Tower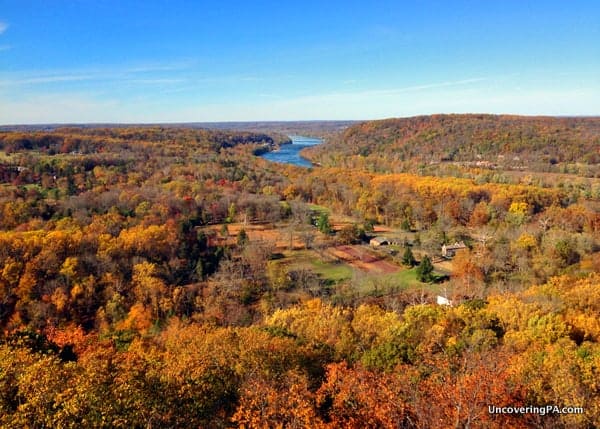 Located along the Delaware River near New Hope in Bucks County, Pennsylvania, is Bowman's Hill Tower. Perched on a hilltop used by George Washington's troops before his famous crossing of the Delaware River, Bowman's Hill Tower offers an amazing view of the Delaware River Valley in Pennsylvania and New Jersey.
The tower was built in 1929 and has 360-degree views that can stretch up to 14 miles on a clear day. The forested hills in the area provide an amazing backdrop and make this observation tower an amazing place to visit during peak fall colors in Pennsylvania.
Raystown Lake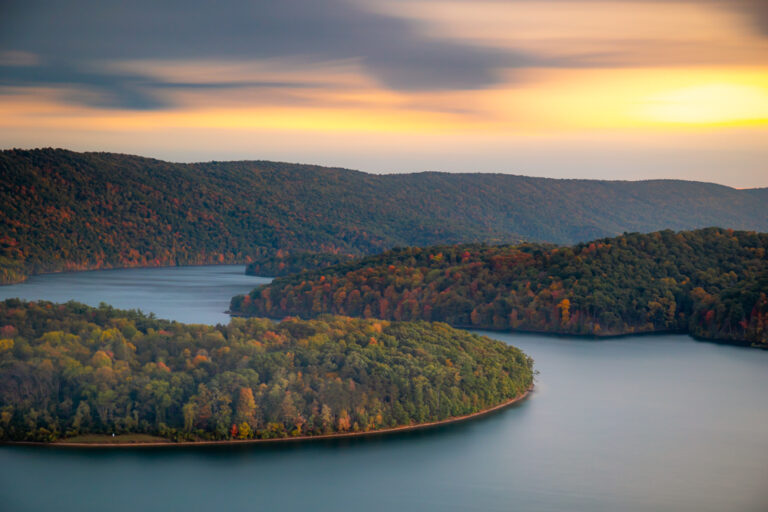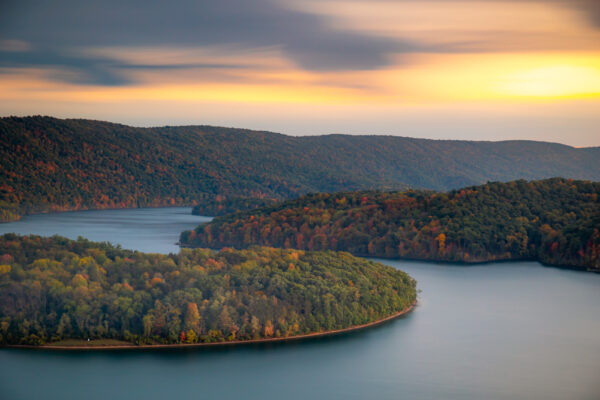 You might think of Raystown Lake as a summer destination, but since almost the entire lake is surrounded by forest, this is an ideal spot for fall foliage in PA.
Lake cruises leave from Lake Raystown Resort until at least mid-October and give visitors a chance to see the beautiful lake at water level or you can hike in Trough Creek State Park or bike the Allegrippis Trails.
Another great option is to visit the many overlooks along Raystown Lake. My personal favorite view is from Hawn's Overlook near the lake's northern end, which is pictured above. However, the views from almost anywhere are quite stunning.
Kinzua Bridge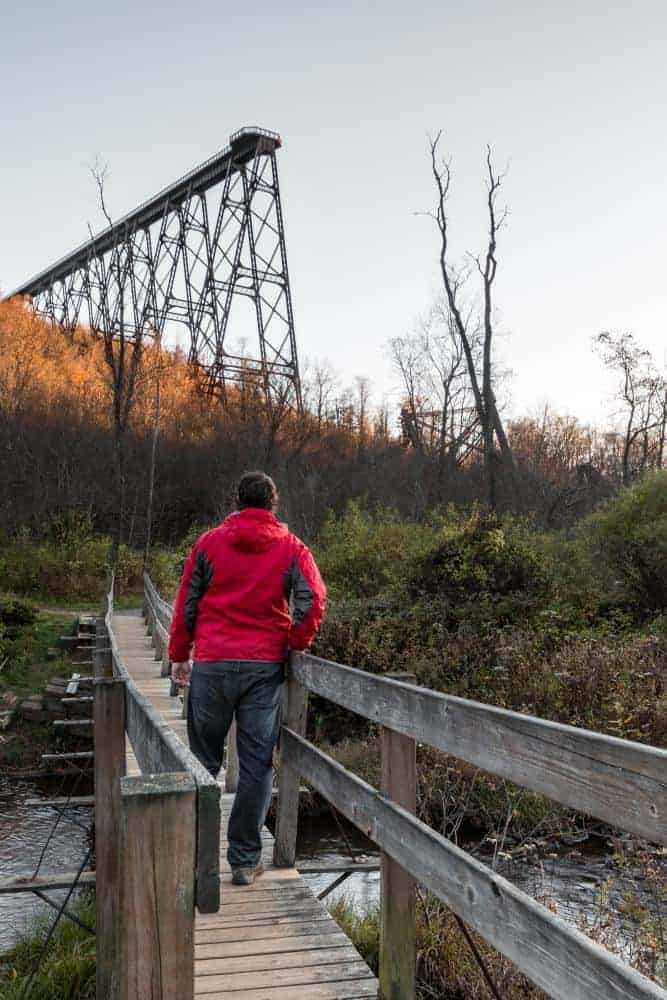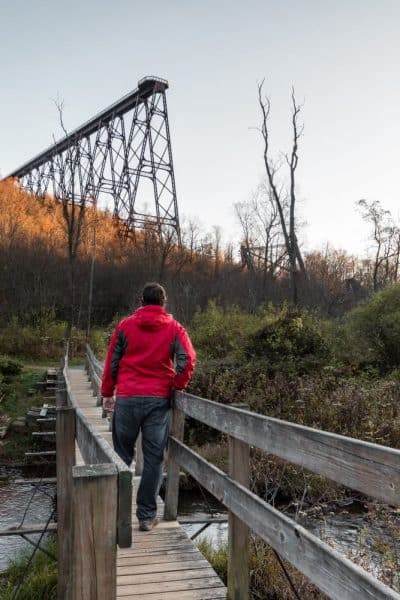 At one point in time, Kinzua Bridge was the world's longest and tallest bridge. However, while it no longer holds that title, it's still impressive. After a tornado destroyed 60% of the bridge in 2003, the bridge was changed to an overlook and reopened for visitors in 2011.
Today, the bridge provides an amazing view of the Kinzua Valley in McKean County, Pennsylvania. Peering down, you can still see the twisted remains of the rest of the bridge on the ground below.
Hyner View State Park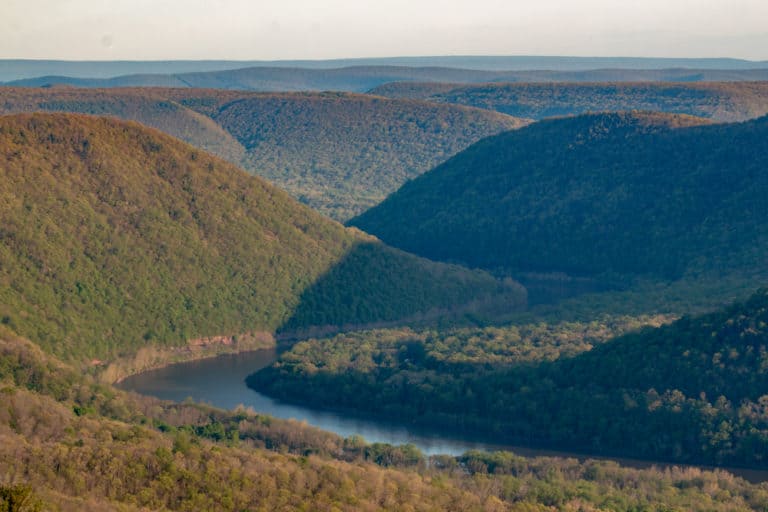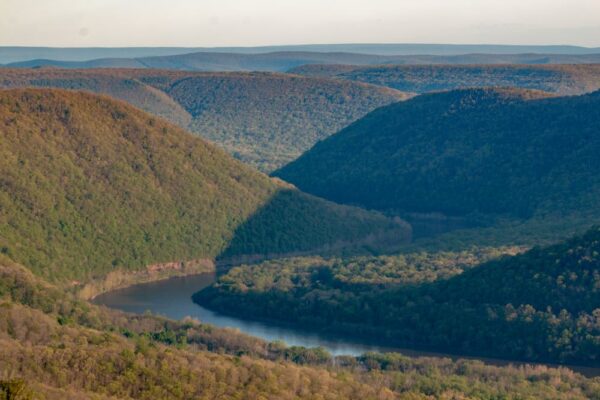 Pennsylvania is full over great overlooks, but few can rival the overlook at Hyner View State Park. Given this, Hyner View is undoubtedly one of the top places to see fall foliage in PA.
The view here is 1,300 feet above the West Branch of the Susquehanna River and stretches for miles over the undisturbed woodland of Sproul State Forest. With its location in Clinton County, this is a great spot to catch the sunset on the way home from a day exploring the Pennsylvania Grand Canyon.
McConnells Mill State Park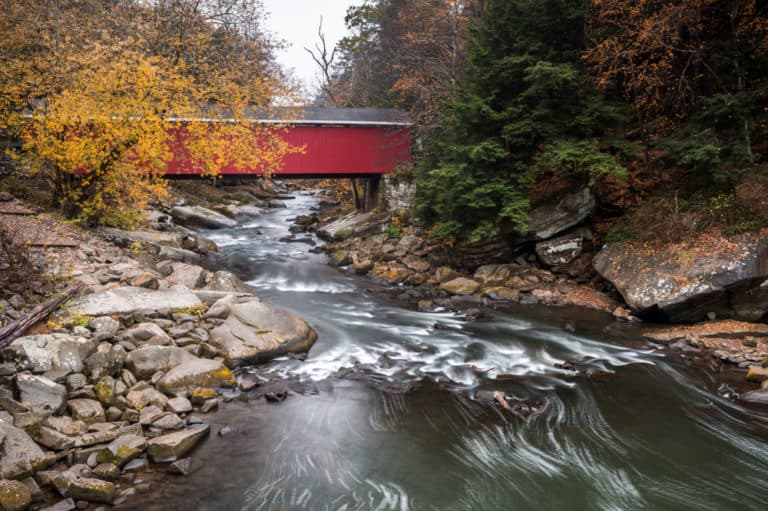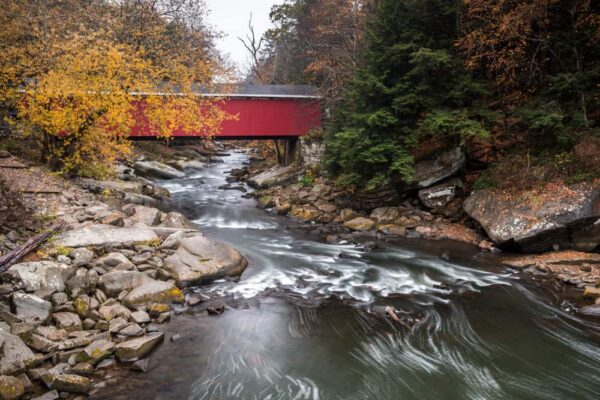 McConnells Mill State Park is one of my favorite parks in all of PA and is great during any season. However, during autumn, it reaches another level of beauty along the banks of Slippery Rock Creek.
Probably my favorite spot in the entire park during fall is the area around McConnell's Mill Covered Bridge. The red of the bridge looks amazing against the yellows and oranges of the surrounding trees.
Of course, there are also plenty of roadways around the park that are incredible to drive during the season, as well.
Delaware Water Gap National Recreation Area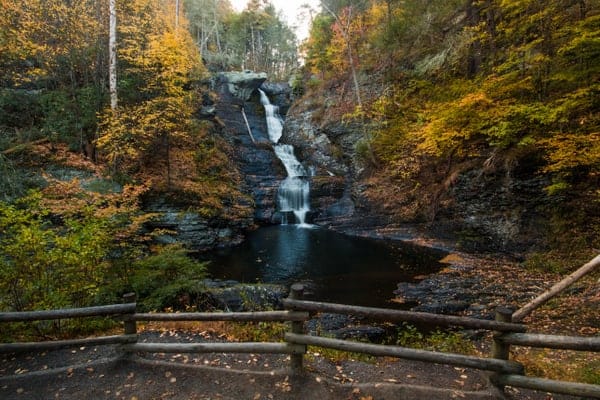 Located in the northeastern corner of Pennsylvania, the Delaware Water Gap National Recreation Area is home to the state's tallest waterfalls and some of the most incredible fall foliage in PA.
The areas around Dingmans Falls and Raymondskill Falls are quite stunning during autumn. If you want some views to go along with your colors, try the Cliff Park Trails which features several miles of great hiking trails and some great vistas over the Delaware Valley.
Loyalsock State Forest and Worlds End State Park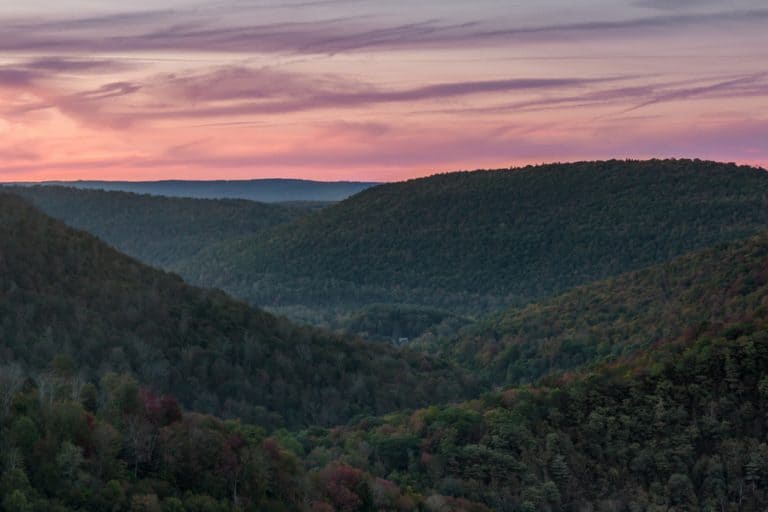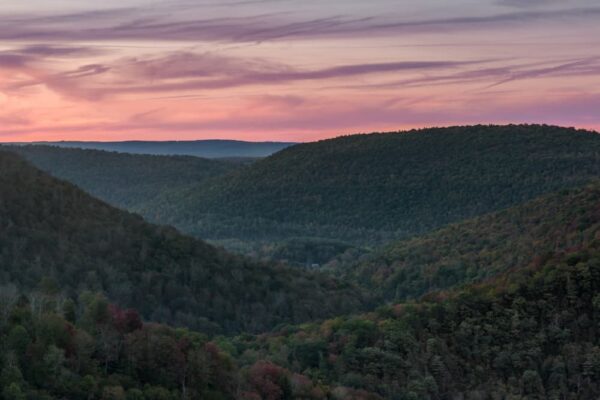 Loyalsock State Forest and Worlds End State Park occupy a large swath of northern Pennsylvania and are home to many fantastic waterfalls, the popular Loyalsock Trail, and several covered bridges.
During autumn, I love to head to both High Knob Overlook and Canyon Vista as they offer expansive views over the forested hillsides and are perfect spots to see fall colors in PA.
Other great spots include Dry Run Falls, Band Run Vista in the McIntyre Wild Area, and Sones Pond.
The Reading Pagoda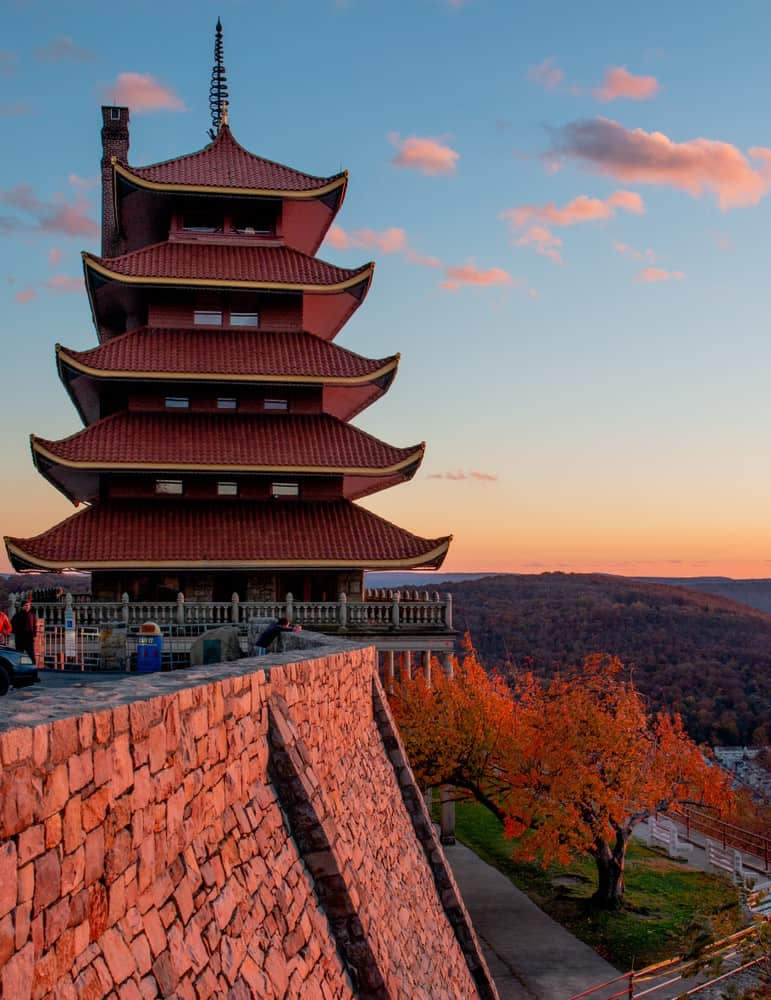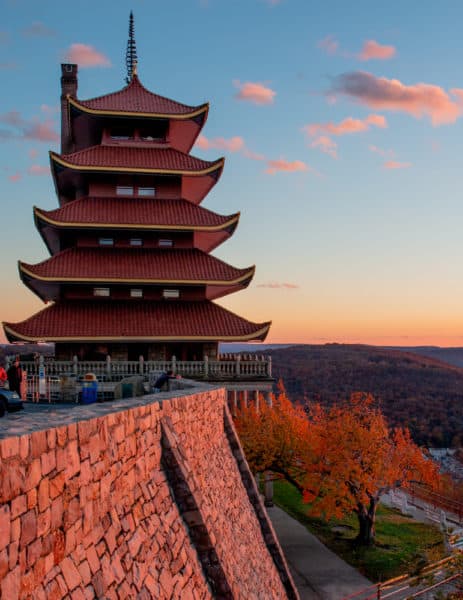 The Reading Pagoda is located atop Mount Penn and overlooks downtown Reading, Pennsylvania. This Japanese-style pagoda features incredible views of downtown Reading and Berks County, and when the fall colors in PA peak, this is an amazing spot to view them from.
For me, though, the best shots are when the leaves on the trees surrounding the pagoda have turned, allowing me to get this unique building with the beautiful colors of the season.
Presque Isle State Park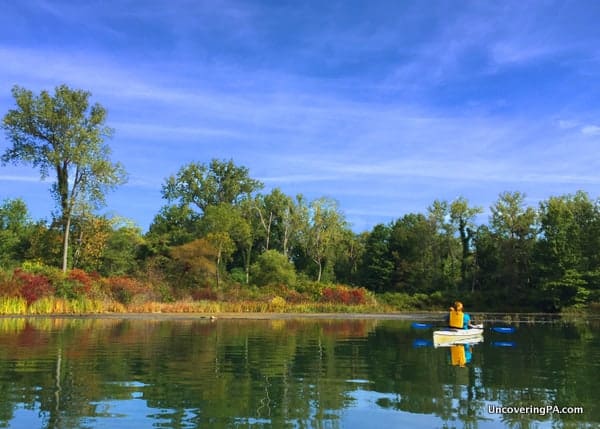 While many think of Presque Isle State Park as a summertime destination thanks to its miles of beaches, this is also a fantastic spot to visit in the fall. That's because the park is significantly less crowded, which gives you a chance to enjoy its beauty without other people around.
During autumn, taking a kayak or hiking trail deep into the interior of the park offers incredible foliage and a peacefulness that's hard to find in Erie.
Nay Aug Park
Scranton's Nay Aug Park is a fantastic place to explore throughout the year thanks to the great Everhart Museum, Nay Aug Falls, and several miles of hiking trails.
During the fall season, Nay Aug Gorge is an amazing place with the shades of yellow, orange, and red contrasting against the dark stone walls around Nay Aug Falls.
Mount Davis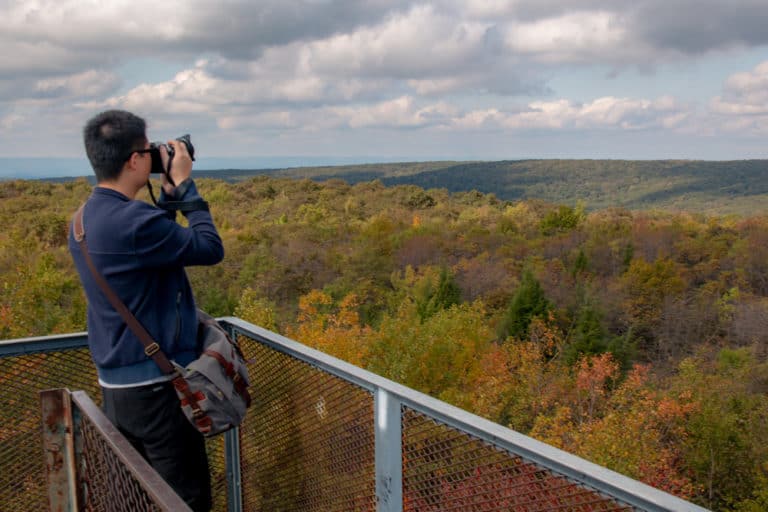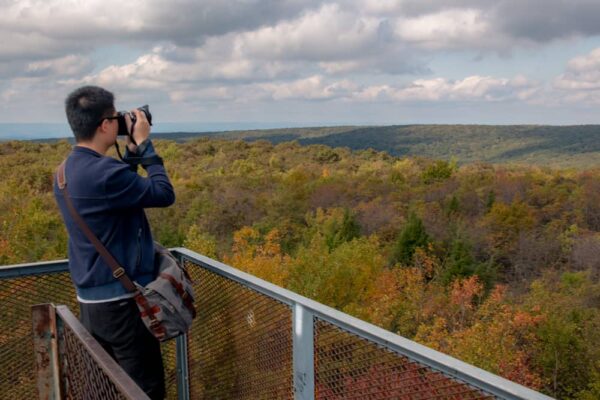 Mount Davis in Somerset County is the highest point in Pennsylvania. While the view from the ground at the peak is nothing amazing, there is a tower you can climb for incredible views overlooking southwestern Pennsylvania.
For those looking to do a bit of hiking, there are several miles of trails that crisscross the top of Mount Davis and are incredibly beautiful in autumn.
Ralph Stover State Park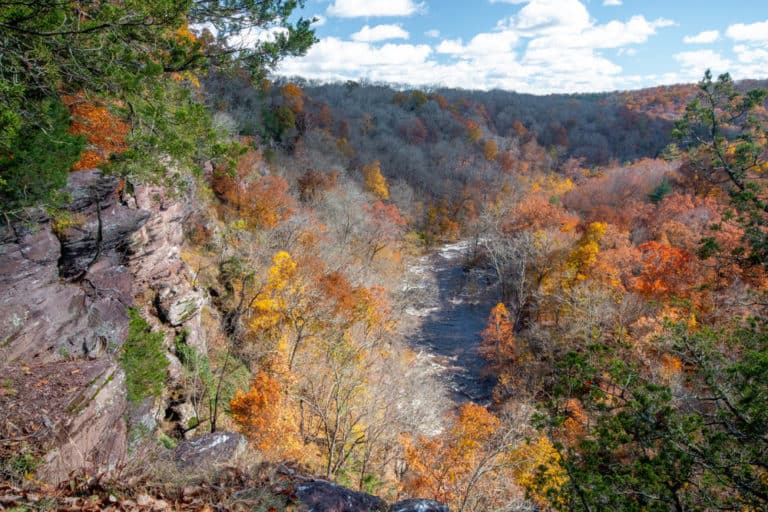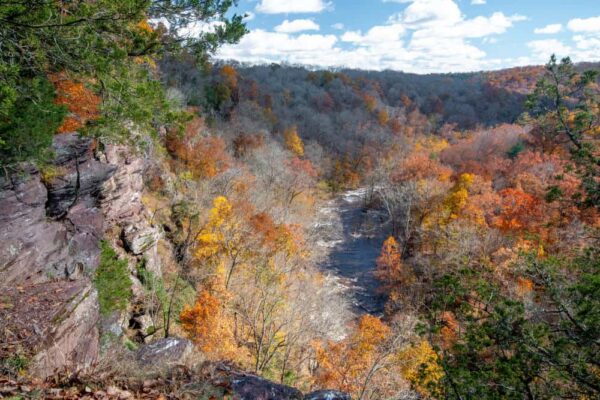 Ralph Stover State Park is one of my favorite places to visit in Bucks County thanks to the amazing views from the top of High Rocks.
High Rocks sits high above Tohickon Creek and offers incredible views of the surrounding area from the many vistas and the hiking trail along its rim. If you are looking for a bit of excitement with your fall colors, you can also do a bit of rock climbing and kayaking in the park.
Allegheny National Forest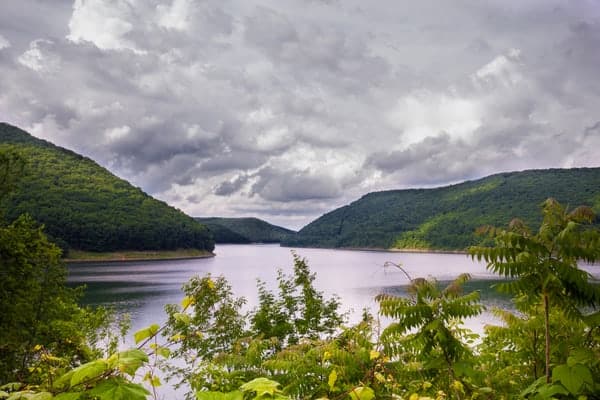 Allegheny National Forest in northwestern PA is over half-a-million acres in size and offers many fantastic recreational opportunities. And, with this much forested land, you know that this is an amazing place to see fall foliage in Pennsylvania.
If you want to explore this amazing area for yourself during fall, top spots include Logan Falls, Tidioute Overlook, Hector Falls, and the amazing overlooks around Kinzua Lake.
You can also skip across the New York border to visit spots like Bridal Falls in Allegany State Forest.
Wissahickon Gorge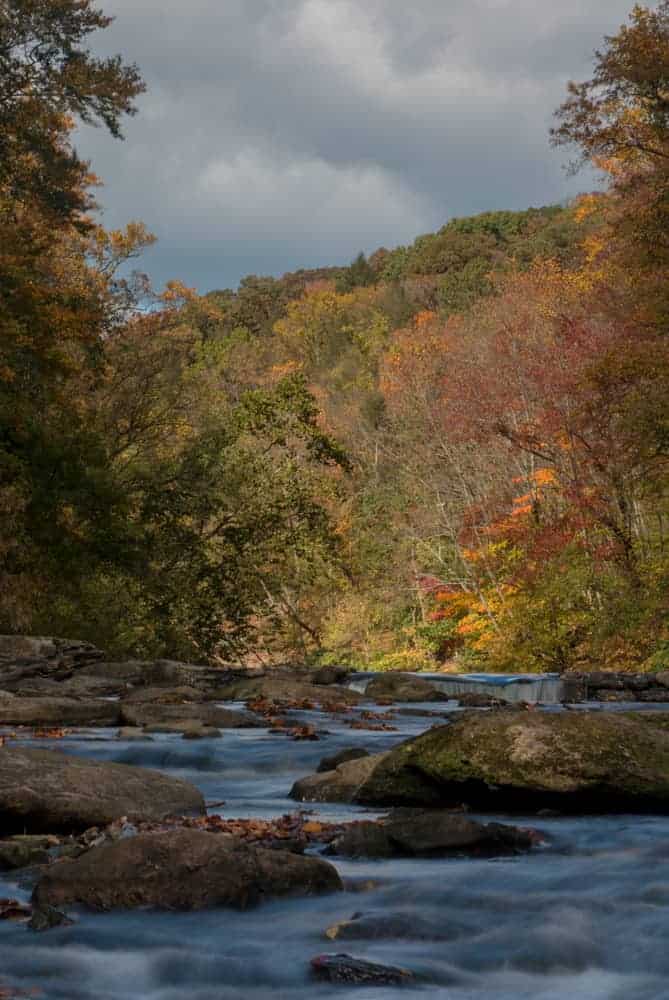 Wissahickon Gorge is located within the city limits of Philadelphia, but you wouldn't know it once you start exploring this area. If you are looking for somewhere to see fall foliage near Philly, this is a great spot to check out.
Wissahickon Gorge is home to 50 miles of hiking trails, hidden statues, and a beautiful covered bridge.
Hiking these trails offers not only the chance to explore the beauty of Philadelphia but also to enjoy some of the best fall colors in Pennsylvania.
Route 32 in Bucks County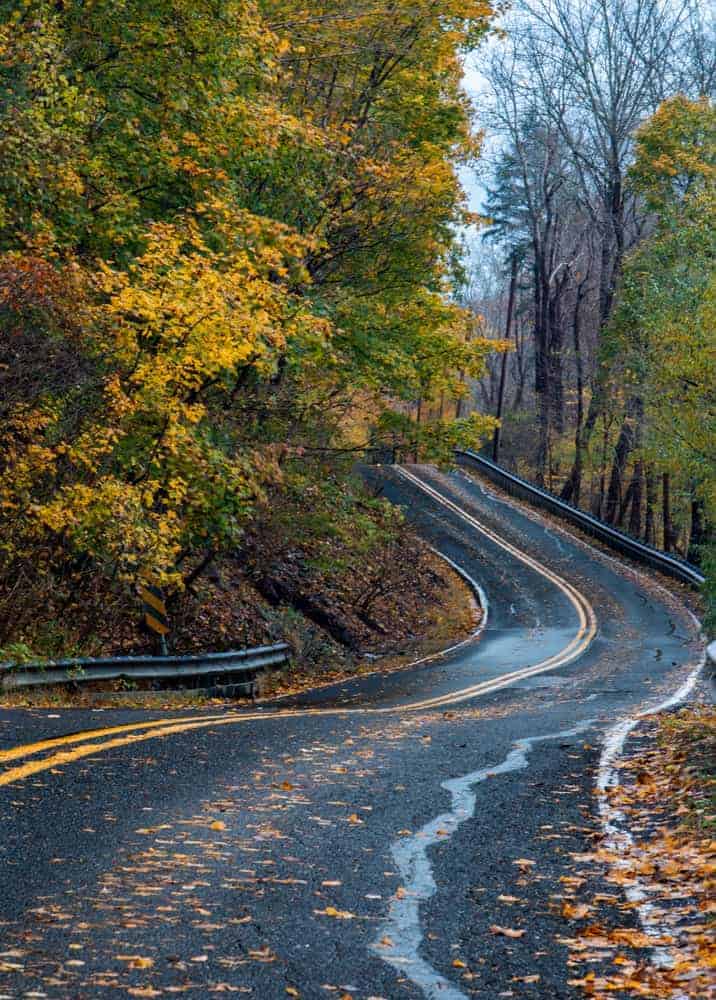 I've driven tens of thousands of miles in Pennsylvania, and I've yet to come across a road more beautiful than Route 32 in Bucks County.
This stretch of roadway from Kintersville to New Hope winds its way through the forested hillsides along the Delaware River. Along the way, you can see waterfalls, covered bridges, great views of the river, and even Ringing Rocks County Park.
If you are looking for a short, but insanely beautiful road trip this fall, don't miss this drive.
Quehanna Wild Area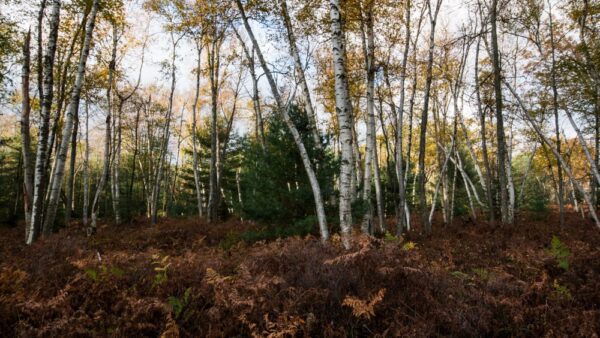 The Quehanna Wild Area is an isolated region of the Pennsylvania Wilds that offers a ton of great places to enjoy fall foliage in PA. While this isn't an area for soaring vistas, you'll have a chance here to hike secluded trails and enjoy the beauty of autumn without the crowds you'll find at other spots.
If you are looking for hiking destinations, the Marion Brooks Natural Area, Table Falls, and Kunes Camp are all good choices. You might also see some of Pennsylvania's elk as they are known to inhabit this area.
Governor Dick Observation Tower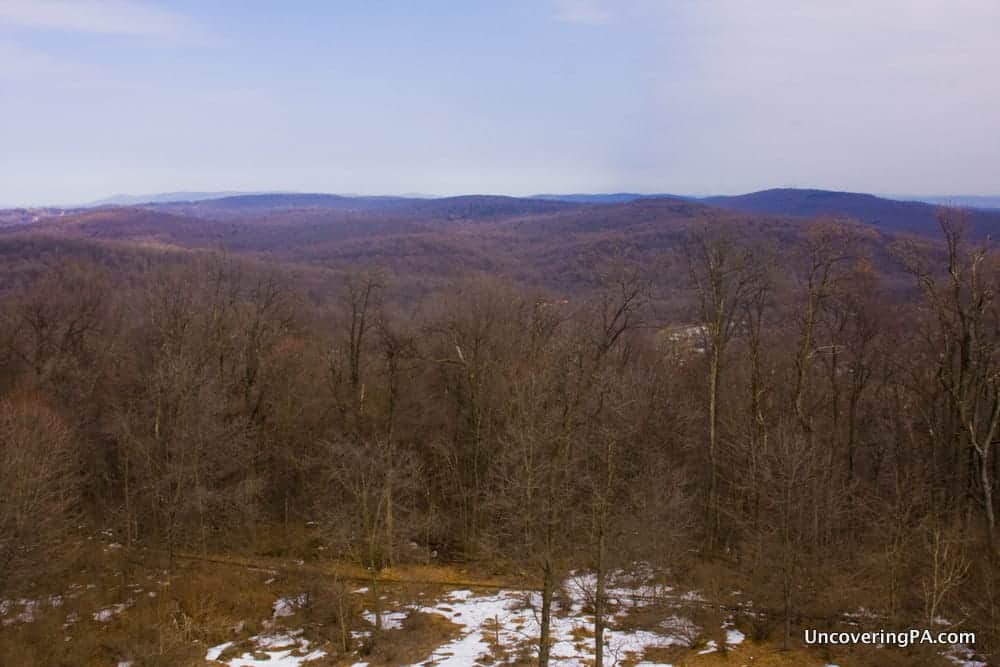 Located just outside of Mount Gretna, in Lebanon County, Pennsylvania, is the Park at Governor Hill. And, at the top of the hill, surrounded by thick second-growth forest is the Governor Dick Observation Tower.
The observation tower atop Governor Dick reaches only 66 feet into the sky, but that's enough to give you a bird's eye view in nearly every direction. From here, you can see thousands of trees in five different Pennsylvania Dutch Country counties. The 3-mile roundtrip hike through the park makes for a great and relatively easy hike through the woods.
Marie Antoinette Overlook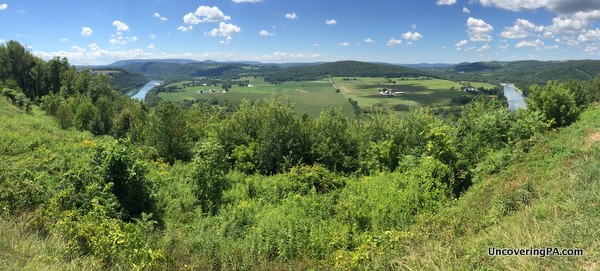 Located along Route 6 in Bradford County, the Marie Antoinette Overlook is one of the most scenic vistas you'll find anywhere in Pennsylvania. This view overlooks a bend in the Susquehanna River that once was the site of French Azilum, one of Pennsylvania's most interesting and least-known historical sites.
History aside, however, the view from this overlook is quite expansive and is definitely breathtaking when fall foliage is at its peak.
Cook Forest State Park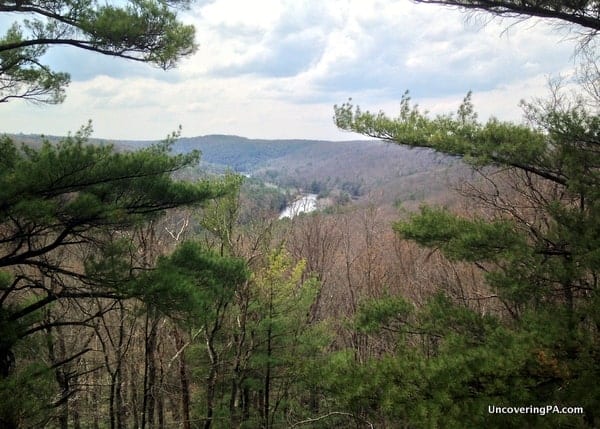 Cook Forest State Park in northern PA is home to some of the largest trees in Pennsylvania, which undoubtedly makes this a great spot to visit during fall.
Aside from the giant trees of the Forest Cathedral, the views from Seneca Point and the Cook Forest Fire Tower absolutely can't be beaten. The Clarion River, which passes through the park, is also worth exploring whether from land or from your car.
Gettysburg Battlefield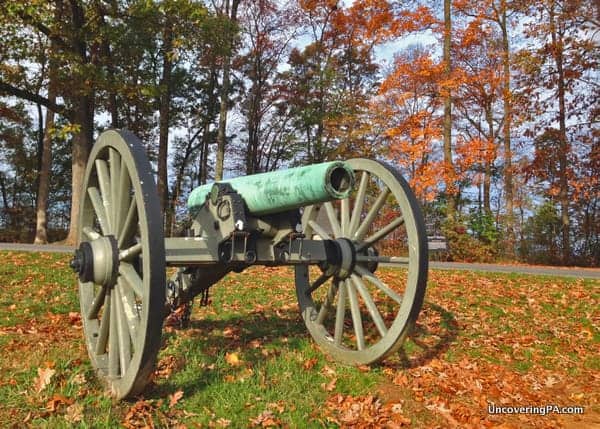 The Gettysburg Battlefield is not just one of the most historic spots in Pennsylvania, but it's also one of the most beautiful during fall in PA.
All throughout the battlefield, fall foliage turns this landscape into an incredibly beautiful spot. Explore the park roads from your car and enjoy the bright autumn colors alongside monuments, canons, and even covered bridges.
If you want to explore American history while enjoying the season, this is a spot not to miss.
Schenley Park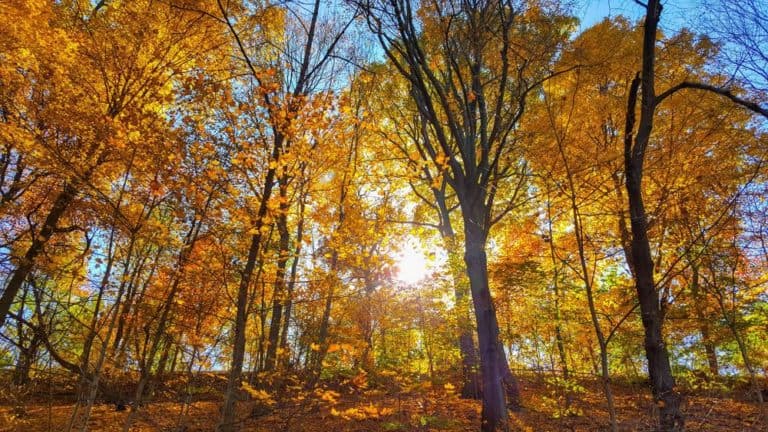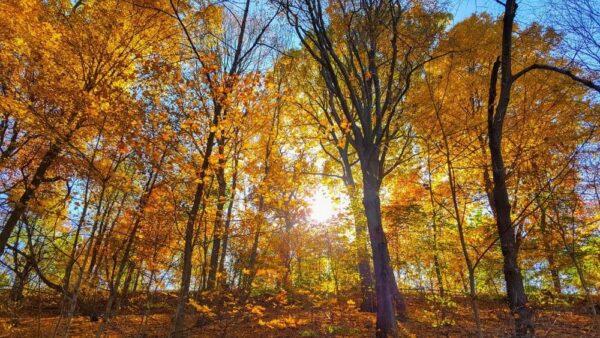 Schenley Park is a great spot for those looking to enjoy fall foliage in Pittsburgh. This nearly 500-acre park features several miles of hiking trails, playgrounds, great views of Pittsburgh's skyline, and a beautiful lake.
Panther Hollow Lake makes for an ideal place to visit during fall as you can see the beautiful reflections of fall colors in the lake's still waters.
Hickory Run State Park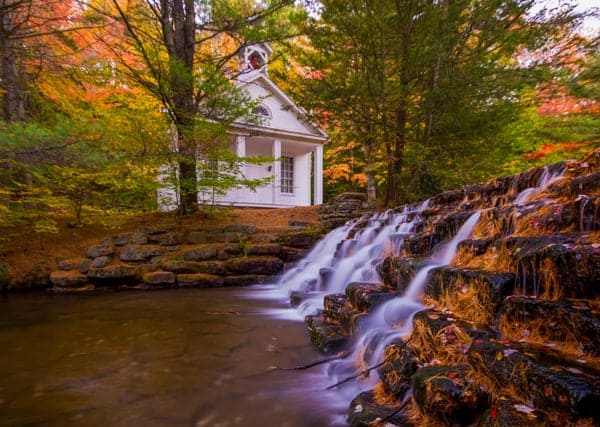 Hickory Run State Park in the Poconos is one of my favorite parks in the state. However, during autumn it really is incredibly striking.
Whether you want to visit the incredible Hawk Falls, explore the park's boulder field, or simply hike the many miles of hiking trails in the park, there's a bit of something here for every outdoor lover in autumn.
However, during fall, probably my favorite spot is the park's chapel. This small building sits adjacent to the park's office and a dam on Hickory Run, creating one of the most beautiful spots in all of Pennsylvania.
Somerset County Covered Bridge Tour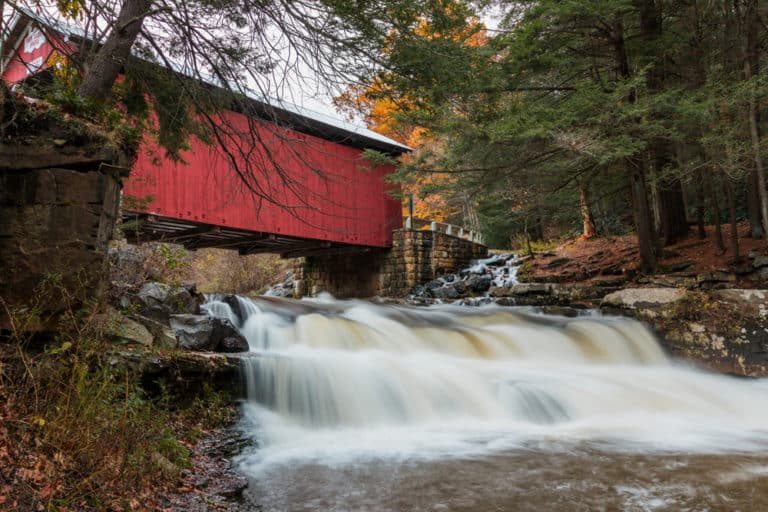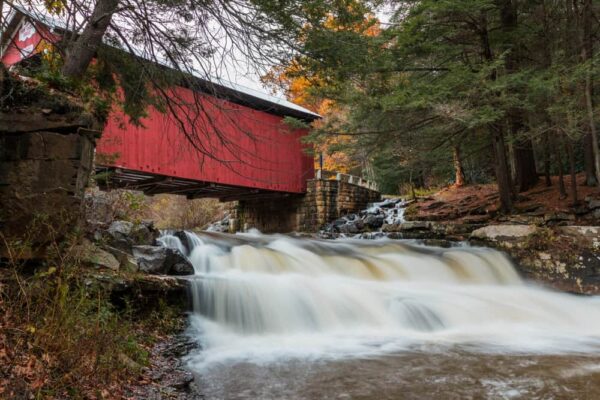 Pennsylvania is home to more than 200 historic covered bridges, and some of the most beautiful are located in Somerset County.
There are a total of 10 covered bridges in Somerset County, and a visiting them all requires traversing some of the most beautiful backroads in all of Pennsylvania.
While all the bridges in Somerset County are worth visiting, my favorite is Packsaddle Covered Bridge. This bridge is not only located in a gorgeous spot that's worth seeing in autumn but also features a beautiful waterfall directly below it.
Chickies Rock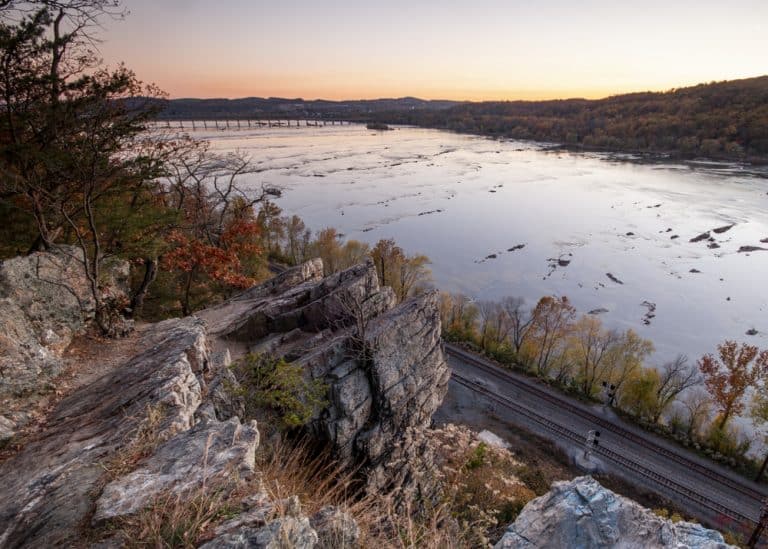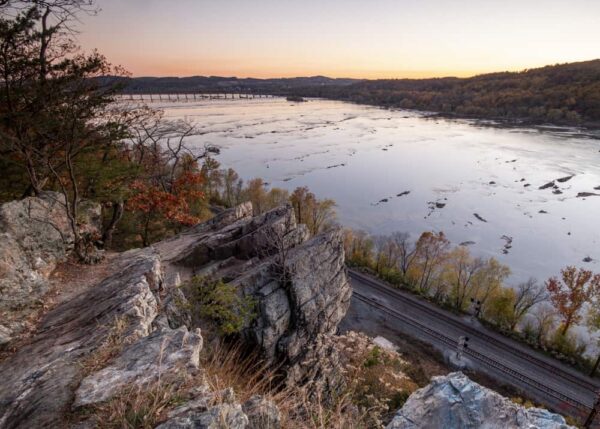 Chickies Rock in Lancaster County is a beautiful vista overlooking the Susquehanna River and the forested hillsides of York County.
A short hike near Columbia brings you to this rock outcropping and one of the most beautiful views during fall in Pennsylvania.
If you are looking for a scenic spot to view fall foliage in Lancaster County, look no further than the incomparable Chickies Rock.
Cuttalossa Farm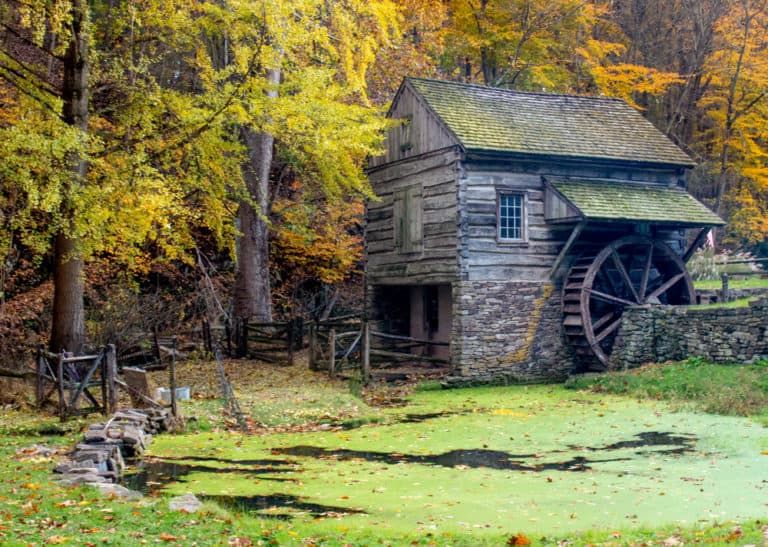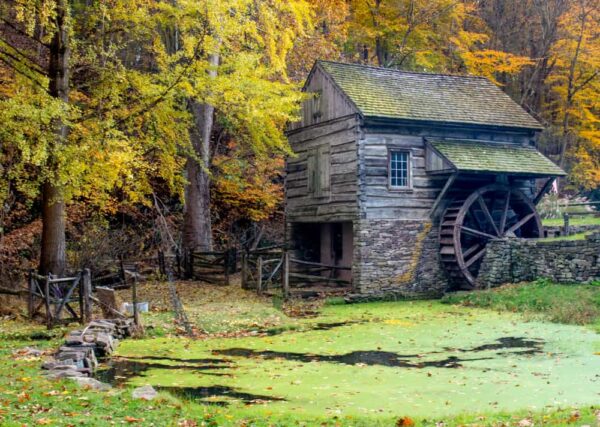 Cuttalossa Farm in Bucks County is one of the most incredible farms in Pennsylvania. The farm dates back to the mid-1700s and was once owned by renowned painter Daniel Garber.
Today, Cuttalossa Farm can only be viewed from the road but is a simply breathtaking sight during peak fall foliage in PA. While it might seem strange to include a single historic farm on this list, this is truly one of the most beautiful spots in the state.
Just remember to not cross the fence if you visit as the farm is located on private property.
Big Mountain Overlook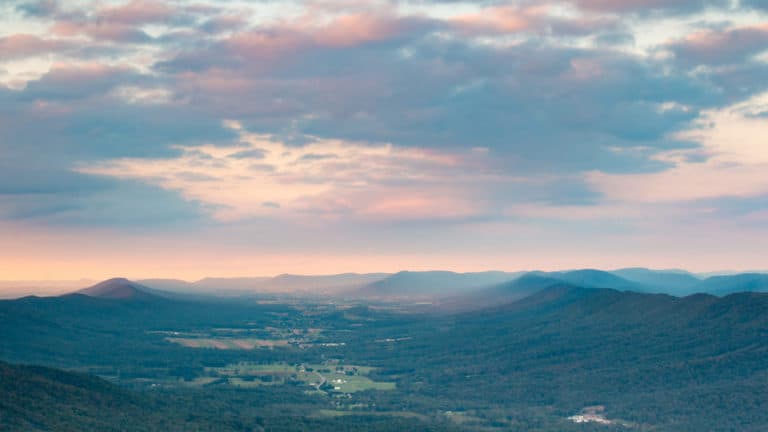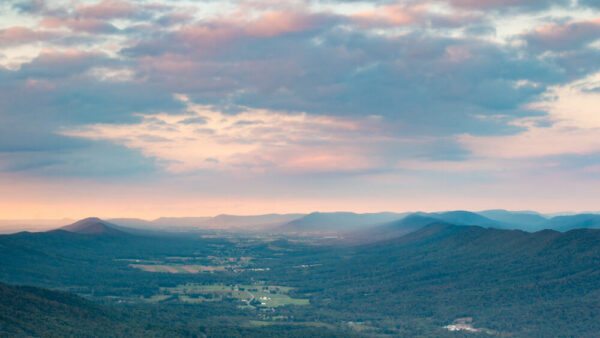 Big Mountain Overlook is located in Buchanan State Forest right on the border of Franklin and Fulton Counties. Of all the vistas I've visited in Pennsylvania, I don't think there are any that have such an open and expansive view as Big Mountain Overlook.
From the top of Big Mountain, it feels like you can see to the end of the world as the valley opens up before you far below.
During PA's fall foliage season, this view is even more breathtaking.
Jack's Mountain Overlook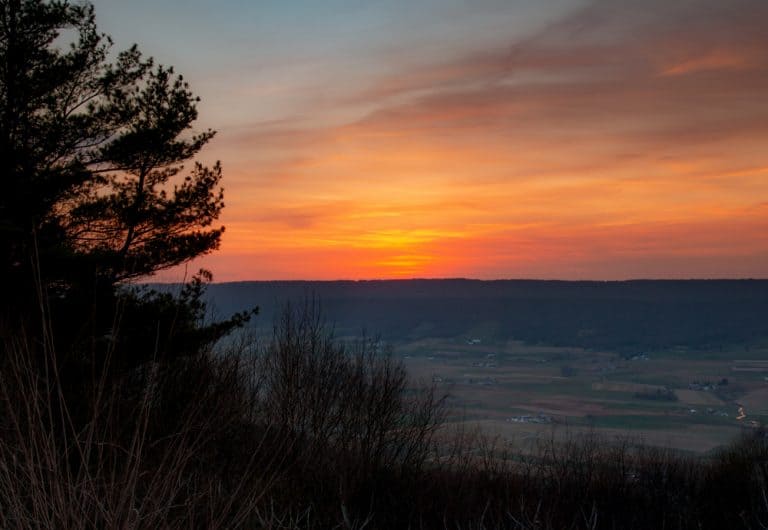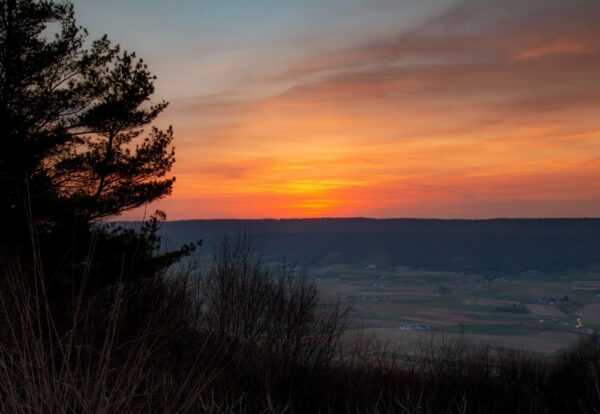 The view from the top of Jacks Mountain in Mifflin County, Pennsylvania, gives leaf peepers the chance to see into two different valleys.
The most scenic of these is Big Valley, where farmland and Amish communities are the big draws. If you visit on a clear day, you can see several miles across the valley to the forested hills on the far side and even into Centre County.
Once you've soaked in the view, head down the mountain into Big Valley and check out Mifflin County's unique Amish community.
What's your favorite place to see fall foliage in PA? Let me know in the comments section below.
Looking for more fall adventures? Check out Paulus Orchard in York County, Fields of Adventure near Gettysburg, and the Scenic Valley Tour in Adams County.